Buying new headphones can sometimes be a nightmare. There are so many varied brands and models – where do you start?
Luckily, we've put together a guide to help you understand the range of one of the biggest audio brands out there. 
Shure have almost 100 years of experience in the professional audio world. Decades have been spent developing and researching audio technology so that they can create the most incredible products possible. The brand has three different ranges when it comes to headphones and earphones: the SRH headphone range, the SE earphone range, and the KSE series of electrostatic earphones. 
We'll help you understand the differences so you can decide which one is right for you.  
SRH headphones
The SRH range will cover you for everything you need, from critical listening to monitoring for studios. Even casual listeners who just want a better listening experience will enjoy these headphones.  
---
SRH240A
Entry-level professional headphones

Perfect for beginners who need quality headphones at a reasonable price 

Provide full bass and clear mids and highs – excellent for critical listening when mixing and everyday use

Great for someone who has just started getting into music and needs a solid pair of long-lasting headphones
Shop now | Shure SRH140A Professional Headphones
---
SRH440A
Entry-level professional headphones

Enhanced frequency range compared to the SRH240A, giving you accurate audio and a detailed listening experience

Lightweight with a swivel cup design for a more comfortable experience during long sessions

Compact design closely follows the contour of your head, perfect for being on camera if you are streaming, podcasting, or recording live sessions

Lower total harmonic distortion ensures a clean, consistent natural audio reproduction

Perfect if you need multiple headphones for your podcast or recording session – their low-cost means buying multiple won't break the bank 
Shop now | Shure SRH440A Professional Headphones
---
SRH840A
A natural and well-balanced frequency response allows you to pick apart the nuances of whatever you're listening to

Reinforced metal headband with padded woven fabric can withstand everyday use

Similar in design to the SRH440A, but with the addition of rose gold details. Stand out a bit more while filming a studio session or a live stream!

Natural frequency range will help you achieve a mix with a 'tight' and 'focused' bass

Neutral frequency is a good reference for getting vocals to sit perfectly in a mix

Perfect for recording musicians, professional studios, and content creators who need to hear that extra level of detail in their audio
Shop now | Shure SRH840A Professional Headphones
---
SRH1540
Premium headphones, perfect for audiophiles, professional mixing engineers, musicians, and anyone who wants the highest audio quality possible

Lightweight construction of aluminium alloy and carbon fibre

Built to last

Padded, felt ear pads for comfortable listening during long sessions

 

Incredibly flat frequency response delivers a true representation of what you're listening to – something every mix engineer needs

Comes with a high-quality hard travel case, replaceable ear cups, and a detachable jack cable
Shop now | Shure SRH1540 Premium Closed Back Headphones
---
The only open-back headphones in the Shure headphone range

Open-back headphones allow air to pass through, meaning low and problematic frequencies are no longer an issue

Deliver a natural, clear sound with

well-defined, solid bass and a rich, detailed mid-range.

 

You'll notice audio errors like pops and clicks within your mix which you may not have noticed otherwise – your mixes will be perfect!

If you don't need sound isolation but want to listen with the highest audio quality possible, these headphones are perfect for you

Made for mixing/mastering engineers and audiophiles who want the best listening experience possible

 
Shop now | Shure SRH1840 Professional Open Back Headphones 
No matter what you need them for, the Shure SRH range of headphones will cover you for just about anything and everything. And they're all built to the incredible Shure standards.
SE in-ear earphones
As well as over-ear headphones, Shure offers an earphone series with the same amazing audio quality as the SRH range.
The SE earphone range is aimed at performing musicians. However, they're also great for listening to music due to their built-in audio drivers and sound-isolating buds that make for an immersive experience. If you need earphones for your onstage monitoring or want high-quality earphones to listen to music, the SE series has you covered. 
All Shure SE earphones have a 3.5mm jack cable that can be used with any in-ear monitoring system bodypack. They can even be used with smartphones or other devices such as laptops and tablets. 
Check out our dedicated SE series guide here to get into the finer details | Shure SE Series Earphone Guide 
---
SE112
Detailed sound with rich bass

Perfect for someone who needs a pair of in-ears for band practice without breaking the bank

Slightly different to other in-ears as they are traditional straight-fit earphones rather than an "over-ear" design 

 

Sound isolating to block out unwanted noise and protect hearing when performing
Shop now | Shure SE112 In Ear Headphones 
---
SE215
Tailored towards performing musicians that need professional in-ears at a low cost

Single high-definition driver

Over-ear design allows the earphones to comfortably sit within the ear without falling out when performing on stage

Crisp, clear, and detailed sound with a strong bass response

Detachable cable allows you to easily replace parts

Comes with a variety of earbuds, so you can find a fit that works for you
Shop now | Shure SE215 Sound Isolating Earphones
---
SE425
Perfect for musicians that need some more definition in their live mix
Deeper bass response for a clear sound at higher volumes

Dual high-definition drivers

Increased frequency response for both bass and high frequencies

Includes a carry case with a variety of changeable earbuds
Shop now | Shure SE425 Sound Isolating Earphones 
---
SE535
Exceptional, clear sound, even at higher levels, thanks to three high-definition drivers – two for bass and one for highs

Defined low end, great for bassists and drummers

Premium carry case with a variety of earbuds

Comes in clear and limited-edition red
Shop now | Shure SE535 Sound Isolating Earphones 
---
SE846
Made for professional performers or those who just want to listen to music at the highest level possible
Changeable sound signature for the perfect on-stage sound
The highest quality earphones from Shure

Four high-definition drivers offer incredible high-end quality

Deep low end delivers the performance of a subwoofer 

Comes with a premium, pro carry case with a variety of accessories
Shop now | Shure SE846 Professional Sound Isolating Earphones
---
True wireless adapters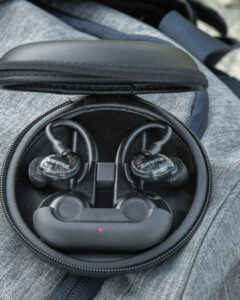 Shure noticed that it wasn't just musicians using the SE series of earphones. People were using them to listen to music in everyday environments: on the train, at the gym etc. So, they created True Wireless adapters. These can be attached to any SE earphones that have a removable cable (215 and up).
True Wireless adapters turn your SE earphones into wireless ones. They have built-in touch control as well as eight hours of battery life, meaning you can take the SE earphones with you, no matter where you go.
Shop now | Shure RMCE-TW2 True Wireless Adapter for SE Series
KSE Electrostatic in-ears
For the music lovers out there that need the highest fidelity and audio quality possible, Shure created the KSE series of in-ears. These come with a reinforced Kevlar cable that is designed to isolate the Electrostatic conductors. The cable is plugged into a dedicated amplifier that must be used to make the earphones work correctly. 
---
What does Electrostatic mean?
Electrostatic refers to how the driver of the earphones works. In other words, how the earphone produces its sound. 
Normal earphones use dynamic drivers, usually held in place by a magnet. The electricity within the cable moves the magnet up and down which helps to produce sound through the diaphragm. However, as there is only one cable and magnet holding the diaphragm in place, it can move around, causing distortion and unwanted noise.
With Electrostatic drivers, the diaphragm is suspended between two opposing magnets that are powered by a power supply (the amp). The magnets can push and pull the diaphragm back and forth incredibly fast, giving you the clearest sounding tones – even in the heaviest and busiest sounding tracks. 
---
KSE1200
Perfect for someone who takes listening to music seriously 

Experience next-level clarity and definition.

Provides the fastest, most accurate transient response of any earphone

Kevlar cable is durable and isolates each conductor for consistent quality

Re-chargeable amp via USB with 12 hours of battery life

Dedicated amplifier provides unimaginable sound quality

No need to carry around a hi-fi system to get incredible sound
Shop now | Shure KSE1200 Electrostatic Earphone System
---
Takes your listening experience to a new level – ideal for someone who takes pride in their music

Capable of processing digital audio via the USB as well as analogue audio via the "direct line"

Four customisable settings to manage playback

Four-band parametric EQ

Comes with an assortment of accessories such as a leather carry case, and a range of adapters for iPhone, smartphone, and other devices

Compatible with iOS, Android, MAC, and PC 
Shop now | Shure KSE1500 Electrostatic Earphone System
Find out more
Hopefully this guide has helped you understand the variety of headphones and earphones that Shure offer. Why not check out the full range?