In 1980, Casio released the first Casiotone and – in doing so – revolutionised the world of consumer keyboards. Combining slick looks, cutting edge sounds, and – crucially – affordable prices: Casio created a formula that now defines the modern Casiotone keyboard.
---
The Original Casiotone
Pre-1980, Casio were known primarily as a computing company. Established in Tokyo, they had experienced success from the '50s onwards with their ground-breaking electronic calculator designs. However, besides a couple of sound-producing gizmos and toys, they'd never built anything even approaching a musical instrument.
In 1979, Casio announced their intention to enter the electronic musical instrument business, and the following year they released the Casiotone 201. This was a polyphonic synthesiser with 49 full-sized keys and eight-note polyphony.
It utilised "vowel-consonant" synthesis – a form of subtractive synthesis using filter patterns based on human speech tones. To select one of the 29 pre-set voices, you simply pressed the tone select button and then any of the white keys on the keyboard. This uncomplicated layout made the Casiotone extremely simple to navigate.
The 201 was supposed to be an instrument for everybody. Affordable and easy to use, Casio's intention was to create a keyboard that anyone would be able to learn with. Compared to other polyphonic synths at the time, the Casiotone was uniquely lightweight and inexpensive. Sure, it didn't sound as iconic as a Prophet-5 – but that isn't remotely what it was trying to do.
The Casiotone 201 proved immensely popular and opened up the world of electronic music to a much wider demographic than ever before. Casio had discovered a gap in the market: consumer-grade electronic musical instruments.
---
Cult Keyboards
The success of the first Casiotone keyboard prompted Casio to continue the line, adding even more features to their products. Many of their additions have since become hallmarks of the modern keyboard – such as automated rhythm and bass parts.
The Casiotone range largely appealed to amateurs and hobbyists, but some models have achieved cult status among composers and producers. One such keyboard is the Casiotone MT-40, famous for birthing the Sleng Teng riddim.
In 1984, a young Jamaican musician named Noel Davey was presented with a Casiotone MT-40. His friend and fellow musician George Buddy Haye had just returned from touring in the USA and had promised to bring back a synthesiser for Davey. Davey had explicitly requested a Yamaha DX7 (a professional-quality FM synthesiser), so was somewhat disappointed when Haye unveiled the considerably cheaper and less powerful MT-40.
Nonetheless, Davey set about exploring his new Casiotone keyboard, scouring its feature bank for a new sound. With the help of deejay Wayne Smith, Davey created a demo version of Under Mi Sleng Teng. The bass and drum part of the song came directly from the "rock" pre-set rhythm on the MT-40.
After a bit of tidying up from local producer Lloyd King Jammy James, the track was released to immediate local acclaim. With the musical aspect proving particularly popular, Jammy recorded a number of other artists using the Sleng Teng backing.
The Sleng Teng is one of reggae's most influential riddims, appearing on over 500 tracks. Notably, it was one of the first-ever completely computerised riddims. The enduring popularity of the sound of the Casiotone MT-40 is considered partially responsible for the movement of reggae music into more digital territory.
Similarly, the widespread success of the first Casiotone keyboards is responsible for propelling Casio further into the musical instrument business, where they went on to cement themselves as one of the major players for electronic keyboards and digital pianos.
---
The Modern Casiotone
The Casiotone line was relaunched in 2019 with the same design philosophy as Casio's original 1980's keyboard. Simple yet stylish instruments at an affordable price – making music accessible to everybody.
However – as the line has continued over the last few years, Casio have begun to push the envelope more and more. Without losing sight of their roots, Casiotone keyboards have become increasingly feature-rich. Their most recent models wouldn't be out of place in a professional studio!
With the modern Casiotone range now up to seven models, we've decided to run you through their development, and help you figure out which one might be right for you.
---
CT-S100
The CT-S100 is the spiritual successor to the original Casiotone 201. It's simple – basic, even – but it does what it does very well.
With 61 full-sized keys and 32 notes of polyphony, this is a great instrument for learning on. There are 122 built-in tones to explore, as well as 61 play-along rhythms and 60 songs. In a nod to the 201, this keyboard uses the same tone selection system as its classic predecessor (press tone select and then press the keys to find a sound you like.)
Modern electronics allow Casio to fit far more quality-of-life features into their budget keyboards than they could in the 1980's, however. The CT-S100 comes with a built-in metronome, key transposition, and tuning control (A4 from 415.5Hz to 465.9Hz). There are also four different reverb settings, as well as a headphone connection and two 2W amplifiers for the built-in speakers.
The most exciting feature for a keyboard in this price range is the USB connection, allowing you to connect up to a computer or mobile device and control them using MIDI. This opens up practically limitless applications for the CT-S100.
All of this fits inside a super lightweight and portable body. The keyboard can run off either battery or mains power, and there's a handy integrated handle in the top of the body for super-convenient mobility.
Whether you're a beginner keyboardist looking for your first-ever instrument or a rookie producer seeking a highly affordable MIDI-compatible keyboard, the CT-S100 is a great choice.
Shop Now | Casio CT-S100
---
CT-S200
Following directly on, the CT-S200 is like a beefed-up CT-S100. It offers all of the functionality of the CT-S100, with lots of useful extras.
This keyboard features 48 notes of polyphony, with 16 more rhythms, 10 more reverb settings, and 278 more tones (400 in total). The control panel now has a display, to make navigation easier. There are also connection options for a sustain pedal and an Audio-In jack.
The CT-S200 includes Casio's Dance Music Mode, a function for effortlessly creating dance tracks on the fly. Choose from 50 modern dance music styles, and create, play, and remix – just like that. Find out more on Casio's webpage.
This model also offers connectivity with Casio Music Space – an app for learning to play and for controlling your keyboard. If you want to know more about piano learning apps, check out our blog post on the subject.
All of this is within the same extremely portable chassis as the CT-S100 – and available in either black, white, or red.
Shop Now | Casio CT-S200
---
CT-S300
Adding performance-focussed functionality, the CT-S300 is perfect for those seeking more expressive capabilities. It retains all of the features of the CT-S200, but with improved playability.
This model adds touch-responsive keys, with two different levels of sensitivity plus the ability to turn touch off. There's also a pitch-bend wheel – letting you add flair and expression to your performances.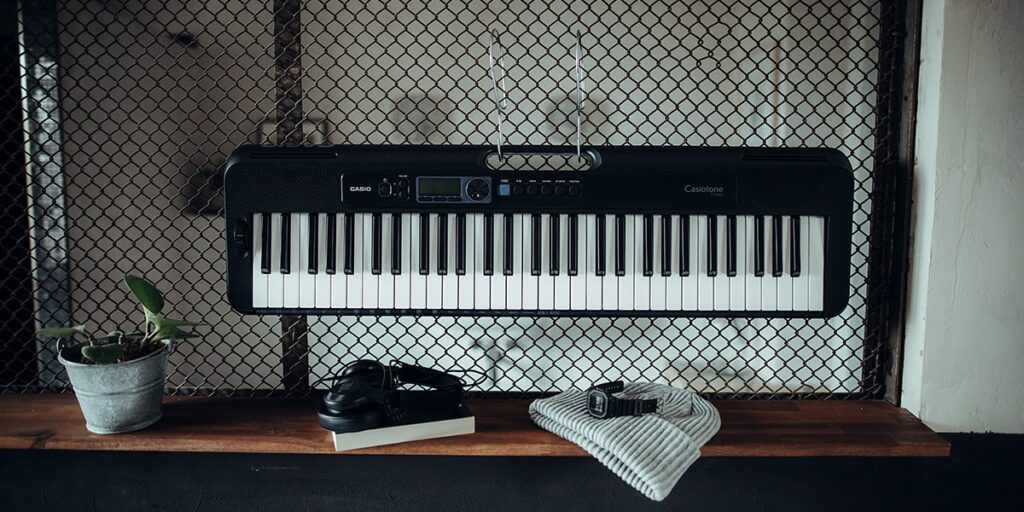 For improved projection, the CT-S300 also has new, more powerful speakers. They're powered by two 2.5W amplifiers, so you can pump up the volume if you want!
Touch-responsive keys are important for playing piano pieces, whilst a pitch bend wheel is great for synth-style lead parts. If performing is a priority for you, then the CT-S300 is a good choice.
Shop Now | Casio CT-S300
---
CT-S400
The CT-S400 is a big change from the previous models. The first three iterations of the modern Casiotone line added more and more features and sounds to the same body. The CT-S400 is a total redesign, body and all.
It's a bit bigger and heavier, and the handle is gone – so this keyboard has lost some of the mobility of the earlier Casiotones. Dance Music Mode has also been taken off.
In exchange, the CT-S400 has 600 tones, 200 rhythms (allowing 10 user rhythms), 20 reverbs, 10 choruses, and 10 EQ pre-sets. There are a total of 160 songs, and you can record 10 user songs. There's also an extra touch-sensitivity setting, as well as layer and split functions, and an arpeggiator.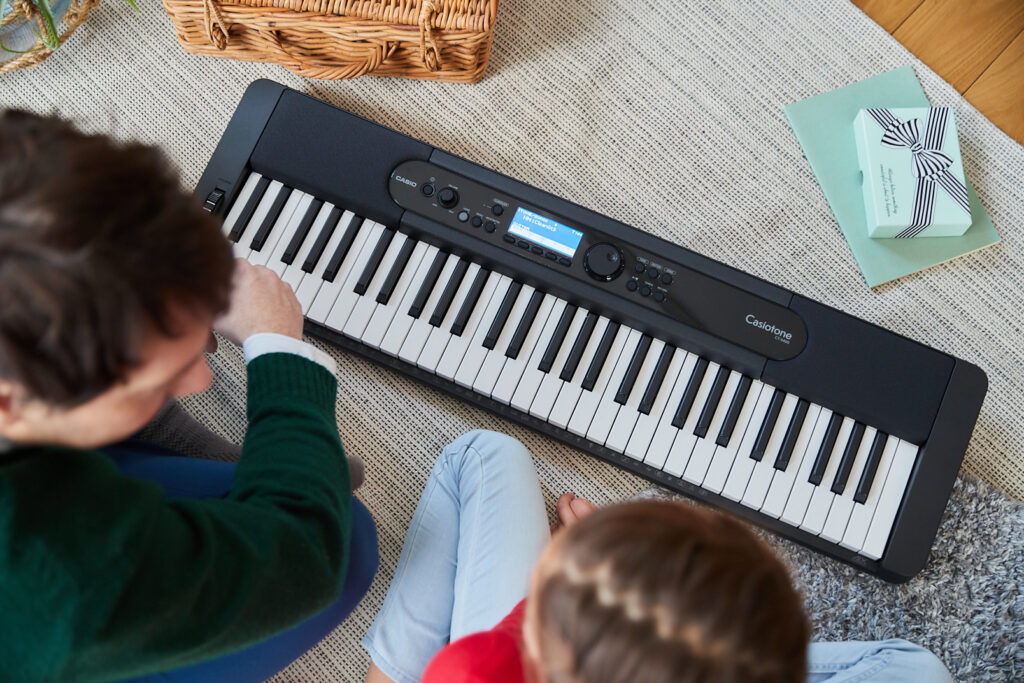 On top of all this, there's a fundamental change in the sound of the keyboard:
The CT-S400 uses Casio's AiX Sound Source. AiX stands for Acoustic Intelligent Expression (sort of), and it combines high-performance EQ and DSP effects with carefully designed instrument noises. This results in highly expressive acoustic instrument noises with incredible clarity.
As well as the USB connection, which has been present on all modern Casiotone keyboards, the CT-S400 is compatible with Casio's WU-BT10 Bluetooth Dongle. This handy gadget turns your instrument into a Bluetooth device, allowing you to wirelessly transfer MIDI and audio data for a variety of functions.
The functionality of the CT-S400 is enormous, making this an excellent instrument for somebody looking for a serious keyboard.
Shop Now | Casio CT-S400
---
CT-S500
The CT-S500 builds on the framework of the S400.
It adds 200 more tones (800 in total), 43 more rhythms (243 in total), and allows 50 user rhythms. There are 24 reverbs, 12 choruses, 15 delays, 10 EQ pre-sets and 100 DSP pre-sets! On top of this, the polyphony is upped to 64 notes.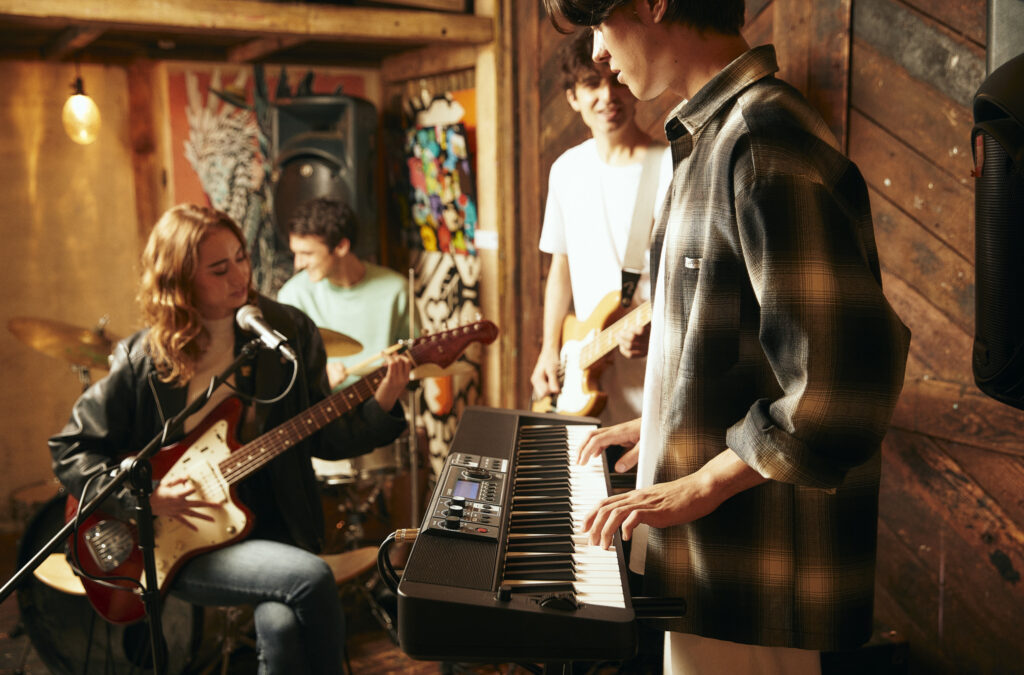 There is no longer a suite of songs though, the S500 having its bank cut down to only one demo song.
Instead, there's a built-in sampler! This is an enormous addition, allowing you to create your own instrument voices using any sound you like. Using the audio input or USB connection, you can sample any noise and play it back. Create crazy percussion rhythms or pitch anything and play a tune with it! Your only limitation is your own creativity.
The CT-S500 also offers additional connectivity – LINE OUT and an expression pedal jack. It comes included with a Bluetooth dongle, giving you the power of wireless connectivity.
This instrument will appeal to performers and producers alike, with a suite of tools allowing for truly creative music-making.
Shop Now | Casio CT-S500
---
CT-S1000V
As suggested by the sudden jump from 500 to 1000, this keyboard takes a significant step forward from its predecessor.
It includes all of the features and functions that the S500 did – including the sampler – but the big difference is the inclusion of Casio Vocal Synthesis.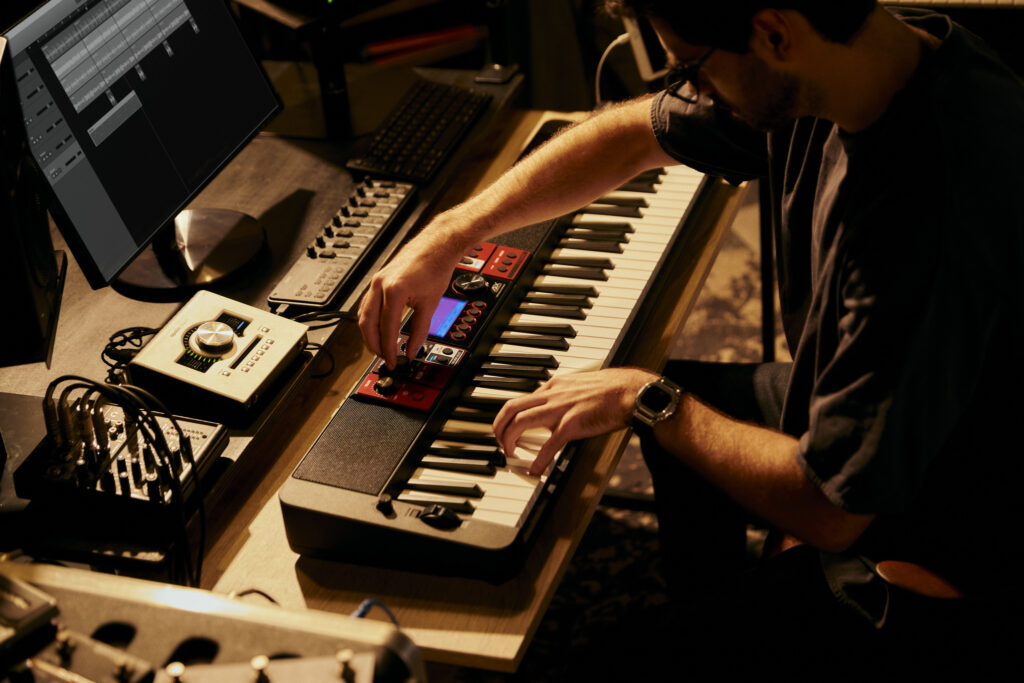 This is a ground-breaking technology, which revolutionises the process of adding vocals to music. You only have to write your lyrics into Casio's LyricCreator app, and then you can perform them on the keyboard – choosing from 100 different lyric tones! Harness the power of classic talkboxes and vocoders, or even create choral parts. Find out more about Casio Vocal Synthesis here.
The CT-S1000V comes with a Bluetooth dongle, as well as all of the connections featured on the S500.
This instrument offers something truly unique, giving it wide appeal. Hobbyists and pros alike will find a use for the CT-S1000V.
Shop Now | Casio CT-S1000V
---
CT-S1
The CT-S1 refines the essence of the S100, S200, and S300 – whilst utilising some of Casio's most recent technological breakthroughs.
With 61 tones and no built-in rhythms, this is a more stripped-back keyboard design, with a focus on quality in the features that are included. The CT-S1 has a whopping 64 notes of polyphony, three touch sensitivity settings (plus off), and utilises the AiX Sound Source.
There are 24 reverbs, and settings for chorus, delay, and DSP and EQ pre-sets. The connections are for sustain pedal, headphones, AUDIO IN, USB to HOST, and you can connect the Bluetooth dongle as well.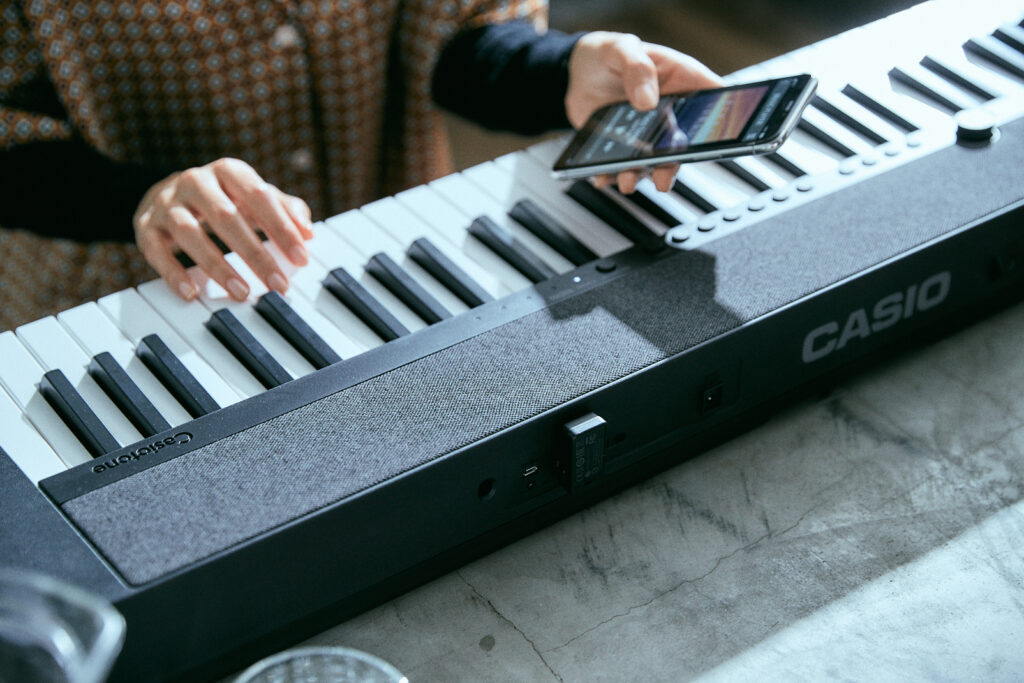 One of the main things this keyboard does well is look good. Available in black, white, and red, the CT-S1 has impeccable styling. Whether on its own, or as part of a wider setup – this keyboard will look good in your space.
The CT-S1 is a return to what Casio intended to create with the very first Casiotone keyboard: a simple instrument which looks as good as it sounds.
Shop Now | Casio CT-S1
---
Which one is right for me?
The Casiotone line includes options for players at every stage of their keyboard journey.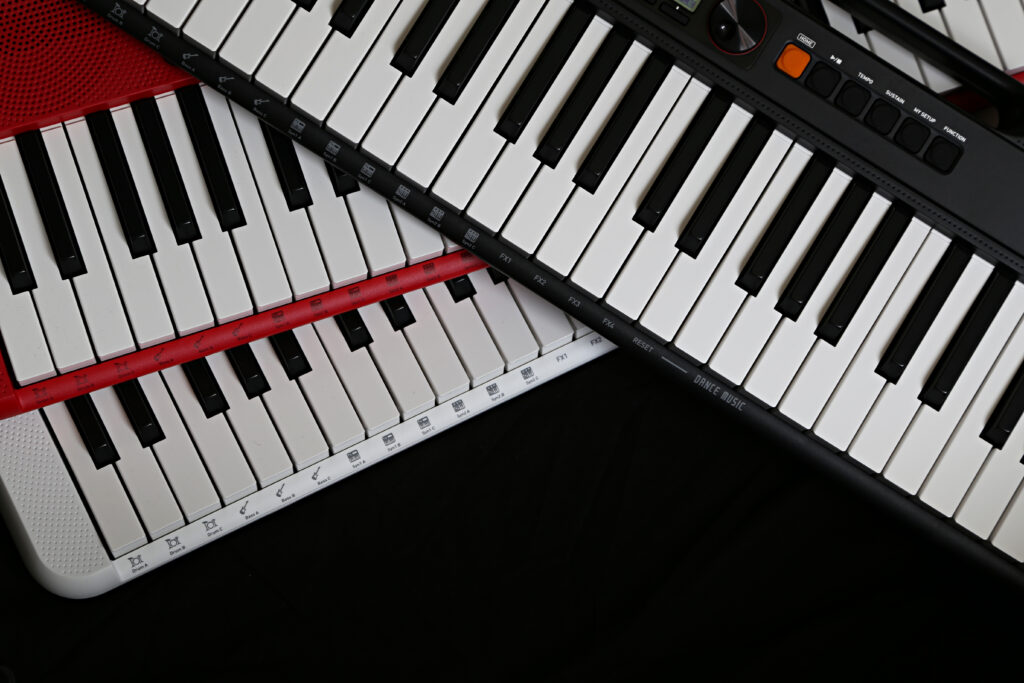 Those looking for an entry-level model will enjoy the CT-S100, CT-S200, CT-S300, and CT-S1. Buyers will need to decide whether features such as touch response or pedal connections are vital for them before making a choice though. Not to be forgotten is the integrated handle featured in the first three Casiotones – a real game-changer for portability.
The CT-S400, CT-S500, and CT-S1000V are pointed more towards intermediate players. Beginners will have a great time with them, but making the most of all of the features straight out of the box might require a bit of experience. These keyboards will appeal to both performers and producers, with elements like the sampler and voice synthesis engine offering particular creative versatility.
The fact that all Casiotone keyboards have USB connections means they can all be used as MIDI controllers. The CT-S300 and CT-S1 stand out as good choices for those seeking a keyboard to use mainly as a controller for their DAW due to their touch-sensitive keys. The easily-carried CT-S300 would be good for somebody seeking a portable, laptop-based setup; whilst the refined styling of the CT-S1 would look excellent in a home studio environment.
---
Find out more
Tempted by a Casiotone? Or want to explore the rest of our keyboards? Follow the links below to explore our full range.
Shop Now | Casio Keyboards
Shop Now | Keyboards