With so many drum machines out there to choose from, it can be difficult to know which one is right for you.
But what exactly is a drum machine? Well, it's an electronic musical instrument that synthesises, samples, and sequences, percussion sounds, drum beats, and patterns. 
Today, there's a huge range of drum machines on the market, all demonstrating unique and powerful abilities. So we're here to clear the waters and talk about what we think are the 14 best drum machines.
In a hurry?
If you're in a hurry, here are our top 5 favourite drum machines.
1. Elektron Digitakt
The Elektron Digitakt offers a surprising level of depth. It features an extensive sampling engine, as well as one of the most complex and captivating sequencers available. There's always another trick waiting to be discovered that will push your production into new directions you could have only dreamed of.
2. Roland TR-8S
This drum machine is a love letter to the bygone classics, featuring lovingly crafted ACB models of the 808, 909, and more. On top of that, the TR-8S presents one of the performable interfaces on this list that invites you to tweak sounds and explore on the fly.
3. MPC Live II
More of a comprehensive beat-making studio than simply a drum machine, the MPC Live II gives you all the tools you need to make nuanced and detailed beats in one of the most intuitive interfaces. Thanks to detailed performance pads and a wide variety of sampling tools, this is one of the most realistic-sounding drum machines available.
4. Korg Drumlogue
Offering a unique hybrid engine that pairs analogue and digital engines like never before, the Drumlogue has plenty of depth waiting for you to delve into. There's loads of hands-on control alongside deep menus to craft patterns with meticulous detail, so you can produce some highly complex tracks.
5. Behringer RD-9
If you're looking for an analogue drum machine and have a taste for the classics, the RD-9 is the drum machine for you. Featuring authentic 909 circuitry, this is a meticulous recreation with a range of contemporary features sprinkled in that really brings that distinctive 909 sound up to date.
Best Drum Machines 
1. Korg Drumlogue
Best drum machine for hybrid sounds.
Features
Hybrid analogue/digital design with sampled-based sound generation.

11-voice polyphony with four analogue drum voices.

Six sampled-based parts and digital multi-engine.

Import custom synthesiser plugins.

Powerful 64-step sequencer with studio-grade effects.
Taking inspiration from vintage and modern classics alike, the Korg Drumlogue effectively fuses analogue and digital sound engines with some powerful sequencing and performance features.
The depth and versatility of the hybrid drum engine featured in Drumlogue make for a highly capable drum machine. And quickly scrolling through some of the preset patterns demonstrates its highly expressive potential.
Korg has beautifully paired the analogue and digital components with unique sound design abilities, such as applying digital emphasis to the start of your analogue sounds.
Simply put, it sounds great.
Analogue warmth blends nicely into a mix, while the adaptability of its digital components gives the sounds an edge that cut straight through.
Gettings hands-on with the front panel injects a sense of play to the Drumlogue and live tweaking spices up tracks with plenty of flexibility. At the same time, there's an array of menus to delve into that offer more depth to the sound design.
On top of powerful sound design abilities, an intuitive sequencer features probability and motion control settings, making for interesting and evolving patterns.
Delay, reverb, and master effects bring depth and motion to tracks, so there's never a static sound.
Furthermore, the potential of the multi-engine takes sound design to another level with the addition of user-made plugins.
There's an active user base developing plugins for the Drumlogue, so there will always be new and exciting ways to make sounds.
A truly multi-faceted device, combining analogue and digital, hands-on immediacy and complex menu-based sound design, the Drumlogue has a little bit of everything for everyone. 
Shop now | Korg Drumlogue
---
2. Korg Volca Beats
Best drum machine for budget analogue.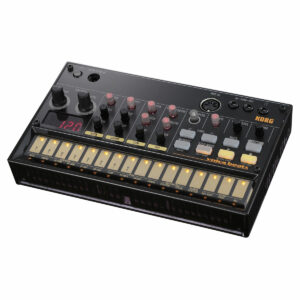 Features
Powerful analog sounds.

References classic rhythm machines.

PCM sounds engine.

16-step sequencer from Electribe.

Integrated speakers and battery powered.
The Volcas are a divisive collection of quirky little drum boxes.
Ranging from analogue to FM synths, from mini-modulars to samplers and a variety of drum machines, there are lots to choose from.
Drum machines have always boasted portability and convenience, but the Volca series takes this to the next level.
The Volca Beats arguably had a hand in revitalising the renaissance of drum machines when it was released in 2013 alongside the Volca Keys and Volca Bass
An analogue drum machine with six analogue sounds and four PCM sample-based sounds, the Volca Beats offers a surprising level of range for its footprint.
With efficient use of the space on offer, Korg have developed a streamlined drum engine that offers bright and attractive sounds.
There is simple sound tweaking, so you can get sounds to sit just right in a mix.
The built-in sequencer ties the Volca Beats together and offers plenty of versatility, with the ability to mute, solo, and motion record on the fly. Motion recording sound tweaks, in particular, are a great way to add character and spice to your patterns.
A stutter effect brings elements of glitch, delay, and morphing to your beats that simply sounds great, allowing you to take your beats to the next level.
All in all, although the Volca Beats is seemingly simple at first glance, it offers a surprising amount of depth and ability.
Most important of all, it's fun.
In addition, thanks to the size and battery compartment you can take the fun with you wherever you go.
Shop now | Korg Volca Beats
---
3. Behringer RD-9
Best drum machine for classic analogue recreation.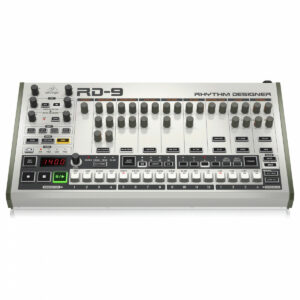 Features
Harness the legendary 909 sound with modern functionality.

Craft immaculate beats with 11 drum voices and a 64-step sequencer.

Instantly add depth with wave designer and dual-mode filter.

Tune, level, attack and decay controls for each drum sound.

Authentic performance with original analog circuitry.
The TR-909 was introduced by Roland in 1983 and was the successor to the legendary TR-808. This classic drum machine was hugely influential in the development of electronic dance music.
Taking on a notably punchy and aggressive sound, the 909 is famous for defining genres such as techno, house, and acid. There was no concern about drummer fatigue, so techno and house producers could make longer tracks than ever. DJs such as Jeff Mills would famously incorporate the TR-909 into live sets, deftly performing for huge crowds.
Tweaking sounds on the fly makes for exciting motions through tracks, and a dextrous performer on a drum machine is sure to turn heads. You can watch Mills demonstrate his skill here.
Notably, the TR-909 used samples for its crash, ride, and hi-hat sounds, whereas all the other sounds were generated with analogue synthesis. This mix of sampling and synthesis produced a distinctive and instantly recognisable sound that has stood the test of time and still finds its way into popular music today.
An original 909 is something of a relic today, so unless you're looking to own a piece of history, maybe look towards one of the many recreations available.
The Behringer RD-9 is one such recreation.
You can now get your hands on the same circuitry that made the '80s and '90s bounce, without breaking the bank.
Featuring all 11 drum voices with meticulously recreated analogue circuitry, a 64-step sequencer, wave designer, and dual-mode filter, the RD-9 is the full 909 experience.
Alongside all this, the RD-9 boasts all-new modern features that can take live performance to the next level.
Step repeat, note repeat, real-time triggering, and live step overdubbing are all powerful effects that are sure to capture the attention of your audience. That is if the decidedly punchy tones of the authentic analogue circuitry haven't already!
Shop now | Behringer RD-9
---
4. Behringer RD-6
Best drum machine for simplicity.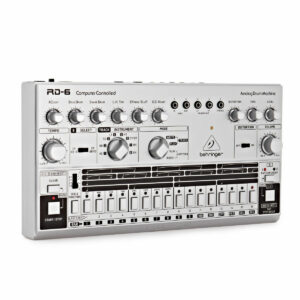 Features
606-style drum machine with true analogue circuitry.

Eight classic drum sounds, including an iconic clap.

64-step sequencer and 32 separate patterns.

Built-in distortion effect adds edge to your sounds.

MIDI and USB connectivity and outputs for each drum sound.
The TR-606 is another EDM classic with an instantly recognisable sound and a cult following that lives on today.
The RD-6 offers the same circuitry that was available back in 1981, with a few extra features that respectfully reinforce its capabilities. 
Built with a simple and elegant interface, sequencing is straightforward whilst packing in plenty of variation.
Performance is simple but precise, featuring level dials for bringing parts in and out. Plus, the RD-6 offers distortion and tone dials that can really help it settle into a mix or build the intensity and excitement in your sounds.
Behringer has also included an authentic recreation of the renowned BR-110 clap sound that brings a fresh analogue punch to your beats.
Trigger outs are a great way to bring the RD-6 into a bigger set-up, and they offer the possibility to sequence external gear on its sequencer. This makes for cohesive integration that can transform your hardware into a single interconnected instrument, with the RD-6 at the centre of it all.
Overall, it's a surprisingly punchy kind of sound that is sure to keep the groove going.
In combination with an accessible interface, if you're looking for a no-nonsense drum machine then the RD-6 could be just the thing.
Shop now | Behringer RD-6
---
5. Korg Volca Kick
Best drum machine for kick drum design.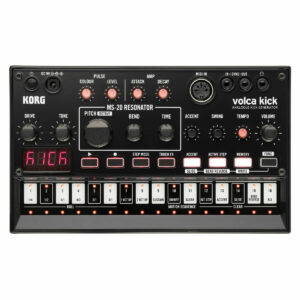 Features
Powerful kick drum synthesizer.

Battery operation and built-in speaker.

Built-in 16-step sequencer.

Analog kick sounds generated by MS-20 Filter Oscillation.

Control distortion and tonality with drive and tone controls.
Producers are notorious for wasting time scrolling through samples; you can spend hours looking for the perfect kick. Sometimes you simply need to define a kick yourself, building it from the ground up to fit perfectly into your mix.
Thus, the Volca Kick steps in!
It's a dedicated analogue kick generator that's made for sound design, with analogue circuitry based on a distinctive MS-20-style resonator.
Boasting some serious versatility, the Volca Kick covers classic kick duties, 808-style basslines, hard-techno kicks, plus some weird and wonderful sounds to boot.
The sound quality is distinctly analogue and filled to the brim with grit and warmth that sits beautifully in any mix. Designing your kick live is an inspiring and exploratory process, you might even end up surprising yourself with the final result. 
Having a dedicated kick generator in such a tiny form factor is a great addition to any studio. It doesn't take up much space, offers full DAW and hard integration, and lends to a uniquely performative production process.
Of course, we see a return of the 16-step sequencer, but this time with a new Touch FX feature that lets you control an effect instantly and opens up performance into new dimensions.
Much like the other Volcas on offer, the Kick is seemingly limited at first glance, but it does what it is designed to do very well.
It's a great device for switching up your workflow and encouraging sound design over sample scrolling.
Shop now | Korg Volca Kick
---
6. Roland TR-08
Best drum machine for authentic classic recreation.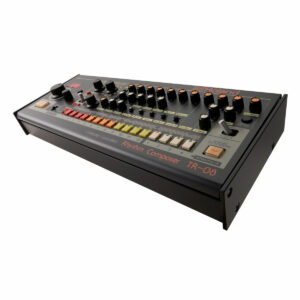 Features
Rebirth of the legendary TR-808 Drum Machine.

Authentic recreation with scaled-down identical interface.

Everything the previous 808 could do, plus added modern features.

Rugged construction with durable metal front panel.

Immense connectivity options for use with hardware and software.
After launching to poor reviews, the TR-808 attracted a cult following in the '80s.
There were claims of synthetic and simplistic sounds that urged popular music to disregard the 808, but it's precisely these qualities that were attractive to artists with the intuition to think outside the box.
The TR-808 and its signature ground-shaking bass quickly became synonymous with the rising sound of hip-hop and would define the genre for years to come.
Today, the 808 has been used on more hit records than any other drum machine. Filled with timeless analogue sounds including the genre-defining bass drum, the 808 is a drum machine that needs no further introduction.
With only 12,000 original 808s worldwide, it'd cost you an arm and a leg to get your hands on today.
Roland knows that demand is high and now offers a shrunk-down 808 for a fraction of the price.
A meticulously detailed and authentic replica, the TR-08 gives you a chance to capture all the sounds of the original 808, utilising ACB modelling technology.
Offering the look, sound, and feel of the original, the TR-08 is produced with stunning accuracy.
Better still, it's packaged in a sleek miniature package, consistent with the extended Roland Boutique range. The TR-08 will fit into any studio or even into a backpack, so you can make beats on the go.
Now you can enjoy all the modern conveniences you've come to expect in conjunction with an unbeatable classic sound. 
Shop now | Roland TR-08
---
7. Korg Volca Drum
Best drum machine for budget digital sounds.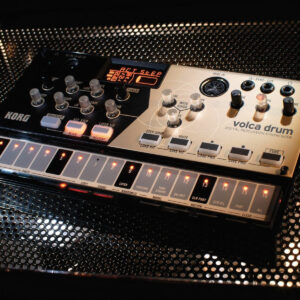 Features
Digital percussion synth with 6-part x 2-layer structure.

New DSP engine gives the Volca Drum a distinctive sound.

Add rich resonances to your sound with the Waveguide resonator.

16 steps of sequencing give you a wide scope for arranging songs.
The digital take on a Volca-style drum machine offers more sound design potential than its analog siblings. This time, Korg offer an adaptable six-part DSP drum synth engine in a convenient package: the Korg Volca Drum.
Each sound is based on a simple trigger waveform, then wave folding and overdrive add overtones and distortion, and finally, a waveguide resonator effect brings the sounds to life.
This is a simple enough process that lets you dial in just the right drum tones with ease but offers plenty of depth as well.
Full of wild and unexpected sounds, exploring the sound design engines on the Volca Drum quickly leads you into unexpected territory. Classic drum sounds quickly transform into chaotic unconventional tones and textures with a few tweaks.
This is a highly distinctive sound full of rich harmonics and complex overtones, all of which can be emphasised to pull your production in new directions.
Of course, you can put all these sounds onto the signature Volca sequencer to swiftly produce beats.
Lending itself to performance, the sequencer features mutes, solos, and motion recording that lets you create surprisingly complex sequences.
This might be the deepest sequencer of all the Volcas.
Active steps let you skip steps during playback to create short loop effects and irregular rhythms, and an accent function brings groove and rhythmic nuance. The slice function divides steps to allow for drum rolls.
All this makes for a highly performable instrument in a tiny portable package.
Shop now | Korg Volca Drum
---
8. Roland TR-8S
Best drum machine for performance.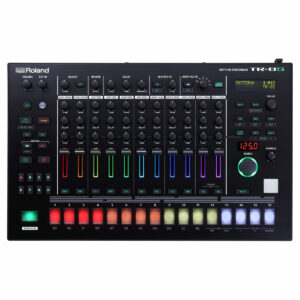 Features
Intuitive performance-focused percussion instrument.

Includes faithful recreations of 808, 909, 707 machines, and more.

Import preset and custom samples via SD-card slot.
If vintage isn't your style, the TR-8S might be up your street. In fact, it's a Best in Tech award winner. 
A forward-thinking instrument tuned for performance, this is Roland's most complete drum machine to date.
Performance has become a major facet of modern drum machines and you'll find powerful features reflective of this on most machines today, but the TR-8S takes this to the next level.
It has a large collection of authentic TR drum machines powered through next-generation ACB models. Each machine recreation captures detail and nuance, they're down-to-the-circuit models that behave exactly like the original hardware.
Beats can be brought to life with an FM synthesis engine that augments your drum hits to produce sounds unlike anything else.
It's easy to sweep through a multitude of sonic variations and to manipulate the depth, ratio, and feedback of the FM engine with macro controls that make the TR-8S beautifully expressive.
Plus, you can insert your mono and stereo samples into the TR-8S to bring out your unique personality in your beats. This makes for highly personalised kits that are just as realistic or far-fetched as you like. 
Sample manipulation is also just as hands-on and easily performable as its machine modelling and FM parts, so there are no blind spots when it comes to live sets.
Effects sound great on the TR-8S, whether you're overdriving your kick, building delays on your rimshots, or filtering the whole thing with Master FX.
Performance and playability are key, and this philosophy clearly rings true throughout the effects as well.
It's easy to build massive risers that drop low and heavy, shimmering with sparkling reverbs, or simply add colour and heat to make your sounds really pop, all on the fly.
Whether you're jamming alone or with company, the TR-8S is a powerhouse performance tool that stands out from the crowd.
Shop now | Roland TR-8S
---
9. Roland TR-6S
Best drum machine for portability.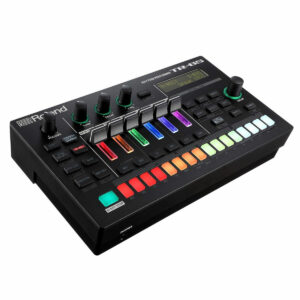 Features
Achieve the iconic sound of the TR-8S without breaking the bank.

Generate unique, interesting rhythms with six tracks.

Provides the iconic sounds of the 606, 707, 808, and 909.

Mix and match sounds to create hybrid kits.
The TR-6S takes the design philosophy of the TR-8S and shrinks it down into a compact and portable package.
Offering the same detailed circuit models of all the classics, as well as the tweakable FM sound engine, it's great fun to bring those distinctive tones to life.
A streamlined interface focuses on intuitive performance in a small and convenient package.
Roland has paid careful attention to reduce the footprint while retaining accessibility and the performance strengths of the TR-8S.
The small footprint of the TR-6S holds a surprising depth and ability, presenting smart and efficient access to all the parameters that count.
Six tracks of advanced drum sequencing make for an inspiring process that never overwhelms the user, encouraging live experimentation. It also boasts enhanced real-time recording and modern features such as sub-steps for ratcheted parts, probability, and motion recording to create ever-evolving grooves.
Whether you're in the studio or on the go, the TR-6S doesn't slack.
Shop now | Roland TR-6S
---
10. Elektron Digitakt
Best drum machine for exploring ideas.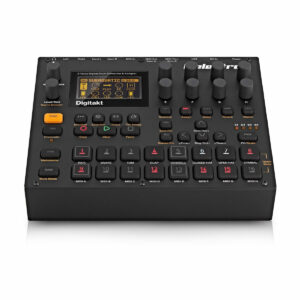 Features
Eight track digital drum machine and sampler.

Rich feature set complements powerful digital sound engine.

Eight dedicated MIDI tracks.

64MB sample memory and 1GB drive storage.

Overbridge support.
A drum machine can be so much more than a representation of acoustic drums, and the Digitakt proves that.
Stretching the limitations of how we define 'drum machine', the Digitakt is described as a 'digital drum computer and sampler' by Elektron.
Offering a distinctive workflow, complex computational power, and immensely satisfying mechanical buttons, the Digitakt invites experimentation and is a joy to use.
Digitakt features eight internal audio tracks and eight dedicated MIDI tracks for powerful standalone and integrated capabilities.
A comprehensive sampling engine offers one-shot, time-warp, repitch, and slicing that can emphasise, tweak, and reshape your sounds completely.
Beyond this is a wide range of sound-shaping tools, including filters, amp envelopes, LFOs, and much more.
Thanks to all this, it's straightforward enough to key in simple beats and patterns, but you'd only be scratching the surface of what the Digitakt has to offer.
The brilliance of this machine comes into its own with the intricate programming of the signature Elektron sequencer. There are features such as parameter locking, probability and trigger conditions, motion control, micro-timing, polymeters, and more.
The ability to lock parameter changes to any step in a sequence makes it quick and easy to define precise evolutions throughout a pattern.
Trigger conditions offer the ability to program sequences with an interconnected complexity that develops patterns in interesting ways while retaining cohesion.
The sequencer is your canvas and Digitakt gives presents a varied collection of expressive tools to colour it in ways that are unique to the Elektron workflow.
When it comes to immediate and inspiring exploration of ideas, there's nothing quite like the Digitakt.
Shop now | Elektron Digitakt
---
11. Elektron Model:Samples
Best drum machine for immediate fun.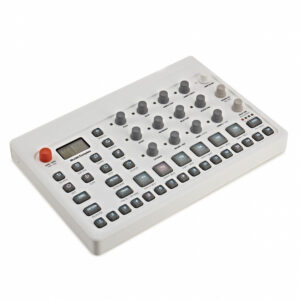 Features
Plug in, tweak, play, and create.

Tweak included samples or transfer your own.

Over 300 presets supplied by Splice.

Record sequences, write melodies, and automate parameters.
Elektron made its trademark workflow more accessible than ever with the Model:Samples.
It's a six-track groove box that features most of the Elektron superpowers.
Packaged in an almost one-knob-per-function interface, the Model:Samples is highly hands-on. With most of the controls right at your fingertips, you can mash up and mangle sounds on the fly.
Plus, the pads are velocity-sensitive.
Thanks to this, both sound design and performance on the Model:Samples is an immediate and active process.
A full and proper sampling engine gives you the ability to take sounds and transform them beyond recognition.
Of course, this can be done live in performance to manipulate the character of entire tracks in motion and take your sets in directions that will surprise and tantalise an audience.
Streamlined reverb and delay engines provide a source of depth and motion, and they can also be tweaked in real-time to produce washes of vibrant sound.
The trademark Elektron sequencer is here in all its glory, featuring the same tricks you'll find in Elektron's upscale devices, including probability, conditional triggers, and parameter locks.
With all this on offer, the Model:Samples is a great choice if you're looking for a performance-focused sample machine with a focus on fun.
Shop now | Elektron Model:Samples
---
12. Elektron Analog Rytm MKII
Best drum machine for advanced sound design.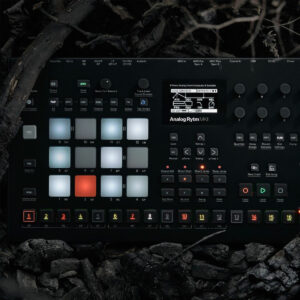 Features
MKII edition of the renowned eight-voice beat machine.

New sampling capability with two balanced sampling inputs.

Large, crisp OLED screen and back-lit buttons.

Quick performance controls and precise high-resolution encoders.

Expression/CV inputs for external parameter control.
This is another complex device that better suits the title of "drum computer".
Pairing an analogue drum synthesiser with the complexities of the Elektron sequencer, the Analog Rytm MKII offers the best of both worlds.
The analogue synthesis engine hosted by the Rytm MKII offers perhaps some of the deepest sound design abilities available.
Utilising analogue machines, sound can be defined with a unique selection of design parameters. This process allows you to design drums from the ground up, so the sound of the Rytm never grows stale or repetitive.
Powerful digital sampling features let you inject your personality into your patterns, and the ability to mix and mangle them with a powerful sampling engine opens up potential.
The synthesis engine offers dual VCO to design melodic synth parts, so Rytm MKII is really a fully-fledged groove box.
All of the Analog Rytm's features lend to it being a highly flexible and versatile unit, tuned to both extensive detailed sound design and nuanced performance.
Alongside the deep sound design, the Analog Rytm features the signature Elektron sequencer, with all the bells and whistles you should expect.
If you're looking for an advanced drum machine that never cuts corners on ability, then the Rytm MKII is likely right for you.
Shop now | Elektron Analog Rytm MKII
---
13. Polyend Play
Best drum machine with a fresh direction.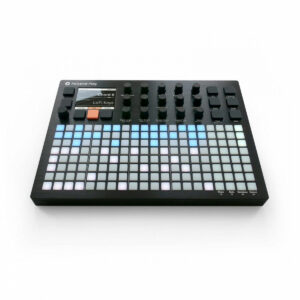 Features
Powerful performance sequencer with eight audio and polyphonic MIDI tracks.

The portable, durable, and battery-powered design makes it ideal for musicians on the go.

Onboard master effects, including reverb, delay, limiter, and saturation.

Over 30,000 combinations by combining 128 patterns per project.

Independent encoder controls to adjust tempo, swing, note length, and much more.
The Polyend Play offers one of the more distinctive interfaces, inspiring a unique workflow.
The 16×8 multi-function grid develops sequencing and performance in some interesting ways. Essentially, what's on offer is an open sandbox approach for creating and performing grooves.
You can get more hands-on with your patterns than ever before, actively manipulating sequences to quickly move data around, such as steps, tracks, variations, and more with simple pick and place controls.
Plus, there are 15 touch-capacitive encoders for precise tweaks, sweeps, and sample editing that can all be done on the fly.
Control eight internal audio tracks as well as eight individual polyphonic MIDI tracks that offer both a powerful standalone workflow as well as comprehensive studio integration.
In total, the 16×8 grid offers over 30,000 easily accessed track variations.
That's 128 patterns holding 16 tracks, with each individual track holding up to 16 variations. On top of all that, there are both performance and master effects that'll spice up your patterns in some really exciting ways.
Performance effects include tune, filter, overdrive, rearranger, space, and more that allow you to make non-destructive changes to your tracks.
Some of the master effects include reverb, delay, sound enhancer, limiter, and saturator that bring colour, warmth, motion, and depth to your mix.
Every process on the Polyend Play is visually marked, and the colourful backlit controls clearly demonstrate how you are affecting your patterns.
A fully-fledged performance mode encourages live play and experimentation that can intuitively lead you down musical avenues you didn't realise were there.
The Polyend Play is a fresh take on the groove box workflow that just seems to work.
Shop now | Polyend Play
---
14. Akai Professional MPC Live II Standalone Production System
Best drum machine for complete production.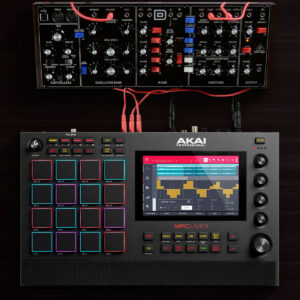 Features
Unforgettable power and versatility.

MPC 2.10 Software update – 19 new plugins and more.

Premium hardware includes a touchscreen, monitors, and famed MPC pads.

A huge array of connections, including MIDI and CV gate, allow modular setups to connect.

High-quality compact chassis will easily fit in your backpack.
The MPC workflow is time-honoured and endorsed by some of the greatest of all time. J Dilla, DJ Shadow, Dr Dre and some of the biggest names in the business have all worked with one version of the MPC or another.
Listen to some tracks by any of these artists and you'll quickly get a grasp of the expressive depth on offer here.
The MPC Live II offers the most convenient iteration of the MPC workflow yet.
This is the classic MPC workflow, supercharged and modernised with extensive features. It's light, compact, portable, and operates as a standalone device.
Capturing everything you love about the MPC, including intuitive sample chops and some of the best performance pads in the game, the Live II is a first-class creative tool.
The interface is carefully designed, so you have access to everything you need when you need it. The multi-touch display is key to this, giving you sequencing, automation, and sound design just like you'd find in your DAW.
Plus, the display acts as a gestural effects pad, so you can make dynamic sonic evolutions with ease.
There are even studio-grade monitors directly built into it, delivering the whole frequency spectrum so you can make tracks wherever you go.
With all this, it's easy to proficiently produce full beats without having to resort to confusing workflow shortcuts.
The MPC Live II really is a testament to how far drum machines have come.
Shop now | MPC Live II
What to consider when buying a drum machine
All of these drum machines offer distinctive and unique qualities that are worthy of attention and praise. However, not all of these drum machines are necessarily right for you.
 There are a few things that you should consider if you're in the market for a new drum machine.
First of all, can you afford it? 
A drum machine can be a serious investment but fret not, there are plenty of high-quality budget drum machines with loads of great features that won't break the bank.
Other things to consider include:
Are you looking for a standalone device or a drum machine that will integrate with a DAW?

Sound quality, design, functionality, and ease of use can vary greatly with unique sound engines and design parameters, think about your own personal workflow and what might integrate well.

If you're playing live sets or travelling a lot then portability is an important factor.

Consider if you're set on analogue circuitry or whether digital is what you're looking for; each has its benefits, from classic analogue warmth to deep digital complexity.
Furthermore, If you decide that hardware just isn't your thing right now, Gear4Music also offers a great range of drum plug-ins and samples.
A bit of history…
The Rhythmicon, developed by Leon Theremin and Henry Cowell is considered to be the world's first drum machine.
Drum machines have since become more defined, diverse, and powerful, and genres have been defined by the idiosyncratic sounds of one machine over another.
Today drum machines can be sketch pads, groove boxes, complex computers, and might even replace your DAW. Their versatility and range mean that drum machines can be adapted to almost any style: from pop to punk, dance, and experimental genres, you can find them all over the musical landscape.
Initially disregarded by popular music scenes, the rise of drum machines is largely regarded as rooted in the emergence of underground genres.
By the time the '80s had come around drum machines were taking over, and the charts were filling with the sounds of machine percussionists. Throughout the 2010s and beyond, we've seen a revival of interest and a new wave of both analogue and digital drum machines.
The drum machine has been defined and redefined repeatedly, old classics have been brought back from the dead, and limits are pushed further than ever.
Basically, a drum machine is a piece of music history and a powerful tool for creation and inspiration.
What are the benefits of a drum machine?
Today, there are many benefits to drum machines.
In a word, accessibility. 
Ease of use and affordability mean that anyone has a chance to make great-sounding music without the expensive gear, training, and years of dedication that many can't afford.
Furthermore, size and portability mean that the drum machine is simply convenient. Whether you're in the studio or on the road, you'll always find space for a drum machine.
And the benefits don't stop there.
Drum machines have been a locus for trailblazing artists and manufacturers to establish unique and unprecedented musical abilities. They encourage rule-breaking and boundary-pushing thanks to their hugely versatile and adaptable nature.
Proto-punk duo Suicide was setting this standard as early as the '70s. Drum machines, at this time, were typically used in lounges or lift music, Suicide took the drum machine in a new direction.
They pushed the drum machine beyond all expectations and past the limitations of human ability. Selecting a simple beat on a Selecta Rhythm, they cranked up the tempo to the max and defined a hardcore thumping sequence, a sound that would be integral to punk music for years to come. You can listen to it here.
The ability to define sounds to fit into any mix is an invaluable tool, and putting this power into the hands of creative and inspired musicians creates huge spaces for sonic potential.
The nuanced sequencing and deep sound design built into modern drum machines have developed more ways than ever to adapt your sound and follow in the footsteps of musical pioneers like Suicide.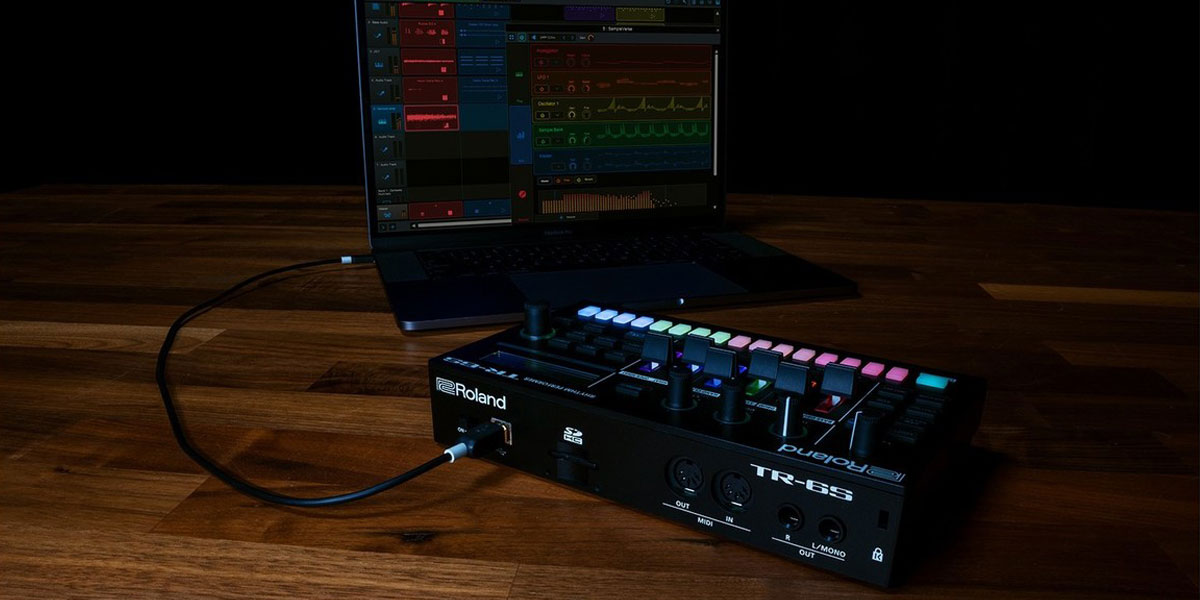 FAQs
What is the most realistic-sounding drum machine?
If you're after a realistic-sounding drum machine, we suggest opting for the MPC Live II. Although drum machines are a great way of coming up with new sounds, they don't necessarily lend themselves to realistic sounds. However, the MPC Live II is perfect for realistic sounds because it boasts extensive sampling capabilities, detailed performance pads, and a host of features to accentuate expression in your beats.
---
What is the most popular drum machine?
Some of the most popular drum machines are:
Roland TR-8S

Elektron Digitakt

Korg Drumlogue

Behringer RD-9

MPC Live II
---
Are drum machines worth it?
In comparison to real drums, drum machines offer a wide range of versatile features that make them worth the money. Extensive sound design capabilities, lively effects, complex sequencing, and an assortment of performance tools are but a few of the potential features that you might find on a drum machine.
Final thoughts
The history of the drum machine is long and varied, but the culture of boundary-pushing and limit-breaking has left us with a huge range of exciting drum machines to get to grips with.
This list is but a few of them, but nevertheless, these are 14 of the best drum machines you can buy today.