I might be slightly biased, but the drums are the perfect instrument to kickstart your child's musical journey. Drumming isn't just a case of picking up sticks and hitting things, there's so much more to it that can develop children's motor skills, cognitive skills, and hand-eye coordination. 
Here we will dive into the key reasons to give in to those endless naggings and buy your child their first drum kit! 
1. Exercise
Drumming is the only instrument out there that simultaneously provides a healthy workout for the whole body whilst being fun and exciting to play. It trains the whole body, from legs and core muscles to the upper body, without the drummer even realising – they're too lost in the groove! Not to mention, it's an awesome way to get the heart rate going.
As well as this, it's the perfect way to train your child's brain at any age. It strengthens hand-eye coordination significantly and gives your child a whole new way of thinking, enabling them to play in time whilst their arms and legs work with each other.
2. Listening skills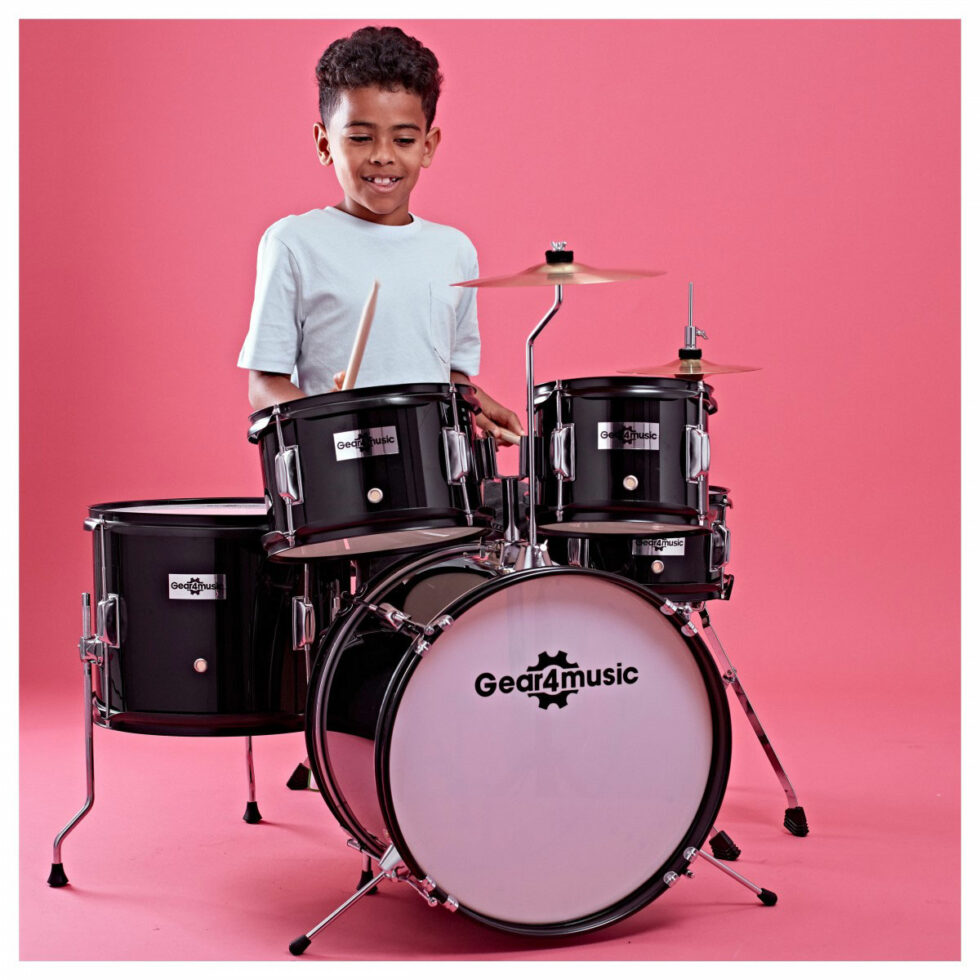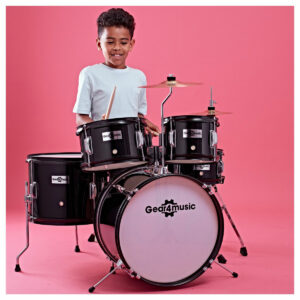 A super important part of mastering the drums is being able to listen with high attention to detail – every beat counts.
Drumming is a great way for your child to develop their listening skills with ease.
They'll learn how to interact with music, when they should and shouldn't play, and what intensity is needed.
Now, this may sound taxing, however, it's definitely one of the most fun parts about drumming.
Although there's notation for drumming, most drummers tend to learn new songs and techniques by listening first and then repeating.
This worked particularly well for me when I was growing up and learning the drums, and it's worked for countless others too.
3. Cognitive skills
Arguably, cognitive skills are the most improved with drumming.
One of the most important parts of drumming is time-keeping, so, naturally, counting is paramount. Therefore, mathematic skills are significantly improved over time when drumming.
And as it's so physical, drumming is an awesome way to discover just what the human body is capable of. To be able to hit a beat in one hand and a completely different beat in the other is one of the best achievements during anyone's drumming career.
4. Confidence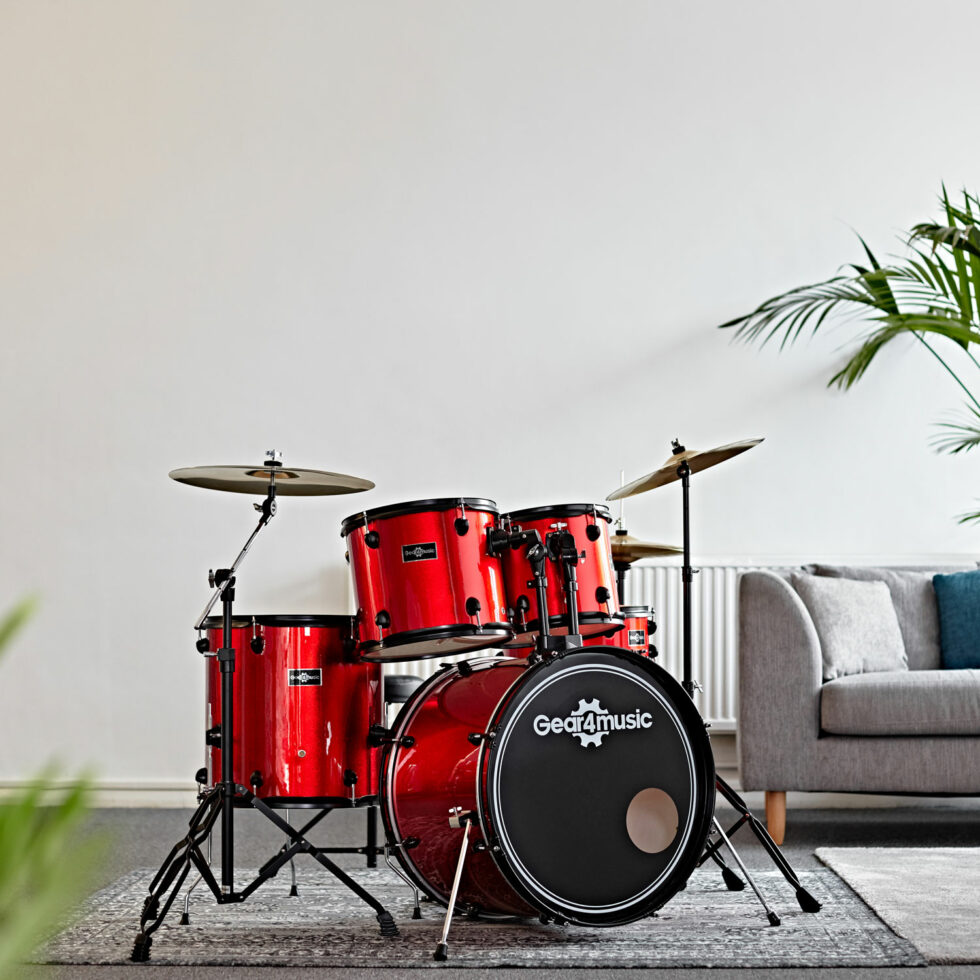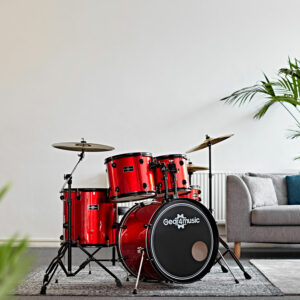 Ever heard of the saying, "confidence is key"? Well, this couldn't be any more true for drumming.
To get the best sound from a standard acoustic kit, it needs to be played loudly and enthusiastically. Because of this, children's confidence can be massively improved when learning the drums.
But confidence doesn't stop developing after 'mastering' the instrument.
In fact, even the top drummers in the world will tell you that their confidence is still growing with every recording, every performance, and every new song release!
An awesome part of drumming is that your child can put their skills and confidence to the ultimate test by performing once they're ready.
It has never been easier to join a band and get on stage, and after they've completed their first live set, your child will truly be on cloud nine.
5. FUN
Yes, you guessed it, drumming is fun! Who doesn't love hitting things and getting away with it? Thanks to the way it can focus a child's attention, drumming is the perfect outlet for energy and stress. And once a song or specific technique is mastered, there really isn't a better feeling.
There are so many styles, genres, and techniques to drumming that ensure it keeps your child interested for years and years. Drum lessons are one of the best ways of getting your child started. They can find out if they enjoy it before you invest in their own kit to play.
You could also purchase a practice item before the real thing. If your child has taken a good liking to the drums, there's a huge range of beginner drum kits available to choose from…
Our drum kit recommendations
On the market today, there are drum kits to suit every age of drummer. From size to style, we have you covered, helping you kickstart your child's drumming journey.
---
Junior 5 Piece Drum Kit by Gear4music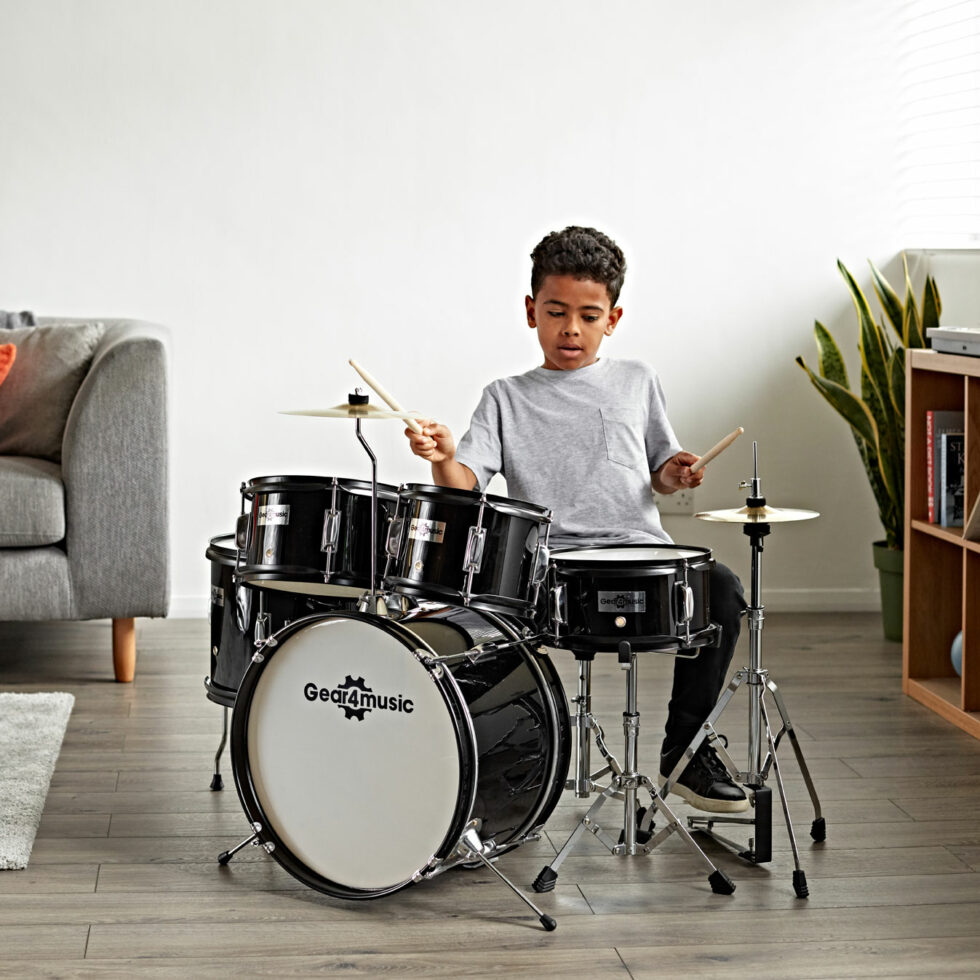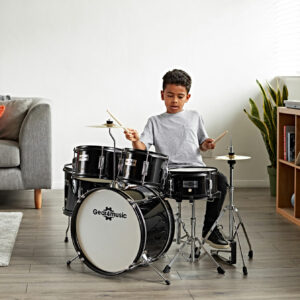 The Junior 5 Piece Drum Kit has smaller-sized drums that are perfect for junior drummers. They won't need to reach far to hit each drum accurately.
It features the same construction as a regular drum kit and it's super affordable, making it ideal for your child to learn the basics of drumming from an early age.
Shop now | Junior 5 Piece Drum Kit by Gear4music, Black
---
Pearl Roadshow Junior 5pc Drum Kit
Pearl has a great five-piece starter kit with the kind of hardware and poplar wood shells that you'd find on higher-end kits.
With a comfortably-sized 16'' bass drum, a 13'' floor tom, and an awesome sound, your child will feel right at home with the Pearl Roadshow Junior Kit.
Shop now | Pearl Roadshow Junior 5pc Drum Kit, Grindstone Sparkle
---
Mapex Tornado III 22" Rock Fusion Drum Kit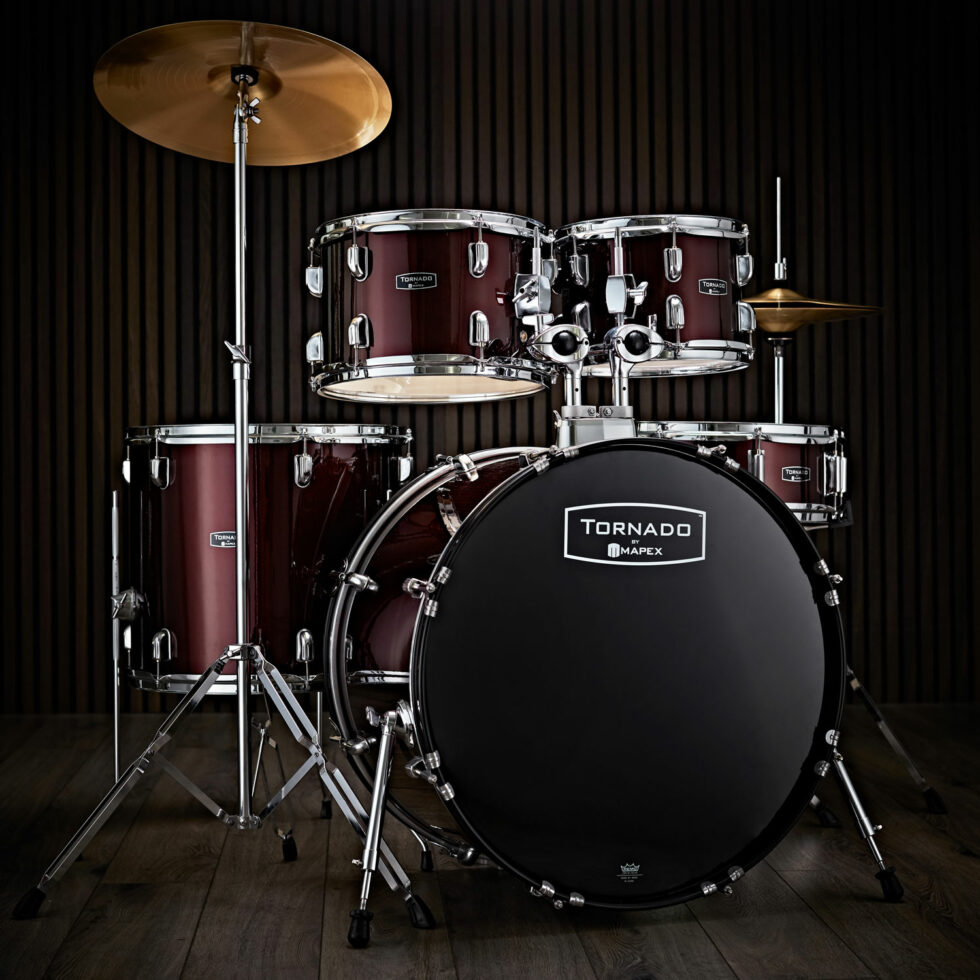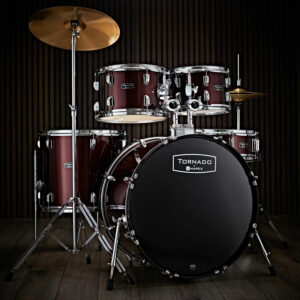 A step up from the previous kits mentioned, the Mapex Tornado Rock Fusion kit features a bigger bass drum of 22'' with floor and rack toms to suit.
This is more suited to ages 15+ and is widely considered to be the best beginner drum kit on the market today.
Shop now | Mapex Tornado III 22" Rock Fusion Drum Kit, Burgundy
---
BDK-20 Fusion Drum Kit by Gear4music
Another great full-size kit for beginners is the BDK-20 Fusion Drum Kit by Gear4music.
It boasts strong poplar shells and chrome-plated steel hardware. And with a 20'' bass drum diameter, it not only sounds great for a wide range of drumming styles but is also easier to set up at home.
Finished in a black oyster design, it's guaranteed to entice your child into practising.
Shop now | BDK-20 Fusion Drum Kit by Gear4music, Black Oyster
---
Premier Revolution 20″ 5pc Drum Kit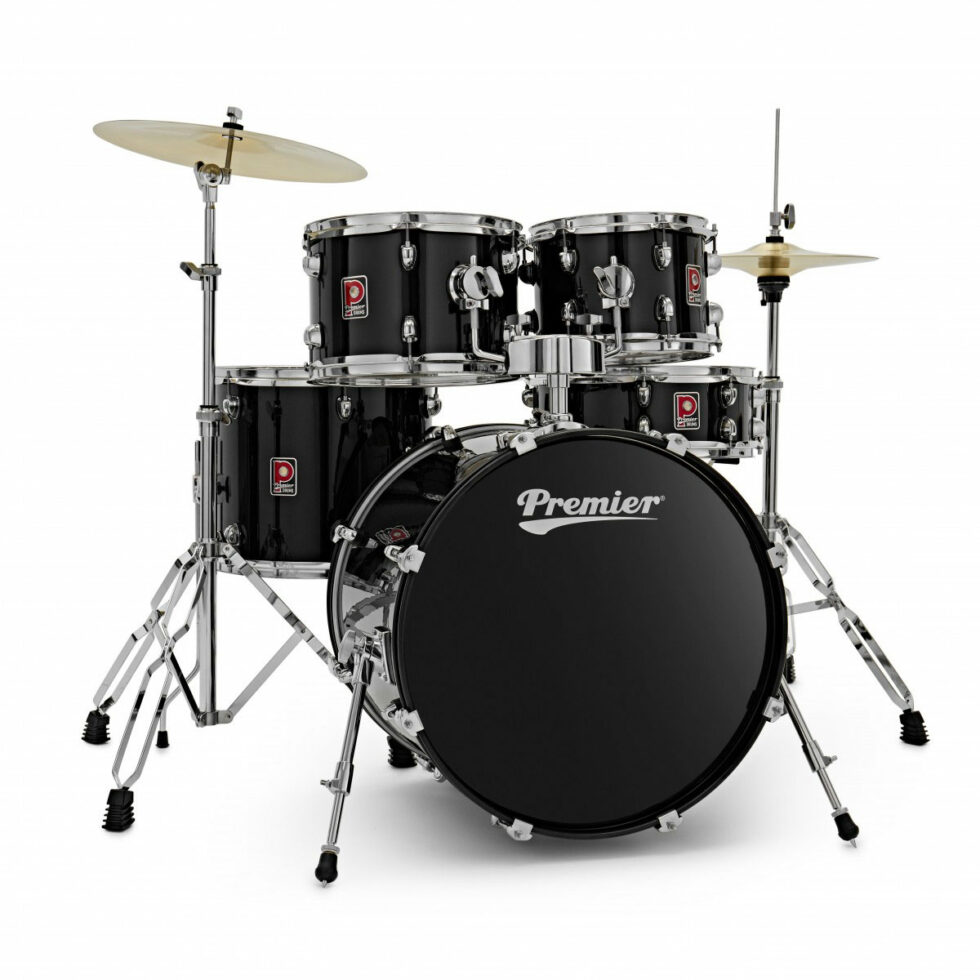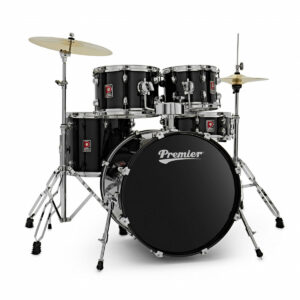 This Premier Revolution Drum Kit is a great entry-level kit for any child. Its black finish makes for a sleek aesthetic that's particularly suited to metal or rock genres, and its 6-ply, poplar shells produce a warm, versatile tone. Your child will discover their own unique drum sound in no time.
With everything a child needs to fire up their drumming journey, such as hardware, cymbals and a snare drum, the Premier Revolution 20″ 5pc Drum Kit is ready to rock, straight out of the box.
Shop now | Premier Revolution 20″ 5pc Drum Kit, Black
---
Yamaha Rydeen 20″ Drum Kit w/Cymbals, Black Glitter
 Yamaha also have a great beginner kit, perfect for your child to start out on.
The Yamaha Rydeen Drum Kit with Cymbals offers an incredibly powerful sound, courtesy of carefully-crafted 6-ply poplar shells that are designed to help a kit produce its best possible tone.
Thanks to a 20'' bass drum, the kit is easy to manoeuvre by a child of any age. Plus, it packs a real punch, drawing the player right back for an encore.
Cymbals and hardware are included, so your child can get drumming right away and develop their technique with no delay.
Shop now | Yamaha Rydeen 20″ Drum Kit w/ Cymbals, Black Glitter
Final thoughts
So, why should children learn the drums? Put simply, drums are by far the best instrument in the world. Not only are they a fantastic way to let off steam but they also exercise cognitive skills, meaning they're great for a child's development. And thanks to their versatility, simple constructions, and how fun they are to play, your child will always consider you the coolest parent ever!
Who knows, maybe one day they'll be the next Phill Colins or Keith Moon!
Looking for further information? Check out our Beginner Drum Kit Frequently Asked Questions!