Musicians use IEMs to hear themselves with clarity onstage and in rehearsal. This means they don't have to rely on the imperfections of loudspeaker monitors, allowing them to stay in complete control.
With the new XS Wireless IEM range, Sennheiser has aimed to create an in-ear monitoring system that is both affordable and of premium quality. But does it live up to this promise?
I've taken a look at an XS Wireless system to see what it's all about. I'll take you through unboxing, system setup, and what it's like to use.
---
Initial thoughts
Within the box, the XS Wireless In-Ear Monitoring Set comes with a number of components. You get the SR receiver and the EK transmitter along with the IE4 in-ear headphones. As well as these, there is a power supply, a rack mounting kit, and various manuals.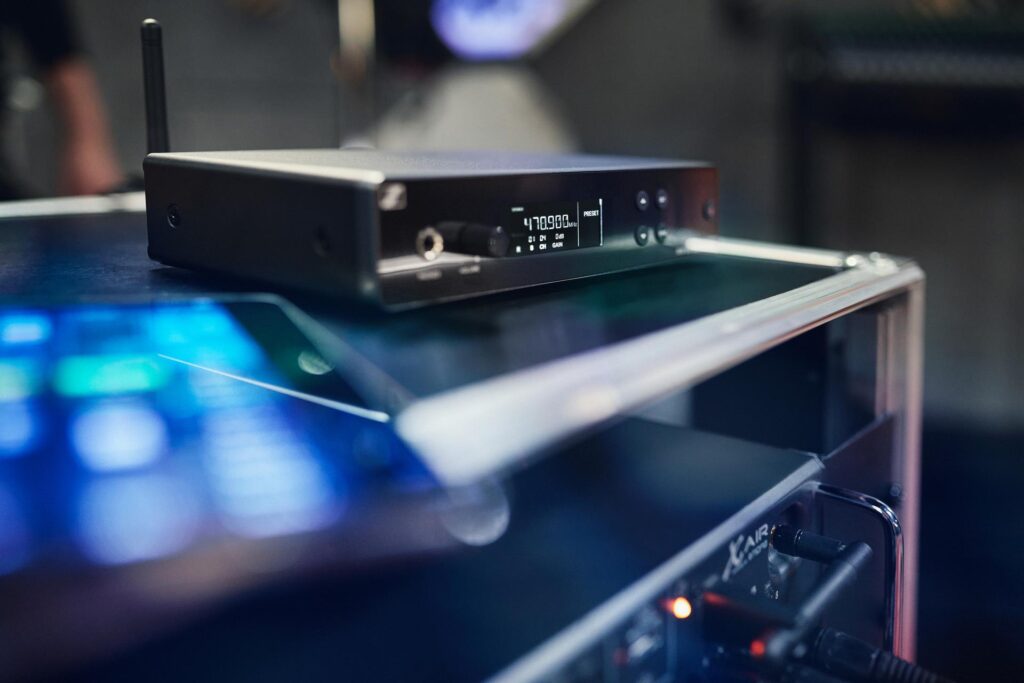 SR Wireless In-Ear Transmitter
The SR is a stationary receiver that takes up a half-rack space. As well as being relatively compact, it is also quite robust thanks to a solid metal chassis – it seems that Sennheiser has given some heft to it.
It has a number of controls front-mounted, all of which are clearly laid out. Also on the front is a headphone jack and an LED screen. This screen lays out all the information you need on one level, so you won't need to bother with menu-diving.
On the rear, there are a number of different inputs – power, left/right audio inputs, and an antennae slot. These are laid out in a sensible and uncluttered way.
EK Wireless In-Ear Receiver
Next up is the EK transmitter. This is the size of my palm, and it fits nicely in my hand. The solid clip – located on the rear – was also a secure fit on my belt.
On its top, there is a volume knob for easy access, as well as the headphones input and antennae – which sticks out a bit but is unobtrusive for the most part.
The bright screen displays information clearly, and the menu controls and battery are hidden behind a flip panel, preventing you from changing settings by accident.
IE4 In-Ear Monitors
The IE4 earphones are a nice length, with enough flexibility to not get in the way while performing. They also come with three earbud sizes, making them suitable for a range of ear types.
Other bits
I didn't try rack-mounting the transmitter, but this seems easy to do. The set comes with all the requisite parts you need, including both rack-mounting brackets and the required screws. There is also a visual guide on how to rackmount your unit, so you won't have to worry about feeling lost with this.
---
Setup
After unboxing the different components, I set the XS Wireless IEM up for a test run.
Wireless systems often appear daunting, and sometimes they are! But this couldn't be further from the case with the Sennheiser set.
It was easy to set up and didn't require any prior knowledge of the system. I didn't even have to use a manual, the system was that intuitive.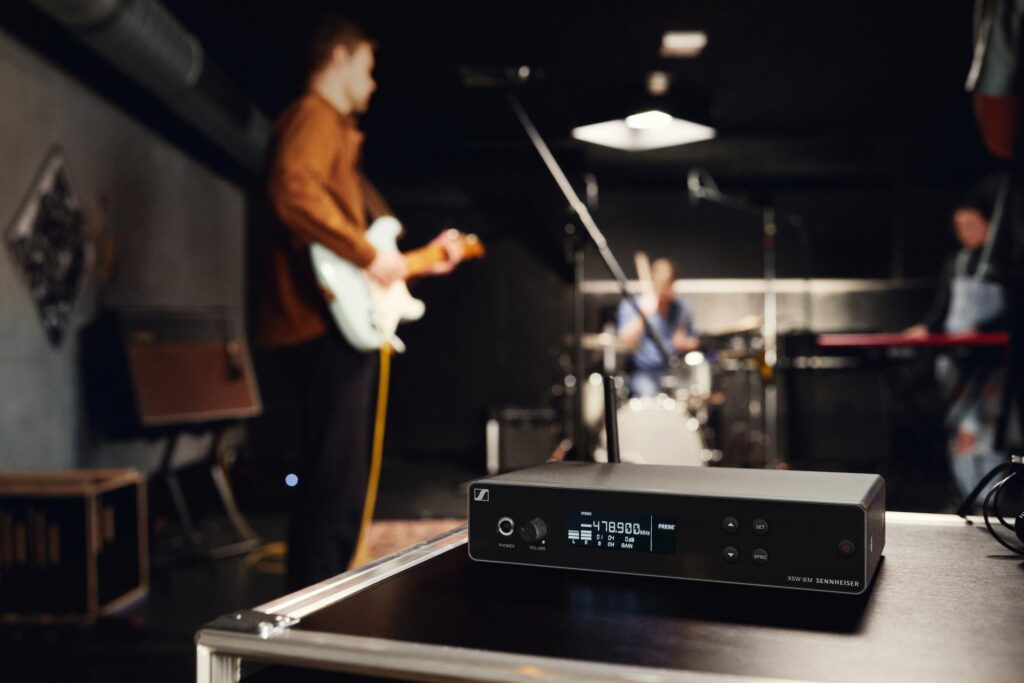 To set up the transmitter and receiver, you use a simple scan and sync connection, which is enabled by infrared between the two units.
This means you don't have to carefully select the right frequency via menus (although you can), you can get your wireless IEMs working for you straight away.
And for other settings, you don't have to menu-dive either. All the settings you need to select and change are displayed clearly on the main screen at the same time. So if, for example, you wanted to switch from mono to stereo mode, this would be a quick adjustment to make.
Although I didn't use the manual, it is laid out in a clear visual style. If you did need it, you'd be able to figure out what to do in no time.
Once I'd plugged a monitor output into the SR transmitter, the system was ready to go. All in a matter of minutes.
---
Audio Performance
One of the most important aspects of an IEM system is, of course, the audio quality. And the XS Wireless system delivered excellently on that front.
I used it for four hours during a band rehearsal and enjoyed crisp, dynamic, low-noise sound throughout. This is great for performance, where every moment is critical and I need to hear what is going on to play at my best.
It also has a great range, which is a major benefit when it comes to wireless systems. I was able to leave the building, for example, and walk a fair distance out of the system's line of sight before I experienced any dropouts.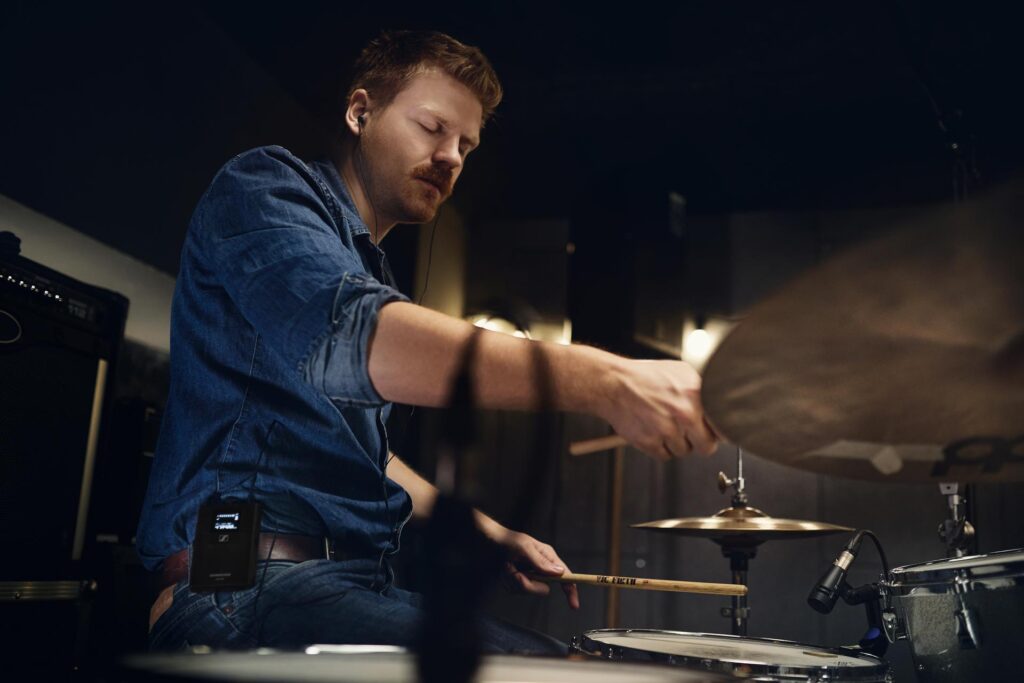 Speaking of dropouts, over the four-hour session I only experienced this three times. Each time for only one second. I'm guessing this is because of signal management, but it is still a low number compared to many IEM systems.
I didn't have a use for focus mode in my rehearsal, but I can see how it might be handy in different contexts. Being able to listen to a different source in each ear would be useful – especially for more complicated tracks.
---
Other features
Most systems I've used in the past have only had TRS inputs for the stationary transmitter. So it was a nice surprise when I saw the XSW's transmitter had combi inputs, allowing for XLRs to be used also. This is great for flexibility – particularly when integrating with other people's systems.
It is also nice how low profile the power adapter is. This is crucial for compact flight cases, making the system ideal for touring purposes.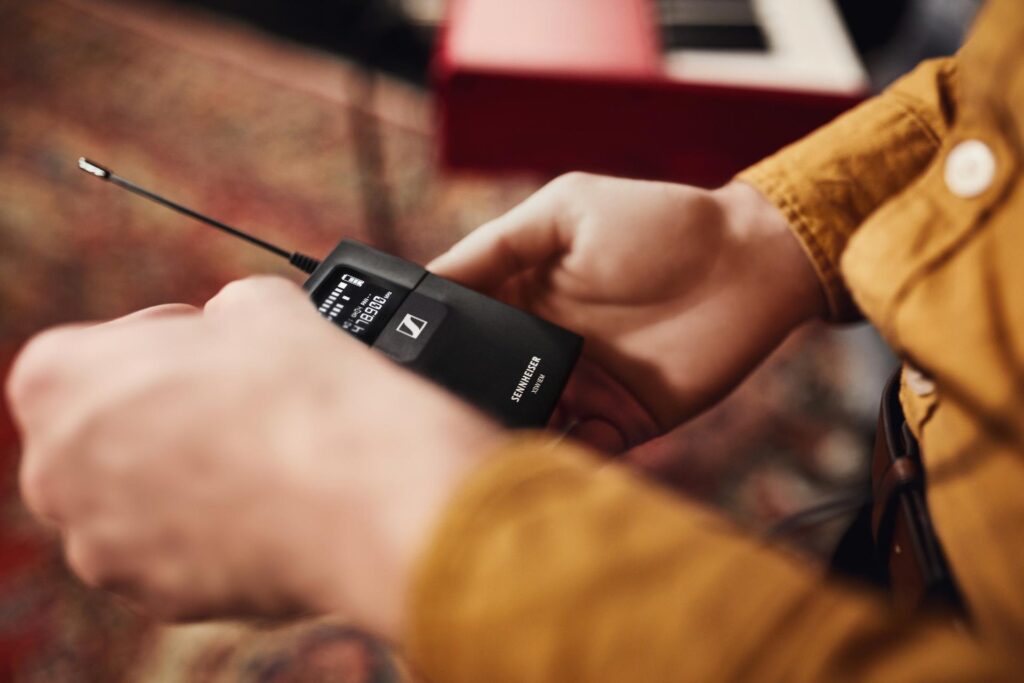 The belt pack receiver is made from solid plastic, but I'm not sure how long this would last in a tough touring environment. If you are using it on the road each and every night, you might want to upgrade to one of Sennheiser's sturdier, metal-constructed options. However, the plastic case does allow it to be lightweight, which is important when you're jumping around the stage with it on.
---
Final thoughts
All-in-all Sennheiser's XS Wireless IEM set is well worth getting. If you want a reliable IEM system at a great price, you can't go wrong with this. It's both easy to use and provides great audio performance for monitoring. So, if you want to take your on-stage or rehearsal monitoring to the next level, the Sennheiser IEMs would go the distance.
Shop now | Sennheiser XSM IEM Set, A Band
Shop now | Sennheiser XSM IEM Set, B Band 
Shop now | Sennheiser XSM IEM Set, E Band