From playing software instruments to controlling your DAW, performing live, and so much more. MIDI controllers are the most versatile range of creative tools available, but what do they do and which one is right for you? Read on to find out.
In our introduction to MIDI controllers, we've broken down the basics of MIDI – featuring controller types, the best controller for you, and more.
---
What is a MIDI Controller?
MIDI controllers are a diverse range of music-making tools. At its core, a MIDI controller is an input device which sends information to another device. It can control your musical software or hardware, just like the way a computer keyboard or joystick controls your computer.
MIDI controllers work with computer software, synthesizers, sound modules, and even mixing desks or lighting desks. The MIDI information is sent as binary and translated to what you hear or see – either as a note, a percussive hit, or a change to a particular setting.
They come in a huge range of formats for different creative jobs. You say, controller – we say, a world of options at your fingertips!


---
What types of MIDI controller are there?
There is a wide range of MIDI controllers, and they each perform different jobs.
Keyboard controller: one of the most popular controllers for musicians. They don't have built-in sounds but they are used to control software instruments and sound modules. Some feel more like a traditional acoustic piano, others more like a synth or keyboard.
Touchpad controllers: these feature touch-sensitive pads to tap out beats, trigger samples, control software, and more.
Wind instrument controller: played like a wind instrument, they convert your breath and notes into digital data.
DJ controller: a specialised tool to let you get hands-on with DJ software.
Fader controller: a mixing desk, letting you take control of software parameters.
Software controller: built specifically to take hands-on control of your music-making software.
---
What type of controller should I buy?
You can either buy a specialised MIDI controller or one which has multiple features; it depends on your primary musical/technical needs.
If you're looking for a good all-rounder (i.e. the option to play melodies, basslines, tap beats, and control other parameters), you might opt for a keyboard with additional pad and fader controls. This instantly offers a versatile range of control over virtual instruments, drums, effects, samples, and more.
If you're interested in specific elements, such as beats or the full control of a DAW (Digital Audio Workstation), you may opt for a more focused controller. This could be a pad controller, an electronic wind instrument controller, a DJ controller, a fader controller, or a keyboard controller without any extra functionality.
---
Keyboard MIDI Controller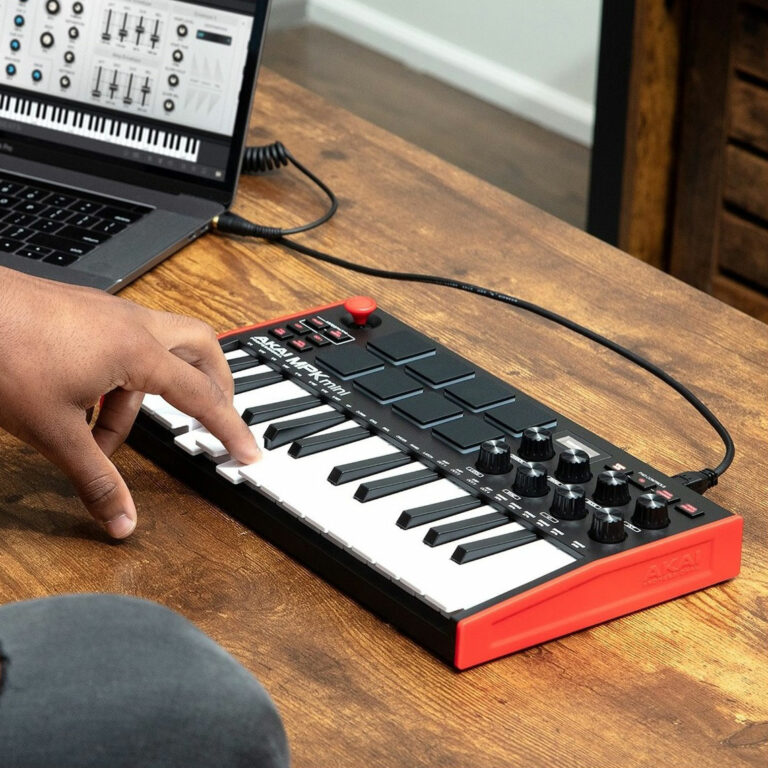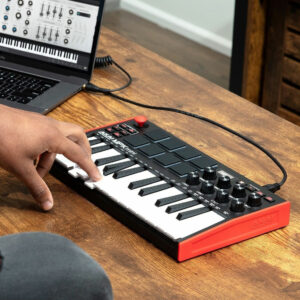 Keyboard controllers are perfect for controlling instrument software and hardware.
You should consider the number of keys and octaves (standard keyboards run from 25 up to 88 keys), as well as the key size and keyboard action (hammer action feels like an acoustic piano, other options feel like a synth or keyboard).
As mentioned, some keyboard controllers have additional pads and faders for tapping beats and controlling other parameters.
If you do want a multi-function MIDI controller based around a keyboard, the Akai Professional MPK Mini MK3 Laptop Production Keyboard is a staple piece of kit for producers and hobbyists alike.
This fantastically compact MIDI keyboard controller packs in 25 keys, 8 pads, 8 control knobs, and, in place of a bulky pitch wheel, a mini thumbstick for pitch and modulation control.
The MPK Mini MK3 gives you lots of control options, offering serious bang for your buck at under £100.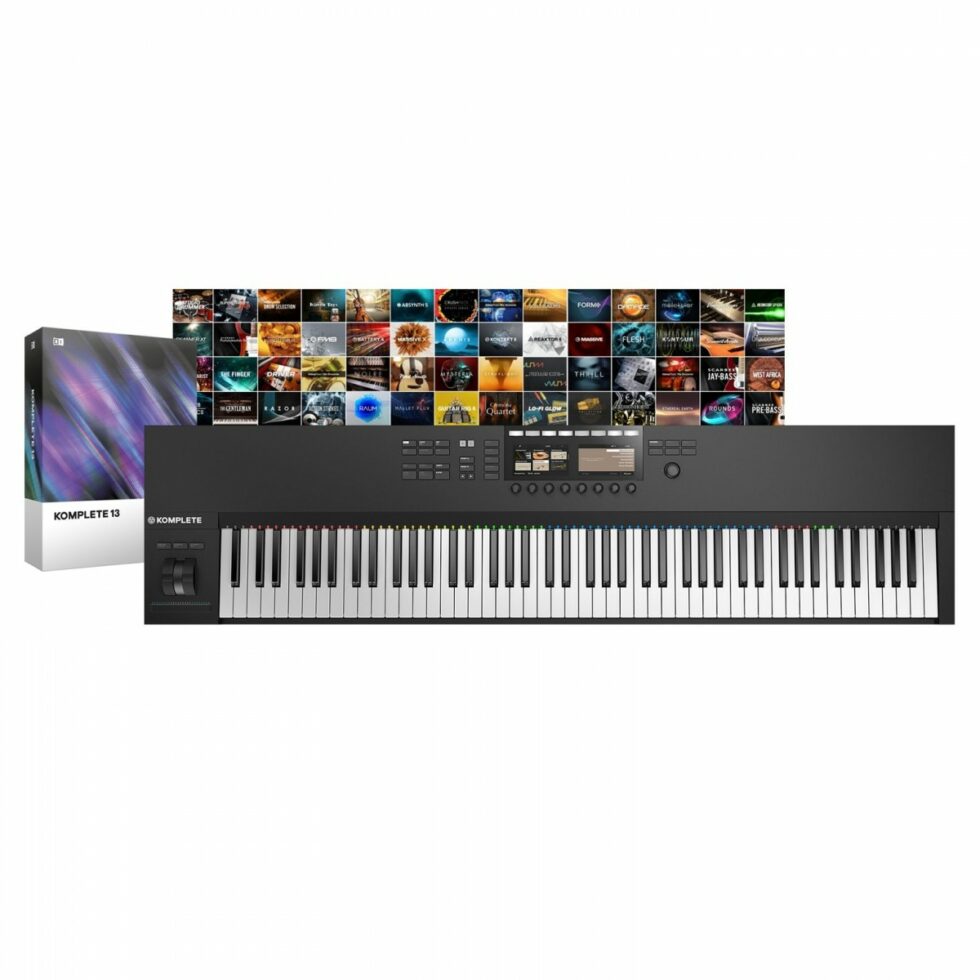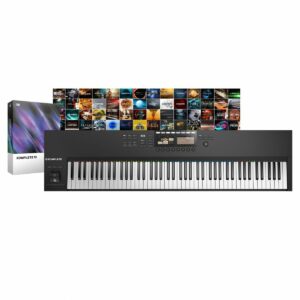 If you're looking for a keyboard controller which feels more like an acoustic piano, you'll want something like the Native Instruments Komplete Kontrol S88 MK2 with Komplete 13.
It has a hammer action Fatar keybed for a premium playing feel, as well as a full-size 88-key keyboard. You'll also get Komplete 13 software with this bundle – a huge collection of software instruments, sounds, and effects.
Shop now | MIDI Keyboards
---
Pad MIDI Controller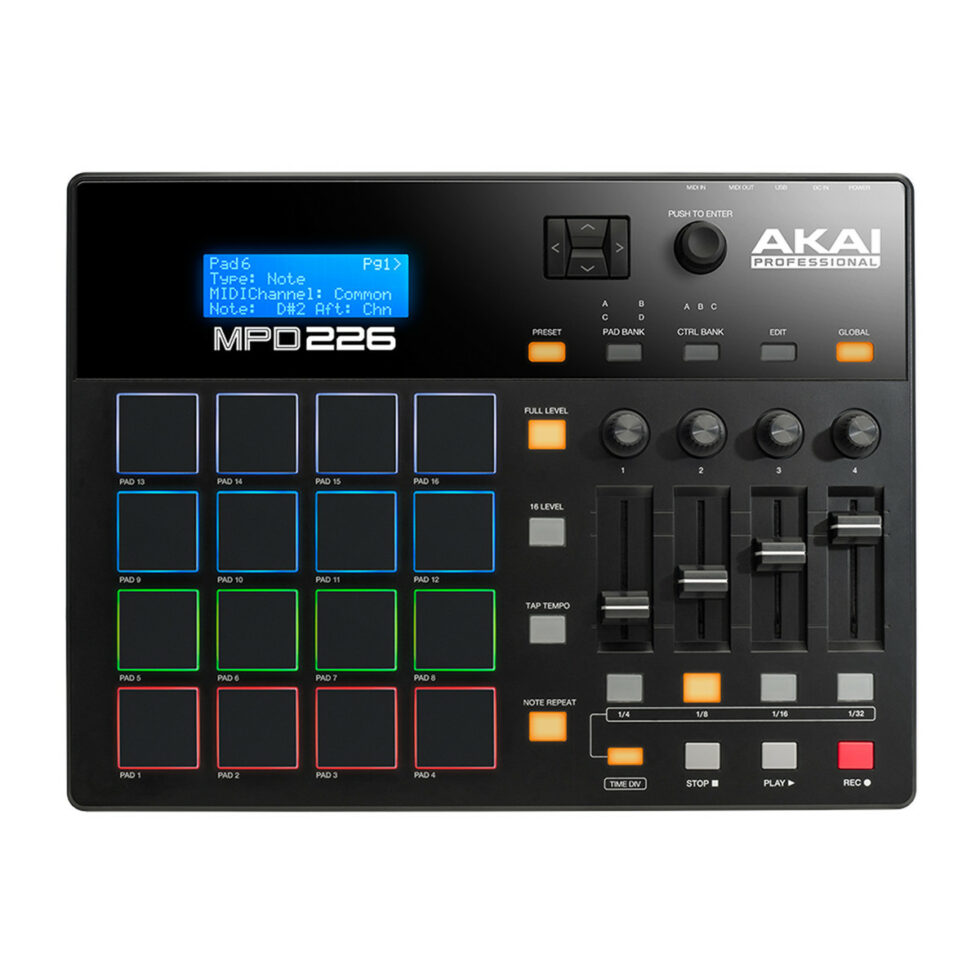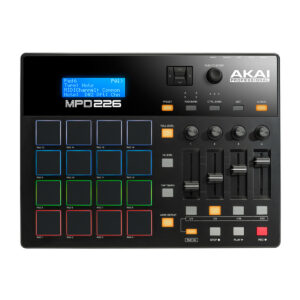 Popular with beatmakers, DJs, and producers alike, a pad controller is more than simply a means to tap in a kick and snare beat.
Depending on your software, they can allow you to trigger samples, manipulate sounds, control your DAW, and much more.
While some pad controllers feature bells and whistles such as onboard sequencers and samplers, the Akai MPD226 is a simple controller, perfect for the budding beatmaker.
Taking design cues from Akai's now-legendary MPC workstations, this 16-pad, 4-fader, 4-knob controller ships with Ableton Live Lite, meaning you can hit the ground running and get creating almost instantly.
Shop now | MIDI Pad Controllers
---
Fader MIDI Controller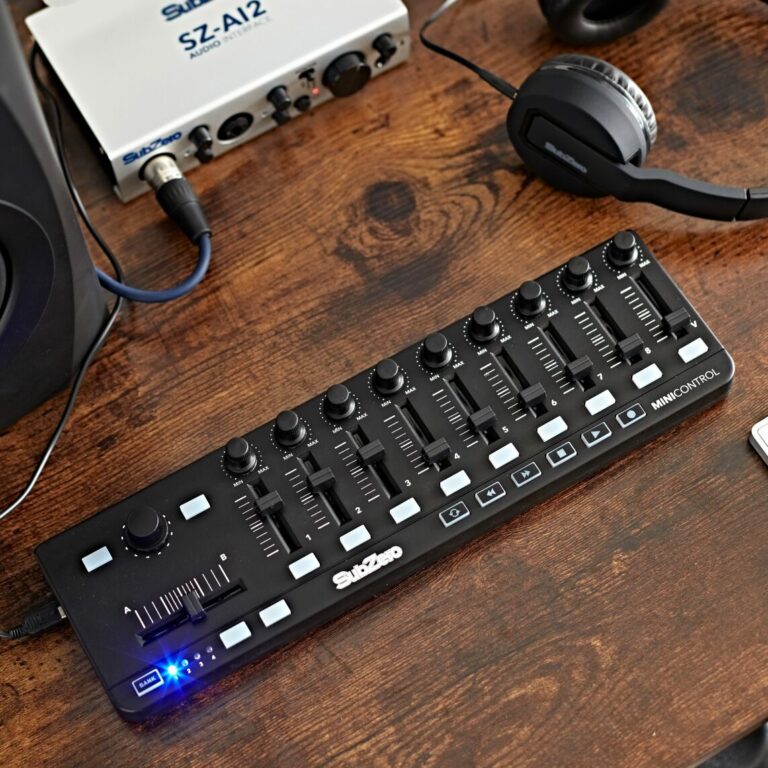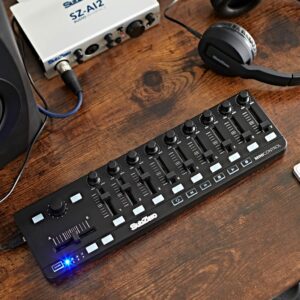 A fader controller enables you to control parameters inside your software or hardware. These controllers are ideal for managing software mixing desks or sliding parameters. Rather than clicking a mouse on a screen, they accommodate users who prefer to have physical faders at hand when changing parameters.
The SubZero MiniControl is a super-compact controller that you can pop in your backpack if you're on the move. If you're looking for something that doesn't take up too much space in your setup, this is perfect. It's got faders, knobs, plus transport buttons to control your music software.
Shop now | Fader MIDI Controllers
---
Software MIDI Controller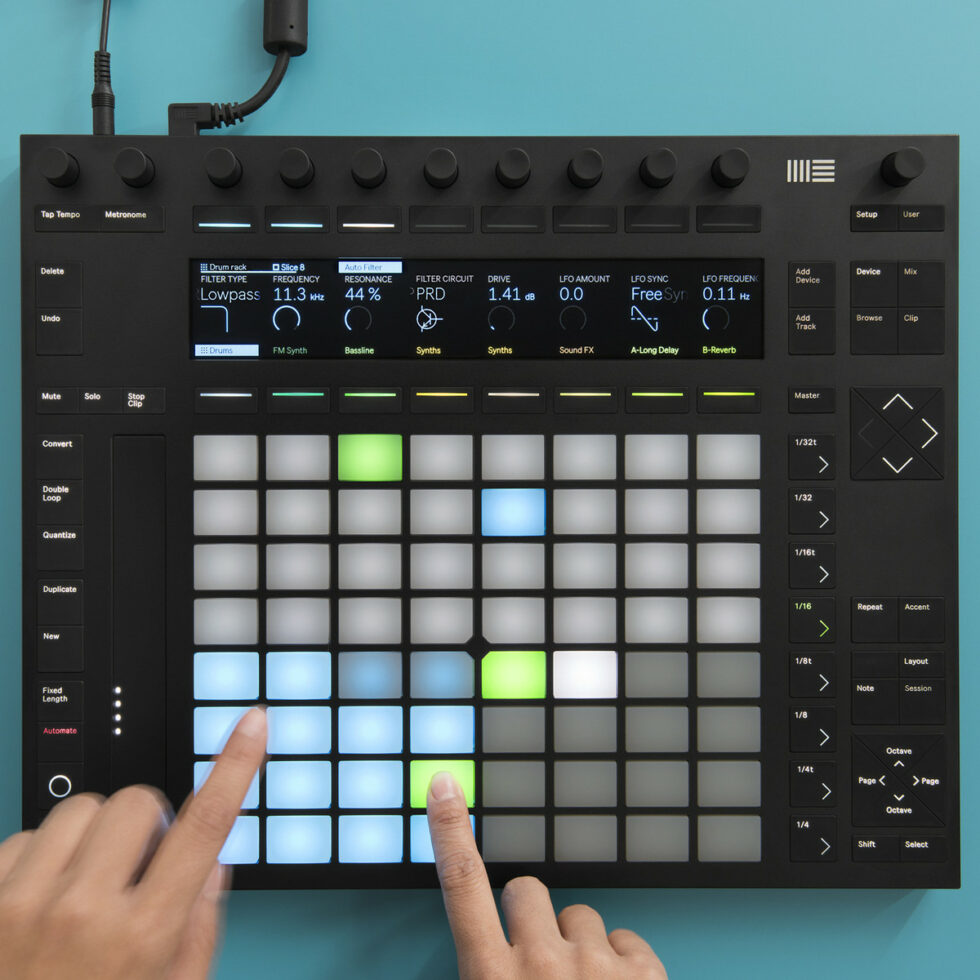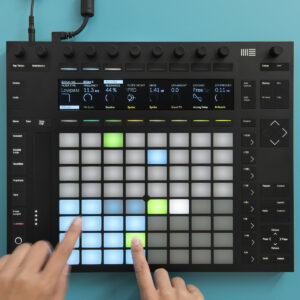 Unsurprisingly, this type of controller is usually purpose-built for its intended software.
The Ableton Push 2 is a beautifully designed, comprehensive controller for Ableton's Live software.
Boasting 64 velocity-sensitive pads and 8 touch-sensitive encoders, the Push 2 allows for streamlined navigation of every corner of Ableton Live, from performing melodies to recording and in-depth editing of your MIDI performances.
Shop now | MIDI Pad Controllers
---
Wind MIDI Controller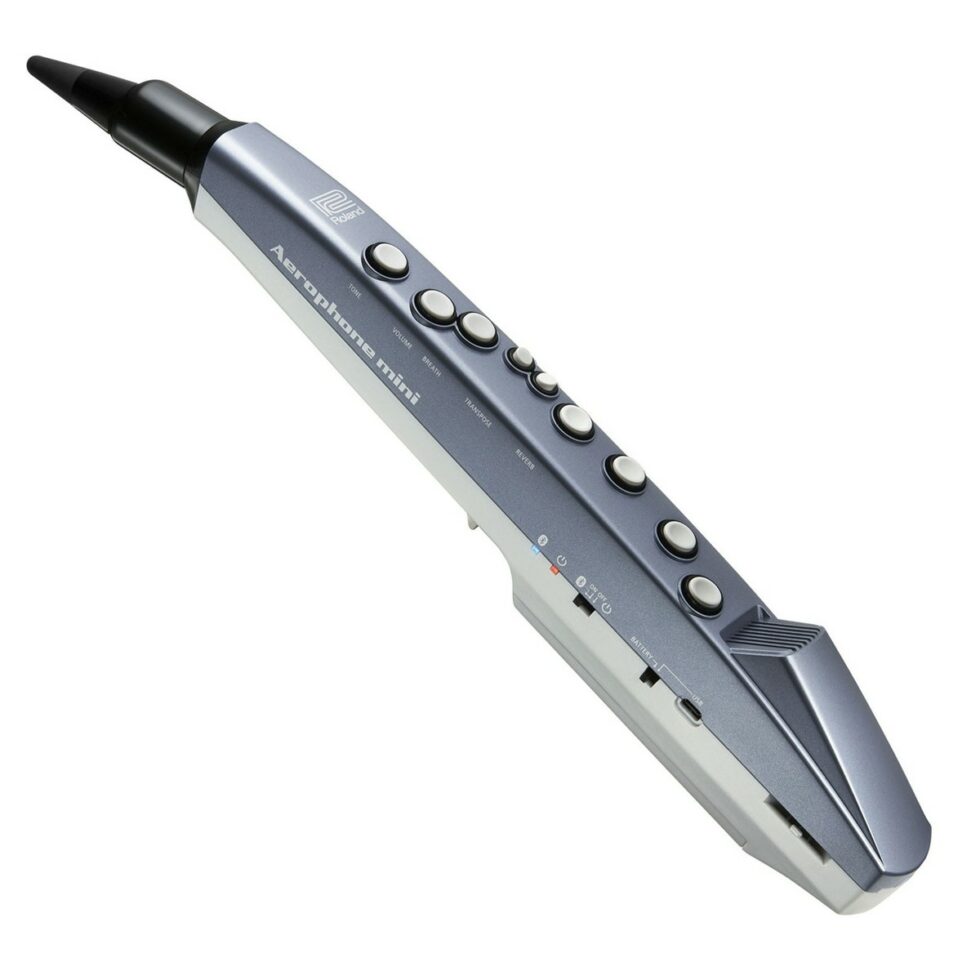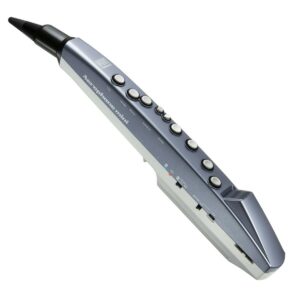 EWI (Electronic Wind Instrument) controllers showcase one of the most fascinating elements of MIDI technology. They emulate a real wind instrument by turning your breath and fingered notes into digital data, allowing you to play software wind instruments with incredible expression.
The Roland AE-01 Aerophone Mini Digital Wind Instrument is a great choice – it will interpret multiple elements of performance such as breath pressure, dynamics, fingering, and bite pressure. You'll also find six built-in sounds with 50 more available via the companion app.
Shop now | Electronic Wind Instruments
---
DJ Controller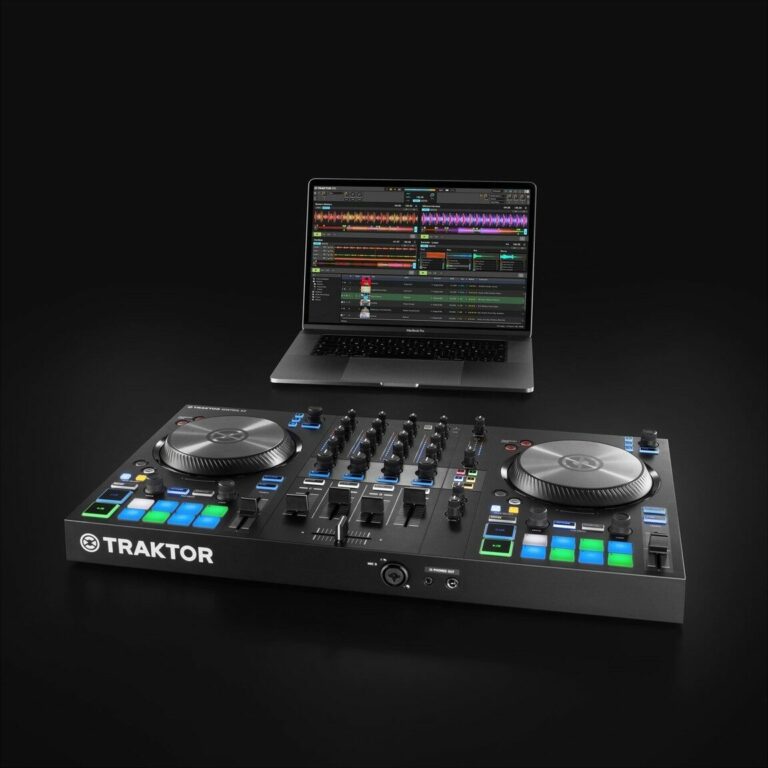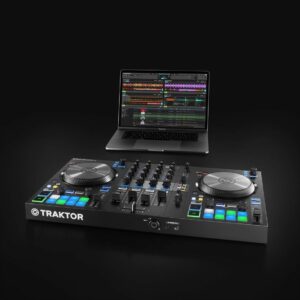 A DJ controller is one of the most specialised MIDI controllers. Connecting to your computer, they are designed to control your DJ software with a range of hands-on techniques.
Most controllers have a combination of platters, mixers, pads, and effects, along with the buttons to browse your playlist.
The more money you spend, the more features you'll find like motorised platters, built-in audio interface, onboard effects, and more. Generally, all DJ controllers come with software, so you can make music straight out of the box.
The Native Instruments Traktor Kontrol S3 is a great mid-range controller with a four-channel club-standard layout. With a full version of Traktor Pro 3, you'll be up and running in no time.
Shop now | DJ Controllers
---
What's the difference between a MIDI controller and a keyboard, synthesizer, or drum machine?
A standalone MIDI controller might look exactly like a piano, keyboard, or drum machine. However, it generally doesn't feature any onboard sounds.
As it says on the tin, a MIDI controller is designed to "control" – it will generally not make any sound or work without first being connected to the device(s) you are wanting to control. It's important to note that a MIDI controller cannot pass audio signal, but instead sends digital values.
This can be confusing when you're first getting into the world of MIDI, especially as many digital pianos and synths feature MIDI in/out connections, so can double up as MIDI controllers.
If in doubt, remember:
A true MIDI controller won't make its own sounds like a digital piano or synthesizer – it has to be connected, either by USB or 5-pin DIN connector, to a device or to software.
A digital instrument with additional MIDI output will make its own sounds, but also allows you to send MIDI data to your music software or hardware.


MIDI Controller | Native Instruments Komplete Kontrol A49


Stage Piano – with MIDI output | SDP-3 Stage Piano by Gear4music
---
Can you perform expressively with a MIDI controller?
A common concern with software editing and MIDI performance is that recording via MIDI can lose the "human" aspect of performance. Luckily, as MIDI parameters are standardised, many aspects of musical performance can be performed, manipulated, and edited after-the-fact, using MIDI information. Some of these include:
Velocity
Resonance
Pitch
Frequency Cutoff
Aftertouch
Pan
Modulation
Volume
Such parameters offer a wealth of editing options in software, so you can really make the most of your virtual instruments. A whole new performance aspect is opened up using MIDI, versus conventional audio recording.
In addition to this, MIDI mapping lets you assign parts of your controller to controls in your software. This can be customised to your workflow, so, in the case of an AKAI MPK Mini MKII, you could assign the pot controls to faders in Ableton, the pad controls to notes in your virtual instrument, and the keys to the various parts of a virtual drumkit.
The versatility offered by MIDI mapping ensures you can find a workflow that makes the most of your controller and enables you to create freely, without obstacles.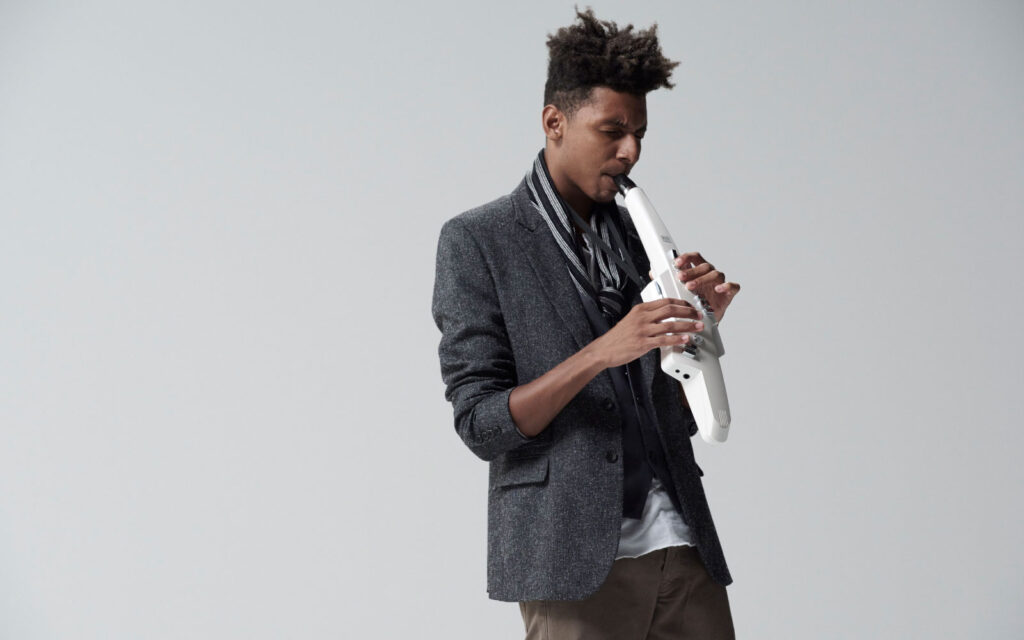 ---
What is MPE and why is it important?
A recent development in modern MIDI controllers is MPE – short for MIDI Polyphonic Expression.
This technology now allows for an expansion of the typical forms of expression seen in standard MIDI controllers. This can make for a more naturalistic sound and style.
If you want to really throw yourself into your electronic music, MPE is the perfect method of achieving it. Put simply, MPE provides access to modulation, pitch bend, aftertouch, velocity, and velocity release polyphonically. This means that for each key in a chord you play, for example, you have control over all these parameters, dictated entirely by how your fingers move on and strike the keys.
While still a newly emerging development in MIDI, there are plenty of options for MPE MIDI controllers at a range of price points available.
While most MPE controllers tend to be touch-focused, a lot of manufacturers are currently working to develop new controllers and styles to provide MPE control to the wider market of musicians and producers.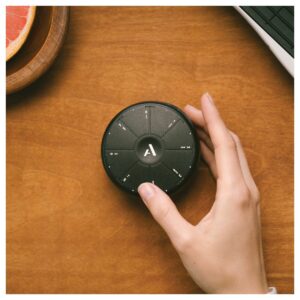 The Artiphon Orba is a gesture-controlled synthesizer and looper that can operate as a MIDI controller for your DAW. The ability to control sounds by tapping, sliding, shaking and waving lets you enter the world of expressionistic control over your instruments at an affordable and comfortable price point.
Alternatively, the pad-based Keith McMillen Instruments QuNeo provides an MPE compatible evolution of the familiar MIDI pad controller, allowing for a more expressive and complex performance capability.
---
How does a MIDI controller connect?
MIDI controllers connect via a 5-pin DIN connector. Modern controllers also have USB – perfect for connecting to a computer (which doesn't have built-in MIDI connections).
If you want to connect to your computer via 5-pin MIDI, you'll need an interface that translates MIDI into USB, Firewire, or other. That could be an audio interface (with other handy connections for your home studio) or a MIDI interface (which only converts MIDI I/O).
The MIDI 5-pin DIN is ideal for connecting multiple pieces of hardware together – you could connect a MIDI footswitch to an effects pedal or a MIDI keyboard controller to a synth.

---
How did MIDI start?
MIDI (Musical Instrument Digital Interface) is an industry-standard communication protocol. First announced in 1981, MIDI came into production around 1983. Electronic music was on the up from the late '70s, and a need was identified to better control and sync multiple instruments.
Modern advantages of MIDI are almost endless – these days you can use MIDI to connect and control a wide range of devices. Recorded MIDI data can also be manipulated after-the-fact within your chosen DAW, allowing you to capture a live performance and edit every single parameter at a later date.
MIDI can simultaneously carry up to 16 channels of information, enabling control over multiple aspects of a musician's performance. Over the past 35 years, it has remained the industry-standard communication protocol for musicians, producers and other creatives.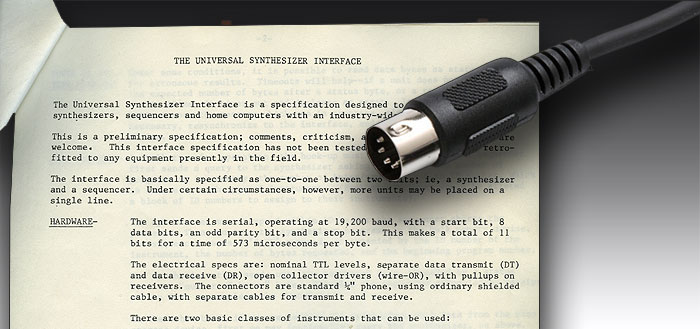 ---
I want to get into music production. Where should I start?
To get started in music production, you don't have to pick up a huge range of products. Most MIDI controllers come with versions of popular DAW software, so you can load up your computer and get building tracks, writing melodies, and creating beats – straight out of the box.
Depending on your needs, a controller keyboard with pads can be a great choice in terms of what is at your fingertips in digital music software.
---
Find out more
See more | MIDI Controllers at Gear4music
Shop now | Keyboard MIDI Controllers
Shop now | Pad MIDI Controller
Shop now | Fader MIDI Controllers
Shop now | Wind MIDI Controllers