So, you've decided to step up your home or studio recordings and you want to find the best microphones for recording acoustic guitar. You've come to the right article!
Let's face it – that preamp really isn't showcasing the live sound of an acoustic that you fell in love with. If you've invested in an acoustic guitar with superior tonewoods and an incredible set of strings – and you're ready to record your masterpiece, you need a microphone that captures all its lush tonal qualities, that lingering slide to the next string and all the emotion in your playing.
Fortunately, we've rounded up 9 of the best mics for acoustics that will ensure all your guitar qualities and unique style are preserved in the recording process.
---
What kind of mic is good for recording acoustic guitar?
If your onboard preamp system isn't giving you the results you need, our list of the best microphones for recording acoustic guitar will help bring out the qualities of tonewoods and your distinctive playing style, providing quality recordings every time.
But first off, you might be wondering, what kind of mic is good for recording acoustic guitar?
Condenser microphones are, arguably, the best possible microphones for recording acoustic guitars as they can be placed close to the sound source. They provide a cardioid polar pattern that rejects background noise and unwanted sound interference.
A lot of condenser microphones are side-address mics, so you might hear that side-address mics are also suitable. We have discussed the benefits of side-address mics in another article, which is worth reading if you want to find out what the best side-address mics are and what they're used for!
Ribbon microphones also offer great sonic qualities as they are very sensitive to any subtle changes in notation and timbre. They are, however, very expensive.
Directional mics are a good option for a focused sound – but they often lack the "vibe" of a cardioid as they home in on a specific area.
Basically, the only mic not designed for acoustic instruments is a dynamic mic, but even then, they're good if they're all you've got! In fact, the SM57 is a great all-rounder and an option that breaks the mould when it comes to what dynamic mics can do.
OK, got it. Now show me the mics!
---
9 Best microphones for acoustic guitar
So, we'll start with industry-standard options and work our way through a comprehensive list of microphones. They're all designed to bring out the best in your acoustic guitar recordings, taking into account polar patterns, max SPL and frequency response, among other benefits.
---
Shure KSM44A Large Dual Diaphragm Microphone
First up, we have the Shure KSM44A Large Dual Diaphragm Microphone. This might be at the top-end of your budget but it's totally worth it since it's essentially three different microphones in one.
Not only do you have incredibly detailed sound thanks to dual diaphragms and zero crossover distortion (courtesy of Prethos Advanced Preamplifier Technology), but you also get a switchable 3-polar pattern setting.
The selectable bidirectional, cardioid and omnidirectional polar patterns ensure you can capture a vast number of sonic qualities. Whether you want a close-mic technique with the use of a cardioid polar pattern or want to enjoy the roomier sounds of your acoustic guitar through bidirectional and omnidirectional patterns, you have it all via a built-in switch.
The dual 1" condenser element and gold-layered, low mass Mylar diaphragms enable you to create beautiful recordings at home or in the studio. They also provide exceptional detail that won't be lost on stage – ideal for open mic nights or performing musicians. Every tiny detail is captured in glorious high quality.
The built-in three-stage pop filter heavily reduces plosives and breath noises, whilst the internal shock mount reduces handling noise, making it one of the best mics for recording acoustic guitar and vocals combined.
The Shure KSM44A is an essential studio microphone for those who care about their sound and it's totally worth the extra investment in the long run.
---
Shure KSM32 Condenser Microphone
The Shure KSM32 Condenser Microphone hails from the Shure KSM range of microphones.
This range has been specifically built to provide recording artists with high levels of sonic clarity, whilst remaining a durable option for those who need a microphone that can take a few knocks and bumps.
We think the Shure KSM32 Condenser Microphone is one of the best microphones for recording acoustic guitars as it provides linear frequency response from 20Hz to 20kHz. This means you get an incredible, transparent sound, allowing all the sonic qualities of your acoustic guitar tonewoods to really shine through the mix.
The built-in ultra-thin 2.5µm gold-layered low-mass Mylar diaphragm responds exceptionally well to fingerpicking, ensuring that the dynamics of your playing are captured accurately, too.
Extra clarity is then provided by the cardioid polar pattern, which rejects unwanted background noise. The switchable low-frequency filter allows you to further reduce background noise or counteract the proximity effect which can sometimes occur when close-miking.
If you're a heavy player or one who really hits the chords hard, the built-in switchable -15dB attenuator has got you covered. The microphone can record sound pressure levels up to a maximum of 154dB (which is louder than a jet engine), and it can be attenuated for distortion-free sound at these high levels. . .  but good luck getting an acoustic guitar to go that loud!
If you want an acoustic guitar microphone that you won't ever have to upgrade – start here.
---
Neumann TLM 102 Condenser Microphone
Next up we have the Neumann TLM 102 Condenser Microphone, which is the perfect condenser mic under the £500 mark. It's ideal for those who are on a budget but want something they won't have to upgrade for a long time.
What makes the mic so great is its 20Hz to 20kHz frequency response with added boost above 6kHz for improved presence in the overall mix. Your guitar will come to life with this microphone.
With acoustic guitar recording, you need absolute silence and uninterrupted clarity, which is why the built-in transformerless circuit comes in handy. This ensures an extremely low self-noise – all you get is the acoustic guitar!
The capsule is also elastically suspended, which means you won't need a shock mount when recording. For this reason, it's regarded as another contender for the best mic for recording acoustic guitar and vocals.
The mic is also capable of handling sound pressure levels of up to 144dB without distortion creeping into the mix, making it an ideal option for heavy-handed players and a good choice for an all-rounded studio mic.
---
Shure PGA27 Large Diaphragm Side-Address Condenser Microphone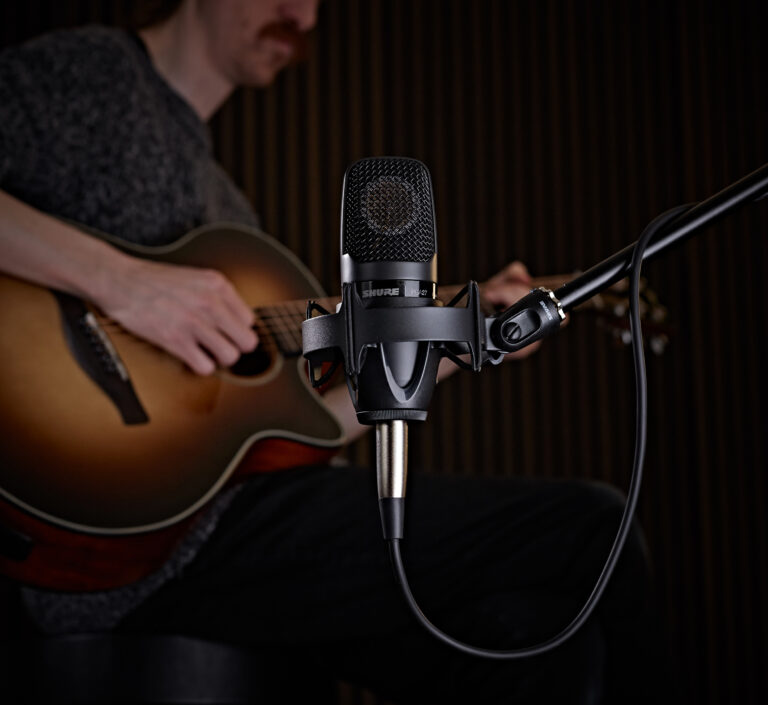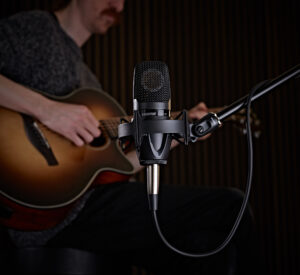 Some of the key problems musicians face when recording acoustic guitars include lack of presence and unwanted bottom-heavy boom due to the proximity effect.
The Shure PGA27 Large Diaphragm Side-Address Condenser Microphone solves these problems and sits firmly in our "best mics for recording acoustic guitars" list thanks to its engineer-friendly design.
Now, the PGA27 has been designed for everything – vocals, electric guitars, drums. . .  pretty much anything you can throw at it. But it particularly shines when recording an acoustic guitar. The generous high-frequency boost between 6 and 8kHz brings an overall presence and definition to your instrument that stands out in the mix. Your guitar simply won't get lost.
It solves the proximity effect "boom" by utilising a three-position bass roll-off switch. This stops boomy low frequencies from creeping in and ensures the high-end treble qualities are retained in the mix.
The 15dB attenuation switch enables you to capture louder sound sources too, providing a max of 130 dB SPL with the pad off or 145 dB SPL with the pad on. You're covered for almost all sound sources.
At around £200, you get a side-address cardioid condenser microphone designed to make your life easier when it comes to mixing acoustic guitars – what's not to love?!
---
AKG C414XL II Condenser Microphone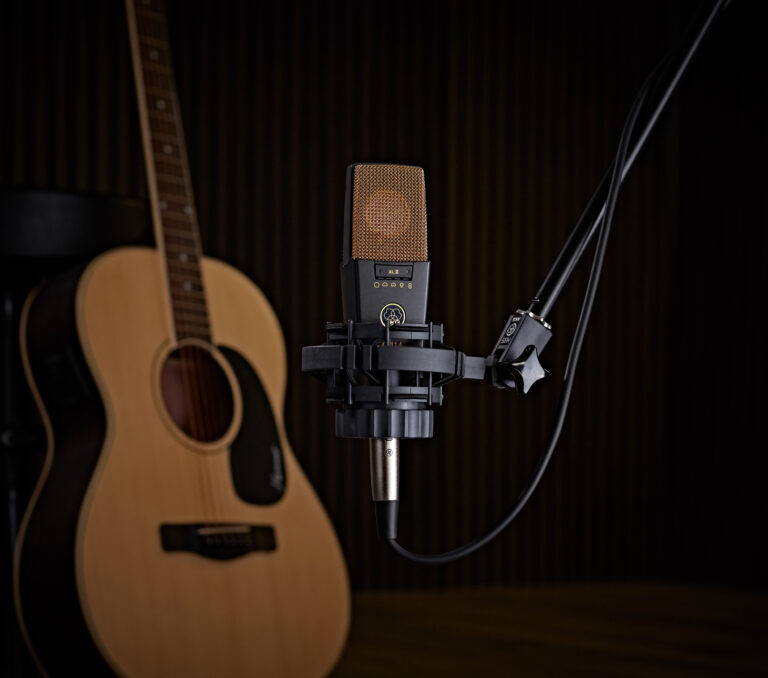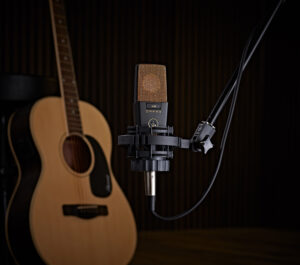 If you need a microphone with multiple polar patterns and don't want to budget for multiple microphones in a studio setting, the AKG C414XL II Condenser Microphone is a great choice.
This is essentially five microphones in one thanks to the fact you have five selectable polar patterns to choose from: omnidirectional, wide cardioid, cardioid, hypercardioid and figure of eight. If you're not familiar with polar patterns or why you need to consider them before purchasing a microphone, we recommend reading our guide to polar patterns.
The selectable polar pattern functionality allows you to record your acoustic guitar in multiple scenarios. Use the cardioid polar pattern to get detail or use the figure of eight in a bathroom to get that ethereal reverb sound in your recording (try it!).
One of the key reasons this mic makes our list is the fact that it has a built-in overload warning audio peak hold LED. This alerts you if you're playing too loud – which is ideal for home recording artists as you can simply check the microphone before hitting record! No more distorted mixes.
The addition of a three switchable bass-cut filter is extremely useful, especially when you're recording acoustic guitar. It eradicates proximity effects, whilst rejecting wind noise when singing. There's no "boomy" sound to speak of.
Live PA engineers operating acoustic open mic nights will love the fact the bass-cut filter reduces the effect of stage vibration in a mix, and the max SPL of 158dB SPL means you're covered for all environments should you need a mic to switch to an acoustic amplifier.
---
Aston Microphones Origin Cardioid Condenser Microphone

Although the Aston Microphones Origin Cardioid Condenser Microphone has only been around for a relatively short amount of time, it has quickly become a go-to for audio engineers and home studio owners who need a budget microphone for recording acoustic guitars.
The reason we think it's one of the best mics for recording acoustic guitars is down to the hand-selected 1" gold evaporated capsule which was developed in unison by professional sound recording artists, engineers and producers.
This microphone provides a slightly vintage-style sound to your recordings and a warmer, more sympathetic tonality without colouring anything.
You get the quality of your guitar, just a little bit better!
The microphone provides a gradual low-frequency lift for depth and body, and the addition of a low-cut filter of 80Hz ensures you can take out any boom that creeps in.
It's built like a tank and the integrated pop filter means it's a perfect option for those who need a top-quality microphone for recording acoustic guitar and vocals.
The addition of a wave-form mesh head provides shock absorption to protect the capsule should you drop it or knock it – it's basically indestructible.
This is quickly becoming a household name in acoustic guitar recording.
---
AKG C214 Large Diaphragm Microphone
The AKG C214 Large Diaphragm Microphone is a beautifully crafted side-address condenser microphone made to withstand the toughest of recording schedules.
In our opinion, it's one of the best out there due to the fact you can enjoy a huge amount of gain before any distortion creeps. This is all thanks to the extended dynamic range of up to 156dB. No matter how hard you play or sing, you'll enjoy crystal clear sonic clarity at all times.
Should you need to go louder, you have a 20dB pad at your disposal – not that you'll likely need it though! The low-cut switch ensures any low-end boom is addressed and filtered out, whilst the cardioid polar pattern rejects any of the unwanted sonic frequencies in the room or behind the microphone.
It's also road-ready thanks to an all-metal die-cast body and scratch-resistant finish.
An internal suspension system protects the 1" Edge-Terminated large-diaphragm condenser element within the microphone, thus reducing any unwanted noise from a knock or bump.
If you record high output recording sources along with acoustic guitars – this is a great option.
---
Aston Starlight Cardioid Microphone
The Aston Starlight Cardioid Microphone provides precise audio recordings through an incredibly well-designed capsule and unique sintered metalhead.
Like all of Aston's capsules, the gold-sputtered 20mm capsule was chosen in blind tests by a panel of 50 top producers. The result is a well-balanced, well-rounded sound that provides world-class recording on a mid-level budget.
You have three distinct voicings, including "Vintage" mode for a subtle low-frequency lift and reduction of extreme highs. "Modern" then provides superb clarity and detail and "Hybrid" delivers flatter sound with a subtle low-end boost. These voices will suit a variety of sonic palettes and they're a great way to layer your acoustic guitar when recording.
The -20dB/ -10dB/ 0dB Pad switch and 3-position Low-Cut filter ensures you're ready to attack the heaviest of playing styles and the boomiest of dreadnought acoustic guitars. Whatever your sound – this mic can handle it.
Although sold as a singular microphone, you could pair it with another Aston Starlight microphone for an effective stereo sound and really bring your acoustic guitar recording to life.
---
Audio Technica AT2020 Cardioid Condenser Microphone

Finally, we have the Audio Technica AT2020 Cardioid Condenser Microphone, which is one of the best microphones under £100 for recording acoustic guitar.
The cardioid polar pattern ensures you're not recording anything other than the sound source, and the 144dB maximum SPL provides more than enough headroom for recording acoustic guitars of any level.
This mic's 16mm low-mass diaphragm provides an extended frequency response rarely seen on microphones of this price, meaning you get the same clarity and tonal nuances whether you're recording an acoustic guitar, a brass instrument or spoken word vocals.
If you're just starting your home recording journey, this is a great entry-level microphone ready to record acoustic guitars straight out of the box.
---
Closing thoughts on microphones for acoustic guitars
When you're putting together your home studio or even creating the next Electric Ladyland studios (we believe in you!), it's vital that you choose a microphone that provides the detail you need. Otherwise, what's the point in investing time, effort and money into your acoustic guitar and pouring hours into the songs you've crafted?
With a little extra investment in a microphone, you'll achieve better results – so, if you can, stretch your budget to an industry-standard mic. This will only improve your acoustic recording, whether you're at home or in the studio.
Let us know in the comments below if you have any additions or tips on finding the best acoustic guitar mic! We love to hear back from our readers.
Shop now | Acoustic Guitar Microphones