So, you're looking to embark on the musical journey of a lifetime – one that takes you from budding pianist to stellar pro. But to do that, you need quality design and expert craftsmanship. Fret no more. The masters at Yamaha tick both of these boxes.
Yamaha's Arius range demonstrates that you don't have to sacrifice premium craftsmanship when looking for a beginner's instrument. Each model features samples of the esteemed Yamaha CFX Concert Grand for sparkling 'acoustic' sound, with all the benefits of a digital build.
You'll also have high-end innovation at your fingertips in the form of Yamaha's Intelligent Acoustic Control. This allows for properly balanced sound – with clear trebles and rich bass – even at low volumes.
Each piano comes with a 3-month premium subscription to the Flowkey app; an offer currently running. A goldmine for beginners, Flowkey presents sheet music for over 500 songs, ranging from pop to classical and everything in between. Or, if you prefer play-along videos, then you can learn this way too. Instant feedback is also available to you with Flowkey, ensuring quick and effective progress.
And now, onto the four stars of the Arius show. . .
---
The YDP 144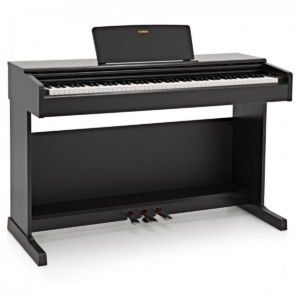 An array of 88 Graded Hammer Action (GHS) keys graces the YDP 144 piano, granting you an authentic playing experience that is perfect for beginners.
In fact, piano teachers approve of this graded, weighted keyboard. Its similarity to an acoustic piano makes it a dream to learn and practise on, and you can expect a familiar experience during recitals and exams.
Expert sampling allows you to perform with nuanced, expressive sound, and what better piano tone to project than the Yamaha CFX Concert Grand? Representing 19 years of research, traditional craftsmanship, and modern innovation, the CFX is considered one of the greatest concert grand pianos in the world. Even the winner of the International Chopin Competition 2010 used it on stage!
To ensure such prestigious sound reaches its full potential, Yamaha have utilised their Intelligent Acoustic Control.
What does this involve, you ask? Well, simply put, it enables you to play at low volumes without sacrificing any frequencies. Rumbling bass and clear trebles will shine through, even when you're practising quietly.
Thanks to two 8W speakers and a 192-note max. polyphony, you'll have ample sound filling the room. Plus, four different reverb effects allow you to sculpt the way your sound travels – you'll forget you're in your living room!
The Stereophonic Optimiser also contributes to expansive sound projection, but this time, through headphones. Play without disturbing anyone and still feel like you're performing in a concert hall.
Unusually, the Stereophonic Optimiser samples recordings using special microphones from where a player would be sat (rather than inside the piano), which reduces auditory fatigue and enables you to play for longer in total comfort.
One of the major benefits of digital pianos is the learners' software that comes with them. And the YDP 144 is no exception. It can be easily connected to the Smart Pianist app – a supremely useful tool that helps you get to grips with the piano without having to invest in a teacher. Or, if you're after some extra exercises on top of the homework your tutor has set, then Smart Pianist is the app for you.
Smart Pianist lets you control instrument voices and settings and enables you to record your playing. Going one step further, it also allows you to play along to your favourite songs. Whether you're following the chords as scanned and displayed by the app, or loading MIDI songs and using digital sheet music – you'll be able to reap all the rewards of playing along to pieces you already know and love.
---
The YDP S34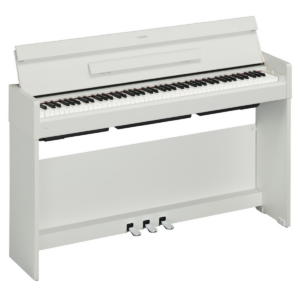 Similar to the YDP 144, but with a slightly slimmer frame, the YDP S34 possesses a Graded Hammer Action keyboard with matte keytops.
The benefit of a matte finish is that it provides smooth playability, enabling you to glide seamlessly across the keys. And the aesthetic is just as sleek – the narrow depth makes the S34 the perfect addition to any room, even if it's a tight fit.
Elegance also comes in the form of the minimalist control panel, contributing to the classy, understated appearance. The simple layout of the controls also makes it easy to sculpt your sound.
With the aid of Yamaha's Intelligent Acoustic Control, two 8W speakers project samples of the CFX grand.
On the YDP S34, such premium quality sound makes a huge difference – it belies the compact build of the piano. You'll be able to achieve that grand acoustic sound wherever you are, especially when you have four reverb effects at your control, too.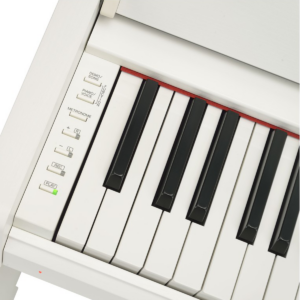 For those silent practise sessions, the Stereophonic Optimiser is there to ensure you have glorious projection through your headphones. Experience that concert hall-thrill with excellent acoustics, even with headphones on. That's exactly what the Stereophonic Optimiser promises.
Like the YDP 144, you'll also have the Smart Pianist app as well as a 3-month premium subscription to Flowkey. Practise with ease, learn every skill with passion, and watch as your technique becomes more and more refined.
Whether it's following a video, reading sheet music, or experimenting with different sounds – Yamaha knows that everyone learns differently. The wealth of tools available to you with the S34 allows you to find the one that works best for you.
---
The YDP 164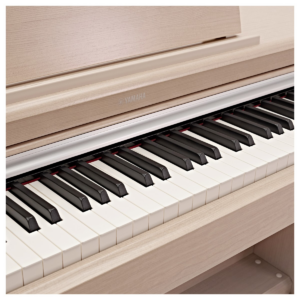 A treasure trove for beginners and advanced players alike, the YDP 164 showcases the next level of Yamaha craftsmanship.
The keyboard consists of 88 Graded Hammer 3 (GH3) keys. It's the kind of action that lets you play quick, intricate sequences, while always feeling the full weight of the keys – even before they've been fully released. The keys are layered with synthetic ivory tops for an even more realistic feel.
Two impressive 20W speakers project the CFX Concert Grand sound and all its dynamics. Such powerful amplification ensures you can fill any room, no matter its size, with the glorious tone of this prestigious grand piano.
Again, you'll have Intelligent Acoustic Control ensuring there's plenty of bass and treble oozing through when you're playing at low volumes. And for some extra oomph with headphones, the YDP 164 boasts the Stereophonic Optimiser.
If you're a budding pianist aiming ambitiously, this digital piano is one that will stick with you as you progress. When you advance to more difficult techniques, the YDP 164's premium keyboard action and golden quality sound will thrive just as well. And to help you with those techniques, the Smart Piano app is there ready and waiting.
A 192-note max. polyphony then allows your sound to reach its full potential, flowing with rich textures and luscious chords.
---
The YDP S54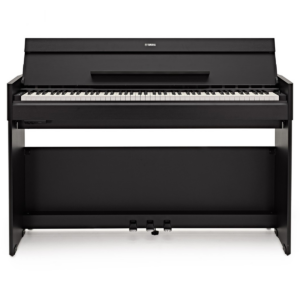 Housing Yamaha's premium craftsmanship in a slimmer build, the YDP S54 is built for both beginners and professionals, teaming innovative manufacturing with easy-to-play design.
It boasts a Graded Hammer 3 keyboard with synthetic ebony and ivory keytops. This grants you full scope to perform with realistic playability, while still having an instrument compact enough to suit any environment.
Small, carefully-crafted details like synthetic keytops add those beautiful finishing touches. They take the S54 from being just a digital piano to one that feels as close to an acoustic as possible.
Thanks to CFX samples and two 20W speakers, the S54 brings the sonic magnitude of the concert hall to your own home, so you can learn the piano with the kind of stellar sound quality that's enjoyed by the experts.
The YDP S54 has also been crafted with – you guessed it – Intelligent Acoustic Control and Stereophonic Optimiser. So, whether you're performing with sparkling sound projection or rehearsing with headphones, you'll always have rich, crystal-clear tones across the whole frequency range.
And, of course, you'll have the Smart Pianist app to aid you in your learning.
---
How does the Arius series support a beginner?
Well, the answer is easy. It teams Yamaha's expertise with silky-smooth, realistic playability. Having such exceptional keyboard action (whether it's GHS or GH3) means you'll be able to practise proper technique that feels the same at an exam or recital.
The Arius range also proves that you don't have to compromise on sound quality when investing in a starter piano. Each YDP model delivers truly premium grand concert sound courtesy of the CFX.
Perhaps 'starter' is the wrong word – these pianos are ideal for beginners, but they also lend themselves to advanced techniques. And luckily, their price tags are pretty appealing too – a bonus for any novice or professional.
---
Find out more
Yamaha quality is known for being unbeatable. But don't take our word for it, why not check out the Arius range for yourself?
Each piano comes as either a solo product or part of a bundle, comprising a stool and headphones.
Shop now | Yamaha YDP Arius Digital Pianos
See More | Yamaha Digital Pianos