If you've been looking to buy a new keyboard, you may have come across workstations and arrangers. They both seem very similar and their features are alike… so what's the difference? In this article, we'll explain the differences between workstations and arranger keyboards, and who each of them is for.
What is an arranger keyboard?
Arranger keyboards offer the functionality for musicians to perform with a virtual backing band. The presets for these backing bands are known as "styles", and they're usually stored by genre and instrumentation. Plus, a lot of the time you can create, edit, and save new styles, storing them on your keyboard.
This is great for a keyboard player who wants to gig but doesn't have access to a backing band. Your keyboard will solve this problem.
Arrangers often have features to help create a dynamic performance. This can include automatic detection of the chords you're playing, allowing the backing track to adjust to your harmony. Or some arrangers, like the Korg Pa5X, even boast the ability to crossfade smoothly between one style of backing track to another.
You can also organise styles into songs and set lists. Then when you perform live, recalling songs and the order of them is as simple as the press of a button.
Yamaha PSR SX range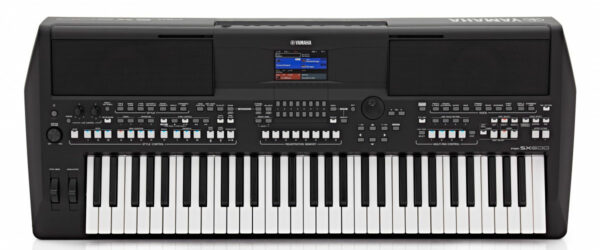 Yamaha's PSR SX range has an array of features that you'll find useful if you're a performing keyboard musician. All three instruments in this range are very similar, the main differences are the number of sounds and effects.
The SX700 and SX900 also feature a joystick for a dynamic way of interacting with musical parameters.
Shop now | Yamaha PSR SX600
Shop now | Yamaha PSR SX700
Shop now | Yamaha PSR SX800
Korg Pa5X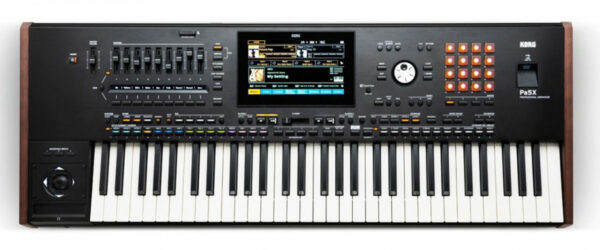 The long-awaited successor to Korg's flagship Pa4X, the Pa5X has more sounds and styles than its predecessor. Plus, there's a range of improvements to its software and features. Available in three sizes, each one has the same number of eye-catching components, except for the 88-key Pa5X which also has fully weighted keys.
The Pa5X is designed for live music making. It can handle four instrument inputs and process effects too. Like Yamaha's PSR SX series, the Pa5X has a joystick. What's more, faders can be used for any parameter you want and the handy screen allows you to tell the fader exactly what to do.
Shop now | Korg Pa5X 61
Shop now | Korg Pa5X 76
Shop now | Korg Pa5X 88
Shop now | Arranger keyboards
What is a workstation keyboard?
Workstation keyboards offer functionality that's more suited to composers and producers. They often feature multiple synth engines, and are, therefore, capable of several types of synthesis.
Sampled instruments like piano, strings, brass, and woodwind are also available. And that's not all; often, you can add your own samples for more flexibility. This is a major feature of workstations. Some offer very advanced sampling abilities, similar to detailed sampling programs like Kontakt or EXS24.
With workstations, you usually get more control over the sounds, and you can dial in the exact timbre you want for your music. It's more like working with a synth in a DAW on your computer but with fewer granular controls over the timbre of your sounds.
One considerable feature that differentiates workstations and arrangers is that workstations allow for multi-track recording of music. Arrangers tend to facilitate more of a performer-focused workflow, allowing you to play with simulated instruments that perform pre-defined rhythms and harmonies. While recording is sometimes possible, it's often in the form of MIDI sequences rather than individual audio tracks.
Yamaha Genos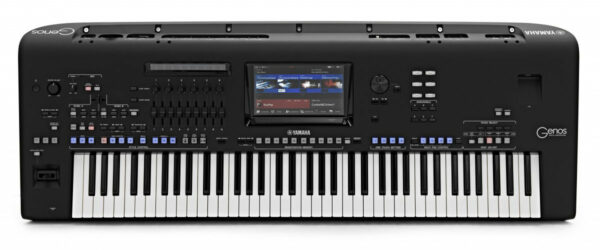 This is Yamaha's flagship. Like many of their other products, the Genos has some top-class features. Sounds inside this keyboard include samples of the Yamaha C7 and CFX pianos. The drums are great too thanks to the wave cycle feature which makes each note sound slightly different.
Shop now | Yamaha Genos
Roland Fantom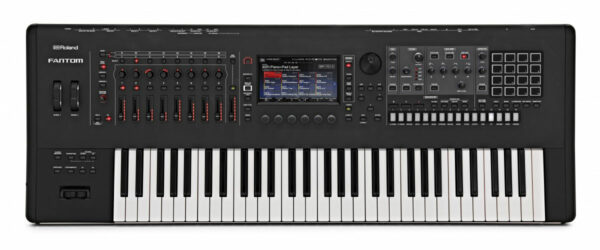 The Fantom is Roland's frontrunner when it comes to workstations. And the features of this device show it. Not only does it boast a rich variety of sounds, but it also has expansions with even more sonic possibilities. These include emulations of iconic Roland synths such as the Jupiter-8 and Juno-106.
This workstation is ideal for musicians who work a lot within a DAW. The Fantom is designed to integrate with DAWs like Ableton Live, Logic Pro X, GarageBand, and MainStage with a USB cable. With that, you can route audio from your DAW to be processed through the Fantom's effects.
The CV/gate outputs are great for users of modular gear or drum machines. You can use the Fantom as a keyboard for an external synth or use the sequencers to sequence synths or drum machines.
Shop now | Roland Fantom 6
Shop now | Roland Fantom 7
Shop now | Roland Fantom 8
Korg Nautilus
The main Korg workstation, the Nautilus features nine built-in sound engines. From a sampled piano to a modelled analogue synth, there are plenty of high-quality sounds that can be achieved, with the same level of control that you would expect from a dedicated synthesiser.
Shop now | Korg Nautilus 61
Shop now | Korg Nautilus 73
Shop now | Korg Nautilus 88
Shop now | Workstations
What to look for
With any keyboard instrument, it's important to consider the keybed. If you're an accomplished pianist, you may find a lower number of keys to be too restrictive. In a similar vein, the type of weighting used on the keys is also an important consideration.
Experienced piano players may want a fully weighted keyboard. However, if you're used to playing hardware synths, a synth-action keyboard would be preferable. On the other hand, semi-weighted keys may feel familiar to organ players.
For both workstations and arranger keyboards, you'll want access to a large range of different sounds. This includes other instruments like guitar, bass, drums, and orchestral instruments. Such variety is important, as it accommodates a broad range of playing styles.
When looking for workstations, you should check out the range of synth types that are available on the keyboard you're interested in.
Sampling capabilities are also important. Handling audio samples can be more resource intensive, so it's always good to see what quality samples the keyboard can work with and how much extra storage space there is.
Many workstations will support either SD cards or USB drives for expanding the storage available. Check the specifications of the keyboard to see which audio files are compatible.
When you write a tune, you probably want to record it. However, you may want to consider what recording capabilities your workstation or arranger keyboard will have. Many keyboards can record MIDI sequences on multiple tracks. Some may also record raw audio.
Which one is best for me?
Composers are more likely to prefer the workflow and functionality of a workstation keyboard as it enables multitrack recording and possesses high-quality synthesis engines and sampling capabilities. It suits home studios and musicians who compose on the go.
Performers or band leaders will prefer the arranger keyboard. It's designed to facilitate live performance, providing a good backing for any performer and live processing of your band members' instruments.
It should be noted that some features often attributed to one type of keyboard can also be seen on the other. For example, the Korg Pa5X has an advanced built-in synthesiser engine and the Yamaha Genos has plenty of arranger-esque components, such as styles. In fact, Yamaha refers to all their workstations/arrangers as "workstations".
In a nutshell, you should consider how you will use your workstation or arranger keyboard. Then you can consider which features are more suited to your needs. However, you may wish to still check out both arrangers and workstations – one might have all the features you need, and you might not have seen it if you discounted one type!