Any live performer or venue needs a good PA system. But with such a competitive market, where do you start?
In this guide to PA speakers, we'll be covering everything you need to get a good PA system that gives you the things you're looking for.
---
What kind of PA is right for me?
With a wide variety of PA types to choose from, let's cover some of their features to help give you an idea of what you need.
What driver size should I choose?
PA speakers generally rely on the size of their drivers to help determine their maximum volume and the size of venues they'd be best in. They can be anything from 8 to 15 inches, with 8-inch drivers providing the most compact listening experience while often still sounding powerful and clear. 15-inch drivers are best for moderately sized venues, clubs, or open-air gigs.
It's important to get a size that fits the sort of venue you're either running or playing in, so consider your space and how many people you're expecting to have in before you buy. If you're running a particularly large space, you'll probably need to consider an array setup instead of an all-in-one PA system like these. We do offer some of these, too, but that's not what we'll be discussing here.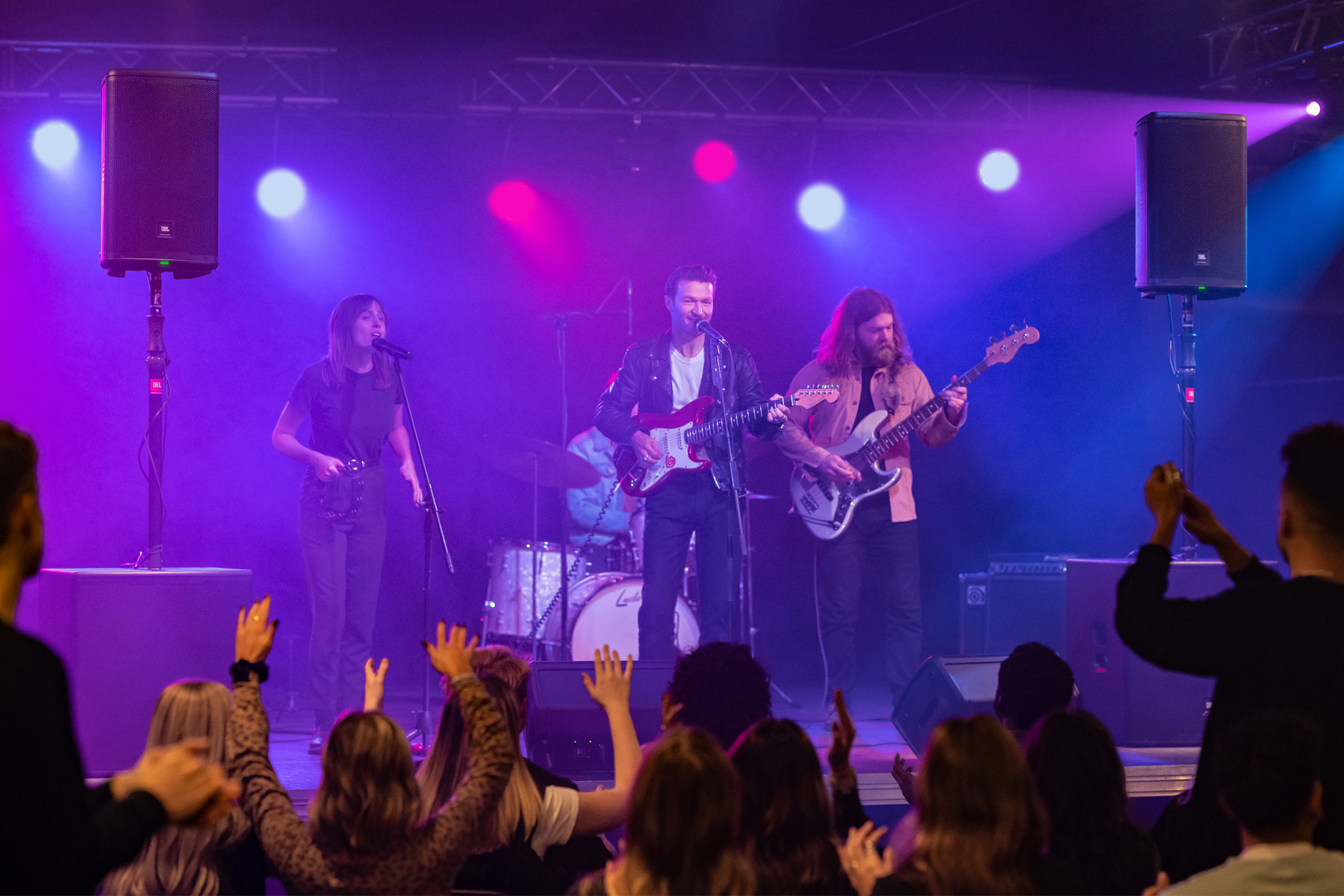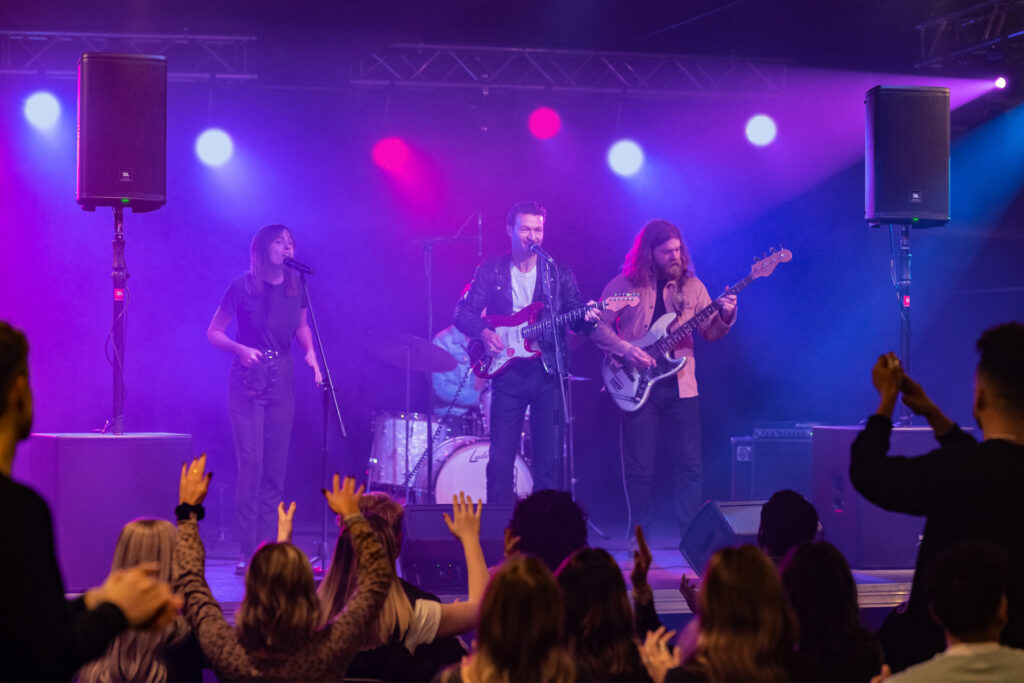 While all types of speakers have their benefits and drawbacks, the choice, ultimately, comes down to what suits your space and needs. Anything can sound fantastic, provided you choose a good speaker and place it well. If you'd like to learn more, we have a more in-depth guide to live sound setups that can help you wrap your head around everything you need to start busking or running a DIY venue.
---
Our suggestions
With some basics covered, let's take a look at the ranges offered by some manufacturers. We'll discuss their features and who they'd be good for. From here, you can see which products are right for you.
Galaxy by Gear4music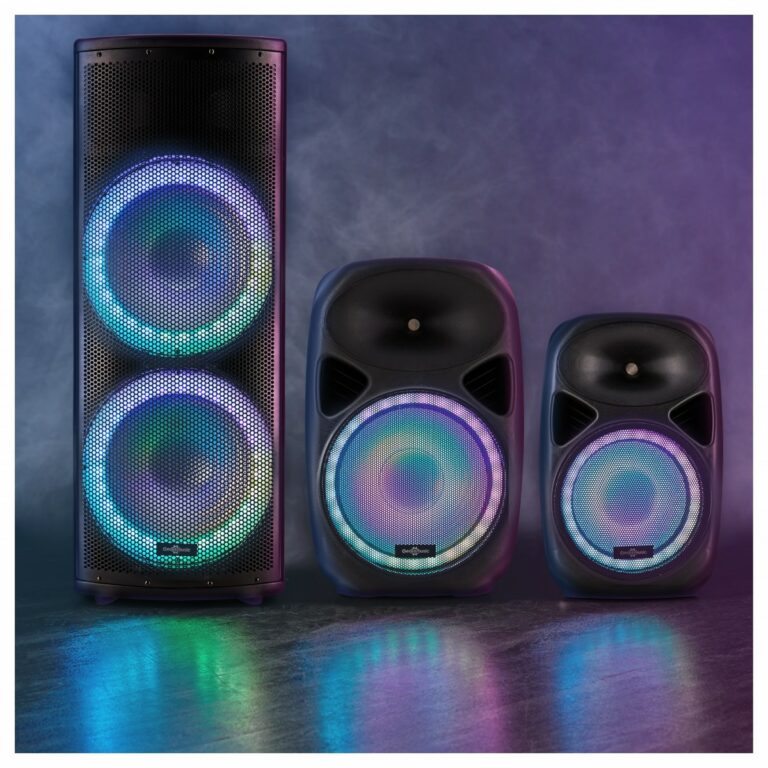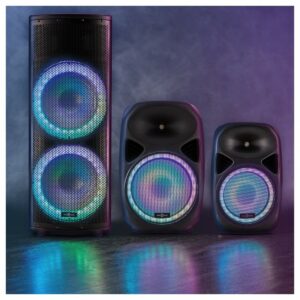 Gear4music's own Galaxy range is a series of mostly compact, entry-level PA speakers. Perfect for aspiring DJs or party animals who want to step up their sound, our Galaxy range is an excellent entry point.
Offering three different sizes, all at extremely affordable prices, the Galaxy can turn even the least lively of parties into a night to remember.
A user-friendly digital media player lets you get as simple or complicated as you'd like. Blast your favourite playlist from your phone and enjoy the moment, or connect your DJ setup and crank it up to 11.
Shop Now | Galaxy by Gear4music
---
Alto TS series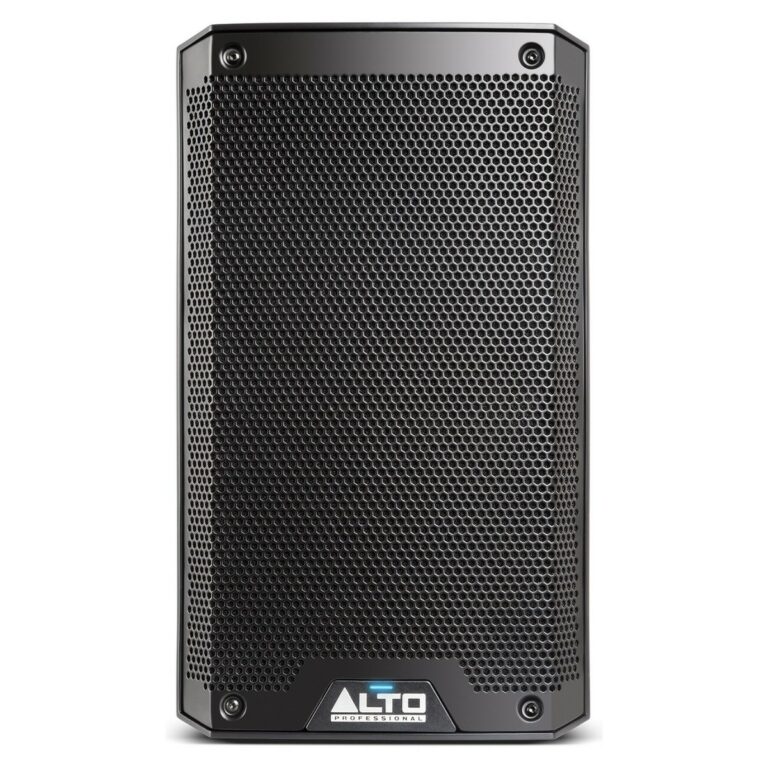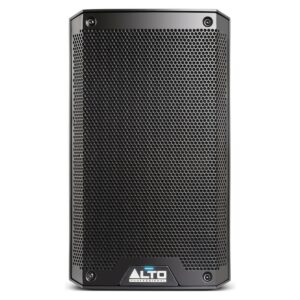 One of the main drawbacks of active speakers is the weight of their amplification. But thanks to the recent development of Class D amplification, this isn't an issue with the Alto TS series.
This design has helped cut down on the energy consumption of active speakers, therefore, preventing overheating, reducing noise, and providing a cleaner sound. Alto's TS series is the first on this list to use Class D amplification as opposed to Class AB which has been standard for a long time.
It features a two-channel mixer with combo inputs, whilst a maximum output of 129 dB SPL on the 8-inch driver version provides huge sound to help fill most small-to-moderate venues readily. The Alto TS series comes in 8-inch, 12-inch, and 15-inch versions, so you're bound to find a size and power that suits your space.
Shop Now | Alto TS Series
---
Mackie Thump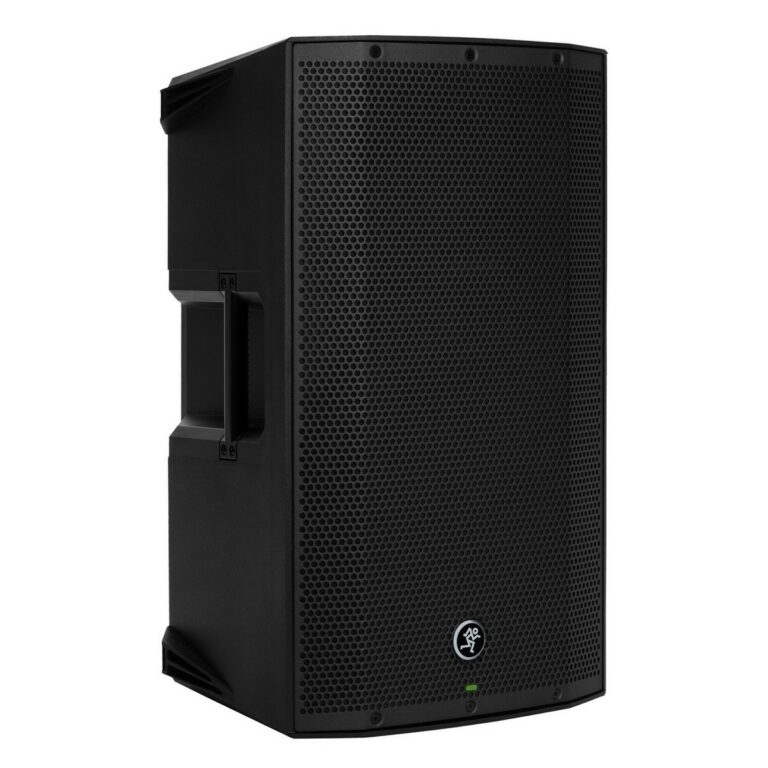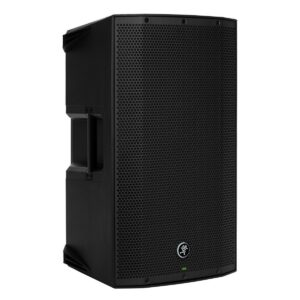 One of Mackie's more recent offerings, the Thump is a set of PA speakers with broad functionality.
With 12-inch and 15-inch woofer sizes in this range, these speakers can readily handle some bigger crowds, especially in small-to-moderate venues.
Well-renowned for their tenacious build qualities, Mackie have managed to produce a range of powerful, durable speakers. They boast high-frequency compression drivers for extra punch in the treble, ensuring your sound is venue-filling without losing any detail.
Flexible, durable, and affordable, the Mackie Thump series is an excellent choice, especially for rock venues where you need that extra drive and reliability.
Shop Now | Mackie Thump Series
---
LD Systems ICOA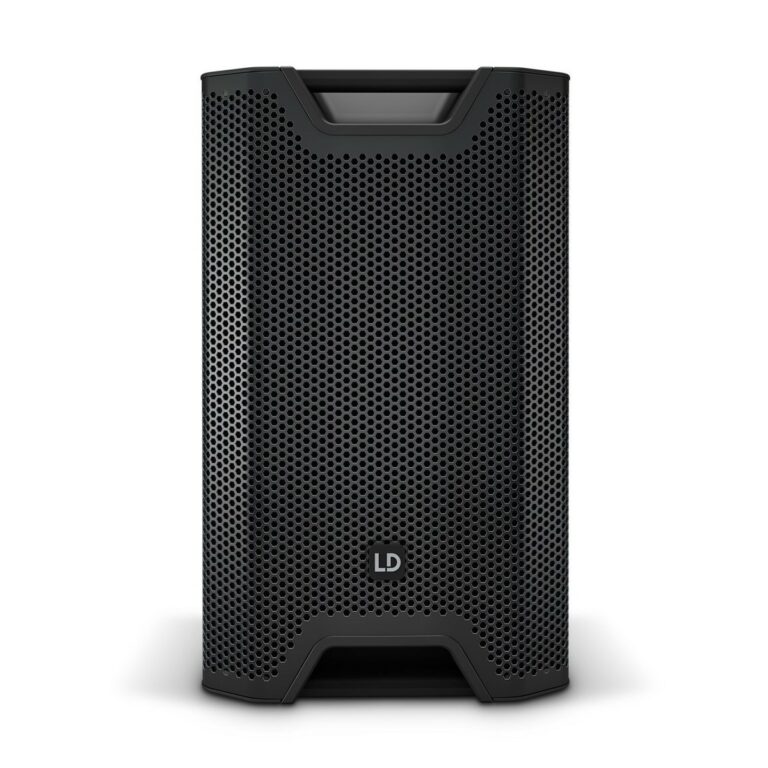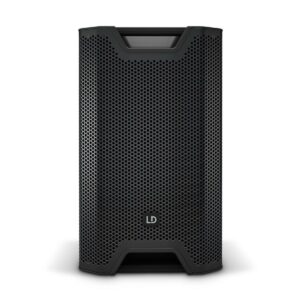 LD Systems have consistently made affordable products that sound great, and their newest ICOA series is no exception.
This range is similar to Mackie's Thump speakers, both in price and features. But there are two key differences. While the ICOA series doesn't offer a compact battery-powered option in its range, it does offer a rotating compression driver, meaning you can set up vertically or horizontally.
LD have also loaded the ICOA series with their own DSP which provides limiting, EQ, compression, and custom crossover settings to let you really tweak your sound.
Also included is a speaker delay function. This is great for setting up an array with subwoofers to create that huge, rumbling low-end that always sticks with you during any great gig.
Offering plenty of power and value, LD's ICOA series is a fantastic starter system for any venue.
Shop Now | LD Systems ICOA Series
---
JBL EON 700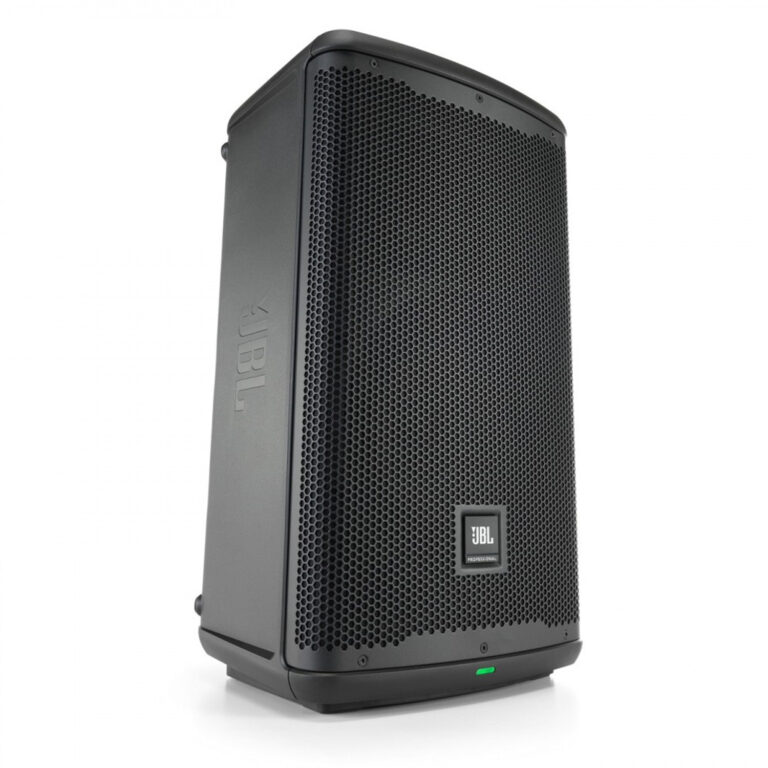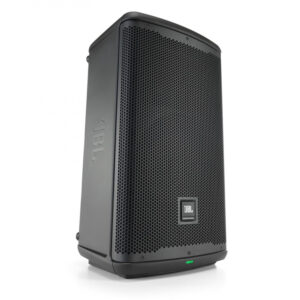 JBL's EON 700 range has become an extremely popular series due to their sound and versatility.
With sizes ranging from 10 to 15 inches, and with 18-inch subwoofers also on offer, you can get a full PA system that feels consistent. Even the smallest model offers huge power, providing a maximum output of 125 dB, advanced DSP, and a three-channel digital mixer.
JBL have packed an extra punch into the EON series by redesigning the compression drivers that handle high frequencies. Compression drivers work by pushing the sounds out through a widening funnel, meaning the frequencies are projected with higher sound pressures and an added boost.
The included DSP gives you 8-band parametric EQ, signal ducking, feedback suppression, and a speaker delay. All of this combined in the EON 700 range means you get the crisp, present sound that's excellent for any space.
Shop Now | JBL EON 700 Series
---
RCF ART 900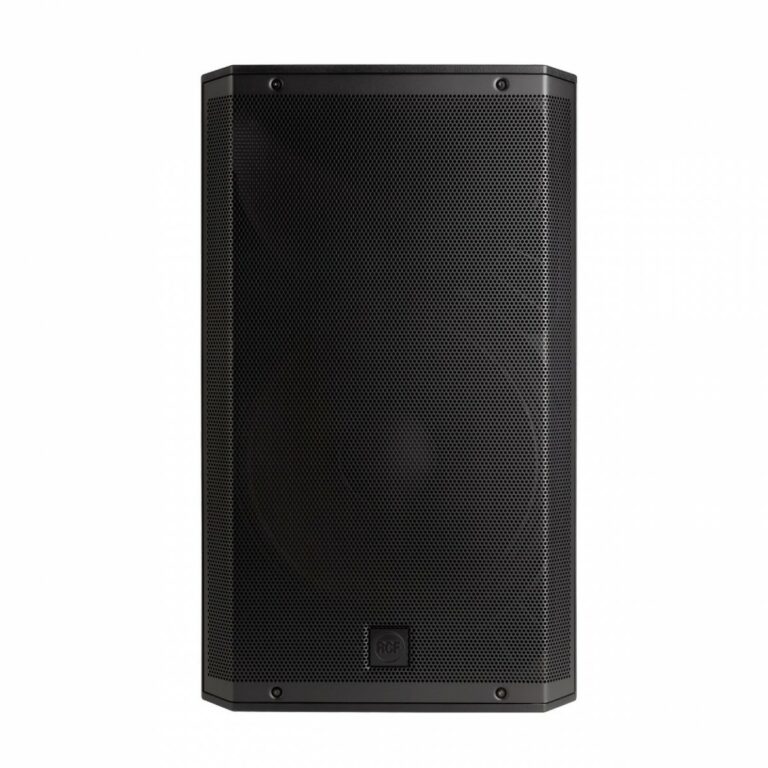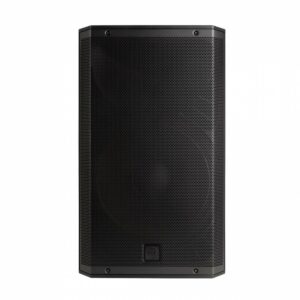 Some of the best amplification available on the market today has been engineered into RCF's ART 900 series. Featuring a two-channel Class D amplifier that packs 2100 watts of power into the speaker drivers, the ART 900 handles extreme sound pressures.
This amplification also improves transient response, allowing for fast attack sounds like drums to come through clearly.
An included power limiter prevents components from overloading or sound from distorting. Innovative DSP then helps to attenuate bass, but only when it gets out of control, which could happen if you have a dynamic EQ directly in your PA speaker.
Add FiR crossover filters for an extremely subtle transition between frequencies from the woofer and tweeter, and you have formidable clarity, too.
RCF didn't stop there, either. Waveguiding helps prevent distortion from the ART 900's high-frequency compression driver, while providing consistent coverage, so your sound doesn't spill throughout your venue and create unwanted mud.
Coming in 10-inch to 15-inch sizes, with the 930 and 945 variants offering a larger compression driver, RCF's ART 900 series promises huge value for money.
Shop Now | RCF ART 900 Series
---
Electro-Voice ZLX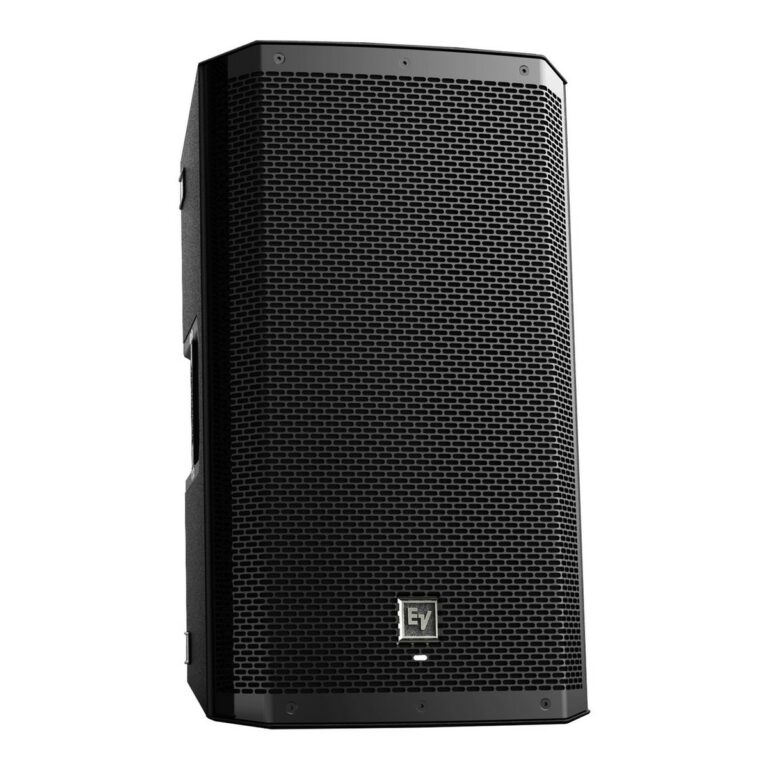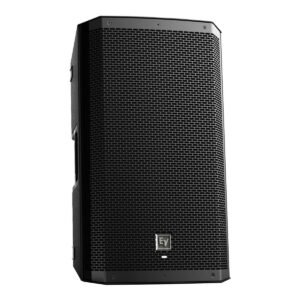 Electro-Voice are yet another company that demonstrates their good reputation time and again through great design. Their ZLX series proves exactly why they're so popular, and makes it look almost effortless.
Yet again using Class D amplification for the clean, clear sound that's becoming so sought-after in PA speaker designs as a base, the ZLX also offers intuitive single-knob DSP control that presents four presets. You have 2-band EQ for tonal sweetening, metering of limiters and input level, and master volume control for effortless gain staging.
Coming in 12 and 15-inch driver sizes, the ZLX series is made for serious use. Highly portable thanks to their amplification and compact size, these speakers are excellent for DJs' touring acts, installation in public spaces, rehearsal studios, and clubs and venues.
Yet again offering waveguiding, the ZLX series sounds consistent and clear through any space. Plus, its ZLX-BT models offer Bluetooth connectivity, allowing you to stream audio or connect a stereo pair completely wirelessly.
Alternatively, combine a BT model with a regular one via XLR cable, and you can stream wirelessly to the stereo pair in higher fidelity than a fully wireless setup!
Shop Now | Electro-Voice ZLX Series
---
Yamaha DHR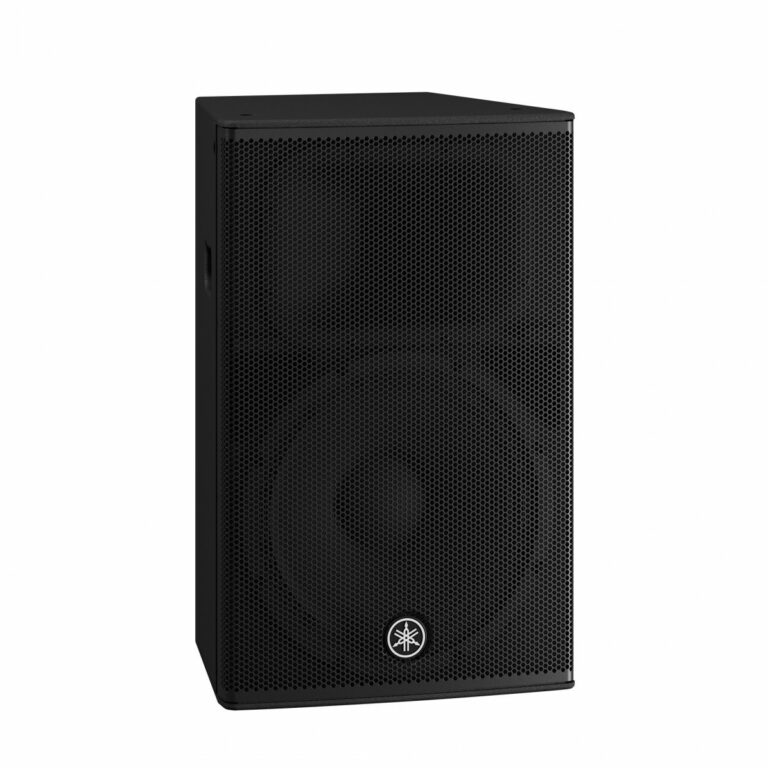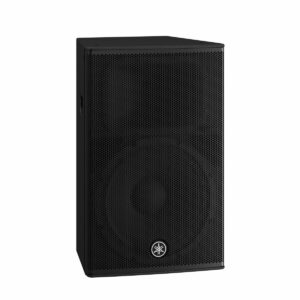 Yamaha have been a fixture in live sound speaker design for a large portion of their history, creating innovative and high-quality products.
Offering FIR-X crossover tuning, the PA speaker systems of the DHR series dynamically adjust the phase and timing of sound for improved cohesion. Also on offer is meticulously designed component limiting, preventing distortion and maximising how hard you can push these speakers.
A two-channel mixer with combo jacks and stereo RCA inputs gives you input control. But perhaps the most innovative feature is Yamaha's DSP multi-band compression D-CONTOUR. This boosts and monitors your input signals, applying compression when needed to provide a balanced, neutral sound.
You can also utilise its low-frequency boosting mode to add a little extra kick to your low frequencies or attenuate bass in monitor mode for reduced mud. However you need the DHR to sound, these speakers are extremely capable.
Each speaker in Yamaha's DHR series is also completely distinct, with unique features at each size. The 10-inch model features a rotatable compression driver and U-bracket, so you can just as easily mount it horizontally, which is fantastic for reinforcing your main speakers in a larger venue. It's also great for achieving better horizontal dispersion, which can be an issue with speakers this size.
The 12-inch version is designed specifically as a floor monitor to go on stage and it has a coaxial compression driver that extends its frequency response into the mid-range. This improves clarity and detail, which is what you really want from floor monitors, and what they tend to struggle with.
If in-ear monitoring systems aren't an option for you, the DHR12M is a worthy alternative to consider.
Finally, the 15-inch model provides rigging points and a dual-angle pole mount socket. This lets you either fly the DHR15 from the ceiling of the venue, angle it lower on a speaker stand to prevent low ceilings, or just give you better dispersion towards your audience.
A versatile and well-designed range, Yamaha's DHR are a good option no matter what you need.
Shop Now | Yamaha DHR Series
---
Bose F1 Model 812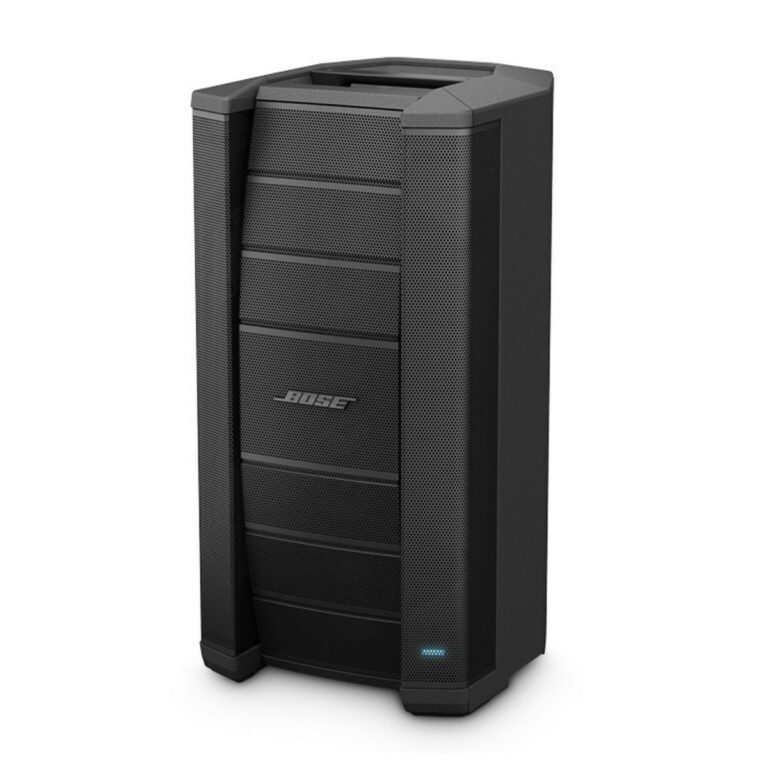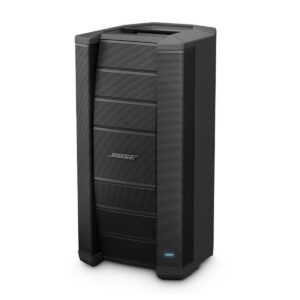 The Bose F1 Model 812 consists of eight compact drivers and a large 12-inch woofer behind them, making for a powerful speaker array.
Bose have always been extremely skilled at developing speakers, and their PA speakers only serve to reinforce this.
Despite its number of drivers, the F1 is built from a lightweight composite enclosure that ensures you can take it with you wherever you need it.
Its Flexible Array technology then allows you to position the speaker however you need to achieve optimised dispersion for your space. While changing between the four available dispersion patterns, it also adjusts EQ to account for this, making sure none of the sound gets lost in the shuffle.
Thanks to its array design, the F1 offers a full low-end down to 43 Hz, ensuring you get the whole frequency spectrum recreated with clarity and power. A maximum output of 132 dB also means that the F1 provides huge sound. Create a stereo pair with the range's subwoofers, and you have a formidable live sound setup for any venue.
Shop Now | Bose F1 Model 812
---
Yamaha DZR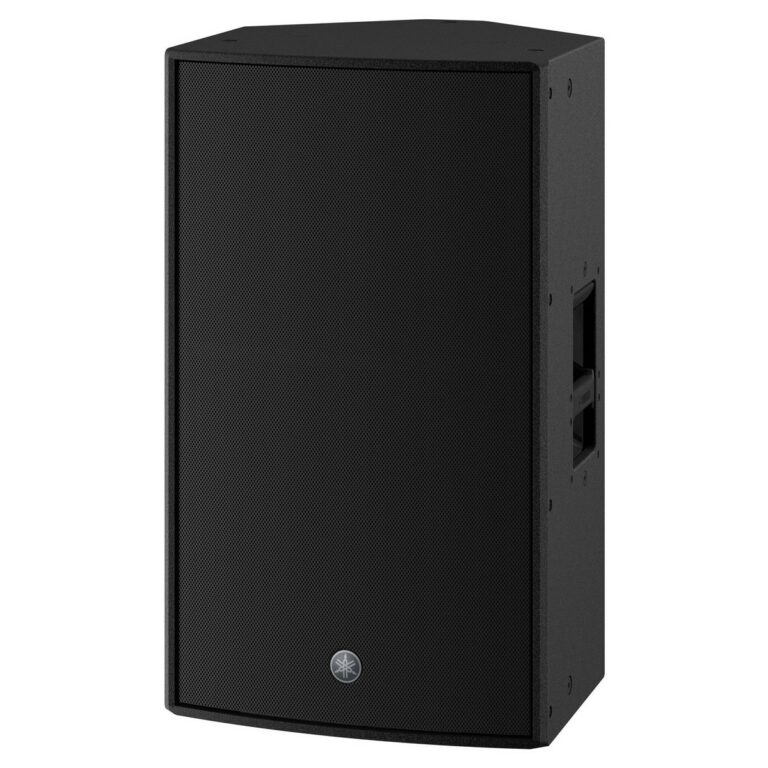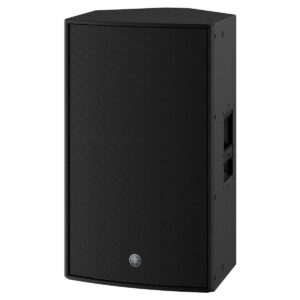 Yamaha's DZR series was released before their more affordable DHR range and provides many of the same features. D-CONTOUR, FIR-X tuning, and DSP are all here yet again.
So, what separates DZR from DHR?
The first thing is amplification. Offering a staggering 2000W of amplification, the DZR series really pushes the output of standalone PA speakers to its absolute limit. Even the smallest model – measuring 10 inches – gives you a huge 137 dB of maximum sound output. This range truly outclasses all of the others in terms of its maximum output.
The second is its 96 kHz DSP processing, which provides 6-band EQ defined by the user, a high-pass filter for mud removal, speaker delay, and component limiting. Whilst the DHR offers some DSP, it's not as high resolution, and the custom 6-band EQ isn't present either.
So overall, DZR offers a more refined and powerful take on the already fantastic features of DHR.
While the range has the expected 10-inch, 12-inch, and 15-inch woofer models, it also has a three-way model that provides two 15-inch woofers for low and mid-range frequencies. This lets the smoothness of the FIR-X crossover tuning truly shine.
Another variant in this series provides integrated Dante connectivity, which allows for direct communication between mixing consoles and the speakers. Pairing the DZR-D speakers with a Yamaha Touchflow console would make for an intuitive and configurable live engineering setup.
Shop Now | Yamaha DZR Series
---
A world of sound
A lot of recent technologies have given modern PA speakers a wealth of new features to tap into. This makes for an extremely exciting market because we're constantly seeing manufacturers innovate. With all these interesting new ways to expand the functionality of PA speakers, we're truly spoiled for choice.
Every range brings a different approach, and we've highlighted some of the most intriguing options available here. No matter what your needs and budget, you should have a tempting option somewhere on this list. However, if that isn't the case, we still have a few honourable mentions for you.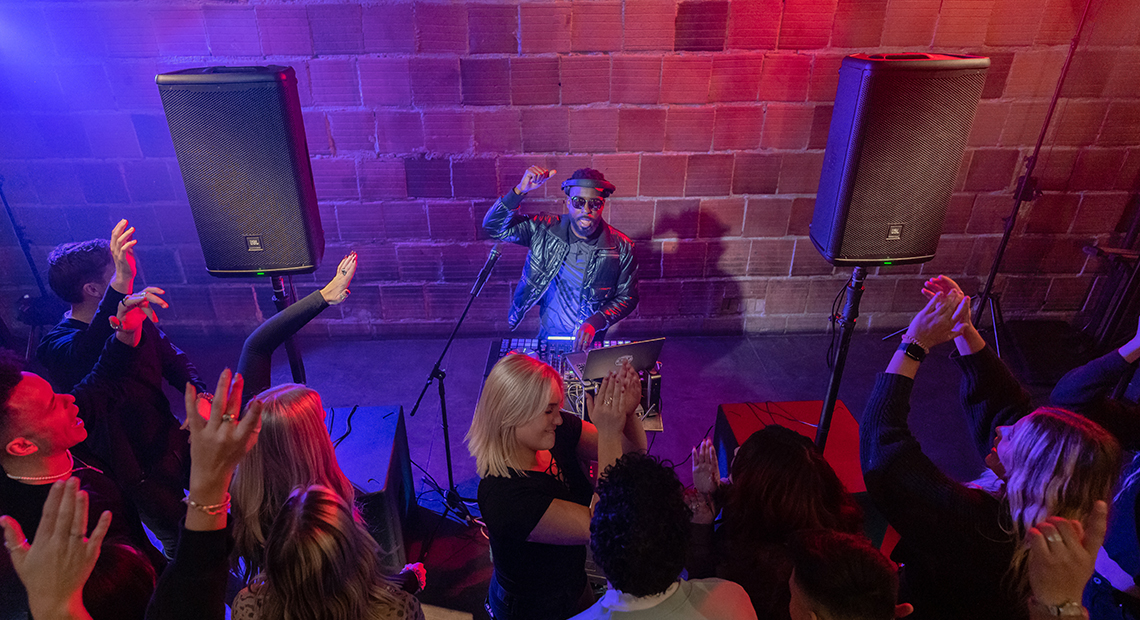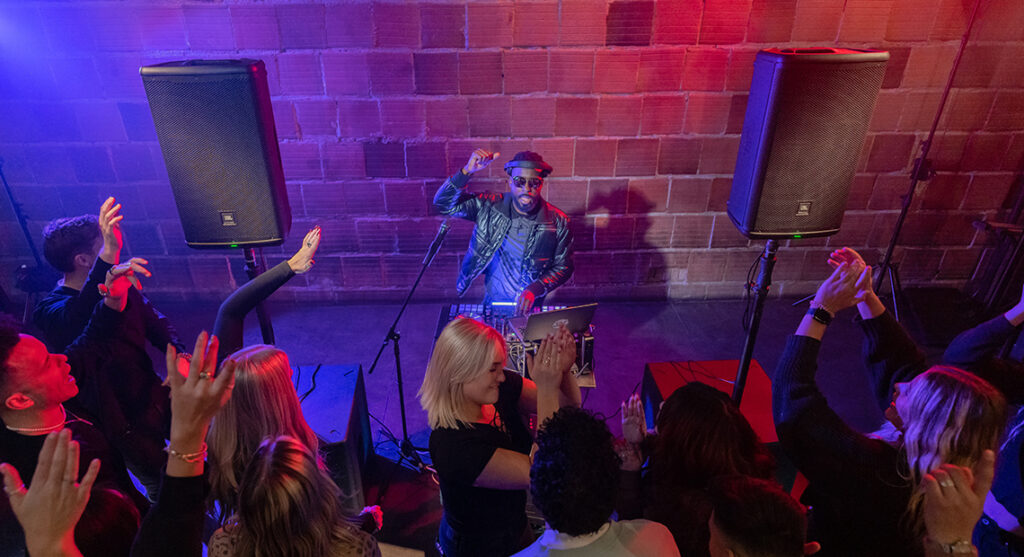 ---
Honourable Mentions
SubZero DSP series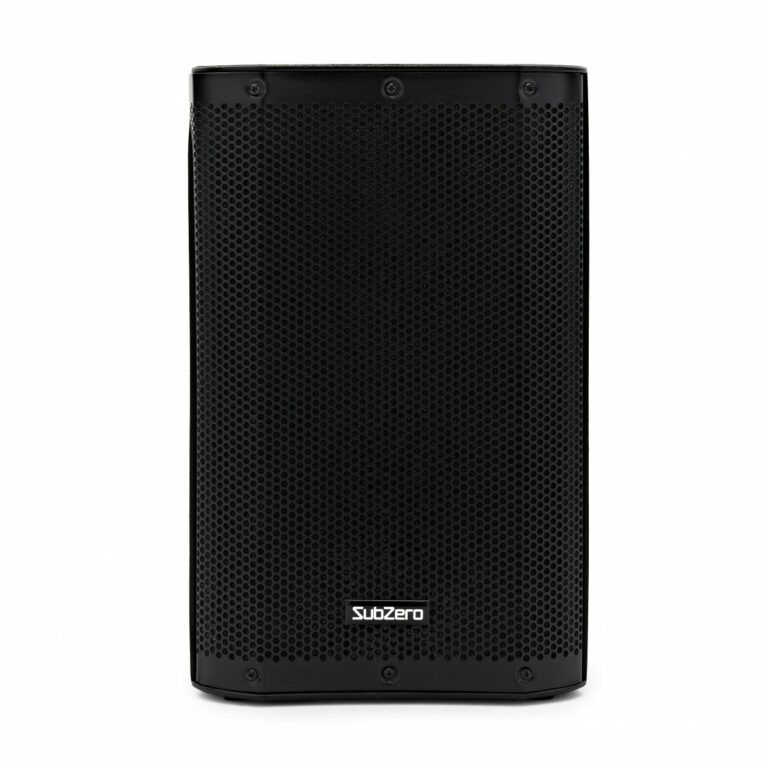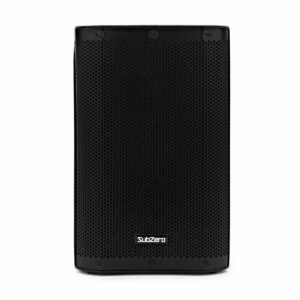 An excellent starter set for anyone who needs something with a little more advanced functionality than the Galaxy range. The SubZero DSP range offers three sizes of full-range speakers: 8-inch, 10-inch, and 12-inch, as well as separate subwoofers for extra bass.
DSP EQ provides fantastic focus and colour to your sound. Cut low-end to remove mud, boost low-end for extra frequencies, boost presence for vocals, or get a completely flat and neutral recreation with the onboard settings. It's perfect for buskers, rehearsal studios, band practices, and small DIY venues.
Shop Now | SubZero D8 Active DSP PA Speaker
Shop Now | SubZero D10 Active DSP PA Speaker
Shop Now | SubZero D12 Active DSP PA Speaker
---
Bose S1 Pro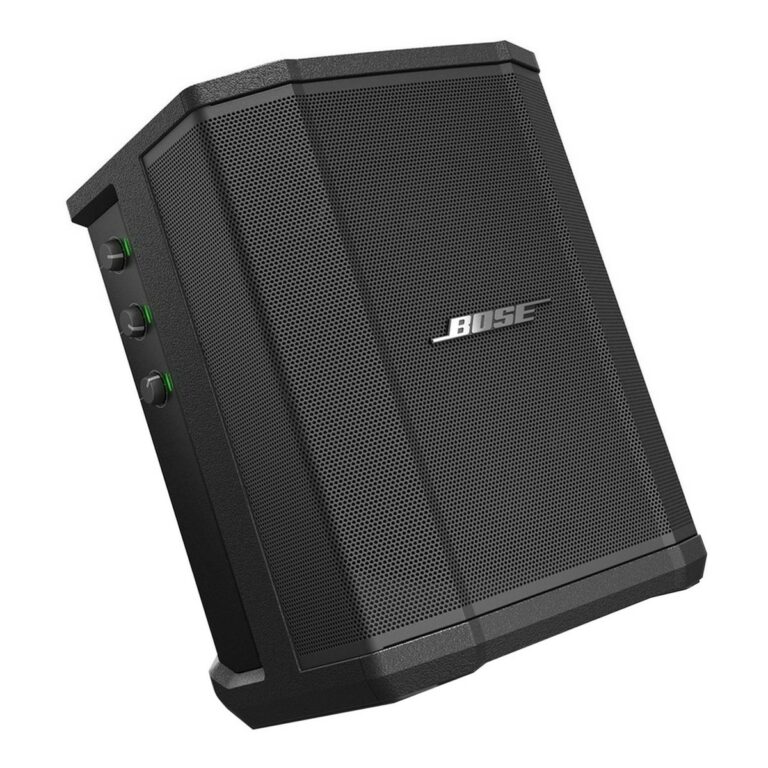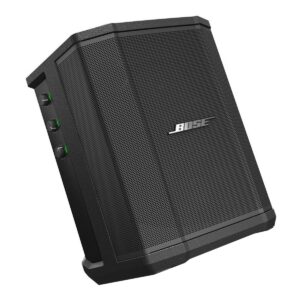 Looking for the F1's sound in a smaller, more portable format? Bose's S1 might just be for you.
Fewer drivers and a compact 6-inch low-frequency woofer provide the F1's sound signature in a smaller form. Bluetooth makes streaming easy, whilst a lower crossover frequency than usual makes the S1 surprisingly bassy for its size.
An onboard mixer provides reverb and EQ to add extra depth to guitars or vocals. Perfect for buskers, DJs, party hosts, or band practices, the S1 is compact, portable, and well-rounded. With a rechargeable lithium-ion battery, you get 11 hours of use without the need for mains power.
Learn More | Bose Speakers: Live Sound in Seconds
Shop Now | Bose S1 Pro Multi-Position Battery Powered PA System
---
Mackie Thump GO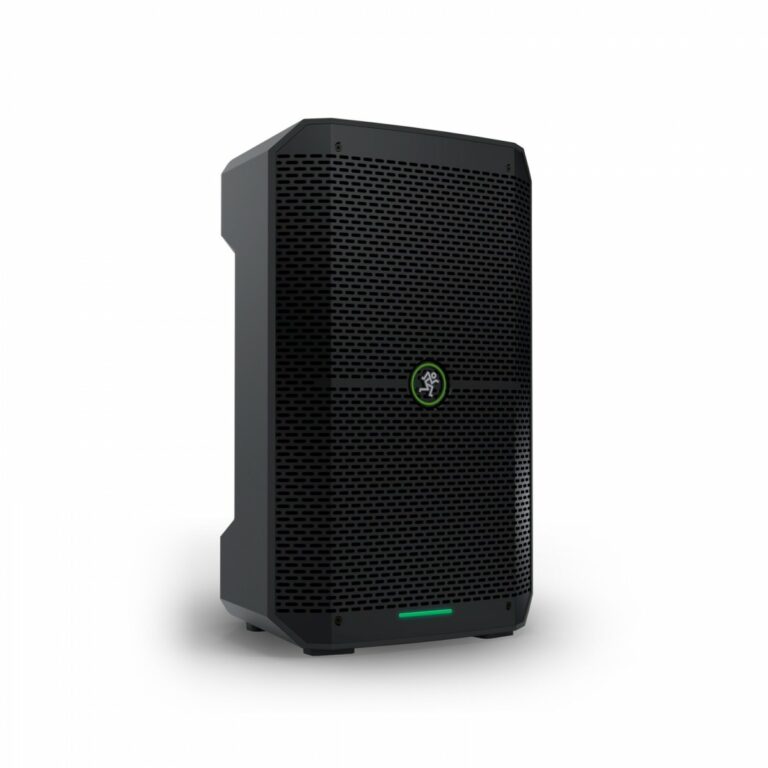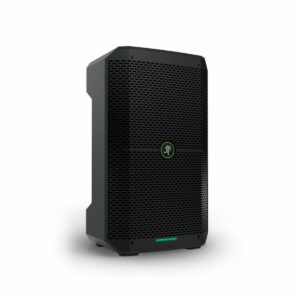 A compact and portable take on Mackie's popular Thump series, the Thump GO adds battery power to an 8-inch woofer. It's fantastic for parties, buskers, singer-songwriters, or just providing some small, focused outdoor sound to venues.
12 hours of battery life on a single charge makes sure you have long-lasting use of the speaker.
With an onboard 2-channel mixer, and Bluetooth wireless streaming, the Thump GO is extremely versatile.
Shop Now | Mackie Thump GO Portable Battery Powered Speaker
---
Find out more
With all your newfound knowledge of what's out there, why not check out our range of PA speakers?
Shop now | PA Speakers