Wireless systems can be a mind-field, there's a lot of confusion surrounding it. This Guide will help you understand the differences between the Shure Range and which one is right for you.
---
Understanding Shure Wireless Systems
Before knowing what Shure wireless system is right for you, first it is best to understand how wireless technology works and why Shure is the top choice when it comes to wireless systems.
For live shows and events, usually, the microphone is the starting point for picking up sound signals, anything that happens after this point will affect the show and the experience that audience has. The people at Shure work constantly to provide wireless systems that are able to perform in demanding environments. As the world becomes more connected by using wireless devices  such as mobiles, tablets, laptops, wifi systems, and even cars, the wireless spectrum that these devices can work on is becoming smaller. This means that "operating space" for wireless microphones may be difficult to find.
To be sure that wireless microphones can work correctly and do not experience any dropouts or interference, Shure are constantly researching and developing wireless technology to provide the best wireless experience possible.
Wireless Microphones run in dedicated blocks of the wireless frequency spectrum. In the UK most Wireless systems work on "UHF (ultra-high-frequency) Bands" but there are some other parts of the spectrum that wireless can work on.
TV Channel 38 – Operates on Frequencies 606-614MHz. A license is required within the UK to operate wireless microphones in Channel 38. This includes K3E, K59 and K51 systems that Shure offer.
The Duplex Gap – Operates on frequencies of 823 – 832 MHz is available for use as part of Channel 38 license. This Includes S8 systems that Shure Offer
4GHz Band is available across the entire world for free. No Licence is required. This includes the GLX-D Range.
863 – 865 MHz is another Free to use frequency that does not require a licence. This includes T11 systems that Shure Offer.
TV Channels 21 – 37 – Operate on frequencies 470-606MHz and TV channels 39 – 60 – operate on frequencies 614MHz-790MHz. These Channels are available for wireless microphones an interleaved basis. "Interleaved" refers to how we share the frequency space with existing digital TV channels. Meaning the microphones can operate in the gaps between each TV channel; these gaps are sometimes called "white space." These frequencies are usually used for large events; you will require a licence for legal operation.
---
Entry level wireless
BLX is the Entry point for anyone who has never used a wireless system before. It's incredibly easy to set up due to its "One Touch Quick Scan" that helps you find an open frequency to use. BLX systems have a variety of microphone capsules to choose from such as, classics like SM58 and Beta58 or you can choose body packs that can be used for headset microphones and instruments.
Perfect for beginners, If you're looking for an easy wireless system that works straight out of the box and provides high-quality audio then BLX will be perfect for you.
What Frequency should I choose?
BLX Systems are available in a number of different frequency bands. We have outlined the ones we currently offer at Gear4Music.
For UK use K3E will be the best choice as this is the primary frequency for UK and Ireland.
For use in Central Europe the best choice will be either T11, S8 or H3E this will depend on the frequency laws within the country you wish to use wireless in, some countries may require a license for legal operation.
K3E Frequency (606-614MHz) Is perfect for UK use: Please note that this frequency requires a license to operate legally.
S8 Frequency (823-832MHz) may require a license depending on your area.
T11 Frequency (863-865MHz) Is license free for most of Europe.
H3E Frequency (518 – 542MHz) This requires a license in the UK but free to use in some European countries.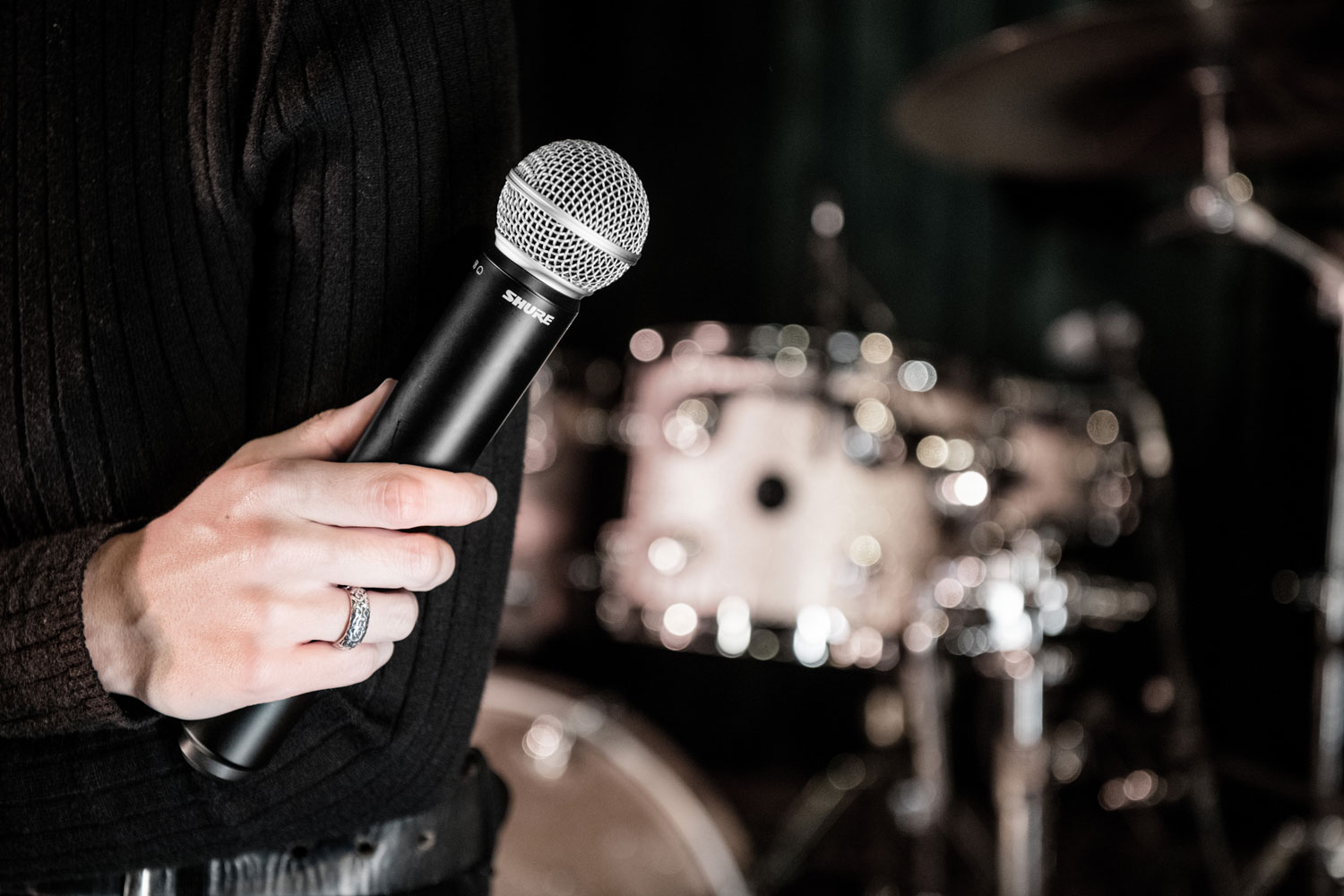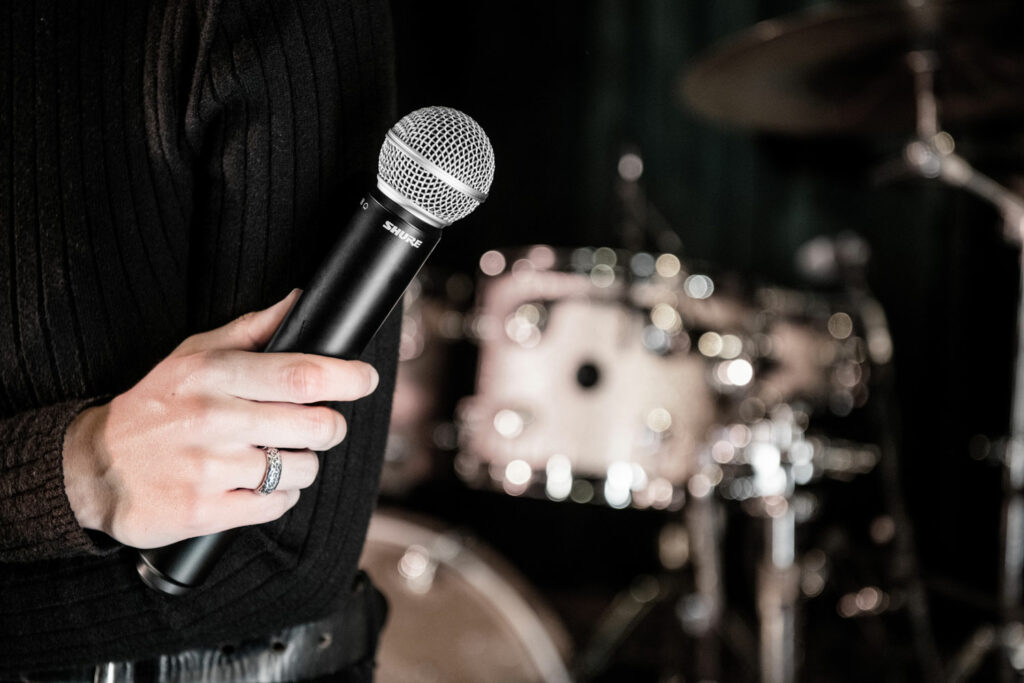 ---
Reliable, high-quality digital audio.
SLX-D offers outstanding quality in sound, build and usability. The SLX-D system can maintain a stable signal which makes it very reliable for your performance, there will be little to no drop outs. The system offers crystal clear audio with a super wide dynamic range which provides natural sound for both instruments and Vocals. Even though this is a higher-end system, Shure has made setup and use super easy by using the RF scan and IR sync buttons on the receiver.
SLX-D handheld transmitters have interchangeable capsules meaning you can swap out your sound whenever you feel like it. If you're a Touring musician that needs a high level of audio quality and want to be sure there will be no dropouts or interference then SLX-D is all you need.
What Frequency should I choose?
SLX-D is available in several different frequency bands.
In the UK, K59 is the recommended frequency, this frequency band sits within Channel 38 but also covers a wider range to be able to used for larger events. A license will be required for this frequency within the UK.
S50 and H56 is the recommended frequency for use within Europe. Licenses may be required depending on your area.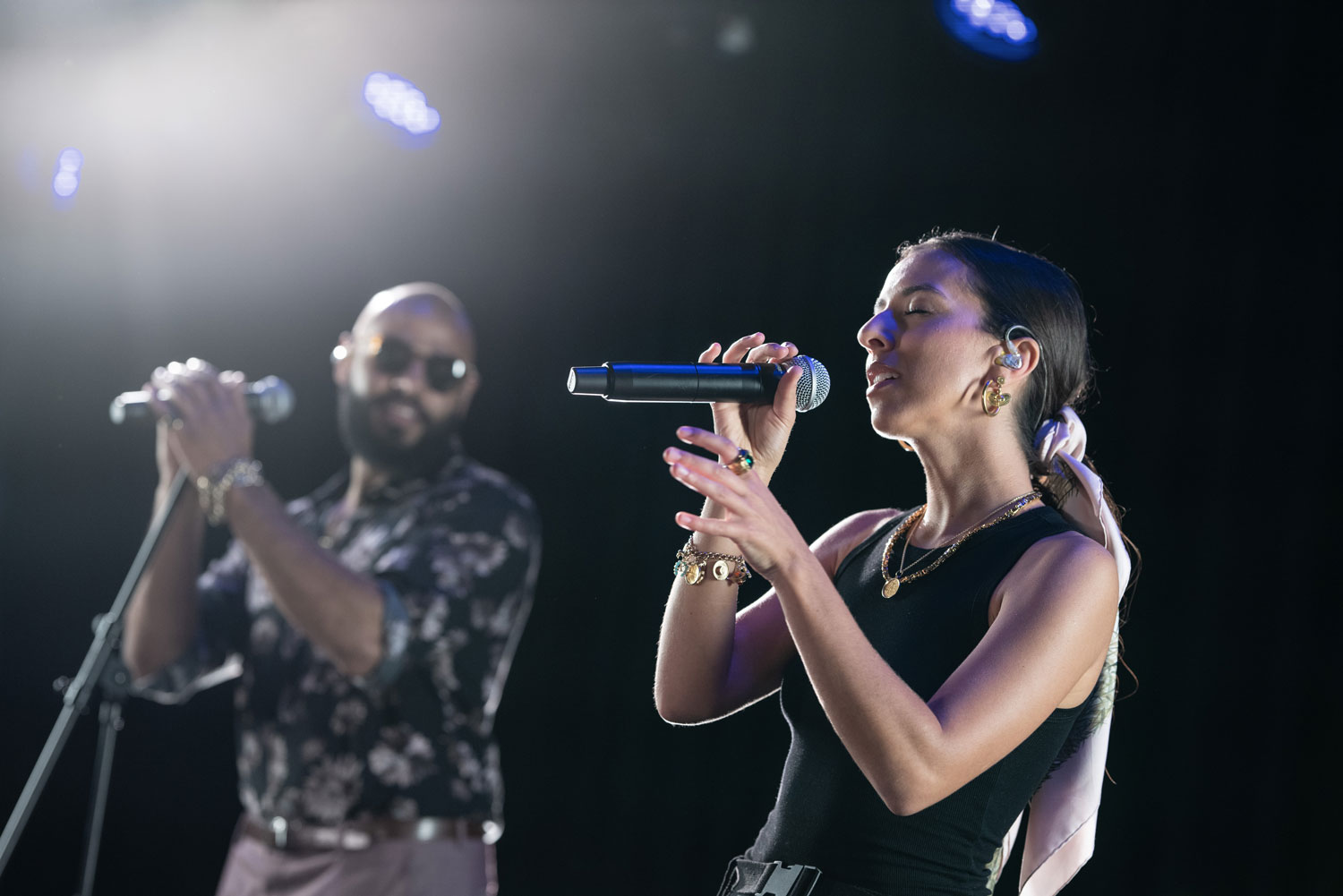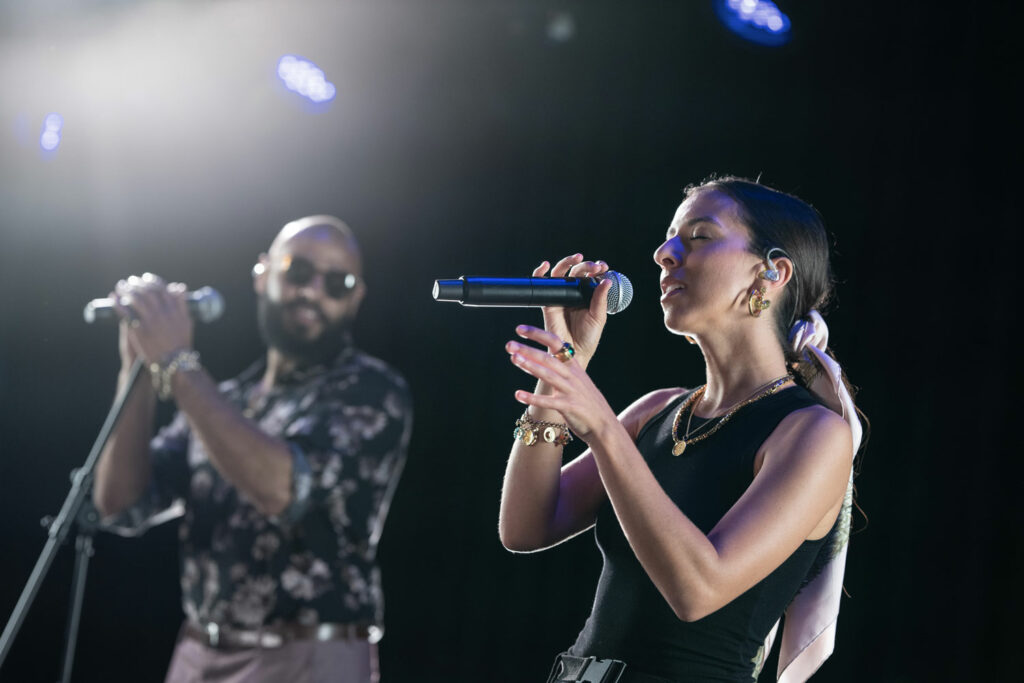 ---
Accurate, crystal-clear sound.
QLX-D has a wide frequency bandwidth meaning that even in areas with "crowded" Frequencies your system will be able to find a free slot so you don't need to spend ages "tuning" your system. Setting up a single Microphone is a very fast and easy setup, the built-in IR Sync between the transmitter and receiver lets you instantly pair them together without scrolling through system menus.
The QLX-D system is perfect for someone who needs a set up with multiple wireless microphones, you can connect up to 22 systems; connect multiple systems together using the ethernet port on the receiver to create a network, this network will automatically sync all systems together so that they do not cross over, giving you the best wireless audio quality possible with no dropouts.
QLX-D is the perfect system for some who needs exceptionally detailed audio in demanding environments. Perfect for larger touring musicians, places of worship, and educational establishments.
What Frequency should I choose?
Just like the other Shure wireless products, QLX-D is available in several wireless frequencies.
For use in the UK we recommend using K51, This Frequency sits in Channel 38 – 44. This Extended range means QLX offers a wide range of frequencies so that there will never be any interference. A licence is required to operate legally.
H51 and S50 will be the best choice for European countries. A license may need required for use depending on your area.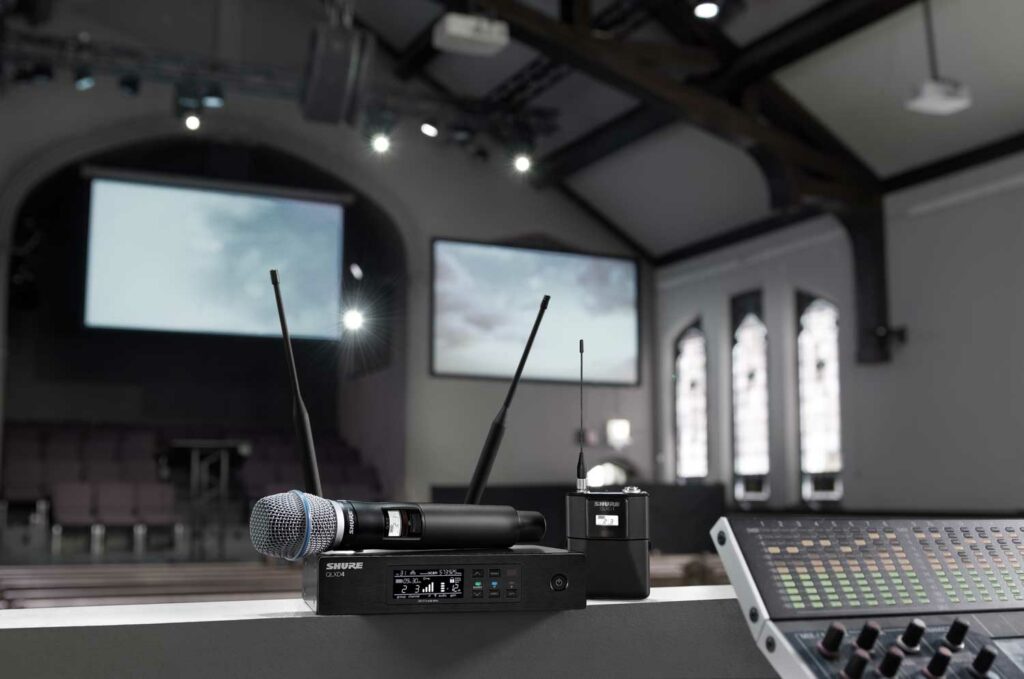 ---
Wireless FAQ's
Why do I need a wireless microphone license?
Some wireless systems do not require a license such as the GLX-D systems. However, some Systems will use frequencies that are part of a "shared" frequency spectrum. To make sure that people are using the correct frequencies and so that no one experiences any unwanted interference, a license will be required. If you operate equipment without a license, you can face a fine or serve a prison sentence. Your equipment may also be seized. If you're unsure whether you need a license contact Ofcom for UK inquiries.
How does a wireless microphone system work?
A Wireless Microphone system is more than just the Microphone you hold and sing into. A system includes a Transmitter (The Microphone) and receiver. When you sing into the microphone or when any sound signal is picked up by the microphone it converts the sound waves into an electrical signal, the transmitter then converts this signal into Radio Waves. The receiver picks up these radio waves that is being sent to it from the transmitter and turns the signal back into an electrical one, this signal can then go into a mixing desk or speakers so that you hear your vocals through the speakers.
Why should I use Shure wireless systems?
Shure has been making microphones for almost 100 years, they are the industry leaders when it comes to microphones. In the early days of Shure, they built microphones for the US army during World War 2, they had to make the microphones incredibly durable, rugged and reliable. To this day Shure still build their products to the same quality, so you know that they are a brand you can rely on. If you are on tour or even just beginning to use Wireless microphones Shure wireless microphones offer high build quality as well as amazing audio quality.
How do I set up a Shure wireless microphone system?
One of the best things about all Shure Wireless systems is that they are incredibly easy to set up.
It doesn't matter if you are a beginner or veteran pro, when it comes to setting up wireless microphone systems Shure have made it as easy as possible. The BLX system works straight out of the box, there is no need to pair the microphone to the receiver, the receiver will locate the microphone automatically, meaning all you need to do is power on the system and connect your audio cable to your mixer or speaker. On systems like SLX-D and QLX-D there is a IR sync option which allows you to hold the microphone up to receiver which will pair them for you.
All Shure Wireless systems use RF scan that will automatically scan the Radio frequencies to find a clear channel to use so that there is no dropouts or interference during your performance.
Check out the full Shure Wireless Range here.