High-End Re-Imagined. This was Pearl's mission statement when they got to work on the latest incarnations of their most prestigious lines, and they don't disappoint! The new releases feature a complete rework of their iconic Masters and Reference kits making them appealing to a much wider audience than ever before!
New innovative hardware comes with these releases, enhancing the sound and carrying Pearl's renowned name for durability and reliability. Plus, there are some new and exciting drum shell finishes.
Pearl started their research and development process back in 2020, working towards totally redesigning and reimagining drum shell formats, materials and even completely new hardware. Two and a half years later, their hard work has come to fruition and caters for not only the Pearl purists out there but the upcoming generation of aspiring drummers as well.
So, what's on offer?
Firstly, we have the new Masters series, comprising Maple, Maple Pure, and Maple Gum shell options kits. Then we have a re-design of the acclaimed Pearl Reference, succinctly named Reference One.
The final release is the incredibly versatile Professional series, which we will dive into more detail about later in the article. One thing that's certain is that all of these kits set an even higher standard for Pearl.
So, let's explore the new launch!
Innovative new hardware for Masters and Reference One
Before we dive into anything else, we must talk about the fine details and robust hardware that make the new Masters kits and Reference One so great: Pearl's all-new R2-Air Tom Suspension System and the Gyro Lock-L tom holder.
R2-Air Tom Suspension System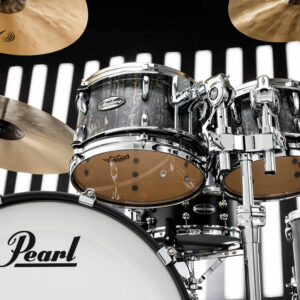 Pearl meticulously reviewed every mounting system past and present as they strived to master a solution that cradles a drum completely free from tension and strain. Their solution? The R2-Air Tom Suspension System, fitted to the all-new Masters and Reference One.
It features eight key mounting points that are spread evenly around the perimeter of the shell and allow the toms to be perfectly balanced. This drastically improves the shell's ability to resonate and sustain freely by 35%, without any of those beautiful tones getting choked by dense, hefty hardware or overstressed contact points.
In addition to this, each mounting point allows for adjustable dampening courtesy of easy-to-insert rubber rings. Use one or two rings for a weighty, softly-suspended tom, or for a rigid-feeling tom, insert three to four rings.
What's more, Pearl has introduced two mounting options: 7/8'' tom arm tubes and, for the first time ever, an all-new L-Rod mount – a pivotal moment in Pearl tom-mounting history.
Finally, what good is a fantastic shell finish if you can't see it? Well, luckily the tom suspension system is super thin, maximising the shell finish on show. This innovative suspension system is available on both the Reference One and Masters range.
---
GyroLock
-L tom holder
Gone are the days of the poor-quality ball-joint tom mounts. Pearl have designed the new Gyro Lock-L tom holder with a pivot point that offers unlimited versatility. It's similar to the competitor's ball-joint designs but boasts extra room for manoeuvrability and a fully adjustable tom position.
The new Gyro Lock-L is extremely durable, designed to give you peace of mind when you're playing – and we wouldn't expect any less from Pearl.
Additionally, the GyroLock-L tom holder features a single tightener that is altered with a turn of your drum key, so you can quickly position your tom drum with one hand and tighten the holder with the other. For such a simple design, the sheer efficiency of this holder goes a long way – especially when it comes to setting up on stage.
Introducing the Reference One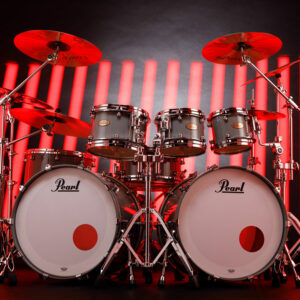 This is not a drill, Pearl fans… we have a new Reference Series: the Reference One!
First introduced in 2007, Pearl Reference redefined shell technology; each drum size is individually crafted with a unique recipe of birch, maple, and mahogany for tonally-optimised blended shells.
From this, Pearl then introduced Reference Pure, a very similar series but with thinner shells. So, how do they improve?
Simple. They combined the best elements of both Reference and Reference Pure and put them into one series: Reference One. It's a range that's built to carry the Reference Legacy.
Reference One retains the Reference shell concept, meaning that each drum features a different blend of plies, depending on size. For example, the tom drums have more birch wood than maple in order to maximise high-end frequencies.
The 24'' bass drums are crafted with a higher proportion of mahogany than maple, specifically designed to enhance the low-end frequencies. This unique combination of shell-layering ensures that each drum shell size produces the best possible sound.
In addition to the shell blend, the bearing edge plays a crucial role in sound production and is tailored according to the drum size.
Smaller drums and snare drums feature a standard sharp 45-degree bearing edge, emphasising high-end tones. Floor toms, on the other hand, boast a rounded 45-degree bearing edge to maximize punchy mid-tones. Larger bass drums are equipped with a fully-rounded bearing edge to enhance deep, low-end tones.
As discussed, Reference One is fitted with the brand new R2-Air Tom Bracket, revolutionising the way the Reference drums sound. This is available with both traditional 7/8'' tom arm as well as the new L-Rod mount.
To commemorate this milestone, Pearl have treated us to a selection of new finishes for Reference One: Putty Grey, Matte Black Mist, and Brooklyn Burst.
Shop now | Pearl Reference One
New Masters Series
Yes, you read that correctly, Pearl's Masters series has been completely redesigned. There are now three shell options: the Masters Maple/Gum, Masters Maple, and Masters Maple Pure.
The Masters series has been a staple of the prestigious Pearl catalogue for decades and the latest re-vamp comprises all the greatest elements of previous generations, whilst showcasing new technologies and stand-out finishes.
---
Masters Maple/Gum
The Masters Maple/Gum shells are made up of four layers of maple wood and two inner layers of gum – this is great for recording as the two layers of gum suppress and control unwanted overtones for crystal-clear sound delivery.
With a 60-degree outer bearing edge also implemented in each shell, the Maple/Gum kit offers fantastic tonal clarity.
Shop now | Pearl Masters Maple/Gum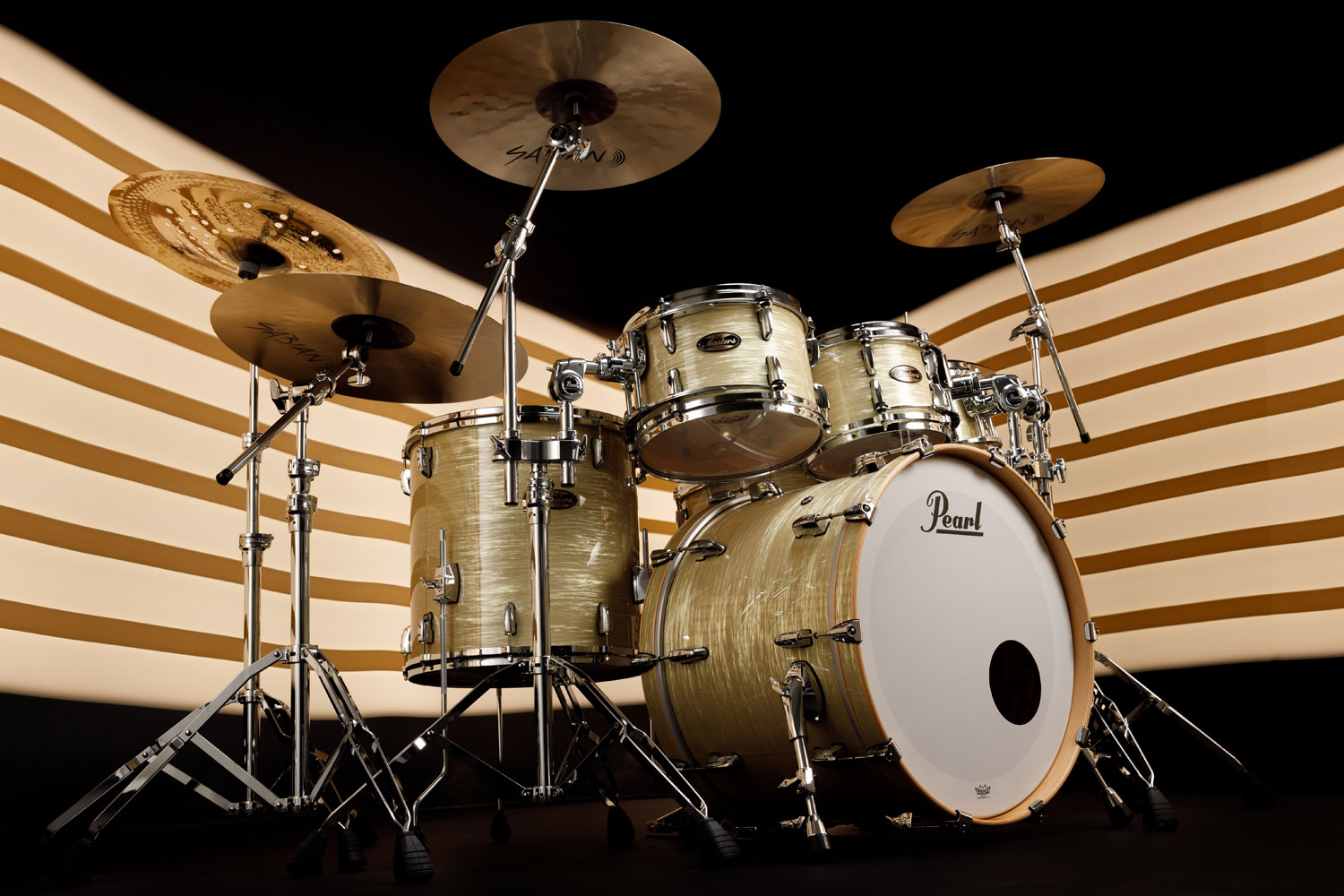 ---
Masters Maple
This classic shell features a 45-degree bearing edge to produce those precise, controlled tones and consists of a 4-ply maple and 4-ply re-enforcement ring shell construction. As well as excellent precision, shell construction also delivers plenty of natural resonance and tones typical of the previous Masters series.
Its 45-degree bearing edge maximises the shell-to-head contact for controlled overtones and a vibrant attack right across the kit.
Shop now | Pearl Masters Maple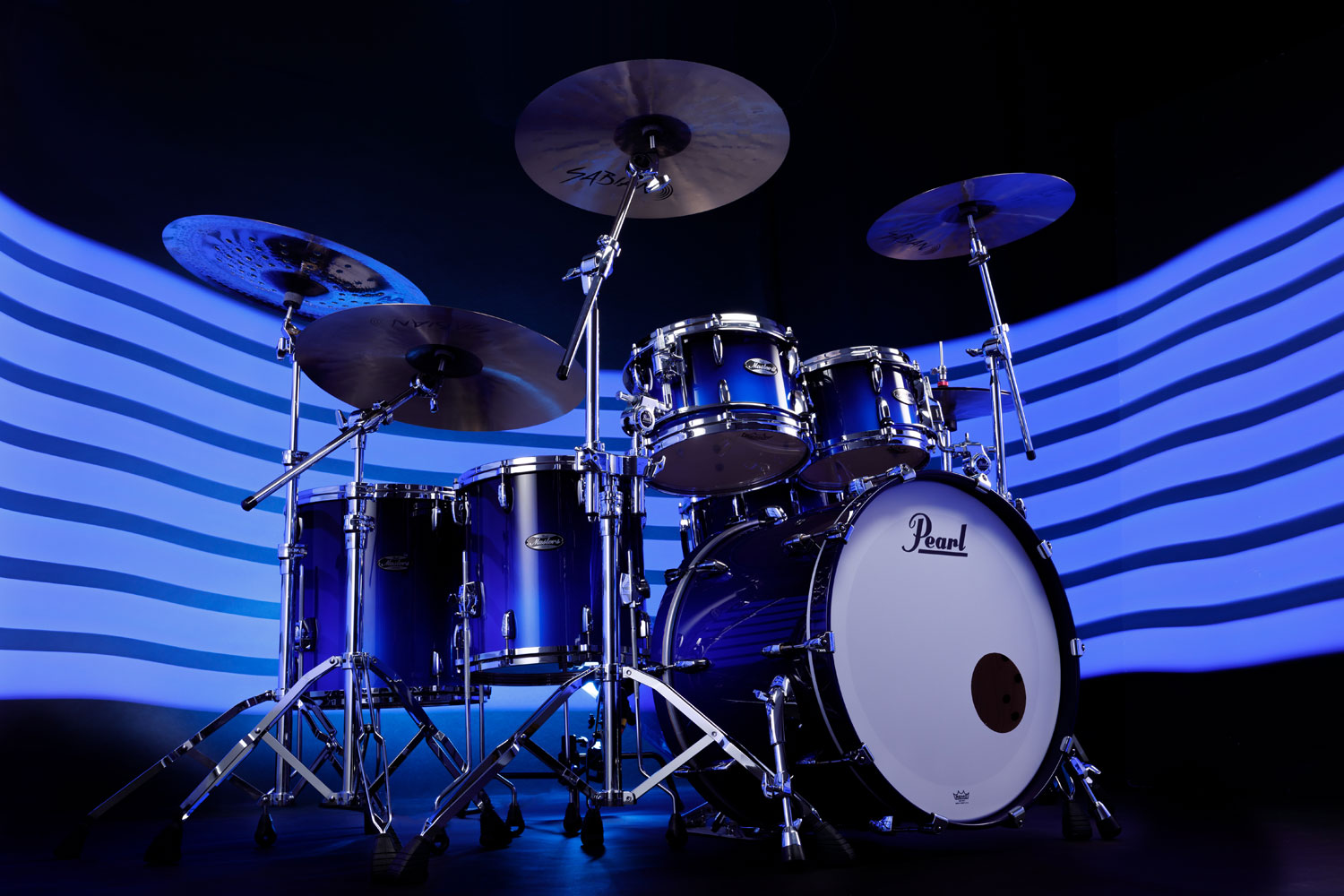 ---
Masters Maple Pure
Inspired by the original Pearl MMX recipe, the Masters Maple Pure kit is a throwback to the '80s and is definitely one for the Pearl Masters die-hard fans out there.
Again, it features a 45-degree bearing edge. This time, there's 6-ply maple shell construction that offers sheer, powerful volume.
Shop now | Pearl Masters Maple Pure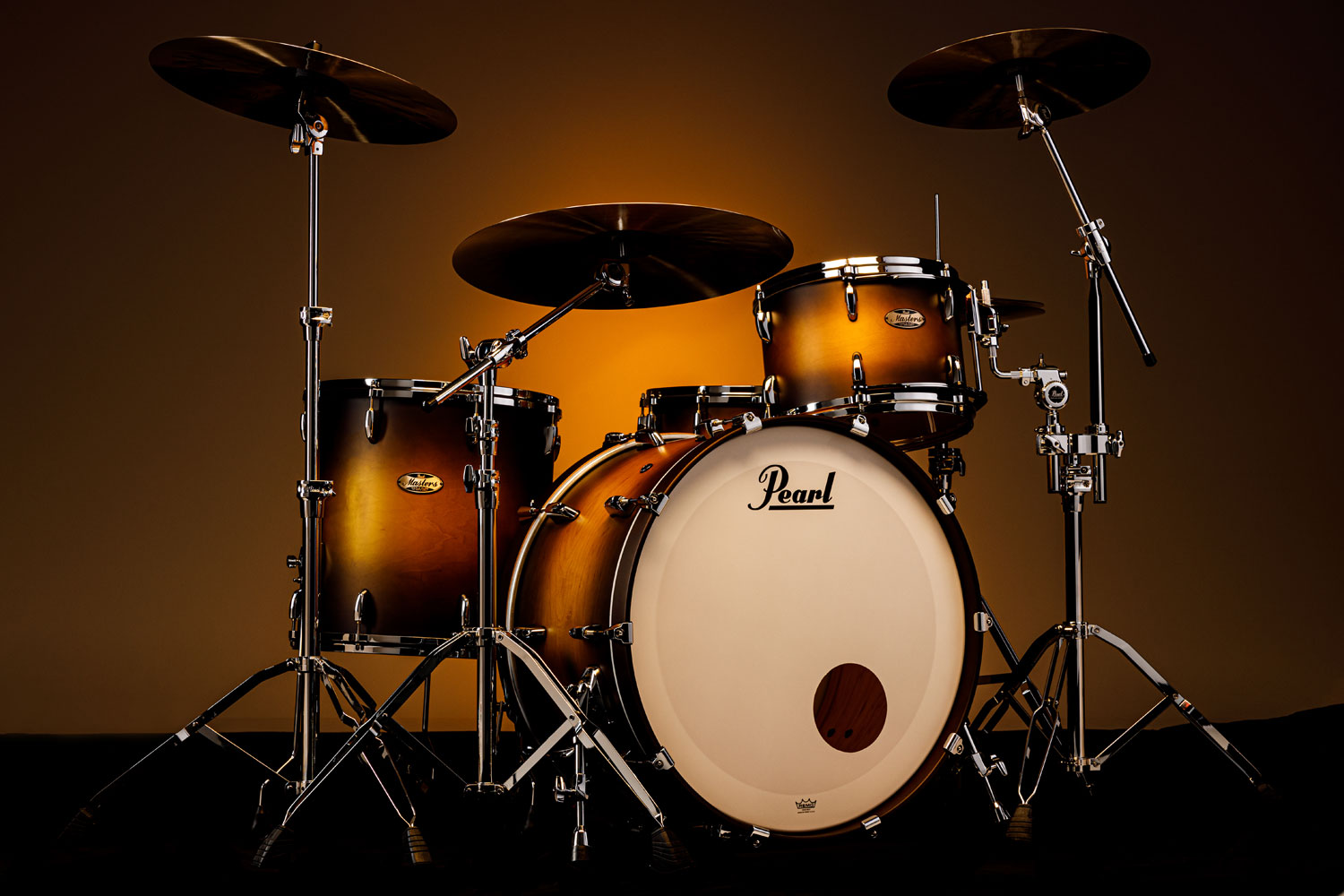 An array of specs and configurations for Masters and Reference One
Each Masters kit and Reference One kit comes with an option of either Pearl's traditional 7/8'' tom arm or their all-new Gyro Lock-L Tom Holder.
Part of Pearl's mission is to provide the right style kit, from fusion to rock, for every type of drummer.
---
Finishes
Each kit comes in a range of finishes that are split into two tiers. The Premium finishes consist of transparent, solid, gloss, and satin lacquer in a wide range of colours, and the Custom finishes comprise sparkle, metallic, swirl, and stripe lacquer – also in a wide range of colours and patterns. In total, there are 12 Premium finishes and 19 Custom finishes to choose from in the new Pearl range.
The new Reference One kit comes in either a Matte Black Mist, Brooklyn Burst, or a brand new Putty Grey finish. As for the Masters Maple Gum kits, they come in either a Blue Abalone, Platinum Gold Oyster, or brand-new Black Oyster Swirl finish.
Moving on to the Masters Maple kits, we have Satin Charred Oak, Matte Natural, or a brand-new Kobalt Blue Fade Metallic finish. Last but not least, the Masters Maple Pure kits come in Bronze Oyster, Aqua Turquoise Stripe, or a brand-new Matte Olive burst finish.
If you like the look of any of the Reference One finishes but prefer the sound and style of any of the Masters or Professional Series, then you're in luck!
Pearl are providing special orders for any of the high-end kits in any of the above finishes. These special orders are crosswise available amongst the whole new range. Simply get in touch with us at info@gear4musiic.com with your kit and finish choice and we will place the order with Pearl.
---
Configurations
There's a variety of configurations that are transferable over the new range. Below are the configurations we stock available in the Reference One and Masters Maple Series'.
Option 1:
Bass Drum: 20'' x 14''
Tom 1: 10'' x 7''
Tom 2: 12'' x 8''
Floor Tom: 14'' x 14''
Option 2:
Bass Drum: 22'' x 16''
Tom 1: 10'' x 7''
Tom 2: 12'' x 8''
Floor Tom: 16'' x 16''
As for special order configurations, there are three options available:
Option 1:
Bass Drum: 22" x 14"
Tom Drum: 12" x 8"
Floor Tom: 16" x 16"
Option 2:
Bass Drum: 24" x 14"
Tom Drum: 13" x 9"
Floor Tom: 16" x 16"
Option 3:
Bass Drum: 18" x 14"
Tom Drum: 12" x 8"
Floor Tom: 14" x 14"
The NEW Professional series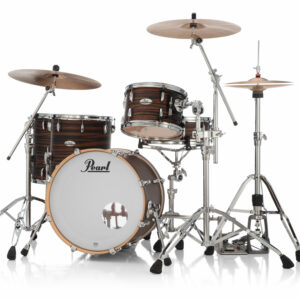 Pearl have also brought out their new Professional Series with this launch. It consists of all-maple shells and a 6-ply construction. Arguably one of the most versatile kits in the new range, the professional series is ready to hit any stage or studio with force thanks to the included bass drum muffler and Remo drumheads.
The muffler eliminates the need of filling your bass drum with cushions to dampen the sound, allowing for a more professional look on stage and a much easier and quicker setup time too.
Each shell comes with chrome, triple-flanged hoops and RL lugs that stabilise and prolong every kind of tuning, allowing you to focus more on your unique drumming sound.
---
Finishes
Available in four dazzling finishes, Matte Mocha Swirl, Matte Caviar Black, White Marine Pearl, and Blue Oyster, it's fair to say each kit is certainly eye-catching. Complete with chrome hardware, the professional series kit upgrades and enhances every performance.
---
Configurations
We have three stock configurations ready to order on our site.
Option 1:
Bass Drum: 20'' x 14''
Tom 1: 10'' x 7''
Tom 2: 12'' x 8''
Floor Tom: 14'' x 14''
Option 2:
Bass Drum: 22'' x 16''
Tom 1: 10'' x 7''
Tom 2: 12'' x 8''
Floor Tom: 16'' x 16''
Option 3:
Bass Drum: 22" x 16"
Tom 1: 10" x 7"
Tom 2: 12" x 8"
Floor Tom 1: 14" x 14"
Floor Tom 2: 16" x 16"
As for the Professional series special orders, there are two configurations to choose from.
Option 1:
Bass Drum: 22" x 14"
Tom Drum: 12" x 8"
Floor Tom: 16" x 16"
Option 2:
Bass Drum: 24" x 14"
Tom Drum: 13" x 9"
Floor Tom: 16" x 16"
Shop now | Pearl Professional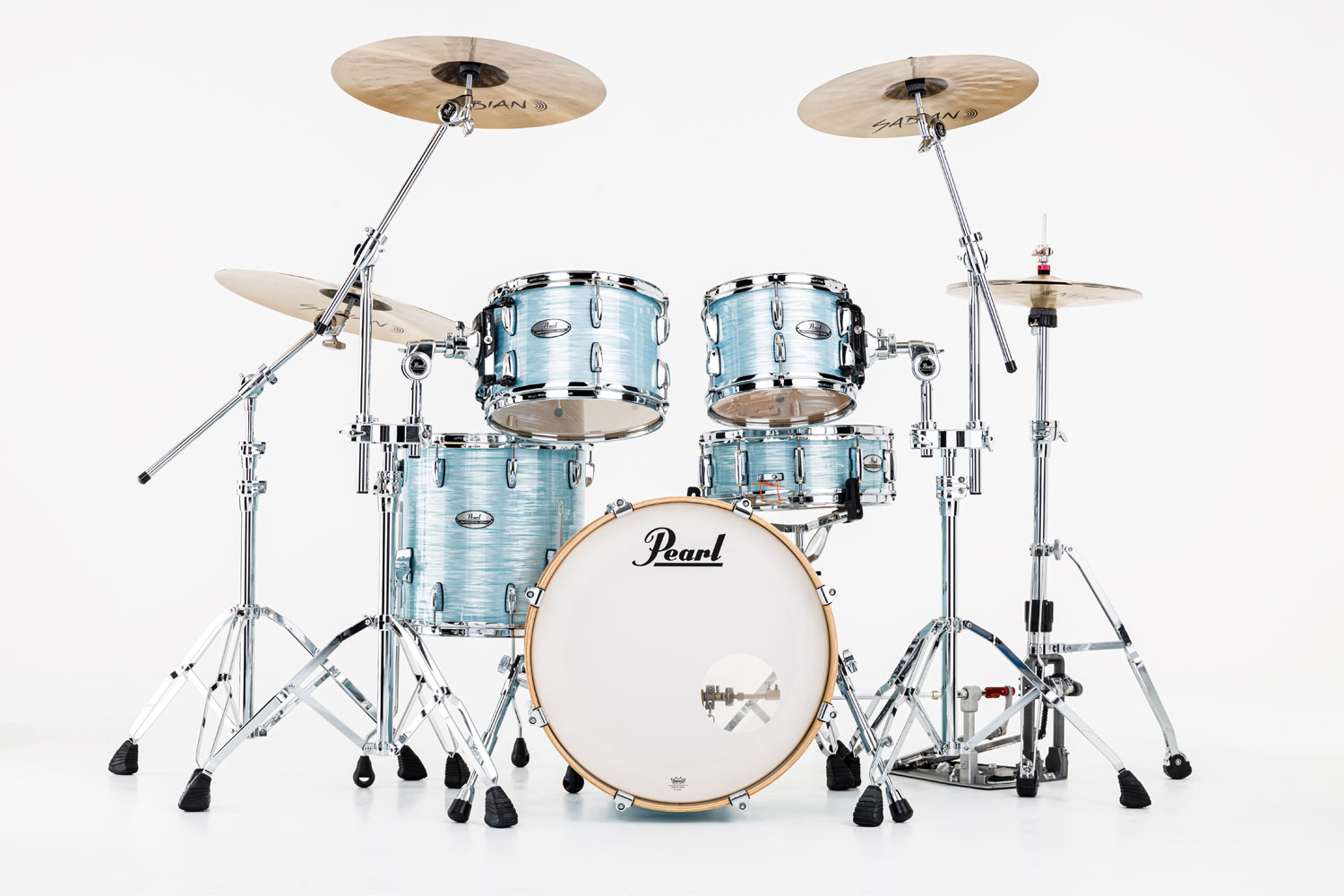 To sum up…
We can safely say that this new launch is a milestone in Pearl's extensive history. Each kit is designed for drummers looking for the pinnacle of quality, aesthetics, sound, and innovation.
It's backed up by the likes of legendary drummers, Dennis Chambers, Omar Hakim, Ray Luzier, and Mike Mangini – just to name a few, these Pearl kits perfectly combine high-end construction with versatility.
The new launch also features a brand-new kick pedal, the latest addition to the renowned Pearl Demon Drive. To find out more about this awesome pedal, check out our in-depth article here.