Pearl are one of the most popular drum brands among us drummers, always pushing boundaries to deliver the best possible experience. But what happens when Pearl – famous for reliability, quality, and sound – pairs up with a drumming powerhouse? Well, you get the newly released Pearl P-3500D and P3502D pedals.
These pedals – a Demon XR single and Demon XR double – are the product of a stunning collaboration between the brand and drummer George Kollias. They're also a variation of the Demon Series Bass Pedals which have been delivering high-speed performance since 2009.
The pedals combine the qualities a drummer wants in a pedal and the expert features that make a great pedal. The main characteristics are simplicity and speed, and we'll explore the many features of this range and why this collaboration is such an exciting one.
An introduction to the Demon Drive XR pedals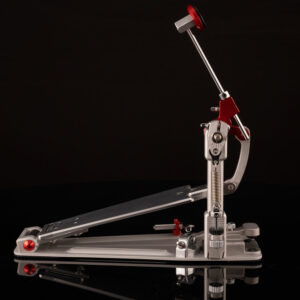 Pearl's new pedal is a lightweight direct drive pedal designed in conjunction with drummer George Kollias.
As a new launch, this pedal takes innovation to the next level and can quite easily fit into any setup.
Pearl and Kollias have designed this pedal to be a "triple-threat" in pedal performance, delivering "X-Treme Speed, Rebound, and Accuracy".
The pedal's speed is the result of two years of research, development, and collaboration between the Pearl R&D team and drummer George Kollias.
This joint effort between Kollias and Pearl has meant that the single and double pedals excel in design and manufacturing, with quality materials and smooth actions.
They're also incredibly practical from a drummer's point of view. The larger footplate and lightning-fast response ensure optimal performance and brilliant control over the pedal, which is great for fast-kick drum patterns.
Plus, both pedals feature a direct drive, enhancing the power, accuracy, and speed of every kick drum stroke.
What configurations are available?
There are two pedals in the Demon XR series range, these include a single (P-3500D) and a double pedal (P3502D).
The double pedal features a Z-Link to connect the two pedals. Naturally, since Kollias is a metal drummer, he's renowned for his use of double pedals, so this setup utilises his experience and expertise to its full potential.
Then we have the single pedal. It packs all the useful qualities of the double kick into a sleek single-pedal frame, so you can achieve the same accurate response and durable build.
Whichever kick pedal set-up you normally use, this range is guaranteed to cater to your playing needs.
What are its features?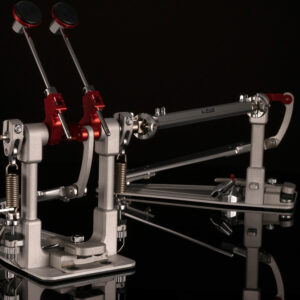 This range has a variety of features that give you a great deal of control over your sound. Firstly, one of the stand-out features is the pedal's sleek and lightweight footboard, which has plenty of room for your feet and a variety of pedal techniques.
Made from machine aluminium, one of Pearl's main aims with the Demon XR range is to deliver precise, resistance-free playability.
The footboard feels robust and delivers a good balance of quality and speed, and it does so whilst being lightweight. This brings plenty of playing benefits, namely greater accuracy and control whilst allowing you to apply varying levels of power to the pedal.
The sleek longboard playing surface allows for improved double-stroke response making playing effortless.
Other features include a click lock spring adjustment, which allows for quick and easy adjustment and retained tension, and Pearl's NiNjA bearing which ensures quick and smooth pedal action.
The sleek machine aluminium design then adds a clean aesthetic which screams precision, quality, and speed.
Furthermore, one of the pedal's standout features is the impressive rebound action and interchangeable high-tension spring. These are an absolute necessity for delivering high playing speed.
A Z-Link is included with the Demon XR double pedal, guaranteeing a safe and secure connection between both pedals and a quick and accurate response. Better still, the Z-Link is easy to set up and pack down – for a gigging musician this could be a crucial feature!
The extreme beater, made of hard-wearing plastic, produces a uniquely sharp attack, and low-end response. Thanks to its durable construction, it can withstand the demands of regular use.
Plus, it's unique to this range, offering power and quality never seen on any other pedal.
Who is George Kollias?
So we've explored the new pedals, but who is George Kollias? If you don't know who Kolias is then where have you been?
Kollias is a renowned metal drummer, famous for his unique playing style and incredible kick drum techniques. These techniques have seen him move his feet in a way that is very minimal, going between the heel-up and heel-down positions, with most of the contact coming from his heels and toes. As playing tempos increase, there's less movement.
When playing fast tempos, Kollias also implements a swivel technique which ensures that all his playing is utilised to its full potential.
With this in mind, it's easy to see that the collaboration between these two forces is tailored to bring you an efficient and speedy playing experience. As with Kollias' technique, this idea of utilising energy, making playing easier, and reaching one's full potential is certainly reflected in these new pedals.
A match made in heaven
Designed to suit the professional and gigging drummer, the Demon XR pedals are a monumental statement from Pearl. They're an exciting new addition to hardware technology and allow for light, smooth, and fast performance.
This range ensures that any drummer, regardless of ability level, can achieve a superior standard of playability, build quality, and response – and it's perfect for any drumming style where precision and endurance are key.