Sunshine and music. A combination that goes hand in hand. After months of lockdown, restrictions are beginning to ease. Whether you're planning an outdoor live music event, having a BBQ with family, or catching up with friends, we've got the perfect PA gear to make sure everyone can hear the music, while socially distanced outside.
---
Which PA system should I buy?
There's a PA System for every event, but there are hundreds to choose from. For most small to medium-sized events, we recommend either a compact portable PA system, a column PA system, or a traditional complete PA setup.
If you're simply looking to playback music at a small gathering or event, check out our Bluetooth Speakers for more compact options.
Portable PAs combine a speaker and amplifier in a single unit or multi-speaker setup. They're designed for grab-and-go use. Column speakers have lots of small speakers in a single column – they're great for sound projection and ideal for large spaces where you need maximum sound coverage.
Traditional PA setups have separate amps, mixers, and speakers – giving you maximum versatility for bands, DJs, and more.
Your choice is also dependent on electricity – if you have access to a mains power connection, you'll have the widest choice of systems. No power on hand? Check out our battery powered systems – you may be surprised how sophisticated they can be.
---
Portable PA Systems
Portable PA systems are built to grab and go. Ranging from single-speaker units to dual-speaker systems, they're perfect for a quick setup. Many portable PA systems feature multiple instrument/microphone inputs for live performance, Bluetooth for music streaming from a phone, and a battery-powered design.
---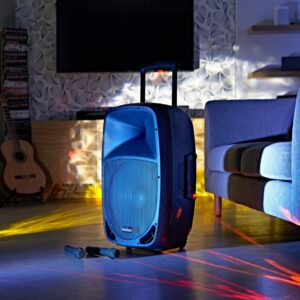 Combine a PA speaker with a suitcase and you'll get the perfect portable sound system. The SubZero SZPA-P12 is built to travel with its retractable handle and incorporated wheels.
6 hours of battery life is ideal for almost all performances and parties, while the included dual wireless microphones and built-in digital media player make setting up a breeze.
A 12" speaker provides a deep low end, and the 60W of power is ideal for small venues and intimate performances. Onboard reverb and EQ are provided to shape your sound.
Shop now | SubZero SZPA-P12 Portable PA with Bluetooth Wireless Mics
Need more power and volume? Check out the larger 15" version – SubZero SZPA-P15 Portable PA with Bluetooth Wireless Mics
---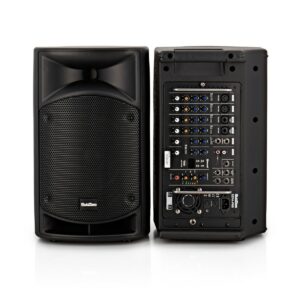 Don't let the size of this system fool you. With two 8" full-range speakers and powered by a 700W amplifier module, the SubZero SZPA-P88 packs a serious punch – it's capable of up to 114dB!
With a detachable 8-channel mixer, this portable system offers everything you need to perform or party.
Shop now | SubZero SZPA-P88 700W 8″ Portable Bluetooth PA System
---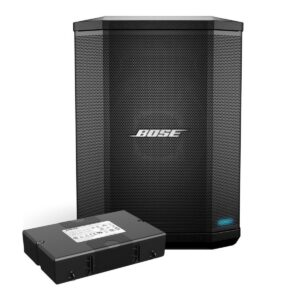 Legendary Bose audio quality in a compact unit with 11 hours of battery life. Connect microphones and instruments for live performances or play your favourite music via Bluetooth or aux.
Achieving the perfect sound takes just seconds thanks to the ToneMatch presets, EQ, and reverb. No matter where you place the Bose S1 Pro, it'll sound incredible thanks to the multiple positioning angles and automatic optimization.
Shop now | Bose S1 Pro Multi-Position PA System with Battery Pack
---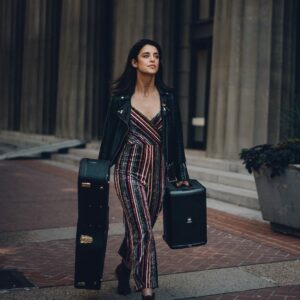 An on-board digital mixer. Complete control from your phone. Up to 12 hours of battery life. And even USB ports for charging your phone. The JBL EON One Compact has all of this and so much more.
The EON One Compact is the most versatile and advanced portable system within the EON range. JBL is an industry leader and they've packed everything they know into this portable system. It's capable of producing class-leading volumes (up to 112dB) and room-filling bass responses down to 37.5kHz.
Setting up is easier than ever too, thanks to the built-in DSP presets and effects. Whether you're throwing a party, busking in town or hosting an outdoor event, one thing is guaranteed – flawless sound that everyone can hear.
Shop now | JBL EON One Compact
---
Column PA Systems
Column PA Systems are super portable yet have incredible projection. You'll be amazed at how far their sound can project – despite not needing to be turned up as much as a traditional speaker.
By using a linear array (combining multiple compact speakers mounted at different angles inside a column), these PA Systems are renowned for their wide sound field and low drop-off in volume the further you move away from the speaker.
Many column speaker systems include built-in mixers for connecting microphones and instruments and even playing music via aux or Bluetooth. They're easy to set up with interconnecting parts and they're perfect for outdoor events when you need maximum clarity, even at large distances.
---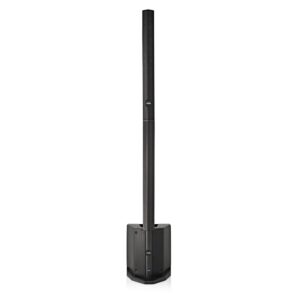 Need the wide sound coverage of a column system? Perform in locations without mains power? The SubZero column PA is for you!
With a built-in 8-channel mixer, this portable system can handle microphones, instruments, and even your phone (via Bluetooth or aux). Complete with 6-10 hours of battery life and 350W of peak output power – you're guaranteed to be heard both inside and outdoors.
Shop now | SubZero Battery Powered Portable Column PA, with Bluetooth
---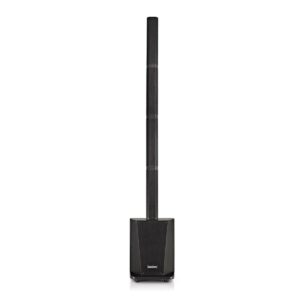 Pub gig, karaoke, party? The SubZero L410X column system is a great choice for them all. Connect instruments and microphones or play music from your phone via Bluetooth.
The sound coverage can be easily adjusted thanks to multiple height options and five built-in DSP presets. It's a true plug-and-play system that can be set up in a matter of minutes.
You can even connect two L410X columns together to create a stereo system.
Shop now | SubZero L410X DSP Column PA System with Bluetooth
---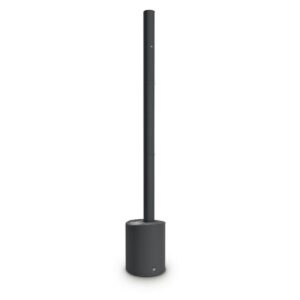 Here's a column PA system with up to 20 hours of continuous battery life at 98dB! The LD Systems Maui 5 Go can be easily carried and setting it up takes just minutes.
Connect two instruments or microphones and play your music wirelessly via Bluetooth.
Onboard DSP processing prevents clipping and makes sure your sound remains perfect all night long.
Shop now | LD Systems Maui 5 Go
---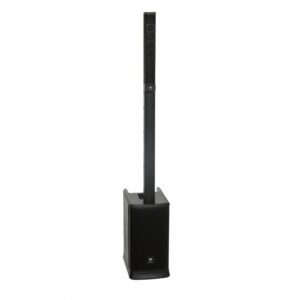 Light enough to be carried with one hand, and equipped with everything you need to deliver professional performances. The JBL EON ONE MKII is a truly uncompromising portable solution for anybody who needs superior sound quality.
With the JBL EON ONE MKII, you can turn any space into your stage. Connect instruments and microphones to the built-in 5-channel mixer. Shape your sound surgically with Graphic EQ from dbx or smoothly with JBL's own three-band EQ.
With studio-grade chorus, delay, and reverb from Lexicon, you can get expansive sound with all the character of the pros. Or, simply play music via Bluetooth – your favourite songs will sound better than ever before.
No power available? No problem, because the EON One Pro offers up to 6 hours of battery life at an impressive 119dB!
Shop now | JBL EON One MKII
---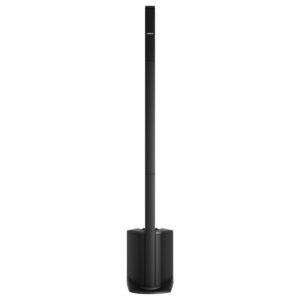 Ever the audio pioneer, Bose was one of the first companies to miniaturize the technology of a linear array for portable use. The BOSE L1 Compact is the most portable of the Bose column systems and produces a huge 180-degree of horizontal sound coverage.
Renowned for its quick and easy setup, this system has interlocking parts and multiple configurations to get connected in minutes. This is the ideal system for performers and general music entertainment.
Shop now | Bose L1 Compact PA System 
---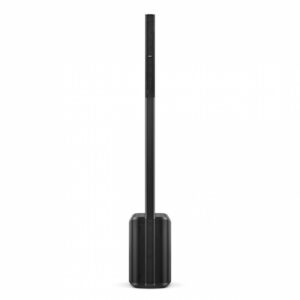 Continuing the theme of Bose PA Systems, the L1 Pro8 presents a professional system for small-medium venues. Sound remains clear and well defined at any volume – all the way up to 118dB!
Again, there's full coverage at 180 degrees with optimised EQ presets for both live and recorded settings. And, weighing in at just 16kg, the Pro8 is remarkably portable and split isn't three handy pieces for on-the-road transportation.
A built-in mixer allows you to connect microphones and instruments, along with Bluetooth compatibility for complete functionality. There's even a dedicated L1 mix app so you can control the entire system from your phone.
Shop now | Bose L1 Pro8 Portable PA System
---
Complete PA Systems
Need even more volume? With our Complete PA Packages reaching over 1000 Watts in volume, these setups are perfect for outdoor festivals, larger spaces, and parties with a DJ. At this level, many systems feature individual components for even more capability. To get this much power, you'll need mains power or a generator for outdoor use.
---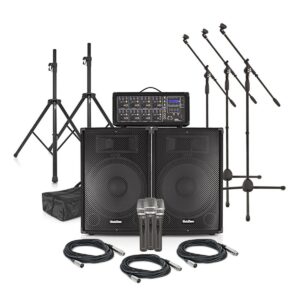 The complete package with everything you need. The SubZero SZPA-815 includes two speakers, an 8-channel mixer, three microphones, mic stands, and speaker stands.
The mixer lets you plug in microphones, instruments, and line-level sources, while the 5-band graphic EQ allows you to shape your sound. Easily play your MP3s directly from a USB stick, SD card, or Bluetooth – there's no need for an external CD player!
Fully controlled by the integrated display, it can be used alongside the other audio inputs, making it ideal for parties and events.
Shop now | SubZero SZPA-815 300W 15″ PA System with Microphones and Stands
---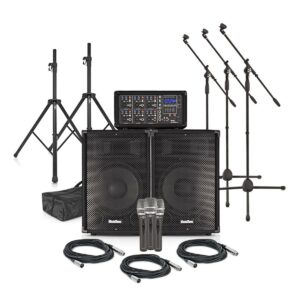 A great all-in-one system. The SubZero SZPA-612 PA system includes two 12" speakers, a 6-channel mixer with built-in media player, and speaker stands.
Whether you're planning an outdoor gig or just want to enjoy music, this system delivers clear and well-balanced sound. You can play tracks via the media player or connect microphones and instruments.
It's the ideal choice for any medium-sized venue.
Shop now | SubZero SZPA-612 250W 12″ PA System with Stands
---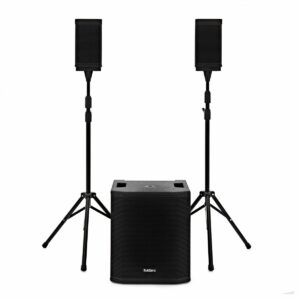 This all-in-one live sound solution is ideal for sound engineers and self-engineering musicians alike. Its simple yet powerful design lets you get setup in Stereo (2.1) and Mono (1.1) configurations within minutes. From music venues to corporate events, you'll enjoy clean, clear sound that won't distort when pushed to the limits.
Feel every beat from a high-performance 12″ woofer, hear detailed highs from two 5″ satellite speakers, and sculpt your sound with onboard EQ controls. Thanks to a built-in eight-channel mixer, it's easy to plug your instruments, microphones, and audio devices straight into the woofer – no additional mixers are required.
The HiCAST S21 was built to accommodate the changing needs of professional live sound applications. Whether you're playing live music or listening to content via the integrated digital medial player, you can tailor your sound at the touch of a button. Choose between five specially selected audio presets that take the hard work out of live sound engineering, and you're ready to get on stage.
Shop now | SubZero HiCAST S21 Modular PA System
---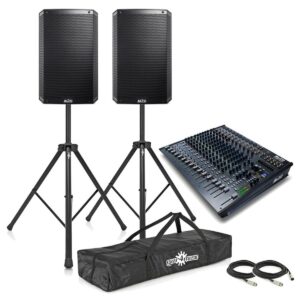 An affordable, professional choice. Alto TS315 speakers are renowned for their outstanding sound quality and deep, rich bass responses.
This complete PA bundle features two 2000W 15" speakers, a 16-channel mixing console and speaker stands. Giving you everything you need to deliver an unforgettable performance.
Shop now | Alto TS315 Live PA Mixer Bundle
---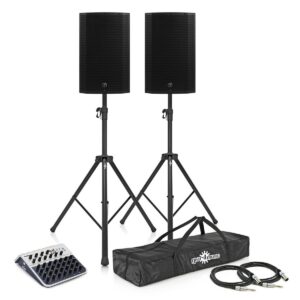 Here's another complete PA system from a world-renowned expert in PA equipment. The Mackie Thump 12A speakers are powered with a built-in amplifier and provide a huge amount of volume (1000W LF and 300W HF).
This bundle includes two Thump 12A speakers, a compact SubZero mixing desk, speaker stands, and cables.
Shop now | Mackie Thump 12A Active PA Speaker Bundle
---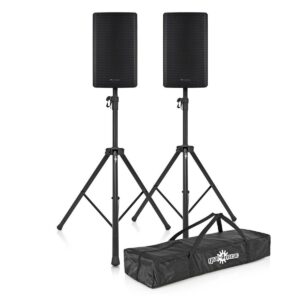 This is a more simplistic complete PA bundle, but it still offers everything you need for professional performances.
The Electro-Voice ZLXs feature two inputs that can be used to connect microphones and instruments, as well as a 15″ woofer and 1.5″ tweeter for ultra-clear sound at high volumes.
Onboard DSP presets and a user-friendly LCD screen provide simplistic setup for the best possible sound, whether you're performing or throwing an incredible party.
Shop now | Electro-Voice ZLX-15P Active PA Speakers with Stands
---
The extras – what else do I need?
So, you've found a PA system that meets your requirements, but what else do you need?
For portable systems, a speaker stand can be used to elevate the system and increase the coverage. If you're wanting to sing, then a handheld microphone will be needed. And, of course, there's cables.
For more, check out our complete range of live sound gear, where you'll find the equipment for any size event – from garden parties to festivals.
Shop now | Live Sound Accessories
Shop now | Microphones
Shop now | Cables
---
Find out more
Shop now | PA Systems
Shop now | Live Sound & Lighting Equipment