Marking the 30th anniversary of a heavy-hitting EP that made shockwaves in the progressive metal scene, we're taking a look at the legendary Tool lead guitarist, Adam Jones – and how you can steal his sound for less than £750.
Launching aggressive and complex riffs for several decades, Jones has developed a distinct tonal footprint, one that's fierce and at the cutting edge of trends. Over the years, he's expanded his kit repertoire and gear selection, so it might be a little intimidating to try and channel the sonics of an artist with so much high-end equipment.
Not to worry, we're here to give you a rundown on the impact of his early work, what kind of rig he currently uses, and how you can emulate that on a budget. Let's get started!
---
Who is Adam Jones?
For those not in the know, Adam Jones is a founding member of the seminal band, Tool. Formed in 1990, they've blazed a trail in progressive metal which many bands have followed since.
After selling millions of albums worldwide, Jones has had the honour of Gibson creating a line of bespoke recreations of his personal Silverburst Les Paul. With such a musical giant going to extreme lengths to embody his sound, it speaks volumes about how sought-after his tone has become.
---
Opiate and the early days
So, where did it all begin? Well, blasting out in 1992, the six-track (seven if you include the hidden track) EP Opiate had a meteoric impact on the metal scene. Titled after one of Karl Marx's famous musings, it has themes of defying religion and censorship woven into the lyrics.
This philosophical approach to songwriting would grow to be a hallmark of the band's identity. To set the tone (pun intended) of these beliefs, Jones employed thumping low-end chugs to emotionally charge the music and fuel the dark rhythmic mood the EP seeks to evoke.
It's a little heavier than their later output, and that's truthfully because the label wanted it to be as grimy as possible to match the scene at the time (think Rage Against the Machine, Nirvana).
Consequently, Opiate was rife with pulsating jabs of overdriven chords and menacing attitude. And it was this raw, energetic sound that landed them a follow-up album (Undertow) in the following year, drawing in countless fans that would be attracted to their characteristic sound.
Sparking influence
But it wasn't just metal aficionados that were entranced by these groundbreaking tracks. In addition to informing Tool's subsequent output, many other bands that came later have been inspired by their unique voice – all stemming from this masterful EP.
Acts like Gojira and Mastodon have spoken about how they were encouraged by the striking aesthetics and lyrical artistry that were Tool's signature. While less obvious influences are seen in groups like System Of A Down and Breaking Benjamin, the former had their lead singer perform live with Tool and had similar visuals feature in their video for hit song "Spiders" and recognisable sonics in "Aerials".
Meanwhile, Breaking Benjamin have frequently covered Tool songs at live performances, and draw on comparable guitar dynamics.
---
The sound behind Tool
We've seen how big a musical splash Adam Jones and Tool have created over the years, but what's the equipment that's powered this searing sound? We'll look at some of the key elements of the rig that's provided Jones with some serious musical muscle.
---
Siverburst Les Paul
First up is the iconic (and Custom shop recreation worthy!) Gibson Les Paul Custom with a rare, Silverburst paint finish.
Built in 1979, it's a vintage instrument that eschews Gibson's own bridge humbucker for a hot, growling Seymour Duncan JB pickup. Set alongside the other benefits of Les Pauls – like their easy playability and rich, powerful tones – these aspects formed a guitar that has a molten output and wrathful voice, which Jones uses to full effect.
Built from solid, dense mahogany – it's a heavy beast. Many, including Jones himself, believe this added weight gives extra dynamics to its output, but what's certain is that it's been his mainstay for a long time. He particularly enjoys the full range of frequencies evoked by the Silverburst:
"It's control. Control of the highs, and the lows, and the mids… just the whole sound of the guitar"
Other guitars
It's worth a mention that Jones has been known to use other instruments in his time, but the Silverburst remains the most utilised. Various other Les Paul models have provided backup to his trusty silver-finished axe, such as an all-black Custom and yellow/natural Custom models. Others include a Gibson SG and double-necked Gibson SG.
Crucially, these are all twin humbucking guitars with formidable voices, which speaks to the kind of ferocity Jones loves to weave into his music.
---
1976 Marshall Super Bass
Firing out saturated signals for many years, this classic tube amp is one of Jones's favourites. Its warm vintage tones are something that he believes are unique in classic amplifiers. But to conjure those searing sonics that have become Tool's signature, Jones has hot-rodded this Marshall to unleash his molten hot music. Fusing both channels together to deliver tremendous output, this Marshall box has become a frequent feature in Jones' rig.
This is usually paired with a mesa boogie 2×15 powerhouse bass cabinet.
Diezel VH4W 100w
A mighty sonic assault, Jones uses two Diezel amps to give him a brutal crunch when needed. Containing a vast array of dials and switches to sculpt pretty much any sound imaginable, it's easy to see why this versatile amp is a key feature in a rig that roars out such viscous voicings.
It boasts four channels, each with its own gain, volume, EQ and effects loop controls to create a remarkable range of textures. These are so popular with Adam that he's been seen to use both the Blueface and Silverface models at various times.
---
Effects pedals
Curiously, Jones has gone on record saying he prefers not to use pedals, but nevertheless has been seen making use of a variety of stompboxes to augment his sound.
The Dunlop HT1 Talkbox is front and centre of these effects, famously appearing on his solo section on "Jambi". It creates a mystical, ethereal voicing that offers a sharp change in dynamics compared to a usual overdriven lead. Paired with an MXR M102 Dyna Comp, it adds a high level of signing sustain to the composition.
Other pedals include a Boss BF-2 Flanger (now available as Boss BF-3) and Boss DD-3 Delay Pedal (now DD-3T) to add more accented distortion and repeated stutter when needed. And a classic Dunlop CryBaby for an injection of wah-wah spice, believed to be one of the older BB-535 models.
---
Bring that sound for a budget…
It's been influential, it's certainly psychedelic, and unquestionably progressive. We've just seen that Jones uses a fair bit of kit to generate his signature sounds. It might not be as complex as some artists' setups, but it could certainly be daunting to recreate under a budget, especially as it contains some vintage equipment that would be difficult to obtain!
Luckily, we're up for the challenge…
---
Guitar
New Jersey Select, Silverburst – £199.99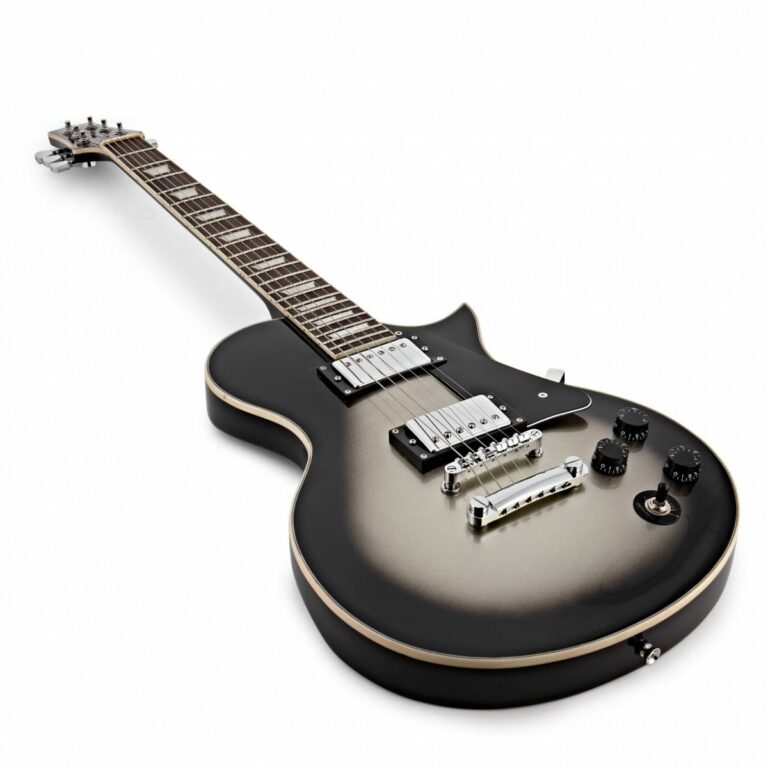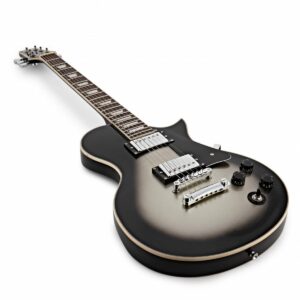 Starting with a guitar that's going to give the look and style of Jones' prized Silverburst, we have the New Jersey Select. This versatile instrument offers much the same playing shape and experience, featuring a D-shaped neck for a comfortable grip and Tune-O-Matic bridge for precise intonation.
You'll also have access to a three-way toggle for selecting each pickup, and the classic cutaway shape for ease of playing.
Taking playing comfort even further, there's a waist-cut body so you can jam along to Tool's long, demanding tracks without getting fatigued.
Although it will offer plenty of growl and output, the default pickups may not do by themselves, which is why you might opt for…
---
Seymour Duncan SH-6B Distortion Bridge Humbucker – £99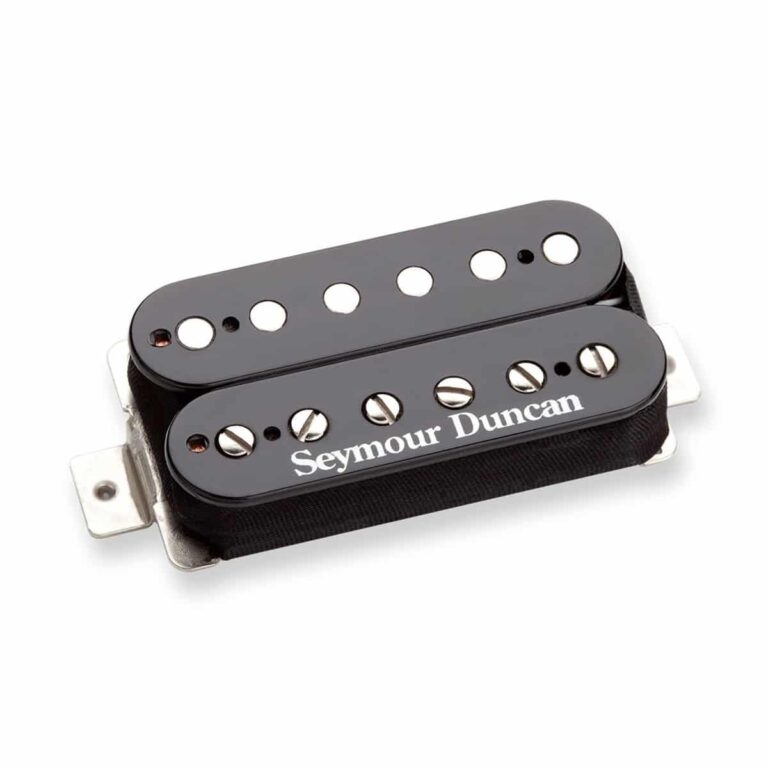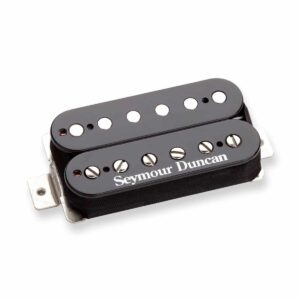 Utter crackling power. Seymour Duncan are distortion devotees and know how to tune pickups to reveal smile-inducing tones. The SH-6B Humbucker is a pickup that birthed the riotous rhythms in Jones' Les Paul, and so this one exceptional bridge pickup had to make our list.
It raises aggressive, furnace-level sonics due to its ceramic magnets and hot wound construction. It's also uncovered to make sure every ounce of output is extracted and fired through your amplifier.
Once you install this in the New Jersey Select – or any other guitar for that matter – you'll instantly appreciate the colossal boost in output.
It will require a bit of tinkering and a soldering iron, but it's definitely worth the endeavour. Moving onto a much simpler modification …
---
Ernie Ball Paradigm Skinny Top Heavy Bottom – £14.50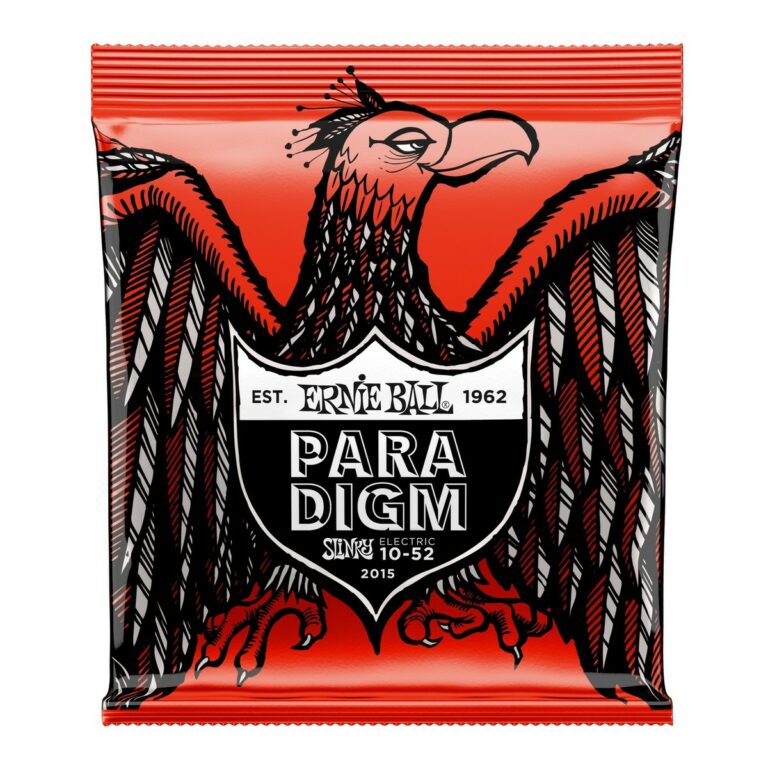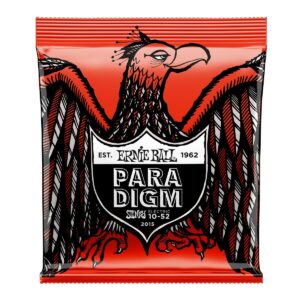 Strings that sing. The Ernie Ball Paradigm Skinny Top Heavy Bottom strings are a set that Jones is known to favour, and one of the simplest components required to adopt his playing style.
These thick, specially designed strings feature a steel core and enhanced plasma-wrap wire for a robustness that can withstand any pick attack. Not only are they physically durable, but their Everlast treatment prevents corrosion and damage from sweat, oils and humidity.
All in all, it makes for a set of strings that won't snap under pressure, and allow you to indulge in the heavy riffage that put Tool on the music map.
But you're going to need something to bring this equipment to life, and that's where the amplifier comes in…
---
Amplifier
Boss Katana 50 MKII – £239
The Boss Katana 50 MKII is a single speaker, 50-Watt output combo amplifier that will give you the desired textures of Tool. It may not be the tube-powered boxes that Jones employs, but it does give you remarkable valve-like tones at a fraction of the cost.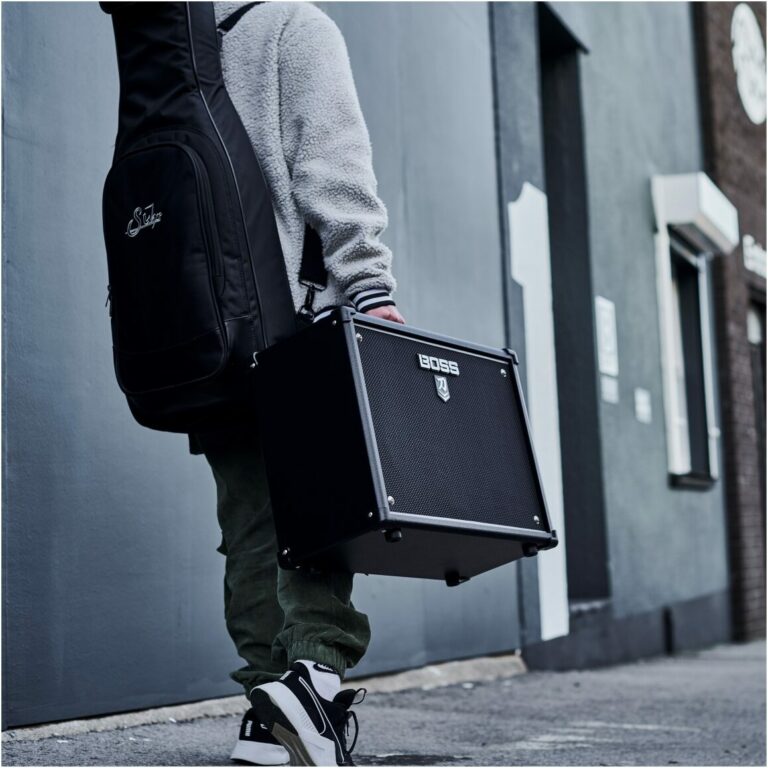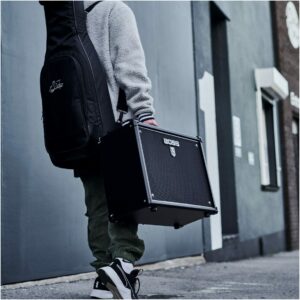 Not only that, but it also contains in-built effects, inputs for switching pedals or your own effects units, and finally, you can also use it as a cabinet speaker when connecting another amp head.
Containing ample volume and finesse, the Katana features Boss's Tube Logic. This will replicate the distortion characteristics of valve amplifiers, increasing the richness and response as you increase the volume.
But it doesn't have to get too loud, the Katana's power control enables you to enjoy cranked valve sonics at lower output levels, ensuring you don't bring down the house or disturb the neighbours.
As for those in-built effects, there are five simultaneous modes for you to tune to your liking. Booster, mod, FX, delay and reverb all feature on this versatile amp that comes with 15 ready-to-play combinations for you to try. You can push that even further by connecting the Boss Tone Studio application to tweak the effects even more.
Endless possibilities are stacked into one box here. But if you want to push those boundaries even further, you'll need to add a few pedals like the Tool man himself…
---
Pedals
SubZero Deep Freeze Delay – £24.99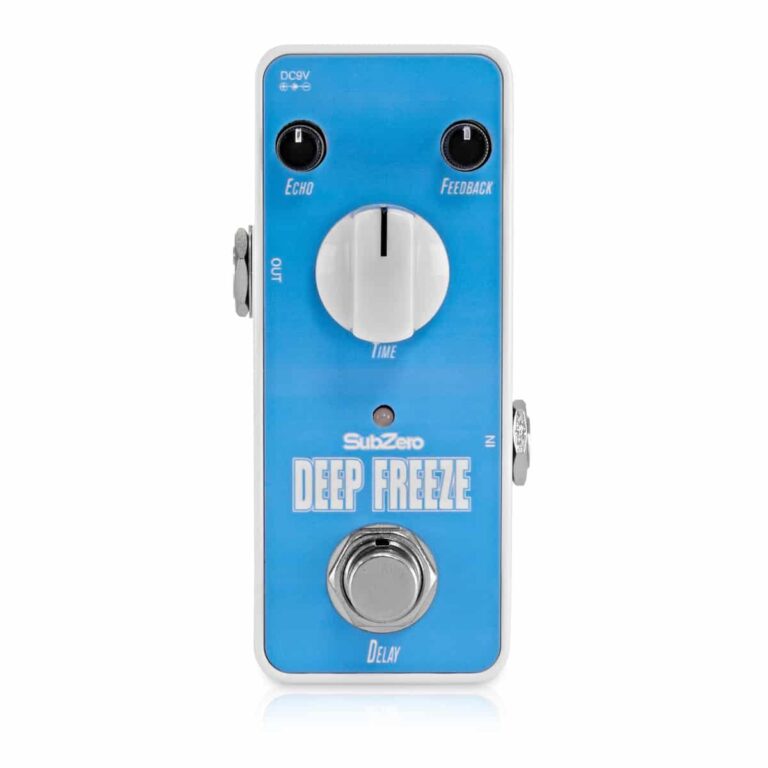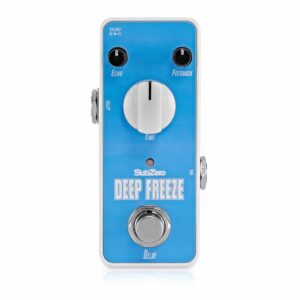 For a separate delay that adds deep texture to your tone look no further than the SubZero Deep Freeze Delay. Excellent for adding the layered, echoing sounds found in the gripping song "Lateralus".
Featuring all-analogue circuitry and true bypass, the Deep Freeze lets you add a touch more depth than the in-built delay found on the Katana. Its true bypass function also ensures it won't mess with your signal when engaged. It's also certainly helpful to have individual effects readily switchable via stompboxes so you can shape your sonics on the fly.
For a less subtle boost to your presence pick up the…
---
MXR M133 Micro Amp – £81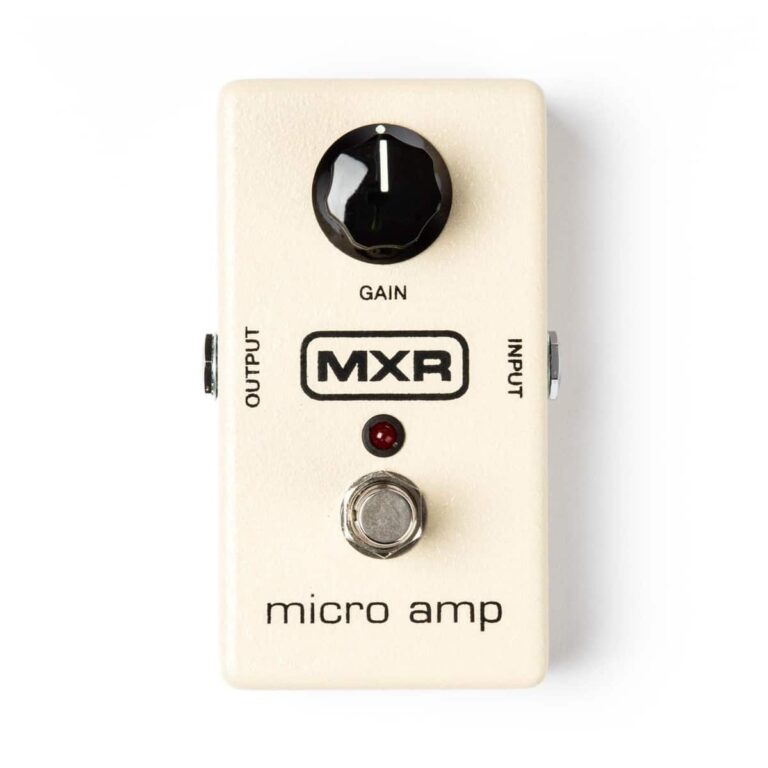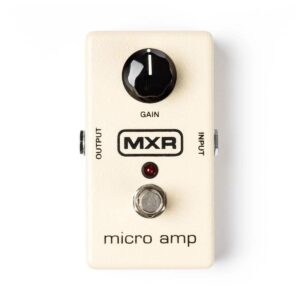 Crank the gain. One setting, one job. That's the M133's speciality, giving you enough output to shatter windows. It'll boost your output to reach those razor-sharp cuts found in Jones' distortion sections.
You can either have it active all the time or engage it to emphasise lead sections with a sudden eruption of volume. Thanks to its one control, the MXR M133 is supremely easy to use and dial-in to your liking.
But to really slice through a mix, combine it with the…
---
Electro Harmonix Wailer Wah – £61.92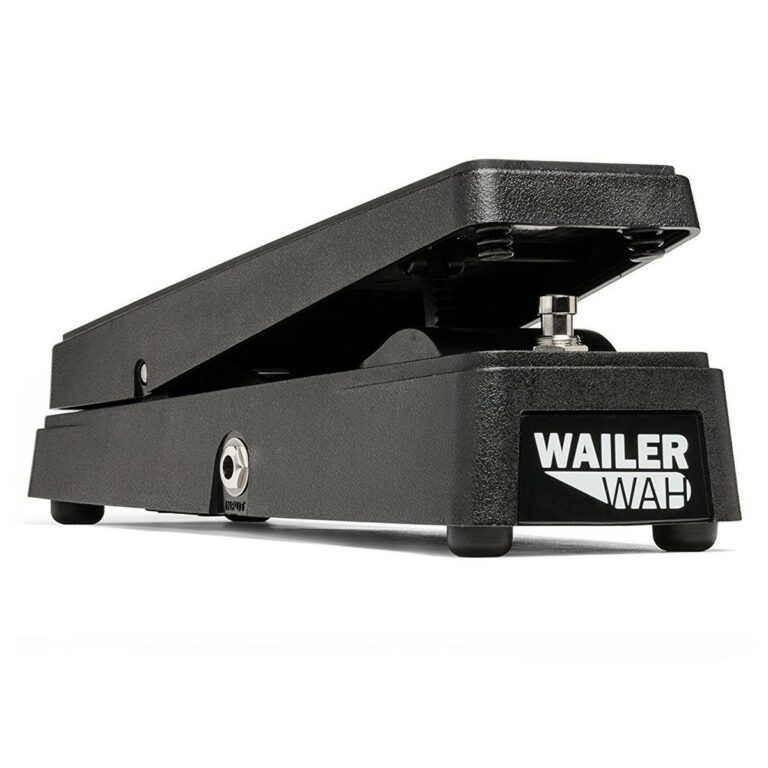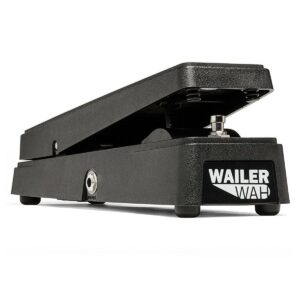 Finally, we have a wah-wah pedal – the EHX Wailer Wah.
Used by Jones in a more unconventional way, he often leaves it pressed down fully, teaming up with the Micro Amp pedal to deliver leads and sections that push to the fore of songs.
Leave it set to the max and revel in the sharp, piercing jumble that will lift your overall sound.
---
Summary
Coming in at just under £750, the sum of all these parts and pedals will propel your sound into the realms of Tool.
With the New Jersey Select, you gain all the style and flair of the SIlverburst, including its easy playability and weighty humbucker tone. Throw in the fiery and refined Seymour Duncan SH-6B bridge pickup and you've instantly got a combo approaching Adam's legendary Les Paul.
Set with the flexible and shockingly tube amp accurate Boss Katana, you'll notice the dark, punchy tones it's able to create. With a wide array of in-built effects and a handy companion app, you have a stunning amount of sound sculpting available with just one amplifier. Providing you don't already have an amp that can reach for the Tool tone, this is probably one of the most important items on our list.
To embellish our other picks, or if you want to start small, the Ernie Ball Paradigm strings allow for the thicker and chunkier vibrations, while boasting the additional benefit of improved durability. Their robust nature means you can attack the strings vigorously without fear of snapping.
Leading on from this, the delay, wah and Micro Amp pedals all come in at a low cost. Additionally, they're easy to use and an excellent starting point for mimicking the Adam Jones setup.
Of course, all these picks work wonderfully for providing the Tool experience when used in concert, but you can chop and change to suit your own rig. Perhaps you've already got the amp but only a single coil guitar? Then the New Jersey Select and Seymour Duncan pickup would send you well on your way!
---
Find out more…
If you've got the bug for Tool tones then why not browse our full range to expand your options?
See more | Electric Guitars
See more | Guitar Amplifiers
See more | Guitar Pedals