Hearing yourself onstage can sometimes be a nightmare. The guitarist has turned their amp up too loud; you're standing right next to the drummer; you can't hear yourself; you ask the sound engineer to turn up your floor wedge but as soon as they do it starts to feedback… how can you get better sound onstage?
The best way to make sure you get clear sound onstage is to invest in an in-ear monitor system. This allows you to hear everything you need and want while onstage. In-ear monitors also protect your ears from damaging sound levels.
What are in-ear monitors?
You might see musicians have a speaker (often called a floor wedge) at their feet, pointed directly at them. This is so they can hear themselves and other instruments on stage. However, when the performer moves, the sound alters depending on what part of the stage they're on.
The use of in-ear monitors means the performer will get a consistent sounding mix no matter where they are on the stage. Sometimes called in-ears or IEMs, they help give a performer a clear, personal mix directly to them no matter where they are on stage.
The performer can work with their monitoring engineer to create a perfect "personal" mix that is tailored for them. By using IEMs, every member of the band can have their own mix and hear what they want. For example, if the guitarist wants more guitar and less vocals, they can have this without affecting anyone else's mix.
Not only do they provide clear mixes for all band members, but they also block outside noise and protect your hearing.
Are Shure monitor systems good?
Shure have spent almost 100 years researching and developing the highest quality products in audio technology. They provide countless musicians and performers with exceptionally high-quality audio.
Shure understands that having products you can depend on is vital to a performer when on stage. This is why the same wireless technology that is in Shure's wireless microphone systems has been adapted for their in-ear monitor systems.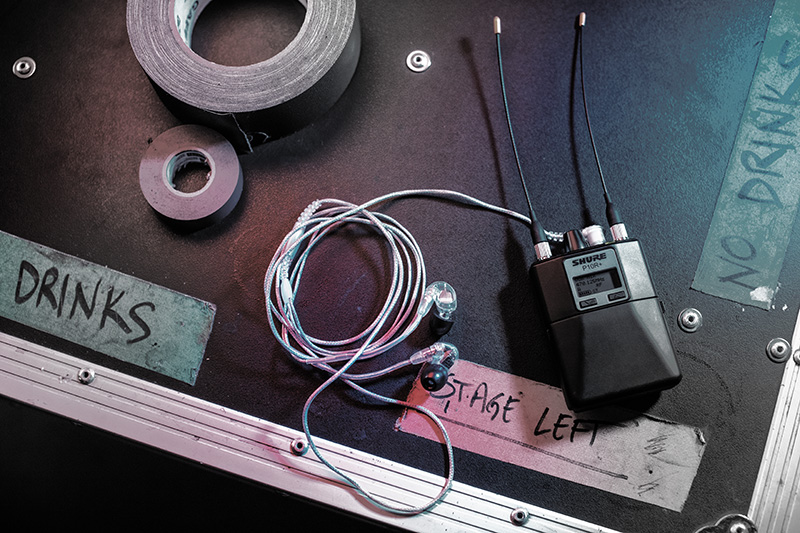 The Shure monitor range
Shure's monitor system range is split into two sections: monitor systems and in-ear monitor earphones.
Let's start with wireless monitor systems.
PSM300
The PSM300 is the perfect system for someone who takes their in-ear monitoring seriously.
This is the current entry point for Shure monitor systems
Offers detailed, crisp 24-bit digital audio for onstage mixes
Strong wireless connection up to 90 meters
The bodypack receiver lasts for up to 7 hours with 2 AA batteries
Bodypack has onboard volume and mix control
Small lightweight bodypack
Rack mountable for easy set-up within tour rigs
Shure monitor systems such as the PSM300 and PSM900 can be used in "MixMode". This allows you to have two personal mixes on one transmitter. It works by using the two inputs on the PSM unit and setting your receiver pack to "MixMode". You'll be able to hear input one and two in both ears, and by using the mix controls on the bodypack, you can vary the volume between the two inputs.
For example, you could use input one for vocals and input two for guitar. You could then use the bodypack to blend the two inputs, allowing you to hear more vocals or guitar depending on your preference. This won't affect any other performers also using mix mode.

PSM900
The PSM900 is Shure's pro-level monitoring system. It's great for touring, large events, and someone who wants a studio-quality mix in a live setting.
Exceptional audio quality
Reliable radio frequency connection, alleviating any dropouts or interference, even in demanding environments
Up to 20 compatible channels
"Cue mode" allows you to hear and monitor the other mixes being used – perfect for sound engineers who want to make sure the monitor mixes are correct for the performer, without stopping the show
Easily connect and pair the bodypack to the receiver using the Inferred sync
Automatically detects unwanted "white noise" and mutes the audio before it reaches the performer
The bodypack can use the SB900 rechargeable battery for up to 10 hours of continuous use
This system takes the amazing audio quality and useability of the PSM300, and turns it up to ten.
It expands on the PSM300's features, making it worthwhile for someone who is looking to take their performance and in-ear monitoring set-up to the next level.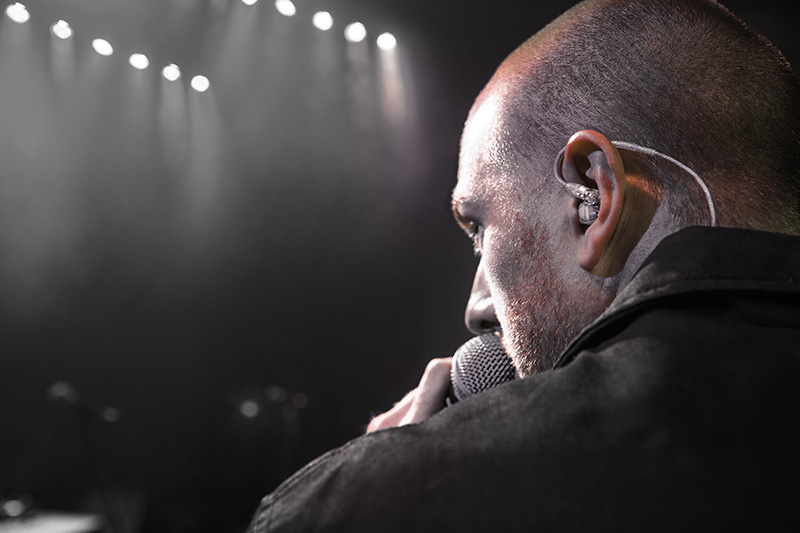 Understanding wireless
These monitor systems from Shure are wireless, meaning to get the most out of them, it's useful to understand how wireless systems work.
Wireless devices, such as in-ear monitor systems or wireless microphone systems, sometimes require a license, depending on the frequency being used.
As the world becomes more connected via wireless devices such as mobiles, tablets, laptops, WIFI systems, and even cars, the wireless spectrum that these devices can work on is becoming smaller. This means that "operating space" for wireless systems may be difficult to find.
To be sure that wireless systems can work correctly, without any dropouts or interference, Shure is constantly researching and developing wireless technology.
Wireless systems run in dedicated blocks of the wireless frequency spectrum. In the UK, most wireless systems work on "UHF (ultra-high-frequency) Bands".
TV Channel 38 – operates on frequencies 606-614MHz. A license is required within the UK to operate wireless microphones in Channel 38. This includes Shure's K3E, K59, K51, K1E systems.
The Duplex Gap – operates on frequencies 823 – 832 MHz. It's available for use as part of channel 38's license. This includes Shure's S8 systems.
863 – 865 MHz – a free-to-use frequency range that doesn't require a license. This includes Shure's T11 systems.
TV channels 21 – 37 – operate on frequencies 470-606MHz.
TV channels 39 – 60 – operate on frequencies 614MHz-790MHz. These channels are available for wireless microphones on an interleaved basis. "Interleaved" refers to how we share the frequency space with existing digital TV channels. This means microphones can operate in the gaps between each TV channel; these gaps are sometimes called "white space". The frequencies are usually used for large events; you will require a license for legal operation.
Wired monitoring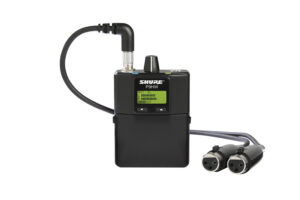 If you're a drummer or keys player and don't necessarily need a wireless system, but you still want that detailed audio quality and a personal monitor mix, Shure also offers the PSM900 bodypack as a hardwired unit.
With no need for a transmitter and receiver, the P9HW offers the same amazing audio quality as the wireless bodypack, including the onboard volume and "mix mode" control.
The bodypack can be connected to your sound source or mixer using the Y-splitter cable and a regular XLR cable.
In-ear monitor headphones
To make the most out of your monitor system, you need to make sure you have a pair of excellent quality in-ear earphones.
Luckily, Shure has developed a wide range of earphones that are perfect for everyone, from beginners to professionals. This range of in-ear earphones is called the SE series.
All Shure SE earphones offer sound isolation and come with a carry case. The SE215, SE846, and products in-between even feature removable, sweat-resistant cables.
SE112
The SE112 is the starting point for the SE earphones by Shure.
They offer detailed sound with rich bass and are perfect for someone who needs a pair of In-ears for practice but doesn't want to break the bank.
Unlike the "over-ear" design of other SE models, these are the traditional straight-fit earphone. And they're sound-isolating to block out unwanted noise and protect your hearing when performing.
All Shure SE earphones have a 3.5mm jack cable that can be used with any in-ear monitoring system bodypack that also has this.
They can even be used with smartphones or other devices to get the most out of your listening experience.
---
SE215
The SE215 is tailored towards performing musicians that need professional in-ears at a low cost.
They boast a single high-definition driver, an over-ear design for comfort and stability, and a detachable cable. And their sound is crisp, clear, and strong in the bass.
Plus, these in-ears come with a variety of ear buds, so you can find a fit that works for you, as well as a range of colours such as clear, black, and blue.
---
SE425
Perfect for musicians that need some extra definition in their live mix, the SE425 offers a much deeper bass response and sublime clarity at higher volumes.
These in-ears boast dual high-definition drivers, increased frequency response, and a carry case with a variety of changeable earbuds.
The SE425s offer exceptional definition for a musician that needs a bit more clarity in their mix.
---
SE535
The SE535s offer exceptional sound by using three high-definition drivers (two drivers for bass and mids and one for the highs). These give the in-ears even more clarity and offer sharp separation within your mix so that you don't experience a muddy sound at higher levels.
The defined low end is great for bassists and drummers.
As well as coming in clear and a limited-edition red finish, they're also equipped with a carry case and a variety of earbuds.
---
SE846
The SE846s are the highest quality earphones that Shure offer.
They boast four high-definition drivers for incredible high-end definition, whilst the deep low end gives the performance of a subwoofer.
Plus they come with a premium, pro carry case and a variety of accessories.
These are for professional performers or someone who just wants to listen to music at the highest level possible.
The SE846s will amaze you with their incredible sound quality. After all, they're the highest quality in-ear monitors you can get before you take the dive into custom moulded earphones.
Frequently asked questions
Why do I need in-ear monitors?
Just using stage monitors can lead to insanely loud on-stage sound. Multiple band members will want to hear different instruments through the stage monitors, individual musicians will turn up the volume to hear themselves, and vocalists may strain or blow out their voice because they think they're not singing loud enough.
In short, in-ear monitors can help you perform to the very best of your ability. Being able to hear exactly what you want at every gig enables you to critique your performance so that the next gig will be even better.
Using In-ear monitors means there's less chance of getting feedback from the speaker system. Feedback is caused when the sound from the speaker is picked up by the microphone and then sent out of the speaker again, causing a loop. Removing stage monitors and using isolated in-ear monitors eliminates this loop.
How long do Shure in-ear monitors last?
All of Shure's products are built to last. They go through rigorous testing to ensure they're ready for tours and gigs.
Shure monitor systems are rack-mountable and can be kept in a secure carry case to make sure they don't break. The in-ear earphones are easily replaceable, due to the cable being removable from the earbuds.
Can in-ear monitors damage your hearing?
In-ear monitor systems are capable of producing very high sound levels, this could cause hearing damage if used for extended periods. They provide sound isolation and help keep your hearing from deteriorating, but they should be used responsibly.
If you experience any long-term ringing or temporary hearing loss you should seek medical help.
What else do I need to get started?
Just like the way you would set up for a gig, everything goes into the mixer and then to the PA system.
With in-ear monitor systems, you will still need a mixer for your instruments and vocals to be sent to. From here, the signal can be split: one mix can be sent to the PA system and another can be sent to your monitor system. This way, you have full control over what you want to hear.