Sennheiser's brand-new USB condenser microphone, the Sennheiser Profile, has just been released, and we were lucky enough to review it. Aimed at content creators, podcasters, and live streamers, this microphone aims to deliver quality vocals with ease.
So, what does it sound like, what is it good at, and what features does it have? Let's take a look!
From XLR to USB…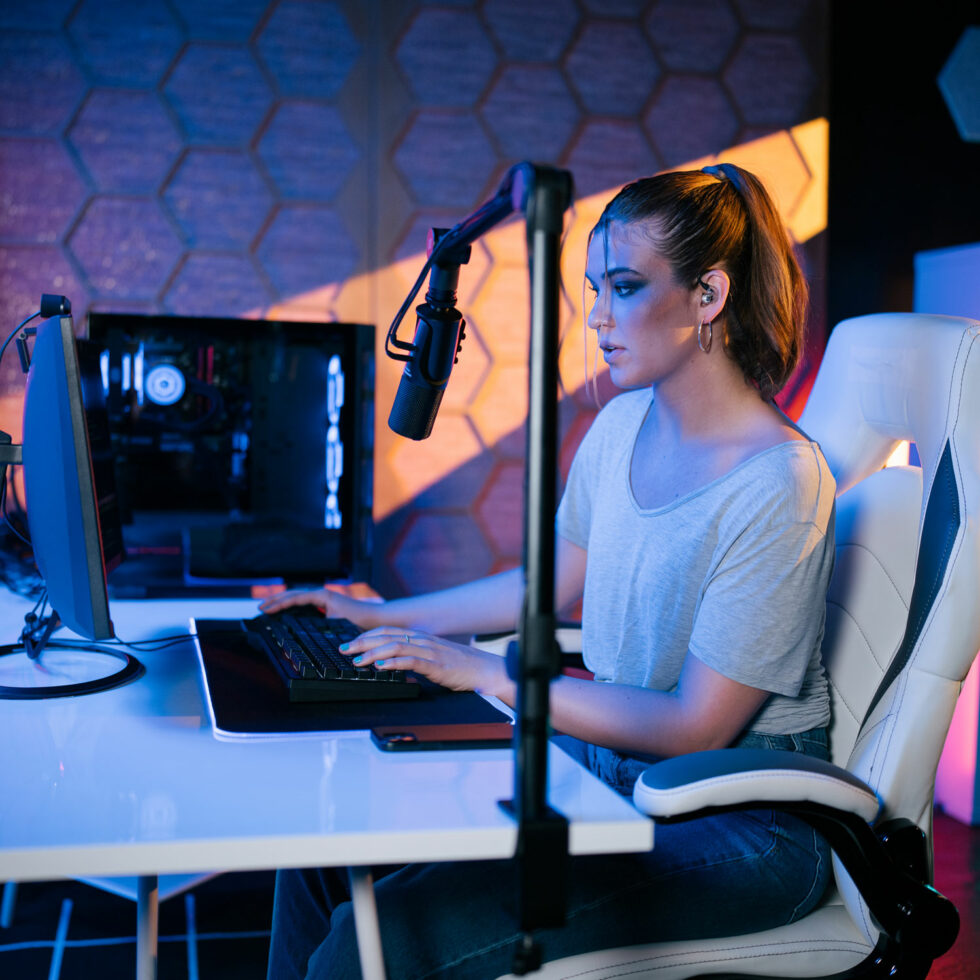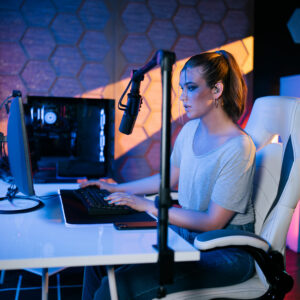 I've always been sceptical of USB microphones.
Maybe I'm an XLR purist, or maybe my opinion was coloured by a lot of the entry-level early USB microphones released in the past decade or so, which I found extremely noisy and unpleasant-sounding.
For a long time, my opinion was that XLR microphones simply sounded better and were more versatile. And I already had a great audio interface for running them, so why would I ever bother with a USB microphone?
The difference is that a lot of the technology that goes into these mics has advanced since I first formed my opinion.
So when I was asked to check out the Profile, I wasn't sure if I'd come back convinced – but I was curious to see how the leaps in technology would reflect on its performance.
How easy is it to set up the Profile?
When I first unboxed the Profile, everything was pretty much instant; I attached the baseplate (included), plugged in the cable, and was ready to go.
I was anticipating having to install a software mixer to access more advanced features, but it seems as though Sennheiser have very intentionally avoided this for ease of use.
The second I plugged it in, the LED rings around the controls instantly lit up, and my DAW recognised it as an input source.
The only thing left to do was start testing and see how it sounded.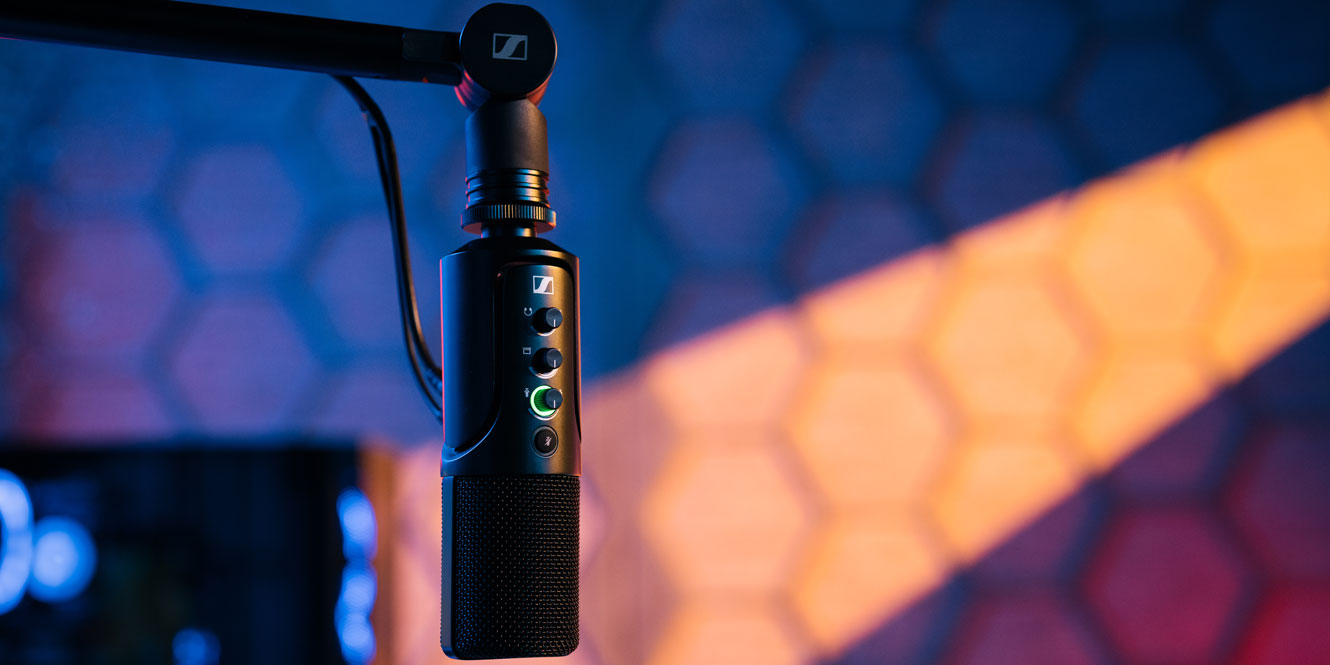 How does the Profile sound?
When testing the Profile, I have to admit that my preconceptions of USB microphones were shattered pretty quickly.
I've tried old USB microphones and USB-powered synthesizers and immediately hated the noise floor on them, but I found no such issue here. The noise floor on the Profile was close to many of the affordable large diaphragm condensers I've used, only really noticeable at high gain settings – at which point any signal would probably be clipping anyway.
Aimed at content creators of all stripes, the Profile is built for podcasters, streamers, and videographers, and it absolutely shows. Sennheiser have delivered on their promise with this microphone, with a simple setup and operation process and great sound.
---
The Profile on vocals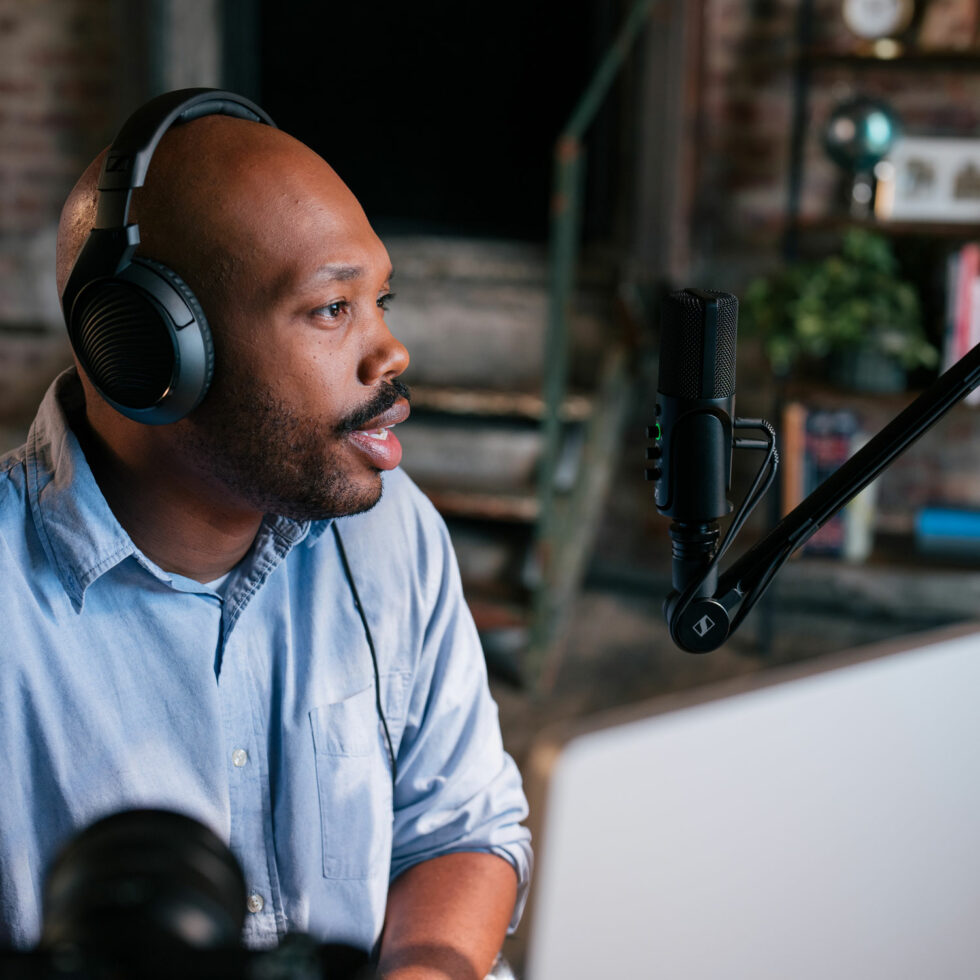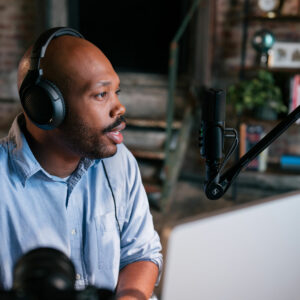 Naturally, I tested the Profile out on my own voice first, both on recordings, and on call with a few friends. This is the most important element given how most people will be using it.
The Profile delivers a warm, smooth sound with a very extended bass, which really brings out a presence in the lower register. This is balanced with a slight dip in the low-mids to cut muddiness and a treble boost with a smooth roll-off.
It reminds me slightly of the Audio Technica AT2020, but with more brightness and presence in the high-end – which comes off a little more natural-sounding to my ears.
The cause of this sound is clearly the unique construction of the microphone capsule.
Sennheiser have a respectable pedigree in XLR microphone design. Their other offerings like the e906 and MD 421 II definitely back this up as they're now standard instrument microphones in many professional studios.
So, instead of the typical capsule design used in most USB microphones, the precise engineering behind the German-made KE 10 capsule – seen in some of their shotgun condenser microphones – provides a frequency response and sound clarity that feels familiar but distinct.
---
The Profile on guitar
Having proven itself a good choice for voice, I decided to test a few extra sources with the Profile, just to see how well it could handle other sound types.
The second test was with an acoustic guitar, which offered a warm and full-bodied response. I tend to find similar frequencies pleasing on both vocals and guitar, so its sound character worked really well on this too.
For any creators with musical talent who like to jam on stream, write songs for videos, or make music-based content, the Profile could be a great, affordable start.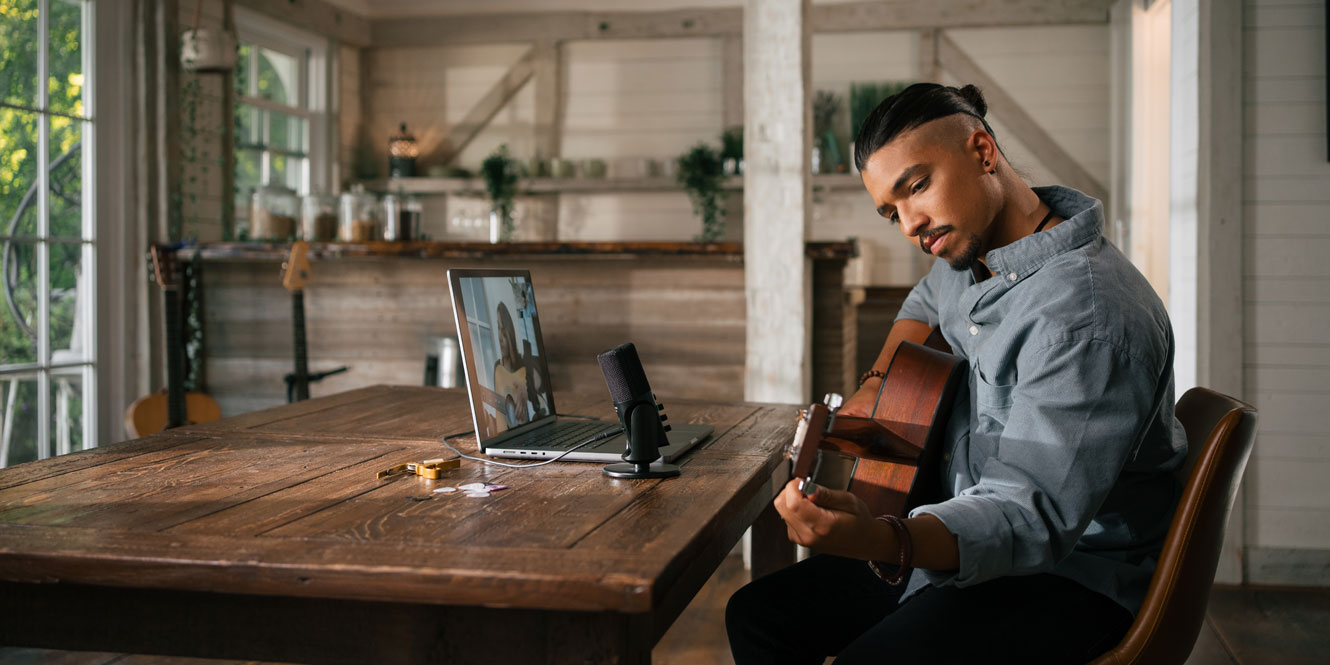 ---
The Profile on other sounds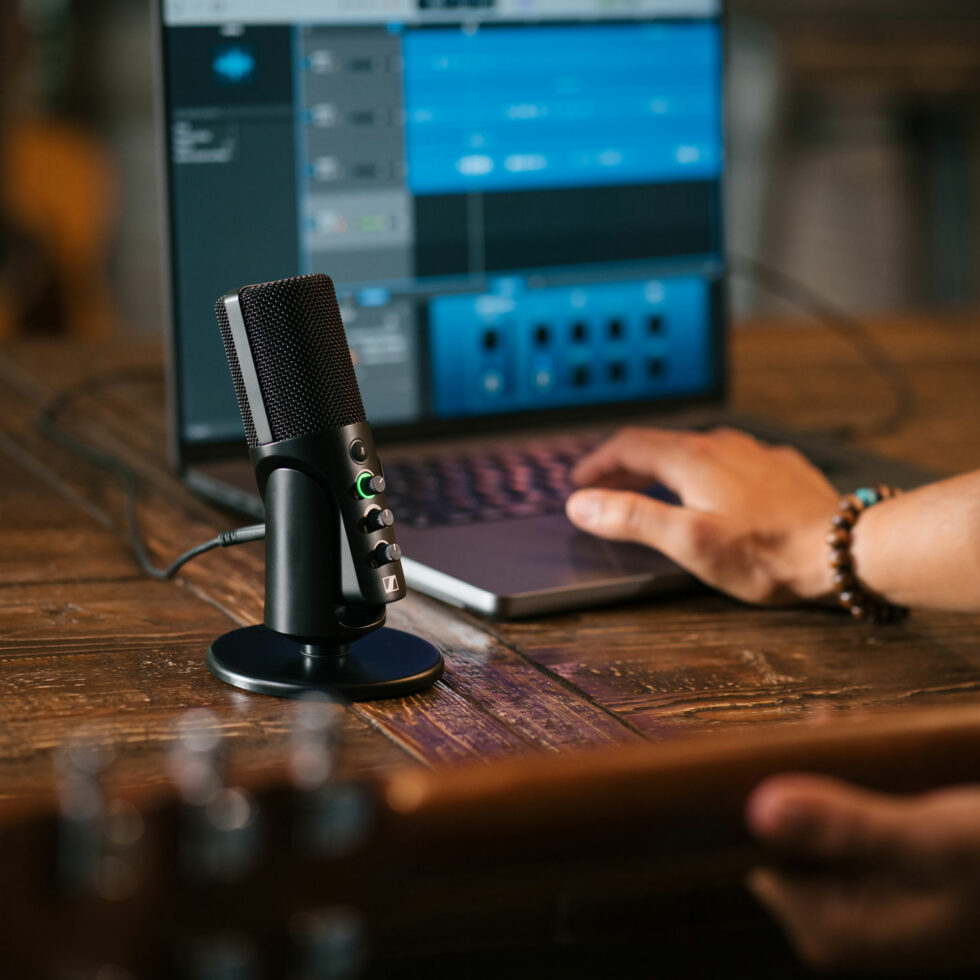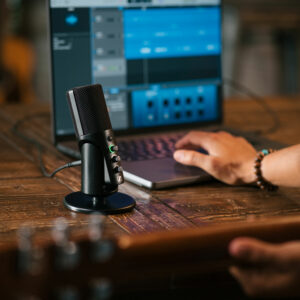 I also tested the Sennheiser Profile on some foley recordings for a film I'm currently working on.
This was where I really noticed the shotgun microphone heritage of the KE 10 capsule. Since it was borrowed from the well-respected MKE 600 condenser frequently used in film and TV audio, I knew it would handle this well.
I found the Profile a little warmer and more boosted in the high mids than the generally flat response I'd want for this kind of audio work, but that's to be expected from a microphone tuned for vocals.
Its smooth roll-off in the highs and lows and snappy transient response still caught all the details I wanted it to while sounding natural, and I could easily dial in EQ to match the recording to my tastes.
This kind of recording is obviously not what the Profile's intended for, but it shows the mic's versatility. If you need to just add a few small effects into the background of a video to enhance things, it's a huge step up from using the one built into your phone.
What features does the Profile have?
The Profile is very much designed for simplicity. So, unlike some USB microphones, this mic comes as-is. No software for control or advanced settings – what you see is exactly what you get.
I think this very much works to the benefit of the user; having a more streamlined mic setup makes life a whole lot easier. As a result of this choice, the controls you need are all on the front of the microphone, with LED rings to indicate active features.
The only other feature left to consider is the headphone output on the rear, which allows for latency-free playback of whatever your microphone's recording and, using the mix control, your device audio. Even if you have an audio interface, its monitoring outputs can create some latency, so having this option makes sure you hear everything in real-time.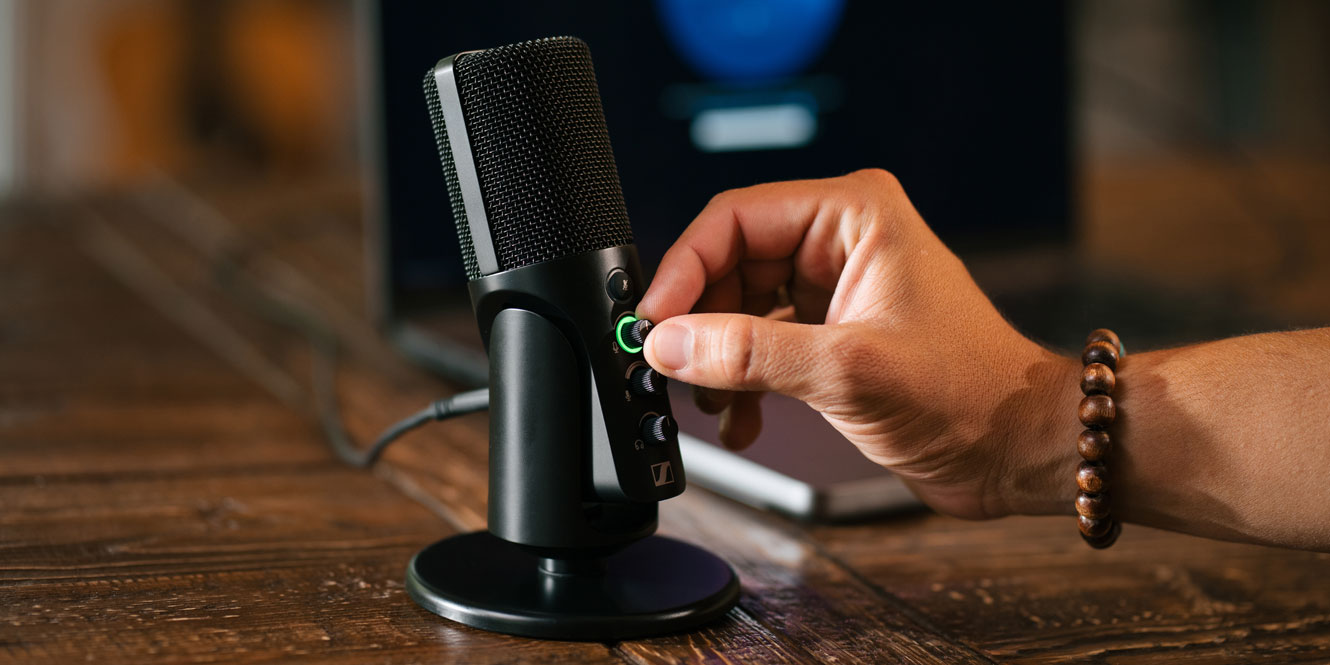 ---
What do the controls do?
The top control is a mute button for instantly cutting out your signal. When active, this control will light up the surrounding LED ring red, which makes knowing when your mic's live incredibly easy. This is ideal for streaming or voice calls especially – if you ever encounter an unexpected interruption or you want to get up and take a break, you can just press and go.
Secondly, there's a gain dial for setting your input level. The LED ring around this control gives you signal input feedback, lighting up when audio is detected and clipping indication. This makes it easy to set the right levels and avoid distorted signals.
The third control is a mix control for the direct-monitoring headphone output on the back. This adjusts the volume between your device's audio playback and your own microphone signal, letting you balance your voice against the rest of your stream's sound, voice call, or edited video playback when doing voiceover work.
Finally, the fourth control is a straightforward volume control for the headphone output, so you can dial in a comfortable listening level for your monitoring.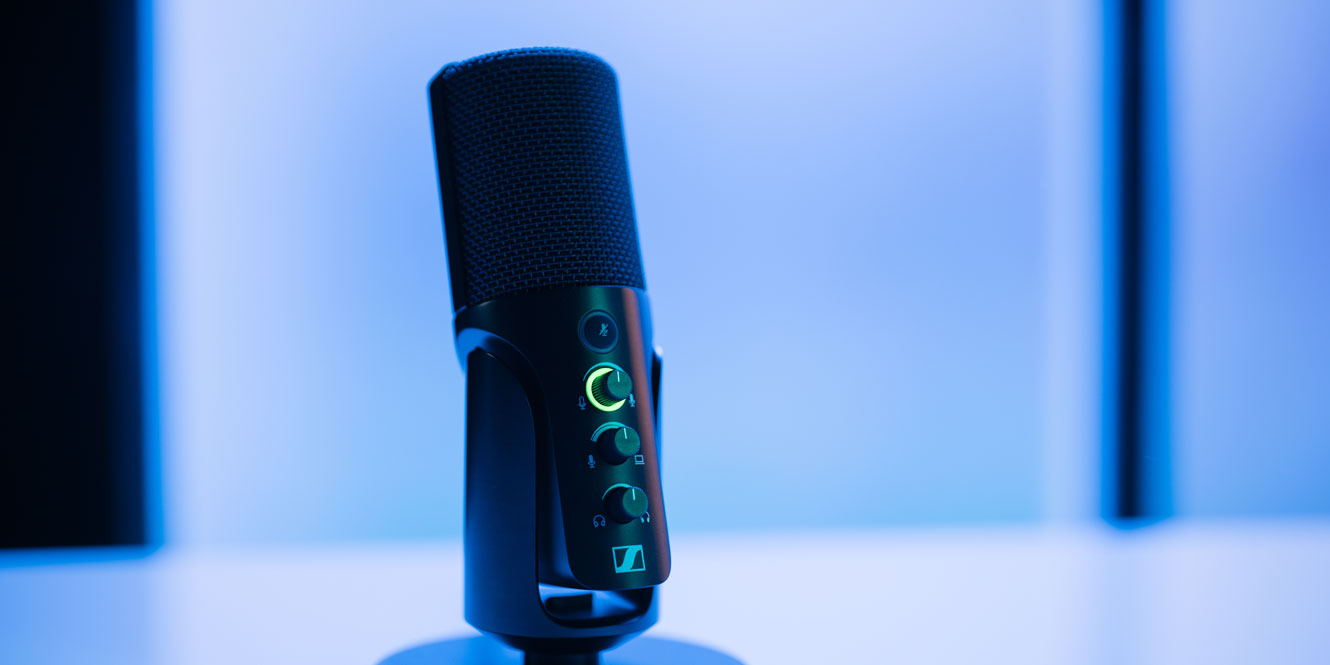 Final thoughts
Overall, I was very impressed by the Profile. It's a solid USB microphone with a great sound that's simple and immediate to operate, which ticked every box I had for a product like this.
I particularly enjoyed its warm, full-bodied sound, and found it surprisingly adaptable. For my needs, I think I'll stick to XLR microphones for the time being, but if I'm ever in the market for a USB microphone, it's safe to say that the Profile would be my first choice.