Even for the most seasoned of players, investing in an expensive guitar can be a daunting process. So, we've written a handy guide to give you an idea of what features you can expect when splashing the cash on an acoustic masterpiece.
If you're looking to buy a guitar that exceeds £1000, you're probably a pro and know exactly what to look for. But, it can still be tricky to make sure it's perfect for all your needs as a musician.
From the craftsmanship to the history behind it, and from the wood used to the hardware that adorns it – it seems like there are countless aspects of a guitar to inspect. But really, all any guitarist wants is an instrument that truly lasts, a gigging companion for life, and heavenly sound to carry each and every note.
With this in mind, browse through our guide aimed at helping you to find the right premium acoustic guitar for your style.
---
Brands with esteemed reputations
When you're spending a bit (or a lot) extra on something, it can seem like you're paying for the name more than you are for the quality. This might be true of some things, but when it comes to acoustic guitars, there are plenty of reasons why big brands have hard-to-swallow price points.
---
Martin
A guitar with history. If you get your hands on one of these acoustic gems, you'll know you're in the presence of something great, something timeless that is worthy of the digits trailing its price point. It can only be a Martin guitar.
Martin is renowned for its prolific history spanning nearly two decades. Retaining a sparkling record for creating exquisite instruments, it is pioneering in its expertise and craftsmanship and is best known for inventing the dreadnought shape and the X-brace (which we will delve into later).
Established in 1833, this family-owned business has been led by six generations, all leaning on values they know to be most important: careful and patient craftsmanship, the highest quality standards, and environmentally friendly practices. All of Martin's instruments are handmade, a demonstration of their meticulous work, passion for guitar-building, and desire to be connected to each and every guitar.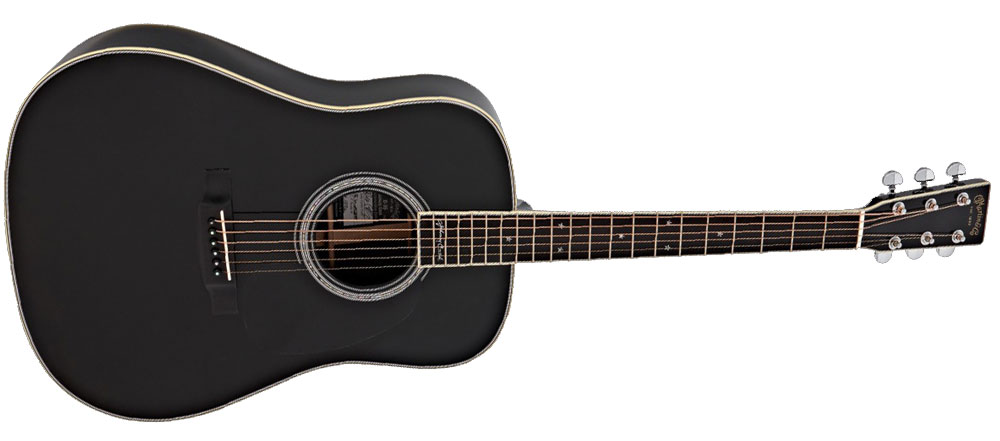 Since the early 1900s, singer-songwriters have relished the quality of Martin, using them for both recording and performing and as Martin put it, "creating much of the soundtrack of the last century".
Artists like John Lennon, Elvis Presley, and Bob Dylan are just some of the big names associated with Martin, and many of their top-end models are Signatures such as the D-35 Johnny Cash. These accurate replicas of the artists' originals allow you to achieve the exact tone of some legendary singer-songwriters. And you can't put a price on that.
Find out more | Martin
---
Taylor
Although it hasn't existed on the stage for as long as some other brands, Taylor stands proudly at the forefront of superior guitar craftsmanship. Since 1974, it has offered innovation in abundance, giving players forward-thinking models that promise to meet their demands.
From grand auditorium guitars such as the K24ce to the invention of Expression System 2 electronics, Taylor never stops revolutionising, making our playing experience easier… and making the process of choosing a guitar tougher.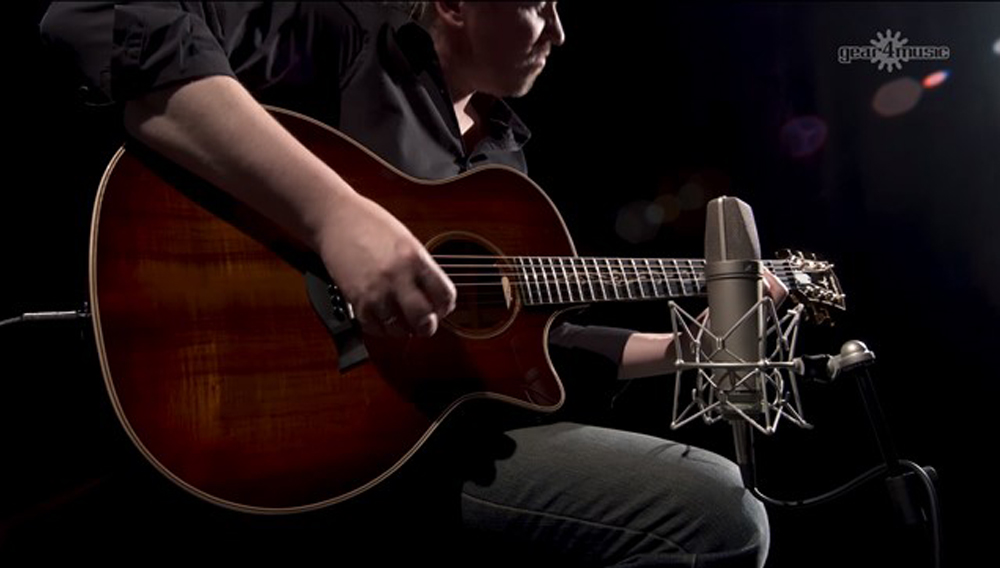 Taylor's choices of exotic wood, as used on premium models like the 312ce 12-Fret LTD, which utilises Lutz spruce and Tasmanian blackwood, means you'll be granted gorgeous, truly unique tones as well as sensational aesthetics.
Combined with their staple ebony fretboard, which has been sustainably sourced (you can find out more at The Ebony Project), the distinctive tonewood combinations of Taylor's pricier instruments mean you'll have a guitar like no other.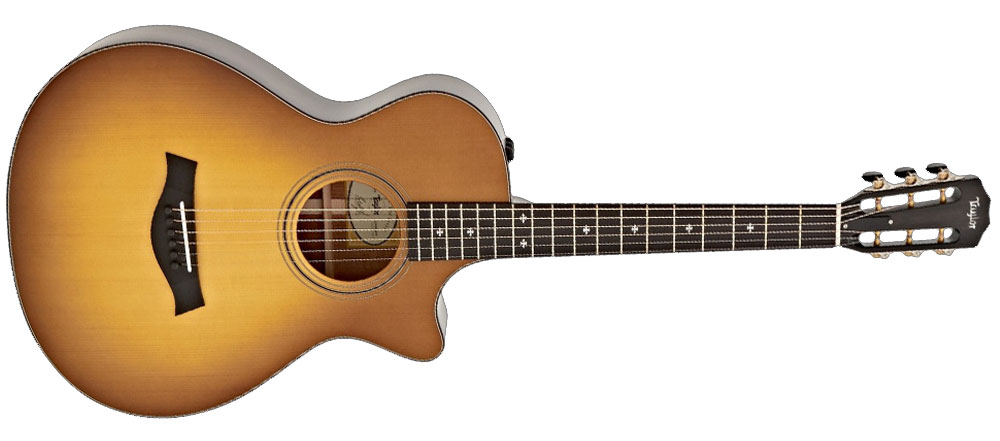 It's not just premium quality guitars that Taylor works hard to maintain, but also its company values. In fact, Taylor is 100% employee-owned, meaning it'll grow with the people that are deeply passionate about every guitar – this beats being sold to another company or outside investor.
So, as you're strumming across the strings, you can be sure you've invested in a brand where each and every individual is an expert, all contributing to the running of the company and crafting of guitars.
Find out more | Taylor Guitars
---
Gibson
A name that even the non-guitarist knows. And there's a reason why. Gibson is famous for its superior instruments – electric and acoustic – that have seen the development of pop, rock, blues, and more since 1894.
Its name is so renowned that it needs no introduction, and like Martin, many of its guitars have a wealth of heritage that Gibson works hard to retain, whilst still appealing to the modern player.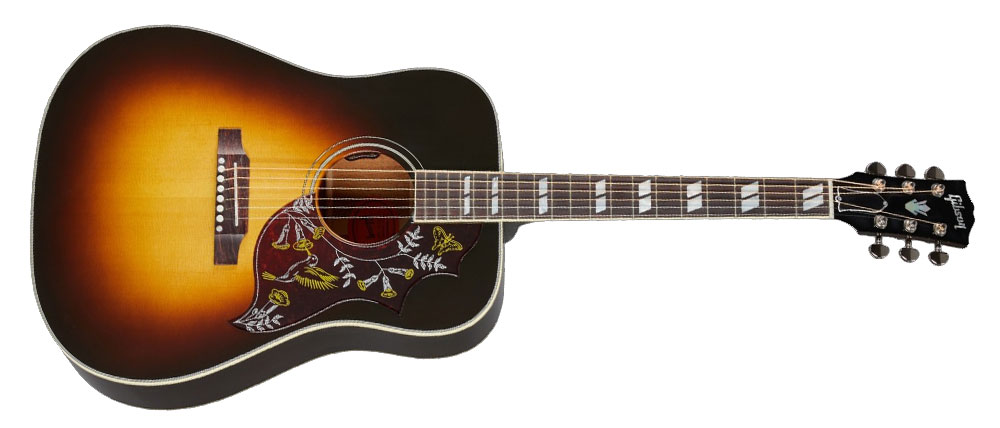 One such instrument is the Hummingbird Standard, Gibson's first square-shouldered model introduced in the '60s. Played by the likes of Keith Richards, Brian Jones, Mick Jagger, Thom Yorke, and Brian May, this guitar really does have the ultimate star-studded background, whilst small modern updates such as a thin finish and hand-rubbed VOS process ensure it retains its classic character.
It's easy to see why Gibson acoustics are so cherished, and why guitarists are prepared to spend a little bit extra for supreme, meticulous craftsmanship.
Find out more | Gibson Acoustic Guitars
---
Features to look out for
Whether you're exploring different brands, or you've settled for the one you know best, it's always worth having some knowledge on what separates the expensive acoustics from the cheaper models.
Inside and out, a premium guitar demonstrates supreme craftsmanship, with each detail having been carefully thought through.
---
Unique tonewood choices
You've probably come across spruce, mahogany, maple, rosewood – they're the stars of the acoustic world. But what if you could experience the qualities you've already fallen in love with and have exquisite, nuanced enhancements on your sound? That's what some vibrant tonewood combinations allow for.
Take Lutz spruce, for example. It melds the sonic characteristics of Sitka, White, Engelmann, and Adirondack spruce together in a way that delivers exceptional volume, superbly sharp clarity, and astounding tonal depth. On its own, it's beautiful, but when it works in conjunction with another exotic wood, it's spectacular.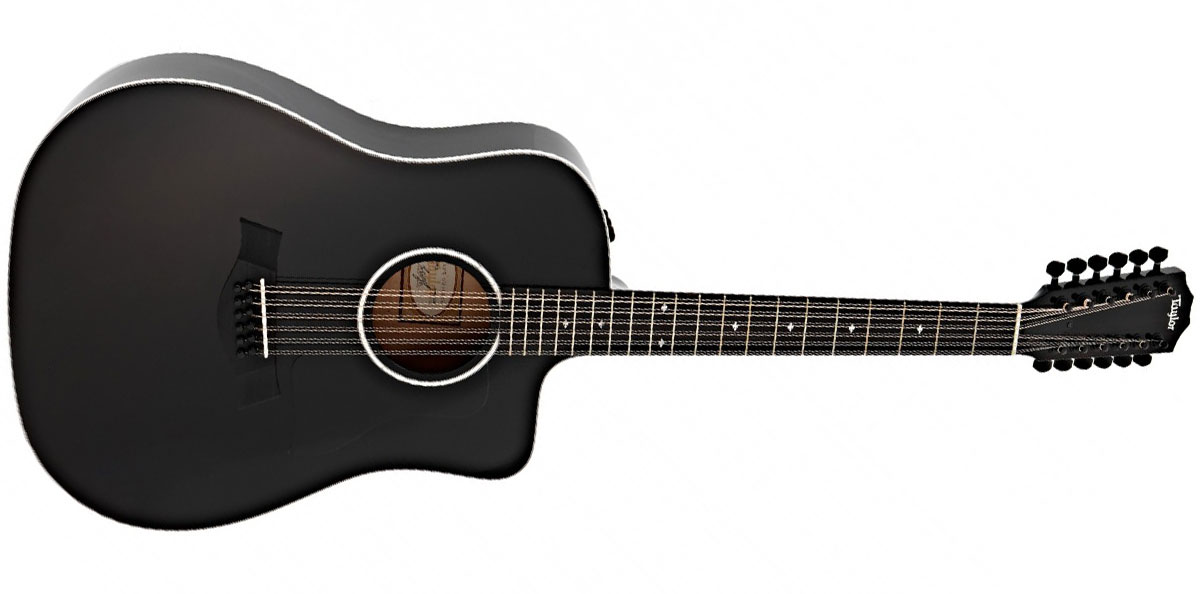 The Taylor 250ce DLX 12-String showcases a Lutz spruce top with layered maple back and sides – the layered construction gives you a climate-resistant guitar body that can withstand anything.
Carefully selected tonewoods are usually a sign of the brand's scrupulous attention to detail; it shows that they value each and every guitar and want it to be of the highest quality. The solid Engelmann spruce featured on the Tanglewood TW1000HSR Heritage Dreadnought is a dazzling example of a specific tonewood that has been selected for its unique beauty.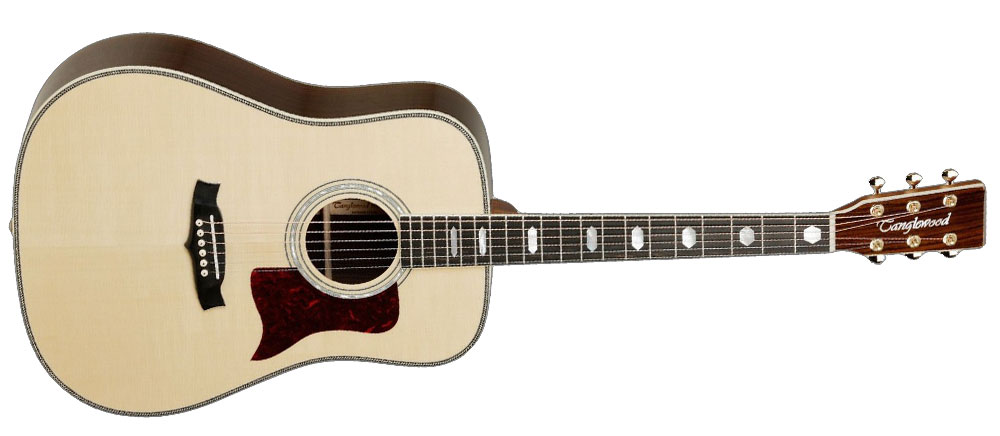 Engelmann spruce produces a mature tone that encompasses richness, sweet harmonics, and sustain that rings out with clarity. It's beautiful and it's a tone usually only found with high-end guitars.
---
Bracing
They say that beauty comes from within, and with an acoustic guitar, you know it's true. The bracing inside a guitar's body is one of the most important contributors to its structural integrity, supporting the top underneath string tension and allowing you to strum without the body caving in.
Its true magic, however, lies in its ability to control your sound and ensure the vibrations don't become too muddy. A balance of strength and flexibility is needed in a guitar's brace, granting you sturdy reinforcement, shimmering sustain, and luscious volume. And so this is why there are various styles, suited for various guitars and needs.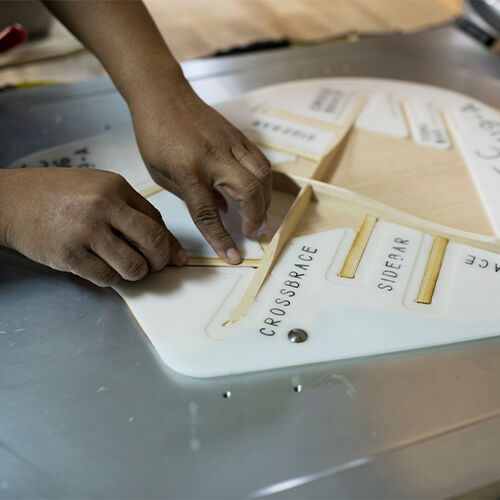 Enter, the X-brace. One of Martin's finest inventions. Introduced in the 19th Century by founder C.F. Martin Sr., this bracing style generates tremendous volume and superbly rich sound, all whilst providing the strength the body needs. Good, sturdy, resonant bracing is something to look out for in pricier guitars.
Some of Martin's high-end guitars, such as the D-35 Re-Imagined, feature forward-shifted bracing, a modern amendment that enhances bass frequencies. By moving the brace even just half an inch closer to the soundhole, the effects are massive. Now the lower bout has more freedom to vibrate, and in turn, you have vast, immersive sound with richer low frequencies.
High-end Taylor guitars usually feature V-Class bracing, Taylor's own take on the essential interior structure. The 714ce Grand Auditorium and the 618e Electro Acoustic are two amongst many that are reinforced with this brace style.
V-Class guitar bracing eliminates the need to choose between stiffness and flexibility, so not a touch of sustain or volume is sacrificed. Not only that, but it also produces better intonation by ensuring the top is much more in tune with the strings. Pure, immaculate sonic goodness, all from one contraption.
With an X-brace, you're getting a piece of Martin's pioneering history, with V-Class bracing, you're getting Taylor's forward-thinking innovation. Both are reliable and come with their own sound-enhancing benefits.
---
Electronics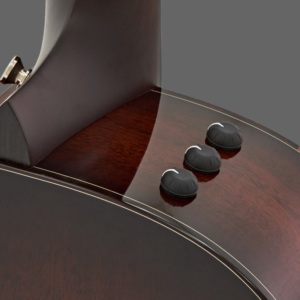 If you're a gigging musician looking to take your new acoustic to the stage, you'll be familiar with the old electro-acoustic. Premium instruments are where you'll really notice the difference in tone-shaping possibilities as well as a precise response that doesn't infringe on the acoustic's natural tone.
Fishman electronics are a staple in the acoustic world, a reliable choice for high-quality amplification. From the Sonitone, as used on the Gibson SJ-200 Studio Rosewood, to the dazzling Gold Plus, showcased with Martin's OMJM John Mayer, each expertly designed pickup offers a sublime response to every nuance of sound.
Taylor's Expression System 2 strives to meet all your demands as a modern player. On lower-priced Taylor guitars, you're likely to find the ES-B system, but when prices increase, so do innovation and careful electronic refinements.
The ES2 is a prime example, and its unobtrusive, sleek design is demonstrated brilliantly on guitars such as the Taylor 524ce Electro Acoustic. Not only does the pickup deliver your stunning acoustic sound to the masses, but its preamp accomplice is disguised beautifully, as to not impede on the natural acoustic aesthetic.
It's on these high-end preamps that you'll find carefully located controls, either placed in the soundhole or discreetly on the guitar's shoulder, making them easy to reach and difficult for your audience to see.
Some electro-acoustics utilise the meticulous design of an L.R. Baggs system. The Gibson J-45 Standard and Epiphone's USA Texan Acoustic both feature the L.R. Baggs VTC Undersaddle pickup, something which has been crafted specifically for professional musicians who want to capture the same dynamics and feel of a studio environment.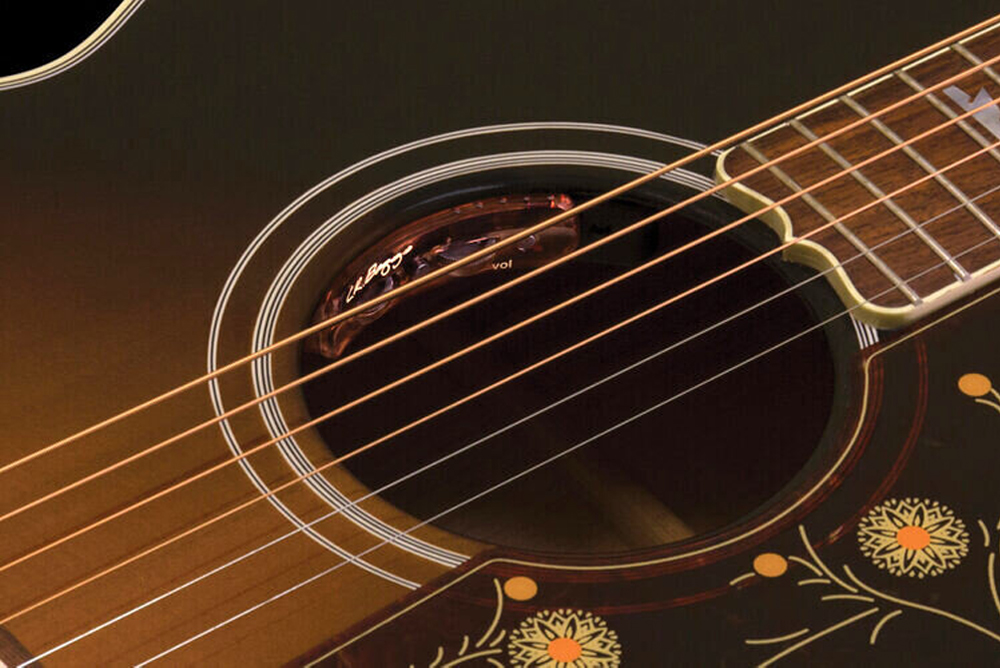 What makes these electronics so revolutionary is the natural warmth it produces, voiced just like studio, analog warmth. If you're lucky enough to possess an electro-acoustic with the VTC system, you can count on beautiful sonic character and harmonic content whilst phase inversion promises minimal feedback.
And for an extra splash of premium-quality sound, the VTC's dynamic EQ grants you the same precise response as a sound engineer, giving you low, mid, and high-frequency compressors that are touch-sensitive and react brilliantly to your dynamics.
---
Find out more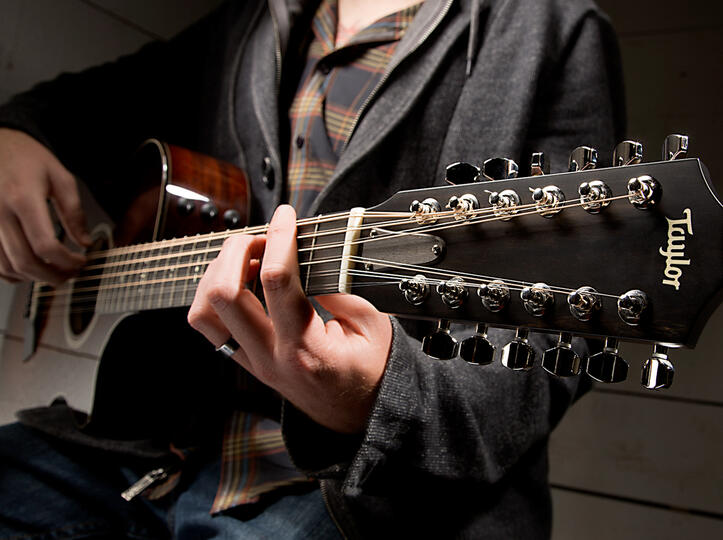 Now that you're armed with your newfound knowledge, hopefully, you'll feel a bit more at ease when shopping for a premium guitar at a premium price point.
At the end of the day, it all comes down to excellent sound and lifelong durability, and tonewood, bracing, and electronics all contribute to these qualities.
Find out more | 11 Best High-End Acoustic Guitars
Find out more | Introducing the Taylor GT
Find out more | 12 Best Premium Acoustic Guitars