Pearl is, without a doubt, a leading brand in the world of drumming. Since 1946, they've been producing kits and hardware to last, and it's these masterfully made drums that are part of drummers' lives everywhere, from Toto drummer Jeff Porcaro to Dennis Chambers.
Offering a large range of drum kits, Pearl cater to all abilities, whether you're a beginner using the Pearl Export series or an afficiando of Pearl's flagship line, the Masterworks series. But what other professional-level kits do Pearl offer, and what is the difference between them?
Here, we will look at the Masters series and discuss how to choose a kit that is best suited to your playing needs.
History of the Masters series
The Masters series was first released in 1993 and designed for professional drummers. These kits are closely linked with the Masterworks range – mostly notably through the Masters Maple Reserve kit. The Maple Reserve kit, in particular, has been built with the same level of craftsmanship as the boutique Masterworks series, making it perfect for the professional drummer.
The Masters series consists of the Pearl Maple/Gum kits, the Maple Masters Reserve, and the Masters Maple Complete. Each kit is built to deliver various qualities and sounds. They're also intentionally crafted for different playing applications, whether it be studio or live gigging situations.
Complete with similar hardware technologies, the Masters series kits ensure optimal sound quality can be achieved time and time again.
Breakdown of shells and woods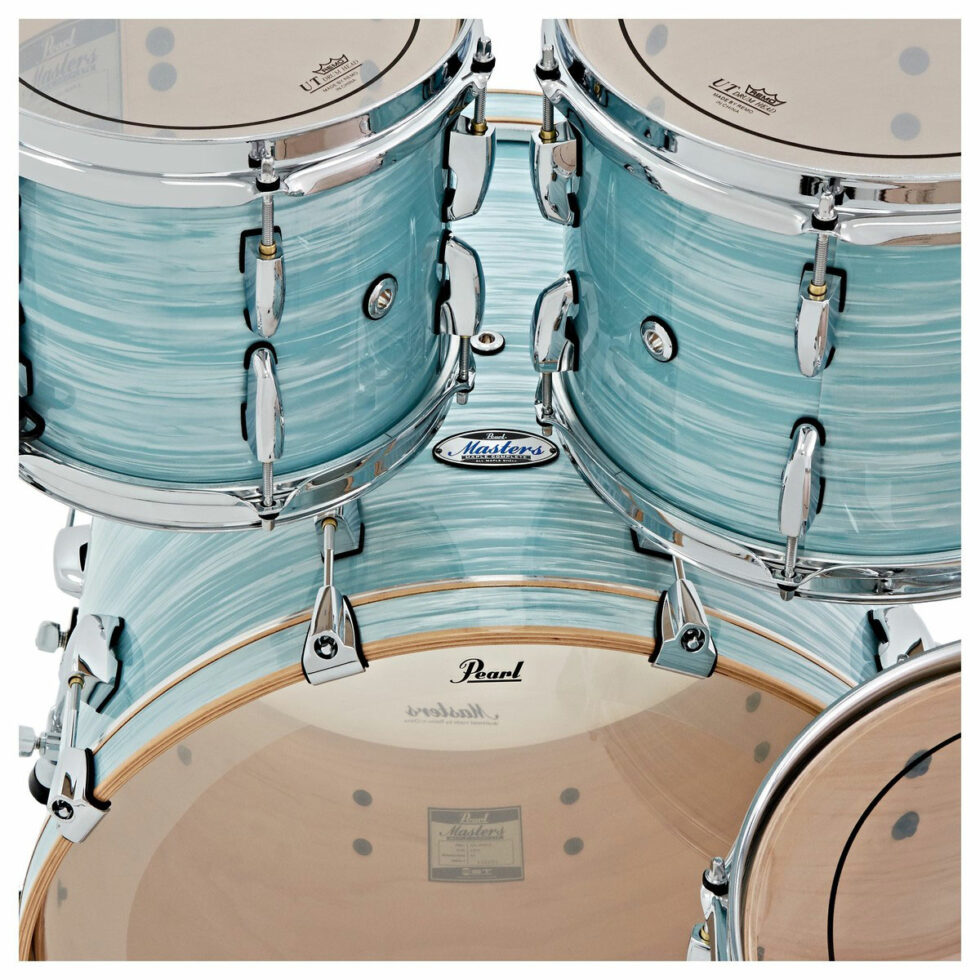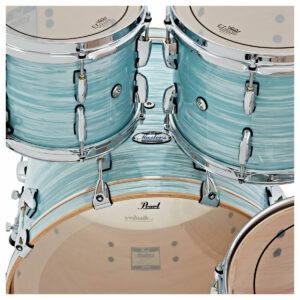 The shells and thickness are the main aspects to bear in mind when looking for a kit as they play a massive part in how your kit sounds. For this reason, the shell structure is a vital feature of the Masters series. Each of the three series' is constructed from varying compositions.
So, which shells are best for your playing style and needs?
The Pearl Maple/Gum is perfect for studio work, whilst also suiting live applications. Crafted from 4ply North American maple and combined with 2-ply gumwood, it projects a clear tonality.
The maple construction delivers a warm and punchy sound, whilst the robust qualities of gumwood guarantee the durability that gigging drummers need. And for recording musicians, the thin shell is ideal. All these attributes make the Pearl Maple/Gum kit an excellent choice for any session drummer looking for a great all-around kit.
The Masters Maple Reserve is very similar to the Maple/Gum series kits, and they're also equally suited to studio and stage. With a 4-ply 100% maple construction, the kit delivers incredible warmth with a focused punch whilst its optimal projection benefits a variety of genres.
Specifically made from reinforced North American maple, the Maple Reserve produces a balanced tone with warm mids and a resonant, sustained shimmer. It's ideal for session drummers who need a versatile kit to suit any playing style.
The last kit in the series is the Masters Maple Complete. This kit is designed for the gigging drummer. Constructed from a 6-ply North American maple shell, the Maple Complete offers luscious midrange warmth, whilst a thin shell construction projects a rounded punch.
The cross-laminated even ply shell also adds an extra layer of protection to the kit, making it the perfect choice kit for any gigging drummer looking for a decent kit to perform live.
Bearing edges and how it affects the sound
Each drum shell features different angled bearing edges, all providing varying levels of attack. The bearing edge determines how much contact the drum shell and head receive, and subsequently how much attack is achieved.
Bearing edges can be 35 degrees, the more commonly seen 45-degree, and so forth, all providing different levels of resonance.
But what is the difference between the various bearing edges?
Well, the standard bearing edge provides an average level of attack and projection to the overall drum tones, whereas 45-degree bearing edges produce plenty of attack, resonance, and tonal focus. Any bearing edges above 45 degrees progressively provide more attack.
Whilst each bearing edge type and shape varies from manufacturer to manufacturer, Pearl have opted to use 45-degree and 60-degree bearing edges to form the Masters' tone.
The Masters Reserve and Masters Maple Complete boast 45-degree bearing edges, whereas the Masters Maple/Gum features a rarely-seen 60-degree bearing edge. This unique 60-degree bearing edge provides increased power and optimal bite.
Due to the series' ultimate attacking tones and clarity, it's easy to see why the Pearl Maple/Gum is suited to the studio.
Which drumheads suit the Masters series kits?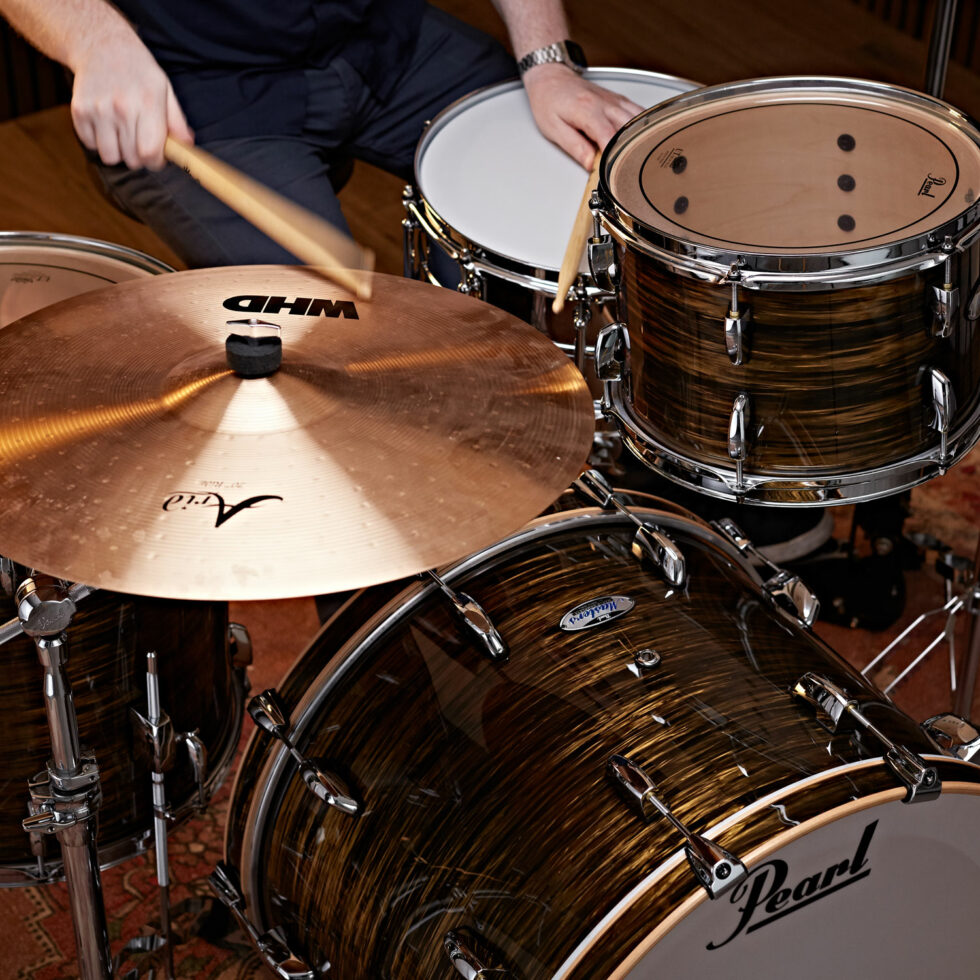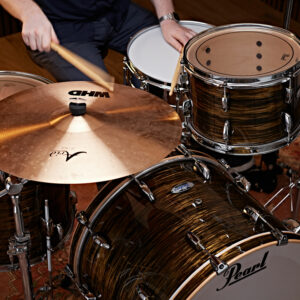 So now you've decided which of the Pearl Masters series kits are better for you in terms of shell composition, general setup, and hardware features, it's time to think drumheads.
The drumhead that's right for you depends on what drum sound you want to acquire.
Whilst there are many different types available, all with different tone-improving features, the concept of drumheads is extremely simple.
The Pearl MMG paired with a single-ply head would be a great way to achieve a powerful drum sound. With increased resonance and the 60-degree bearing edge, you'll have immense clarity carrying your drum sound.
On the other hand, if you combined the Pearl MMG kit with a single-ply coated head, you would achieve a clear, bright sound that is slightly muffled, making it ideal for pop music.
The double-ply heads combined with this kit would be perfect for rock music as they would utilise the unique projection and attack that the MMG series produces. Offering bright tones for rock playing styles, this type of head, as well as the optimal attack of the 60-degree bearing edge, is a great way to make use of the powerful MMG tones.
The Pearl Maple Reserve is extremely durable. By pairing this kit with a 2-ply coated drumhead, you can easily create a drum kit with incredible longevity. The thicker double-ply drumhead fully frames the drum shell, which delivers versatile and sustained lows. This is a great combination if you're looking to achieve the darker tones associated with rock and metal.
Alternatively, adding a single-ply head to the Maple Reserve would produce a brighter tone, increasing the clarity and overall sound of the MRV.
A single-ply clear head would work perfectly with the Pearl Maple Complete, bringing out a centred midrange sound. Thin heads allow for full resonance of the drumhead, ensuring the rounded sound of the shells can be heard.
This type of drum tone would be suitable for genres such as pop or jazz. Depending on how much resonance you want, you could replace the clear 1-ply head with a coated head.
Masters series configurations and features
Whilst each kit is exceptionally high in quality, each series has its own individuality, from the overall aesthetic to the hardware and kit configurations.
Pearl Maple/Gum Series
The Pearl Maple/Gum series kit looks as elegant as it sounds. It's available in sixty different finishes, from 'silver white swirl' to 'piano black'.
This kit provides an incredible dynamic range with an explosive low-end response, suitable for various music genres. Plus, it's complete with hardware that can handle exceptional sound projection.
The Masters Maple/Gum kit includes the classic Pearl Opti-mount suspension system, allowing for an uninterrupted drum tone. This device ensures toms aren't muffled by contact with any other shells. Similarly, the classic-look bridge lugs reduce the amount of shell contact, as well as provide a traditional aesthetic.
This setup is available in: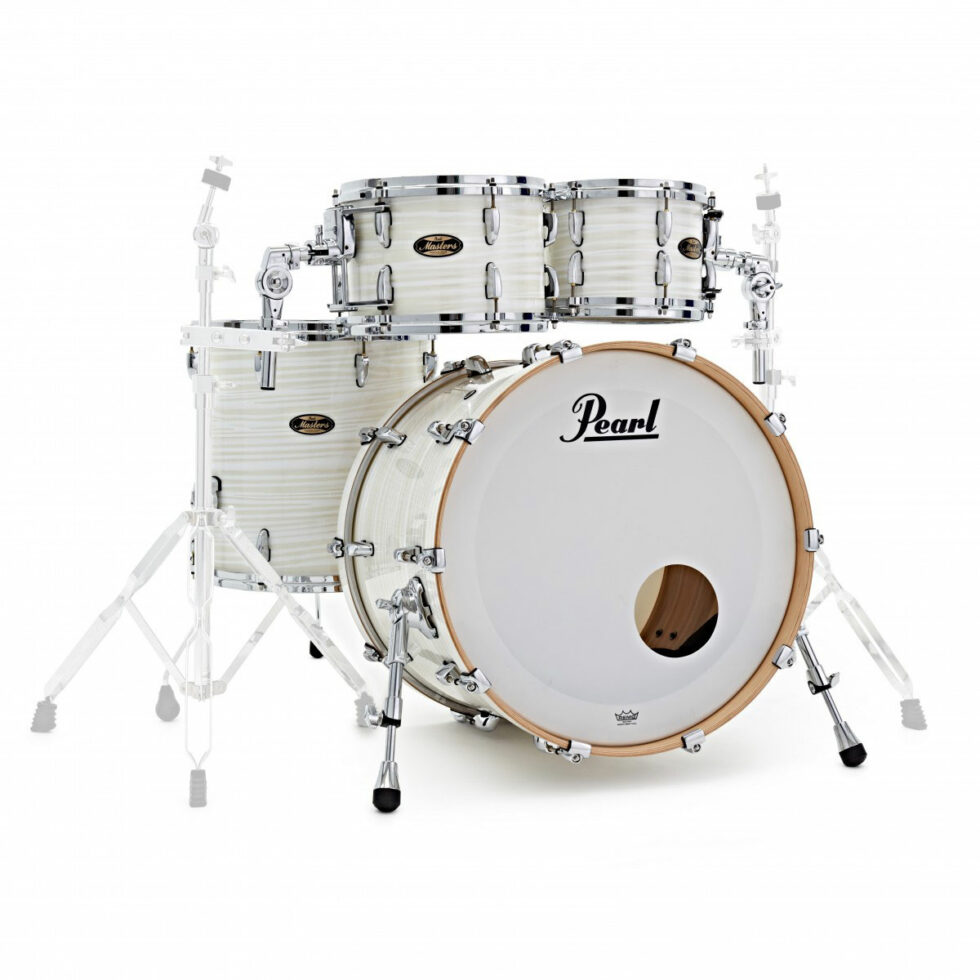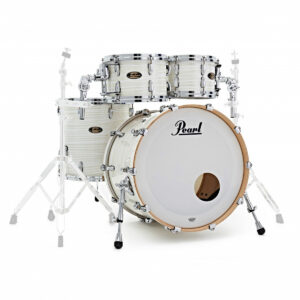 Config 1
22 x 16'' bass drum
12'' x 8'' tom
16'' x 16'' floor tom
Config 2
20'' x 14'' bass drum
10'' x 7'' tom
12'' x 8'' tom
14'' x 14 floor tom
Config 3
22'' x 16'' bass drum
10'' x 7'' tom
12'' x 8'' tom
16'' x 16'' floor tom
Maple Masters Reserve Series
The Masters Maple Reserve is an exceptional quality kit from Pearl. Displaying various breathtaking and extravagant designs with a range of lacquer finishes, including 'wine red', 'red burst triband', and the unique 'crystal rain'.
Constructed with a 100% reinforced maple shell, the MRV is extremely durable, providing a powerful midrange with plenty of deep, rich tonality, whilst the overall weight of the drum shell is incredibly thin and light.
Furthermore, most of the hardware has been efficiently created to reduce the overall weight of the kit, and it contributes to the general quality of sound. The MRV comes complete with fat tone hoops, delivering a greater tuning range whilst reducing any stick damage.
The Masters Maple Reserve is crafted with the same level of craftsmanship as the aforementioned models and highly esteemed Masterwork series kits. By far the most vintage sounding of the whole Masters series, the Maple Reserve would be ideal for any session musician or casual player.
This setup is available in: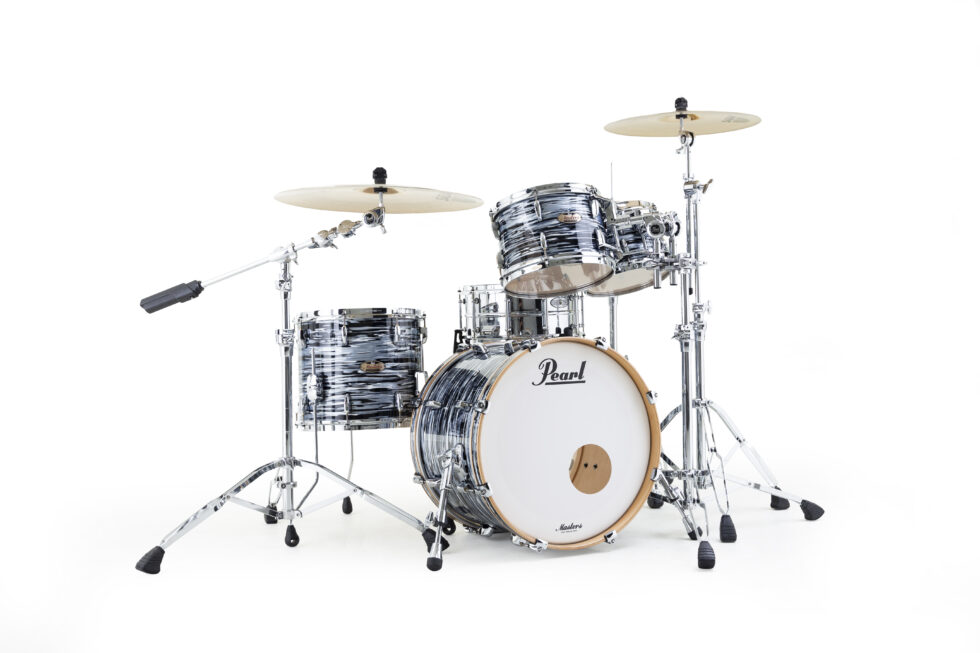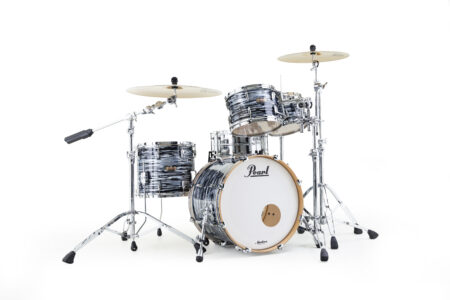 Config 1
20'' x 14'' bass drum
10'' x 7'' toms
12'' x 8'' toms
14'' x 12'' floor tom
Config 2
22'' x 16'' bass drum
12'' x 8'' tom
16'' x 16'' floor tom
Config 3
22''x18'' bass drum
10'' x 7'' tom
12'' x 8'' tom
16'' x 14'' floor tom
Masters Maple Complete Series
Pearl's Masters Maple Complete features a range of five finishes: 'chrome contrail', 'blue oyster', 'matte caviar black', 'almond red stripe', and 'satin sakura coral'. Each design provides a unique aesthetic to match the premium quality of all North American maple shells.
Perfect for gigging drummers, the MCT produces a warm tonality with rounded, punchy, versatile mids. Other hardware of the Maple Complete series includes Superhoop II drum hoops which are designed to provide tuning integrity with powerfully projected tones.
As with most of the Masters series kits, the MCT comes complete with an Opti-loc mount suspension for a clear and resonant tom sound.
This setup is available in: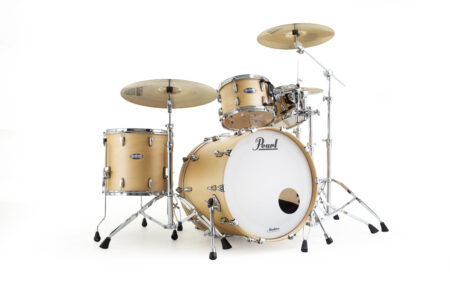 Config 1
22'' x 18'' bass drum
10'' x 7'' tom
12'' x 8'' tom
16''  x 14'' floor tom
Config 2
22'' x 16'' bass drum
12'' x 8'' tom
16'' x 16'' floor tom
Config 3
22'' x 18'' bass drum
10'' x7'' tom
12'' x8'' tom
14'' x12'' floor tom
Config 4
22'' x 18'' bass drum
10'' x 7'' tom
12''x 8'' tom
14'' x12'' floor tom
Similar features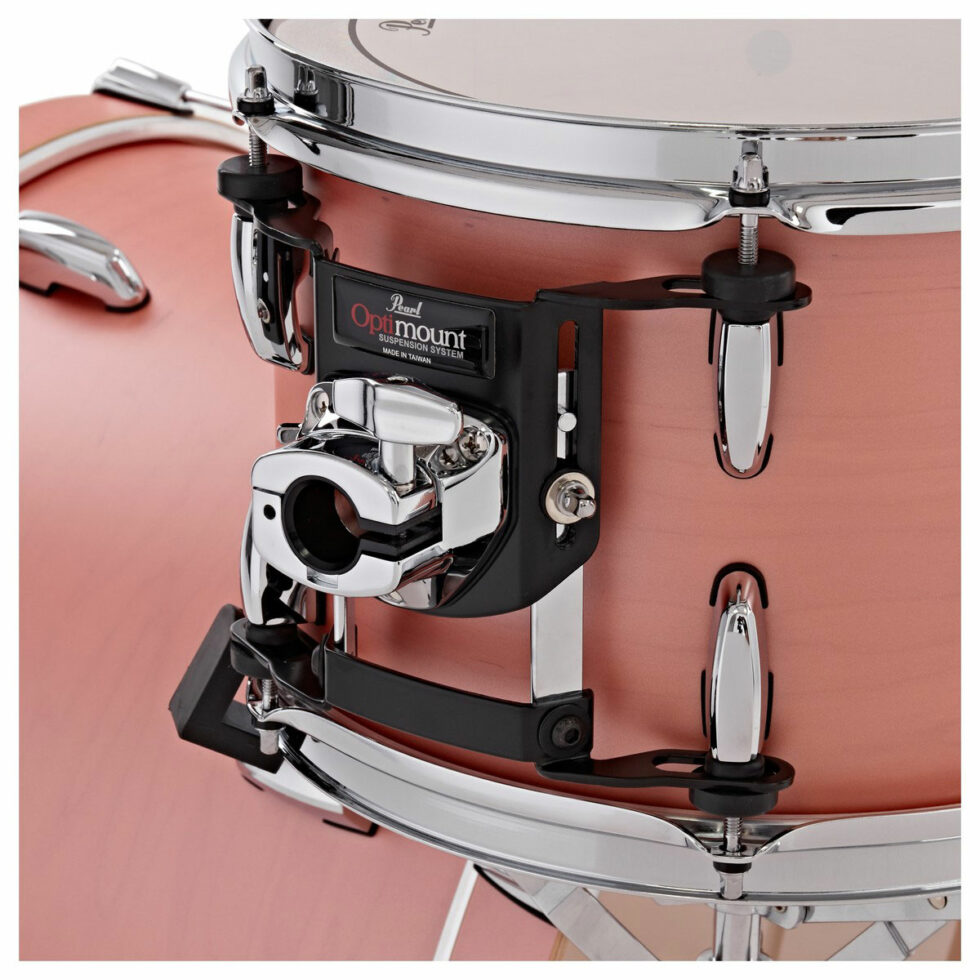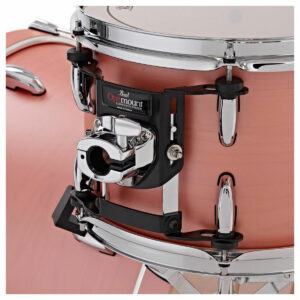 In terms of hardware, the Masters series kits possess a lot of similarities.
One of these is the aluminium Opti-loc mount suspension, which allows for drum isolation, ensuring that a clear tone can be achieved throughout play and a strong support can be maintained.
Another similar feature is the CL bridge lugs that provide minimal shell contact, allowing you to get the most out of the kit sound.
Whilst hardware is shared throughout each of these impressive kits, incredible versatility is also a recurring feature, with each Maple-based shell suited to various playing genres.
Other accessories to complement your kit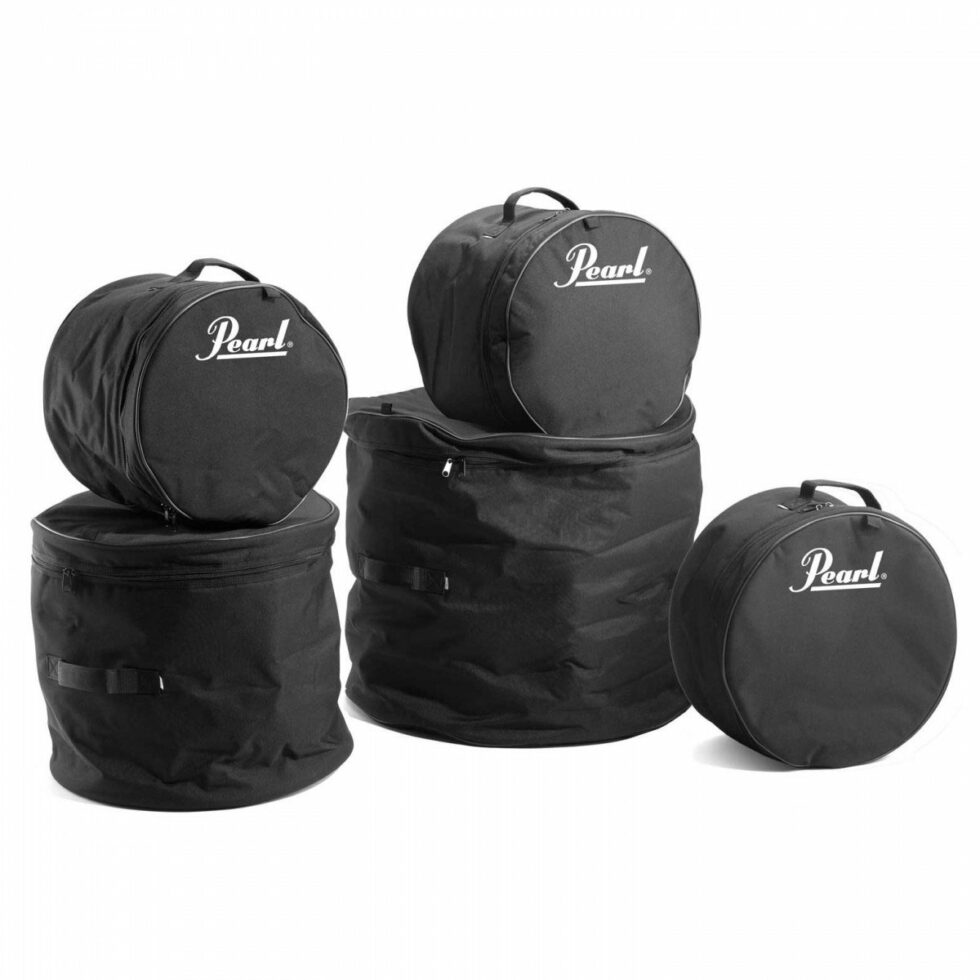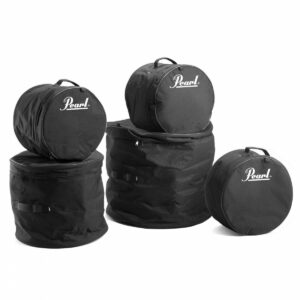 So you've decided what kit is best for you, now it's worth considering some accessories!
Whilst the Masters series has been created to maximise top-quality sound projection, there are accessories available to further enhance performance and sound.
One of these comes in the form of drum mats like the Pearl Drum Rug. Designed to secure your drum kit during use, creeping bass drums will be a distant memory.
Furthermore, you should also consider drum care. Something like the Pearl 22'' padded drum bags, rock size would suffice. Designed specifically for Pearl, these bags can withstand various weather conditions and, more importantly, feature an exterior to keep your kit in pristine condition.
Find out more
Now you have an insight into the differences between the kits, why not take a look at the Masters series?