If you're a piano player who gigs a lot or simply likes to travel, then a good quality, portable stage piano is probably very important to you. Fortunately, there are plenty of fantastic offerings from Kawai for pianists who are looking for just that.
---
What makes a good digital piano?
An instrument with a good weighted action is a key feature of a quality stage piano. If you're used to playing an acoustic piano, you want no unpleasant surprises. Good, clear sounds are also a major feature to look out for – pianos have deceptively complex sound.
What's more, a high-quality digital piano needs to accurately replicate the sound of the hammers, the difference between the bass and treble strings, and the subtle differences that a pianist's touch can have.
---
Kawai history
Kawai have a long history of making pianos and the company is still family-run today. Founder Koichi Kawai started by working as an apprentice to Torakusu Yamaha, the founder of Yamaha. He then left Yamaha in 1927 to start his own company.
When Koichi died in 1955 his son, Shigeru, succeeded him as company president. Under Shigeru, Kawai expanded worldwide. In 1989, the presidency was passed on to Hirotaka Kawai and the manufacturing process was revolutionised with advanced robotics for precision engineering.
Kawai pianos are seen all over the world in concert halls, practice rooms, and living rooms. Their pianos range from grand pianos to portable digital pianos. The ES series is Kawai's range of professional-standard portable digital pianos.
Adam Wakeman joined us in our studio to test out and share his thoughts on some Kawai pianos. Adam's star-studded CV demonstrates just how successful he is. He is currently the keyboardist and rhythm guitarist for Ozzy Osbourne's band, and he has worked with Black Sabbath, Annie Lennox, Travis, Will Young, and Atomic Kitten. So, who better than Adam to give us a professional verdict on Kawai's offerings?
Shop now | Kawai ES Series
---
ES110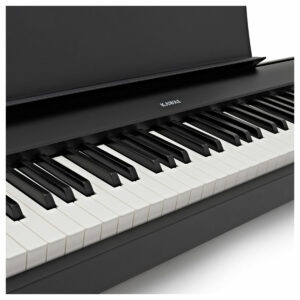 The Kawai ES110 is the introductory model of the ES series of pianos. This doesn't mean it has fewer features, though.
The ES110 has been made with Kawai's steadfast, renowned care and attention to detail. It's a full-sized piano with 88 keys that boast full hammer action and Kawai's Responsive Hammer Compact keyboard action, designed to feel just like an acoustic grand piano.
An acoustic piano uses heavier hammers for the bass notes and lighter hammers for the treble notes. This is replicated with the ES110 and others in the ES range, giving them a genuine acoustic feel.
Kawai is unique in their action design as they put the sensors by the hammers, whereas other brands place them towards the end of the keys. This means that Kawai pianos have extremely precise velocity detection, which allows for more nuance in your playing.
The sound of your piano is important, whether it's to replicate an acoustic piano for personal practice or impress a live audience with acoustic sounds. Inside the ES110, the sound of the Kawai EX concert grand is captured, so you will always have the powerful sound of a concert grand despite the instrument's compact size. Kawai's Harmonic Imaging technology is used to make this sound like a genuine acoustic piano.
Adam really appreciated the effort Kawai went to in making sure this piano sounds like an authentic acoustic. He said that the sampling of the concert grands added to the realism.
Often, the sound of a digital piano is created by the sampling of a handful of notes which are then pitch-shifted so that the full range can be played. On the ES series, however, all 88 keys are individually sampled. Because of this, you will have the full, rich, genuine harmonic character of the piano with every note.
Each note is recorded multiple times for various volumes, from pianissimo to fortissimo. This captures the nuances of the acoustic grand at all dynamics. Overall, the ES110 has 128 layers of dynamics – each recorded sample is enhanced by Kawai's Harmonic Imaging Technology to achieve this.
Shop now | Kawai ES110
---
ES520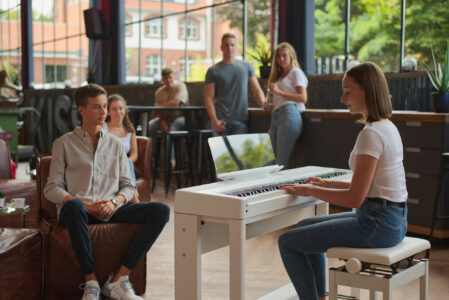 In the middle of Kawai's ES series sits the ES520. This piano has a more advanced touch than the ES110 as it uses triple sensor key detection rather than the two sensors of other keyboards, giving you an additional sensor when you press a key.
A huge benefit of this is that the piano can recognise when you press the key again, even if you hadn't fully released it.
Triple sensor detection is very useful for playing repetitive notes on the same key as it enables the piano to mimic the sustains of an acoustic piano.
The ES520 can also detect the speed at which you release the key, allowing for further expressive capabilities and nuances between techniques like legato and staccato.
When Adam was in the studio with us, he commented on how helpful the triple sensors were for playing repeated notes.
The sound of the ES520 is also enhanced, with two grand pianos sampled for you to play. Kawai's SK-EX and the EX grand pianos are both meticulously sampled and simulated in the ES520.
The subtle sounds and noises produced by these pianos are also faithfully captured. These include the sounds of keys being lifted, dampers, and reverberations within the piano.
In addition to lovingly sampled pianos, the ES520 features other instrument voices such as harpsichord, strings, and electric piano.
Shop now | Kawai ES520
---
ES920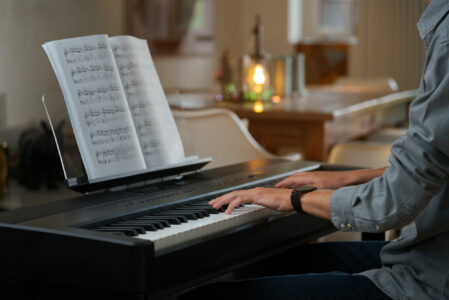 The top range ES series piano is the ES920. It features a more premium feeling keyboard with the use of an Ivory Touch key surface. This mimics the feel of real ivory keys, adding more grip without the need for authentic ivory.
The ES920 features the most advanced hammer action in the ES range: Kawai's Responsive Hammer III action. It has all the same features as the lower-priced ES models but also uses what's known as "let-off simulation". This mimics the "notch" sensation often felt when playing an acoustic grand piano softly.
Adam praised the action of this piano in particular. He noted that it feels very much like the concert grand pianos he has played throughout his career. The let-off sensation really added to that genuine feeling of an acoustic.
The ES920 features the most advanced sound technology of all the ES pianos. Building on the ES520, it features samples of an additional piano, the Shigeru Kawai SK-5 grand piano. The same note by note sampling method has been used to capture authentic, nuanced sound.
Extra-long sampling has also been used, taking advantage of more extensive sample memory. This extends the attack of your piano's sound by up to 120%, improving the tonal clarity and keeping the instrument sounding more organic.
Take further control of your sound with the four-band EQ located on the front panel of the piano. It's rare to find such an easily accessible EQ on a digital piano.
Shop now | Kawai ES920
---
Full of Features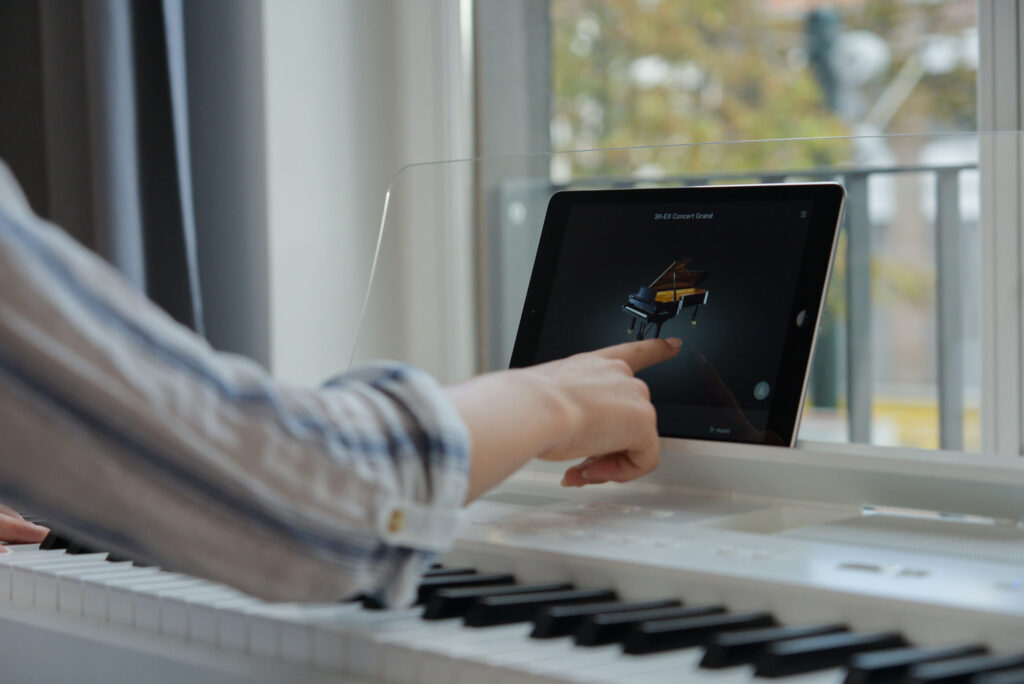 Each keyboard has a large array of demo songs, so you can learn classic pieces on your piano. You can also use the in-built recorder to record your own songs so you never forget them.
All models in the ES series utilise Bluetooth MIDI for easy connection to various compatible apps. These apps perform a range of functions, from helping you learn, if you're a beginner, to allowing you to control MIDI instruments in apps like GarageBand.
Ideal for gigging musicians, the pianos all have line-out jacks, enabling you to plug into a PA system or mixing desk with ease. The MIDI ports also give you extra connectivity options. You can play external synthesizers via MIDI-out or control your ES series piano externally via MIDI-in.
---
Great Accessories
Various accessories allow you to further tune your instrument to your needs. All the pianos come with the Kawai F-10H Pedal, so you'll be able to use a sustain or dampen the sound of your piano, further adding to the expressive capabilities.
You can further enhance the at-home experience and aesthetic of your piano by purchasing the Kawai HML-1B and F350 stand and pedal units. These are suitable for the ES110.
The ES520 and ES920 are compatible with the Kawai HM5 and F302. These provide a more genuine playing experience while also allowing you to dismantle the piano and take it with you to gigs.
---
Stage Pianos for All Players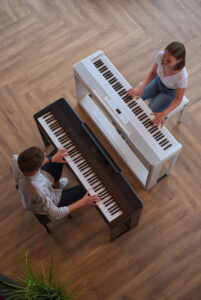 The Kawai ES range of pianos offers a great choice for any player. Whether you're a beginner practising at home or a professional playing gigs every night, this range will have a model for you.
The ES110 is the best model for beginners. As well as its accessible price, it delivers the genuine acoustic piano feel you need. For gigs, the piano can be easily packed down and taken to venues. And it's available as part of a bundle, giving you a complete set-up for playing at home or at a gig.
Next up, the ES520 is a great mid-range piano. You might want this if you're an intermediate pianist and require a more detailed response from the keys and a more comprehensive selection of sounds. Again, this is a great instrument if you like to gig. We have bundles available for this piano suitable for home playing and gigging.
The ES920 is the choice if you're an advanced player or professional. With more advanced hammer action, it feels strikingly similar to an acoustic piano. The extra detail and fidelity in the sounds will also enhance your playing experience greatly. Once again, this is great for gigging, and we have bundles to suit touring musicians and musicians who play at home.
Shop now | Kawai ES110 
Shop now | Kawai ES110 bundles
Shop now | Kawai ES520 
Shop now | Kawai ES520 bundles
Shop now | Kawai ES920 
Shop now | Kawai ES920 bundles