Drum heads are an important part of any kit. They make a massive difference to the kit's sound and feel and, in some players' opinions, they don't receive as much attention from drummers as they perhaps deserve!
A great way to show off your drum shells, the drum head is the cherry on top of your setup. But where do you start? What types of drum heads are out there? Luckily for you, we've put together a handy drum head guide in which we delve deeper into the entrancing world of drum heads.
Drum head history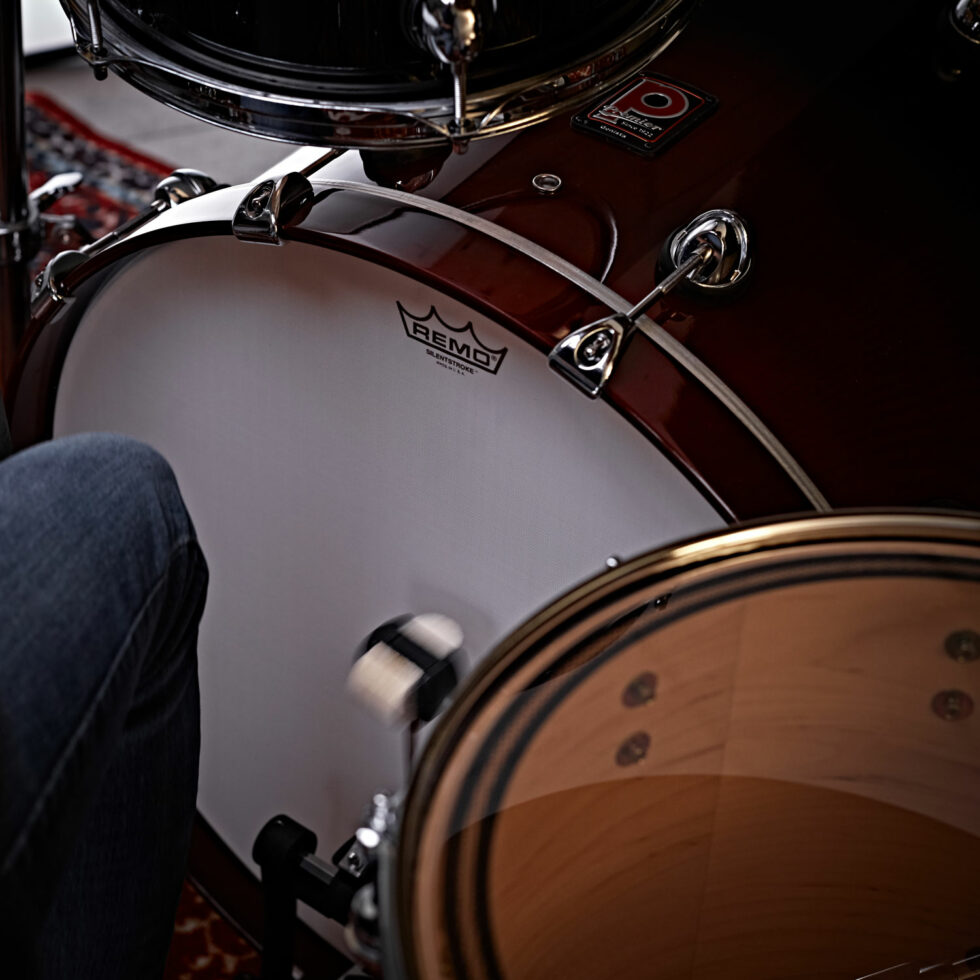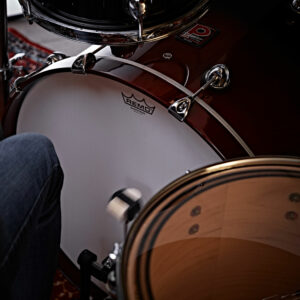 Drum heads have a long history, dating back before records even began. They were traditionally constructed from dried animal hide until 1950 – when one of the major turning points in drumming technology took place.
1950 saw the introduction and development of a form of polyester film called Mylar.
This material was applied to drums when chemical engineer Jim Erwin stumbled upon the idea of creating a durable drum head. Erwin applied the Mylar film to an existing drum hoop and the future of drumming was changed forever. But he wasn't the first to come up with the concept; Jim Grolimund is also noted to have stumbled upon a similar idea regarding the use of Mylar in drum heads.
Another crucial step in the history of drum heads stemmed from the collaboration of Remo D. Belli – a drummer and store owner – and Sam Muchnick – a chemist. With existing drum heads, the main issue was not the durability of the heads themselves but the lack of durability between the head and hoop.
Muchnick took the Mylar head concept and developed a way of using resin to attach the head to the hoop, producing what is claimed to be the first known successful example of a synthetic drum head. This was an improvement on the previous concept of tacking or stapling the head to a wooden hoop.
Similarly, Marion I. Chick Evans invented a new way of securing the head to the hoop with a flexible resin, allowing for slight drum head movement.
Both Evans and Remo went on to specialise in creating drum heads, the first release being the Remo Weatherking. They created two of the leading drum head brands, producing various genre-specific heads and technologies that allow drummers to get the most out of their kit.
So, what options are available?
It's easy to get overwhelmed by the various types of drum heads out there. The variety has certainly expanded since the 1950s! Here we've broken down some of the most popular drum head types and what sets them apart from each other.
---
Single-ply vs double-ply
One of the main features of a drum head is its single-ply or double-ply head. Both deliver different characteristics in both sound and longevity.
As you'd expect, the main difference between single and double-ply is the thickness, with single-ply consisting of one layer of film and double-ply featuring two layers. For this reason, double-ply is more robust, lengthening the life of the drum head. Perfect for aspects of your kit that you use the most, double-ply heads are common on kick drums and snares, although they can be used on any drum around your kit.
Single-ply heads are more suited to toms thanks to their thin construction and tonality. With a thinner construction comes an increased ring, allowing the head to move freely when struck.
This leads us to the second major difference: sound.
Single-ply heads provide a vast number of overtones, a bright sound, and maximum sustain – perfect for music genres such as jazz and pop. Double-ply drum heads, on the other hand, deliver fewer overtones and have a deeper, more controlled sound. They project well-defined attacking sounds and a short sustain – perfect for heavier drum styles such as rock and metal.
---
Coated vs clear
Once you've decided on single or double-ply, the next feature to bear in mind is whether the head is coated or clear. Like the thickness of the heads, the differences between the two are their sound and looks.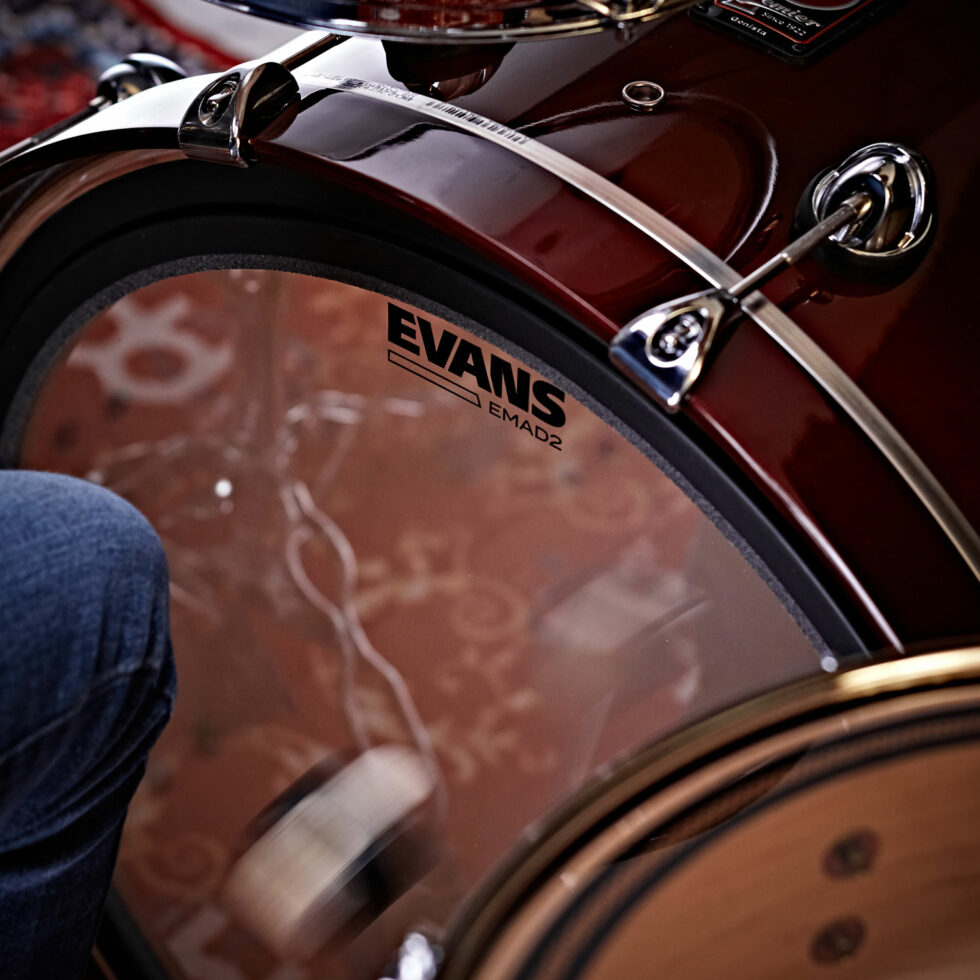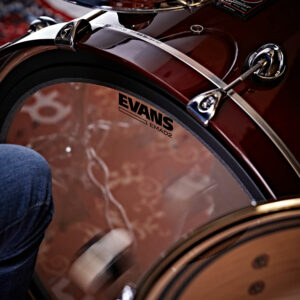 Clear drum heads offer a bright drum sound and optimal overtones, with the untreated layer of film allowing the drum head to ring freely. This produces higher pitched frequencies and boosts the attack of every stroke, meaning greater stick power can slice through the mix.
Clear drum heads are perfect for bass drums. With the drum itself being naturally lower in pitch, the attacking tones of the clear heads provide a nice mix of power and depth.
Drum heads such as the Evans Emad 2 Clear Bass Drum Head deliver a good amount of attack and focus as well as a deep booming bass drum sound.
Constructed from a two-ply 7mil film and an inner 10mil film, the head features an externally mounted, adjustable dampening system. This reduces any unwanted overtones, ensuring a balanced drum sound. Clear heads are great for pop, funk, and gospel.
Coated drum heads, on the other hand, produce a warm yet dampened drum tone, with the coating muffling the sound. Compared to clear drum heads, coated heads create a duller sound with less attack, resulting in a subtle overall sound.
The Evans G2 Coated Drum Head is a perfect blend of depth, sustain, and attack that's well suited to toms.
Most snare drums also work best with coated drum heads as the coating dampens the attack whilst providing an extra layer of protection. An example of this is the Aquarian Texture Coated Snare Head. This head features textured coating for warm tones and an included power dot for extra focus and durability.
Additionally, coated heads work well on bass drums, especially if you're looking to achieve a warm bass drum tone. The Remo Ambassador Coated Bass Drum Head is a good example of this. Its coated single-ply film ensures a warm, open tone with a bright attack – the perfect tonal concoction for a great-sounding bass drum.
---
Add a bit of colour!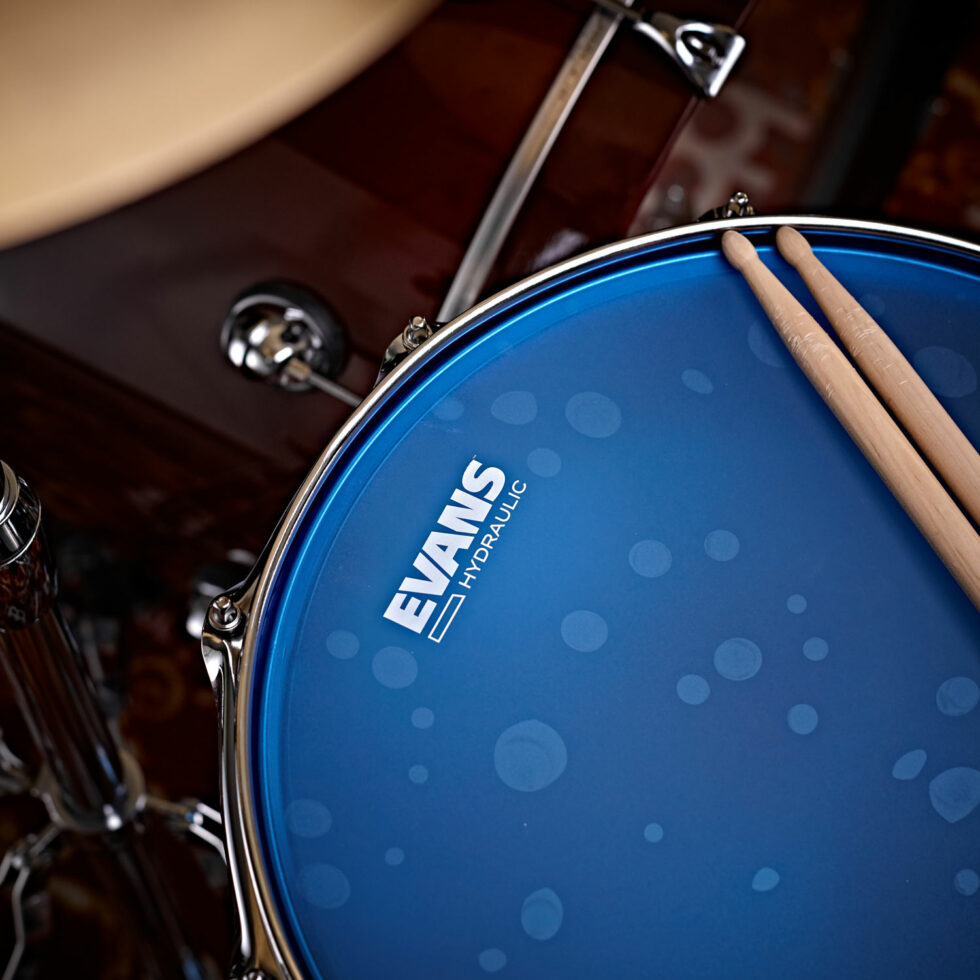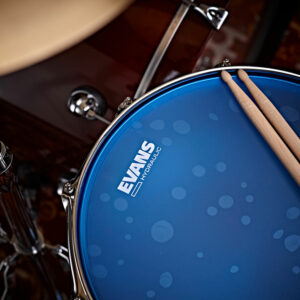 Whilst coated and clear drum heads are the most popular choices, there are many more different types of drum heads – one of the most eye-catching being colour drum heads.
Both Evans and Remo produce different types of colour drum heads.
Evans offer the Hydraulic Red or Blue coated drum head. It offers maximum durability whilst delivering a fat, deep, short, early '70s rock sound. Constructed from a two-ply film, its tone boasts warmth, focus, and depth.
The Hydraulic series is also designed for an easy tuning experience – all thanks to an oil-injected film.
Remo, too, have their own range of coloured drum heads: the Powerstroke 77 Colortone and the Powerstroke P3 Colortone head. The Powerstroke 77 series features two plies of 7mil clear film along with a 5mil dot and a 7mil dampening inlay ring for a powerful yet focused attack.
Conversely, the Powerstroke P3 Colortone drum heads are constructed from a single-ply 10mil film, combined with a 10mil underlay dampening ring. This single-ply drum head injects powerful projection and tone into your playing. Read on to find out more about built-in dampening systems and how they can affect your tone!
The clear construction of the Remo Powerstroke heads makes these a great choice if you want a powerful, bright-sounding kit. And they offer a wide range of colours to complement your drumkit shells.
Evans' drum heads might have a limited number of colours, but they do provide wide tuning capabilities. The Hydraulic drum heads' coated film playing surface is perfect for any drummer who's after a deep, retro vibe.
---
Low volume drum heads
Low volume drum heads are well suited to drummers who want a quiet drum sound. They give you the same playing experience but make less noise – a common request among beginners and professionals. The main advantage of this is you can enjoy almost silent practice, plus, they can be used with electronic triggers and a hybrid drum setup.
Unsurprisingly, low volume drum heads can completely change how you practise, giving you an experience that's as close as possible to the feel of an acoustic drum kit.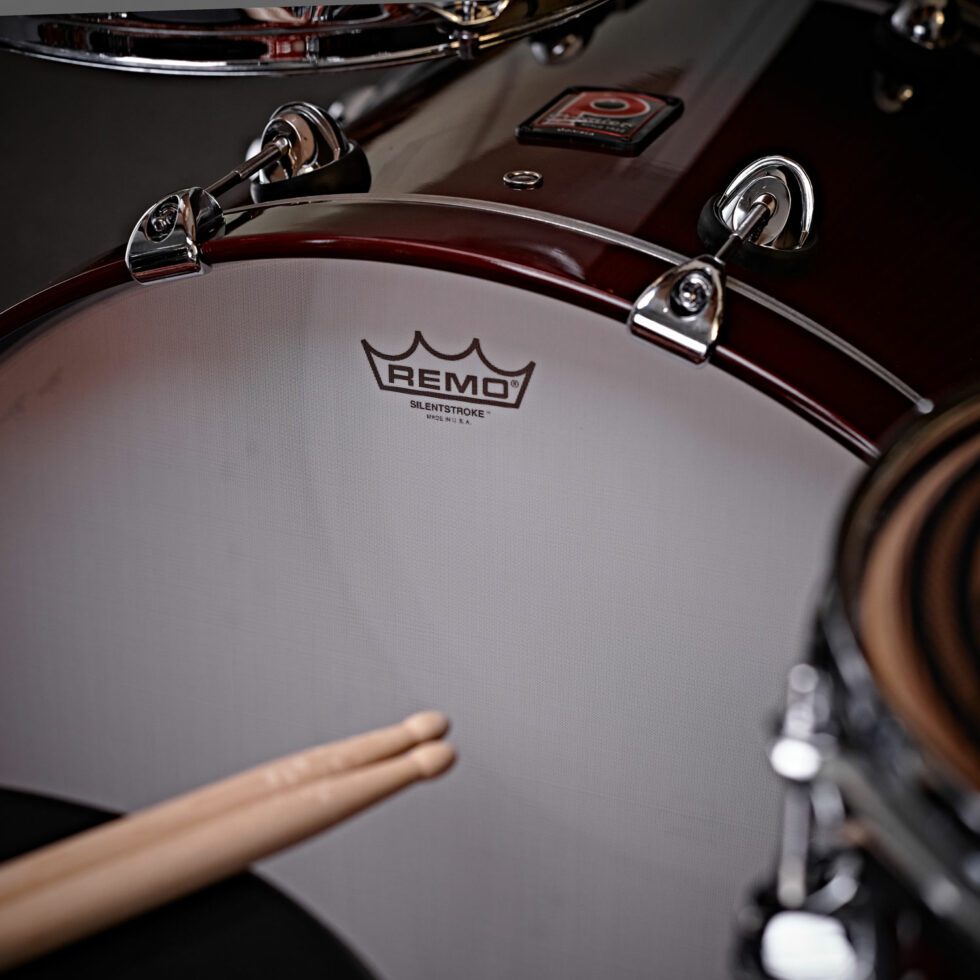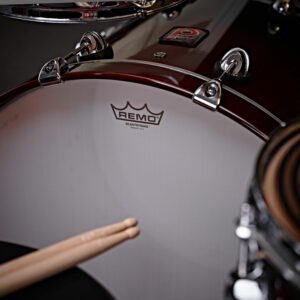 There are many different types of low volume heads on the market, with big names such as Tama and Evans creating their own minimal volume heads.
A standard low volume drum head is constructed from mesh, delivering a realistic yet minimal sound. These head types come with different price points and abilities.
If you're just starting out, look at the hardwearing yet affordable WHD practice drum heads. With a realistic stick-response and spring, these drum heads can be applied to drum triggers and used in general low-volume playing situations.
Another great starting point is the Tama mesh heads. They're woven to provide a realistic playing experience, and they're suitable for use on electronic kits.
Some higher-end low volume drum heads, such as the Remo Silentstroke Drum Head, reduce sound drastically.
The mesh Silentstroke is designed to reduce volume by 70% – enough for acoustic drum tones to be layered with electronic samples. A single-ply mesh film then delivers a soft, springy playing response, so you can achieve an authentic experience.
Possibly the newest and most exciting example of a low volume drum head is the Evans dB One Drum Head. It features the newest form of low volume drum head technology and minimises sound by 80%. Evans have also combined features of regular drum heads, such as impact dots to provide an attacking sound and enhanced articulation.
That's not all. The dB One Drum Head boasts Evans' 'Shockweave' mesh and a kinetic transfer foam construction for minimising unwanted noise.
---
Built-in dampening systems
Some drum heads also come complete with various features to remove sustain, with systems specially designed for minimising overtones. They're constructed with a second layer of film or foam to reduce the ring and drum head resonance.
A great way to achieve sustained drum sound, dampening systems can certainly alter your drum tone an impressive amount. So it's worth bearing this in mind!
Dampening systems include control dots situated in the middle of the drum head. These deliver a sound with less sustain but more attack. For example, the Aquarian Hi-Velocity Snare Drum Head features a thin reverse woven power dot and a two-ply batter head, providing articulate sound with added strength and focus.
Control rings are one of the most common forms of drum head dampener, offering a warmer sound with less sustain and fewer overtones. The Evans Genera HD Snare Drum Head features a 2mil overtone control ring, minimising any unwanted resonance. It also boasts a durable two-ply drum head for added longevity.
Some of the least common built-in dampening systems include inlay rings and felt strips. Both reduce overtones and sustain, whilst offering warm sounds.
What difference do these drum heads make to your sound?
There is no definitive answer to determine which drum heads you should use on your kit. You need to think about the final sound you want to achieve. For example, if you're looking for drum heads to suit a rock music environment then you'll love clear drum heads. This drum head type delivers attacking sounds with a good amount of bite, and a double-ply on the snare and bass drum heads increases durability and warmth.
Depending on what sound you're looking for, it's worth considering whether you want a built-in dampening control dot for added sustained tones. Whilst focused tones suit rock, jazz styles need something more sustained and subtle. Therefore, a coated head with no dampening system would be better.
So, let's look at some drumheads and the genres and tones they suit…
Powerful, attacking drum tones
If you're looking for drum heads to fit a rock music environment, then you'll need durability, plenty of attack, and minimal sustain. To achieve this sound, clear heads would be better suited as they provide a bright tonality with more overtones.
Because rock and heavier music genres rely on power and attack, it's worth considering dampening systems in the form of control rings or control dots. This will allow you to achieve a crisp drum sound with minimal sustain.
For rock, a thicker drum head is advised, especially on the snare and the bass. This provides increased tonality.
Below are a couple of drum heads that suit the genre perfectly.
---
Remo Emperor Clear
The Emperor Clear Drum Head delivers all the attacking tones and projection needed for heavier music genres and harsher drum tones. The two-ply construction maintains optimal durability with the clear film providing ringing, resonant tones. Suited to toms, snares, and bass, the Emperor range is extremely versatile, with its string attack suiting many genres, from hard rock to funk.
Shop now | Remo Emperor Clear Drum Head
---
Aquarian Performance II Clear Drum Head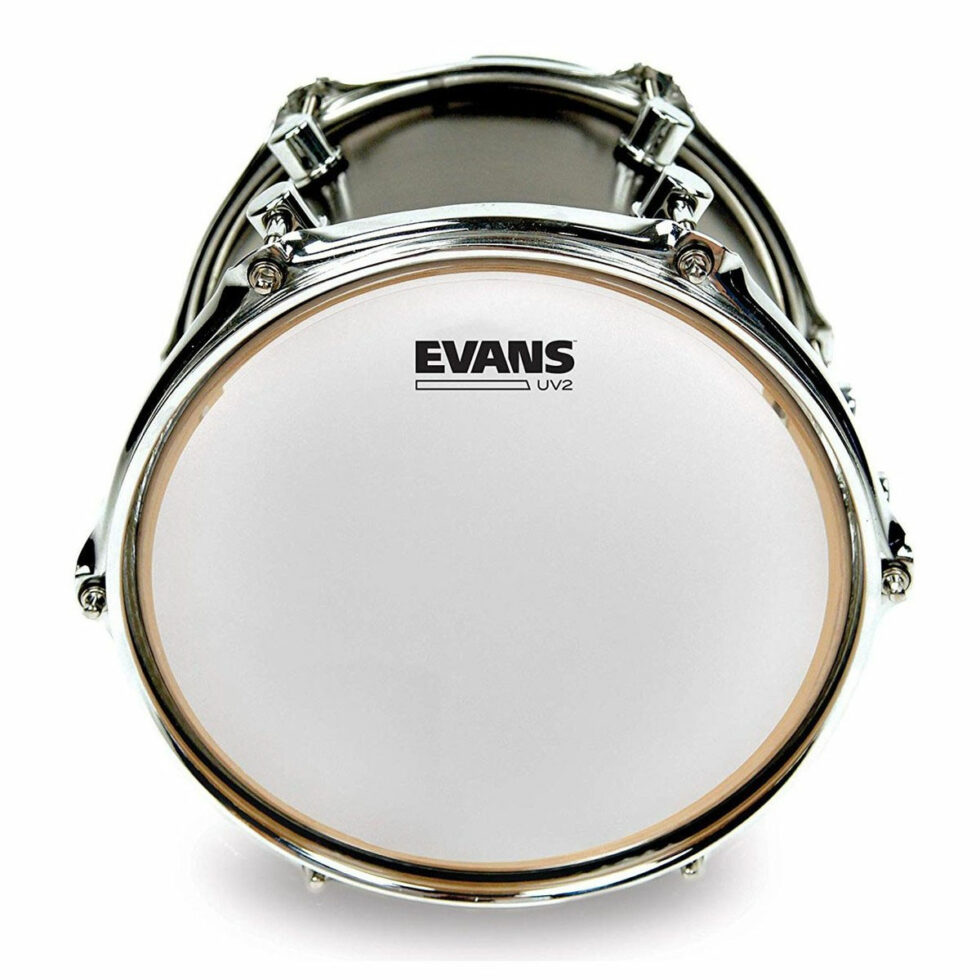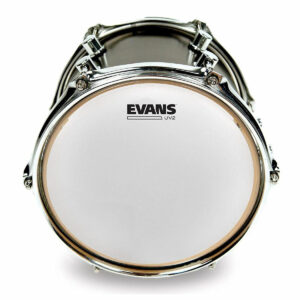 The Aquarian Performance II series is designed to control unwanted overtones whilst enhancing low frequencies. Perfect for rock genres, this drum head delivers a low, fat, punchy tom sound with a great deal of power. The two-ply construction provides hardwearing qualities, excelling in longevity to withstand heavy drum strokes.
Shop now | Aquarian Performance II series
---
Evans UV2 Drum Head
The Evans UV2 Drum Head provides various tonal characteristics associated with rock and heavier music types. This drum head features two plies of 7mil film, ensuring an enhanced level of playing longevity and durability is added to the drum. The UV-cured coating then brings warmth to your sound for a more attacking tone.
Shop now | Evans UV2 Drum Head
---
Evans Power Centre Reverse Dot Coated Drum Head
This drum head from Evans is a great way to achieve focused tones. The focus dot is situated on the underside of the drum head and it provides a certain amount of drum resonance, allowing the drum head to ring with crisp tones. What's more, reverse dots bring an added layer of durability to the drum head.
Warm, attacking tones
If you're looking for a pop drum sound, you may want a bright tone with medium sustain and warm characteristics. A single-ply head thickness offers this. The thinner the drum head, the more response and sensitivity are achieved. Clear heads will also suit the genre better as they provide an open-sounding tone.
---
Remo Diplomat Clear Drum Head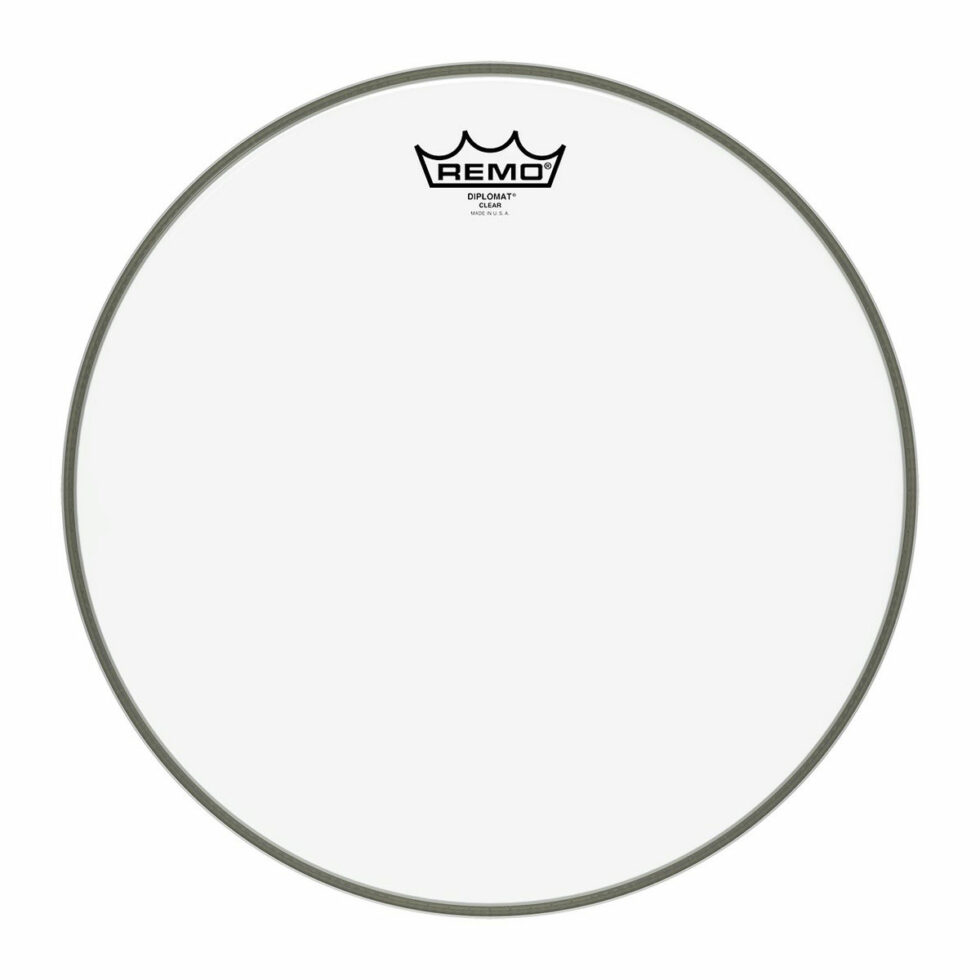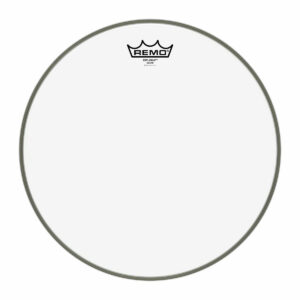 This drum head offers a varied range of open drum tones and is suited to toms due to its thin construction. The one-ply of 7.5mil film construction delivers an impressive amount of clarity and sustain to ensure every drum stroke is heard.
One of the main reasons this head suits pop music is the bright tonal characteristics that it carries.
Shop now | Remo Diplomat Clear Drum Head
---
Evans G2 Coated Drum Head
Perfect for use on the snare drum, with two plies of 7mil film, this head is exceptionally durable – which is what you need for any snare drum. The G2 Coated Drum Head offers a blend of deep tones and sustain for a powerful drum sound, a range of pitches, and easy tuning features in the form of Evan Level 360 technology.
Shop now | Evans G2 Coated Drum Head
---
Evans UV1 Coated Drum Head
The UV1 Coated Drum Head provides a great deal of durability. With the UV-cured coating, an extra layer of protection is given to the drum head. Plus, it delivers warm tonal characteristics that are suited to pop music. The 10mil single-ply offers resonant tones that ring out – perfect for toms.
Shop now | Evans UV1 Coated Drum Head
---
Aquarian Deep Vintage II Drum Head
A great way to achieve a deep drum sound, the Deep Vintage II delivers minimal loss of resonance, ensuring that optimal ring and reverberance are achieved. The 10mil two-ply head construction and vintage coating then provide a warm tone, minimising the vibration of the drum head. Its thickness ensures optimal longevity.
Shop now | Aquarian Deep Vintage II
Warm, subtle drum tones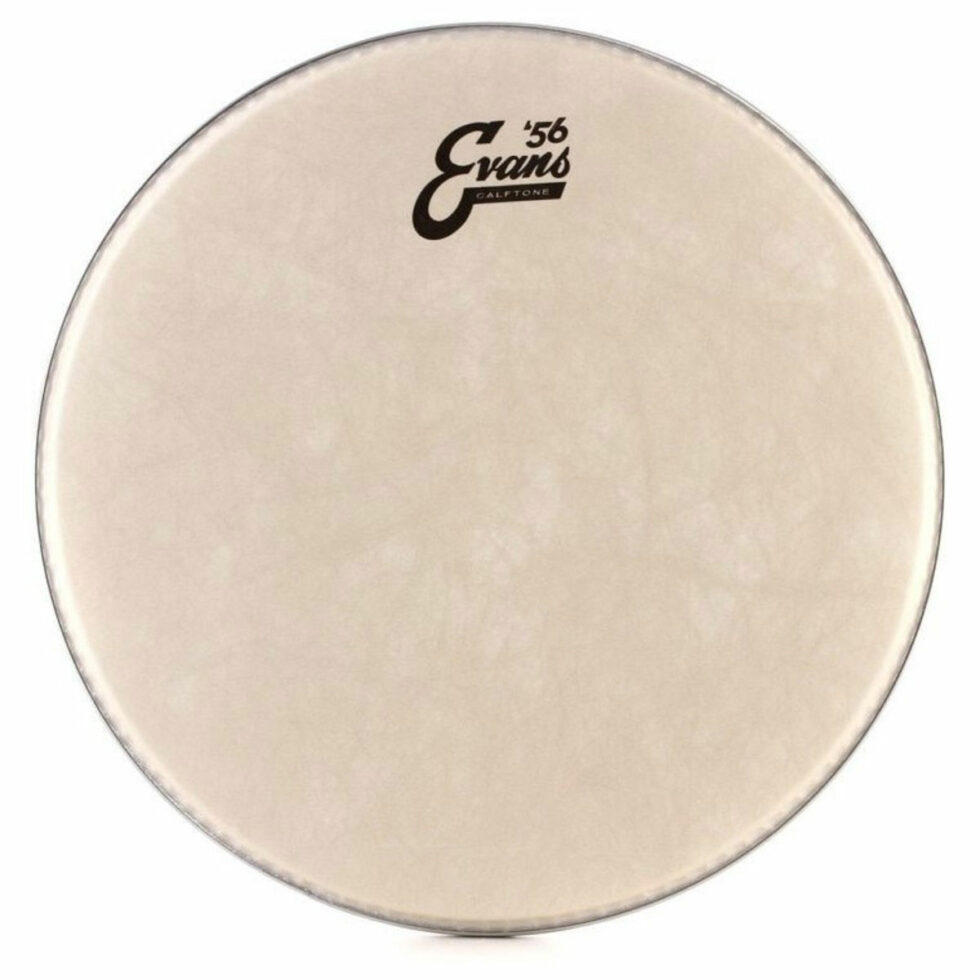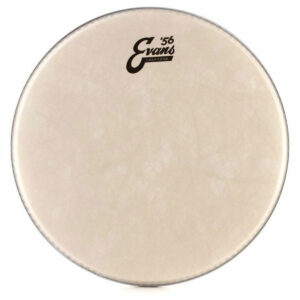 If you're looking to achieve a jazz drum sound, there are multiple characteristics to look out for.
Jazz playing works well with coated heads as they provide minimal sustain, whilst a thin single-ply drum head delivers the bright tones needed. Jazz requires playing sensitivity and response. This is due to the fact that jazz isn't a heavy-hitting genre – it's full of gentle feathered notes either on the bass drum or the rest of the kit.
---
Evans 56 Calftone drum heads
Constructed from a 7mil Mylar base, these drum heads offer a warm, rich tone that is perfectly suited to jazz music. The thinness of this head delivers high-pitched drum tones, whilst the overall construction ensures a sustained drum tone. Suited to every part of the kit, the Calftone drum heads easily fit into jazz and orchestra situations.
Shop now | Evan 56 Calftone
---
Aquarian DeJohnette
Perfect for jazz music, the single-ply Aquarian Jack DeJohnette projects focused tones, whilst the thick coating delivers a dry drum sound. This dry sound suits jazz music incredibly well, minimising the number of overtones. The single-ply thickness also maintains a bright drum sound.
Shop now | Aquarian Jack DeJohnette
What other features do I need to consider?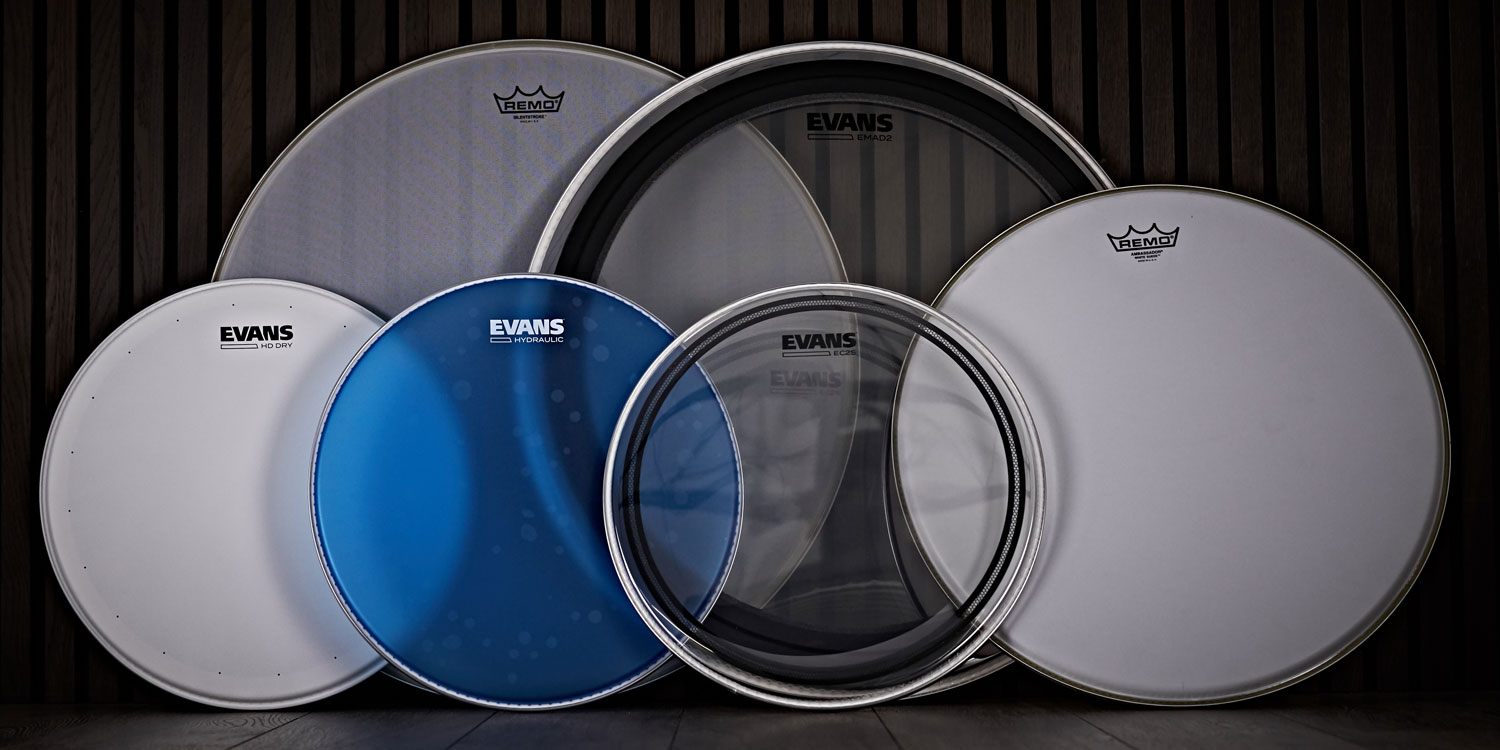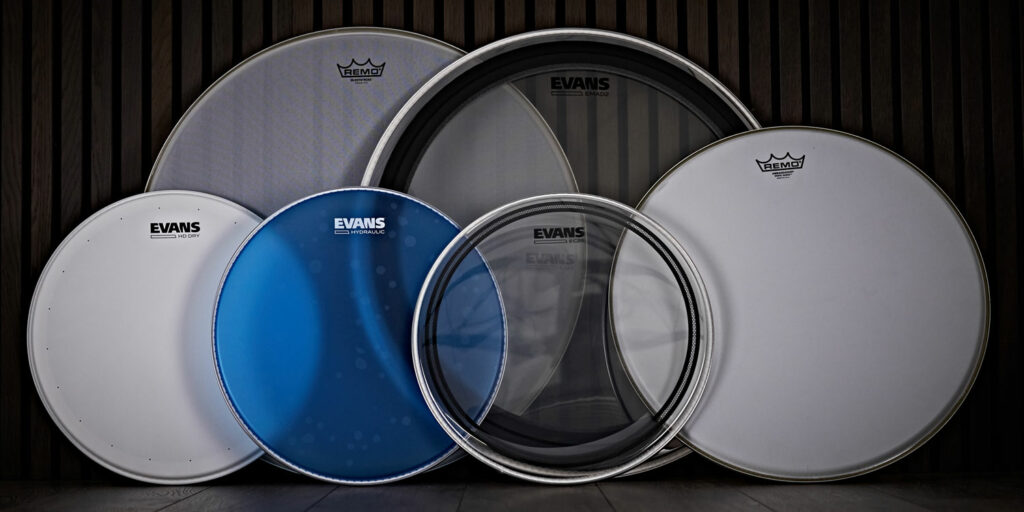 So, you have an idea of what drum head you're looking for. The next step is to assess genre and size.
If your drum head is going to be used for multiple music genres, it's a good idea to choose a head that's versatile and sits between the characteristics of various music styles. You'll also save money and time as you won't need to constantly change your drum heads.
Additionally, drum heads and shells come in a range of sizes, so it's vital that you know what size to look for.
In a nutshell, drum heads can drastically alter your drum sound, providing both tonal possibilities and hardwearing qualities. Every drum head is designed to help you get the most out of your kit whilst delivering the power required for your playing. They're the perfect way to tailor your own individual sound and they've come a long way since the early creation of synthetic heads.
Find out more
Now that you're aware of the various drum heads out there and how they can affect your tone, check out our range of drum heads and achieve your unique sound!