FL Studio is a great user-friendly DAW. Whether you're just getting started or you're a seasoned producer, its intuitive layout, deep editing options, and great-sounding effects make it a strong competitor in the music production arena.
Novation's innovative new FLkey series is built to be both a MIDI keyboard and a DAW controller all at once.
Since this is the world's first MIDI keyboard designed for total integration with FL Studio, could it be the beginning of a new breed of MIDI controller? In this guide, we'll dive deeper and see how the FLkey functions and how it can make your workflow quicker and easier.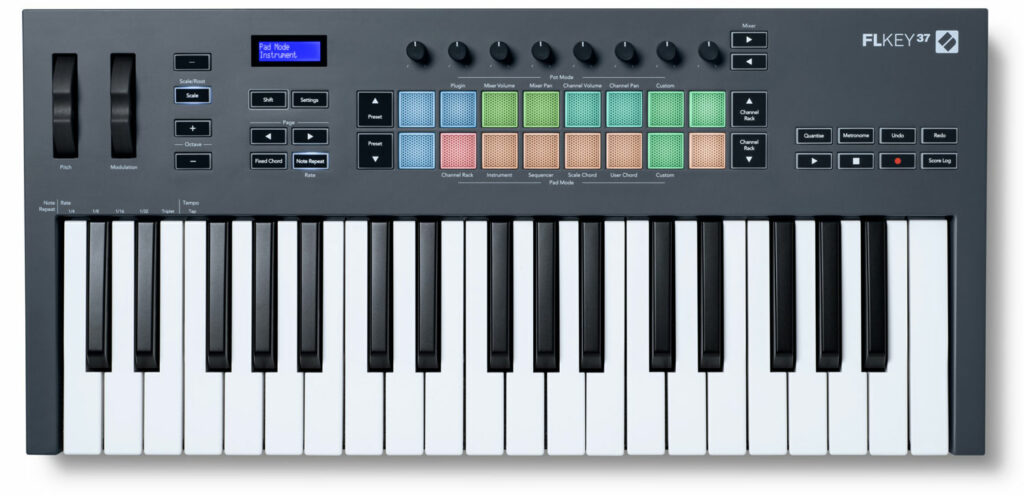 Overview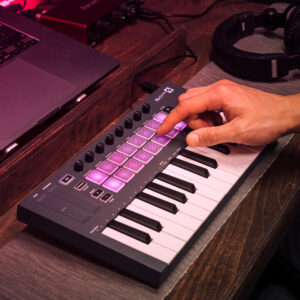 To start with, let's take a look at the basic functionality of the FLkey controllers.
Novation's FLkey series offers a more compact FLkey Mini with 25 miniature keys and the FLkey 37 with 37 full-sized, semi-weighted keys. Both are designed for smooth, easy use as a DAW controller and keyboard in one.
Whichever model you go for, you'll have DAW transport controls for scrolling through tracks, triggering recordings, or playing your session from a set point.
Each of the FLkey keyboards provides 16 velocity-sensitive pads. They allow you to select different control modes to interface more directly with your DAW, especially when combined with the eight rotary encoders that sit above them.
The pads trigger samples in FPC, SliceX, or Fruity Slicer in instrument mode and record these sounds for a more human, live tone.
You can then combine these with FLkey's Channel Rack Sequencer to build your drum beats from scratch. Or you can write chords, bass lines, and melodies from your favourite synth plugins.
Whichever genre you prefer, having the ability to sample, chop, and sequence without your keyboard or mouse makes production so much faster.
A change in pad modes also offers access to plug-in parameters in Sytrus, Harmor, and SliceX. This allows you to adjust synth sounds or samples naturally. You can alter filter cutoffs, resonance, envelope parameters, or scroll through presets in any of these FL Studio native plugins in an instant.
FLkey Mini or FLkey 37?
So, with some of the basics covered, and before we dive any deeper, let's cover some of the differences between the two MIDI keyboards…
Keybeds
The FLkey Mini comes in at a slightly lower price-point, which means sacrificing some of the more advanced functionality but gaining a great deal of portability.
As expected, the main difference between the models is the keybed itself. The Mini has 25 miniature keys, as opposed to the 37's full-sized, semi-weighted keybed.
For more experienced players who prefer full-sized keys or need access to those extra notes, the FLkey 37 is the way to go.
However, if space is an issue, or you need a portable setup, the FLkey Mini is the ideal compact companion.
Both keybeds have velocity and channel aftertouch, allowing you to use them expressively with your favourite software or hardware synthesizers.
Connectivity
While most of the other features between the two keyboards are identical, the FLkey Mini outputs MIDI through a 3.5mm jack. This means you'll probably need a jack to 5-pin MIDI adapter if you want to control hardware synths or modules or route MIDI via USB.
By comparison, the FLkey 37 interfaces more easily with full-sized hardware synths or modules thanks to its 5-pin MIDI output jack.
Whichever keyboard you choose, the ability to use MIDI control over your synthesizers, and your DAW over USB, makes the FLkey series great for speeding up your workflow.
Control Options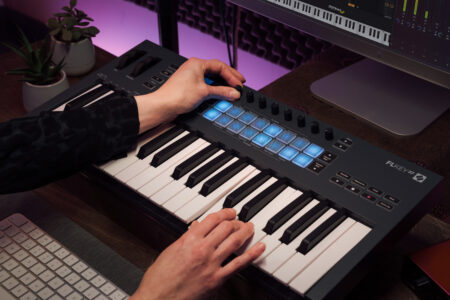 Another difference between the two keyboards is that the FLkey Mini doesn't share its bigger sibling's screen functionality, which is used to give feedback on what mode you're controlling.
The screen is very useful, especially if you're trying to keep track of a larger session.
However, the absence of the screen doesn't remove any control options that you would otherwise use. So, if you're running smaller sessions, or produce on the go, this might not affect your decision too much.
The FLkey 37 also has extra DAW transport controls, full-sized pitch bend and modulation wheels instead of the Mini's touch-sensitive strips, more in-depth options for scale mode, and three chord modes.
Mixing with FLkey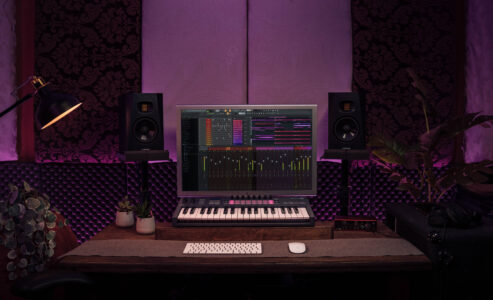 So far, we've discussed how the FLkey is great for creative production, MIDI control, and sequencing. But what about its abilities in other processes?
Both FLkey controllers provide you with the ability to adjust volume and panning of each channel in FL Studio's mixer section.
However, FLkey 37 allows you to pre-mix, using level and pan controls on the channel rack before you dig into the mixer section.
This is great for balancing any of your sequenced groups, like synths, samples, or drums, before processing with EQs. It also helps you balance them better against recorded sources like guitars or vocals.
This enables you to set out a rough mix before precisely finishing your mix.
Since the FLkey offers full control over all of the Image Line plug-ins that come with FL Studio, you can easily use the encoder parameters to control your key mixing tools. These tools include things like reverbs, delays, chorus, compressors, stereo tools, and EQs.
Sequencing with FLkey
One of the main strengths of FL Studio is its advanced sequencing functionality, which is a partly why it's so popular with beatmakers and music producers. The FLkey series takes full advantage of this power, and makes it even easier to lay down melodies, chords, samples, and drums.
Not only can you quickly arrange your sounds using the FLkey's pads per step, but you can also help them breathe and flow dynamically. Holding any specific step on your selected Channel Rack sequence will allow you to adjust per-note parameters like velocity, pitch, panning, swing, modulation, and time shifting.
All 16 pads on both keyboards are velocity sensitive. So, if you'd like to try a more performative approach, you can easily use them for smooth finger drumming. Then, refine them in the Channel Rack to make sure it all sounds exactly how you want it.
Software included
Both FLkey keyboards come with a range of bundled software that make for great additions to any beginner or intermediate producer's toolkits.
From software instruments for creative musicianship and performance to useful mixing tools, this set really covers all bases.
Firstly, both come with a free six month trial of FL Studio Producer Edition, which unlocks several features of FL Studio. It includes more advanced editing functionality, recording of external instruments, and gives you access to FL's SliceX sampler and Edison audio editor.
Software instruments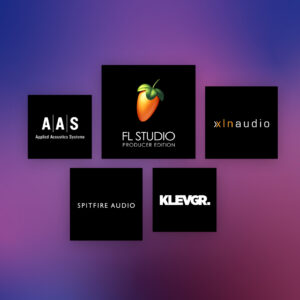 Novation have equipped the FLkey with a choice of:
This offering of software instruments covers a wide range of bases for you to take advantage of, so you can sit at your FLkey and feel inspired to write.
Audio effects
Included for the mixing and sound design process, Klevgrand have bundled two of their effects plug-ins, perfect for creative sound design or mixing.
Their R0Verb offers a unique blend of reverb and delay. This is a simple room reverb with 50 different delay lines. You can control time, volume, pan, and filtering all at once, perfect for adding space to your tracks or creating distinctive atmospheres.
Better still, there is also DAW Cassette. This is a tape emulation, perfect for adding a subtle hint of tape saturation for a more organic sound, some pitch wobble for synth pads, or blown-out lo-fi distortion.
FLkey tips and tricks
We've covered the main functions of FL Studio and the FLkey keyboards, and how they can be used together. Let's combine these with some more general production tips so you can really take advantage of FL Studio and FLkey's joint functionality.
When using FLkey 37's Fixed Chord mode, it can be easy to go out of scale, since you're playing a set pattern of intervals up and down the keyboard. To avoid this, activate Scale Mode and your notes will automatically stay in key.
You can use FLkey's Note Repeat function with the pads to quickly make drum fills. This is great for trap hi-hats, intense snare rolls, or that classic synthpop drum machine sound.
Since FLkey's encoders can be assigned to specific plug-in parameters, it's easy to create unique soundscapes and interesting effects automations that impact multiple parameters at once. Add Fruity Reeverb on a synth sound and use the encoders to change the effect's level and filter over chords. You can effortlessly achieve some evolving ambience.
A great trick for adding impact to your beats is by subtly dropping the volume of the pre-chorus or build-up. Take this a step further by using the EQ to filter out highs and lows, and then bring them back in for an enticing crescendo. FLkey's automation make things a little more dynamic and natural.
Fruity Granulizer is fantastic for achieving some unique sounds, but have you tried adjusting grain position or length as your song progresses? Try this with the FLkey encoders – you can add subtle movement or completely change your sound, depending on what you want.
Try and EQ less with your eyes and more with your ears. The FLkey can help facilitate this if you use the encoders for control over your EQ bands. Cutting and boosting bands while keeping a focus on what your hear is much easier with some hands-on control, and it might help you get some more polished mixes.
The Channel Rack Sequencer's per-note parameters include Shift and Swing, which add a slight time offset to samples. This is excellent for making quantised MIDI and, particularly, drums, feel more organic and human. Use this with FLkey's step editing functionality, and you can make any pattern in your production feel less robotic.
Find out more
Still got some thinking to do? Or are you tempted by the Addictive Keys license and curious about which model has the sound you want? Have a look at the Novation FLkey for yourself and see which is right for your studio!