Practice pads are a great way to perfect your skills on the go with minimal volume. In fact, every drummer can improve their playing by spending a few hours on the practice pad a week. And yet despite this, practice pads are one of the least talked about drumming essentials.
So, we've created this handy guide on practice pads to help you find the best pad for you. We'll cover a range of features from materials, size, and practice type, whilst providing an insight into why practice pads are important to any drummer.
Where to start…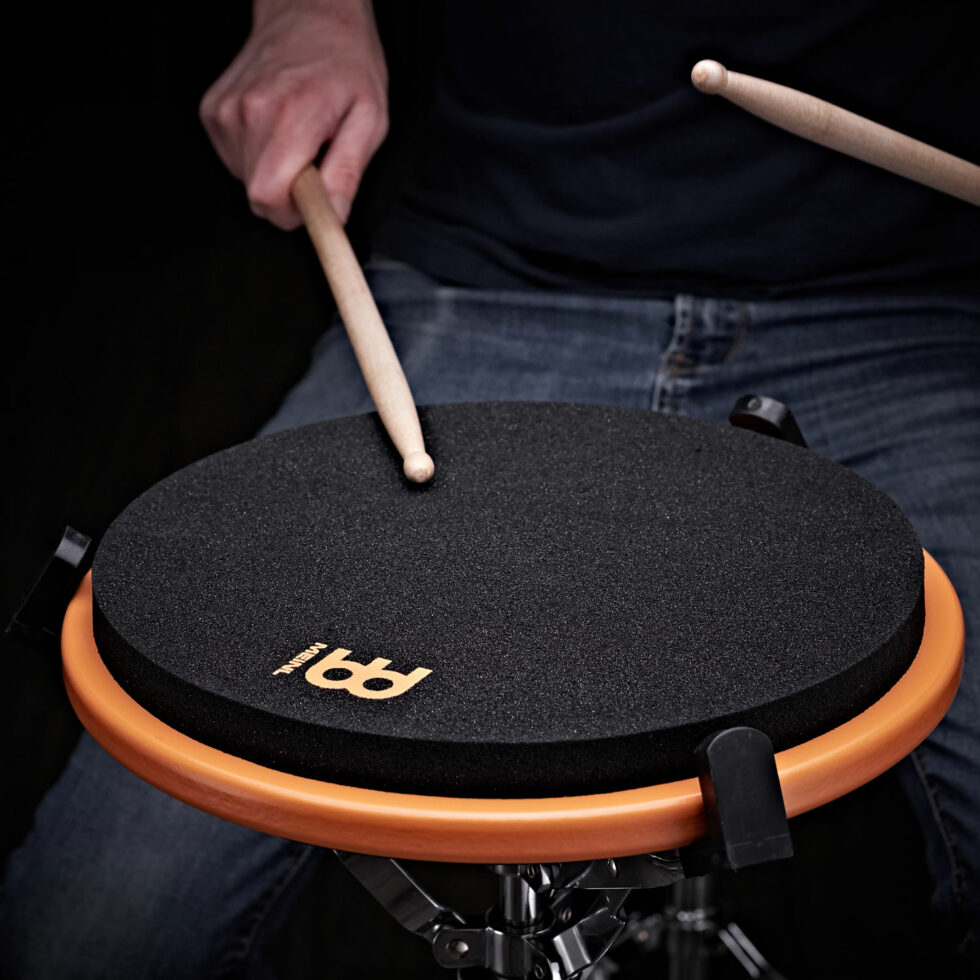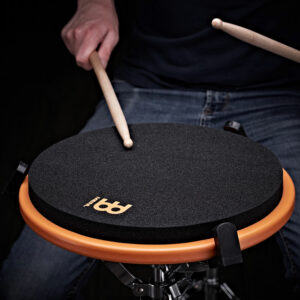 Perfect for improving technique, practice pads typically consist of a solid wooden base, covered with a dense playing surface. This surface can be constructed from various materials (which we'll explore further in this article).
The main aim of a practice pad is to replicate a standard drum, giving the drummer a resistant surface to strike. Designed to help drummers practise and improve their drum rudiments, performance pieces, and playing technique, practice pads are a convenient addition to any drummer's arsenal. And to make life easier, they either sit on a tabletop or secure to a stand.
Practice pads enable you to learn the fundamentals of a rudiment, allowing you to focus solely on hand movement as opposed to the sound of your playing.
Using a practice pad with a metronome can be extremely beneficial, as it gives you the quiet tone you need to hear and feel the metronome. This allows for correct technique whilst ensuring your drumming is smooth and, most importantly, in time.
Improving technique is crucial for any drummer regardless of discipline. The correct technique prevents injury and strains by ensuring the player moves freely and safely.
You can also use practice pads for the important task of warming up, whether this is before a rehearsal or a gig. The easy transportability and low volume of a practice pad mean you can take it on the road with you, without getting in the way of any of your bandmates backstage or onstage.  So, you can warm up with some doubles or even push the boat out with a triple paradiddle and you won't disturb a single person.
What size practice pad should I get?
Practice pads come in a range of different sizes, from 4'' to 14''. Each diameter has its pros and cons, and below we break down some of the differently sized pads and what they can bring to your practice.
---
Smaller practice pads
If you're wanting a practice pad that will easily fit in your cymbal bag or a pad that utilises minimal tabletop or storage space, a smaller diameter is recommended.
A 6'' practice pad can provide the perfect balance between a reasonable playing surface and an easily transportable pad.
However, a small playing surface can affect some drummers' playing comfort and they can be difficult to mount on a stand. But it's worth noting that the 'downfall' of a minimal playing surface can be turned into a positive – it enhances your rudimentary accuracy and drum strokes. They're also a great choice if you're limited in space and want to travel light.
Although small in size, they deliver a decent practice experience and are great for tabletop use.
---
Medium-sized practice pads
An 8'' practice pad offers all the benefits of a smaller practice pad combined with the positives of a larger playing surface. Medium-sized practice pads can easily fit inside a bag and are perfect for casual drummers and professional drummers alike.
They deliver a decent surface area to practice your rudiments at a comfortable stick distance. The slightly bigger size also means that, although the pad doesn't take up too much space, it offers a noticeable increase in the playing surface.
---
Large practice pads
Large practice pads provide the largest playing surface, replicating the feel of a real kit. They're designed to give you an almost-realistic experience as well as provide ultimate comfort. Plus, thanks to the size, the pad can easily attach to a snare stand.
However, one of the downfalls of a larger practice pad is that transportation is a little harder compared to smaller sizes, weighing more and taking up more room in your bag.
What do the different pad materials mean?
The material of a practice pad is one of the most important parts of its construction. It determines how realistic the playing feel is whilst affecting the rebound.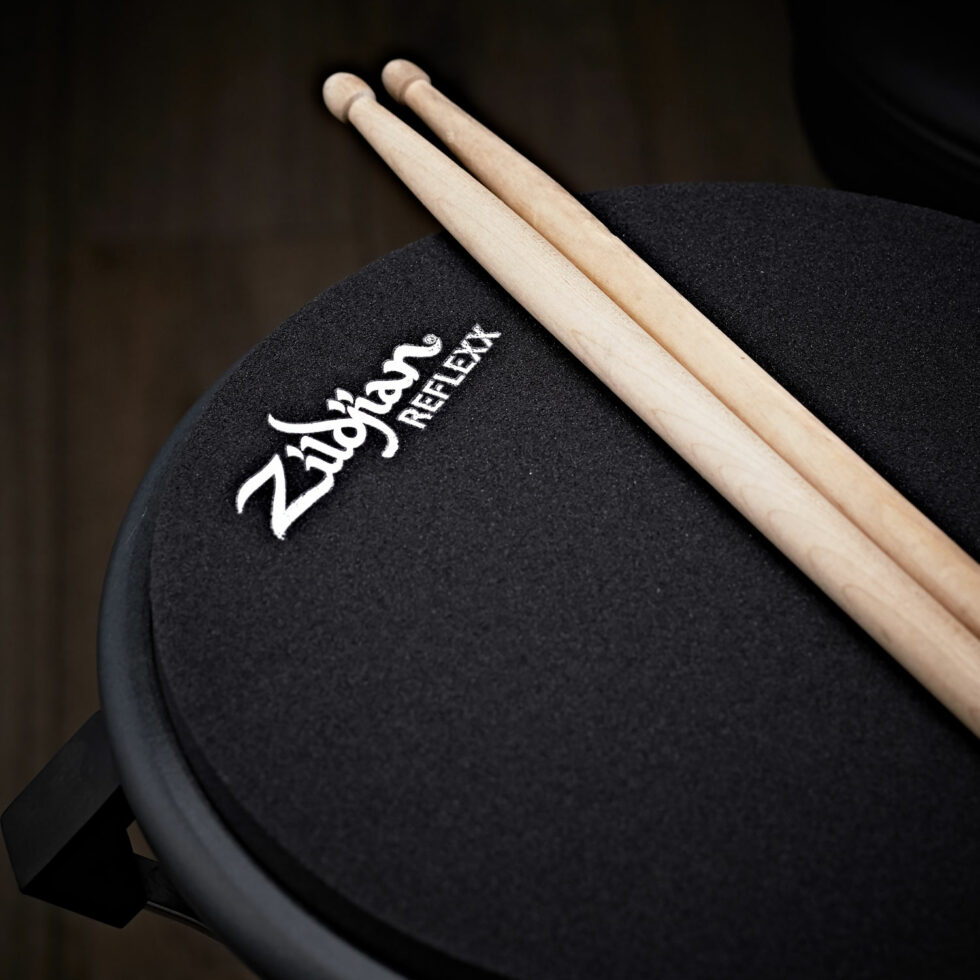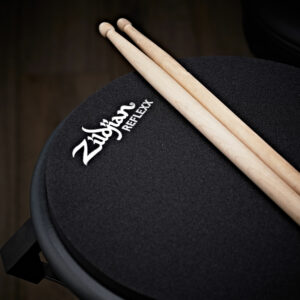 Practice pads feature various materials and textures, all of which can help you with different aspects of your playing. The most common practice pad material is rubber, although there are many different materials available, each with its own qualities.
When choosing a practice pad based on the material, it's worth bearing in mind how many rebounds you are wanting to experience.
Practice pads with a fast rebound are perfect for drummers looking to improve their stick control, these pads tend to be made from hard materials such as rubber and plastic.
Ones with minimal rebound are great for any drummer looking to improve their playing strength, with the small amount of rebound requiring the player to use more strength in every stick note. If you're looking for minimal rebound practice pads, a foam-based material is the go-to choice.
---
Rubber practice pads
Rubber practice pads are the most common type of pad. They offer a medium rebound and a comfortable playing feel.
The general sound created by the pad is dull. But rubber practice pads do allow you to differentiate between accents and dynamics, which is a great way for you to perfect those accented paradiddles. Rubber's dynamic sound also helps you to hear the rhythm of each rudiment and hit, meaning you can replicate patterns you would normally achieve on a regular kit.
---
Hard plastic practice pads
Hard plastic practice pads are perfect for any drummer looking for a pad that requires plenty of sound control. The hard surface creates an incredibly quick rebound whilst the high pitch of the plastic makes it difficult to accentuate your strokes.
This material really tests your dynamics, forcing you to exaggerate the harshness of drum strokes to achieve a different tone. Hard plastic practice pads will help your dynamic play and are a common choice of pad type among marching drummers.
---
Mesh practice pads
Mesh drum pads are designed to deliver a realistic playing feel, providing a life-like playing response with a livelier rebound and resistance.
The mesh pad type is designed to replicate a standard drumhead, providing a springy rebound.
This, in turn, delivers a comfortable playing experience, reducing the amount of shock received from each drum stroke.
One of the main positives of mesh drum pads is their lightweight feel.
---
Foam practice pads
Foam pads provide minimal rebound to your drum strokes. With a medium-fast response, foam is certainly easier on your hands, absorbing the shock from each stroke.
They're perfect for drummers looking for a versatile drum pad with lightweight qualities. And they're ideal if you just want a quick warm-up or practice as opposed to a realistic playing feel. The medium-fast response of these pads makes them perfect for any drummer looking to improve their sticking and technique as well as muscle endurance.
What are the different types of drum practice pads?
Drum practice pads come in many different forms and each is designed for different aspects of your playing.
The most common type of pad is the tabletop drum pad – but there are plenty of other drum pads on the market, with various features to bring the most out of your practice regime.
---
Wearable practice pads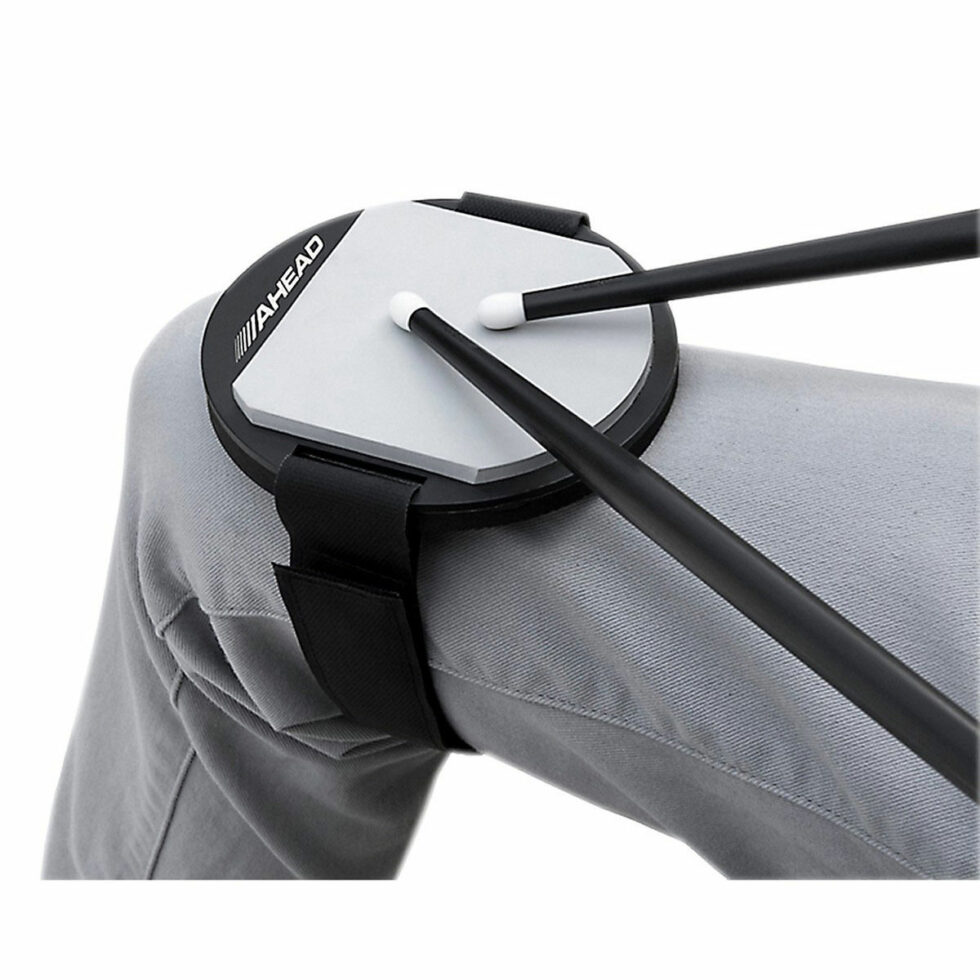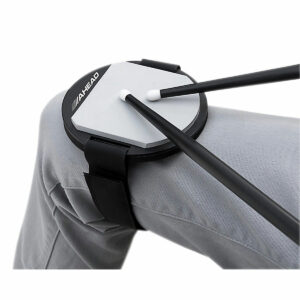 The first type of practice pad less commonly seen are wearable practice pads.
Similar to tabletop pads these practice pads are the same shape but instead fix around your knee, allowing for quick and convenient practice.
The Meinl Kneepad and Ahead Strap On Leg Practice Pad are good examples of wearable practice pads and are great alternatives to the traditional tabletop pad.
They're incredibly handy for drummers with little space and no guaranteed playing surface to rest their practice pad.
These pads can easily suit beginner and intermediate drummers looking for a secure and sturdy way to practise when and wherever is convenient.
---
Double-sided practice pads
Double-sided practice pads usually feature two different rebound strengths, one side with a high rebound and the other side with less rebound.
This is designed to provide a varied practice experience with one side used for warming up and the other side used for practice.
These types of practice pads are ideal for intermediate players looking to push their practice regime and improve their playing strength and stick control.
Double-sided practice pads tend to be constructed from rubber and hard plastic, which delivers the difference in playing rebound.
The Vic Firth Double-Sided Practice Pad is a perfect start for beginner players with an affordable price tag and compact size. This practice pad will easily enhance your playing, presenting a soft rubber side for minimum rebound and a hard rubber side for a quick rebound.
Similarly, the Realfeel by Evans 2-Sided Practice Pad is a great choice for intermediate players, with a choice of hard plastic for a quick rebound or solid rubber for a medium rebound.
---
Practice pads with metronomes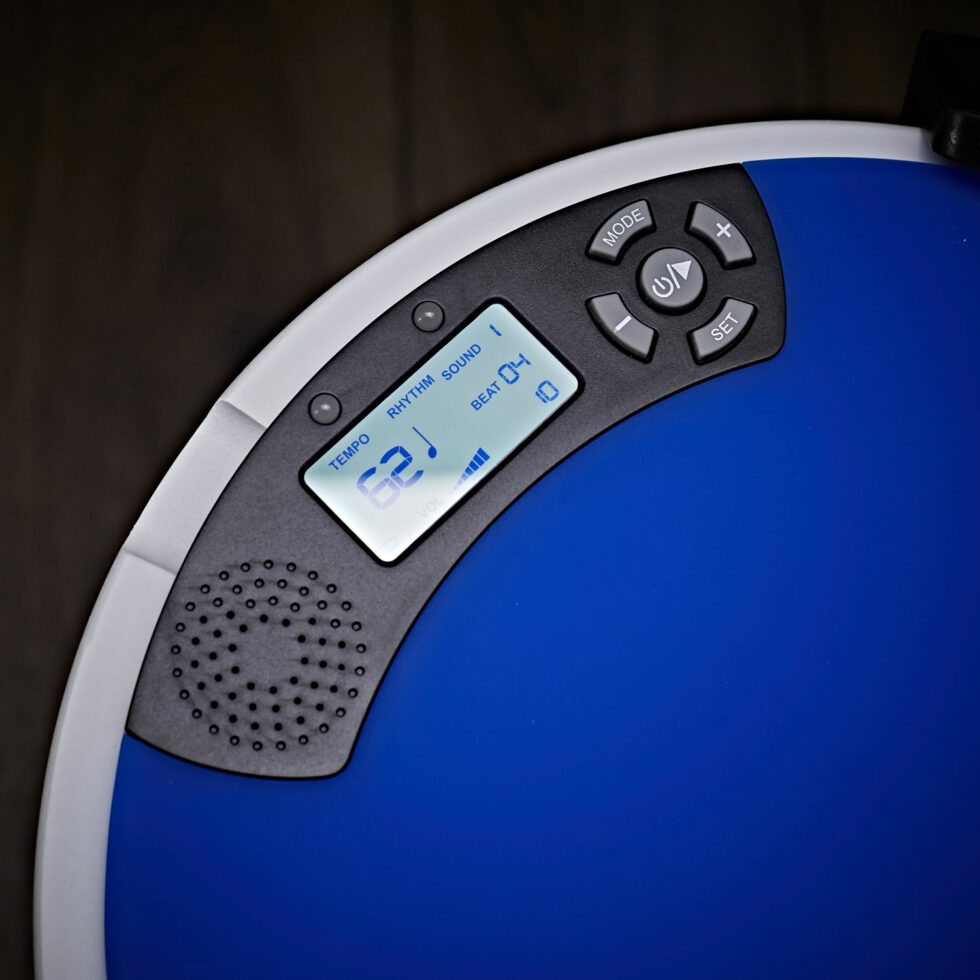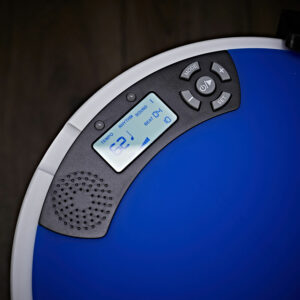 Practice pads with built-in metronomes are perhaps one of the handiest and technique-focused types of pads.
They allow you to both practise and stay on time.
Whilst practising, a metronome is always recommended, and yet it's something that's often overlooked.
With a metronome built into your practice pad, forgetting your metronome is no longer an issue.
Some built-in metronomes also allow for easy control over the metronome sound, timing, and type of note. This enables you to fully hone your practice sessions, and our top pick is the WHD Metronome Practice Pad.
The pad is made from silica to produce minimum rebound, whilst the metronome features different sounds and metronome timings.
---
Practice pad kits
Practice pad kits are a recent trend, specifically among touring drummers.
Delivering every aspect of a normal kit in practice pad form, these are kits designed for warming up before a gig and for low-volume practice. With a standard full kit setup, the realistic sizing of the kit allows you to fully move around the kit as you would when playing a real drum kit. It's also great for general practice.
Whilst more expensive in price range compared to a standard practice pad, these kits certainly offer a high-quality practice experience.
One great example is the DW Drums Go Anywhere Practice Pad Kit whilst the Tama True Touch Practice Kit combines practice pads with a standard drum setup for an incredibly realistic experience.
Although a practice pad drum kit wouldn't give you the full sound and playing experience as a real kit – nothing beats it! – they can still be used for practising grooves and fills, allowing you to focus on the general positioning of your playing.
One of the main benefits of this is the minimal sound it produces. Small in footprint,  this type of practice pad kit would suits both stationary and touring uses thanks to its large size and ability to replicate the layout of a full drum kit.
---
Kick pad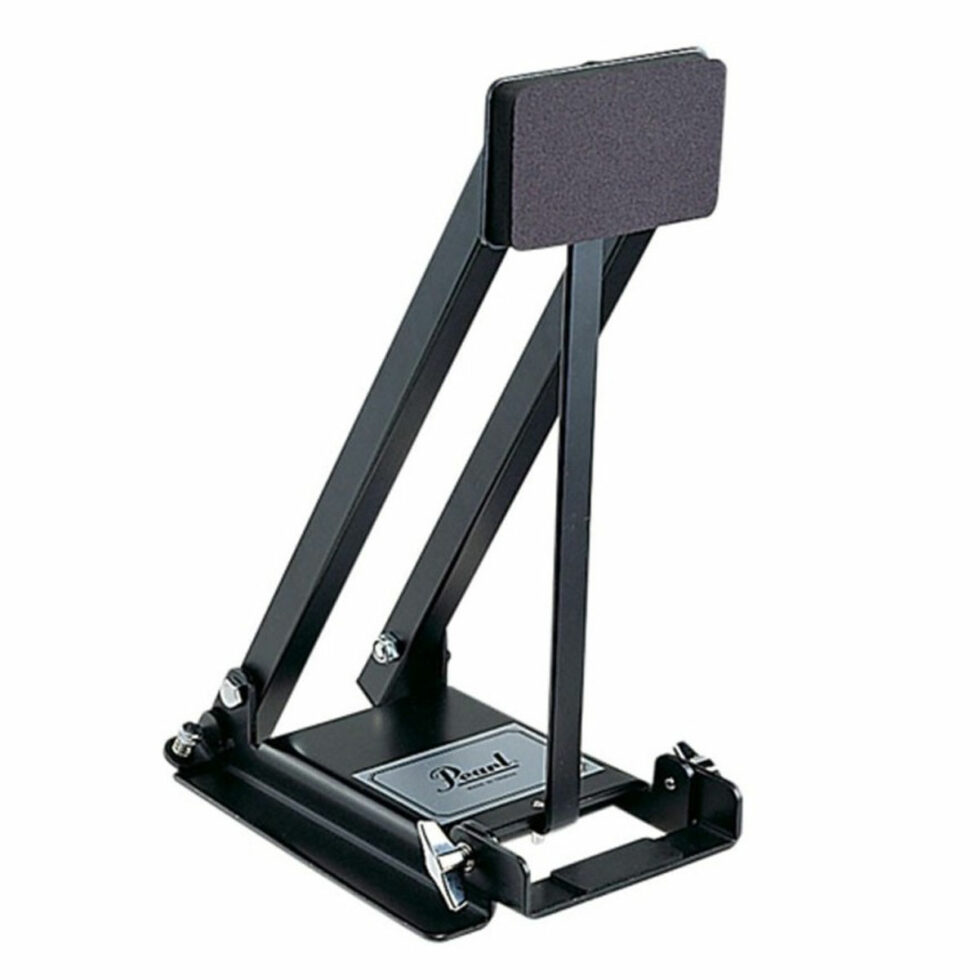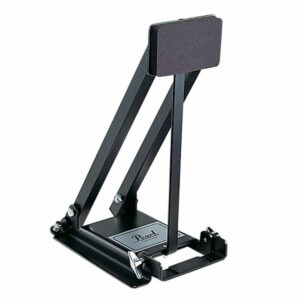 Kick pads are perhaps one of the least common types of practice pads as they're still a rather new product.
The kick pad is designed to be used with an existing practice pad.
This allows you to not only focus on your hand technique but also incorporate your foot technique as well.
It's perfect for any drummer looking for a low-volume practice pad with a close-to-realistic bass drum feel.
The general resistance delivered by a kick pad is as similar to the real thing as possible, whilst the small size of the kick pad makes it very transportable.
Kick pads are available at a range of different price points from the affordable Gibraltar Bass Drum Practice Pad to the Pearl BD-10 Bass Drum Practice Pad.
Find out more
There's no right or wrong way to use a practice pad, whether it's out of respect for your neighbours or to warm up before a gig. Practice pads are a great way to improve technique and playing accuracy. They're the perfect way to achieve convenient, low-volume practice.
Now that you've learnt a bit more about how practice pads work and what to look for when buying one, why not check out our full range of practice pads and accessories?