Once upon a time, launching your career as a DJ was a relatively expensive affair. For your first beginner DJ set, you'd need to purchase at least two turntables and a mixer to sync them together. That's before you've even started sourcing and buying records.
Fast forward to 2020 and it's an entirely different scenario. Today, you can create a complete DJ setup with just your laptop and a USB Controller. As technology gets better and prices get lower, there's no better time than now to start out and learn the tricks of the trade with DJ equipment for beginners.
Consisting of decks and a mixer, the USB controller looks almost identical to a DJ set-up. However, instead of spinning records, you'll use DJ software and your digital library to mix music. Although it's possible to mix using only a laptop or mobile, if you want to achieve pro-level results, it's likely that you'll need a controller. They are perfect for guaranteeing that hands-on, "authentic" experience that can't be replicated "in-the-box".
This article will provide you with a hand-picked overview of the best Pioneer DJ controllers that are perfect starter DJ decks for beginners.
---
What is a DJ controller?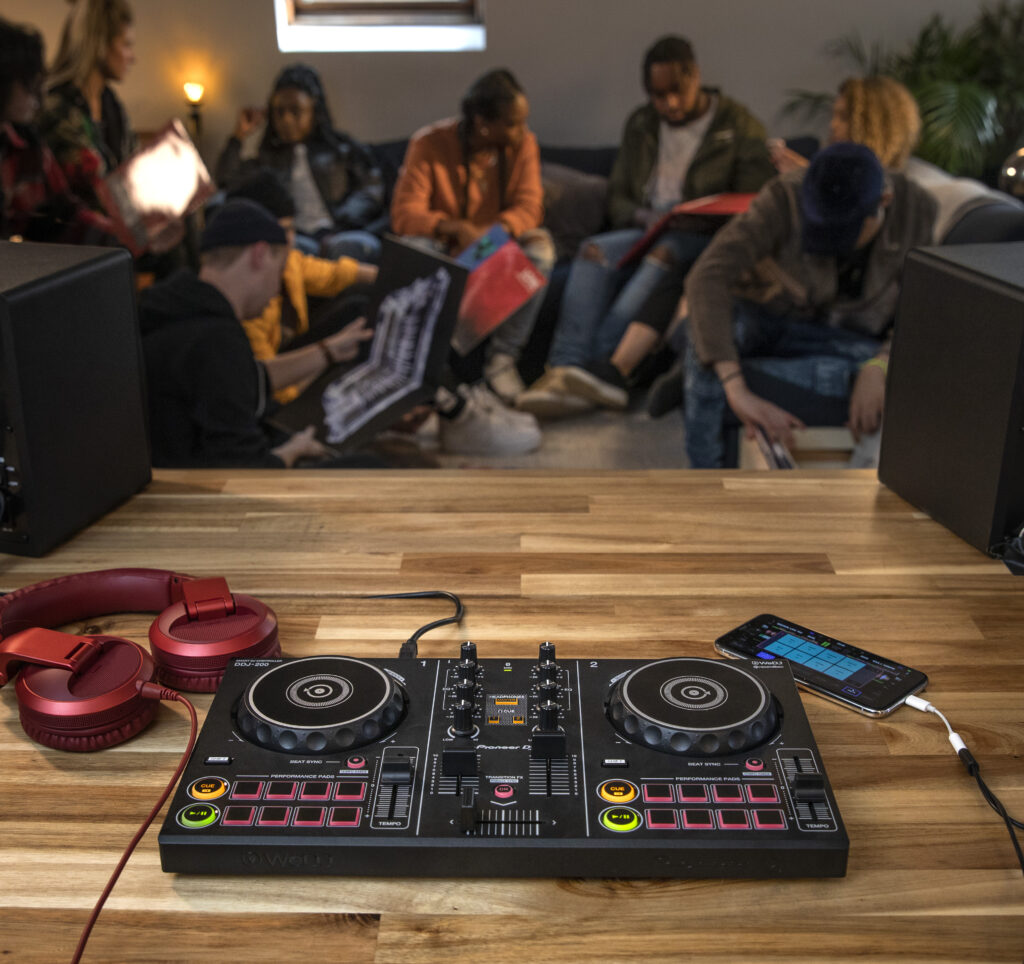 A DJ Controller is a USB device that lets you control DJ software on your computer. If you desire the hands-on nature of analog mixing merged with the practicality of digital technology, then a DJ controller is the way to go. This hybrid approach provides you with both the aesthetic appeal of real-time physical manipulation of parameters, as well as immediate access to your library of digital music.
Incredibly easy to set up, DJ controllers connect straight to your laptop via USB. Thanks to the wide range of controls and inputs they provide, you'll be able to connect microphones to communicate with your crowd; use performance pads to trigger cues, loops, and samples; and so much more.
From Rekordbox to Serato, most DJ controllers will come complete with a whole host of professional software to ensure you can hit the ground running.
---
Why choose Pioneer DJ?
Levelling the playing field since 2014, Pioneer DJ's controllers are the perfect blend of power and performance. Designed to provide you with all the necessary tools to kick-start your career, they make it almost effortless for beginner DJs to achieve excellent results. With one of these controllers in your set-up, not only will you sound great, but you'll also look it, too!
---
The controllers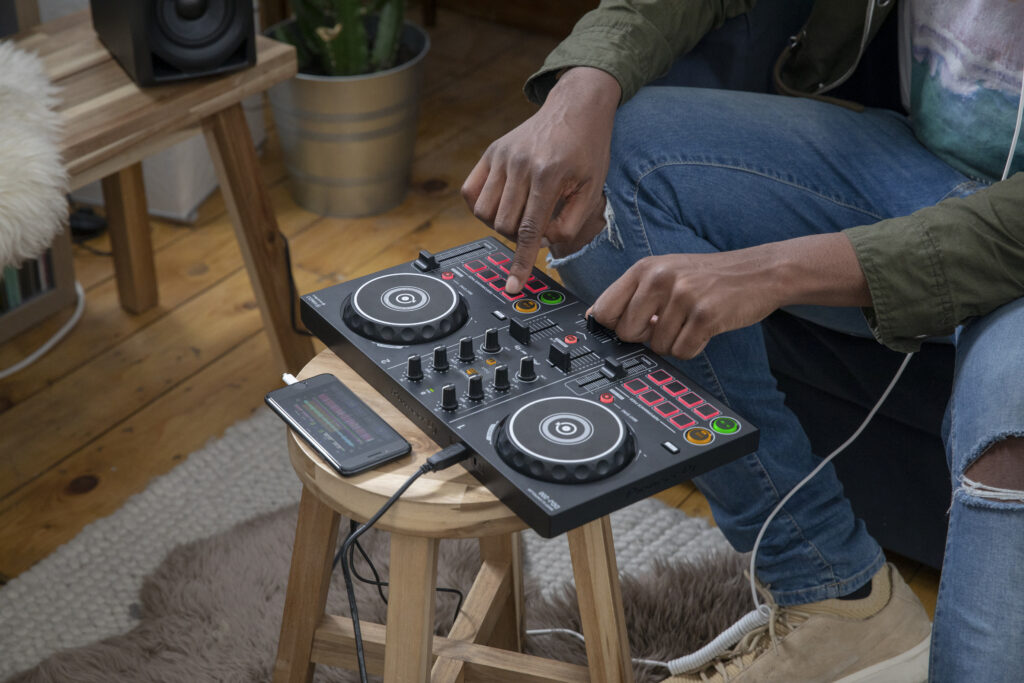 Who is this controller for?
Beginner DJs who'd benefit from complimentary lessons to quickly get to grips
DJs who like to integrate FX and trigger sounds into their performance
Those who'd prefer to perform with streamlined set-ups
Sending mixes out to multiple sources such as speakers and booths
Why do I need this controller?
Allows you to stream music from either your phone or laptop
Provides loads of great tutorials to build up your mixing skills
Includes WeDJ and Rekordbox software for a great head-start
Features two premium jog-wheels that can withstand continued use
Shop Now | Pioneer DDJ-200 Smart DJ Controller
---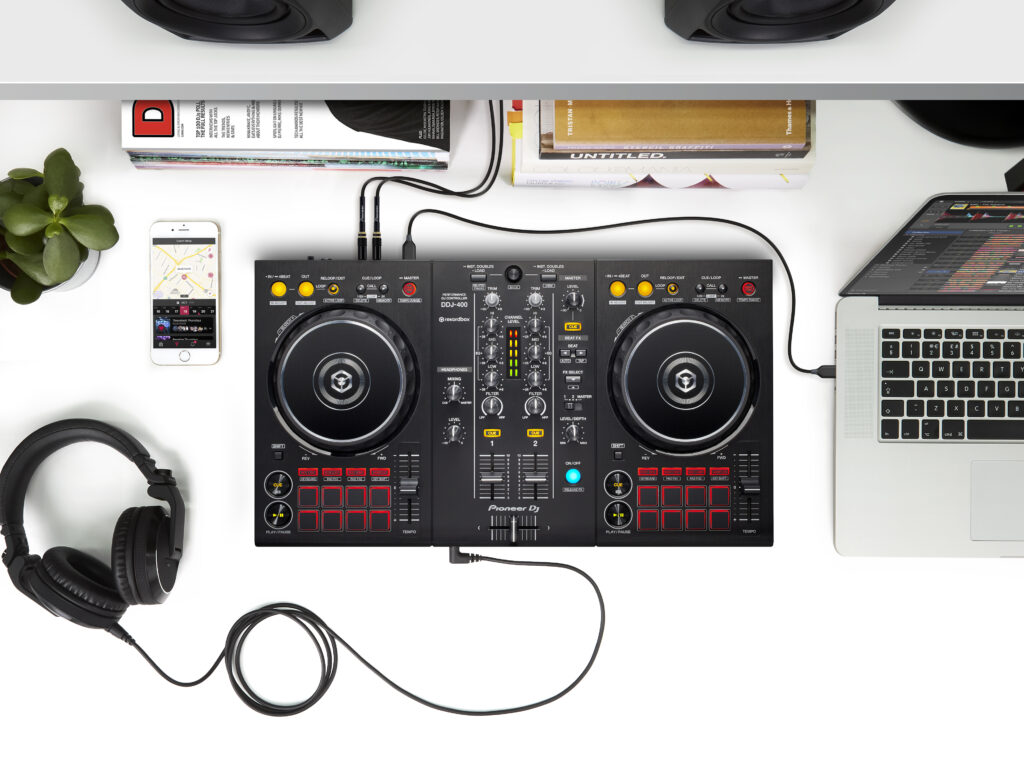 Who is this controller for?
Live DJs who want to trigger up to 16 sounds through built-in pads
Beginner DJs that require an intuitive layout with comprehensive functionality
Those looking for a complete solution with included software
Sending mixes out to multiple sources such as speakers and booths
Why do I need this controller?
Integrated soundcard doubles up as a USB bus-powered interface
On-board three-band EQ enables you to tweak your mix to perfection
Ergonomic, intuitive layout makes mixing fun
Includes complimentary licence copy of Rekordbox DJ V5.3
Shop Now | Pioneer DDJ-400 Rekordbox Controller
---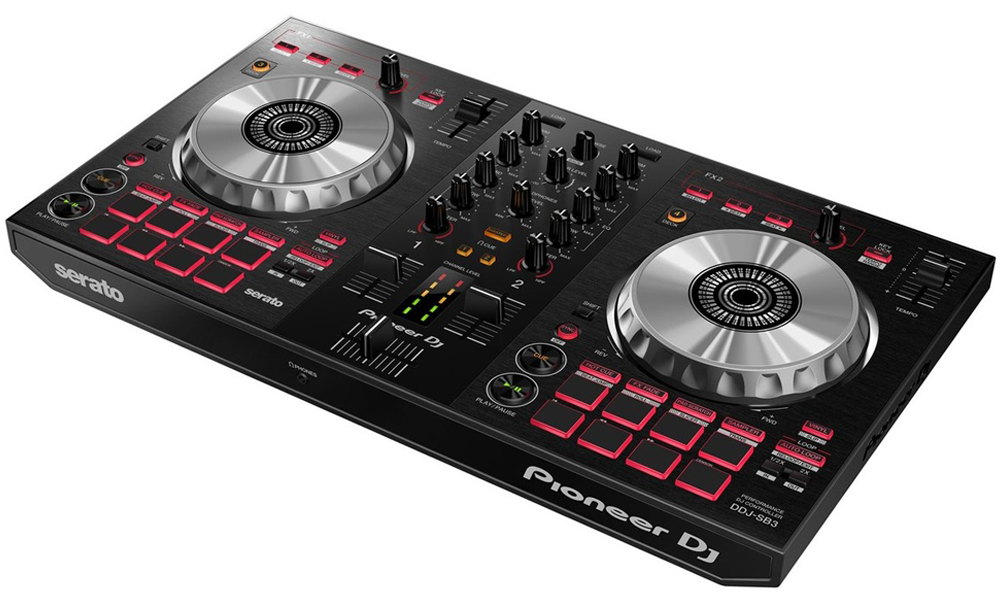 Who is this controller for?
Professional DJs who like to incorporate scratching into their performances
Those who desire a controller which will grow with them from hobbyist to professional
DJs who regularly perform live and would benefit from a Kensington security lock
Innovators who desire a wide range of controls to make their sonic visions become reality
Why do I need this controller?
Developed in collaboration with DJ Jazzy Jeff!
Create seamless transitions between songs
Excellent for progressing with you as you develop your skills
Designed to be used with Serato DJ lite
Shop Now | Pioneer DJ DDJ-SB3 DJ Controller
---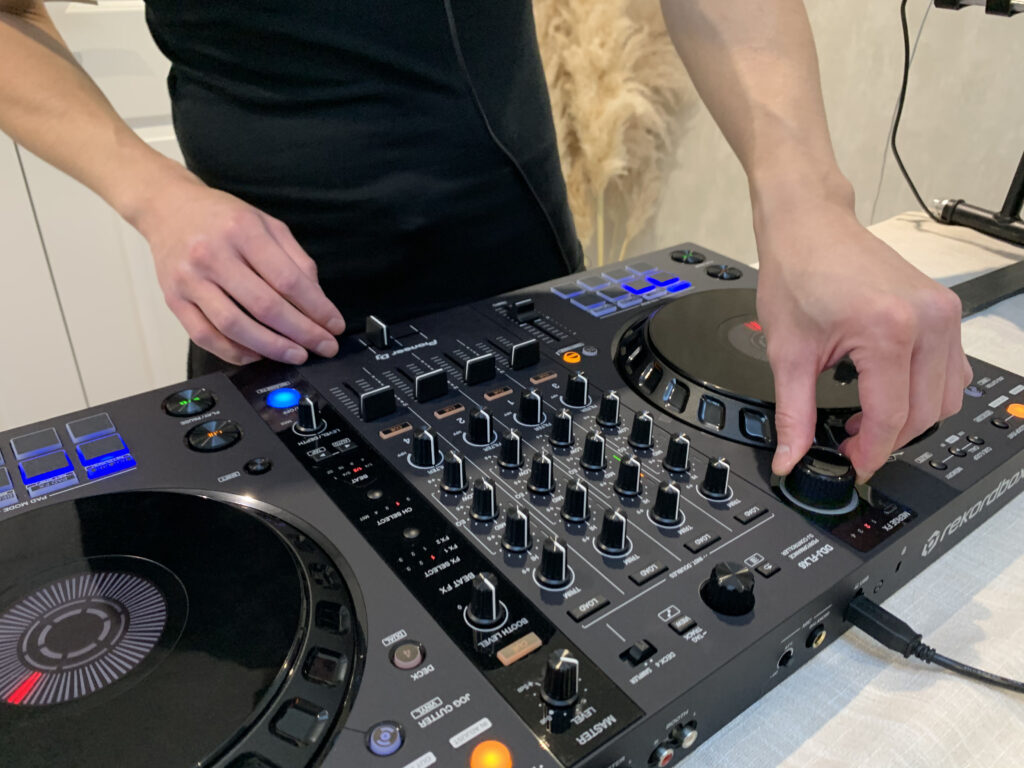 Who is this controller for?
Genre-defying DJs who wish to create ground-breaking mixes
Those who desire a built-in audio interface with high-resolution audio fidelity
Taking your mixes to the next level thanks to the wide range of functions available
Sending mixes out to various locations with ease
Why do I need this controller?
Provides four controllers and a familiar clubstyle layout
Merge FX allows you to mix between different genres with ease
Keep an eye on the track's position thanks to handy display incorporated into jog-wheel
Offers free licenses for FX Pack and Pitch 'n Time DJ Expansion Pack for Serato DJ Pro
Shop Now | Pioneer DDJ-FLX6
---
What other equipment will I need?
Of course, your setup would not be complete without a few essentials that will get your show up and running. As you grow as a DJ, you may find yourself needing to expand your setup as your ability and performances evolve. So, here we have created an overview of the equipment that could be beneficial to your Pioneer DJ controller.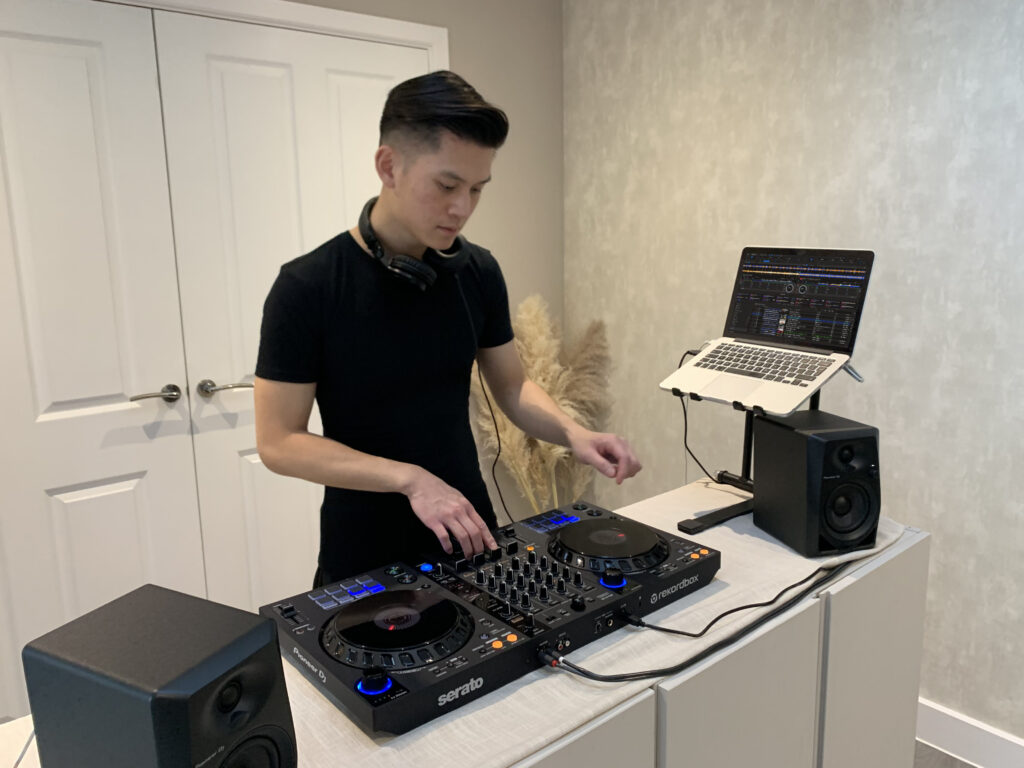 A laptop will be the centre-hub of your setup, letting you store your digital music collection and run software. Whilst you may already have one you're comfortable using, we have a selection of incredibly powerful machines to choose from.
Your software is where the magic happens. This is where you'll hone your craft in mixing between songs, beat matching and creating playlists for every occasion. Whilst there are a lot of different software products on offer, each one offers a comprehensive set of controls with professional features to level up your performances.
Whether you're performing sets in intimate clubs or 50,000 capacity fields, microphones are incredibly important. They allow you to set the atmosphere and engage the audience. Before purchasing, it's worth checking the microphone input connection on the controller to ensure correct compatibility.
If you want to recreate the feeling of performing live at home then speakers are a must-have. They provide incredible precision when relaying the mix. Just remember, the bigger the woofer, the greater the bass!
Not only great for practising, when performing live you'll also want a solid set of headphones you can rely on. To keep all background noise out, you'll need a comfortable closed-back set. This will let you accurately monitor and set-up perfect transitions between tracks.
Although they may not be as exciting as a fully-fledged controller, cables are equally important. Without them, how will you connect your set-up to wow your crowds? It's likely you'll need a pair of RCA cables to connect your speakers to your controller, as well as a cable to hook-up your microphone too.
---
Find out more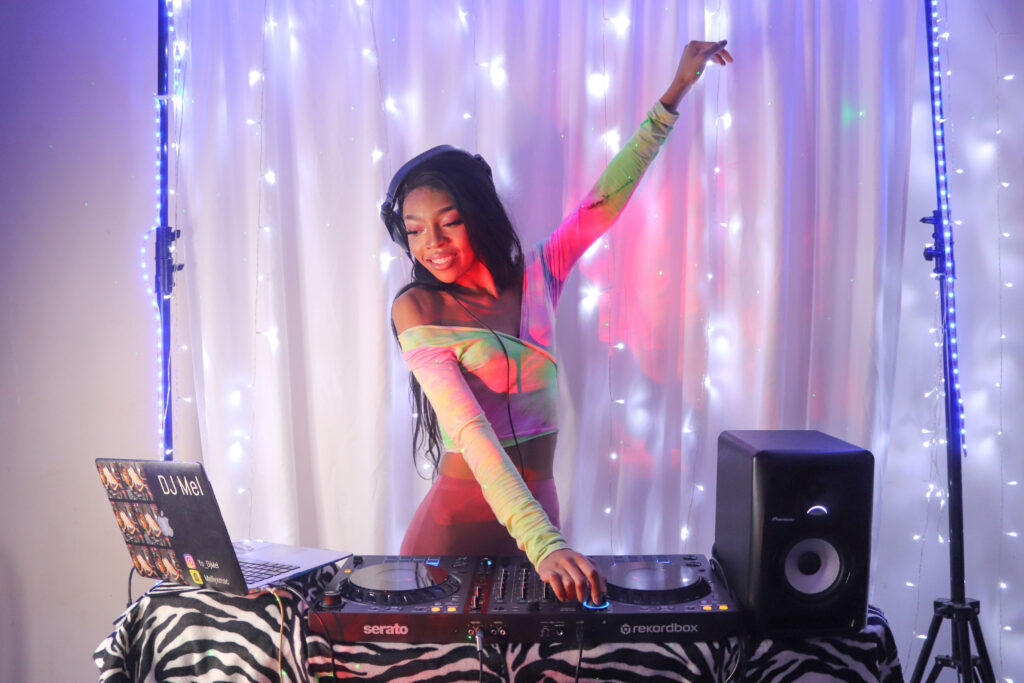 Ready to kick-start your DJ career? Explore our full range of Pioneer DJ controllers below!
Shop Now | Pioneer DJ Controllers
See More | Pioneer DJ Equipment