Learning the piano can be scary! There are up to 88 notes, two hands, ten fingers, and two lines of music in different clefs. What if you don't read music? What if you don't know how the music should sound? Don't worry – Casio has you covered with an app that helps to remove a lot of these barriers: Casio Music Space.
I'm a musician that's been playing woodwind instruments for years, but the piano has always enticed me. Some of my absolute favourite pieces of music are piano pieces, from the greats such as Beethoven, Debussy, Liszt, Chopin… the list is endless. To be able to have a relaxing afternoon at the piano and just relieve stress is something I've desired for a long time.
With this in mind, I thought I would give the Casio Music Space app a try, and share some of my favourite features which can help you on your musical journey.
The app itself is the successor of the Chordana app and, in my opinion, is now much more user-friendly. You can use the App Store (for iOS) and Google Play Store (for Android) to download the app onto your device. It's compatible with a range of different Casio products, so you can start on a piano or a keyboard – whichever is the most suitable for you. But it's worth bearing in mind that not all features of the app are available with each instrument.
I chose the Casio CT-S300 to use with the app. It's a mid-range keyboard with touch sensitivity, which is helpful when adding expression to your music.
Piano Roll
The feature that is probably most geared up to help you learn is the piano roll. There are numerous elements to this app, but the best place to start would be here.
If you've seen YouTube videos, you'll have noticed that there are plenty of different piano roll videos which allow you to see the music graphically, detailing which notes to press and how long to play them. I've seen some impressive videos of Beethoven, for example, with the lights dancing around the piano roll at an impressive pace. But don't fret, you can select pieces aimed at beginners – ideal for me!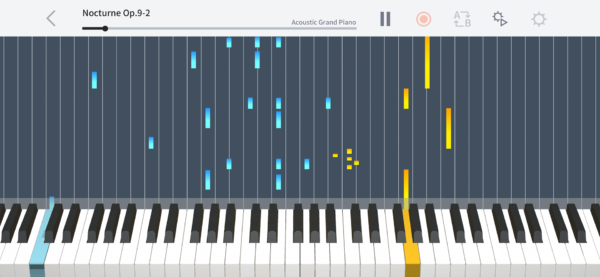 The piece I selected was the first one available, "Lightly Row". When you select a piece, it will load up the piano roll and you can press play. Despite being a 'simple' piece, it did seem overwhelming at first – multiple notes, two hands together, and a fair speed. Again, do not stress. Casio know this too! You can play the song first to get an idea of how it's meant to sound. Also, by clicking on the cog, you can access and adjust the settings – a lifesaver!
From here, you can make life easier for yourself until you build up more confidence at your own speed – quite literally. The metronome feature is handy for slowing things down, so you can focus on what notes to press and in what order (just think Andre Preview!).
The transpose feature isn't really something to consider at this point, as songs are in more simple keys. So, transposing them to different notes would make life harder; it would be ideal for learning a more advanced piece in an easier key first.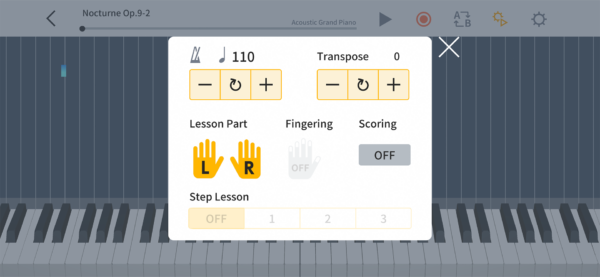 Lesson part is very helpful! It allows you to focus on one hand at a time, so if you want to just focus on the melody or the bass part, feel free. If you get confused as to what finger to use on which note (as I say, up to 88 notes and only 10 fingers!), this is when the fingering guide will really help. Fingering is important as it helps build up correct technique, rather than just using one finger to play all the notes.
If reading music is your thing, you can select the scoring option. However, a lot of people do find it easier to watch the piano reel. The step lesson function is also extremely helpful. If you're worried that you can't get your fingers in the right place, one of the step lessons means that the music will wait for you until you press the note, letting you can take things steady. When you're happy with all the elements, you can combine them to build back up to playing the full piece.
Taking these pieces apart in such a way can really help boost your confidence and it allows you to chart your progress from beginner to pro! As you work your way through the various pieces, you'll quickly notice how far you've come.
Score Viewer
If you're proficient at reading music, you might want to explore the score viewer. This essentially lets you view a whole host of different pieces of music in one place. It's ideal for those who are revisiting the piano after a break. Also, it saves having to carry around a backpack full of music!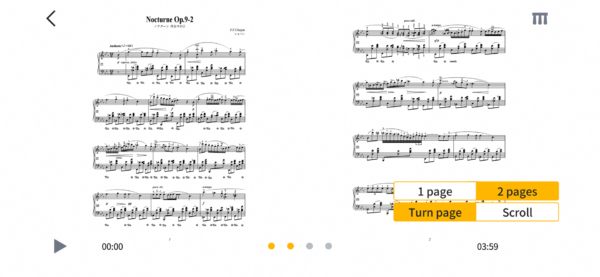 An option of musical score and sound exists so you can follow along on the score while listening to the music. I must admit, I do find this useful for learning how to read the trickier rhythms. In addition, you can even import your own PDF files to the app to increase your ever-expanding repertoire.
On the pianos, as opposed to the keyboards, you can assign the damper pedal as a page-turner (if you haven't already got a page-turner pedal, I highly recommend them with a tablet!)
Music Player
Do you like to learn pieces by ear? Or just enjoy jamming along to your favourite songs? The music player feature means you can stream your music through your piano/keyboard speakers via Bluetooth.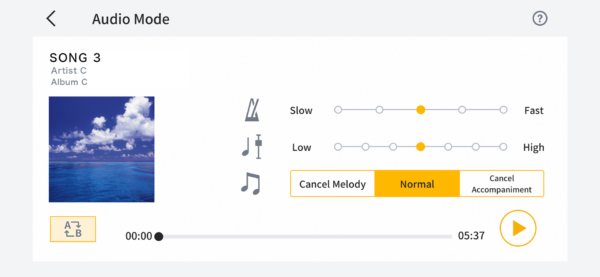 All the songs on your device can be displayed, and (here's the clever bit) you can adjust the tempo, the key, and even cancel the melody. Of course, this is done digitally, so it would ultimately depend on the quality of the recording. But, regardless,  it's still a pretty cool feature!
Live Concert Simulator
Performing can be quite an intimidating concept at first. Whether that's on a stage, in a stadium, or even in more obscure settings such as the beach, by a river, or outside in the rain! Playing acoustic instruments in particular means that your sound can differ depending on the venue.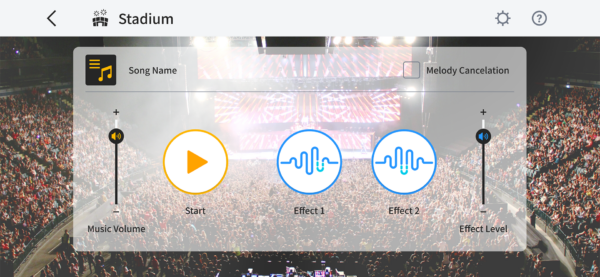 There are different levels of echo and reverb to consider, so you might want to experiment to see how your music sounds in different environments. You never know, you could be playing in a stadium one day! At least you'll have an idea how it might sound.
Piano Remote Controller
Do you ever look at a piano and find there can be too many buttons, or in some cases, barely any? By using the intuitive piano remote controller app, you can see the different elements that manipulate your sound in a much more visual way, making it easier to adjust your sound! Just click on an icon, and you can tweak the settings instantly.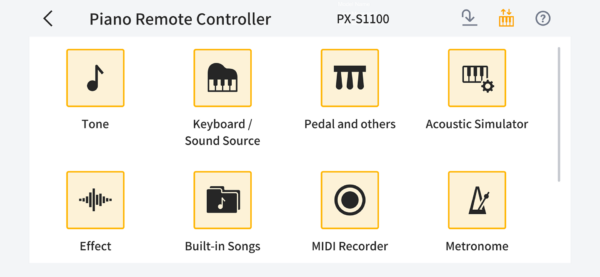 This is particularly useful for pianos/keyboards that don't host an LCD screen, as you can take advantage of a visual control hub for your instrument.
The Verdict?
All in all, if you're new to playing the piano (like me) then the Casio Music Space app will be extremely beneficial to your playing. By taking control of which pieces and techniques you need to practise more of, you can develop your skills in a way you feel is right for you.
If playing by ear suits you, no problem. Use the music player and hone your skills that way. If 'blobs and sticks' (as people I know refer to musical scores) are down your avenue, then you can make use of the score viewer and follow along to the music as you play. And if you use a combination of all the above – easy!
By considering all the different ways in which people appreciate and learn music, Casio has managed to create an app that thrives in guiding you through your individual journey.
I wish you all the luck on your piano ventures!