From bedroom to stage, the Boss Katana amp series brings sounds for any occasion. Exceptionally versatile and boasting a tube-like "feel" and "responsiveness", they've proved to be highly popular for their best-of-both-worlds approach to amplification.
Since its launch in 2016, the Katana range has expanded massively.
With so many available, which one is right for you? We've highlighted a few categories to make finding your ideal amp that bit easier.
So, whether you're an aspiring rocker or a seasoned pro, there's a Katana ready and waiting…
A sharp sound
What's so special about the Katana? Well, apart from the staggering array of options in form and function, every amp in the series, from the Katana 50 upwards, features an analogue Class A/B power amp stage.
This means you'll get an authentic, tube-style feel when playing, and the amps will react to your dynamics with the same responsiveness as an all-valve model.
Better still, unlike other digital modelling amps, which can sound a bit thin and artificial, the Katana produces dynamic, meaty sounds that can be 'pushed' in the same way as true tube amps.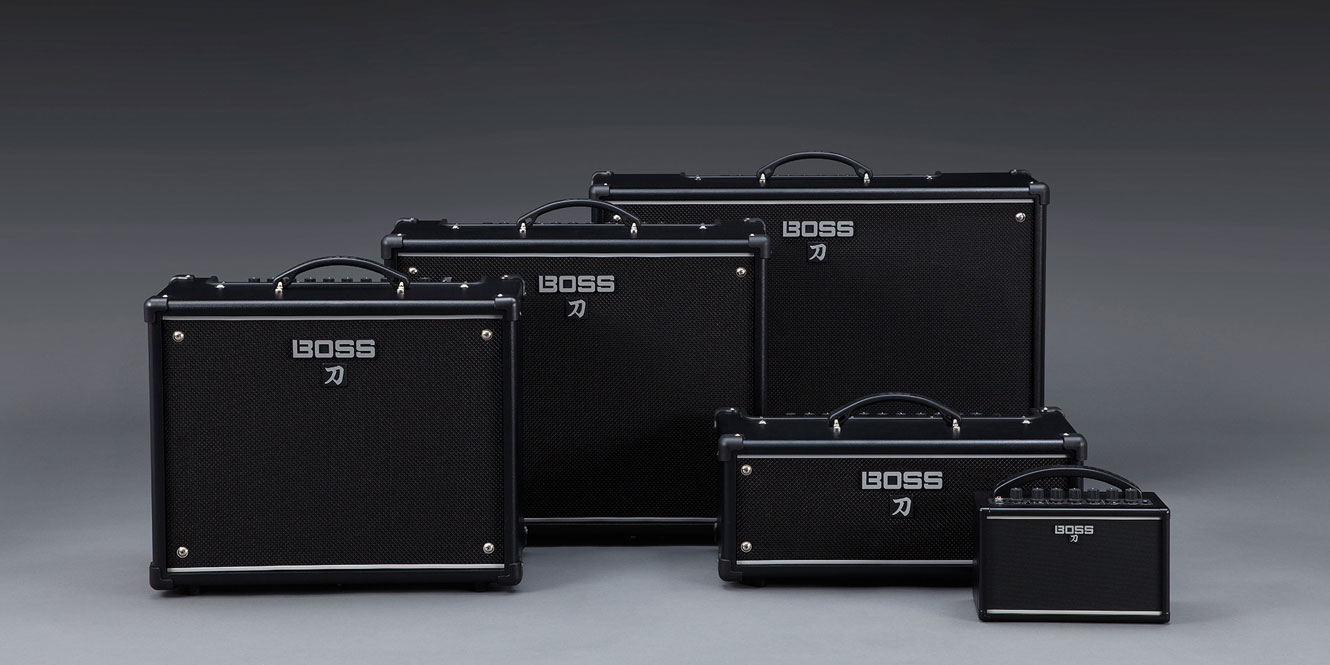 Which one is best for you?
Are you an occasional noodler, serious recorder, or arena gig shredder? We've split the Katana into five categories to show what type of player each model best serves:
Home-practice or on-the-go – Designed to make home-practice more enjoyable and travelling more bearable, these amps are compact and highly convenient.
The all-rounder – If you're gigging at the weekend and jamming at home throughout the week, these models are seriously versatile.
Take to the stage – Intended for the frequent performer. These have enough sonic horsepower to fill large venues and a host of connectivity options to make gigging life smooth and simple.
Portable power – For musicians that don't want the bulk of a combo, this Katana head offers maximum power at a slice of the size.
Ultimate tone shaping – For the performance purists, these amps offer refined sonic sculpting options, an incredibly dynamic speaker, and advanced connectivity/software support. You'll be able to generate the exact sound that's in your head.
---
Home-practice or on-the-go
The Katana Mini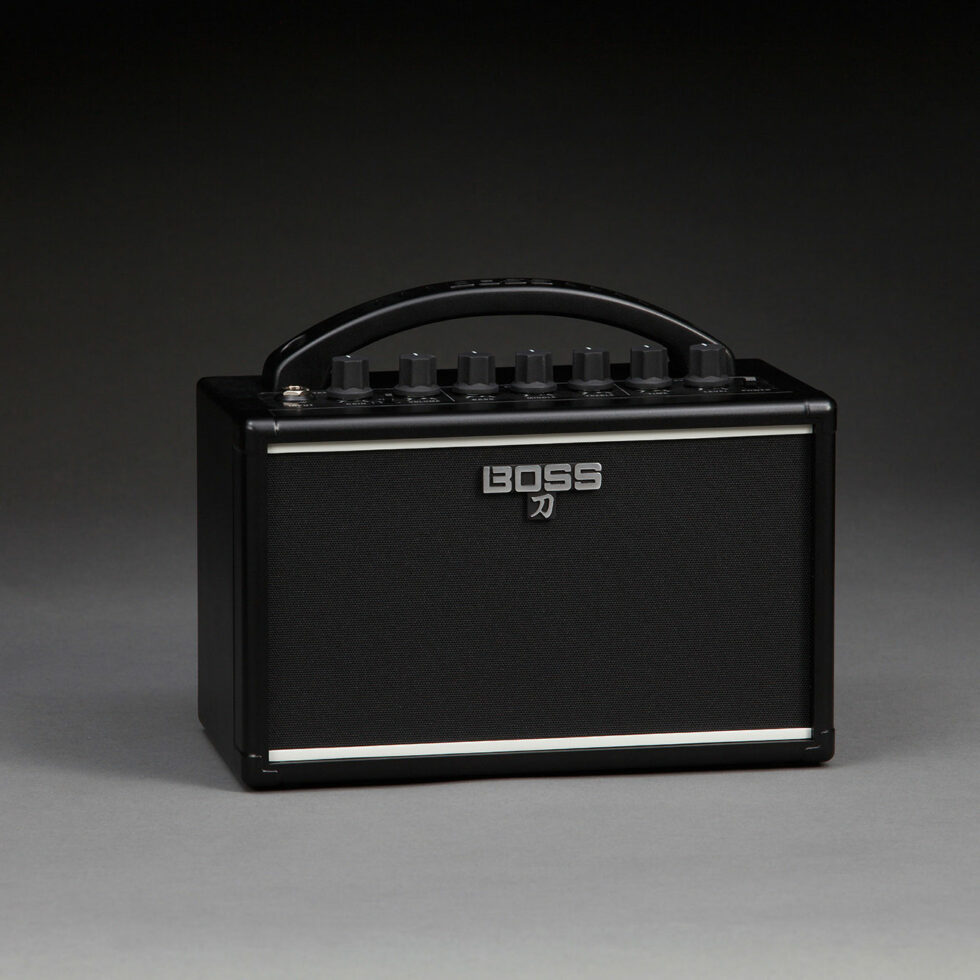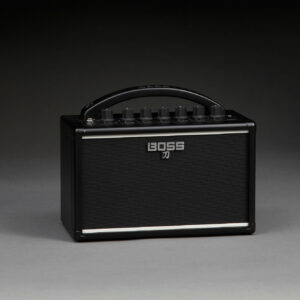 Just because you're out and about doesn't mean you should sacrifice tone!
Whether you're doing a quick soundcheck backstage or an impromptu gig on the beach, the Mini can provide the noise.
It's battery-powered for convenience and hosts features that you'd usually find in fully-fledged amps.
These features include three, analogue gain staged amp characters to choose between, an onboard tape-style echo to thicken the sound, and a full EQ suite to shape the output.
Armed with the Mini, you'll have excellent sonics, everywhere!
Shop now | Boss Katana Mini Ultra-Compact Guitar Amp
---
Katana Air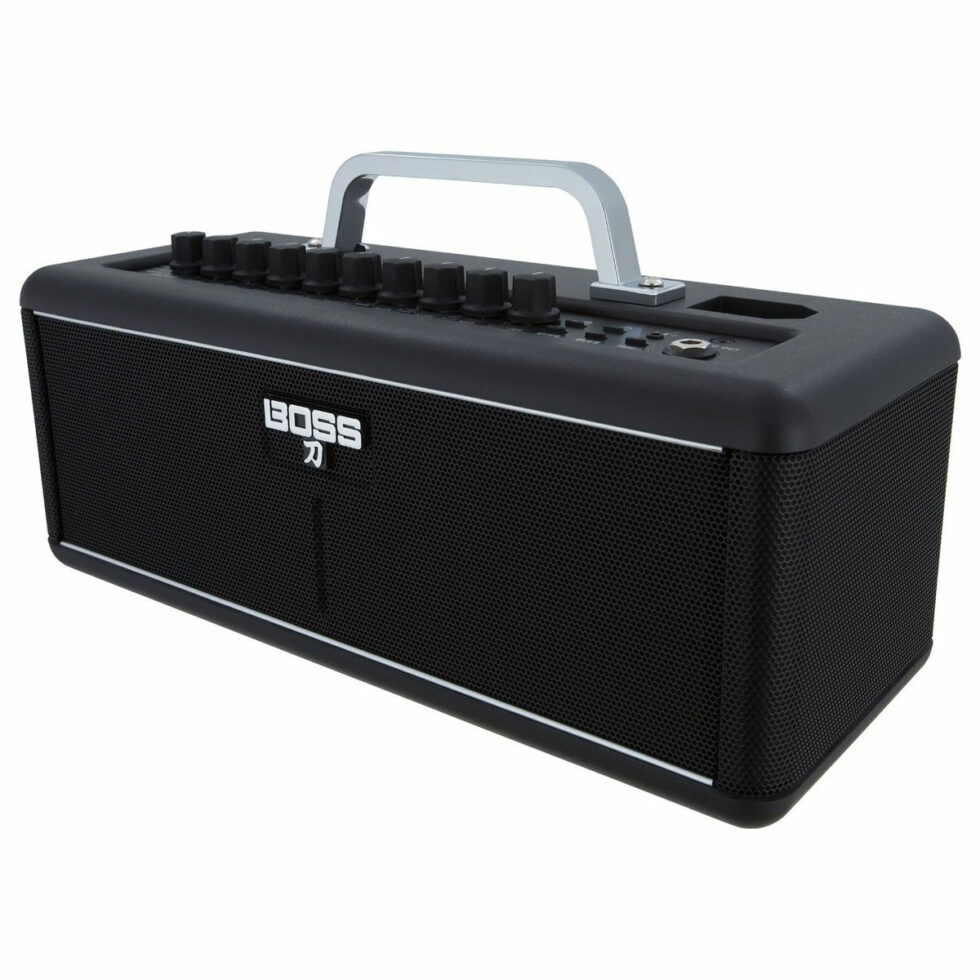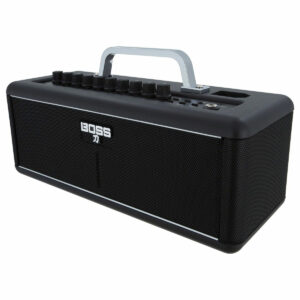 A seriously cool amp that's perfect for the living room.
As the name implies, it's totally wireless! Using the supplied transmitter, you can be totally free from cables.
And with Boss's nifty motion-sensing tech, the Air will switch on and off automatically when you start or stop playing.
Keep your favourite electric next to the sofa and simply pick up and play when the mood takes you – the Air removes all the obstacles to jamming at home.
Not only that, with Bluetooth connectivity, you can easily control the amp from afar and select music or backing tracks to riff along to!
Shop now | Boss Katana Air Wireless Guitar Amp
---
The all-rounder
Katana 50 MKII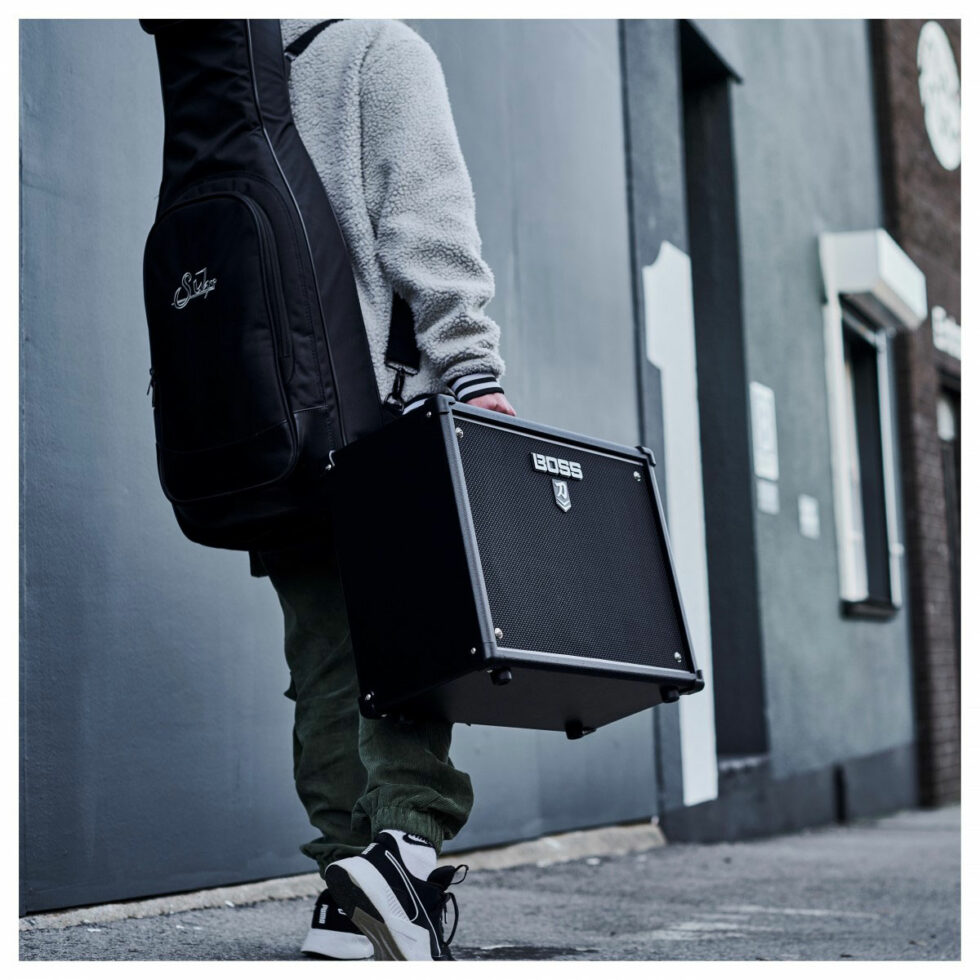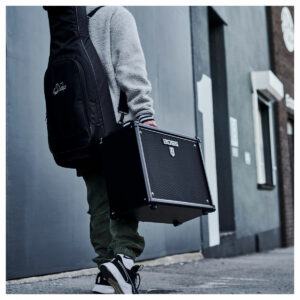 Compact. Powerful. This amp offers outstanding value for its size and can be used for just about any situation you find yourself in.
Gigging or rehearsing? No problem! The Class A/B analogue power stage makes the 50 MKII respond and feel like a genuine tube amp.
What's more, it'll kick out plenty of sound to compete with an ensemble.
It's also quite compact, reducing the hassle of lugging it to and from sessions!
But those full-throttle tones aren't just for the stage. Thanks to a built-in and selectable power amp stage which goes as low as 0.5 watts, you'll be able to get the true experience when practising at lower volumes – all without disturbing the neighbours.
Shop now | Boss Katana 50 MKII 1×12 Combo
---
Take to the stage
Katana 100MKII 1×12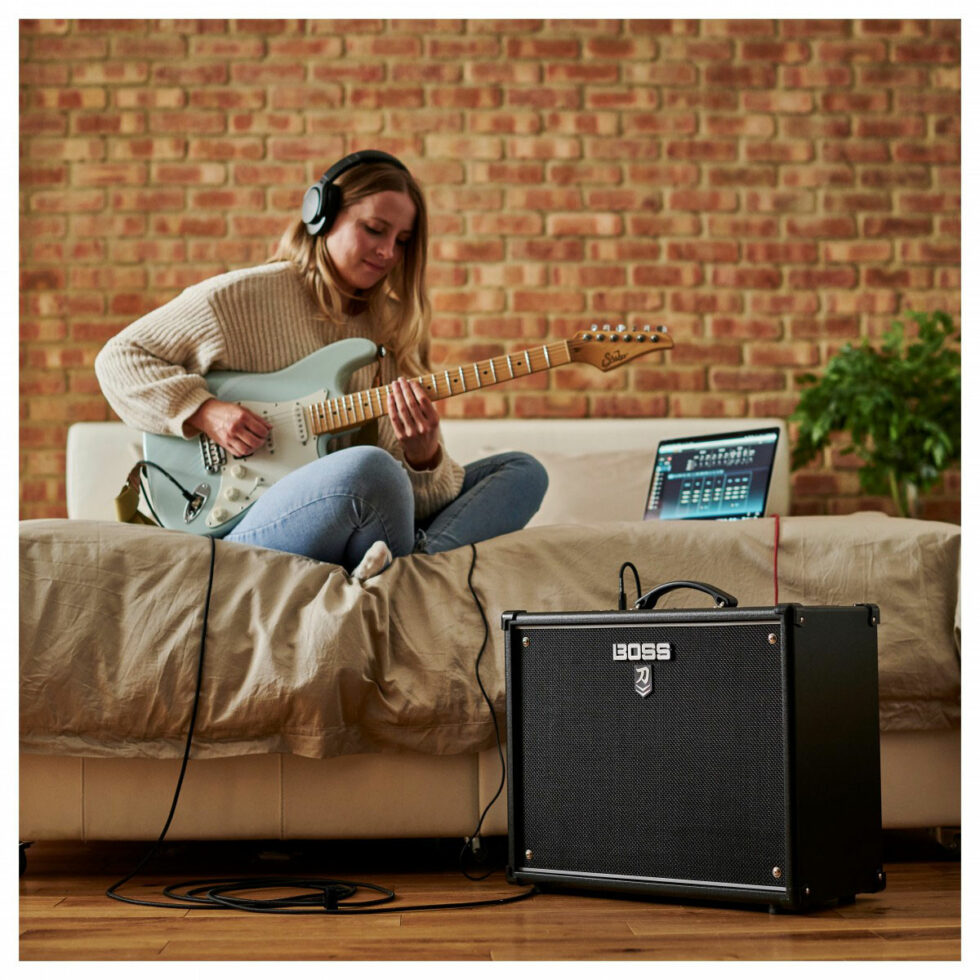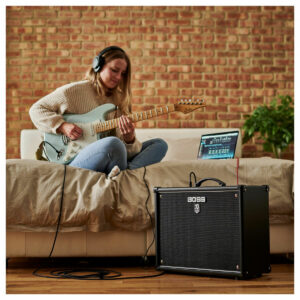 The big one. This is the fully featured Katana that's more than up to the task of performing live.
Offering a responsive analogue power stage, 100 watts of raw sonic heft, and professional-grade features, it's the ideal choice for a touring musician.
So, why would a pro choose this over a traditional valve amp? Well, unlike your typical amp, the Katana can instantly switch up its sound for total versatility. It supports the GAFC and GAFC-EX foot controllers, allowing you to easily flick between the various amp channels for a diverse soundscape, in addition to enabling or disabling effects.
Speaking of effects, you've got a choice of the provided effects loop and the power amp-in jack for multi-FX processors to tailor your sonics. And if that's not enough, the Katana 100 also supports a stereo mode, so you can seamlessly integrate an additional Katana 100 into your rig and really customise the audio.
There's more? Yep. Tone Studio to be exact. This desktop software allows you to tweak and tune the amp even further when it's connected via the USB port.
Shop Now | Boss Katana 100 MKII 1×12 Combo
---
Katana 100 MKII 2×12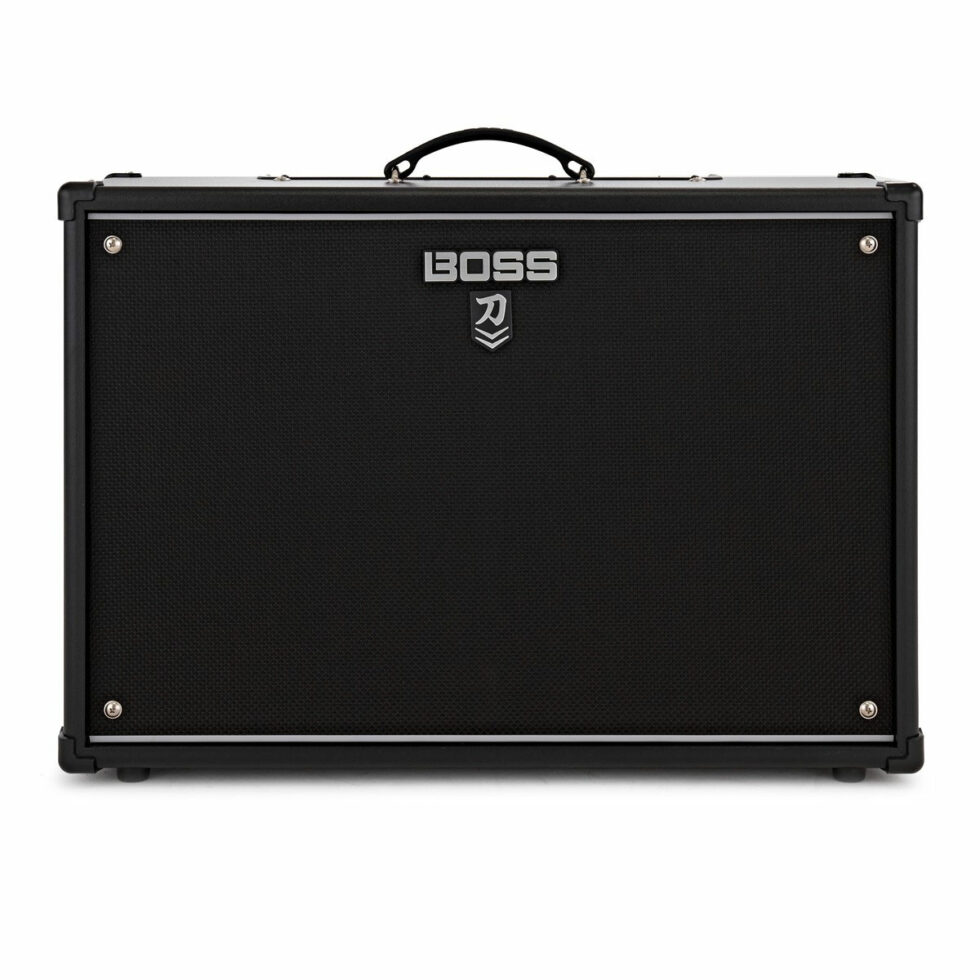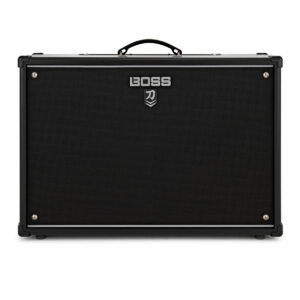 Twice the speaker count for a bigger sonic impact. If you love the features of the 1×12 but need extra audio power, the 2×12 version has the additional grunt to stand above a mix without the aid of an additional cab.
Of course, it's packed with all the same connectivity options. So, you can push some serious air – making the sound even bigger with more cabs or a stereo pair of 2×12 Katanas!
Consequently, this version is quite a bit larger and heavier than the other combos – worth noting if you're tight on space (or dreading a sore back!).
One extra feature of the 2×12's physical unit is a cab resonance setting, which accents your tone with the presence of the speaker, whereas on the 1×12 you'll need to access it through the software.
Shop now | Boss Katana 100 MKII 2×12 Combo
---
Portable power
Katana Head MKII 100w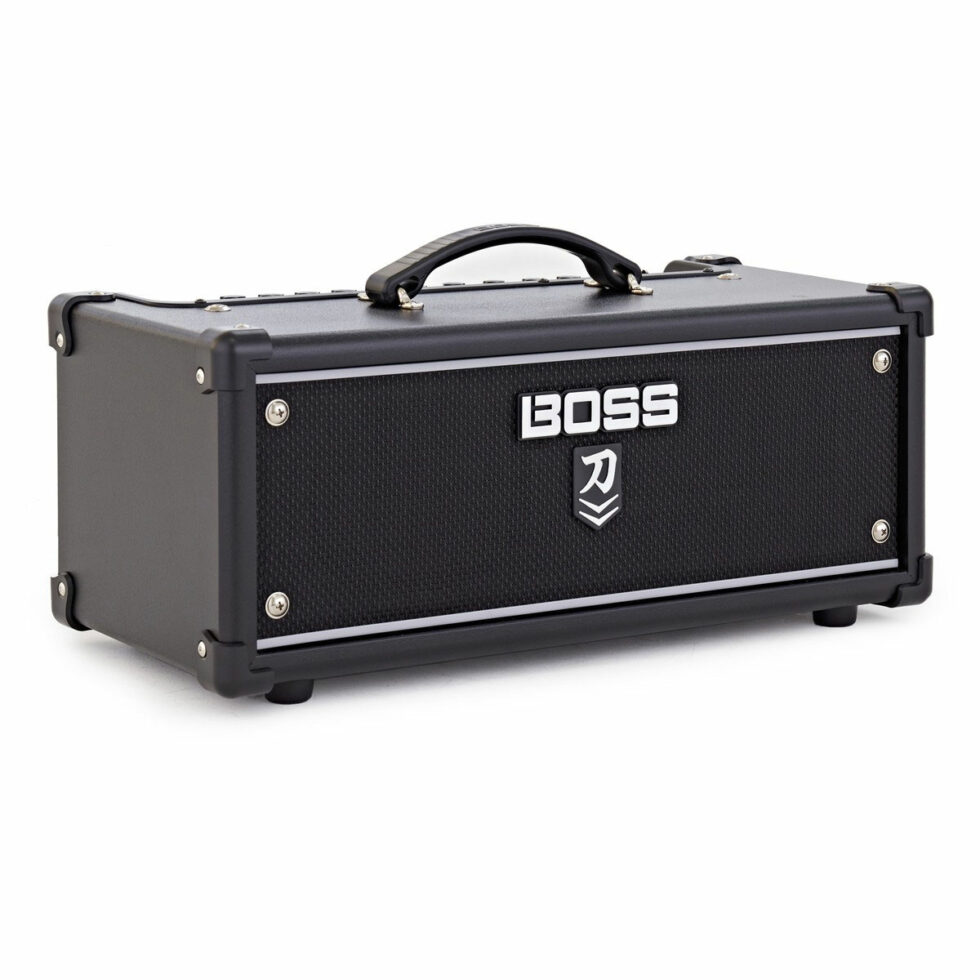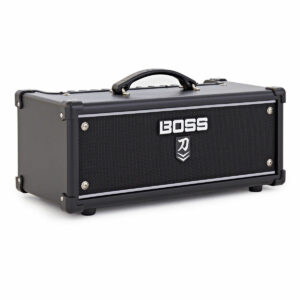 Sometimes bulky cabs and combos are just too cumbersome to carry.
If you're a performer that's limited on space when travelling to gigs, or if you prefer to use the house cabs or PA system, the Katana Head provides a neat solution. Just turn up, hook up, and get rocking.
It's loaded with all the same technology as the Katana combos but has the addition of MIDI-in for extra control and a dedicated speaker-out to provide the sounds.
But what sets the Katana Head apart from typical amp heads is a built-in speaker! It's not much, but it's enough to have a practice jam at your hotel or to check the sounds and effects backstage.
It's a lifesaver for those who want to travel light(er!) and just pack the amp head
Shop now | Boss Katana Head MKII 100w Amp Head
---
Ultimate tone shaping
Katana Artist MKII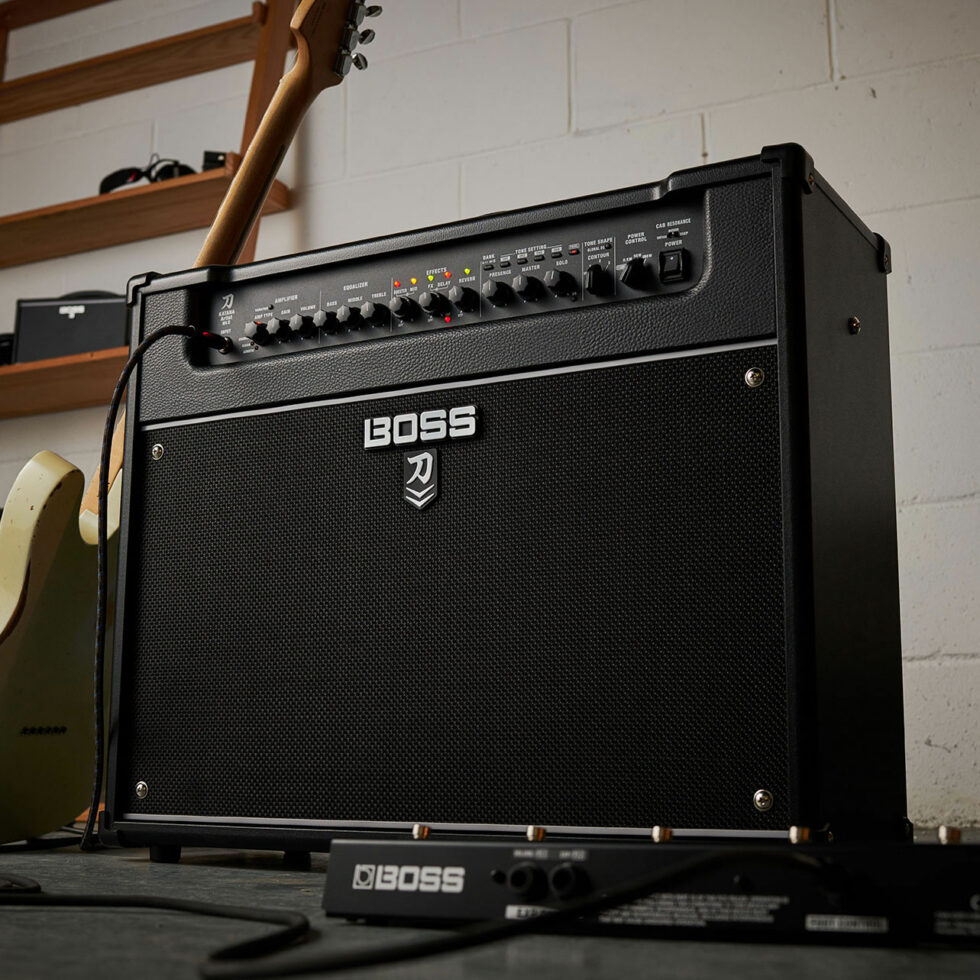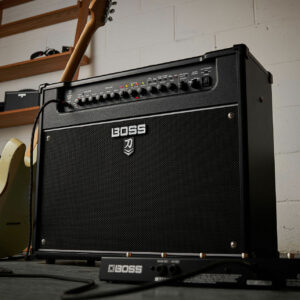 For tone purists. This refined combo contains everything that the most discerning of guitar players could want.
Boasting a completely unique speaker, full MIDI control for complex rigs, even more amp voicings, and meticulous tone sculpting through the companion app, the Artist takes amplification to another level.
The standout feature is the carefully engineered Waza speaker. Inspired by the revered Celestion Greenback, it pumps out sounds reminiscent of a classic stack, with crisp articulation and a wide frequency range.
Unlike the Celestion Greenback though, Boss' Waza speaker has far higher power handling, so it's ready to scream out the filthiest metal or blistering rock solos without breaking a sweat.
Shop now | Boss Katana Artist MK-II 1×12 Guitar Combo Amp
Optional extras
We've mentioned a few accessories that many of the products pair well with, but here's a short list in case you're wondering what works well.
Gigging covers: Boss provide a series of bespoke covers that'll keep the Katanas fresh and scratch-free when you're transporting them, reducing the stress of carting around your expensive equipment.
Foot controllers: GAFC and GAFC-EX pair with the Katana 50 MKII EX upwards and allow for swift control over the amp's sounds and effects. There's also the FS-5U single, FS-6, and FS-7 Dual Footswitch which offers simplified operation and hands-free control.
Expression pedal: The Boss EV-30 and Roland EV5 expression pedals allow for dynamic and interactive control over your effects within the Katana. You'll discover even more tones and fun rhythms by using the Tone Studio app to assign the expression pedal to just about any function of the amp.
Find out more
If the Katana has caught your eye, why not browse the full range of Boss amps on our website? And if you want to develop your sound further, Boss have a huge variety of exciting guitar gear to transform your tone.