Lavalier microphones are excellent for film, TV, broadcast, and interviews. So what are the best options available and why are they so good?
If you want to pick the very best, read on to find our top picks.
What are lavalier microphones?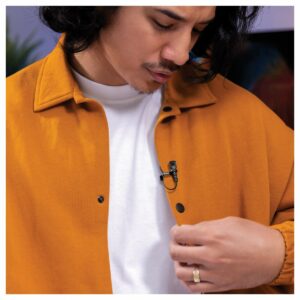 Lavalier microphones, also known as lapel microphones, are small, discrete microphones that clip onto clothing for an easy setup.
These kinds of microphones are used in films, television, live broadcasts, theatre shows, interviews, and conferences.
Why choose a lavalier?
So, why would somebody choose a lapel microphone over any other type? First off, their size and subtle design make them easy to conceal, which is ideal for recording on camera.
Since lavalier microphones clip onto clothing, they can be worn under shirts, inside jackets, or on a collar to be visually concealed without sacrificing speech clarity.
The other benefit is that lapel microphones are unobtrusive and easy to set up. Plus, some are compatible with wireless systems, providing extra convenience in running your signals without trailing cables!
In a hurry?
If you want a quick rundown, here are our top three picks.
| | | |
| --- | --- | --- |
| Sennheiser XS Lav | A unique USB-compatible lavalier microphone, perfect for mobile recording and content creation. | Shop now |
| Audio Technica PRO 70 | A cardioid lavalier microphone that provides more directivity. Ideal for not just speech but instruments like acoustic guitar and orchestral strings too. | Shop now |
| Shure Twinplex TL47 | A premium lavalier utilising Shure's dual-diaphragm design from their studio microphones for high-grade professional recordings. | Shop now |
Best lavalier microphones
1. SubZero Lavalier Condenser Microphone
Best beginner option 
Ideal entry-level option
Omnidirectional polar pattern for detailed sound from all directions
Maximum SPL of 136 dB makes it suitable for loud environments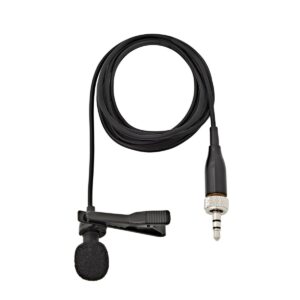 The SubZero Lavalier is highly affordable and features a condenser capsule, making it a great entry-level choice for all kinds of speech. Excellent for independent filmmaking, videography, interviews, local broadcasting, and conferences, this lavalier makes for a great pick when you need to capture lots of sources at once.
This lapel microphone's omnidirectional condenser capsule gives a full, detailed sound with a broad stage that works really well in all kinds of environments.
It includes a lot of useful accessories, like a clip for attaching to clothing and a windshield for reducing plosives and weather noise when recording outdoors.
Also included are three minijack adapters, so if you want to connect to AKG, Sennheiser, or Shure branded wireless systems for live events and broadcasts, you can do so with ease.
Its maximum SPL is a whopping 136 dB, making it perfect for loud or particularly noisy settings without sacrificing clarity. Whether you need to expand an existing set of lavalier microphones, store backups, or make a budget-friendly start to recording independent projects, the SubZero lavalier will help you get there.
Shop now | SubZero Lavalier Condenser Microphone
---
2. Sennheiser XS Lav 
USB-C connector for versatile connectivity
Omnidirectional polar pattern for detailed sound from all directions
Includes a foam windshield, a carrying pouch, and an attachment clip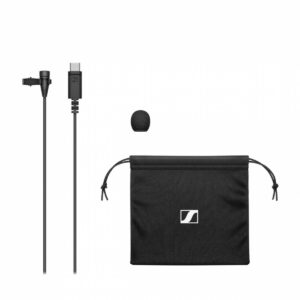 The Sennheiser XS Lav is unique in that it has a USB-C connector instead of a 3.5mm minijack, XLR, or any other kind of proprietary wireless connector. This makes the XS Lav especially versatile. It's easy to connect to laptops or mobile devices and you can even record speech from your pocket.
Broadcasting, podcasting, vlogging, live streaming on the go, recording voiceover, or carrying out web presentations – this lapel microphone is tailored for content creation of all stripes.
The XS Lav's omnidirectional condenser capsule provides detail and sensitivity with a wide frequency response, from 70 Hz to 18 kHz, so your voice sounds full-bodied and rich in any environment.
Convenient and instant, this mic comes with a 2-metre cable, offering plenty of freedom of movement that makes it ideal for all kinds of mobile recording. We also stock a version that utilises a 3.5mm minijack headphone connector if that better suits your needs.
The XS Lav requires fewer connectors than the SubZero lav mic thanks to its USB connectivity, but it still comes with a foam windshield for controlling sounds like plosives, wind noise, and rustling clothes, as well as a small carrying pouch and attachment clip.
Better still, it even comes as part of a mobile recording kit offered by Sennheiser, with a tripod and smartphone clamp for budding content creators who need a full setup on the move!
Shop now | Sennheiser XS Lav Mobile Lavalier Microphone
---
3. Shure Motiv MVL
Designed for smartphones and tablets
Omnidirectional polar pattern for detailed sound from all directions
Maximum SPL of 124 dB handles noisy environments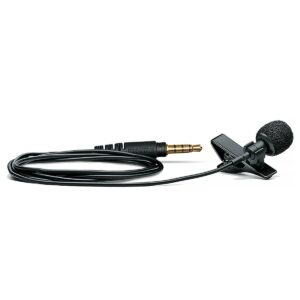 The Shure Motiv MVL is another compact and mobile-compatible lavalier microphone.
Designed for smartphones and tablets, the MVL plugs directly into any standard 3.5mm headphone port and records through the ShurePlus MOTIV app on iOS devices with gain, EQ, compression, and limiting to help you dial in the perfect sound.
The Motiv lavalier takes advantage of Shure's pedigree of microphone design throughout the decades, offering a premium build with a low noise floor.
It also provides immense clarity from its omnidirectional condenser capsule with a 45 Hz to 20 kHz frequency response. This really lets your voice shine, with a natural and authoritative broadcast-ready sound.
The Motiv MVL offers a broad dynamic range and the ability to handle extremely noisy environments, with a maximum SPL of 124 dB.
Shop now | Shure Motiv MVL Lavalier Microphone for Smartphones and Tablets
---
4. AKG C417 L
Wireless mic allows you to move freely in large spaces
Frequency response of 20 Hz to 20 kHz
Ensures a natural sound with no colouration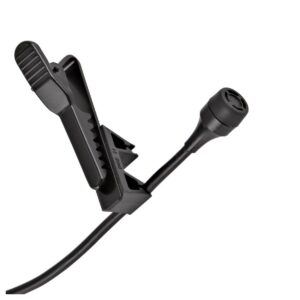 The AKG C417 L is the first dedicated wireless lavalier microphone on this list.
While this limits connectivity to AKG's own wireless bodypack transmitters and receivers, it provides reliability and freedom of movement in larger spaces like conference halls and theatres, whilst also excelling at television and other broadcasting.
The C417 L features a full frequency response, from 20 Hz to 20 kHz, with a flat, linear character that adds absolutely no colouration to your voice.
This is thanks to its omnidirectional condenser capsule, which ensures accuracy and a very natural, open sound that makes speech extremely clear.
Combined with some AKG transmitters and receivers' ability to apply effects like EQ and compression or limiting, you can achieve an ideal sound in mere moments.
Shop now | AKG C417 L Professional Lavalier Microphone
---
5. Rode Lavalier II
Best budget option
Can be placed directly against surfaces without affecting vocal sound
Frequency response of 20 Hz to 20 kHz
3.5mm headphone minijack for a range of connectivity options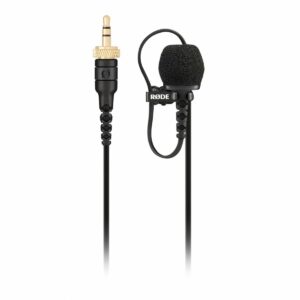 The Rode Lavalier II is a revised version of their extremely popular lapel microphone.
Boasting premium quality at an inviting price, this microphone has a low-profile design that's ideal for on-camera use and being hidden in clothing. Whether it's used for professional film and television audio, content creation, presentation, or narration, the Rode Lavalier II is a good balance of price and performance.
The Lavalier II's unique capsule design ensures it can be placed directly against surfaces and clothing without interfering with your vocal sound. This provides total freedom of movement and a huge step forward in audio quality.
Backed up by a full 20 Hz to 20 kHz frequency response, this omnidirectional condenser capsule is clear and adaptable.
The 3.5mm headphone minijack connector provides wide connectivity with mobile devices, at-home recording spaces, and wireless systems alike – whether that's Rode's own wireless kits or an existing system you rely on.
Shop now | Rode Lavalier II
---
6. Sennheiser ME2
Suitable for vocals and instruments
Removes muddy sub-frequencies
3.5mm headphone jack for connecting to recording devices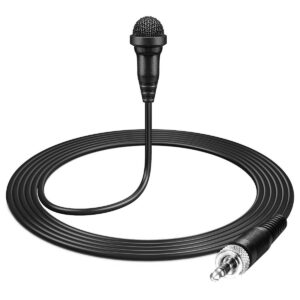 The Sennheiser ME2 is a clip-on microphone that's suited not only to vocal recording but also to instrument recording.
While obviously great for all the typical places you'd expect to see a lapel microphone – broadcasting, film, television, and content creation – it can also fit in the orchestral pit for theatres!
This makes the ME2 well-suited to recording string instruments in particular, easily clipping onto the body of violins, violas, cellos, and double bass.
Make no mistake though, the ME2 is no slouch when it comes to vocals either. With a frequency response that provides a slight cut to muddy frequencies below 30 Hz, it removes unmusical and clarity-destroying sub-frequencies from instruments and vocals.
It does this while still sounding full and deep enough to capture the lows of instruments like a double bass or adapt to lower voices while retaining a smooth, natural tone. The ME2 features an omnidirectional condenser capsule like many we've encountered so far, but its unique adaptability sets it apart.
What's more, this mic uses a 3.5mm headphone jack to connect to any recording device or wireless system you might want to use.
It also comes complete with a durable metal windshield and a square clip that makes attaching to instruments just as easy as clipping onto clothing. If you think you might find yourself needing to record instruments one day and vocals the next, the ME2 is the right choice.
Shop now | Sennheiser ME2 Lapel Microphone
---
7. Audio Technica PRO 70
Cardioid polar pattern for a focused sound
Suitable for instruments as well as vocals
Custom-tuned frequency response for a clear midrange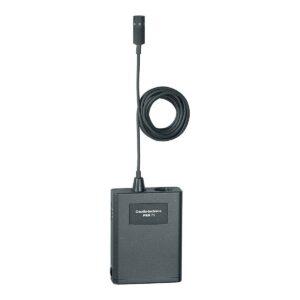 The Audio Technica PRO 70 is a unique choice for a lavalier microphone, balancing a friendly price point with premium features.
This mic has a condenser capsule, however, it features a cardioid polar pattern, which isn't particularly common in many of the offerings seen here. This provides a more focused directivity that prevents noise and bleed from other sources.
The PRO 70 is not only great at vocals but instruments too! With a switchable low-frequency roll-off for cutting the low-end mud and room noise on any source, you have complete control over your sound.
Its custom-tuned frequency response then delivers a clear, upfront midrange. All of this makes this mic perfect for acoustic guitar and other stringed instruments.
Efficient and adaptable, the PRO 70 is the real deal.
Shop now | Audio Technica PRO 70 Cardioid Condenser Lavalier Microphone
---
8. Shure SM11
A dynamic mic for handling loud sounds
Ideal for large-scale productions
XLR connector means it can connect to professional audio and recording equipment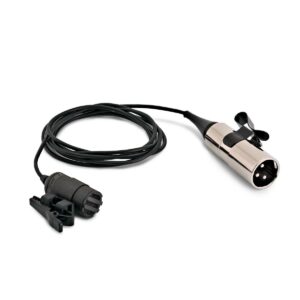 The Shure SM11 sets itself apart from the crowd instantly.
Being a dynamic lavalier, it's ideal for recording on location, handling louder sounds, or rapidly changing volume with ease. Its smooth exterior design and recessed capsule help prevent clothing noise from being picked up, ensuring you get pristine recordings right from the source.
The SM11 might just be the perfect choice for large-scale productions, especially film and television, whilst being affordable enough to suit any scenario.
This Shure offering also features a custom frequency response that's tailored to fit Shure's recognisable vocal sound, from 50 Hz to 15 kHz. This makes it less suited to instrument capture.
SM11 doesn't deliver a clear, extended top end; instead, it cuts some brightness for a less sibilant but more focused sound profile.
You can tell just by looking at the design of this lapel mic that it's built to last. It boasts a durable aluminium housing and a thick plastic clip to ensure it's as rugged as Shure's stalwart handheld microphones.
This microphone also features an XLR connector, allowing it to much more easily interface with all kinds of professional audio and recording equipment.
Shop now | Shure SM11 Dynamic Lavalier Microphone with XLR Connector
---
9. Sennheiser MKE Essential Omni
Light tandem membrane design for a moisture-proof construction
Maximum SPL of 140 dB handles noisy environments
Suitable for theatre productions, television, film, and broadcasting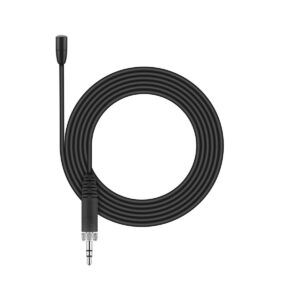 The Sennheiser MKE Essential is a powerful condenser lavalier microphone that takes its heritage from a Broadway classic, the MKE 2.
Influenced by this design and featuring a new KE 4 capsule, the MKE Essential offers the quality of a premium lavalier and scales it down to the bare essentials to make it budget-friendly without compromising on sound.
The MKE Essential is also moisture-proof thanks to its light tandem membrane design, preventing damage from sweat or condensation.
With a maximum SPL of 140 dB, the MKE can handle extremely loud sounds and noisy environments without distortion. Packed with a wide range of rotatable clips, magnetic mounts, and makeup cover-ups, this lavalier can be attached wherever and easily concealed.
An omnidirectional capsule and an incredibly low noise level ensure that this lapel microphone is a gold standard for theatre productions, television, film, and broadcasting.
Extremely well-suited to large formats, the MKE Essential provides incredible value for money while delivering the features you need to get great recordings.
Shop now | Sennheiser MKE Essential Omni-Black Lavalier Microphone
---
10. AKG LC617MD
Compatible with AKG's wireless systems
RF rejection prevents interference from other devices
Full frequency response of 20 Hz to 20 kHz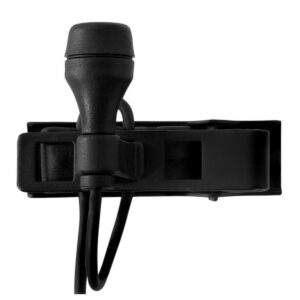 The AKG LC617MD is a no-holds-barred lavalier microphone. Simple, direct, and professional, this omnidirectional condenser is set to deliver a completely flat, true-to-life sound. Ideal for actors, presenters, and interviewers, the LC617MD takes its feature set from the highly popular C544 and C555 lapel mics.
Built for use with AKG's wireless systems, this microphone provides great RF rejection to prevent interference from other devices.
Particularly in the popular 2.4 GHz range, common objects such as mobile devices, other wireless systems, and even Wi-Fi routers can cause unwanted noise and interference – so the LC617MD having resistance to this ensures your sound is consistent and clear no matter what.
Included with this microphone is an adapter for use with non-AKG systems (AKG microphones feature proprietary connectors meant to work with their own products), windscreen, pouch, and tie clip.
With a full frequency response of 20 Hz to 20 kHz, this lavalier proves itself flat, even, and great for wireless systems and wired recording.
Shop now | AKG LC617MD
---
11. Shure Twinplex TL47T/O-MTQG-A
Best premium option
Utilises Shure's twin diaphragm technology
Resists RF interference when used wirelessly
Alternative frequency caps let you customise your sound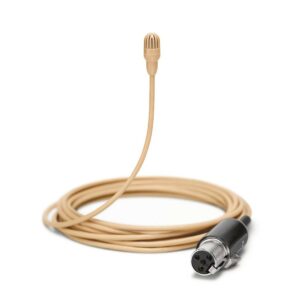 The Shure Twinplex TL47 is a premium product at a premium price, but its unique design and incredible sound quality absolutely earn its place on our list.
Shure's twin diaphragm technology has been seen in their high-end handheld and studio condenser microphones of late, but here they've shrunk it down into lavalier form.
The Twinplex's nanoscopic coating provides moisture resistance to ensure it holds up during long or intense performances and in warm temperatures, while also being heavily stress tested.
Put simply, it's a powerhouse. In any recording scenario, at any time, this lavalier's omnidirectional polar pattern maintains a consistent vocal sound. The Twinplex also provides resistance to RF interference when used wirelessly.
And for when you want to customise your sound, this lavalier mic's alternative frequency caps let you pick between a balanced, flat response or an upfront presence boost.
A full 20 Hz to 20 kHz frequency range and excellent SPL handling round out the TL47's sound: full, clear, and distortion-free. This is the go-to lapel microphone for professionals. It's often seen in high-end theatre shows, professional broadcasting, and big-budget film production, so if you need that level of performance, the Twinplex series is a feat of microphone design.
Shop now | Shure Twinplex TL47
How do I choose a lavalier mic?
So, what should you look for when picking a lavalier microphone? Capsule type, frequency response, and polar pattern are the key elements of picking any microphone.
Lavaliers mainly come in the form of either dynamic or condenser microphones. Dynamic lavaliers provide a wider dynamic range and are better at handling high volumes, but they tend to have a more limited frequency response.
Condensers, on the other hand, are more sensitive to volume and require careful gain settings so they don't distort when things get loud. Having said this, they typically have a more detailed and rich sound.
---
Frequency response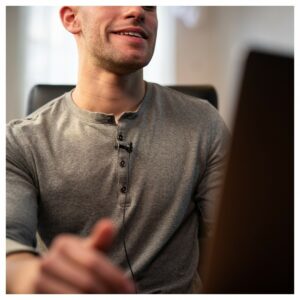 Frequency response is a more direct indication of the sound of a microphone, and specifications for microphones should give you a good idea of how it sounds.
The range of human hearing is typically cited at around 20 Hz to 20 kHz. While this can vary slightly, it's a good range to look for if you want a full frequency response with a clear high-end and deep bass to accurately record voices.
Sometimes you may want less bass to cut low-end muddiness or slightly less high-end for a more focused midrange.
---
Sound Pressure Level handling
Maximum Sound Pressure Level (SPL), commonly referenced in decibels, is a good indicator of how loud the sounds the microphone can handle before it distorts or even damages the capsule.
This is important to check to make sure your choice of lavalier mic is well-suited to the recording scenarios you're going to be putting it in.
---
Polar pattern
This one can be complex, so we'll keep it brief. Every microphone has a polar pattern that dictates which directions it receives sound from. This is very important in most mics, but especially for lapel microphones.
Omnidirectional patterns will pick up sound evenly in all directions, which is great for even sound fields or catching a lot of atmosphere and room tone, although this may not always be wanted.
Cardioid is more focused, taking in less audio from the sides and more from the front of the capsule. This helps to reduce background noise while recording.
Some premium options may even come with multiple capsules or built-in switches, so you can decide which pattern you need and when.
Want to learn more? Check out our advanced guide to polar patterns.
FAQs
What is a lav mic?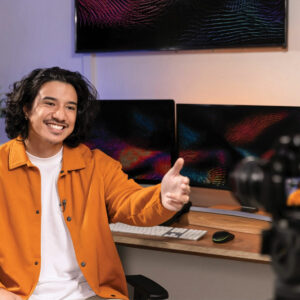 A lav mic is a small-format microphone that clips onto surfaces such as clothing. Typically used for recording speech or acoustic instruments, these microphones are often seen in theatres and on television or film sets. They're mainly used for their discrete design, which allows them to be concealed more easily when on camera.
---
What is the difference between a lavalier and a lapel mic?
A lavalier microphone and a lapel microphone are just two different terms for the same thing! They're often called lapel microphones because that's usually where they're attached to when recording speech. There is no difference in design or features that separate one from the other, so don't be confused when you see them used interchangeably.
---
Why are lavalier mics so good?
The best thing about lavalier mics is their small, unobtrusive design. They can be used hands-free, clipped onto clothing, or totally concealed, which makes them the go-to choice for stages, interviews, television, and film recording. Lavalier mics are also really good at capturing natural-sounding speech, which comes across smooth and believable to our ears.
Final thoughts
There's a huge variety of lapel microphones, and in our opinion, these are the 11 best lavalier microphones on the market today.
From reliable budget-friendly options to a small-format USB microphone for content creators, lavalier mics that are great for instruments, and even high-end theatre microphones, there should be something great for absolutely everyone on this list – no matter what you're after.