Behringer's wide array of professional gear includes many different small-format analog mixers; but, if we're being honest, what audio brand doesn't sell analog mixers? The real deficit in the current market is small-format digital mixers.
The Flow 8 mixer fills this space, whilst being both affordable and feature-heavy.
It's small, yes. But packed into its compact build are eight inputs, six faders, multiple outputs, USB connectivity, and tons of digital effects and tools.
And did I mention you can control it remotely with your phone or tablet?
You might be thinking: that's a lot to promise, right?
So, to answer any questions you might have, I've had a go with the Flow 8 myself.
Initial Thoughts on the Flow 8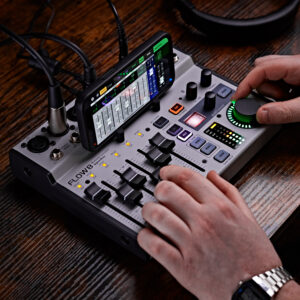 When I took the Flow 8 out of its box I was struck by its size. It's so small! Right away, I could see how this would be useful for gigging musicians without a lot of carrying space.
It comes with a USB cable and power cable. I thought I might be able to power it via USB, but this is only for connecting to your computer. But no bother, most places you'd use this would have a mains supply. Just something to keep in mind if you're taking it on the road.
I powered it up and plugged it into my computer.
In an ideal world I would've tested it live, but this is not an ideal world. However, using it as a USB interface gave me a good idea of how it might perform in a live situation.
So that's what I did. I fired up my laptop and got testing.
I also installed the FLOW 8 iPhone app at this point. It was easy enough to connect to the Flow 8 via Bluetooth – just a matter of setting it to pairing mode – but the app told me the mixer needed a firmware update.
This, I can't lie, scared me a little – as firmware updates can do. But I had no reason for my fear – Behringer's SimplyPUT Update Tool had the Flow 8 ready to go in less than 5 minutes. Awesome.
Connectivity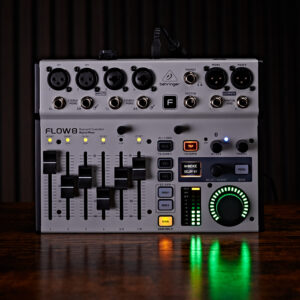 The Flow 8 has a lot of connection options. Sure, you won't be micing a whole band with it – but it does the job for small to mid-scale applications.
Inputs
It has eight inputs to choose from.
Firstly, we have two XLR inputs. These are intended for microphones and have the option for phantom power, should you need it.
The second two are combi inputs, accepting both XLR and jack. This allows for flexibility and are good for different live configurations.
Finally, we have four 1/4″ jacks. They can be configured as either two stereo pairs or as two mono inputs.
It would be good to have the ability to separate channels 5/6 and 7/8 – even if there aren't enough faders. But this configuration makes it easy to connect stereo instruments like keyboards.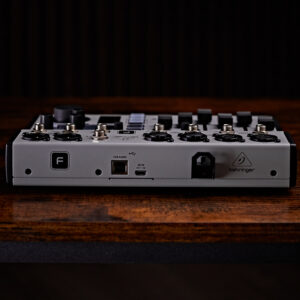 Outputs
A number of useful outputs are also available: two balanced XLR main outputs, two 1/4″ jack monitor sends, and a 1/4″ phones output.
And this gives you everything you need to get going with a mid-sized live setup.
USB Interfacing
This handy digital mixer also boasts USB interfacing, allowing you to record straight to a computer. So, naturally, I recorded my guitar, a synth, and some vocals.
It functions a bit like a normal USB interface, with all 1-8 inputs going to separate channels pre-fader. But, taking things one step further, there are also the benefits of inputs 9/10, which send a mixed output with any effects applied.
This makes me think the Flow 8 would be an ideal podcast mixer. You could record separate vocal channels for mixing later, and send an immediate mix for live-streaming purposes.
I found it easy to use as an USB interface, and if I get the chance to use the Flow 8 live, I'd like to record to my laptop at the same time.
Form Factor
As I've mentioned already, the Flow 8 is small. And with this small size, you'd think it might make some compromises. And yes, there are some, but I believe they're in the right places.
Level Controls
For one, it has six physical faders – not dials, and not small and weedy either. Six, nice-sized faders.
These felt smooth to use, and they allowed me to set the levels of each of my inputs with precision. The only issue is that changing the virtual faders on the app doesn't change the physical fader levels. This is something to look out for, especially if your mixing style is jumping from app to desk and back.
Luckily, the discrepancies between the app and physical controls aren't reflected in the output level. Instead of a fader, it has a large dial with light-up LEDs showing the current level – changing with the app this time! And like the faders, it offers smooth control for changing levels with precision.
Other Controls
The remaining dials are on the smaller side. They offer Bluetooth/USB volume control, headphone volume control, and menu selection.
All other controls are then presented in small buttons which lend themselves to quickly changing effects, muting, activating monitor outs, and more. Combined with menu selection, these aren't the easiest to get the hang of – especially without a manual.
I'm not a fan of menu-diving, so this could have been an issue. However, the Flow 8 is designed with app control in mind, and app control makes things a lot better.
App Control
As I've mentioned, the Flow app is easy to connect.
I was testing on a 2nd generation iPhone SE. A bigger screen would have been ideal, but my little one still did the job.
Main Controls
Tapping on an input gives you a range of settings, which are accessible on the physical desk.
You can set the gain (I'll come back to this), adjust the initial low cut, add compression, pan left and right, and adjust the level. There's also a four-band EQ, 48V toggle (for the first two inputs), and mute/solo toggles.
Tapping on a control triggers it to fill the screen. This is great for people like me who are using a smaller screen, making precision control that much easier.
And although I'm not a fan of the on-screen faders, I'm not a fan of any on-screen faders. So I guess they're alright.
Effects
The app makes it easier to delve into the effects settings, too. There are two effects channels which can be applied to any input.
FX1 has 12 reverb effects of varying length and room type. There aren't many settings to change on these, apart from the delay, but they provide an easy option for live effects.
The FX2 channel then boasts 12 delay effects and their range of types. You can set the tempo of these with the "tap for tempo" control (also on the desk), whilst adjusting the feedback dial and dull/bright toggle.
Both effect channels have four flanger and chorus effects too, so there's plenty to get started with.
I actually prefer that Behringer have kept the effects section simple. It could have been easy to clog up with multitudes of settings, but their minimalistic layout makes it an easy task to work out.
Other Features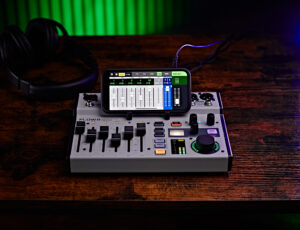 Another cool feature of the app is the ability to save and recall presets. This isn't something I explored much, but I could see it being useful for a long-term owner.
I should also mention at this stage that you can send audio via Bluetooth to the mixer. So you can mix with your device, then play music from your device. Convenient for smooth transitions!
There's a phone holder on the mixer in the form of two plastic pegs. This would work well for accessing some of the deeper settings – like EQ – while using the physical faders. I'm not sure this is something I'd ever use though, but its addition doesn't detract from the design.
EZ-GAIN
The shining star of the Flow 8 is its EZ-GAIN functionality.
I'm comfortable with gain staging, but, I'll admit, it's daunting to get the hang of. It can take time to get right, and even then you might feel uncertain.
Here's where EZ-GAIN comes in. You turn on the calibration for one or all inputs, and play as loud as you're going to.
Once you've played your loudest, turn off the calibration and get playing. It's super easy!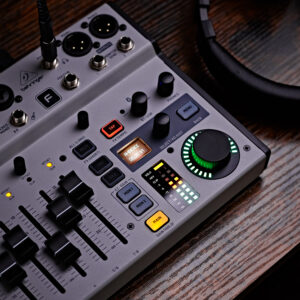 Using EZ-GAIN
I used EZ-GAIN to record a number of different guitar parts, all at different volumes. This was quick and accurate to achieve. Whatever volume I was playing, I got a clean and appropriate signal. And I didn't even have to use my brain.
One use case I think this would be useful for is open mics. At these events everyone brings different gear, with different volume levels. Therefore, you'll have ever changing gain requirements.
Because EZ-GAIN allows you to set the gain in an instant, you won't be hovering over the desk for long. Even when you encounter a singer with a voice like a fighter jet.
Final Thoughts On The Flow-8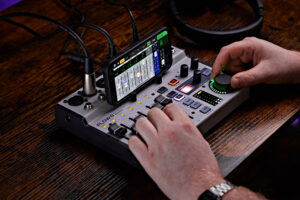 I enjoyed my time with the Flow 8. It's great that Behringer have released a small-format, affordable digital mixer, and I'm sure it would work really well for small to medium-sized shows.
I go to a lot of open mics, and some of them could do with something like this. Rather than a bulky, unintuitive mixer, this is compact and could even be slipped into a small bag.
It would also work well as an audio interface with live mixing options. If you're a streamer or podcaster, this might be the mixer for you.
Overall, I'd recommend the Flow 8. Now – time to get one of my own!