A relatively new area for
Alesis
, the Concert, Recital, and Prestige digital pianos combine the brand's expertise in electronic gear with modern innovation. Lightweight, realistic, and full of handy features – these pianos are ideal for beginners and professionals alike. And what better way to learn about them than with a quick Gear4music guide?
---
The Concert
At a price that won't make you recoil in horror, the Alesis Concert is an instrument for beginners. High-quality design is teamed with a certain level of simplicity, and this allows you to get to grips with the basics. But don't worry, there's also plenty of opportunities to explore new sounds while improving your technique.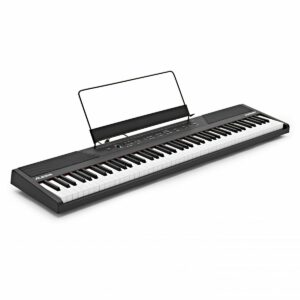 Feel
Along with the 88 full-sized, semi-weighted keys and adjustable touch response, there's an array of 10 voices waiting to be discovered. Synth, bass, and church organ, among others, are all available to you with this piano, and they can be easily layered or split across the keyboard for a fuller, richer sound.
There are no strict parameters when it comes to shaping these voices – that is completely down to you and how you choose to use the reverb and chorus effects. The beauty of these features is that they give you everything you need without inundating you, helping you to learn as effectively as possible.
To further aid you in your learning, the Alesis Concert also has a 'Lesson mode': something which both students and teachers will benefit from.
Lesson mode essentially divides the piano into two keyboards, allowing students and teachers to watch each other play. This is a godsend when you think of how much you can gain from analysing your teacher's playing – and the all-important feedback your teacher will give you after watching you play up close.
You can also practise together with equal access to bass and treble notes – no more swapping turns at the piano, it's ready and waiting in front of you both!
Sound
It's all well and good having supremely easy playability at your control, but it means nothing if you don't have powerful sound projection to match. Luckily, this Alesis gem boasts two 20W speakers and a 128-note max. polyphony. Unlike many entry-level digital instruments, this speaker system ensures your music completely engulfs you. No thin tinniness, just stellar sound quality.
A headphone output is never more apt than when it comes to beginners' pianos. Sometimes, you just want to practise without everyone listening in. Or maybe you're a night owl and don't want to wake the neighbours. Either way, you'll always be thankful for headphone output. RCA and USB-MIDI outputs are also installed, enabling you to connect the piano to a mixer, amp, computer, and more.
The icing on the cake? A sustain pedal is included too.
Apps
You can never have too many music lessons, which is why not only does this digital piano accommodate in-person learning, but it also comes with a 3-month subscription to Skoove Premium and 2 months of TakeLessons.
Skoove provides online piano courses and a highly varied catalogue of piano music to choose from, so your repertoire is precisely tailored to you. Plus, Skoove also gives you useful feedback, ensuring your skills develop quickly and effectively.
TakeLessons is America's largest lessons company – so you can count on their professionals to give you the best advice. With live video lessons, you can interact with classmates and take your pick from hundreds of classes.
If you're a beginner and you choose the Alesis Concert, it's inevitable that your technique will only get better.
---
The Recital Pro
We all have to start somewhere, and a beginners' instrument shouldn't trap you in a box. That's why Alesis have also given you the option of the Recital Pro. If the Concert just doesn't cut it for you, the Recital Pro might be what you're looking for.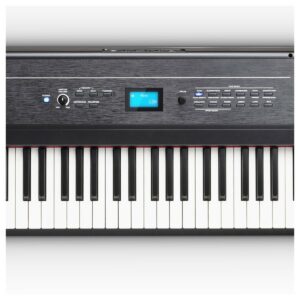 Feel
The Recital Pro showcases 88 hammer action keys. They imitate the workings of a real acoustic piano, so you can practise proper technique that feels the same in exams and recitals. Plus, like the Concert, the keyboard also has an adjustable touch response, allowing you to tailor your playing experience to suit you.
Sound
Even though the Concert boasts a plethora of high-quality sounds, some players might want a little extra. If this is you, then the Recital Pro has your back. It features 12 voices, two of which – the bright acoustic piano and fingered bass – are beautifully refined. Modulation, reverb, and chorus effects then enable you to sculpt each of the voices until they ring out exactly the way you like.
As well as Lesson, Split, and Layer modes, the Alesis Recital Pro also boasts Record mode. This handy feature allows you to listen back to your playing and further refine your skill.
Apps
Two 20W speakers are installed on the Recital Pro, ensuring that, like the Concert, you have ample bass and treble shining through with every chord. There are also headphone, stereo, and USB-MIDI outputs for silent practice, amplification, and music production.
A 3-month subscription to Skoove Premium and 2 months of TakeLessons come with the Recital Pro, too. It's a step up for beginners who want to develop their technique and still have things to explore when they become more advanced.
---
The Prestige
Just the name says it all. The Alesis Prestige digital piano perfectly combines the beginners' features of the Concert and Recital Pro with professional playability.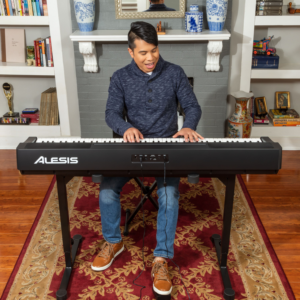 Feel
Not only does the Prestige have a hammer-action keyboard, but it also presents a graded design. This is particularly notable because it allows you to experience the same touch response as you would expect on an acoustic, with the lower keys feeling heavier and the top end feeling lighter.
Sound
It may come as no surprise that a step up in price usually means a step up in instrument voices. The Prestige is a fine example, and yet it's still budget-friendly.
It's not just the number of voices that has increased – there are 16 – but the quality of them too. Alesis have employed a multi-sample method to ensure that each sound responds to the expressiveness of your playing in a highly nuanced way, reflecting the way an acoustic instrument would. From rock organ to upright bass, there is a carefully sampled range of sounds that thrive with multiple genres.
Since the quality of the samples has been given such scrupulous attention, it's only fair that the speakers have the same. An astonishing 50W of amp power will give your chords the oomph they've been craving, sending them soaring through the custom-voiced, micro-array speaker system. All of this means that those detailed, multi-sampled voicings can truly reach their full potential.
The Prestige is loaded with the same modes as that of the Recital Pro, giving you the opportunity to learn on an instrument that will stick with you as you progress. Additionally, there's a metronome to ensure you're always in time – another useful feature that every musician is grateful for.
Apps
There's no need to compromise. This Alesis digital piano also comes equipped with a 3-month subscription to Skoove Premium and 2 months of TakeLessons. But it goes one step further: you'll have 60 free interactive lessons with Melodics too.
The benefit of such variety means you can find what works best for you, especially when you have the broad range of Melodics' lessons at your disposal and instant feedback given to you afterwards. What's more, this easy-to-use app has a vast library of modern genres – perfect for aspiring musicians who want to practise pieces they recognise.
---
The Prestige Artist
The crème de la crème of Alesis pianos, the Prestige Artist is ideal for more advanced players, as well as ambitious beginners.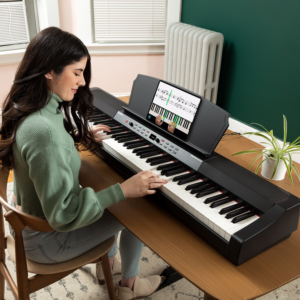 Feel
The Prestige Artist boasts a set of graded, hammer-action keys that can be performed with a maximum of 256-note polyphony. Yes, you read that right – 256 notes. This kind of polyphony goes beyond the likes of other pianos at the same price-point, and means you can deliver supremely rich, full-sounding music without being limited.
Sound
Multi-sampled for a detailed response, the array of 30 built-in sounds puts the control in your hands. Whether you're an aspiring composer or arranger, or you just want to experiment with various instruments, you'll never be bored of things to try. The Layer and Split modes then let you combine voicings or divide them across the piano.
Lesson mode, Record mode, and metronome are all still available on this piano, as well as an arpeggiator. Add a little extra pizzazz to your chords and make learning those scales fun.
Another one of the main differences with the Prestige Artist is the OLED display screen. Clear and easy to use, its intuitive UI lets you control your sound with incredible precision. And once you've found the mode or tone you're after, the 50W micro-array speaker system is ready and waiting.
Apps
Again, this Alesis piano features headphone, stereo, and USB-MIDI outputs, as well as subscriptions for Skoove Premium, TakeLessons, and Melodics.
The difference, however, is that you can use these apps to their full advantage and really ensure that your technique develops as it would on an acoustic piano. The supremely realistic playability of the keyboard and easy-to-use spectrum of controls will make sure of it.
---
Which one is right for me?
The beauty of Alesis digital pianos is that they house some truly high-end tech. And they're fairly new for Alesis, meaning they're in line with what modern pianists need.
From Concert to Prestige Artist, these four digital pianos accommodate a range of abilities. And none of them step into an eye-watering price range – a bonus for anyone!
A superb entry-level instrument comes in the form of the Alesis Concert, offering all the basics without any of the hassle. It's perfect for aspiring pianists who don't want to be inundated with a heap of controls they might never use, but do want a smooth feeling, quality sounding piano.
If you're after something slightly more sophisticated, the Recital Pro or Prestige is for you. With Prestige being the more advanced of the two, they both offer a broader range of sounds and a slightly more realistic feeling keyboard. These added features lend themselves to unrestricted creativity.
And finally, the big one. Whilst accommodating beginners with its Lesson mode and app subscriptions, the Prestige Artist is for players who want more scope. Whether it's even higher quality sound or an extensive choice of voicings, this Alesis piano will thrive in both practice and performance settings. The OLED screen, 30 built-in sounds, and 256-note (max.) polyphony all contribute to the piano's rich tone and easy-to-use nature.
Each piano also comes as part of a bundle, equipped with headphones, a stand, and stool.
Shop now | Alesis Digital Pianos