It's conquered the world of rock 'n' roll and graced the hands of countless music legends; the
Fender Stratocaster
is one of the world's most renowned instruments. Appearing in countless genres – thanks to its comfortable feel and striking, versatile sound – it's become the blueprint for six-string success.
Achieving massive popularity since it exploded onto the scene in the '50s, there's now a huge assortment of Fender Strats to choose from. Naturally, this can be a little intimidating if you don't know where to start. But fortunately, we're here to give an overview of each version of this almighty riff machine and how they might benefit you.
So, strap in, and get ready to chow down on a musical feast that we're about to offer…
Break it down
As there's such an extensive range of Stratocasters available, we're going to condense each range into its major features and what style and player they're aimed at. Read the headline bullet points for an immediate flavour of what they offer, or continue to the paragraph for a deeper sense of what each series brings to the table.
Each section will also go over any variants contained within a series and, most importantly, what kind of player would benefit most from using them. Let's get started!
---
Player
The entry point to genuine Fender Stratocasters
Modern style, shaping and playability
Delivers an authentic feel and bell-like Strat tones
Equipped with a two-point tremolo for shimmering vibratos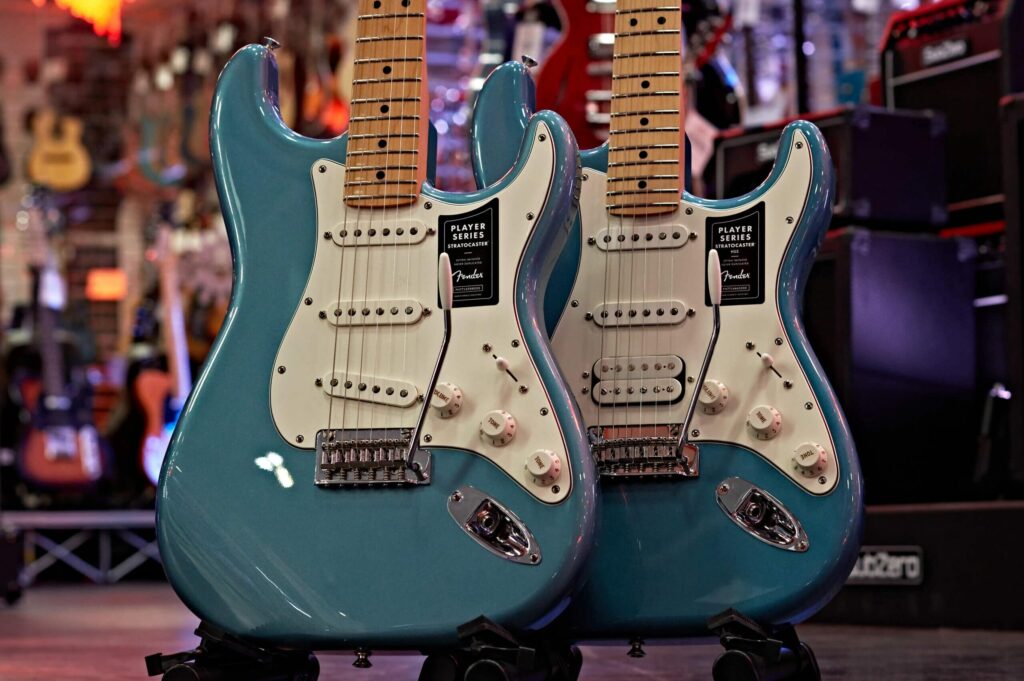 There's no better place to start. The Player offers all the Stratocaster essentials including a smooth, modern-profiled neck and a resonant, nimble alder body at an exceptional value. Combined with a two-point tremolo system on each model, you've got all the necessary ingredients to draw out a powerful performance.
What are the variations?
For an entry-level guitar series, there's a stunning breadth of options available for the Player. Firstly, there's a wide range of body and pickguard colours to match your preferred aesthetic.
The fretboard comes in either maple or pau ferro, the former adding bright overtones and lifting the top end, and the latter adding a deeper, warm texture to your notes.
Perhaps most importantly for your sound, there's a choice of pickup configurations available with the Player. There's the traditional three single-coil (SSS) setup for the lyrical Strat flow. Or, for a more heavy-hitting sound, humbucker, single, single (HSS) layout. This swaps the bridge pickup for a punchy, hotter output humbucker that's great for rock and crunchier styles.
For even more searing sonics, there's the humbucker, single, humbucker (HSH) config that hits with a rounded tonal punch – an ideal option when you need forceful tones.
Who's it for?
Players who are looking for Stratocaster feel and tone, without any of the extras.
Developing players who want to progress to a genuine Fender.
Shop Now | Fender Player Stratocaster
---
Noventa
A new, exciting spin on the classic Stratocaster formula
Equipped with dual, P90-style single coils for a boosted sound
Rip through riffs on a modern profiled maple neck
Enjoy solid intonation and tuning stability through a hardtail bridge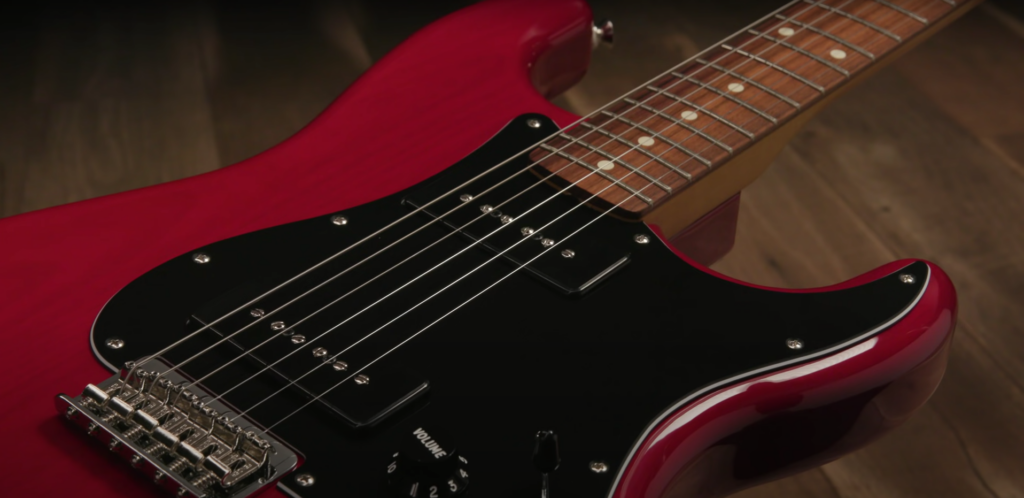 Looking for something a little different? The Noventa is a relatively new addition to the Stratocaster family, and offers quite a different experience thanks to its beefed-up single coils. Its body and neck construction feature the same modern profile as other contemporary Stratocasters, with its defining feature being the P90 style pickups.
These hit with a biting force, carrying more tonal weight than a standard single coil. It allows you to explore more compelling sonics while retaining some of the clucky twangs of single-coil voicings.
What are the variations?
As a newer and more boutique entry, the Noventa Stratocaster only comes in three options which can make choosing between them a bit easier. They all carry the same dual P90-style pickups, so your other choices are limited to a maple or pau ferro fretboard – and your preferred colour.
Who's it for?
Players looking for the modern Stratocaster playability and feel, but with a more unique tone
Those looking for a sound that can bridge the gap between single-coil and humbucker
Shop Now | Fender Noventa Stratocasters
---
Vintera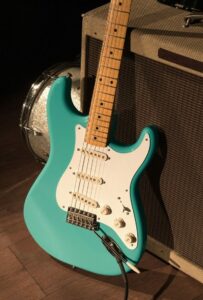 Step back in time and enjoy some retro riffs
Period correct features, like neck shape and pickup voicings
Access sonics that evoke the clean and clipped tones of the '50s and '60s originals
Each include a deluxe gig bag to preserve their throwback style
The Vintera offers you the look, feel and playability of a classic Fender Stratocaster, all without having to break the bank for a Custom Shop recreation.
It's a true step back in time, offering vintage appointments such as classic tuning machines and strap buttons, gloss urethane finished headstock, and gloss polyester finished body for a timeless sheen.
There's also its vintage-style fret wire and six-point tremolo system for wavy vibratos. Depending on which model you choose, they'll also have a soft V-shaped classical neck, in addition to pickups that replicate the original Fender frequencies.
What are the variations?
There are four flavours of Vintera on offer: '50s, '60s, '50s modified and '60s modified. Both '50s and '60s feature all the classic aesthetics, in addition to pickups that are voiced to capture the sounds which established the Stratocaster. A bit thinner, clearer, and crisper than modern equivalents.
They also feature period-accurate neck profiles for that throwback feel, with the '50s using a brighter maple fretboard and the '60s opting for a warmer and darker pau ferro.
The modified versions switch it up significantly, retaining the classic aesthetics but adopting modern components for speedy, aggressive playing. These include 'C' shaped necks, contemporary two-point tremolo systems, and supercharging the pickups to unleash a sizzling output.
There's even a switch that lets you add in the neck pickup into positions one and two, injecting a forceful push into your sound. Again, the '50s uses a maple fretboard and the '60s opts for pau ferro.
Who's it for?
If your favourite music and styles are from the '50s or '60s, these Vinteras place it at your fingertips
If modern bite and fluidity of playing mixed with a retro aesthetic is your jam, then the '50s and '60s modified will deliver just that
Shop Now | Fender Vintera Stratocasters
---
Player Plus
Takes your sound even further with additional features over the Player
Noiseless pickups deliver a pristine voicing – and can be pushed further with S1 switch
Get enhanced comfort and flowing riffs from a fingerboard with rolled edges
Rock-solid tuning from a set of locking tuning machines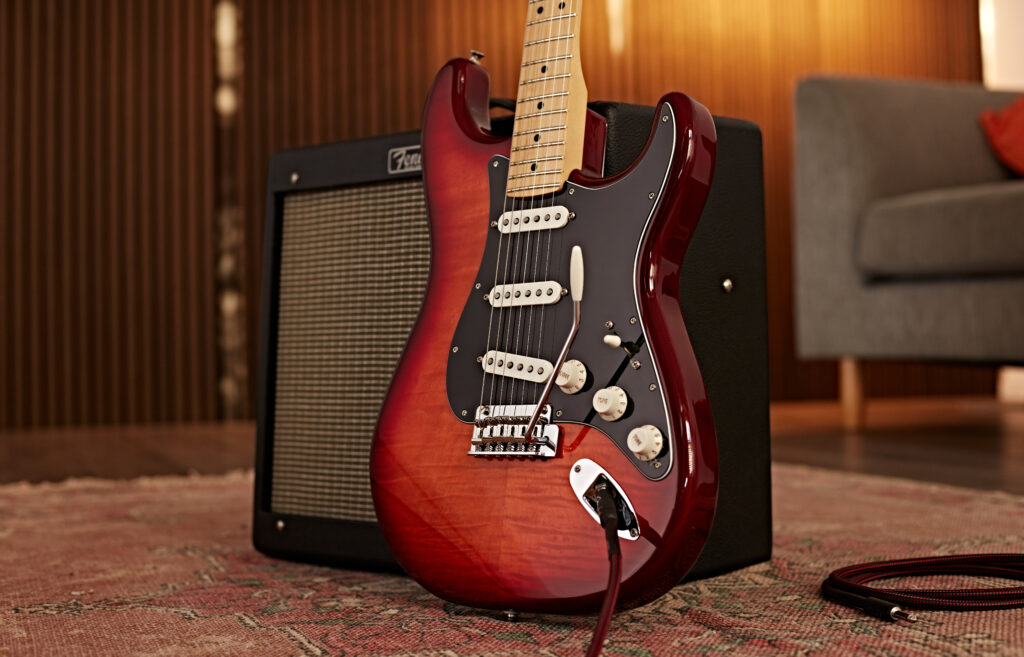 Going one step up from the entry-level Player, the Player Plus rewards you with more exciting options for shaping your sound. Not only does it come with rolled fingerboard edges for a dreamlike, speedy feel – but it also provides an S1 switch that adds in an extra pickup for thicker, chunkier output.
Add in some locking tuners that allow you to perform at full throttle without fear of your tuning slipping, and you've got a Strat with all the essentials and added spice to take your playing up a notch.
What are the variations?
Just like its sister Player series, there are a plethora of colours available to suit your style. Pickups-wise, you have a choice between traditional three single-coils (SSS) or a humbucker, single, single (HSS) layout.
The humbucking model ditches the S1 Switch found on the single-coil trio, and instead includes a coil-split to still access the cutting sparkle of a bridge position single coil.
Who's it for?
Just like the Player series, if you're developing and want a genuine Fender that has more bite and premium features, this will suit
Similarly, if you want a Stratocaster that contains premium features without stretching to the expense of professional guitars, the Player Plus will deliver.
Shop Now | Fender Player Plus Stratocasters
---
JV Modified
Impeccable style and build quality of a Japanese-made Stratocaster
A thick V-shaped maple neck delivers classic feel
Vintage-voiced single coils provide a sparkling '60s tone
A 9.5″ radius fretboard with medium jumbo frets allows for easy chording and wild string bends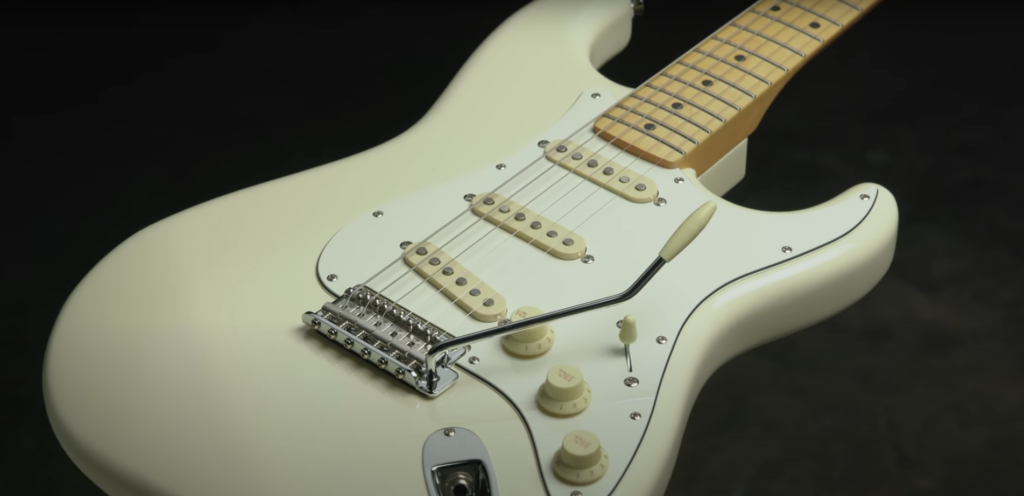 Recreating a sought-after Japanese made reissue from the '80s, the JV modified hits all the right notes for a classic-style Strat that's mixed with a modern attitude.
Like the Vintera, this series seeks to inspire you with the Fender features of yore, like a thick 'V-shaped neck, vintage locking tuners, and pickups that gleam with retro voicings. Similar to the Vintera modified, the advanced electronics feature a switch to add in the neck pickup to positions one and two.
What are the variations?
There are two versions available, each a different colour. The only spec difference between them is the pickups and electronics.
As usual, there's a classic triple single-coil with an S1 switch that engages the neck pickup in positions one and two, or the HSS layout for a meatier bridge output.
That version is equipped with a coil-split, so you can still kick out the snappy single-coil bite at the bridge position.
Who's it for?
Just like the Vintera, it places the feel and sound of a Stratocaster from days gone by into your hands. However, this is a more bespoke recreation that is modelled after a specific Japanese version. Consequently, it's more aimed at fans of these sought-after versions
However, if you want a vintage-styled and sounding Strat with a fretboard that allows for expansive lead playing, you'll want to check this out.
Shop Now | Fender JV Modified Stratocasters
---
American Original
Peerless Fender USA construction
Original Stratocaster feel and funk doesn't get better than this
Stunning clarity and vintage voice produced by three pure vintage pickups
Easy rhythm and lead playing on a modernised "Soft V" shaped neck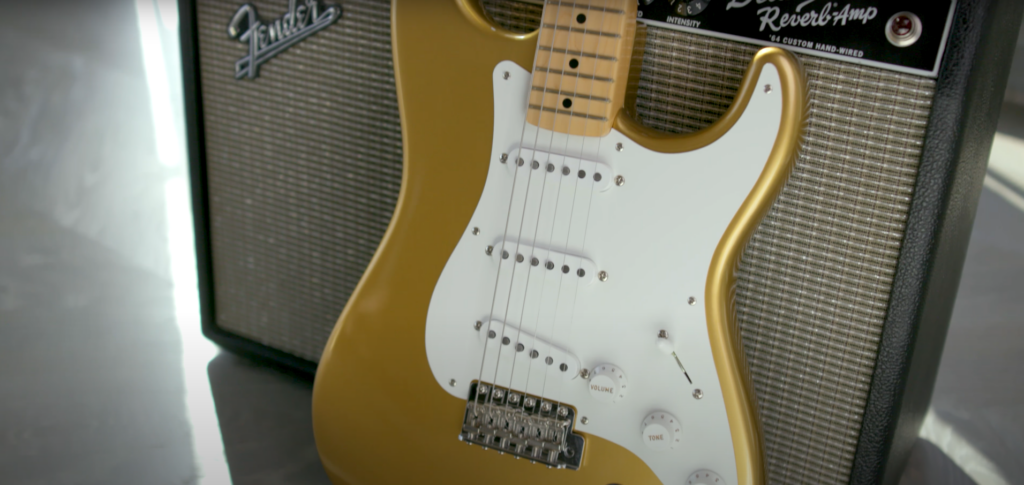 Made in the USA, these full-fat instruments return to the Stratocaster's roots. Sparing no expense or compromise, the American Originals are the pinnacle of authenticity, but with a few modern twists to make your playing as smooth as butter.
A trio of vintage-style pickups provide the crisp tonal engine for the American Originals; either a '59 voiced or '65 voiced set. These serve to step up the authenticity through their period-correct build, using accurate cloth wiring and bobbin construction to grasp those sizzling Stratocaster purrs.
What are the variations?
Like the other vintage-focused Strats, this is available in '50s and '60s configurations. The '50s adopts a maple neck, '59 voiced and built pickups, and a "Soft V" shaped neck.
Whereas the '60s opts for a rosewood fingerboard, '65 voiced and built pickups, and a '60s "C" shaped neck for a snappier attack.
Who's it for?
Those who want a classic, no expenses spared, made in the USA Stratocaster but with modern quality and playability.
None of the drawbacks of owning a true vintage instrument, but all the benefits of its tone, lacquered finish and retro aesthetic.
The '50s model produces slightly brighter, cleaner sounds ideal for the early era of rock 'n' roll, whereas the '60s has a hotter, deeper tone that's great for recreating the swinging '60s.
Shop Now | Fender American Original Stratocasters
---
American Pro II
Kitted out for professionals, delivering rock-solid reliability
Command a vast range of genres with a set of versatile V-Mod II pickups
Inject vibrato thrills without any tuning slips thanks to an upgraded cold-rolled steel tremolo block
A neck and fretboard built for modern virtuoso styles, it's got a deep "C" profile and rolled edges for a smooth, comfortable feel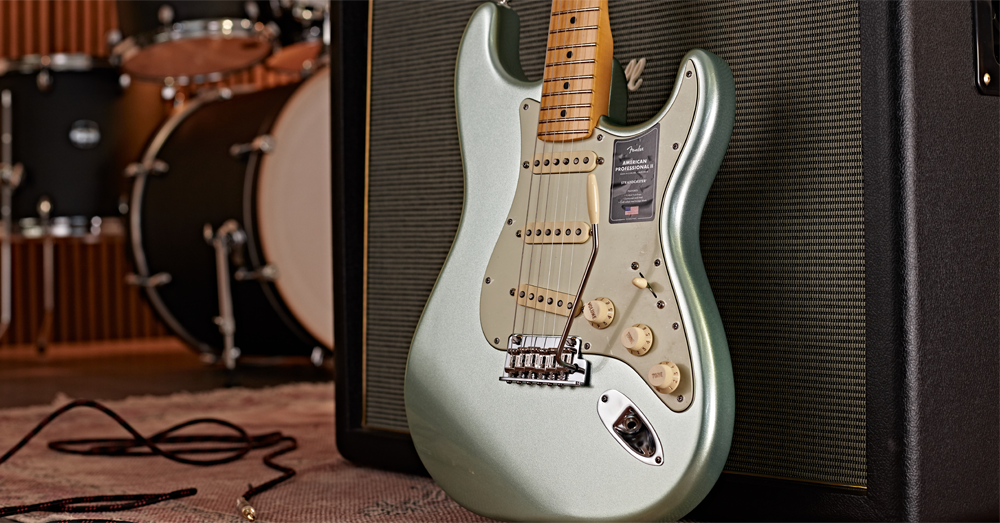 The American Pro II steps up the quality. Presenting precision engineering that's combined with some of the best components Fender have to offer, professional players can raise their game with this beauty. Musicians who are going from gig to gig will appreciate the solid tuning stability, effortless playability, and precision electronics that allow them to dial in an exact sound.
Rolled fingerboard edges and a deep "C" shape provide excellent comfort and allow for speedy, rapid riffing. Meanwhile, a stunning set of V-Mod II pickups uses a blend of magnets to offer you a variety of tones to explore, letting you dip in and out of genres just by switching pickups. Combined with an S1 switch or coil-split, that tonal diversity is strengthened further.
What are the variations?
Once again, there is a plethora of colours to choose from. But of course, your main choice is between a trio of single-coil V-Mod II's or a HSS layout. That bridge humbucker provides the punch for heavier rock styles, so if you fancy some aggression, this is the one to choose.
Aside from the pickups, it's a choice between a maple or rosewood fretboard. Maple picks up those bright, sharp tones while rosewood delves into deeper, bass and mid rich textures.
Who's it for?
Squarely aimed at those who seek professional performance and reliability, with that something extra to lift their playing to new heights.
However, if you want a modern, flexible Stratocaster with components that enable adventurous playing, this is it.
Shop Now | Fender American Pro II Stratocaster
---
American Ultra
The pinnacle of Stratocaster perfection
At the cutting edge of modern playability
A modern "D" shaped neck set with an Ultra satin finish creates a speedy, rapid surface.
Playability is enhanced further through a compound radius fretboard with rolled edges, so chords are easy near the nut and string bends are flawless on a flatter surface higher up.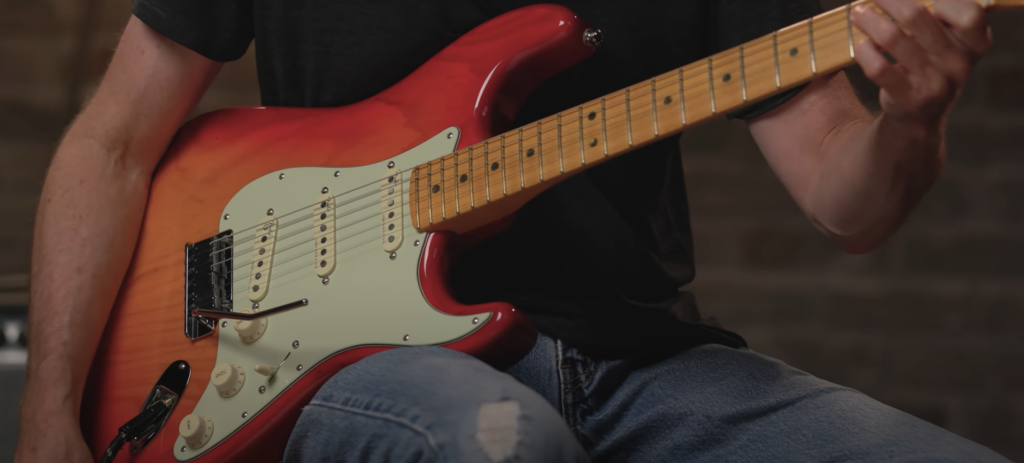 The American Ultra pulls out all the stops. Every inch has been refined to give you unlimited possibilities. A body with carefully cut contours matches with a neck that's been treated to an Ultra satin finish for rocket speed riffing.
Boasting some of Fender's most refined pickups, a trio of Ultra Noiseless Vintage single coils provide an articulate, unmistakable Stratocaster twang. And that's without any noise or hum bleeding through your output. Finally, a compound radius fretboard adorned with 22 medium-jumbo frets makes string-bends and searing solos a breeze to perform.
What are the variations?
It's a running theme by now – there are plenty of colours to match your preferred style and your choice of maple or rosewood fretboards.
As usual, there's also a HSS version for full-throttle bridge tones, or triple single-coils for classic Strat tones.
Who's it for?
If you want a Stratocaster to surpass all other Stratocasters, this is it. Every component is top-tier and meticulously balanced to provide the ultimate performance.
The American Ultra will also reward faster playing styles. If you want to unlock the rapid riffs of a player like Malmsteen, then this guitar will provide a solid foundation.
Shop Now | Fender American Ultra Stratocaster
---
American Ultra Luxe
It's everything that the Ultra offers, but elevated just a little bit further
The ultra-comfortable neck gets even better thanks to the Luxe's augmented "D" profile
Strings are firmly anchored for maximum vibrations on a premium TUSQ nut
Sealed locking tuners provide the ultimate in tuning stability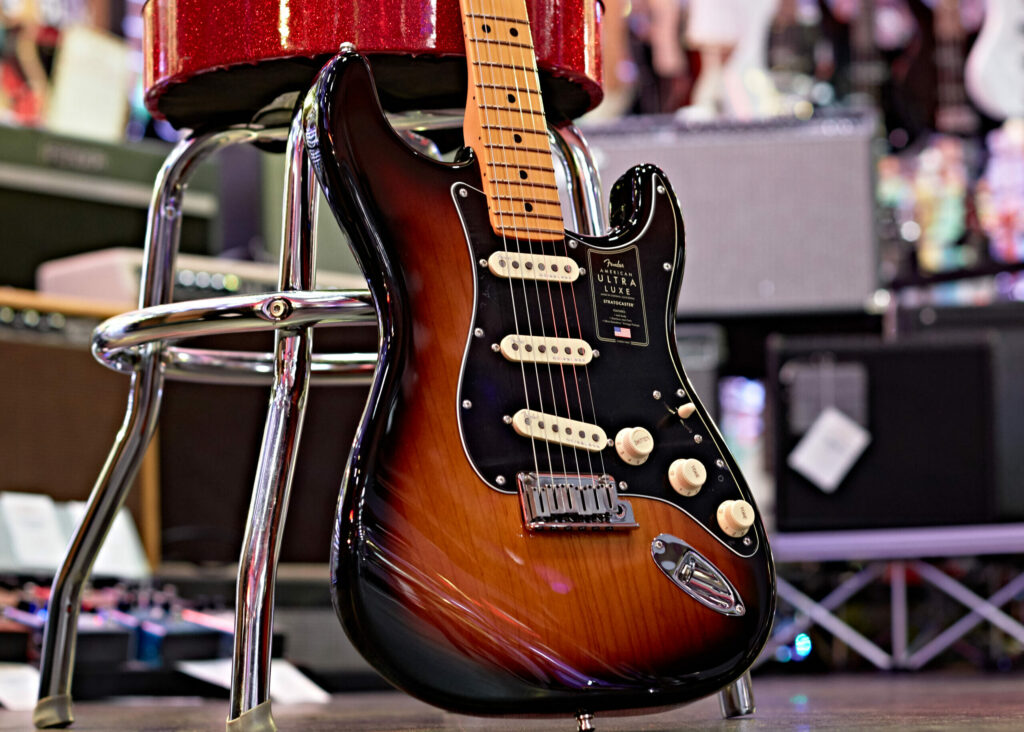 It's all that the American Ultra offers, but with a few extra ingredients to create a delicious tonal Ultra Luxe broth. Namely, the TUSQ nut gifts you amazing, clear string vibrations with minimal buzz. The neck is slightly altered to an augmented "D" shape to aim for the ultimate in fretting comfort, and sealed locking tuners mean that you thrash all night without slipping out of tune.
What are the variations?
You've got a choice of some unique Ultra-Luxe colours with matching headstocks that aren't usually seen throughout the other ranges, so you'll truly stand out with these machines.
There's the usual choice between single-coils, or a combination of both humbucker with single-coil pickups. But where the Ultra-Luxe distinguishes itself is the humbucker model eschews a Fender bridge for a Floyd Rose locking tremolo system. These are designed for all kinds of wild vibrato antics, and are particularly enjoyed by heavier music styles.
Who's it for?
The same applies as the American Ultra, but the extra features of the Ultra Luxe will serve those looking for a guitar they can push to the limit.
The humbucker model will delight those who want to explore heavier, metal-focused styles while retaining the Stratocaster's versatility and class.
Shop Now | Fender Ultra Luxe Stratocasters
---
Artist and signature Stratocasters
Get the styles and sounds of your favourite artists.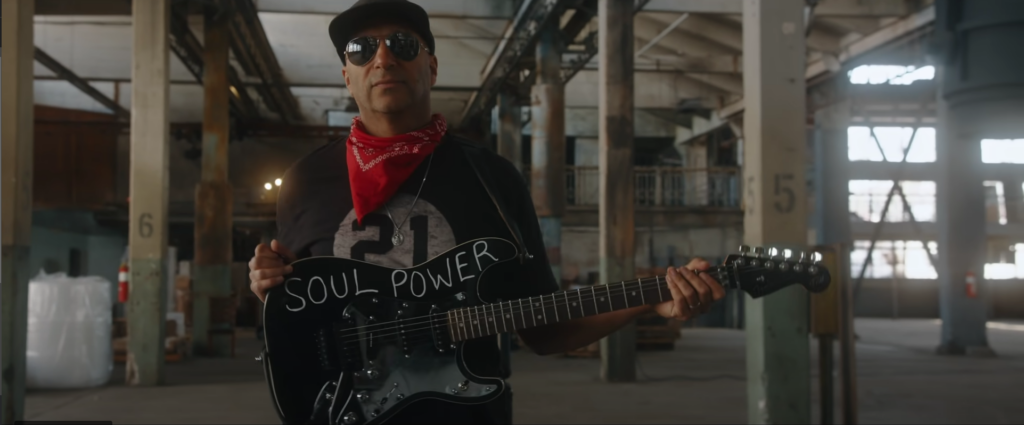 The Artist collection of Stratocasters is extensive, precisely because this fantastic six-string is so popular! Each entry seeks to recreate the personal instrument of established players, and usually emulate the era, finish, and hardware appointments found on their own guitars.
Variants
There's a lot in the series, and you'll have to check each entry as their unique in their build and place of manufacture.
Who's it for?
This one is perhaps the easiest to nail down, as these guitars are usually aimed at fans of the Artists they're modelled after.
If you come across a band or musician and love their tone, getting their signature guitar is one of the easiest and quickest ways to emulate it.
Shop Now | Fender Artist Series Stratocasters
---
Conclusion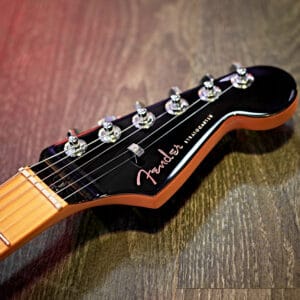 Phew! There are a LOT of Stratocasters out there. The good news is that this means there's a Strat to meet the sonic needs of almost any player.
Genuine Fender Strats are now more accessible than ever with the Player series, while at the other end of the spectrum their playability is reaching new heights with the American Ultra and Ultra Luxe offerings.
An extensive range of Artists' signatures lets you capture the sound of your favourite performer. While, if you need a real workhorse guitar to carry you through countless sets, the American Pro II delivers the performance that professionals crave.
---
Find Out More
Now that you've seen the wide range of Fender finery that's on offer, you may want to explore our range further.
Find Out More | Fender Stratocasters