If the Fender Mustang was a car, it would be the plucky old convertible you leave in the garage just to throw around a racetrack every weekend – and nobody else is allowed to drive it.
You cherish it. It's easy to handle, looks great, sounds great, and has something for everyone's taste. Yet it can often be overlooked simply because it isn't a Strat, Tele, or Jazzmaster – but the thing is… it's got its own party going on.
Embraced by the likes of Kurt Cobain (Nirvana), John McLaughlin (Miles Davis), Damon Albarn, (Blur), David Byrne (Talking Heads), and many, many more – the Fender Mustang is a not-so-secret lethal weapon.
Famed for boasting tones that respond well to muted picking, chorus-drenched chords, and multiple strumming techniques, it's really the closest thing Fender have to a cult classic. In fact, it wouldn't have stayed in circulation past the '80s if it wasn't for the fans.
The history of the Mustang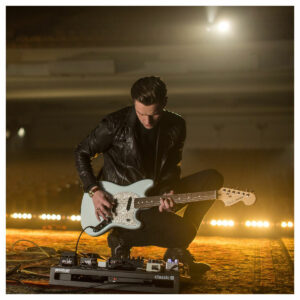 The idea behind the Mustang was first incepted in the 1950s, Fender felt that there was a gap in the market for new players searching for a smaller, cheaper, high-quality electric guitar – and in '56 their first 'student guitar' range was launched with the single-pickup Musicmaster, followed by the double-pickup Duo-Sonic soon after.
Shorter in both scale and body size when compared to the Stratocaster and Telecaster, the idea was that players who began on a Fender student guitar would eventually graduate to one of the Teles, Strats, or Jazzmasters.
In 1964, the student guitar range was updated – enter the Fender Mustang.
A year later, the Mustang was by far the preferred choice over the Musicmaster and Duo-Sonic and was selling in its thousands. Largely based on the Duo-Sonic, the Mustang was a 22-fret, medium-scale electric guitar – and the first of this range to include a vibrato/tremolo system with a floating bridge.
By the late '60s, the Mustangs with the iconic racing stripe and matching headstock were the popular choice and have remained a staple look of the Mustang range.
Production ceased in 1982, and the Mustang very quickly became a collector's item. By 1990, its popularity was so that it became the first Fender floating-bridge instrument to be discontinued and then reissued – quickly becoming a cult favourite among alternative and grunge artists. Guitarists appreciated its quirky style, easy playability, and reasonable pricing.
Types of Fender Mustang
If you're looking to invest in a new guitar, and your mind is leaning towards a Mustang, there'll be a few things you need to consider. Firstly, the smaller size results in a lower price than some of its Fender cousins, but it doesn't sacrifice any of the Fender quality.
Secondly, it certainly shouldn't be seen simply as a cheap alternative to a Strat or Tele – it's its own unique instrument. What it's not, however, is a high-octane shredding machine for a loud lead player, but you'll be sure to get a completely unique feel and sound out of it.
---
Fender Player & Player 90 Mustang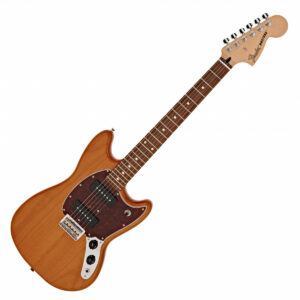 A great place to start for anyone looking to join the party, the Player model is the original Mustang recipe and offers a little bit of everything.
Providing high-quality Fender sound to studio and stage since 1964, the Player model strikes the perfect balance between vintage style and modern technology.
Delivering a performance fit for any professional musician, it's highly playable and was the catalyst that led to the success of the Mustang over the years.
The Player and Player 90 Series offer the best value for money out of all the Mustangs – alongside the Ben Gibbard range (but we'll get to that). They're not the cheapest, nor the most expensive, rather, they're the very definition of industry-standard quality at a reasonable price.
The Player Mustang is complete with two angled Fender single-coil pickups at the neck and bridge. You'll find a classic, crisp, and expressive tone that comes complete with a bit of bite and bark.
Generally, Mustangs aren't geared towards more aggressive or intense lead playing – but served with a side of chorus, open chords they sound fantastic. The Player 90 comes equipped with two P90 pickups – and this is really the main difference between them.
P90s bring mid-rich tones, clear ringing sustains, and a surprising amount of distorted aggression when paired with an overdrive effect – so you'll get the best of both worlds.
Anything built by Fender will be manufactured to an industry standard. You've got a hardtail bridge on both models which is fully adjustable and increases sustain, alongside the bolt-on C-shape neck which ensures a comfortable feel and minimal strain while playing.
The main feature that tends to separate all the different Mustang models are the switches on the body. Player guitars have two 3-position sliders for each pickup (in phase – on/off – out of phase) which provide eight different tone settings. This is based again on the settings found on the original Mustang and gives a highly versatile sound which can be easily moulded.
Shop now | Fender Player Mustang
---
Vintera 60s Mustang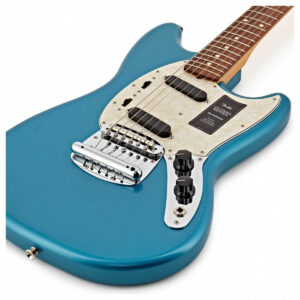 Similar in many ways to the Player Mustang, the Vintera aims to incorporate as much of that classic '60s style and sound as possible – transporting you back in time.
It has all the quality hallmarks that you would expect from a Fender guitar, crafted with an alder body and complete with a maple neck. These tonewoods bring a rich tonal palette to the guitar, with warmth and brightness that bounce off each other. The pau ferro fingerboard feels great to play and, like the rest of the Mustang range, the neck is slightly shorter which allows for more comfortable playability.
Fender's Vintera holds all the features of the vintage Mustangs, including a classic-style tremolo bridge that provides smooth action whilst staying true to the visual aesthetic with the plastic tip tremolo arm. Single coil bridge and neck pickups with Alnico V magnets provide a great harmonic balance between warm and clear as well as thin and thick. If you're after the quintessential, old-school Mustang experience, this could be the one for you.
At the top of the pickguard is the Vintera Mustang's unique pickup switch system. One switch for each pickup offers four unique tonal options (neck pickup, bridge pickup, both pickups in phase, and both pickups out of phase). Master volume and tone then help to further shape the sound. The Vintera is simple, elegant, and gives you all you need without trying too hard – or charging an arm and a leg.
Shop now | Fender Vintera Mustang
---
American Performer Mustang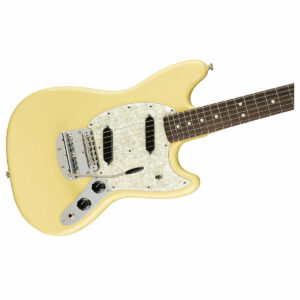 Perhaps the more luxurious pick of the bunch, the Fender American Performer Mustang is certainly a premium-grade instrument. It's on the pricier end of the spectrum but designed with all the perks of a modern Fender, dressed in a vintage outfit.
Manufactured with an offset alder body, the American Performer boasts a comfortable 'Modern C' neck profile and polyurethane finish – gloss on the body, satin on the neck. As on all the Mustang models, the scale length is a little shorter at 24 inches, and you'll find 22 frets on the board. All these things work in harmony to create smooth sound and comfortable playability.
So, what sets this model apart from the others?
The Performer Mustang is set up with the same Marmite 'Dynamic' vibrato that you would've found on models from the late '60s and early '70s. Not everyone's cup of tea, mostly because of how it can de-stabilise the tuning of the guitar, but it does have its perks. Although modified to a hardtail bridge when used by Kurt Cobain, the tremolo shimmer that is added to the sound of the guitar is one of the things that made this model so popular with punk and grunge guitarists in the 1990s.
Favoured by the likes of Kurt Cobain, Rory Gallagher, and John Frusciante – to name but a few – the American Performer was the model that led the Mustang revival after the reissue in the '90s. And it's still an incredibly popular choice.
Interestingly, the Performer adopts a more simplistic design when it comes to tonal options. The three-way pickup selector toggle allows the single coils to be switched off and on as well as run in parallel and out of phase. Paired with the robust, tremolo-enabled bridge and quality tonewoods which guarantee a rich and diverse voice, the Performer Mustang does pretty well for a guitar that was originally designed for students.
Shop now | Fender American Performer Mustang
---
Kurt Cobain Signature Mustang
The follow-up Kurt Cobain custom Fender to the hugely successful Kurt Cobain signature Jaguar, the KC Mustang has a huge amount of tonal variety, and this is the area where it truly excels.
Complete with a Seymour Duncan humbucker at the bridge and the classic Mustang single coil on the neck, you have a little more tonal diversity with this model.
From the neck pickup, full-bodied lows are ensured as well as a well-rounded mid-range. The real party piece of this guitar, though, is the humbucker on the bridge. No matter how much gain you run through it, this pickup retains a glorious amount of tonal clarity and richness, making it perfect for those bluesy rock sounds and grungy power chords.
Thanks to the smaller build of the Mustang, no matter how much power you run through the humbucker, it won't ever really cross the border into metal territory, but it exists happily within the garage punk rock range.
In the interest of full transparency, it should be said that the tuning on this model, well… isn't the greatest. Unfortunately, the tremolo has a tendency to pull the strings out of tune relatively easily on Mustangs designed with a Dynamic Vibrato bridge, as the KC is. This is why Kurt Cobain actually changed his Mustang's bridge to a hardtail spec in order to counteract this pesky quirk, a move which hasn't been emulated by Fender on his signature Mustang for whatever reason.
However, there's no need to panic! Our solution for a vibrato that sends your guitar tuning to wherever Ian Brown's pre-autotuned voice comes from – is just don't use it. Or at least be resourceful with it, and make sure you remember to bring your tuning pedal if you have a gig.
---
Ben Gibbard Mustang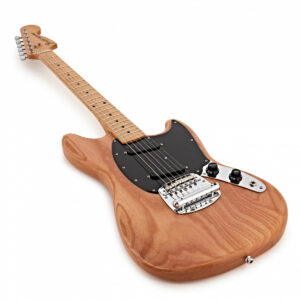 Last but absolutely not least, we have the Ben Gibbard Fender Mustang. Perhaps the critics' favourite, the dark horse if you will…
Built with a chambered ash body that was once a classic staple of a Fender guitar because of its resonance and lightweight feel but doesn't often make an appearance in their newer models – you're sure to find some unique tonal qualities coming out of this one.
It also features the modified hardtail bridge that has been favoured by so many legendary Mustang players, Gibbard and Cobain included, which adds to the resonant sustain, increases the tuning stability, and ensures you look the part on stage. So, it's certainly all going well so far.
The custom-made black Ben Gibbard Mustang single coils match the pickguard and produce tones that range from thinner with more bite to warmer and fuller on the neck pickup. You can explore multiple genres with this guitar but what it will guarantee is a wonderfully defined chordal tone which can kick into gear a little more when paired with some overdriven sounds.
As always with Fender and any electric guitar really – comfort is key. Designed with the modern "C"-shaped maple neck and fingerboard which features 22 medium jumbo frets, the Ben Gibbard Mustang is going to feel fantastic to play and, as with all the Mustang range, it will be highly intuitive for both experienced and developing musicians.
The three-way toggle pickup selector is another easy-to-use feature, offering all the tonal options that you'll need to get creative without overwhelming you with choice – there's nothing more annoying than finding the perfect sound and then tweaking the slightest thing and losing it forever.
Shop now | Fender Ben Gibbard Mustang
Find out more
The Fender Mustang range is wide and expanding, and sometimes choosing just one Fender, let alone one from such a diverse selection, can be confusing. We've highlighted the main models and our best picks, so hopefully you have a better understanding of what is best for you.