Spanish and classical guitars are siblings of acoustic guitars – they're identical in many ways but there are some distinctions.
Nylon strings are the biggest difference, as well as neck size and body shape.
However, these small idiosyncrasies actually mean they sound very different from acoustic guitars – and produce a unique tone in their own right.
What are Spanish and classical guitars?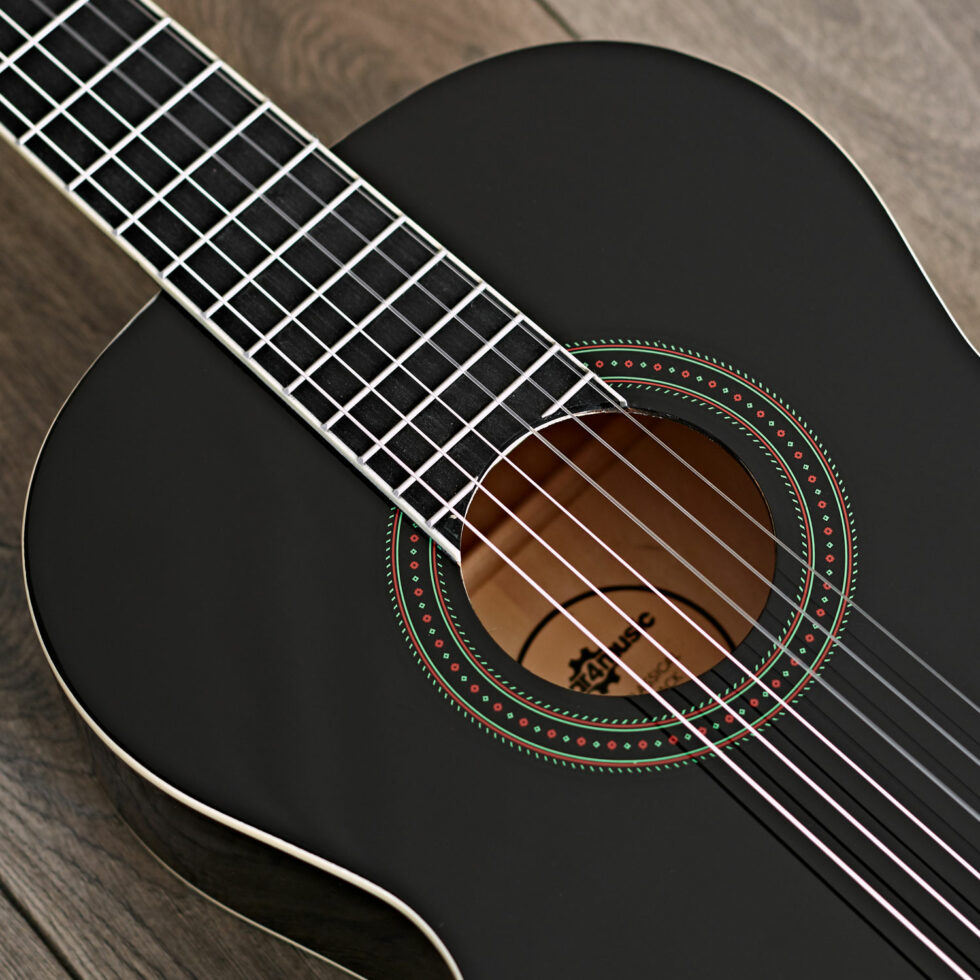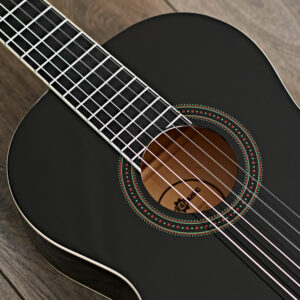 Ahh ola amigo! Perdóneme? Oh, sorry, you don't speak Spanish? Me neither, as you can probably tell.
Do you have a niggling desire to try some nylon? Do you have a sneaking suspicion that there's some Spanish in your blood? Then welcome to this Spanish and classical guitar buying guide! And let me tell you, it's going to be a fiesta!
First off, what's the difference between a Spanish and classical guitar?
Well, in reality, there isn't actually a difference. Not at all. They are, in fact, one and the same. However, you can see the reasoning.
Nylon string guitars are used to play many Spanish-influenced ditties like Romanza, Malaguena, and Asturias (aka Leyenda). They're also used for flamenco. At the same time, these guitars are used for classical songs, as well as some old-school folk.
Basically, they're great for anything fingerpicked.
Tonally, Spanish and classical guitars (let's just call them classical guitars from here on in) have a very bright, melodic air.
The strings are also much easier to play as they require less finger strength to press down.
This makes them a very popular choice for beginners, although bear in mind that some of the most advanced players in the world play a classical guitar!
Their bodies have a distinctive shape and often sport a spruce top with back and sides often consisting of mahogany, but it's not uncommon to see multiple other tonewoods used.
Pay attention to the tonewoods when choosing a classical guitar – they play a very important role in creating the overall tone.
So, how do I choose a classical guitar?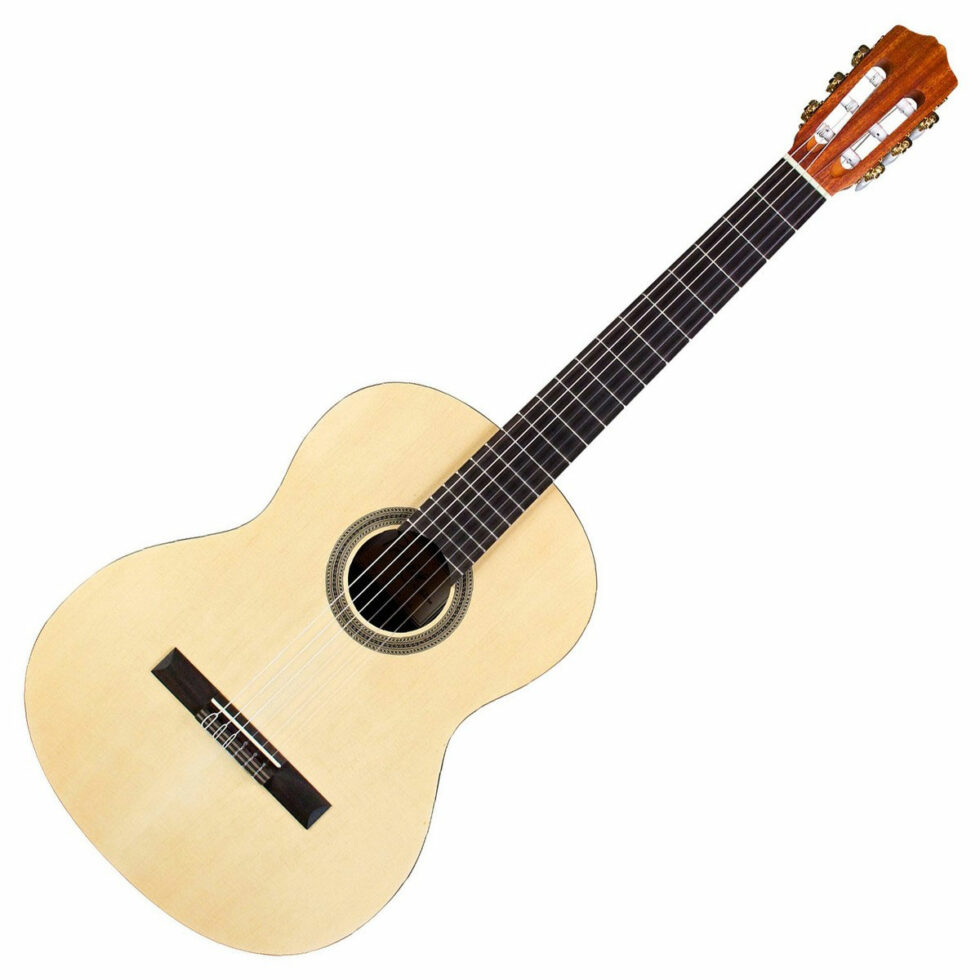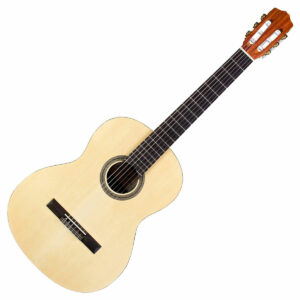 As with any guitar, knowing how it sounds before you make that all-important purchase should go a long way in informing your decision.
If you can, it's best to actually try out the instrument to get a good idea of the feel and tone.
Failing that, there are usually plenty of videos on YouTube or manufacturer websites which will show you how a guitar sounds.
But first, you'll need to have a little look around to see what your options are.
The great thing about classical guitars is that you really don't need to spend a fortune to get a great-sounding instrument.
So, where do you start?
Let's break down some of the main classical guitar brands out there.
---
Ortega
A Spanish-sounding name, but German-standard engineering.
Ortega have been making classicals since 1994. They offer a wealth of quality, with plenty of options to choose from.
The price range varies, from the very affordable C1M to the astronomically expensive Javier Reyes 8-String Electro Nylon.
Shop now | Ortega classical guitars
---
Cordoba
Singing with sonic and aesthetic beauty, Cordobas are very well crafted with some stunning finishes if you've got an eye for style. Just look at the C4-CE Electro!
In fact, they have a really decent range of electro-classicals if you're looking to amp up your guitar and take your music to the masses or record without having to mic your guitar up.
Shop now | Cordoba classical guitars
---
Yamaha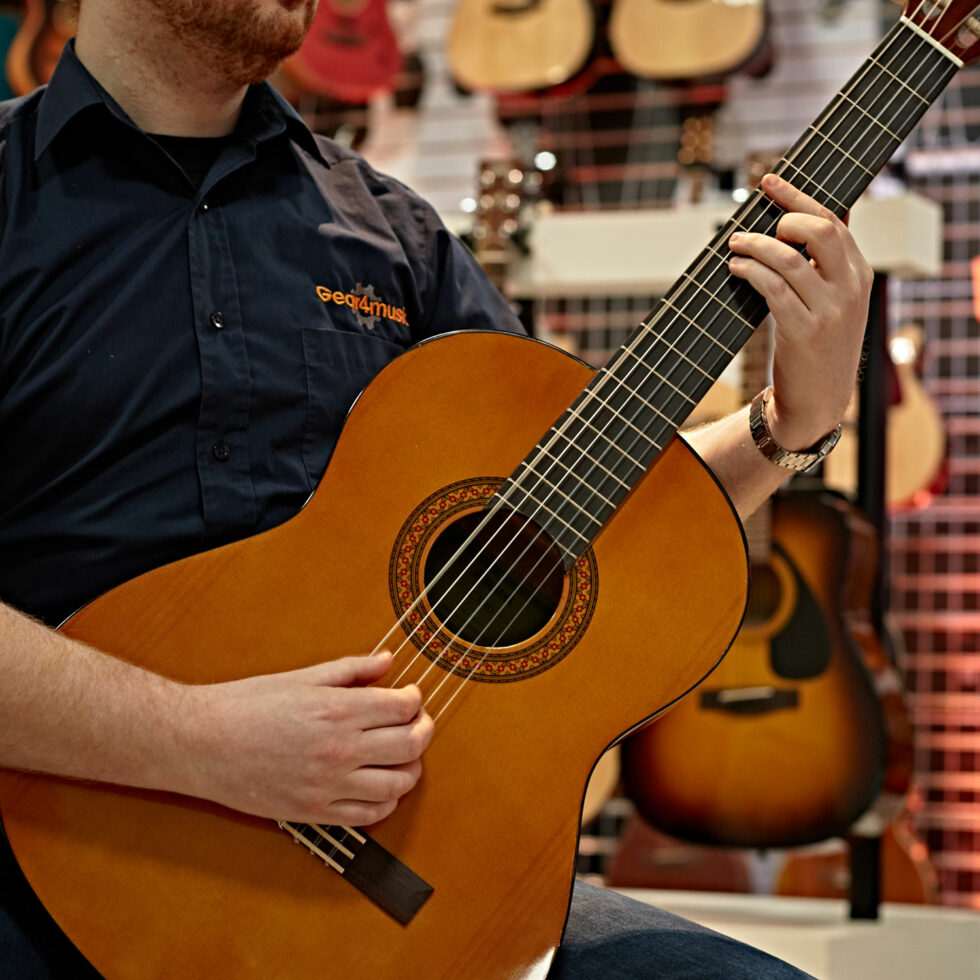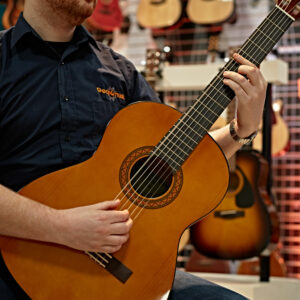 A real giant of the guitar crafting world, Yamaha make tonnes of acoustic, electric, and classical guitars.
They're usually very affordable and sound great. There's the ultra-affordable C40, the superior NCX3C Electro, and an extensive range in between.
Shop now | Yamaha classical guitars
---
La Mancha
Like Ortega, La Mancha specialise in making classical guitars – they're also based in Germany.
And you know what Germany is famous for? Engineering! That means you get a quality engineered guitar with these guys – no question.
The Rubi CMX-CER is particularly impressive, but they've got plenty of guitars to explore.
Shop now | La Mancha classical guitars
There are loads of other brands to explore, from Fender to Admira, so definitely make sure you do some research and find out how each may differ in its tone.
Plus, there's plenty of quality around, which sometimes makes it hard to choose, but this is why it's great to try guitars out first.
Try before you buy
So, you've got a list of guitars you're interested in, you've done your research, and now it's time to decide. What do you do?
Well, if you can, you should go to your local music store and try out as many of the ones you're interested in as they have in stock. Don't worry if you're a complete beginner and can't play anything, just look out for how comfortable the guitar feels and how it handles.
Pluck a few strings or play some chords and compare the guitars' tones See which one takes your fancy! This will be the best way to decide which model really resonates with you.
Acoustic or electro-acoustic?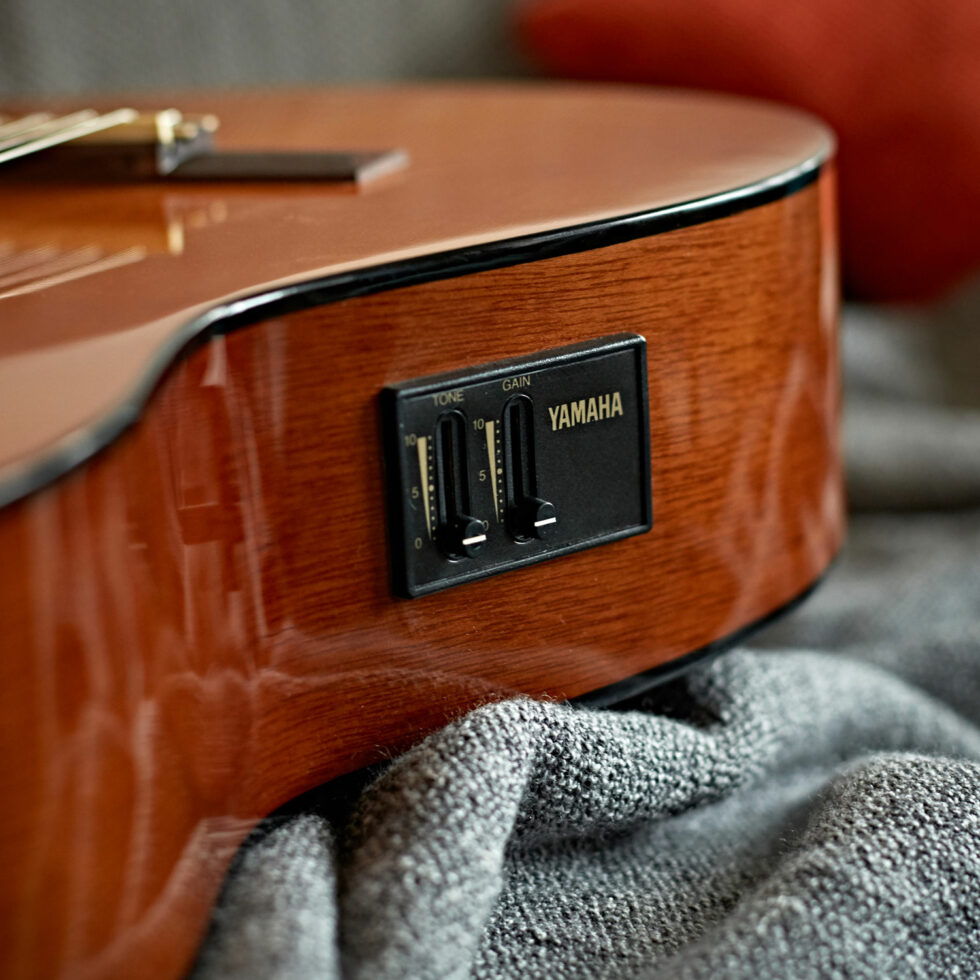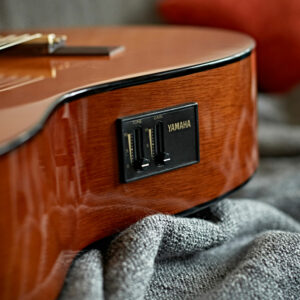 The age-old question. But are electro-classicals actually any good? Well, yes!
There are now loads of quality electro-acoustic classicals out there which can really hold their own and preserve the natural, organic tone of the guitar. This is either through a piezo pickup or a built-in microphone.
Here's a quick look at the differences:
---
Piezo
Probably the most common way to amplify any acoustic guitar. Piezo pickups work by picking up the vibrations of the tonewood and passing them through to an amplifier.
This is great for live shows and gives you a platform to make your music as loud as you like.
Most classicals with a piezo pickup also come with a preamp, which contains dials that let you change your tone on the fly.
They also probably have a built-in tuner to allow for convenient tuning up at any time.
---
Microphone
Classicals with a built-in microphone are usually slightly more expensive – but for good reason. Microphones tend to preserve and amplify the natural sound of the classical guitar with even more authenticity.
Artists like Rodrigo y Gabriela have been known to use these throughout their careers.
The Yamaha NCX5 is a good example – it boasts a combination of an undersaddle pickup, contact sensor, and mic, so you get the best of both worlds!
---
Do you need electronics?
Built-in electronics increase the price of a classical guitar, but that doesn't mean you can't get a super-affordable one. It all depends on what you use it for.
If you're looking to just play in your bedroom, or small, intimate gigs in the back of a pub, then you almost certainly won't need the amplification option.
However, if you're a classical player who wants to busk in a busy town centre or play to larger crowds, then an electro-acoustic and a good acoustic amp are the way to go. You'll need the volume to reach more people.
You can also experiment with your tone a bit more by tweaking the EQ controls on the preamp and on your actual amp.
Accessories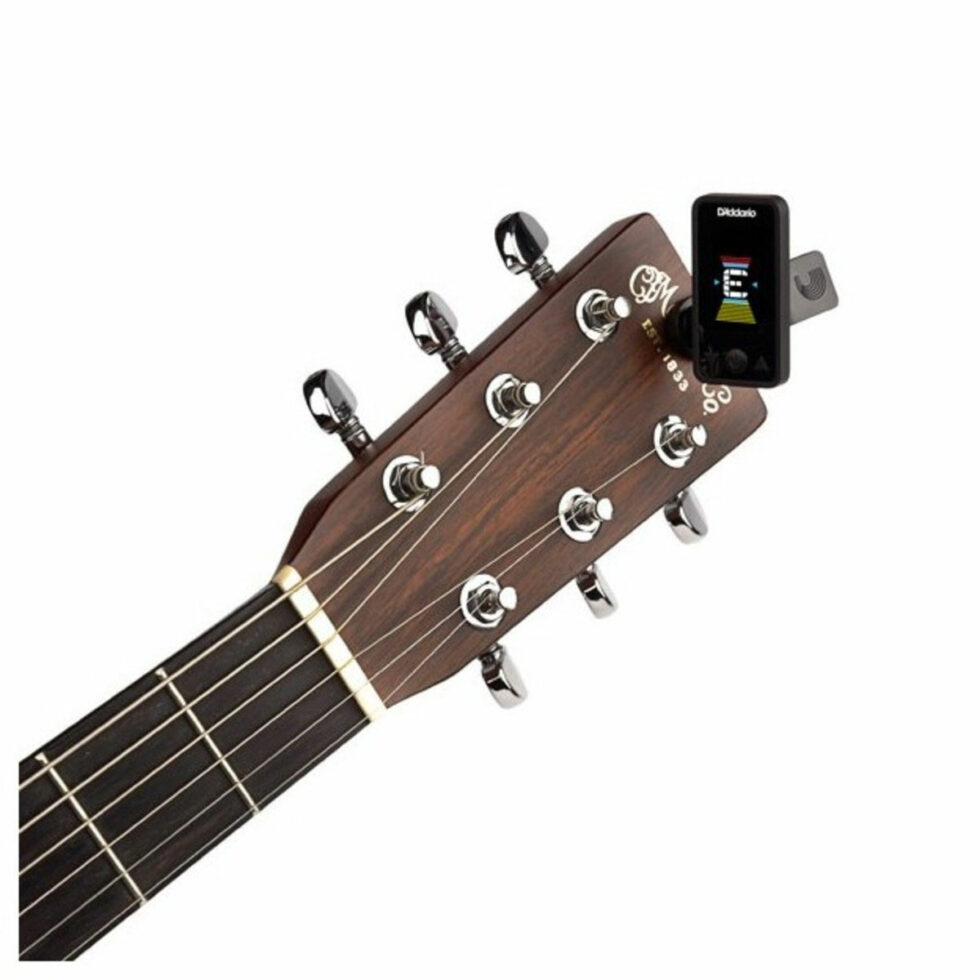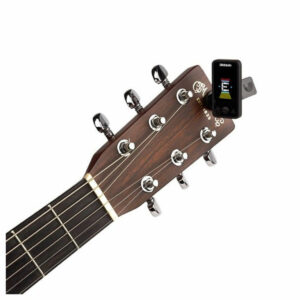 Before you jump into buying a classical guitar, you may want to think about some of the accessories these melodic beauties need, especially if this is your first guitar. Here's a short list of some of the basics.
---
Tuner
The trusty steed of any guitar. A good tuner will let you tune up your guitar in no time, with absolute accuracy.
If you have an electro-classical, you may already have one built into the preamp, in which case, you're sorted!
If you have a fully acoustic model, though, you'll want to look into some clip-on tuners like the Korg Pitchclip 2 or D'Addario Eclipse.
Even if you have a built-in tuner, it's well worth having a spare (it'll probably be more accurate anyway).
---
Nylon strings
Strings make the world go 'round. Well, they help your guitar make a nice sound. But old, worn-out strings will start to sound dull, and eventually snap. That's why it's important to always have a spare set of nylon strings.
A new set of strings will bring back that bright, punchy tone and help your guitar feel alive again.
---
Strap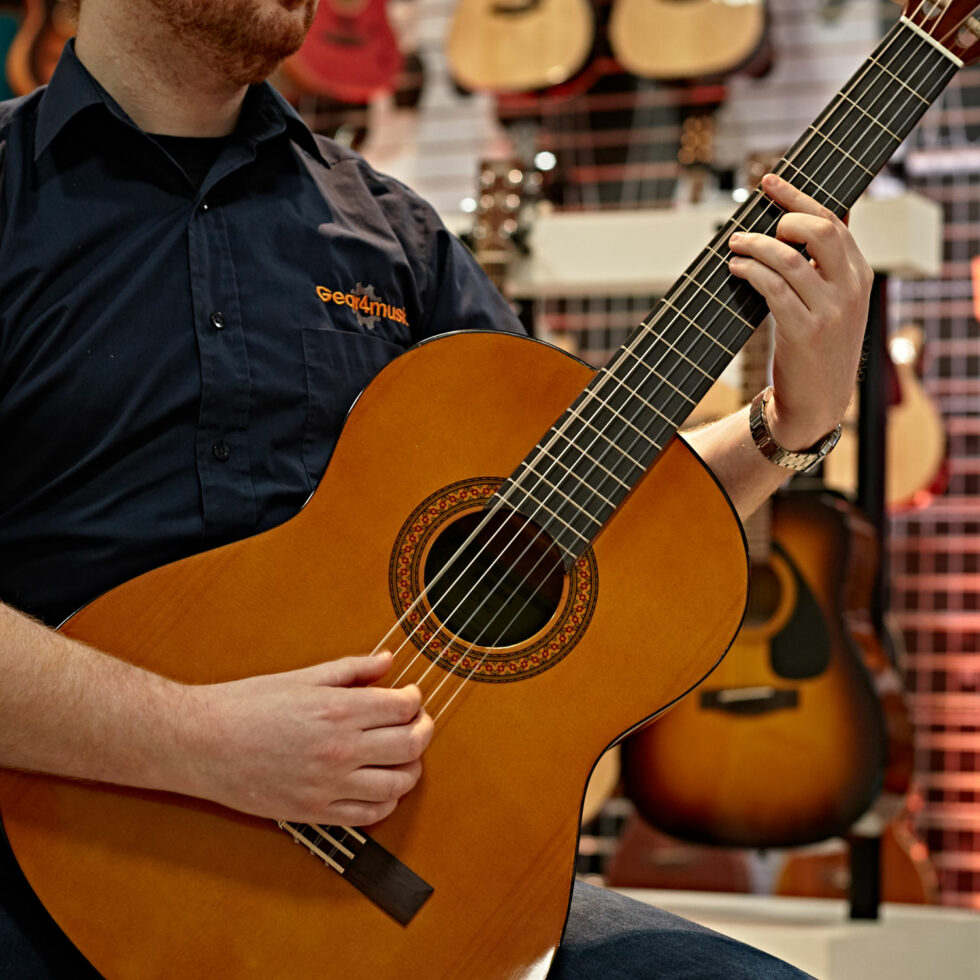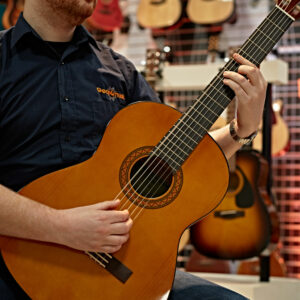 Now, most classical musicians play sat down, with the guitar in the 'classical' position (between their legs and almost upright).
However, if you want to play stood up, you'll need a classical guitar strap.
These are slightly different from normal guitar straps in that they hook around the neck of the guitar rather than attaching to a strap button.
---
Stool
If you're planning on playing your classical in the 'normal', sat-down position, have a look for a nice, comfortable stool to sit on.
You should also consider what you'll rest your foot on. This could be anything, from a small box to a proper classical guitar foot stool. The choice is yours!
Time to wrap up
I do hope you've taken something away from this guide. It took me ages to write. I'm joking, but seriously, I hope you've found it useful and that it'll help you discover the perfect classical guitar for you!
Remember that trying any guitar out is the best way to determine if it's a match, so if you can, do it!
There's plenty of choice out there, so good luck in finding your new melody maker!