Wondering what a pencil microphone is and what are they used for? We're here to help with a complete rundown of pencil condenser mics, their uses, and their benefits. Plus, we'll provide a list of some of the best pencil mics available.
We've already covered side-address microphones, so now we're onto the longer, thinner counterpart – the pencil condenser microphone.
In this article we'll answer the following questions:
What is a pencil microphone?
Do pencil condenser mics need phantom power?
What are they used for?
What are their benefits?
What can I record with pencil microphones?
What are some of the best pencil microphones?
What is a pencil microphone?
A pencil microphone is a top address, small diaphragm condenser microphone with a cylindrical, long, thin shape. They're shaped like a pencil – hence the name!
Due to the compact nature of the microphone, they use a small diaphragm and are almost always condenser mics.
They're used for recording when high levels of detail and accuracy are needed. These mics provide a controlled, focused sound with a high transient response e.g. can handle the attack and short, fast burst of sound from a drum, brass instrument, or guitar cabinet.
What is a pencil microphone used for?
Pencil microphones are predominantly used to record high transient sound sources (a short, sharp burst of sound energy). High transient sounds often come from snare drums, a guitar cab, or when you pick an acoustic guitar string or blast out a short note on a brass instrument.
They're also used to measure sound in a specific environment. For example, you would play a sustained note in a specific area of your studio, point the pencil mic in a certain direction, record it, and see what type of sound quality, volume, and characteristics you get back. This will help to optimise the placement of your monitors or acoustic treatment panels.
You can also use pencil mics for stereo recording, especially when you want the tight-end detail of an acoustic guitar, overhead drum sound, or the ambience of a room.
Plus, these kinds of mics can measure sound and are sometimes used for field recording.
Do pencil condenser mics need phantom power?
Yes. As pencil mics are almost always condenser microphones, they'll need 48v phantom power from a battery source, audio interface, or power supply. As audio interfaces provide the 48v phantom power you need, it's highly unlikely you'll need an external power source.
What are the benefits of pencil microphones?
The main benefits come in the form of high transient response and clarity.
Due to the small diaphragm and condenser construction, pencil mics provide exceptional clarity and focus whilst rejecting any off-axis sounds. For example, if you're recording a snare, your pencil microphone will be able to handle the higher SPL of the drum, capture the detail of the drum sound, and reject the background noise of the room or "bleed'.
The cardioid polar pattern is the reason why everything is so detailed. We recommend reading our guide to microphone polar patterns to further understand the benefit of a cardioid polar pattern.
They also have a wide frequency response, which makes them perfect for capturing the detail of a drum kit when used as overhead microphones.
Additionally, they make for great vocal microphones when you want to record a transparent, detailed, and focused sound – especially useful for lead vocals in a room that lacks acoustic treatment.
As they're always used with a mic stand, they pick up very little of the surrounding noise. This makes them the mic of choice for a lot of live and studio engineers as you get the sound source you want, rather than the bleed from other instruments on stage or during a rehearsal in the studio. They're also easier to mix.
In a nutshell, they're great for close-mic technique, particularly with a guitar cabinet or acoustic guitar, but can still capture the detail when you move the mics further away from the high-volume target i.e. a drum kit or brass section.
What can I record with pencil microphones?
Anything. Pencil mics can be used to record any sound source you like, including room ambience. However, they're better suited to louder sound sources as their high-transient design allows them to retain detail at higher volumes – especially in short, sharp bursts, for example from a drum kit or cranked tube amplifier.
Pencil condenser microphones are used to record:
Loud sound sources

Drums
Guitar cabinets
Acoustics
Vocals
Snares
Drum overheads – best when paired with another for stereo recording
Foley effects
Choirs – when used as an overhead
Ambient sounds
Acoustic piano
Silence – try it, it sounds really cool
If you want some tips on how to get the best guitar recordings possible, including how to mic up a pencil mic, we've put together a handy guide. It's worth reading if you're just starting out in the world of home studio recording. 
What are some of the best pencil microphones?
There's a huge number of pencil microphones out there, and choosing the right one can be a difficult task if you're just starting out. To make it easier, we've gathered five of what we think are some of the best pencil microphones on the market today, all of which will suit different budgets and recording needs.
We've collected options from industry standard brands such as Shure and AKG as well as some relative newcomers in the world of pencil condenser microphones, including Aston and SubZero.
---
1. Shure PGA81 Condenser Pair with Stands and Cables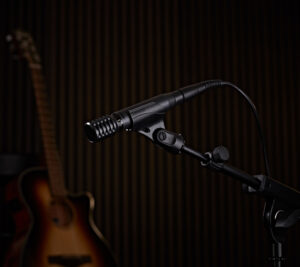 We'll start with an industry standard from Shure. The Shure PGA81 Condenser Pair, now bundled with stands and cables, is designed for precision.
Whether you want to capture the attack of your fingerpicking or the brass/wood sonic quality of your new snare, the Shure PGA81 can handle it.
Intended for overhead and stereo mic'ing, they can be split and used as separate mics to record acoustic piano and guitar cabinets.
The flat frequency response of 40Hz – 18kHz provides exceptional detail without any colourisation of your tone, and the cardioid condenser design provides incredible off-axis rejection.
With a max SPL of 129.5dB, this mic is loud enough for a jet engine or saxophone. And due to the sensitivity of the microphone, you can also capture lower-volume sounds in glorious detail.
The included adjustable boom mic stands make the Shure PGA81 bundle a great option for the overhead recording of drums, string instruments, or stereo recording acoustic guitars or pianos.
Your microphones are also protected by the rugged Shure design, meaning they can handle the most rigorous of recording schedules.
A great recording bundle from an industry-standard brand.
Who is the Shure PGA81 for?
Recording studios

Studio engineers
School and theatre bands
Acoustic guitar recording artists
Singer-songwriters
Field recording artists
Foley recording artists
---
2. Shure SM81 Condenser Instrument Microphone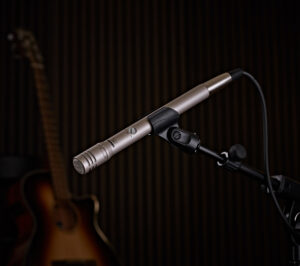 If you demand exceptional clarity and detail in your recording, the Shure SM81 Condenser Instrument Microphone is the perfect option and one of the best pencil microphones ever created owing to its frequency, studio-friendly functionality, and versatility.
It features a full range frequency response of 20Hz – 20kHz, which is essentially like placing a mirror in front of your instrument – you record exactly what it sounds like.
One of the key benefits of this mic also comes in the form of the bass roll-off switch.
Acoustic instruments, particularly guitars, can suffer from a "boom" during the recording process, and so it pays to have a bass roll-off which reduces the bass whilst retaining the weight and power.
The SM81's roll-off switch ensures you can capture even the deepest of jumbo or dreadnought acoustic guitars or the most ornate of acoustic pianos without overbearing bass.
The 10dB attenuation switch then lets you record loud sound sources, absent of any clipping or distortion, and the built-in pop shield provides the option of recording vocals too!
It's also designed for field recording thanks to its ability to withstand a barrage of humid conditions and adverse temperatures. The Shure SM81 is basically a workhorse pencil microphone, designed for those who need crystal clear sonic quality both indoors and outdoors.
It comes with a handy carry case too!
If you want professional-level sound instantly – start here.
Who is the Shure SM81 for?
Studio engineers

Home recording artists
Small studio owners
Large studio owners
Field recording artists
Brass recording artists
Drummers
---
3. AKG C451 B Small-Diaphragm Condenser Microphone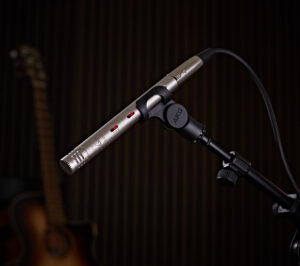 We've mentioned removing the "boom" out of a recording. This is the unwanted bass resonance that can sometimes creep in. Well, the AKG C451 B Small-Diaphragm Condenser Microphone is another mic that helps solve this problem.
It goes a step further by providing a further step in bass roll-off – not all producers will need this, but if you close-mic acoustic guitars or pianos, it's ideal.
The cardioid polar pattern, high SPL handling of up to 155dB, and small diaphragm allow you to capture loud sound sources in great detail and can even be attenuated in two steps down to -20dB.
Better still, the sensitivity of this microphone – courtesy of the transformerless preamp and surface mount technology – also ensures you're able to capture the nuances of a drum kit when using it as an overhead or in a field recording scenario.
Superb control thanks to built-in producer-centric functionality and great detail at all times – what's not to like?
Who is the AKG C451 B Small-Diaphragm Condenser Microphone for?
Studio owners

Field recording
Foley artists
Live and studio engineers
---
4. Aston Starlight Cardioid Microphone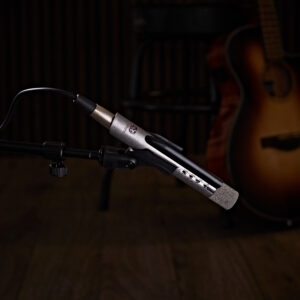 Next up we have a relative newcomer to the world of pencil condenser microphones – the Aston Starlight Cardioid Microphone. This has been turning heads thanks to some really great built-in features that make the lives of both studio and live engineers a lot easier!
It has a laser. Yes, a laser. This is so you can find the exact optimal point for directional recording, mark it on the grille of your amp or snare, record, and pack down. You can then come back later and mic up in the exact same spot!
However, it's not all about the laser.
The sintered metal head provides a unique quality when recording, whilst rejecting plosives if you need to record vocals.
A 3-position voicing switch then allows you to choose from Vintage, Modern, and hybrid settings for different styles of colourisation – it's like having three microphones in one!
The high-frequency response of 20Hz-20kHz also provides exceptional detail, whether you're recording up-close or from a distance.
The -20dB/ -10dB/ 0dB Pad switch ensures you're ready to record even the loudest of sound sources whilst the 3-position Low-Cut filter removes the boom or bass resonance from acoustic recording or wind during field recording.
A great workhorse microphone that has been designed for versatility.
Who is the Aston Starlight Cardioid Microphone for?
Studio engineers

Producers
Live engineers
Home recording artists
Guitarists
Drummers
---
5. SubZero SZC-100 Pencil Condenser Microphone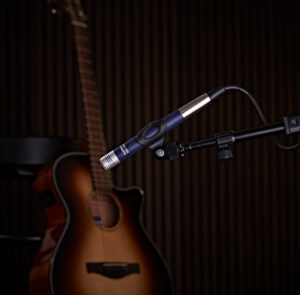 Last but not least we have the most budget-friendly option, clocking in at under £30. The SubZero SZC-100 Pencil Condenser Microphone is a true condenser pencil mic with a cardioid polar pattern and incredible frequency response of 30Hz-18kHz.
This pencil condenser microphone is perfect for all types of acoustic and electric recording where you need great detail without the unwanted boom. The max SPL of 138dB ensure you're ready to record snare drums, guitar cabs, and brass instruments without fear of clipping. Its cardioid polar pattern then helps reject the unwanted off-axis noise, so you get the most controlled sound possible.
This no-fuss, no-frills microphone is perfect for home studio owners and beginner recording artists on a budget – it's also one of the best mics for recording acoustic guitar thanks to its custom frequency response that can withstand the deepest of jumbo acoustic guitars.
Who is the SubZero SZC-100 Pencil Condenser Microphone for?
Home studio owners

Beginner recording artists
Acoustic guitar players
Piano players
Find out more
That wraps up our complete guide to pencil microphones. Post a comment below if you think we've missed any awesome pencil condenser microphones or if you have any questions about their key benefits!