Small, sweet, and the perfect starter instrument. The ukulele is as sophisticated as it is beginner-friendly, lending itself to both Hawaiian themed tunes and the beginning stages of learning.
Taking up an instrument offers boundless benefits to kids, from boosting their confidence to igniting creativity. And if your child is keen to try out the ukulele, well, they've hit the jackpot.
Not only are these folk instruments supremely affordable, but they're also the perfect steppingstone to a guitar or bass. Despite having different tunings, ukes will ensure your child is used to string tension, moving across the frets, and strumming patterns.
But where to start? With an abundance of ukuleles out there, how do you know which is right for your child? To help you in your search, we've simplified some of the jargon and narrowed down our top picks of kids' ukuleles.
---
Beginner-friendly features to look out for
It may come as no surprise that the ukulele is ideal for kids. With its small build and easy playability, it provides the perfect foundation for your child to learn and refine technique. But the beauty of the uke also lies in Hawaiian nature. It's an instrument in its own right, and although your child might dream of graduating to guitar, they might just fall in love with the uke.
---
The best things come in small packages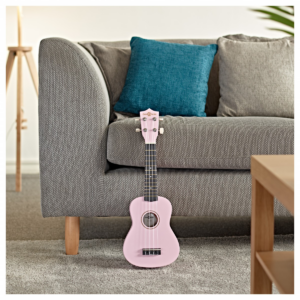 . . .the ukulele proves this. One of the most obvious features of any uke is its sweet, compact size – perfect for taking anywhere. When it comes to kids, this lightweight, portable build lends itself to easy practise sessions and enables accurate finger placement across its downscaled fretboard.
The soprano is the smallest and most traditional of the ukulele shapes, making it ideal for young children who would struggle with a larger bodied instrument. Requiring a shorter reach, it grants full manoeuvrability across the 345mm (approx.) scale, meaning your child can really focus on mastering those fretting techniques.
Little learners will also love the soprano's vibrant, jangly sound. It's the kind of sound that's commonly associated with the ukulele, and so it's probably the one your child is after.
What's more, the sheer tonal clarity of a soprano makes it ideal for practising chords and fingerpicking techniques as it will allow your child to recognise what they're doing well and what needs improvement. Any buzz will be easily identified and there won't be any muddiness masking playing inaccuracies. This all ensures efficient progress.
---
Long-lasting tuning stability
It's, of course, good to know how to tune up. In fact, we have our own handy tutorial to help you. But once you're sounding pitch-perfect, you'll want to stay that way.
Tuning stability is something that children can really benefit from. They'll be able to get on with the most important thing – learning and practising correct technique – without worrying about slipping out of tune. Sturdy tuning machines will do the trick, along with a sleek and stable nut that allows the strings to vibrate freely.
---
Sometimes, less is more
This is true for ukulele strings. Fewer strings mean more focused practise, allowing your child to get to grips with placing their fingers in the correct places. They'll be able to make sure that each of the four strings rings out clearly, with the right amount of pressure applied. With six strings, it's easy to let one go amiss and sound muted.
Smaller fingers will also welcome the shorter reach and won't have the burden of stretching or straining across too many strings.
If the goal is to move to guitar, having four strings is a good place to start. Too big of a jump can put new learners off before they've even started, leading them to feel frustrated and out of their depth.
---
Looks aren't everything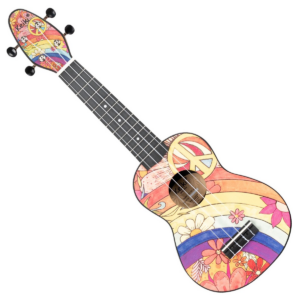 . . .but they sure count for something. If anyone is to stick at learning a new instrument, they have to be passionate about it. But what about the initial attraction? It needs to grab you and make you want to pick up and start playing.
Kids will most likely respond to cool, vibrant finishes rather than a naturally beautiful wood grain. I remember my first acoustic guitar was bright pink and sparkly – and it served me well!
It goes without saying that these fun colours are more appealing, and your child will probably want to show it off. So, get ready for living room ukulele concerts!
Let's also talk practically. It's a good idea to opt for a satin finish on the neck. This promises smooth playability and very little friction as the palm slides across the registers. Your child will be able to practise seamless chord transitions without being held back by inadequate design.
---
Our top picks
Now that you're armed with your newfound ukulele knowledge, why not browse some of our favourites? We've chosen them specifically for their child-friendly features.
---
Ortega K1-ORG Keiki Sopranino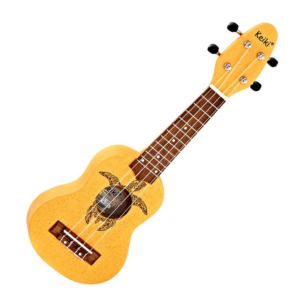 Available in a range of colours, Ortega's Keiki Sopranino is bound to captivate any child with its bright finish and laser-etched sea turtle design.
What makes it truly great for kids, however, is its charming, compact size. Smaller than your usual soprano, it offers an incredibly comfortable playing experience for young players. No straining is required across its 284mm scale length – your child will be able to master technique quickly and effectively.
The neck has also been crafted into an ergonomic shape and features a satin finish – two ingredients for silky-smooth playability.
A combination of walnut and okoume make up the body, delivering a beautifully balanced sound that projects sparkling definition across the whole frequency range. This is perfect for new learners as it provides immense versatility, allowing kids to practise various styles of music.
Shop now | Orega K1-ORG Keiki Sopranino 
---
Ortega K2-SP Keiki Soprano Ukulele Pack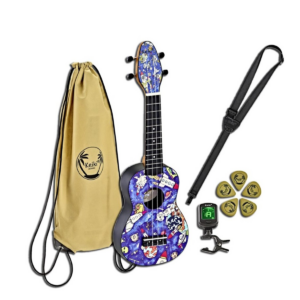 Sticking with Ortega and their Keiki range, this handy soprano pack comes with everything a new player could ever need. Along with the ukulele comes a drawstring bag, strap, tuner, and collection of picks. No extra money spent.
Designed by Italian street artist Guglielmo Gasloli, the finish of the soprano uke is scattered with rocket ships, aliens, and planets – a goldmine for kids. And it's a dream to play too thanks to its compact build and satin coating.
Shop now | Ortega K2-SP Keiki Soprano Ukulele Pack
---
Ukulele by Gear4music, Day of the Dead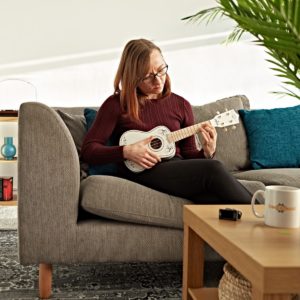 We have our own range of soprano ukuleles here at Gear4music, specifically designed to provide hours of enjoyable practice. Built for beginners, our Day of the Dead uke is a hit among kids. Its fun, eye-catching finish is sure to make anyone want to pick up and play, whilst its soft strings and compact size ensure that players remain engaged throughout their practice. Plus, thanks to a high-quality linden laminate build, the soprano uke is exceptionally durable, allowing for extensive playing and stress-free transportation.
Shop now | Ukulele by Gear4music, Day of the Dead
---
Tanglewood TWT SP Tiare Soprano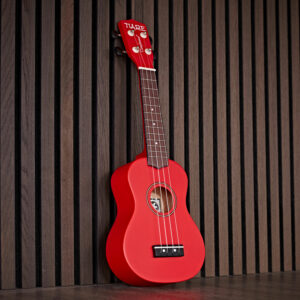 Bold and designed to make an impact, the Tanglewood Tiare Soprano Size Ukulele comes in a variety of colours, all vibrant and perfect for kids.
Not only is its soprano body perfect for smaller learners, but it's also crafted entirely from linden for a luscious balance of ukulele charm and mellow warmth.
A carry bag is included with the ukulele too, granting reliable protection. A uke is meant to be taken places – whether that be school, the campfire, or the beach. And so, your little one will be able to pack up and go without any worries at all.
Shop now | Tanglewood TWT SP Tiare Soprano Size Ukulele
---
Laka Walnut Series Soprano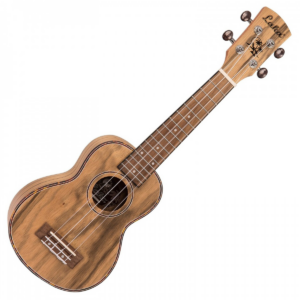 Crafted by the ukulele experts, Laka showcase a range of instruments for both beginner and pro. The Walnut Series Soprano delivers that classic ukulele jangle with a touch of warmth thanks to a dao and sapele build.
A little more sophisticated in looks, this uke might not display a bright, eye-catching finish, but it has plenty of Hawaiian flair. It's adorned with tortoiseshell details, such as the binding and soundhole rosette, and it's more than likely to stick with your child as they progress in skill.
Better still, this Laka instrument comes with a gig bag included. So, your budding uke player can go to and from music lessons, school, and meeting up with friends without ever damaging their uke.
Shop now | Laka Walnut Series Soprano Ukulele
---
Luna Tribal Soprano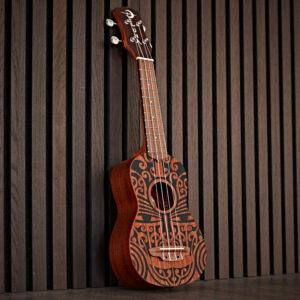 The perfect mix of eye-catching design and natural acoustic beauty, the Luna Tribal Soprano Ukulele boasts a beautiful tribal pattern based on a Tiki motif.
We had to include a Luna uke in our list somewhere. This esteemed brand stepped into the industry with acoustic guitars that are specifically designed for smaller musicians, so they know how to accommodate children. Their ukuleles are renowned for being masterfully crafted with exceptional attention to detail.
The Tribal Soprano, in particular, is a magnificent choice for kids. Not only does the compact soprano size provide a comfortable playing experience, but the all-mahogany build also produces a brilliantly balanced, versatile sound. And the tone grows more focused as the wood ages, so your child will have a faithful instrument for years to come.
Shop now | Luna Tribal Soprano Ukuele
---
Hartwood Sonata Armrest Concert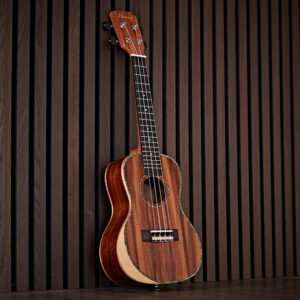 Finally, the last entry on our list is Hartwood's stunning Sonata Concert. Yes, we know, it's not a soprano shape, but not all kids have the same short reach. If your child requires something slightly bigger, then the concert is the way to go. This Hartwood model features a sleek, comfortable armrest too, allowing for hours of enjoyable playing.
The concert also lends itself to more sonic experimentation, granting your child a 390mm-length scale to play with.
One of the most dazzling features is the koa construction. A tonewood with Hawaiian roots, koa delivers a truly tropical tone that stays faithful to the exotic nature of the ukulele. It's bright, lively, and has plenty of chime.
Shop now | Hartwood Sonata Armrest Concert Ukulele
---
Find out more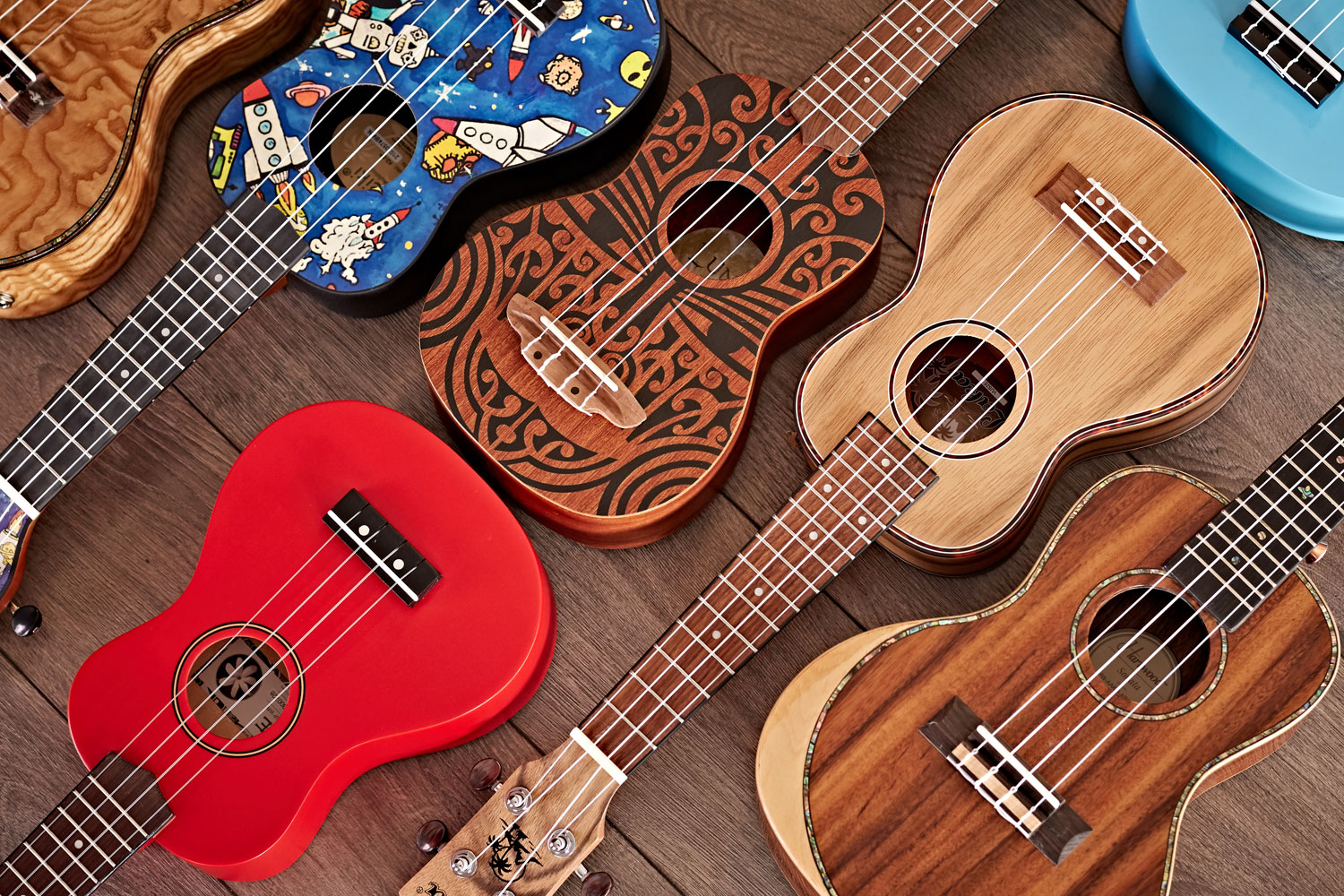 Searching for a kid's ukulele doesn't have to feel like an impossible task. There are so many out there that it's easy to get lost, but generally, a child's uke needs to be small, playable, and fun to look at.
Browse our soprano ukes and look out for satin neck finishes – you'll be onto a winner.
Plus, ukes tend to come with a pretty appealing price tag. What's not to love?