Electronic drum kits offer a true drumming experience with the added convenience of low volume and a headphone output. Here are our top 5 electronic kits for beginners.
An electronic drum kit is for life, not just for lockdown. If you're a keen drummer looking to keep your family happy given the current climate, you'll love how quiet an electronic kit can be compared to its acoustic counterpart.
Best of all, they're not just tools for practice. Our best electronic drum kits under £500 will serve you well for years to come, letting you practise, record, and perform.
---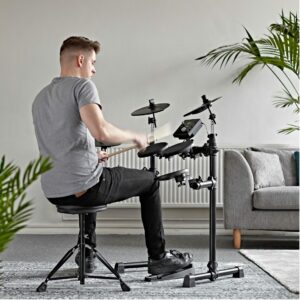 Electronic or acoustic, Gear4music's DD400 is the best place to begin your drumming journey. This compact electronic drum kit has everything you need to take up the instrument for the first time – including all the space-saving and noise-reducing benefits mentioned earlier. You'll have the fundamentals of drumming down in no time!
The kit's configuration is a standard drum kit set-up: snare drum, three toms, kick drum, hi-hat and two cymbals (crash and ride). A robust aluminium frame can withstand heavy use, while the lightweight design makes it easy to transport and carry around.
With 108 unique drum sounds and ten pre-programmed kits, there's no shortage of options for you to utilise while developing your skills. The DD400's built-in control function is easy to see and simple to navigate with its clear, user-friendly LCD screen. It's also equipped with 40 training patterns featuring different time signatures and rhythms. Perfect for learners getting to grips with the art of keeping time.
Shop now | Digital Drums 400 Compact Electronic Drum Kit by Gear4music
---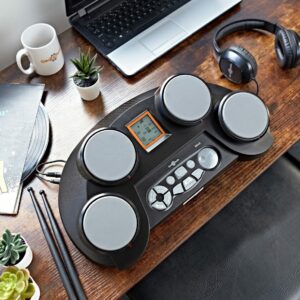 The DD40 is the ultimate tool for portable drum practice, and a great introduction to the drums! With compact drum pads contained in a single desktop unit, you can play whenever you like, wherever you like.
Compared to a full-size kit, drum pads weigh a fraction and take mere seconds to set up. Simply switch it on and strike the pads with the included drumsticks!
The DD40 has four touch-sensitive pads, and a range of different drum sounds. You'll also find training and game functions to improve your skills – with three difficulty levels, the DD40 will tell you which pad to hit and when, so you can measure your score out of 100!
Shop now | DD40 Portable Electronic Drum Pads by Gear4music
---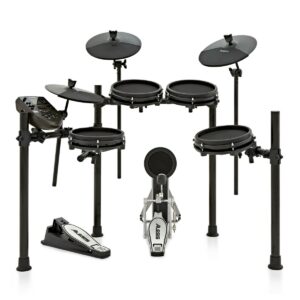 Leading electronic drum technology at an accessible price? That's the Alesis Nitro Mesh Electronic Drum Kit. While most electronic kits in this price range utilise rubber drum pads, the Nitro Mesh offers a complete configuration of mesh drumheads.
Mesh provides a more realistic rebound, resistance and feel – similar to that of an acoustic drum skin. As well as enhanced response, mesh heads are also even quieter than their rubber counterparts.
For a more dynamic playing experience, the snare pad benefits from dual zone technology. This means that it will produce different sounds depending on where it's struck – either the central head area or the outer rim.
As well as an extensive library of preset kits and built-in drum and cymbal sounds, every Alesis kit includes the Melodics desktop app – one of the world's best digital learning resources for musicians. With 40 bonus lessons, the Alesis Nitro Mesh Electronic Drum Kit is a fantastic choice for beginners with big ambitions.
Shop now | Alesis Nitro Mesh Electronic Drum Kit
---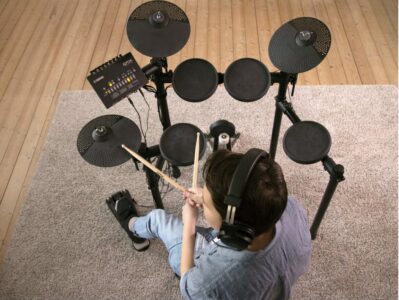 Yamaha is synonymous with instruments – pianos, keyboards, and guitars… you name it. The Japanese corporation also has a fine reputation in the drumming world. Priced under £500, the Yamaha DTX432 Electronic Drum Kit is the company's best and most interactive electronic kit package for beginners.
The DTX432 is equipped with both Yamaha's Touch and Rec'n'Share apps – available on iOS and Android. Touch is all about learning – it makes playing fun and easy, encouraging you to master specific challenges and complete training programmes for certificates that you can share on social media. Rec'n'Share is all about creating and sharing – it allows you to record studio-quality videos with stunning audio that you can share on YouTube directly from the kit's module – enhancing the way you practise and perform.
With ten customisable preset kits and hundreds of Yamaha's high-quality drum and keyboard sounds, the DTX432 gives you the tools to create and craft your signature sound while you learn. A solid choice for creative beginners.
Shop now | Yamaha DTX432 Electronic Drum Kit
---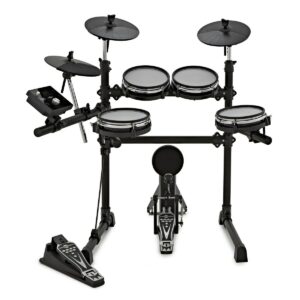 A mesh head electronic drumkit for under £350.00! Gear4music's DD420X is the next step up from the DD400, featuring mesh heads for an enhanced playing feel. If you're looking for an authentic, well-rounded drumming experience from the very start, your search is over.
The DD420X includes four mesh drumhead pads – three toms and a snare – plus three cymbal pads. The crash cymbal pad even contains a choke feature, which means you can mute the cymbal sound by firmly holding the pad with your hand after striking it – a technique used by drummers for adding accents.
Mesh drumheads offer enhanced bounce and playing response, much more akin to a traditional drum skin. Each drum pad is housed in thick, durable plastic that will endure hours upon hours of playing – and they certainly look the part!
The DD420X comes with many features of the DD400, including the same drum sounds, preset kits and accessible LCD screen control function. While the mesh heads give a more responsive playing feel, an additional bass drum pedal/pad unit lets you develop your bass drum kicks and footwork. With a full range of connectivity options and real scope for developing transferable drumming skills, the DD420X is a brilliant choice for adventurous beginners.
Shop now | Digital Drums 420X Mesh Electronic Drum Kit by Gear4music
---
FAQ's
What is an electronic drum kit?
Electronic drums are a modern take on the age-old acoustic drum kit. Instead of drum shells, electronic kits comprise a series of pads or sensors that produce sounds when struck.
Each strike is detected by a trigger and turned into drum sounds by a sound module – giving classic drum sounds, alongside enhanced modern possibilities. Electronic kit configurations are often faithful visual representations of acoustic drum sets, but there are a number of functional contrasts between each style of kit.
What are the benefits of electronic drums?
The most obvious benefits of electronic drum kits are their practicality for home use. Typically, they're much smaller and more compact than full-size acoustic drums. Not to mention the all-important noise control.
Using a sound module to generate sounds, you can simply plug in your headphones and play in near silence, long into the night. The only noise you'll hear is the strike of the pads/mesh heads, which is far quieter than an acoustic kit. This makes electronic drums a smart investment for bedroom practice and home recording.
What is a drum module?
Drum modules are powerful pieces of technology, packed with dozens, sometimes hundreds of unique drum and percussion sounds. All of which can be assigned to different parts of your kit at the touch of a button. You might call drum modules the "brain" of an electronic drum kit, and it is most often included when you purchase an electronic drum set.
Many drum modules additional facilities, such as on-board recording that allows you to record your own samples and loops. You'll also find metronomes, MIDI output (to control music software and plugin instruments), the ability to load your own samples, and more.
Electronic vs. Acoustic Drums
With advances in technology, electronic drums are becoming a fantastic alternative to acoustic kits. For example, the high-grade mesh and silicone rubber materials used for electronic drum and cymbal pads respond just like a classic drum skin, with plenty of rebound.
While acoustic kits might have more aesthetic options, premium electronic drum kits can easily steal the show in the creative department. With a vast array of drum sounds, samples and innovations at your fingertips, electronic drums are the ultimate form of percussive expression.
What next?
Once you've decided on your electronic kit, all you need is a reliable pair of headphones to plug into your module to hear your performance. For some kits where a module isn't included as standard, we have an excellent range of drum modules available.
If you plan on using your kit on the stage or in another live setting, Gear4music also has a number of fantastic electronic drum kit amp bundles that will allow you to play your kit at full volume. Most of these are modest in size and wattage, so they're also well-suited for home use. You can also purchase a separate drum monitor to augment your current kit.
Now just grab a pair of drumsticks and you're ready to play! We recommend thinner types, such as 7A, as heavier, thicker sticks can cause unnecessary wear and tear on your pads. Happy e-drumming!
---
Find out more
Shop now | Electronic drum kits
Shop now | Drumsticks 
Shop now | Drum monitors 
Shop now | Drum modules
Shop now | Headphones