So, you've made the brave decision to become the most important member of the band. Well done. Playing electric guitar will be one of the most fun and rewarding things you ever do in your life. As such, you'll want to start out with the right gear.
There's a world of choice out there when choosing your first electric guitar. Sometimes this can seem daunting, but really it means the world is your oyster. You'll be able to get the perfect model with which to begin your journey. But what is the best electric guitar for beginners?…
---
What should you look out for?
To begin your guitar playing journey, you first need to identify your goals and desires. What do you want to achieve playing the electric guitar? Now, you may say you want to be a rock god that slays the crowd with insane solos and crazy onstage antics. This is a great answer, but not necessarily the right one.
The answer we're looking for is… to make music! So, you'll want to think about which genres you want to explore, and this will guide your decision.
Here's a few things to consider:
---
Price
Do you need to spend a fortune on your first guitar? No, absolutely not. There's plenty of high-quality beginner and midrange models for you to choose from, many of which still offer a premium playing experience. An expensive guitar, whilst sounding and playing great, will certainly not help you progress any faster. So, unless you're Jeff Bezos, you should probably aim for lower-priced models.
---
Size/comfort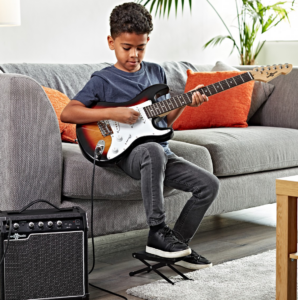 Whilst most players will want a full-size guitar, there are 3/4 size and smaller models available. These are perfect for younger players, and will feel much more manageable.
Comfort is of paramount importance, as you're going to be spending a lot of time cradling your beloved guitar. So, if you can, try the guitar before you buy it (you don't even have to play it), and choose a model which really feels right.
---
Pickups
These little magnets which you'll see in the middle of the body of an electric guitar have the biggest impact on its tone (how it sounds compared to other electric guitars). Are you going for a nice, bright, twangy clean tone, or a thick, powerful, rockin' metal tone?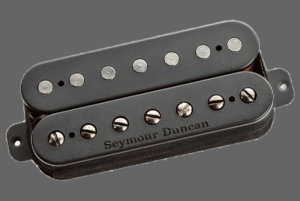 Generally, single-coil pickups (they look like a single row of metal dots) are great for genres like rock, blues, country, and indie. Humbuckers (which usually look like two rows of these metal dots stuck together) are great for hard rock, metal, and making lead guitar and solos sound fat.
---
Guitars to explore
Starter packs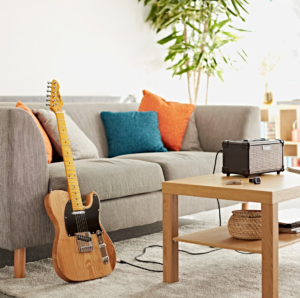 Undoubtedly the most popular option for a first-time guitar player. Guitar starter packs give you everything you need to get going straight out of the box. Whilst different packs vary in their content, nearly all of them include an electric guitar, an amp, and a cable to connect the two.
They'll then usually provide you with an assortment of accessories like picks, a strap, spare strings, and more.
Whilst they offer less customisation in your initial setup, less choice means less stress. There are plenty of great options that you can explore, and you'll be able to make fantastic progress with these.
Fender Squier
Perhaps one of the most popular choices out there, the Fender Squier has been used by beginner guitarists for what seems like aeons now. With affordable prices, combined with decent craftsmanship and the genuine feel of a real Fender, it's easy to see why.

Two of the most iconic models are the Squier Stratocaster and Squier Telecaster, which you've no doubt heard about. These guitars usually sport single-coil pickups, which have a nice twang and feel exceptional to play and comfortable to hold.
Epiphone
If you're more of a rocker and you like the shape and sound of a Gibson, Epiphone offers some very affordable models which give you the Gibson experience. These are geared towards rock, although they can accommodate a variety of genres, including blues.

Many of them have humbucking pickups, which means you'll be able to add plenty of gain without your sound getting too noisy. There's also plenty of classic Gibson shapes, like the Les Paul, Casino, and Explorer.
Ibanez
The kings of metal guitars. Ibanez made their mark on the world decades ago, and you'll see their guitars sported by many metal guitarists today. The GIO series serves as an entry-level vessel to get you straight into playing high-gain metal instantly.

These guitars usually have high-output humbuckers, meaning they create a loud, powerful sound that's filled with aggression. And, as you'll want plenty of gain (or distortion) if you're a metal guitarist, they work perfectly for creating fat power chords and intense solos.
---
So what is the best electric guitar for beginners?
The truth is, there isn't one single guitar that's better than all the rest. Beauty, as they say, is in the eye of the beholder, and this is true when picking your first electric.
There are plenty of good options out there, and as long as you choose the one which is suited to your chosen genres, you can't go far wrong!
---
Find out more
The brands mentioned above are three of many, and there's plenty more to explore. Take a look below:
Shop now | Gear4music Guitars
Shop now | Gretsch Guitars
Shop now | Jackson Guitars
See more | Electric Guitars