If you're in the market for a brand new mixer, you might find yourself caught up in the timeless analogue vs. digital debate. We're here to clear some things up and show you the best digital mixers for live performance.
With so many hats in the ring, it can be hard to know where to start. There's an awful lot to consider, especially when it comes to digital mixers, and there are lots of unique features vying for the top spot.
Let's take a step back and examine some of the facts. What can digital mixers offer you that analogue cannot?
What is a digital mixer?
Digital mixers electronically combine multiple audio signals from individual sources.
Not only that, but you can combine, route, and change the dynamics, equalisation, and other properties of multiple audio signals, using digital signal processing rather than analogue circuitry.
You'll find a pristine sound quality, a varied palette of unique features that you won't find on analogue gear, and generally, a compact size. Read on to find our top picks of digital mixers and how exactly digital mixers differ from their analogue counterparts.
Best digital mixers for live performance
Behringer FLOW 8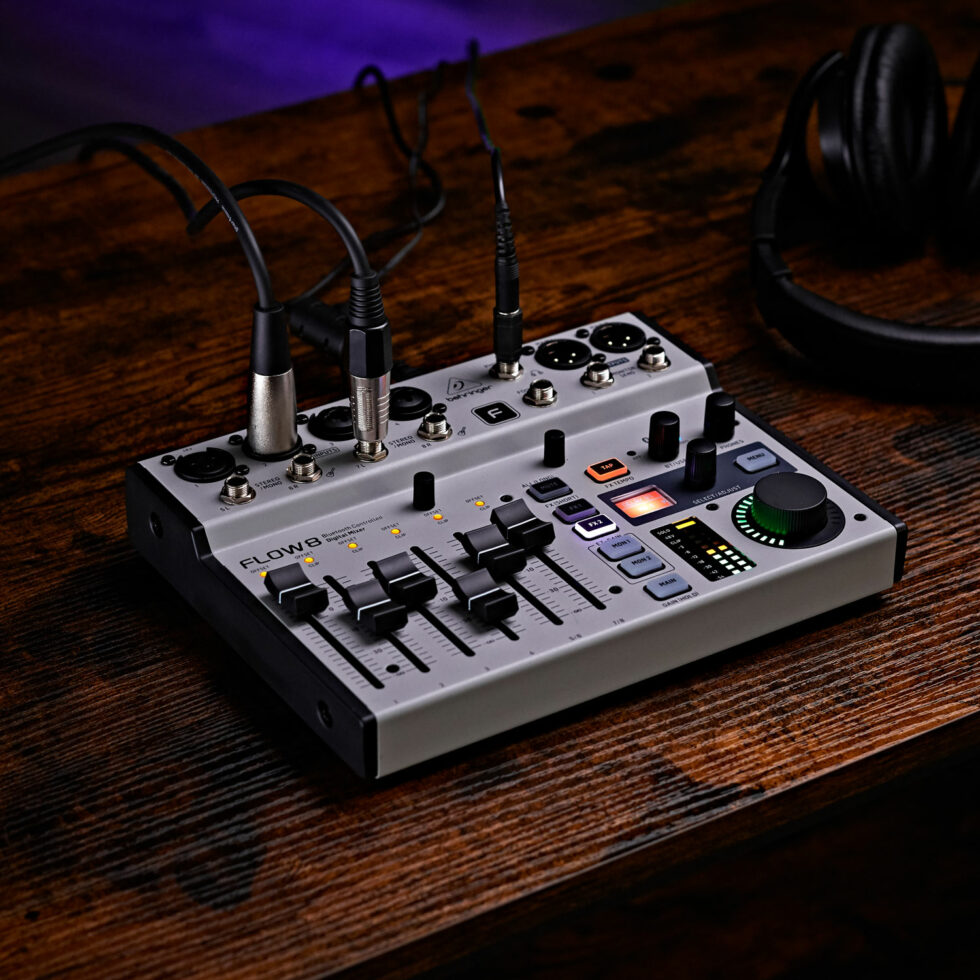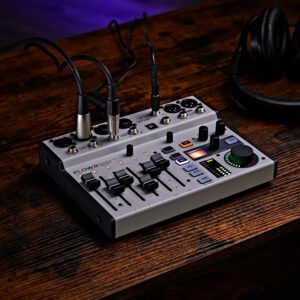 The Behringer FLOW 8 is an extremely compact eight-channel digital mixer. It brings exceptional functionality together with a range of intuitive features.
There are two independent studio-grade effects engines, each with 16 presets, 12 stunning reverb programs, and a range of unique extras. You'll have everything you need to produce great mixes.
EZ GAIN-assisted gain staging then helps you find the perfect mix with ease.
By monitoring signals on one or all channels at the same time, EZ GAIN will automatically adjust the channel gain to the optimal headroom.
Two Midas microphone preamps and internal 32 VFP processing offer pristine clarity and capture every nuance of your performance.
Better still, the Flow 8 can store an unlimited number of scenes, so you can quickly switch between multiple presets and never run out of room.
Lastly, you can operate every control in Flow 8 from your phone. Tweak the nine-band EQ, set the compressor, or adjust the mix all while on the move!
Shop now | Behringer FLOW 8 8-Channel Digital Mixer
---
Midas MR12 Digital Mixer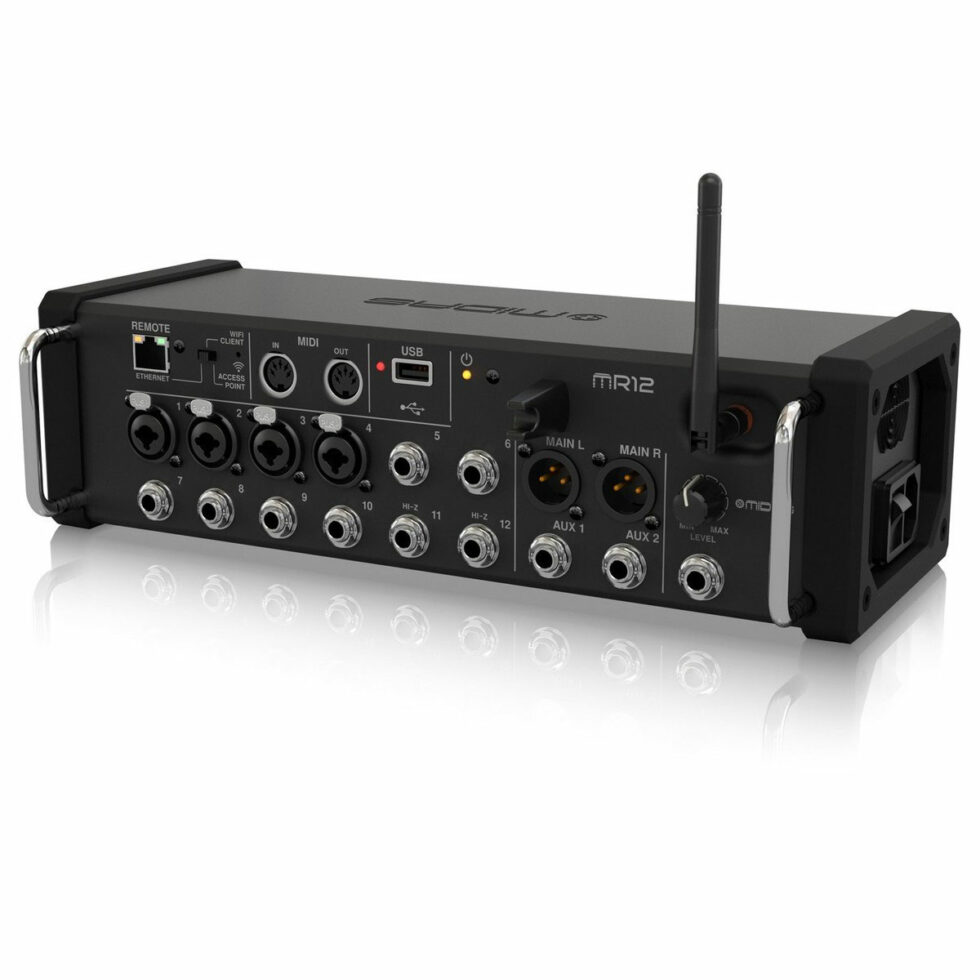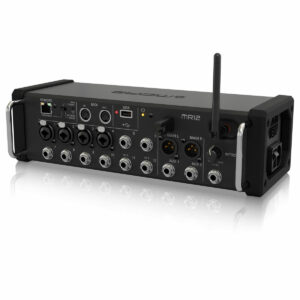 A digital mixer with a 12-channel design and an integrated Wi-Fi module, the Midas MR12 Digital Mixer takes convenience to the next level.
With the ability to accommodate up to four microphones, six line-level sources, and two instruments, you'll have everything you need for a wide variety of live setups.
Furthermore, USB connectivity allows you to directly record performances and play back uncompressed WAV files. This means it's more convenient than ever to capture both studio sessions and live performances.
Onboard stereo processing engines also offer studio-quality effects with almost zero latency.
With four true-stereo processors, the M12 can run studio-quality effects in conjunction with a 31-band EQ on the main and aux buses.
Thanks to four award-winning MIDAS PRO microphone preamplifiers and their premium-grade components, you'll get professional-standard audio quality too.
The legendary Midas sound is characterised by exceptional warmth, clarity, and an accurate sonic image. And courtesy of state-of-the-art M AIR Gain Sharing Technology, you can achieve this sound with innovative auto-mixing that maintains maximum gain without sacrificing audio integrity.
Finally, an integrated tri-mode Wi-Fi router lets you connect to the MR12 directly, so you can control every aspect of your mix from anywhere in the venue and ensure the best possible performance.
Shop now | Midas MR12 Digital Mixer
---
Soundcraft Ui16 Digital Rack Mixer
The Soundcraft Ui16 Digital Rack Mixer has versatile input options – eight XLR combo mics/lines, four XLR mics, two channels of Hi-z/instrument, and a stereo RCA line.
Furthermore, there's a two-channel USB media player, compatible with MP3, WAV, and AIFF formats; two balanced XLR Aux outputs; two quarter-inch headphone outputs with level control; balanced stereo XLR; and quarter-inch main outputs.
All this connectivity leads to an exceptionally flexible mixer. It offers a high level of control thanks to subgroups, mute groups, and view groups, and it can control up to ten devices at once with either Wi-Fi or a hard-wired connection.
With built-in Harman signal processing, you can enjoy a wide variety of great-sounding effects, including dbx AFS2, Digitechamp modelling, and more.
Also, the Ui16 boasts a 31-band graphic EQ, noise gate, and compressor on all outputs, as well as a de-esser and noise gate on input channels. These give you all the signal attenuation you should expect from a quality mixer.
Shop now | Soundcraft Ui16 Digital Rack Mixer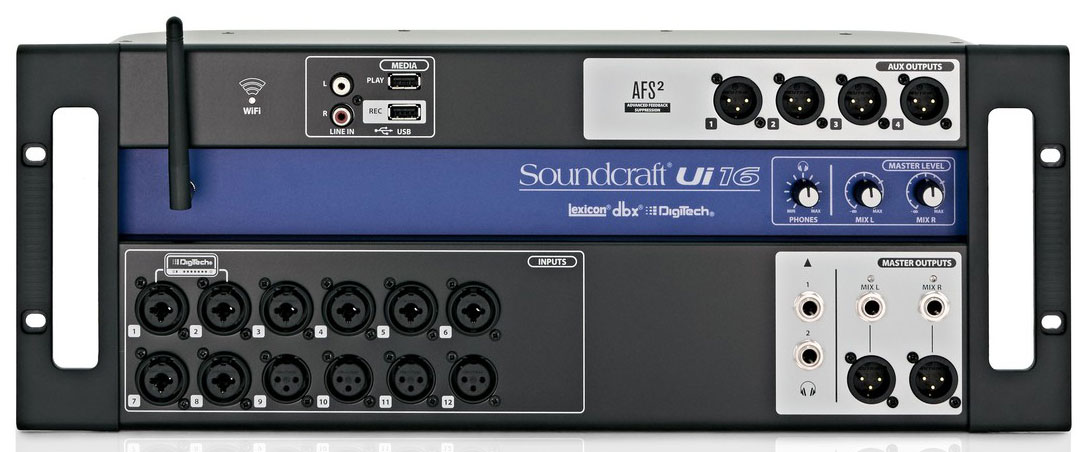 ---
Behringer X32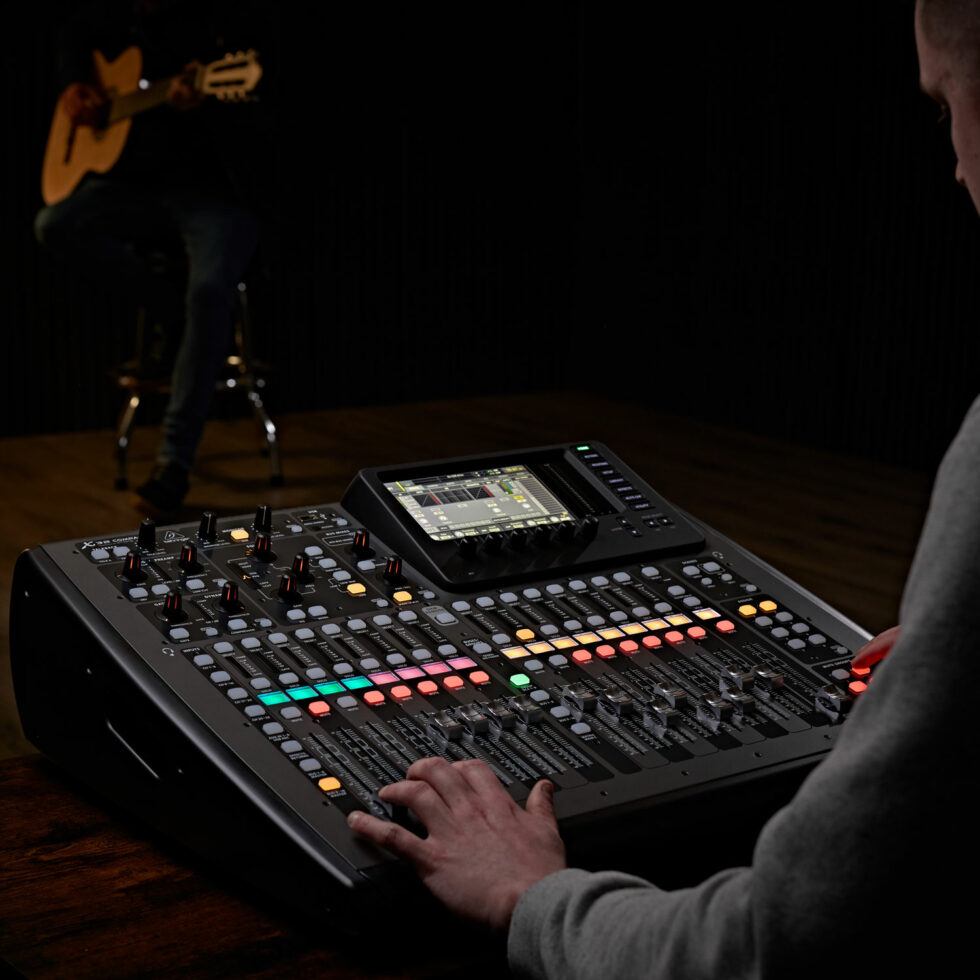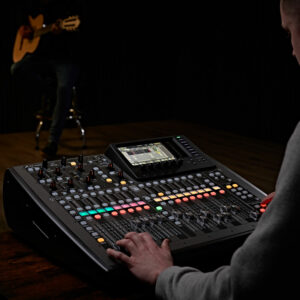 With a distinct hybrid design that provides you with the finest analogue inputs and powerful digital connectivity, the Behringer X32 is a great choice if you're looking for the best of both worlds.
It has 40 channels, 25 buses, and 152 signal sources, all of which can be controlled and monitored via the intuitive seven-inch graphic user interface. These make the X32 one of the more flexible workflows.
Furthermore, the X32 is compatible with up to six S16 digital boxes, providing you with excellent I/O connectivity and flexible routing.
All this is packaged with 16 MIDAS-designed, fully programmable mic preamps. These, along with frequency shelving, dual dynamics sections, fully parametric EQ bus sends, and main, and mono and stereo panning, are controlled with rotary encoders.
With the Behringer X32, you have a high-quality mixer and hands-on control.
Shop now | Behringer X32 COMPACT Digital Mixing Console
---
Bose T8S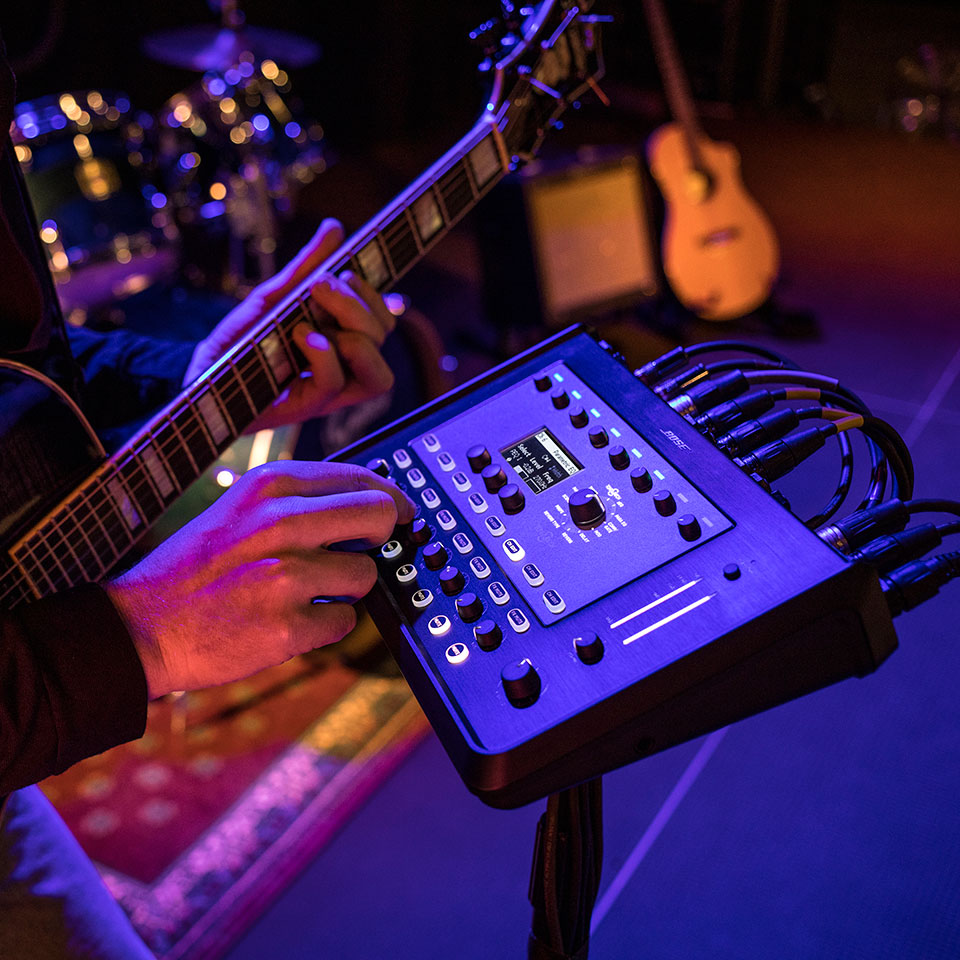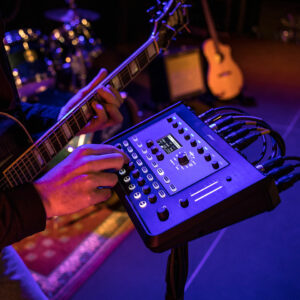 Loaded with studio-quality effects and digital audio processing, the Boss T8S makes tone management easy.
Designed for performers, this is a complete control centre for your sound.
Utilise a huge variety of sound sources and control each channel independently with precise equalisation, dynamic processing, and high-quality effects.
You can hook up a huge variety of sound sources with eight main channels, each with a high-quality audio preamp, as well as an XLR-TRS combo jack, and switchable phantom power.
Take advantage of four aux sends and two aux inputs for additional versatility.
There are also USB A and B ports that allow you to quickly and easily connect and interface with computers.
This is a gig-ready mixer that makes live performance and sound management easier than ever. And with its extremely compact footprint, it's ready to hit the road with you.
Shop now | Boss T8S ToneMatch Digital Mixer
How do digital mixers differ from analogue mixers?
Digital mixers differ from analogue mixers in that they use DSP chips rather than costly analogue circuits. This means you can get your hands on sophisticated gear at a fraction of the price.
In addition to this, there are a few major differences between the two styles of mixer.
While analogue mixers usually offer direct correspondence between inputs and faders, you may or may not have to assign one to the other on a digital mixer.
Analogue mixers also have dedicated controls on each channel strip – a hands-on but space-hungry presentation. Digital mixers, however, allow you to switch between channel strips in a single space-efficient master section.
Similarly, setting up sends is achieved with individual send knobs on analogue gear, but when it comes to digital, it's done by setting the channel layout to send mode.
On analogue mixers, groups are generally assigned via small buttons along the fader or elsewhere on the channel. Digital mixers may handle in a similar fashion, but typically, assignments are more fluid and less limited.
You might also expect to find "scenes" on digital mixers, which are essentially the ability to copy, save, and recall settings with the click of a button.
Finally, when it comes to accessing effects and processing you're typically short on luck with analogue mixers. However, most digital mixers include extensive effects and processing, minimising the need for outboard gear.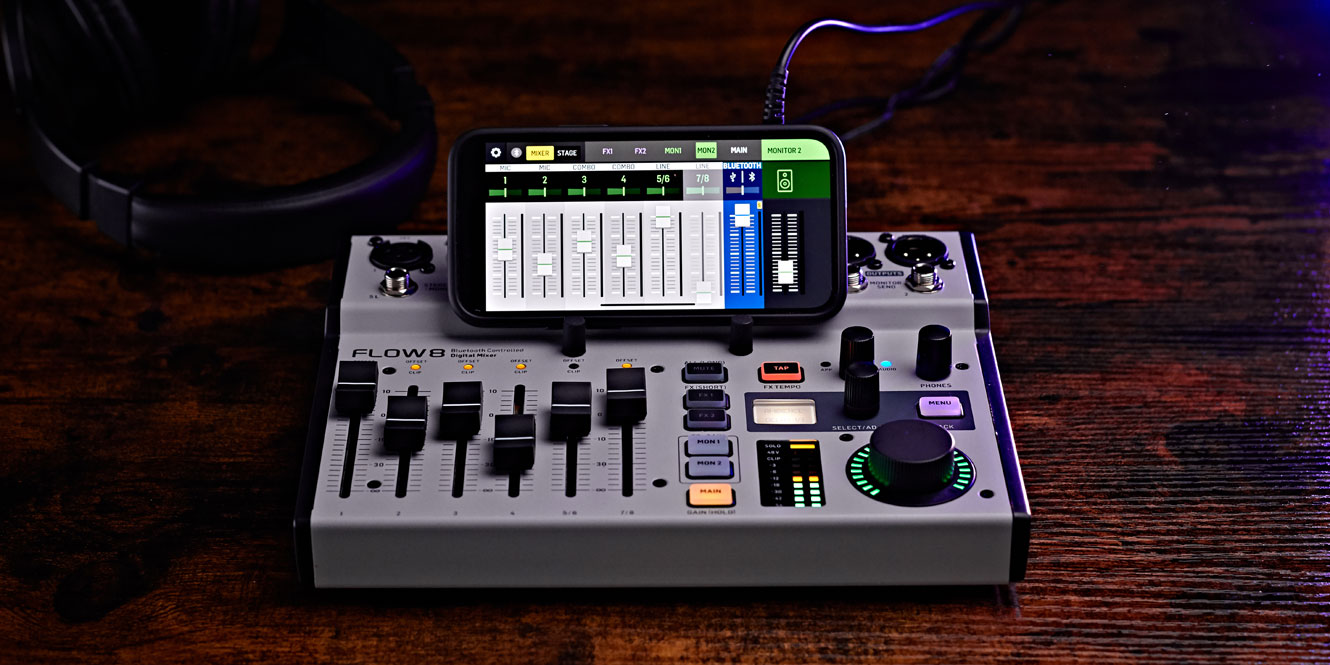 How they benefit live performance
Digital mixers are becoming more and more popular for their convenience, expandability, and clarity.
To a point, going digital will give you much more flexibility in a very compact space.
Some of the features you might expect to find on a digital mixer include full EQ/gate/compression per channel, built-in graphic EQs, multiple built-in FX processors, and extra mix bus outputs for monitoring purposes.
All this gear in high-quality analogue could easily fill a studio, so if you're touring or gigging, having a compact mixer will be invaluable for your quality of life.
Scenes can also be a lifesaver, considering all the different venues, groups, and speaker setups that need quick solutions to live sound.
Conclusion
That wraps up our short guide and picks of the best digital mixers for live performance.
Hopefully, we've been able to clear up some of the key facts surrounding these systems. Remember, there are plenty of options out there, so there's bound to be something that's right for you!