Want the sound of classic guitar cabs without lugging them around? Sick of your electric or acoustic guitar sounding rubbish through DI boxes? TC Electronic's IMPULSE IR LOADER might be the pedal for you…
It features enough slots for 99 IRs, with 25 of these built-in. The first twelve are official Celestion cab models, for simulating classic guitar tones. Next up are eight Pedal Platform IRs, designed to make DI'd pedal rigs sound great. And the last five are designed to make acoustic piezo pickups sound awesome.
But wait – what is an IR? And why would you want to load it?
Impulse responses: a very simple explanation
An impulse response (shortened to IR) is an acoustic measurement method. By recording a short burst (an impulse) across the whole audible frequency range, you can capture the acoustic quality of almost anything.
This recording and its acoustic qualities can then be applied to any audio signal.
Ok. That might still sound complicated. So let's think about it in the context of this pedal.
Play an impulse through a guitar cab and record this with a microphone. Apply the recording to an audio signal with the IR LOADER. The audio signal will then sound like it's coming out of the guitar cab and being recorded by the microphone! Woah!
Initial thoughts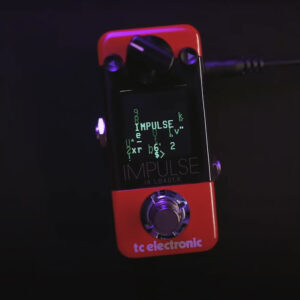 When I took the IMPULSE IR LOADER out of its box, the first thing I noticed was how compact it is. And second, how few controls it has… is that it?
But, as I quickly found out, this is to the little pedal's advantage. It only has to perform a simple task – so why overcomplicate things?
The IMPULSE IR LOADER has a sleek design, with a small LED screen. Its volume dial takes up the upper half of the pedal, with left and right buttons on either side for switching between IRs.
There's one input, one output, one power input, and one USB connection. And of course, there's a pedal toggle button for that all-important foot control.
So all in all – as I said – quite simple.
When I plugged the IR LOADER in and turned it on I was presented with a funny little matrix effect on the screen.
The screen itself is bright, green, and easy to read. Its centre shows the name of the current IR, with the file number in the top right corner and the impulse number in the left. There's also an indicator to show whether EQ is being used.
This is all the information you need for an IR pedal, and it's laid out clearly. So, on first impressions, it looks easy and intuitive to operate.
Loading IR files from a computer
The IMPULSE IR LOADER has 25 preloaded IR files, which are a great starting point. But the pedal really shines when you start to load IR files of your own choosing. And this is easily done via USB connection – just plug the pedal into your computer with the provided USB cable, while it's plugged into a mains connection.
Once I plugged the pedal in it went into 'upload mode' and my computer recognised it almost instantly. At this point, you can simply drag and drop IR files to the pedal as if it were a USB storage device. However, I recommend using the specially-made 'Impulse Loader'.
You can download this from TC Electronic's website and, once downloaded, it's ready to go in less than a minute. Super simple.
If your pedal is plugged into your computer, the app will search for it and then display a menu of the pedal's current layout.
Using this app, you can add impulse responses in a specific order, and reorder ones that are already loaded. You can also rename the impulse responses. This is good for organising your pedal ahead of time for a gig, so you can group different IRs together that you might need to use for different songs.
The pedal supports .wav files up to a 32-bit/96 kHz sample rate. IRs can be a maximum of 200ms, but if yours is longer the IR loader will automatically trim it.
If you're stumped on where to find IRs, stick with me. We'll soon discuss a handy starting point, with lots of free options too!
Using the pedal and its "sound"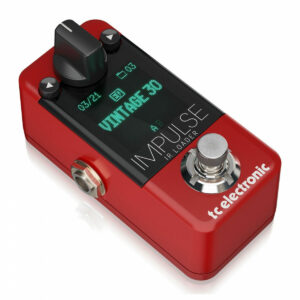 It's hard to talk about the IMPULSE IR LOADER's sound. This is because its "sound" is dependent on which IRs you load into it.
The changes in tone by using different IRs are often quite subtle too. It's worth turning the pedal on and off a few times to appreciate the difference it makes to your guitar tone.
But this is what this pedal is ideal for – making subtle tweaks to take your overall sound to the next level.
As an acoustic player, the IRs that most interested me were the preloaded ones designed to improve the sound captured by a guitar's pickup. So I decided to give one of these a whirl, recording into an audio interface.
And when I dialled up the IRs volume, I found an instant difference in my acoustic's tone. It sounded richer and felt like it had a fuller depth to it.
This would be super useful to use in settings where the PA system is less than desirable. You can instantly improve the quality of your sound with the tap of a pedal.
If you're going direct to DI with an electric, you might want to stick the IMPULSE at the end of your pedal chain. Using the pre-loaded PEDAL PLATFORM IRs will make sure all that time you spent crafting the perfect pedal board doesn't go to waste at the last hurdle.
One useful feature is the A/B mode, which allows you to switch between two IRs at the tap of a button. This is great for changing up your guitar's sound in subtle or dramatic ways, and it just wouldn't be possible (or, at least, as easy) if you were using real amps on stage.
Subtle tweaks are also available for each IR using the Global Compensation EQ which has both high and low shelf modes. This is great for getting your tone just right.
Free IRs to download
The IMPULSE IR LOADER comes with 25 pre-loaded IRs, but has 99 slots. So where do you find other IRs to load onto it?
I've compiled a short list that should get you started on the right foot. You want to make the most out of this pedal, right?
Marshall 1960 Cabinet
You can find a range of free IRs on Redwirez.com that capture the Marshall 1960 Cabinet in different mic positions and settings. This is one of the best-selling cabinets of all time, and using these IRs is an easy way to get its sound on the cheap!
VOX AC30
Get the sound behind the 1960s "British Invasion". The VOX AC30 is still used by guitarists worldwide thanks to its classic, yet timeless, sound. You can get a range of IRs from Studio Nord Bremen in different mic positions of this classic cab. They also have files for the "London City 100 Watt", a classic amp head not readily available at present. But you can simulate it with the IMPULSE IR LOADER!
Line6 IRs
Line6 are known for their guitar-related simulations. To get a selection of free IRs from them, all you need to do is sign up to their mailing list. Easy!
Make your own!
Feeling adventurous? Why not try capturing IRs of your own gear? This means you could take the sound of your favourite cab anywhere without having to take it, well, anywhere!
It's too complicated to explain how to do this in this review, but check out this great video to see how you might do it yourself.
The verdict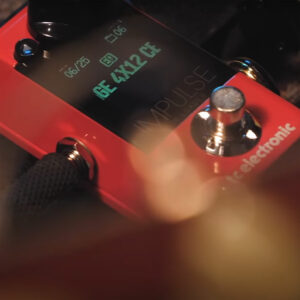 The IMPULSE IR LOADER does what it says on the tin. And it does so with ease and the level of customisability that you'd need for this kind of pedal.
As I mentioned, it's hard to talk about its "sound". It's more about the tonal possibilities it enables for your guitar setup.
Wanting to switch between a range of guitar cabs on the fly? This pedal is for you.
Plus, you can activate a secret snake game on it. So if you're waiting for your band to get ready – and you were set up five hours ago – you'll have something to do.