Kurt Cobain's unique outlook on the world and music was nothing short of revolutionary. Not one individual – either before or after Cobain – has destroyed the perception of the "mainstream" and initiated a shift in attitude towards music and the industry.
A musician with generational talent, Kurt exuded confidence and personality. He naturally captured the hearts of every teenager and young adult at the time.
Musically, Kurt had a distinctive playing style, often chaotic yet clear, dissonant yet melodic, raw yet precise. Every aspect of his being existed in contradiction, and this exemplified his whole journey as a musician – he not only rebelled against mainstream culture but also placed himself at the head of it.
His sound is relatively easy to achieve, but replicating his intricacy and nuance is something that will take practice. Anyway, let's get you prepped and ready to capture this iconic sound.
Kurt's career
As lead singer of Nirvana, Kurt fronted the first alternative rock band that truly captured the mainstream and obtained worldwide success.
Starting out, Kurt and bassist Krist Novoselic signed to independent record label Sub Pop before releasing the album Bleach in 1989. This blend of raw punk rock and melodic vocal lines became their signature sound, the one that they would take all the way to the top of the charts. But for now, Bleach would only see relative success, mainly on the college scene.
When it came to recording their second album, Sub Pop was in financial trouble and looking for a major label to become a subsidiary of. Cutting out the middleman, Nirvana signed with David Geffen's DGC Records and began recording Nevermind, though now they had the addition of drummer, and legend in his own right, Dave Grohl.
Released on 24th September 1991, Geffen hoped the record would sell 250,000 copies in total… but a surge began to happen. Copies sold out in northwest America and the UK within a matter of days, and the album debuted at 144 on the billboard 200.
The band released a music video for the lead single "Smells Like Teen Spirit", which found its spot on MTV. It was so popular that MTV quickly ramped up its number of plays, playing it at all hours of the day.
The marketing strategy DGC records had drawn up went out the window. Everything accelerated quicker than they could plan for, and soon the band were reaching Top 40s globally. The album achieved gold status within a year, putting itself straight into the mainstream.
Challenging the mainstream directly and displaying as much angst and aggression as they could, Nirvana struck a chord with society at the time. Unafraid to talk about dark topics and sing about all things disturbing in a humorous light was an unfiltered approach to music. This was severely lacking at the time. Such honesty mixed with Kurt's raw style and crunching performances made him an icon for alternative rock.
So, let's have a look at how you can get this legendary tone for yourself…
Guitars
Beginner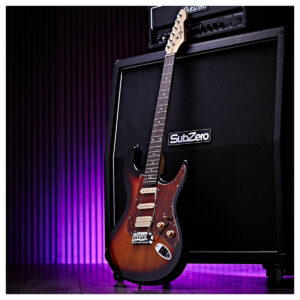 When looking at guitars, there are a few specific targets to aim for if you want to achieve Kurt's signature sound.
For people looking for a more pocket-friendly solution, we have two options.
Let's start with one of our products, the LA Select Electric Guitar HSS by Gear4music. Extremely budget-friendly but still offering premium playability, the reason I suggest this guitar is that it provides similar tonality courtesy of the humbucker at the bridge.
This pickup setup perfectly moulds to the high-gain and crushing chords of Nirvana's style. Sleek and effortlessly playable, the guitar offers either maple or laurel fretboard and a maple neck, all of which allow you to perform with ease.
The tonality options with this guitar are almost unlimited, promising thick destruction like that of "Smells Like Teen Spirit" or the brooding yet twangy tones of "Come As You Are". So, this guitar brilliantly suits all aspects of Kurt's performance.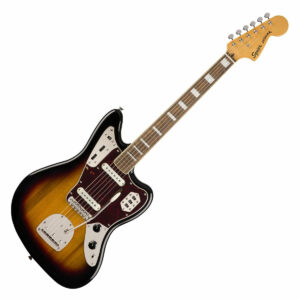 Another option which is perfect, especially at this price point, is the Squier Classic Vibe 70s Jaguar LRL.
Kurt was an advocate for the Fender Jaguar for most of the recording of the monumental album Nevermind and its subsequent tour.
This Squier perfectly captures his aesthetic, breaking the mould while also embellishing your sound with every intricacy of his actual model.
One thing to note is that Kurt's own Jaguar was modified to possess two humbuckers at the neck and bridge, and though this is key, this variant with two single coils still delivers enough punch for you to crash chords around.
Plus, as the Squier model is designed by Fender, you have the assurance of premium quality construction.
Intermediate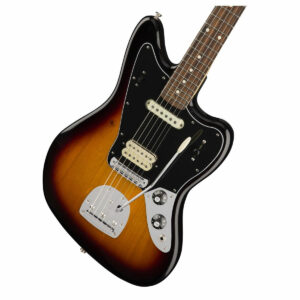 Let's look at options at a slightly higher price point. It means we can be slightly pickier when it comes to choosing the perfect guitar. Again, we need one which allows for destructive, thick textures, and therefore we require a humbucker in the bridge position.
Of course, it needs to play brilliantly too, and it needs to fit with Kurt's aesthetic – so an offset guitar with a classic finish would be best. With this in mind, the instrument I have opted for is the Fender Player Jaguar.
The Fender Player Jaguar provides that all-important humbucker in the form of a New Player Series humbucking pickup, which perfectly defines every note in your chord and powers it out with high gain and raw energy.
This is supported by a single-coil at the neck too, giving you the versatility needed to play every Nirvana tone with impeccable accuracy.
The Fender-feel is guaranteed to offer an authentic Cobain experience. He usually favoured Fender products, despite some exceptions in the earlier days, including a Gibson SG and an Aria Pro II.
Professional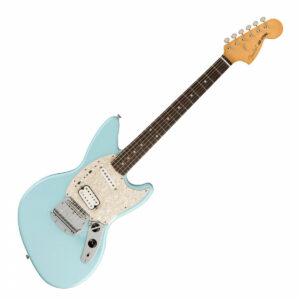 The easiest way to obtain Kurt's iconic sound is, of course, by using one of his signature models. This could be either his Fender Jaguar or the outlandish Fender Jag-Stang, a model which was invented by Kurt himself.
Kurt's Jaguar offers absolutely everything we need to achieve the crashing chords in the chorus of "Lithium" and gives us the delicacy needed to play verses of "Heart-Shaped Box" with its thick, muddy cleans. This is largely because the Jaguar is equipped with two DiMarzio pickups at the neck and bridge, a versatile combination that delivers Kurt's iconic earth-shattering distortion with incredible ease.
The signature is designed to the blueprints of Kurt's original model, so a lot of the features reflect that classic 1960s Fender feel, but everything is slightly modified to ensure it achieves that sludgy, recognisable sound.
Some of the features that represent this construction are the vintage-style floating tremolo, the alder body, and, of course, the rosewood fretboard.
Kurt's Jag-stang is another brilliant option at this level. The guitar was conceived in Kurt's mind, cutting a picture of both a Jaguar and a Mustang and merging them together, the result would create the shape of the guitar model.
Utilising an HS pickup combination, the Jag-Stang, again, maximises your ability to recreate that Nirvana tone, opening the possibility to fully embellish your performance with genuine rawness and untethered destruction. It's perfect for those perfect crashing tumults of textures demonstrated in Kurt's crushing and unbound solos.
Amplifiers
When it comes to amplifiers, it's difficult to pin down Kurt's signature sound as he used a multitude during his career. This variety ranges across multiple manufacturers, from Vox to Fender to Marshall. There truly is a mixture of every sound.
One thing we definitely need in an amplifier, however, is the ability to emit incredible sound for thrashing almost-metal chords, while also possessing the clarity to fully articulate every tone.
Beginner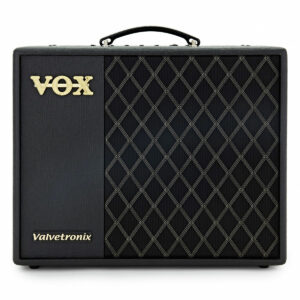 For the recording of "Nevermind", Cobain mainly used three amplifiers due to the fact that producer Butch Vig preferred the distorted sound of an amp rather than that of a pedal. It possessed more bottom-end in its tone, as opposed to distortion pedals and special effects.
One of the most prominent amplifiers when recording their platinum-selling sophomore album was the Vox AC30, which offers rich vintage tones and plenty of headroom, resulting in some delightful distortion. An alternative for the budget-conscious musician is the Vox VT40X.
One thing that truly elevates this handy 40-watt amp is the innovative amplifier modelling that gives you access to 11 different amp models, including the AC30 itself. So, you can obtain the characteristics of the original amplifier at a much lower price point.
The advantage of having 11 different amplifiers is you can switch up the sound and opt for a different vibe altogether.
What's more, the amplifier saves you money elsewhere with 13 onboard effects. They're all placed before the amping stage for authentic tones and a realistic sound, with the ability to utilise up to four at the same time, so you can mould your sound to your exact preference.
Intermediate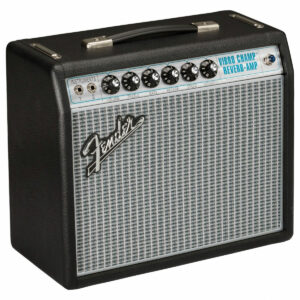 An advocate for Fender through and through, Kurt, alongside Vox amplifiers, also utilised Fender amps at times.
The main ones he depended on were the Fender Bassman heard throughout Nevermind, a Fender Twin Reverb which was road-worn by the time Kurt used it, and occasionally a Fender Champ.
Here, I've gone for the Fender 68 Custom Vibro Champ Reverb.
This handy amplifier allows you to capture the best of all amplifiers used by Kurt, delivering a screaming tone when cranked up to high volumes, while simultaneously articulating every note of clarity at lower volumes thanks to the 12AX7 tubes.
Using a built-in tremolo effect and a fantastic hall reverb, you can embellish your sound with the true essence of Kurt's Fender sound. This accurately creates a tone with slightly more finesse, which was mostly present during the "In Utero" and "Unplugged" era.
While this amplifier will barely articulate sound to a stadium-sized crowd, it's perfect for practice sessions and smaller-scale shows. The larger 10" Celestion speaker packs enough of a punch to be present at every point in the mix.
Premium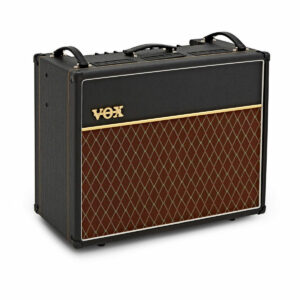 If you want to achieve the true amplifier tone of Kurt, then we need to return to Vox's AC30 amplifier. While one of the prominent sounds of Nevermind was the Mesa/Boogie studio preamp, the AC30 was used during other recording sessions.
Raw and rushing with vintage British tone, the AC30 embellishes every note with incredible definition and pushes the sound out at impeccable power. We've gone for the AC30C2X, here. It utilises two channels, both of which are dependent on Tone cut and Volume controls.
Coming with individual controls for two premium quality effects, you can fully dial in the right amount of reverb and vibrato to the exact specifications you want. The AC30C2X is constructed with two 12" Celestion Alnico Blues speakers, three 12AX7 Preamp tubes, and four EL84 tubes. It emits 30 watts of pure power, perfect for the slushing and delightful tones of "Sliver", you'll be having so much fun that you won't ask anyone to "Take you home".
The AC30C2X lets you dial up the tone to the next level. If the two internal speakers aren't loud enough for you, just attach the amplifier to an external speaker cabinet for thunderous amplitudes of sound.
This amplifier is the quintessential choice for that iconic Nirvana sound, and you'll soon be slamming down power chords every time you take to the stage.
Effects pedals
When it comes to effects pedals, Kurt's setup is relatively simple: distortion, distortion, and more distortion. OK, there is a little more to it than that, with a few minor additions over the years, but to attain the true tone of Kurt, our focus is distortion.
Beginner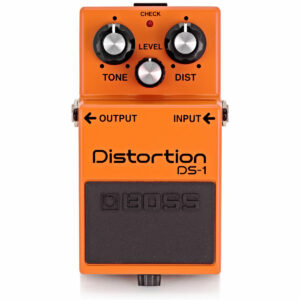 As seen throughout Kurt's discography, there is only one place to start. And that's with the Boss DS-1. If you weren't to spend another penny for the Nirvana frontman's sound other than on this pedal, you would be perfectly justified.
The DS-1 is iconic, and it's often seen as the primary source of distortion for thousands of musicians. DS pedals were the distorted sound used throughout Kurt's career, but he did replace his DS-1 with the DS-2, which he used with the exact same parameters as his DS-1.
Both pedals are similarly priced, so if you want "Bleach" and "Nevermind" distortion then use the DS-1. For "In Utero" and "MTV Unplugged", use the DS-2. The only difference will be slight nuances, for example, the DS-2's slightly boosted midrange gives more presence.
Intermediate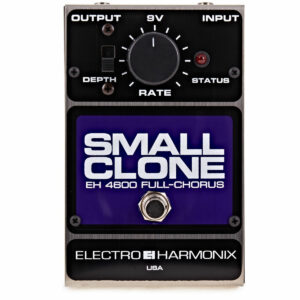 When it comes to taking your Kurt Cobain effects pedal to the next level, we need to focus on things other than distortion. Another effect that was present in a lot of Kurt's performances was the Electro Harmonix Small Clone.
You rarely hear this pedal carrying the load on its own, as it's usually paired with the aforementioned DS-1. Having said this, it does appear a lot. The Small Clone is a chorus pedal that can truly infuse your sound with whirls of sonic depth, resulting in an enriched and delightful tone.
If you want to hear exactly what we're talking about, just listen to "Come As You Are" or the break in "Drain You". In both cases, the Small Clone is abundantly clear. However, we aren't sure how much of the recorded tone is this Electro Harmonix pedal, but we're certain it was a prominent part of his live rig during the Nevermind tour.
Professional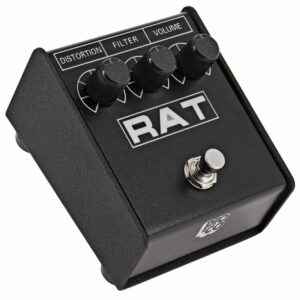 So, we've essentially covered the necessary pedals for Kurt's signature tone. His sound is relatively amp-heavy, but for those looking for complete accuracy, let's look at the final few tweaks…
Going back to distortion, while the DS-1 and DS-2 were the main pedals used by Kurt, there were a couple of others that were used to obtain higher levels of destruction.
The ProCo Rat was only used in the studio for Nevermind and it offered a different type of distortion to the Boss DS-1. With the album heavily constructed around the use of distortion, Kurt needed a different timbre to maximise the effectiveness and impact of certain verses.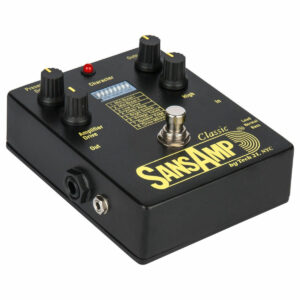 The Tech 21 SansAmp Classic pedal was more popular with Nirvana than the ProCo Rat; it was the main distortion utilised throughout the In Utero tour. Kurt used this pedal with almost all the dials turned up to the max, which infuses the guitar tone with an unprecedented level of destruction.
The SansAmp Classic also comes with characteristic switches too, which allows you to fine-tune the nuance and overall tonality of the pedal. Kurt had the first three and last two on, which includes both mid-boosts and closer miking for more presence from the pedal.
Finally, the Electro Harmonix EchoFlanger was used by Cobain in the studio for In Utero. It's also present in the solo to "Heart-Shaped Box" and in the whole of "Scentless Apprentice".
The pedal did appear under a couple of different names, as the same circuitry is loaded in the Electro-Harmonix PolyChorus, which also spent some time on Kurt's board.
It was one of the integral components behind the composition of their third album, and the reason Kurt had two was that during its initial use, the Echo Flanger broke and had to be sent for repair. Therefore, they used a backup for a period to ensure that the album was consistent throughout.
Though we don't have either of these pedals on our website, the closest alternative we do offer is the Electro Harmonix Electric Mistress Stereo Flanger Chorus pedal. Originating from the same developers as the two original pedals, it provides authentic flanger effects that scream with the influence of its predecessors.
The full rig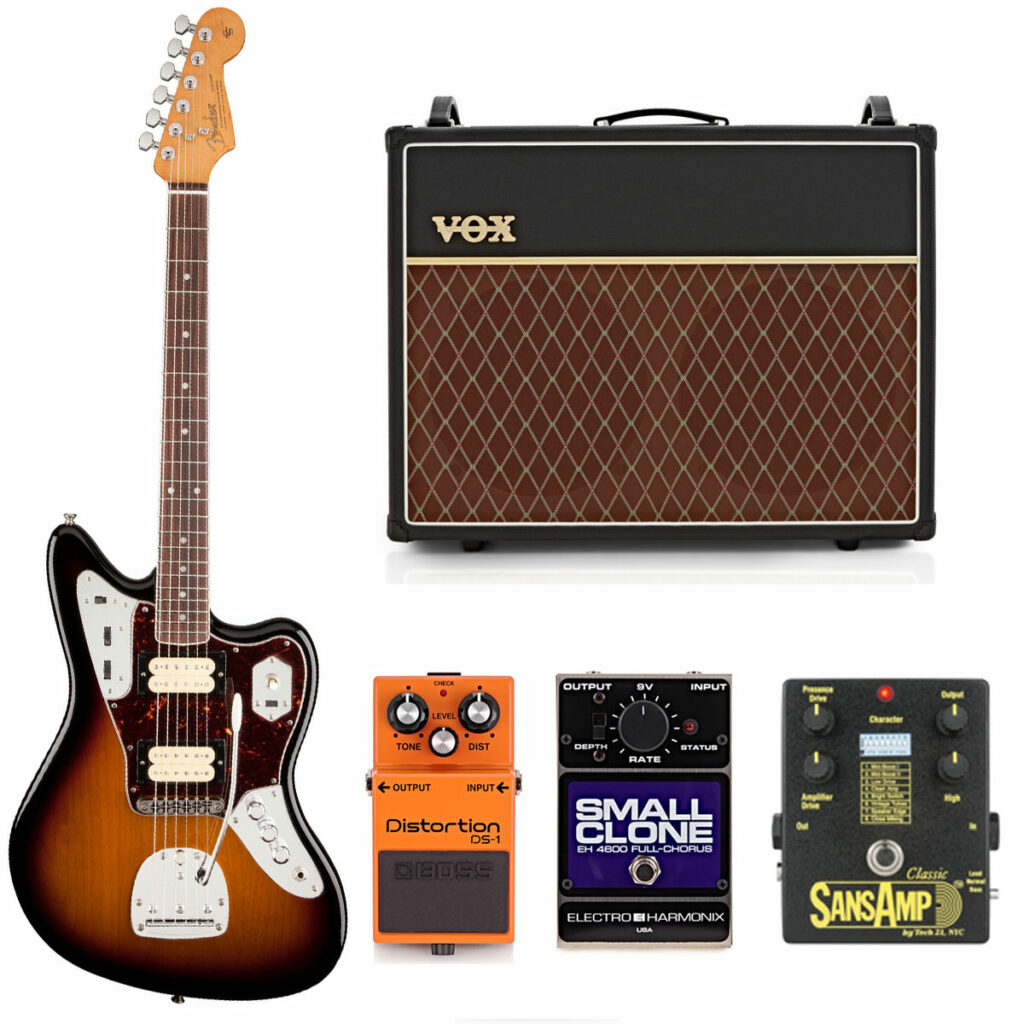 Guitar: Fender Kurt Cobain Jaguar NOS
Pedals: Boss DS-1 Distortion, Electro Harmonix Small Clone Analog Chorus, Tech 21 SansAmp Classic Original 
Find out more
Now that you know how to master Kurt Cobain's legendary sound, why not check out our full range of guitars, amps, and pedals?