From funky grooves to psychedelic ballads, there's no disputing that RHCP's talisman bassist Flea has inspired generations to pick up the bass guitar. But what's the secret behind his iconic sound?
When you hear the legendary slap-intro to RHCP's "Higher Ground", there's absolutely no mistaking the man behind its powerful groove. Michael 'Flea' Balzary has dominated the bass world for decades, bringing the traditionally underappreciated instrument to the spotlight with his bold approach.
But to achieve a sound so unique, you need a rig that truly captures his legendary tone. This is why we're breaking down the best basses, amplifiers, and pedals to perform red-hot riffs on any budget…
---
Bass
The most important element to any bassist's sound is the bass guitar. And, with Flea, it's no different. Unsurprisingly, Flea has played countless basses across his prosperous career. But, just like anyone else, he certainly has his favourites. Here are our top bass guitar picks for any budget:
---
Budget
When it comes to punchy bass sound, the dual J-pickup design is tough to beat. This is why the LA Select presents the perfect option for that thumping funk tone.
Two single-coil pickups can handle just about anything you throw at them. From in-your-face slapping to subtle bass riffs – their versatility and low-end depth enable you to drive your music effortlessly. Its vintage-inspired body shape then provides easy access to the upper frets for those inevitable Slane Castle-esque solos.
The instantly recognisable design takes inspiration from the vintage basses Flea has used on multiple records. Think of the rumbling slap bass on "Tell Me Baby" or the more discreet ascending riff in the verse of "Snow (Hey Oh)". Each was recorded using vintage basses, and with the LA Select harnessing all these qualities, you've got yourself the coveted "Stadium Arcadium" bass tone at a remarkable price.
Shop now | LA Select Bass Guitar
---
Mid-Tier
Looking to invest a little extra into your rig? Look no further than the Sterling SUB Ray4. Presenting a more budget-orientated option compared to the Music Man StingRay, the Sterling (by Music Man) SUB maintains all the authentic power and punch that the StingRay is known for.
If you're a fan of Red Hot Chili Pepper's earlier work, then the SUB Ray4 is a particularly good choice for that old-school punk/funk slapping Flea implemented into the albums "Freaky Styley", "Mother's Milk", and "Blood Sugar Sex Magik". But beyond these albums, the StingRay-style basses remain in Flea's touring rig even today.
Where the SUB Ray4 really stands out is its active pickup system. A singular humbucker comes powered with an onboard preamp for more power, more clarity, and more noise. Every nuance of your playing will become pivotal in the mix – you only have to listen to the verses in "Aeroplane" to truly understand what a Music Man can do for your sound.
It's also worth mentioning that the StingRay is Flea's go-to 5-string bass in the studio. So, if you're looking to play songs such as "Funky Monks" or "The Righteous And The Wicked", the Sterling SUB Ray5 offers the perfect solution!
Shop now | Sterling SUB Ray4
Shop now | Sterling SUB Ray5
---
Pro
Here's the big one. The bass for Flea's unmistakable sound. It shouldn't come as a surprise that the Fender Road Worn 60s Jazz Bass takes the top spot on our list. Why? It's got just about everything. From the roaring dual Jazz pickups to the unique road-worn style – this bass has Flea written all over it.
The Fender Jazz Bass has been a mainstay in Flea's rig for years, sharing his love for vintage Fenders with fellow guitarist John Frusciante. And while you might struggle to get your hands on the original 1961 model, this 60th anniversary adaptation certainly comes close.
Seamless punching power stems from two '60s single coil pickups, kicking out an authentically vintage sound with modern clarity. A noticeably full low-end will sit nicely at the core of any Californication-era jam. With further versatility coming in the form of two stacked controls for volume and tone of each pickup, you'll have complete freedom to shape your sound.
And while this might be "steal the sound", there's no ignoring how much impact the road-worn finish adds. From bridge to bass tuners, this instrument is undeniably stunning. Because if anyone understands the importance of individual style, it's the main man himself.
Shop now | Fender Road Worn 60s Jazz Bass
---
Amplifiers
One of the keys to Flea's signature sound is a capable bass amp. Unlike the complicated amp setups many guitarists (and even some bassists) go for, Flea's amp tone is very straightforward; it's all about the power. Here are our top bass amplifier picks for any budget:
---
Budget
If you're looking for one of the best value bass amplifiers out there, then the RedSub BA-30 is the way to go. Not only have you got 30W of rumbling power to get you to the forefront of the mix, but with a semi-closed back for a tighter low-end, you can really hit those backbone RHCP grooves.
With this, and an inbuilt EQ for further tone customisation, the RedSub BA-30 serves as an excellent platform to push your sound to its limits in any environment. This is exactly how Flea uses his amplifiers – to truly test their power capabilities. And with a RedSub BA-30 in your rig, you won't be disappointed by how much it can handle.
Shop now | RedSub BA-30 30W Bass Amplifier
---
Mid-Tier
The blissful simplicity of Flea's amp setup continues into the mid-tier range with the Fender Rumble 40. This esteemed combo has been a go-to for countless bassists over the years. So much so that even Flea has picked up a Fender Rumble for some of his smaller gigs and events.
Beefy. Dynamic. Powerful. You only need to hear this amp to understand why it's so effective in achieving Flea's sound. The Fender Special Design speaker provides premium voicing, full of definition and articulation which, with the nature of Flea's often complex basslines, ensures every single note is heard.
The ultra-compact and portable design is an added bonus, along with the display of controls to dial in your sound. Offering the perfect blend of power and practicality, it's clear to see why so many bassists – including Flea – have used the Fender Rumble at some point in their careers. At such an accessible price point, you'll struggle to find better value in a bass amp.
---
Pro
Of course, for a bassist who's continued to sell out stadiums over four decades, Flea's bass amp is just about as loud as they come. With a whopping 1080 watts of thundering power, the Gallien Krueger 2001 RB-II bass head has been Flea's touring amplifier for much of his career. Or to be more precise, three of these bass heads have (no, we're not joking).
What can you expect from the GK RB-II? In a word: power – and lots of it. But with great power comes an abundance of tone shaping options. A deep 4-band EQ combines with a selection of voicing filters to give your tone that final touch of perfection. If you want the best there is in the world of bass tone, then the GK RB-II is undoubtedly the way to go.
As for cabs, Flea continues the theme of 'bigger is better' with however many Gallien Krueger 4x12s he fancies on the night. But truthfully, the choice is yours. GK are hard to beat in terms of sound quality, so if you're looking to continue the "Pro" setup, they're as high-end as they come. As for size, it's always best to go with whatever suits your playing needs. Not all of us have quite reached Wembley-level just yet *sigh*.
Shop now | Gallien Krueger 2001 RB-II Bass Amp Head
Shop now | Gallien Krueger Bass Amp Cabs
---
Pedals
Pedals are by no means a necessity in a bassist's rig. But if you're looking to capture some of the unique effects Flea uses in certain songs and solos, then you're going to require at least a couple of pedals. Not to mention that they're incredibly fun to use! Here are our top pedal picks across the three budgets:
---
Budget
Deciding which pedal to go for on a budget can often be tricky. "Which effects are most important?". "Can I live without *blank* pedal?". Thankfully, the Mooer MBEF1 ensures you don't have to ponder such dilemmas.
Primarily an envelope filter, the unique 'quacking' effect of this pedal delivers the bass sound Flea uses in the songs "Sir Psycho Sexy" and "21st Century". What this gives you is essentially an auto-wah that can be timed with your playing using the controls, so each note will harness the effect.
On top of this, the MBEF1 features a 'fuzz' mode – which is what sets it apart from other budget envelope filters. Thanks to this mode, you'll also be able to crank up the gain for those thumping solos, effectively giving you two effects in one. Combined with its compact size, the MBEF1 offers maximum practicality at a very affordable price. And, of course, it sounds absolutely superb.
Shop now | Mooer MBEF1 Sweeper Envelope Filter Bass Pedal
---
Mid-Tier
Coming into the mid-tier, we've gone with two of the most popular bass pedals in the industry. You'll likely find the Bass Big Muff and the Micro Q-Tron on the pedalboards of countless bassists out there. And for good reason too…
An iconic fuzz pedal, the Bass Big Muff captures one of the most coveted, high-gain tones on the market in bass format. Which is why its timid price comes at such a surprise. Once you activate this pedal, it's all-out chaos. The sort of chaos that Flea has been boasting on stage for most of his career. Need we say more?
The Micro Q-Tron presents the holy grail of bass envelope filters in a more compact format. While it may be less intricate than some of the more advanced iterations, there's no mistaking its funky flavour. So if you're looking to spice up those juicy riffs with some classic Flea character, you can't go wrong with the Micro Q-Tron.
Shop now | EHX Bass Big Muff Pi Distortion
Shop now | EHX Micro Q-Tron Envelope Filter
---
Pro
You might be surprised to discover that Flea's pedalboard isn't particularly expansive. But there are still a few mainstays that have served him well over the years.
First off is the Boss OBD-3 Overdrive. We've all heard the fiery bass intro to "Around the World". The secret? This pedal. The perfect balance of dirt and definition forms one of the most notable tones used by Flea in the Californication era. It's simply a must-have.
The next step up from the Micro Q-Tron is the Q-Tron Plus. While Flea uses the original Q-Tron himself, it has unfortunately since been discontinued. However, the Q-Tron Plus arguably offers even more than the original model. Hosting the same legendary tone, the Plus model features greater tone customisation for you to experiment with, providing a range of features equipped for the modern setting.
Believe it or not, the Bass Big Muff is so good that it makes it onto both lists. It's a no-brainer. Flea himself used the original Big Muff on his board for years. So, with a model crafted specifically for bass since being released, it simply has to go in the "Pro" tier too.
Lastly, a pedal more for practicality than anything else. But just as important, nonetheless. The MXR M113 Micro Amp is used as a 'clean boost' in Flea's rig, giving him a little more volume and bite without going overboard.
Used by guitarist John Frusciante too, this utility pedal is ideal for maintaining your tone while giving it that extra push. So, for more prominent bass riffs such as "Can't Stop" and "By the Way", the Micro Amp does the job better than most.
Shop now | Boss ODB-3 Bass Overdrive Pedal
Shop now | EHX Q-Tron Plus Envelope Filter
Shop now | EHX Bass Big Muff Pi Distortion
Shop now | MXR M133 Micro Amp Pedal
---
The full rig
Here's our full 'Pro' rig for Flea's sound.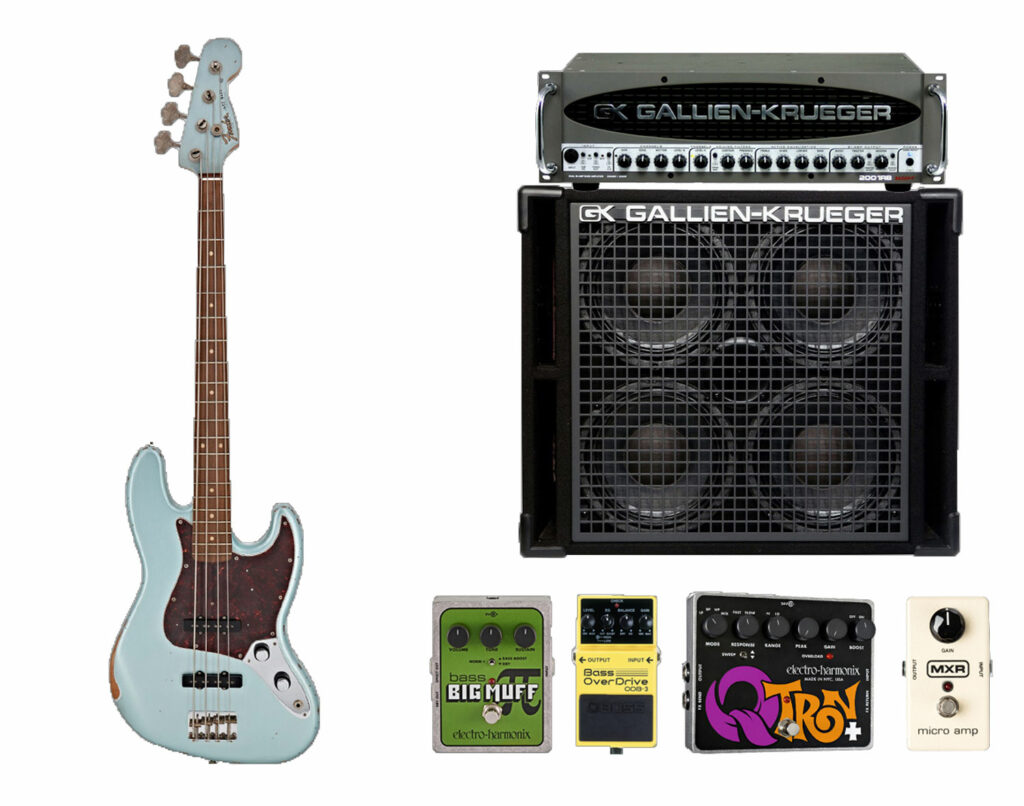 Bass: Fender Road Worn 60s Jazz Bass
Amp: Gallien Krueger 2001 RB-II Bass Amp Head
Cab:  Gallien Krueger 410-RBH Bass Cab
Pedals:
---
Find out more
Now you're all clued up on how to achieve Flea's unique sound, why not explore our full range of bass gear?
Shop now | Bass Guitars
Shop now | Bass Amps
Shop now | Bass Pedals