The original "Problem Child". AC/DC's Angus Young is one of a rare breed of guitarists – every inch the old-school rock god, yet still inspiring millions to this day. Join us as we take a deep dive into the best way to achieve that unmistakable Angus tone, no matter your budget.
Big riffs, big personality. Angus Young's sound has always had the magical ability to make you smile, bang your head, and move your feet – all at the same time (duck walk, anyone?) But what's the secret formula behind that signature, classic rock crunch?
We'll take you through the essential elements, with guitars, amps, and pedals for any budget, so you can nail the electrifying on-stage sound – and look – of AC/DC's lead axe-man. School uniform not included.
---
Guitars
Simplicity is the key to the Angus Young guitar rig. His singular sound has remained pretty much unchanged for over half a century, and the first building block in that tower of tone is his guitar. Here's our run-down of Angus axes for every budget.
Beginner
Throughout AC/DC's 50-year career, one thing has remained constant – the iconic dual-horn design and chunky crunch of Angus Young's guitar. For a cost-effective solution, the Gear4music Brooklyn offers that distinctive look and sound in spades, and is kind on your wallet, too.
But don't let the £150 price-tag fool you – nothing about the Brooklyn is "Done Dirt Cheap" (sorry). As well as that legendary silhouette, you get the classic rock sound of a pair of humbucking pickups – ground zero for Angus' tone.
The Brooklyn even comes in both "Highway to Hell" transparent red and "Back in Black" …errr… black. So whatever DC era you're into, we've got the guitar to complete the look.
Shop now | Brooklyn Electric Guitar, Red
Shop now | Brooklyn Electric Guitar, Black
---
Intermediate
Real talk – if you're looking to up your Angus-style guitar game, you need an SG. But if a full-blown Gibson feels like a "Touch Too Much" (again, sorry), then an Epiphone SG provides the authentic sound and look of a true Gibson-pedigree instrument, without breaking the bank.
For fans of '70s-era Angus, our pick is this beautiful, vintage cherry Epiphone SG Standard 61. As well as a pair of fantastic ProBucker humbucking pickups, this reimagining of the 1961 Gibson model features an eye-catching and dynamic Maestro Vibrola tailpiece – perfect for adding a little whammy-bar wizardry to your searing solos.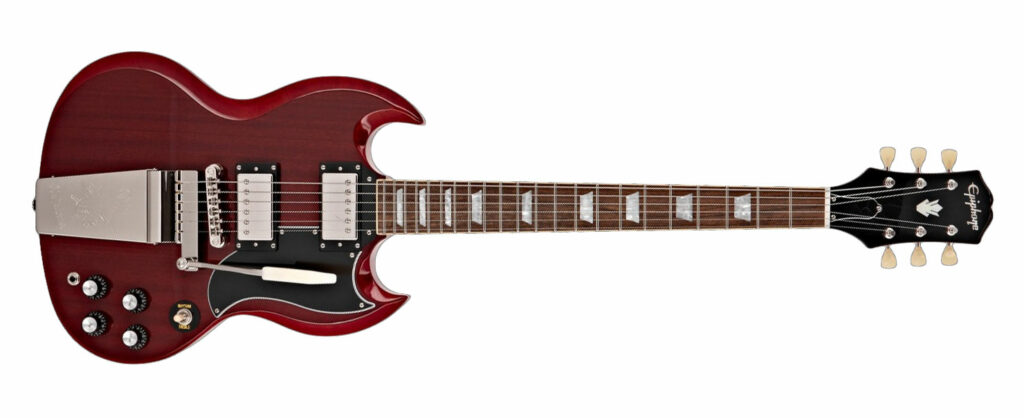 Just like its Gibson big siblings, the Epiphone SG Standard features an all-mahogany body and neck. Remarkably resembling the guitar Angus can be seen playing in the videos for hits like "Shot Down in Flames" and "If You Want Blood (You Got It)", the era-accurate tuners match the show-stopping tailpiece to complete the Epiphone '61 SG's heritage aesthetic.
The '60s are considered the SG's 'golden age'. Pick up this Epiphone '61 to find out why – and how – they helped shape Angus Young's sound in the early days of AC/DC.
Shop now | Epiphone SG Standard 61
---
Pro
Ok, no more "Beating Around The Bush" (not even sorry). For the ultimate money-no-object Angus Young guitar, it has to be the Gibson SG. While Angus himself has flitted between dozens of Custom and Standard models over the years (both vintage and new), our choice for the definitive SG experience is this black-on-black SG Standard.
Like many experienced rockers, Angus is a creature of habit. While some SGs in his collection may feature vibrola trems, custom inlays, and more – no Young tour setup is complete without a straight-up SG Standard.
The stunning black finish with matching black scratchplate pairs perfectly with the dazzling chrome hardware. Thus completing a gothic metal aesthetic seen in Angus' hands at some point on almost every tour from "Hell's Bells" onwards.
For that truly authentic Angus Young tone, the P490 humbuckers and world-class electronics in this Gibson are ideal for his favourite trick. Roll back the volume pot a little for rhythm playing, then turn back up to 10 to give solos maximum bite and energy.
This '70s technique is a huge part of Angus Young's tone, allowing him to balance the amount of distortion song-by-song, with no loss of clarity. For collectors and fans alike, this is the real deal.
Shop now | Gibson SG Standard
---
Amplifiers
Classic rock, garage rock, heavy metal – a true Angus aficionado's amp needs to bridge the gap between all these styles, while also providing the right level of volume for bedroom players and stadium-fillers alike. From beginner to pro, there's an option to fit the bill in our comprehensive guide to the Angus Young amp.
---
Beginner
Look at any photo of Angus Young playing on stage (or in the studio, for that matter), and you're certain to see the iconic gold faceplate of a Marshall amp behind him. For guitarists just starting out on the road to rock stardom, the Marshall MG15G offers that unmistakable 'British' amp tone, with a host of useful features to boot.
If you're tightening up your 'T.N.T' or honing your 'Whole Lotta Rosie', the MG15's integrated line-in is perfect for play-along practice, while its 8″ speaker provides real, mid-gain Marshall grunt at a volume that won't annoy the neighbours. With two channels, three-band EQ, and those classic, Marshall looks – all at an astonishingly low price – this is the ideal amp 'For Those About To Rock.'
Shop now | Marshall MG15G
---
Intermediate
When it comes to amplification, the secret behind an authentic, Angus Young roar is undoubtedly an all-valve Marshall head. But with original, heritage models often coming in at eye-watering prices, the Marshall Origin series offers a great alternative that doesn't require a remortgage.
There are a range of Origin combos, heads, and cabinets available at various wattages, but our pick would be the gorgeous 20-watt head version. Taking its design directly from the playbook of Angus' favourite – the infamous JMP, or 'Plexi' – this fully tube-driven pocket rocket packs an incredible punch that belies its handy, portable size.
The Origin 20H takes the character and charm of a Plexi, and gives it a user-friendly, 21st Century overhaul. An innovative 'Tilt' knob lets you sweep seamlessly between the sounds of a Plexi's 'Normal' and 'Treble' channels – no patch cable 'jumping' required!
Other modern appointments including a push-pull gain boost knob, an FX loop, and an innovative, 5 watt 'low output' mode, make this a fantastic choice for genuine, all-valve Angus tone with modern convenience to boot.
And what would a valve head be without its speaker cabinet? Angus Young's rig runs exclusively on 12″ speakers, and so should yours! In keeping with the theme of the compact Origin 20 Head, we'd suggest a 2×12 cab like the SubZero GC212 for maximum portability.
The GC212 can handle up to 120 watts, and provides a fantastic, beefy low end with legendary, black styling that matches the Origin perfectly, creating a full-force mini-stack worthy of any stage.
Shop now | Marshall ORI20H
Shop now | SubZero GC212 Cab
---
Pro
Let. There. Be. Rock. The undisputed champ of classic rock amplification is the Marshall 1959 Plexi Superlead 100 head. Angus loves them so much, he uses nine – yes, NINE – of them in his smaller (!) arena rig alone. Vintage '60s models can fetch £3000 or more online, but for brand-new reliability with legacy, Plexi tone, the Marshall 1959HW Plexi Handwired Reissue is unbeatable.
Boutique, handwired electronics meet 100 watts of screaming, all-tube power in this faithful reissue. Its infamously obnoxious volume is not for the faint of heart. But when you're belting out "Shoot to Thrill" to tens of thousands of fans every night, it comes in handy.
Like most of the Angus Young rig, the Plexi Reissue sticks to its roots, with very few bells and whistles. Two parallel channels provide 'Bright' or 'Normal' modes, with high and low impedance inputs for each. A famous trick is to 'jump' the two channels together with a short patch cable, for a full range sound with maximum gain. Angus tone doesn't get much purer than this.
To match the full AC/DC live show, we'd suggest pairing the Plexi with as many Marshall 4×12 cabs as you can physically fit in your house. And it still won't even come close. But don't worry, only one of his is ever mic'd up (the others are exclusively there for Angus' own enjoyment – and yes, they are all turned on.)
So for guitarists seeking the ultimate Angus sound, a Marshall 1960BX 4×12 will provide the ideal mix of mid-range crunch, top end detail, and vintage Marshall styling to complete a like-for-like Angus Young setup.
Shop now | Marshall 1959HW
Shop now | Marshall 1960BX Cab
---
Pedals
Angus likes to keep things old school. If it doesn't need to be in his rig, it isn't. However, when recording the Back in Black album, Angus was struggling to nail the tone he wanted. The only thing missing from his usual live setup was his Ken Schaffer-designed wireless unit, and it turned out the preamp within the wireless was the missing link, adding an extra layer of excitement to his already ear-splitting sound.
Ever since, tone-seekers worldwide have created various pedals to spice up your rig in the same way. Here are our favourite additions for any price point.
---
Beginner
Stompbox technology has come a long way in recent years. There's a particular focus on analog-style circuits, specifically designed to add a little organic flair to modern, digital effects, and solid-state amps. One of the best (and most affordable) options is the Electro-Harmonix Analogizer.
Featuring a fantastic-sounding overdrive, as well as a tape-emulating 'Spread' function, the Analogizer's unique circuit rolls off just enough top end from your signal to emulate the warm, natural sound of the vintage analog gear used by Angus. Dialing in the 'Mix' knob just right will take the modern sound of a solid state Marshall and turn it into a convincing emulation of that legendary AC/DC tone.
Shop now | Electro Harmonix Analogizer
---
Intermediate
If you thought you were obsessed with Angus Young, SoloDallas founder Fil Olivieri is here to give you a run for your money. He's devoted his life to chasing down every part of Angus' signature sound. The SoloDallas range uses the exact specifications of those old Schaffer wireless units to put exquisite, '70s tone in the hands of the everyday, modern player.
The Schaffer Replica Storm puts that expressive, heritage sound into a handy stompbox format. Doing away with the traditional 'Input/Output' layout for a more modern 'Gain' and 'Boost' control panel, the Storm allows you to round off your signal with an addictive mix of op-amp limiting, companding, full-throttle gain, and an astonishing 31 dB of clean boost.
The SoloDallas Storm works best when driving the input tubes of an all-valve amp, adding a throaty, classic rock sheen with an incredibly musical presence, and making the most of every second of sustain.
Put a spring in your step as you take centre-stage for your solo – complete with an Angus Young duck walk – as the Schaffer Replica Storm pedal pushes your guitar signal into a more authentic AC/DC tone than ever before.
Shop now | SoloDallas The Schaffer Replica Storm
---
Pro
The key to luscious, vintage guitar tone like Angus' is top quality components throughout the whole signal path. Components don't come more 'top quality' than the SoloDallas The Schaffer Replica Ex Tower. The crème de la crème of tone-shapers, this standalone tower unit is the exact model used in Angus' current live rig.
Although not technically a 'pedal', we've included it here as the holy grail of Angus tone, simply because if it's good enough for the king himself, it's good enough for us. The Schaffer Replica Tower is the original design created by Ken Schaffer and SoloDallas to replicate the magic sprinkling of sustain, drive, limiting, EQ, and compression that everyone from Dave Gilmour to Carlos Santana was missing after ditching their Schaffer wireless units.
Angus calls it the 'Fizz box'. Simple to use, the Input and Output knobs can be tweaked to deliver just the right amount of crunchy kerrang, while the all-analog signal path massages your guitar sound to add a presence and depth of sound that's simply unmistakable. And after all, isn't that sound of Angus Young in a nutshell?
You can throw an SG through any cranked, vintage Marshall and get 75% of the way there. The SoloDallas Schaffer Replica Ex Tower might take you to 99%. That last 1%? You'll have to ask Angus…
Shop now | SoloDallas The Schaffer Replica Ex Tower
---
The full rig
Here's our full 'Pro' rig for Angus Young's sound.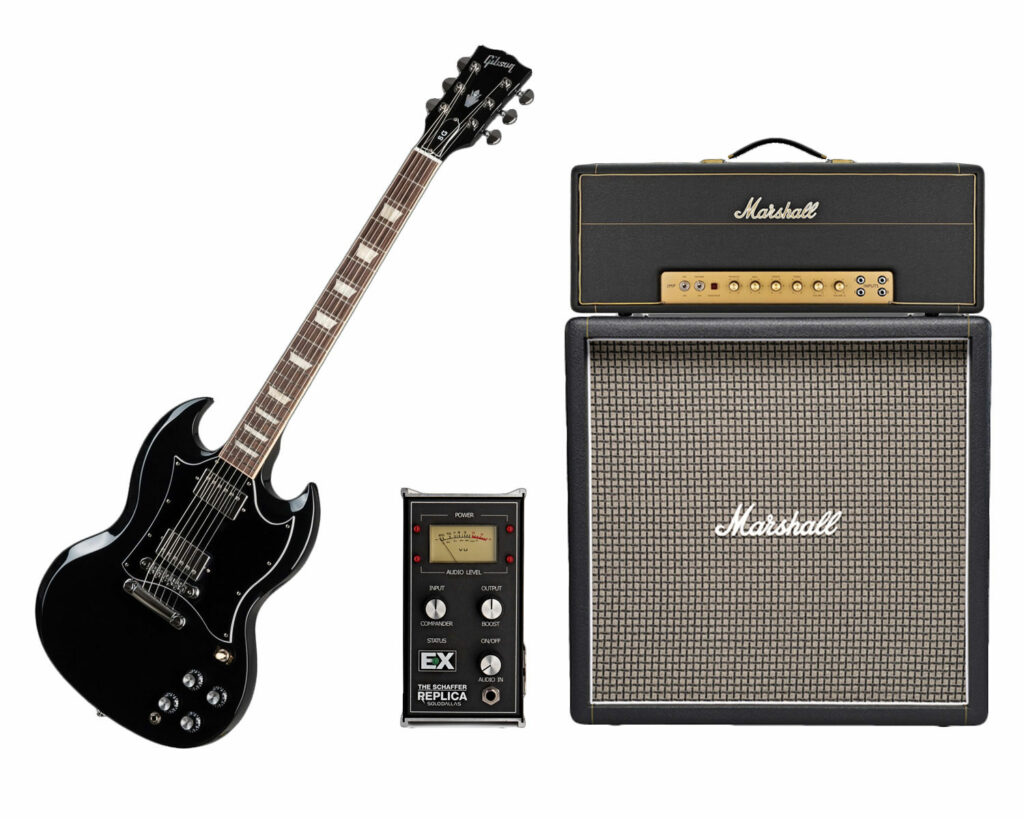 Guitar: Gibson SG Standard
Amp: Marshall 1959HW
Cab: Marshall 1960BX Cab
Pedal: SoloDallas The Schaffer Replica Ex Tower
---
Find out more
Now you're all clued up on how to achieve Angus Young's unique sound, why not explore our full range of AC/DC-esque gear?
Shop now | Gibson Guitars
Shop now | Marshall Amplifiers
Shop now | SoloDallas Effects