Premier drum kits have long been the first choice for drummers. With a deep-rooted history in the drumming world, they possess quality looks, sound, and an unparalleled feel. The newest edition to this remarkable collection is the Revolution series.
Designed with beginners and students in mind, Revolution kits are ready to go, straight out of the box, offering everything you need with no assembly hassle whatsoever. If any series can help you secure the fundamentals of drumming, it's Revolution.
The series is designed to give you the best start to your playing journey and includes a 5pc drum kit, each with poplar shells and double-braced hardware for a stable playing feel. As standard, this kit includes a 14" hi-hat and 16'' crash/ride.
There's also a double tom holder with ball mounts, allowing for perfect positioning of the toms and an ideal setup that's tailored to the drummer. And to top it off, this beginner drum kit includes a comfortable drum stool and a set of drumsticks. All that's needed is you, the drummer!
What features does the series have?
LOW-MASS LUGS PROVIDE TUNING RELIABILITY
The low mass lugs of this kit ensure that accurate tuning is retained throughout your whole session, no matter how heavy you play.
This tuning ability is particularly handy for beginner drummers, as, when learning to play, the player naturally hits harder.
DOUBLE-BRACED HARDWARE
Designed with various types of drummers in mind, the robust, double-braced hardware set supports every part of the kit and can take the impact of even the heaviest of hitters.
The set includes everything you could expect from a hardware set, including a double-braced hi-hat stand with a medium footplate that allows for a comfortable foot grip. A double-braced Premier snare drum and cymbal stand then absorb all the power and energy put into playing.
Plus, there's the sturdy kick pedal to deliver smooth playing action, and a stool for added comfort.
SHELL SOUND AND TYPE
The shells of this series are designed to provide an impressive sound that's suited to an array of musical genres. Constructed from 7.5mm 6-ply poplar, incredible punch and articulation are produced by these shells, framing every drum strike and embellishment to the highest quality.
Similarly, the warm, versatile sound of poplar makes the shells perfect for various music genres and ideal for any beginner drummer looking to master an array of playing styles.
What setups and bundles are available?
The Revolution series comes with many different setups. They're designed to suit players at various stages of playing, whether you're starting from basics or reigniting a passion for drums.
The standard Revolution series kit setup is complete with hardware and cymbals. This is expanded on in the drum kit bundles, which have the addition of effects cymbals.
Designed for beginner-level players, Premier's Revolution setups and bundles give drummers everything they need to get playing straight away, with the option to add a little bit extra creativity.
Standard kit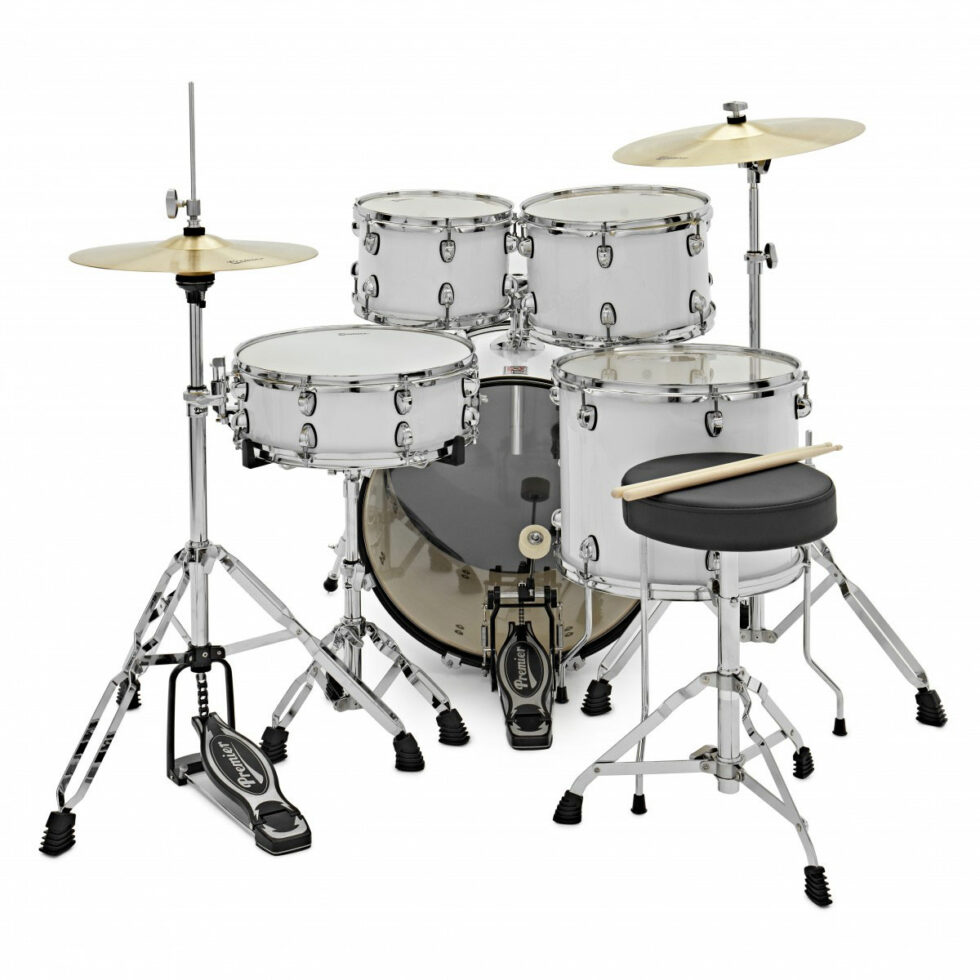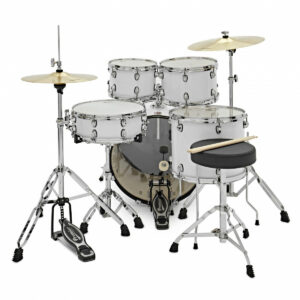 The standard Premier Revolution 5-piece drum set is the same throughout all Revolution bundles, with the same tom dimensions and hardware.
It's available in various colours, including white, red sparkle, and black.
Whilst the tom dimensions remain the same throughout the range, one varying factor is the bass drum size. There's a 20'' bass drum for compact storage and punchy sound and an even bigger 22'' bass drum that has the powerful sound needed for rock and heavier music genres.
Other features of the acoustic drum set include hardware, a 14'' hi-hat, a 16'' crash ride, a drum stool, a kick pedal, and drumsticks.
Configuration
10" x 7" tom
12" x 8" tom
14" x 12" floor tom/16" x 14" floor tom
20'' x 16'' bass drum/22'' x 16'' bass drum
14'' x 5'' snare drum
Hardware & cymbals
Hi-hat stand
Snare Stand
Cymbal stand
Bass drum pedal
Drumsticks
Drum stool
Cymbals
14'' hi-hat
16'' crash ride
Bundles
The Revolution bundles offer even more drumming goodness.
These bundles are complete with all the features of the standard kit, as well as two expansion packs: a 10'' splash and cymbal arm, and a 20'' ride cymbal and boom stand.
Colours and finishes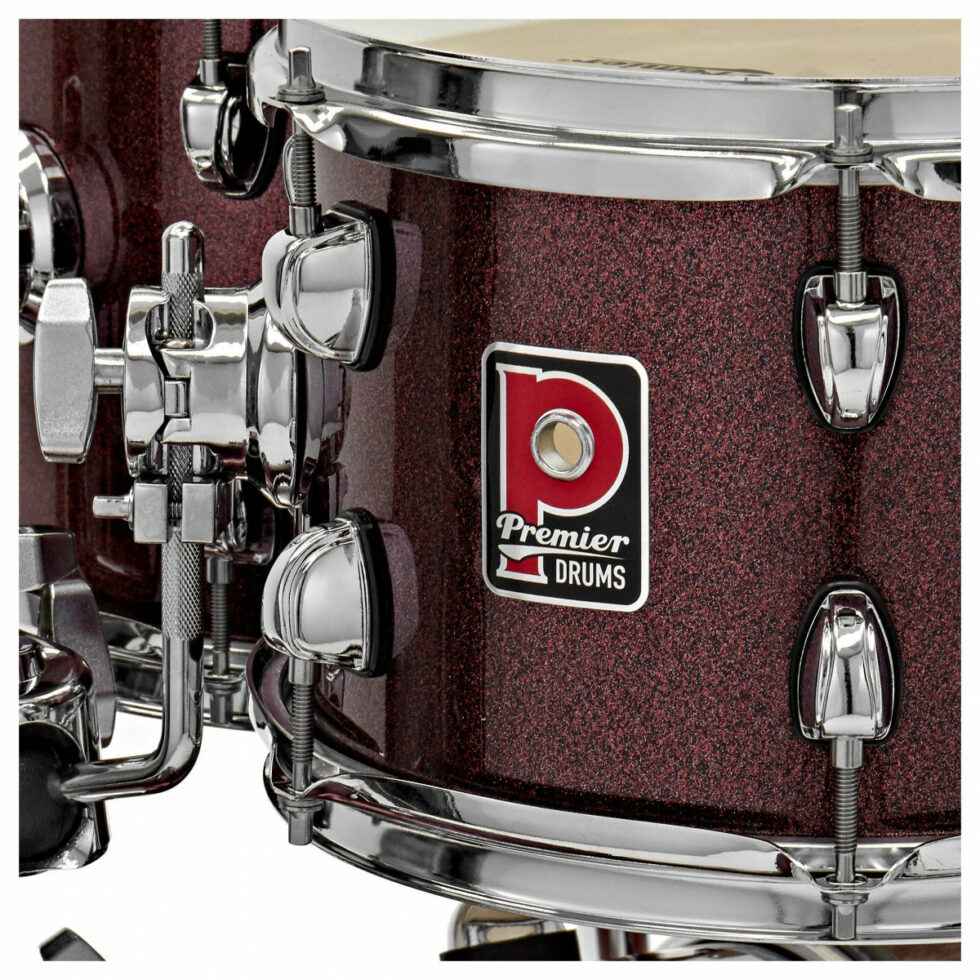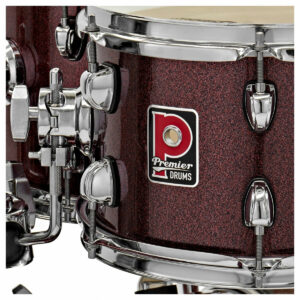 It's great having a kit that sounds brilliant, but aesthetic can also contribute to your overall playing experience.
Revolution doesn't disappoint in this department.
The kits are available in a choice of three finishes:
All of these add a touch of class and suit a range of environments, complementing any room or band set-up.
What's more, the PVC finish applied to each of the kits increases their durability and protects the drum shells against any knocks and scrapes that may occur during transportation of the kit.
Bass drum sizes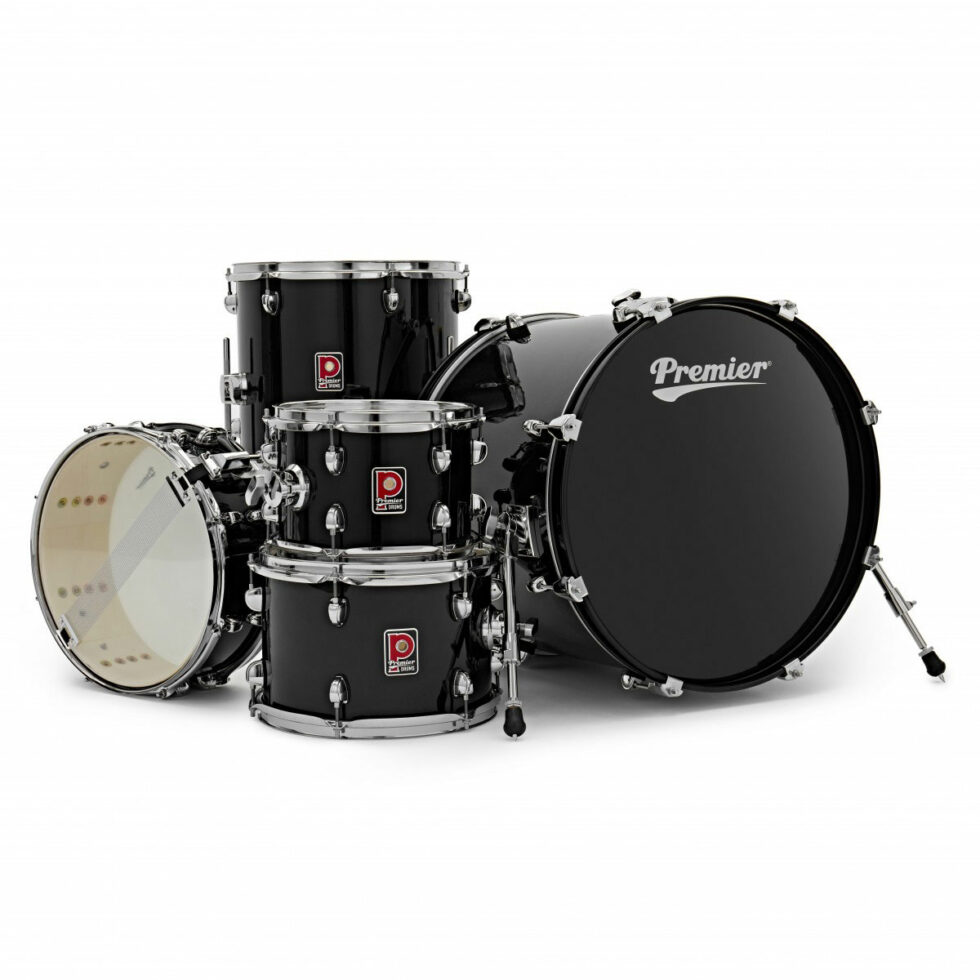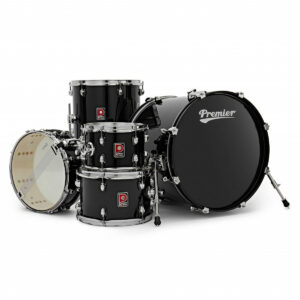 Bass drum sizes are a crucial element of any kit and the Revolution series is no exception. The bass drums are available in a choice of 20'' or 22''.
Your required size depends on multiple factors. Firstly, how loud does your kit need to be? The 22'' kick drum provides booming volume and tones, perfect for large venues where you can really let your kick drum loose.
On the other hand, the 20'' bass drum would suit smaller spaces, providing a decent amount of volume without being overpowering. The small size of this drum naturally produces a higher-pitched sound that's suited to all genres, particularly pop music.
The second crucial element to consider is how much floor and storage space you'll need for the kit. Of course, the 22''' size takes up more floor space, whereas the 20'' bass drum takes up less and is easier to store away efficiently.
These factors differ from player to player and can be a matter of personal preference, with some players preferring loud, heavy drum sounds and others preferring a small, punchy bass drum sound.
What next?
Overall, the Revolution series offers a great start for any budding drummer looking for excellent sound and the opportunity to let their playing creativity grow.
These beginner kits offer everything you need to play straight away and the kind of quality that will last well into your playing journey. They're suitable for various genres and give you the opportunity to expand and tailor the kit to your own preference.
Now that you know more about the Revolution range and what setups are available, why not browse our range of Premier kits and add-ons?