Premier's new Genista series offers a timeless look, vibrant performance, and exceptional sonic quality. You may be wondering, "do they resemble the classic Premier look?" and the answer is yes, they absolutely do. And with modern materials, they also provide the very best durability and reliability.
Constructed from either birch or maple wood, the overall timbre of a Premier Genista drum kit is warm and punchy with a clear, wide frequency range – ideal for a variety of drummers.
The Genista series launch comprises four different models: Genista 100 SE, Genista Classic, Genista Maple, and Genista Heritage. Each model comes in a wide range of setups and exciting finishes, guaranteeing the ideal drum kit for your drumming journey.
Premier Genista Centenary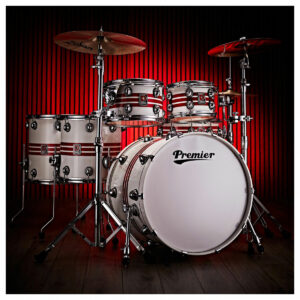 The Genista 100SE is a beautiful one-off special edition to celebrate 100 years of Premier. Formed together as a 6-piece shell pack, it's perfect for both the stage and studio to express all styles of rock and heavy playing.
FINISH
A striking finish – gloss white with three red stripes wrapped around the centre – really sets this kit apart from others of its kind. It's topped off with the renowned ''P'' badge, making it clear that this kit is a celebration of Premier's impressive anniversary.
SHELLS
Premier have really gone to town to ensure the Genista 100SE sounds as special as it looks. They've achieved this by shaping the shells with a 45-degree bearing edge that lets each drum resonate more clearly.
The bearing edge ties in perfectly with the classic 6mm under sizing on the Premier Genista toms, as seen on the earliest Premier models, allowing for super-easy tuning and stability. Constructed from 7-ply birch wood, it produces a full-bodied attack with fast decay. And with the 9-ply 22'' bass drum, this drum kit is as ready to rock as you are.
HARDWARE
The hardware featured on the Genista 100SE is reminiscent of Premier's classic look, complete with a shimmering chrome finish. Two rack toms are fitted with 12 Genista lugs whilst two floor toms are fitted with 16 lugs, all carefully designed to hold the fine-tuning of each drum.
The kit also features Genista's isolated tom mount system. This supports the tom via a hoop, rather than being drilled into. It allows the shell to resonate and vibrate naturally for a more powerful overall sound. Each is completed with an integral memory lock that keeps the kit exactly how you want it between performances.
HOOPS/HEADS
Each drum comes fitted with the renowned Remo UT Pinstripe batter head and Remo UT clear resonant head to complement the dynamic shells of the 100SE kit. The pinstripe design of the Remo batter head fits the vintage aesthetic of the 100SE, completing the overall look.
The hoops featured with the Genista kit are triple-flanged and 2.3mm in thickness. This allows the drum head to resonate freely and emit natural overtones and a long sustain.
Shop now | Premier Genista Centenary
Premier Genista Classic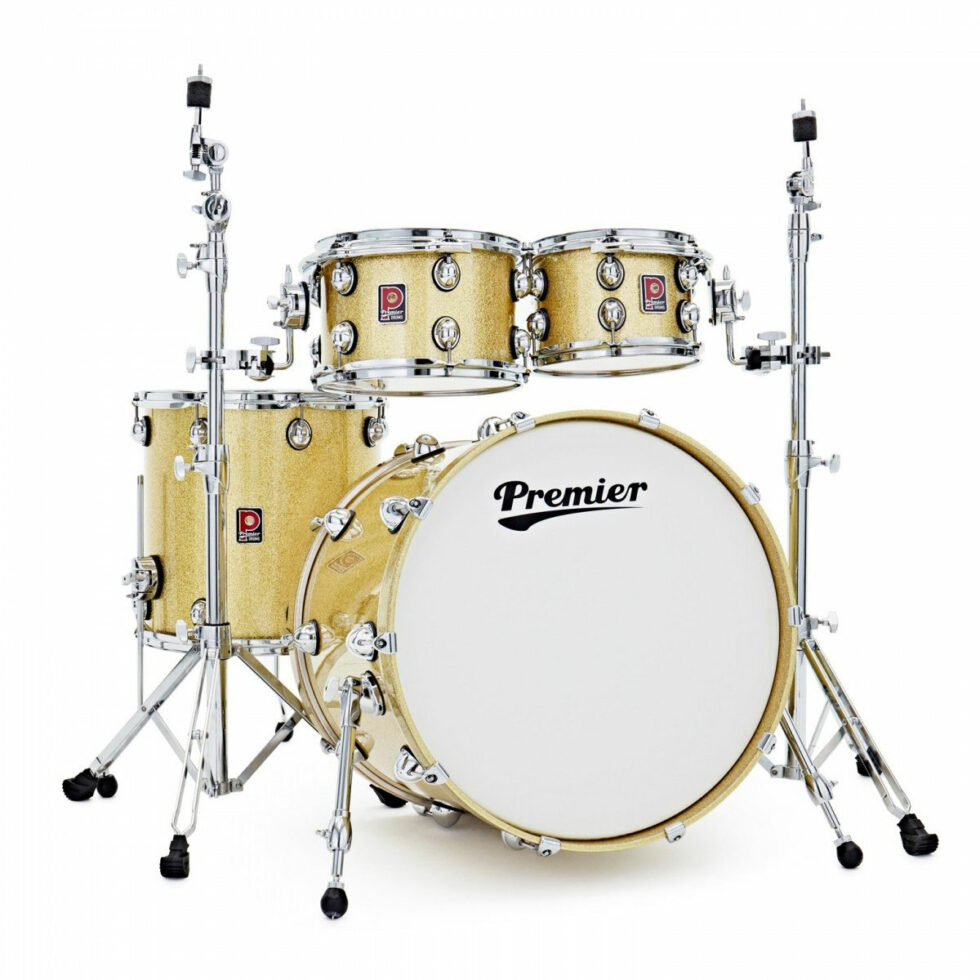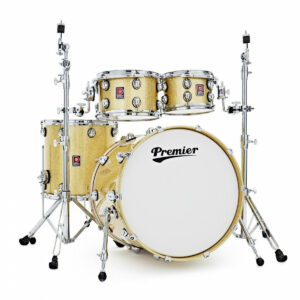 Bringing Premier's renowned history back to life, the Classic series includes authentic finishes of Premier's early drum kits with modern-day technology and materials. Premier's legendary sound is reintroduced in the latest Classic series with a full-bodied, head-turning attack.
FINISH
The Classic series comes in four vibrant finishes: Shadow Fade, Ermine, Red Sparkle, and Vintage Gold Sparkle. Appealing to a wide range of drummers, each finish has its own flare and character.
Premier have made sure the finishes stay gleaming for years by adding a high-grade lacquer to the shell. This also protects the kit from any minor scrapes.
SHELLS
Constructed from unsupported birch, the Classic kits shells deliver a bold, distinctive sound with a hefty amount of volume thanks to the 7-ply toms and 9-ply bass drum shell. This also ensures a great, punchy sound with a fast-acting decay, perfect for all rock scenarios.
Each shell has been completed with a high-grade anti-moisture lacquer on the inside which protects the shell from humid environments, ultimately prolonging its life.
HARDWARE
The hardware of this Premier drum kit is chrome-plated and made from steel. They're sturdy, reliable, and able to cope with every crazy gig.
But without question, the most distinguishable feature of the original Genista kit was its tension lug design. The bold casting has always been a favourite amongst drummers and the Genista Classic has returned to its roots with this. Premier have brought back the larger bass lug design to really stand out and all castings have been retooled from the original factory drawings.
The kit also includes Premier's bespoke brackets with integral memory locks to keep everything just how you like it whilst offering maximum stability and a reliable setup position.
Additionally, the low profile ISO mounting system enhances the tonal resonance of the toms with extra sustain and brings the classic Genista look to life.
HOOPS/HEADS
To complete the authentic aesthetic, Premier have kitted the Genista Classic kit out with Remo UT Pinstripe batter heads and Remo UT Clear resonant heads. Not only do they complete the look but they also complete the sound by providing a strong attack and fewer unwanted overtones.
The hoops on the Premier Genista Classic series are triple-flanged and 2.3mm in thickness, allowing for reliable head tuning whilst producing an open sound with stunning sustain. Finished in chrome, they complement the Genista Classic kit perfectly.
Shop now | Premier Genista Classic
Premier Genista Maple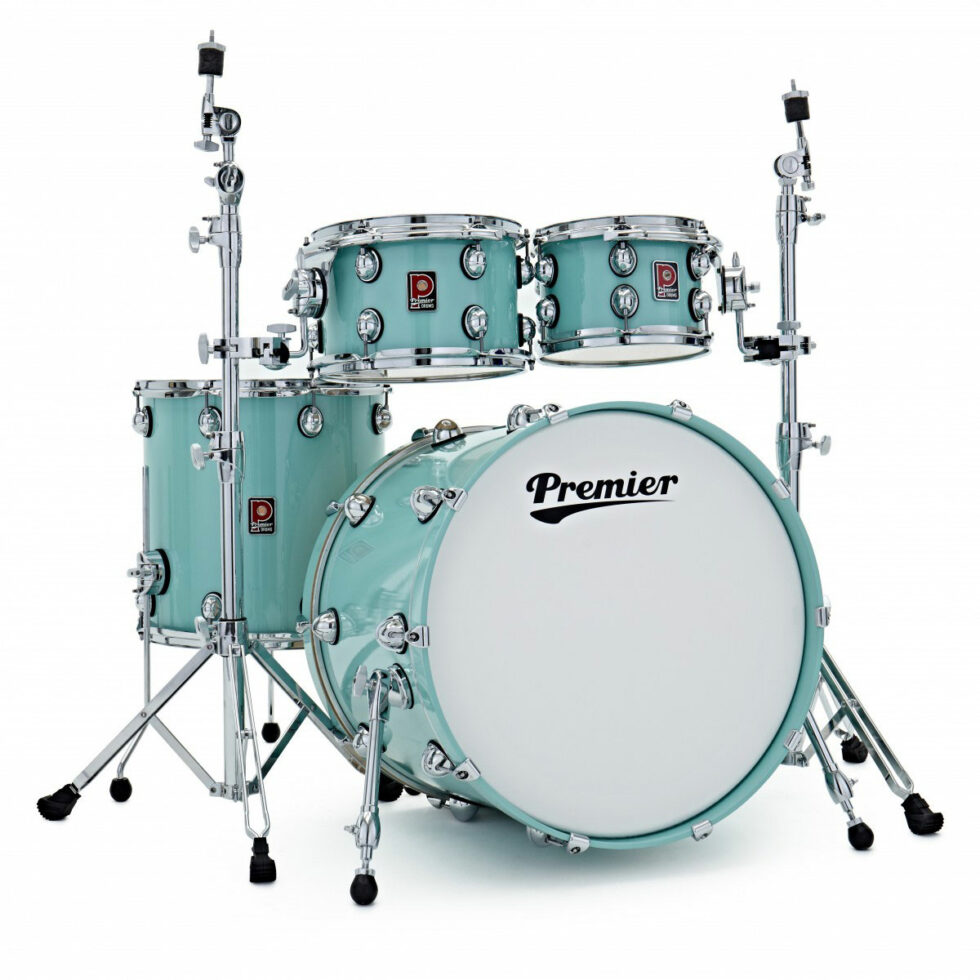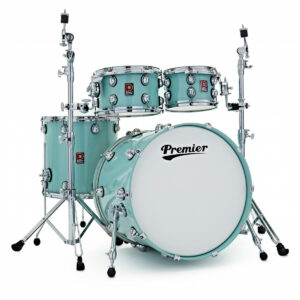 The Genista Maple series offers the original and distinctive aesthetic of Genista and pairs it with richer, warmer sounds. It's ideal for drummers looking for a rounded, open tone from the maple shells.
Each tom has a 6mm under sizing which stabilises tuning, and the 7-ply maple shells then deliver a resonant, balanced tone.
Finish
Premier's Genista Maple series finishes come in a wide range to suit everyone's personal tastes. They feature a mix of gloss and metallic colours such as pink, pistachio, and purple fade sparkle. Each finish has been designed to stand out on stage.
Topped with the renowned "P" badge, each shell shines with extreme attention to detail.
Shells
Maple shells produce a warm, resonant tone and plenty of natural sustain. With a 7-ply construction, each drum has a powerful attack and impressive volume to ensure your drumming is well-heard. And thanks to a 45-degree bearing edge, each stroke is controlled and precise, perfect for a huge range of playing styles and techniques.
The drums have been coated on the inside with Premier's innovative anti-moisture lacquer to withstand even the most humid environments. This is ideal for small-venue stages.
Hardware
The hardware of the Maple series remains faithful to Premier's roots with a shimmering chrome-plated finish. Complete with integral memory locks, the hardware provides maximum stability and reliability for all occasions.
Included in the Maple Genista series is a low-profile ISO tom mounting system. This significantly enhances the tonal resonance of the toms, offering great sustain as well as keeping the original Genista aesthetic.
Hoops/heads
Keeping with the standard Genista look, the hoops on the Maple series are also triple-flanged and 2.3mm in thickness, offering great tones and powerful rim shots for the exuberant drummer. They also keep the head tuning stable and consistent throughout your whole set.
Complementing the maple shell sound, each drum is fitted with a Remo UT Pinstripe batter head and Remo UT clear resonant head. These offer the finest of drumming sounds with high-end accents and coverage of the full range of frequencies for super-dynamic playing.
Shop now | Premier Genista Maple
Premier Genista Heritage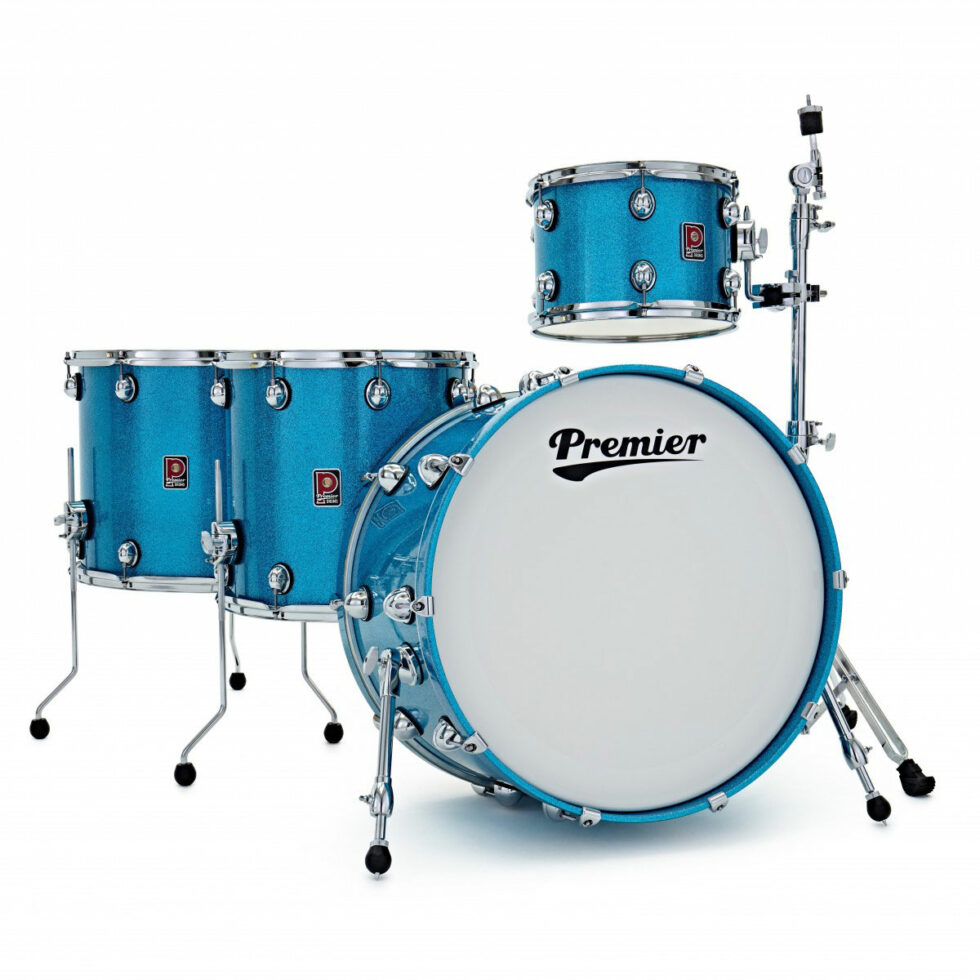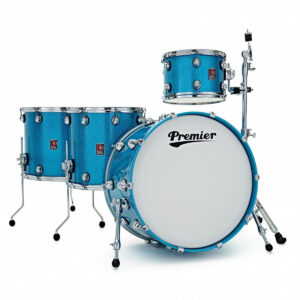 Inspired by vintage designs, the Heritage series goes right back to Premier's roots. They offer distinctive sounds, recognisable in Premier's earliest drum kits, and a distinctive look to take you back.
FINISH
The Heritage series comes in two different finishes: Vintage Gold Sparkle and Aqua Sparkle. And they certainly look the part for any performance. With extreme measures of glitter and gloss thrown into the mix, the finishes seriously stand out, completing your onstage persona.
SHELLS
Shells on the Heritage series are made from American birch. The 7-ply construction totals a 5.6mm thickness for an ultimately powerful sound. Birch provides a full-bodied tone with a fantastic attack. The bass drum is a 9-ply American birch, offering exceptional volume with deep, projected tones.
HARDWARE
Hardware on the Premier Heritage series stands up to the high modern-day demands with the classic look from Premier's roots. Featuring Premier's bespoke brackets mounted straight to each tom shell and integral memory locks, stability is second-to-none for the ultimate setup position.
A key feature of the Genista Heritage series is the tension lug design. The bold castings have been restored from the original factory drawings for authentic performance and aesthetic. Every lug is fitted to its respective shell using an isolating, moulded plinth, guaranteeing uncompromising tones.
HOOPS/HEADS
Like the rest of the Genista range, the hoops are triple-flanged and 2.3mm thick, offering ultimate tuning stability and a controlled, precise sound. Made from steel, they make for exciting-sounding rim shots, perfect for adding that extra flair to your drumming.
Keeping with Genista's legendary sound, the Heritage series is fitted with Remo UT Pinstripe batter heads and Remo UT Clear resonant heads. They showcase the Genista Heritage's sound and add a wash of sustain, resonance, precision, and attention-to-detail.
Shop now | Premier Genista Heritage
Premier Genista summed up
Ultimately, the Premier Genista range is for drummers searching for that vintage Premier sound. It delivers a beautiful, classic drum kit aesthetic but uses modern materials for a sound that's both thrilling and reliable.
With the best-of-the-best fitted to every drum of the latest Genista range, you can rely on it to see you through your drumming career and truly stand out on stage.
But don't just take our word for it! Why not check out Premier percussion, particularly the Genista range, yourself?