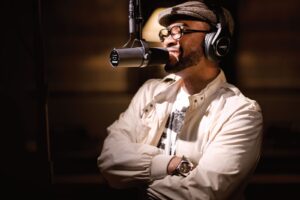 Shure are a world-renowned American manufacturer whose microphones are seen everywhere. From the biggest stages and festivals on the planet, to professional recording studios, all the way to bedroom and project studios with a minimal setup – you're bound to find at least one Shure microphone.
So, what makes these microphones so great, and why are they everywhere?
In this guide, we'll discuss the history and designs of Shure's most esteemed microphones, what they're suited for, and help you find exactly what you need.
---
Why choose Shure microphones?
Shure's story goes all the way back to 1925, where they started out as a radio repair store before branching out into microphone design. Their innovations quickly became standard practice in the industry, as they found ways to make microphones that both sounded better, and were cheaper to make than the competition.
This approach to Shure's production has extended into the modern-day, with many of their designs quickly becoming contemporary classics.
From the famed SM58 to studio workhorses like the SM57 – Shure have proven their lineage time and again, consistently achieving fantastic sound at an accessible price. What's more – they've expanded their approach into both high-end studio microphones, as well as even more affordable options for young upstart engineers, musicians, and content creators.
Wherever you are in your musical journey, Shure have something to offer you.
---
What type of microphone should I choose?
With such a wide range of microphones to choose from, where should you start? That can seem an intimidating question, but let's introduce you to the basic theory of microphones so you can understand your options, and gauge some ideas for what might fit your needs.
---
Dynamic Microphones
What are Dynamic Microphones?
Dynamic microphones tend to be the most affordable type of microphone capsule, providing robust and reliable sound in the face of high pressure.
Ideal for sources like drums, wind & brass instruments, vocals, and guitar amplifiers – dynamic microphones make for reliable workhorses. Particularly for live sound, you'll see dynamic microphones capturing almost everything due to the high sound pressures of a large stage. Their larger-than-life midrange focus keeps every sound present, and easier for the live sound engineer to balance.
Which Dynamic Microphones do Shure Offer?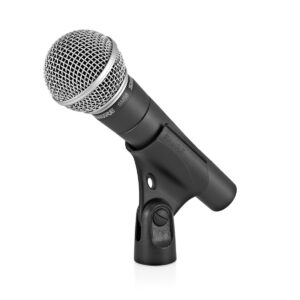 Most famously, the SM58 has been incredibly influential in the world of live sound. To this day, if you see a vocal microphone during a live performance, there's an extremely high chance it's an SM58. So, why is this mic so popular?
Primarily, the SM58's sound stays focused on the mid-range. While this might not be ideal for a studio vocal, when competing with other instruments on stage, the SM58 makes it easy to cut through a dense performance over a screaming crowd with total clarity.
Secondly, the SM58 is built like a tank and can readily handle anything that's thrown at it. Under the extreme pressures of the stage, the SM58 just always delivers, and whether dropped, thrown, stamped on, or having liquid spilt on it – there's still a good chance it'll continue to work.
Shure's dynamic microphone range includes the PGA48, the SM57, the Beta 52A, and too many more to cover here!
What are the Downsides of Dynamic Microphones?
As mentioned with the SM58, dynamic microphones tend to be very mid-range focused. And, while this can produce an extremely effective and pleasing sound (especially live), sometimes that extra detail in the low-end or high frequencies is needed.
Whether it's to fill out a mix, or bring out the nuances of a performance – often you'll find you need a blend of all these microphone types in the studio before you can get that rich, full, professional sound that we're all chasing. Consider dynamic microphones as more focused designs that capture the main punch of a performance, where condensers try to capture the whole image.
Shop Now | Shure Dynamic Microphones
---
Condenser Microphones
What are Condenser Microphones?
With a broad range of different design philosophies, condenser microphones help to capture detail and impart their own character. Picking up more detail due to their lighter internal components, the sound of condensers is generally characterized by terms such as 'rich', 'warm', and 'full'.
The trade-off to this, however, is that condensers require external power to boost their outputs to audible levels, known as phantom power. This used to be something of a logistical challenge, but now, this can usually be found as a button or switch on any mixer or audio interface.
Which Large-Diaphragm Condensers do Shure Offer?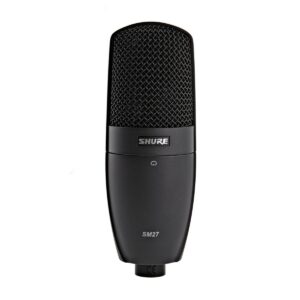 Condensers come in two main forms: large-diaphragm and small diaphragm. Large-diaphragm condensers tend to be more popular and have proven themselves extremely capable on just about any kind of instrument, but especially on vocals.
These condensers, like Shure's SM27, are studio-ready workhorses for any occasion. Their range extends to the Motiv MV51, SM86, the KSM9, and so many more.
Which Small-Diaphragm Condensers do Shure Offer?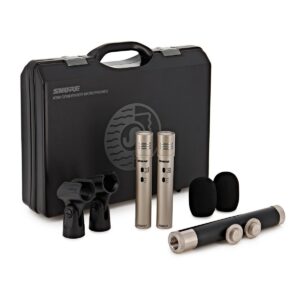 Small-diaphragm condensers tend to be best in pairs, with an extended treble response that adds sparkle to instruments. These microphones are ideal for recording stereo sources, such as a grand piano, drum overheads, and orchestral recording.
While Shure offer some more budget-friendly options, a matched pair like the KSM137/SL will serve you best for just about anything you could want a small diaphragm condenser for. The rest of their range includes the PGA181, Beta 98H/C, SM81, and many more.
Shop Now | Shure Condenser Microphones
---
Ribbon Microphones
What are Ribbon Microphones?
The most sensitive microphone in professional audio, the ribbon microphone picks up a detailed sound that feels natural. With a warm sound and high-frequency roll-off that matches that of our own ears, ribbon microphones provide a welcome vintage flavour to any recording.
Which Ribbon Microphones do Shure Offer?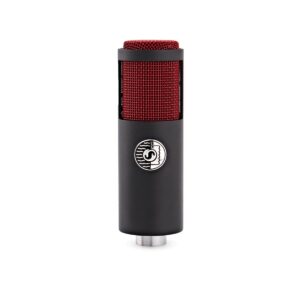 Shure's dual-voiced KSM313/NE accounts for the pitfalls of most ribbon microphones, with one side of the capsule providing that smooth, dark sound typically associated with ribbon mics. The other side gives a modern brightness that blends well with the detail provided by its design.
Whatever option you choose, getting a ribbon microphone for your studio will give you plenty more options to choose from for when something just isn't sitting right in a recording. Shure only offers one other ribbon microphone, the powerhouse KSM353/ED.
What are the Downsides of Ribbon Microphones?
While ribbon microphones have a reputation for being sensitive, this used to limit what you could use them on. However, in the modern era, this has changed, as manufacturers have found ways to build them robust enough to handle any source.
Vocals, guitar cabs, you name it – you can put a ribbon microphone on it. A few downsides to ribbon microphones include the high-frequency roll-off, which can sacrifice some treble on sources, as well as their high cost.
Shop Now | Shure Ribbon Microphones
---
What is a Polar Pattern?
A polar pattern is simply the shape around the microphone's capsule that it'll pick up. This is important, as it dictates how you need to place the microphone, and on which sources it's best suited.
There are five main polar patterns, cardioid, supercardioid, hypercardioid, figure-eight, and omnidirectional. Cardioid, supercardioid, and hypercardioid are all extremely similar, as they pick up sound from directly in front of the capsule. The main difference between these three is how severe the rejection is.
Cardioid, Supercardioid, and Hypercardioid – What's the Difference?
Cardioid will still pick up limited sound from the sides and back. Supercardioid will pick up less from the back and sides, and hypercardioid will reject information from these areas almost completely. This is extremely important, as it helps provide a more focused sound, and lowers the risk of feedback.
These polar patterns are also useful for location recording, and broadcasting, as they will help reduce unwanted background noise.
What is an Omnidirectional Polar Pattern, and What is it Good For?
Omnidirectional and figure-eight polar patterns tend to see more use in controlled environments like studios, as they cover more ground. Omnidirectional capsules pick up sound in an even sphere – a full 360° around the capsule. This is beneficial for capturing orchestras, group backing vocals, and other large, spacious performances.
What's a Figure-Eight Polar Pattern, and What is it Good For?
Figure-eight is similar to omnidirectional, however it rejects sound from the sides. This is extremely useful for recording sources like pianos, drums, or strings. as well pairing with other polar patterns for stereo recording techniques. Quick tip: try recording drum overheads with a pair of figure-eight microphones. This adds some room sound to make your kit sound even bigger!
Many studio microphones will offer variable polar patterns for added versatility. Most live microphones have a fixed pattern, so you can set them up and not have to worry about it. There are exceptions to this, but it's a general design that helps focus the microphone's intended use.
Learn more | Microphone Polar Patterns – Everything You Need to Know
---
Should I use my Microphone Live or in the Studio?
Live sound and studio recordings tend to have very different requirements, but there is some overlap between them. Live microphones can usually be used in the studio and still translate extremely well. Anything that can hold up on a stage will keep up in a studio, so long as their sound is what you need.
However, the opposite is rarely true for studio microphones. There's a place for any microphone in a studio, but only a select few can keep up on a stage.
For example, Shure's ribbon microphones are not a good choice for the stage as they're sensitive and expensive. While creating a staggering sound for treated studios, that quality will rarely translate in a venue, even over world-class PA systems. Overall, the risk of damage is just too high to justify taking them along.
---
Which should I choose?
So, which microphone is right for you? Shure have many options in all of the categories we've covered so far. To introduce you, we'll discuss each range Shure has, helping you to narrow it down.
Shure MOTIV – Entry-level and portable USB microphones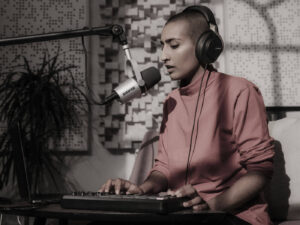 Shure's MOTIV series is their most budget-conscious, consisting of USB microphones that allow you to set up and start recording in seconds. Don't expect any slacking in the sound department, though.
Despite their affordable price and USB design, the MOTIV series sound as clear as you could ask for. The design of this series is helping drive competition forward in the realm of USB microphones.
From compact USB desktop condensers like the MV5, to the MV88, a stereo condenser mic that plugs directly into your phone or tablet. Ideal for content creators filled with ambition and a need to travel. If you need quality and ease of use with minimal gear, Shure's MOTIV series is the one for you.
Learn more | What is Shure MOTIV?
Shop Now | Shure MOTIV
---
Shure PGA – Microphones for musicians and studios on a budget

Next on the list is Shure's range of PGA microphones. A range of XLR microphones at an affordable price, this series is the place to get your recording journey started.
Perfect for home-recorded demos,  band practices, live sound, or the start of a studio. The PGA series is extremely affordable, and loaded with Shure's signature sound.
Including everything from the dynamic PGA58, to a uniquely versatile condenser in the PGA181. With a variety of drum and orchestral clip-on microphones, the only limit to the PGA series is your own creativity.
Shop Now | Shure PGA
---
Shure SM – The industry standard
The crowning achievement of Shure's catalog, their SM series of microphones is seen and heard almost everywhere. If you're listening to an album, one of their microphones is probably in the mix somewhere. If you're looking at a stage, you can almost guarantee there's an SM-range microphone on there.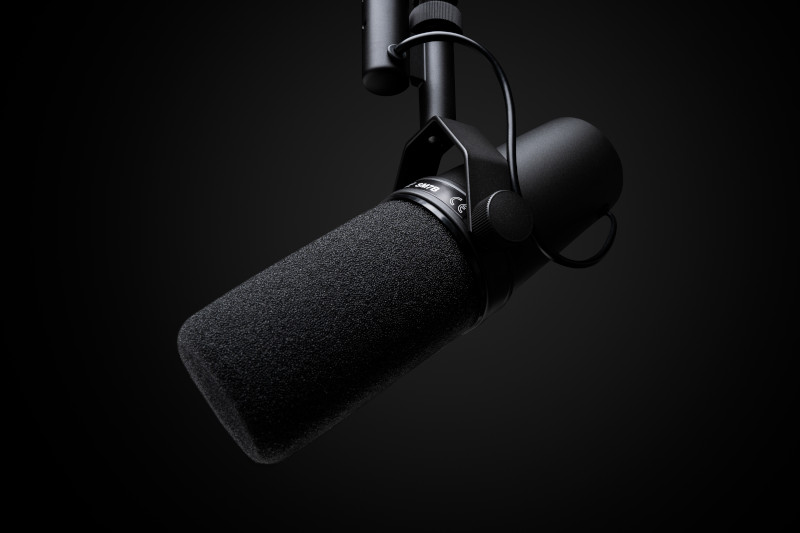 From the distinctive sound of an SM57 on a guitar amp, to the smooth, vocal warmth of the SM7B; Shure's SM range has proved its quality through the rigours of intense use on stages and in studios. Frankly, they just sound great on everything, are built incredibly tough, and are extremely reasonably priced for their reputation.
Shop Now | Shure SM
---
Shure BETA – The SM range goes premium
Shure's BETA range is a fresh approach to several microphones in their SM series. With enhanced clarity, frequency response, and sensitivity, Shure's BETA range stays faithful to the character of the microphones they're based on.
Excellent for achieving Shure's signature sound with a few bonuses, you can't go wrong with the BETA range. The BETA 58A and Beta 91A are intriguing alternatives to their SM-range counterparts.
Shop Now | Shure BETA
---
Shure KSM – High-end sound for the professional peak
While Shure's legacy has always been in high-quality microphones, the KSM range is a step into the premium market. Considering every single detail to create premium microphones for top studios, the KSM series oozes quality.
The KSM line blends innovative new designs with precise, high-quality sound for a premium recording setup. Including innovative vocal dynamic microphones, small-diaphragm condensers, and ribbon microphones.
Shop Now | Shure KSM
---
Find Out More
Now, with everything we've learned about Shure and their broad range of microphones, why not browse our full collection. Whatever you're looking for, Shure has something up to the task!
Shop Now | Shure Microphones
Shop Now  | Shure
See More | Shure Blogs