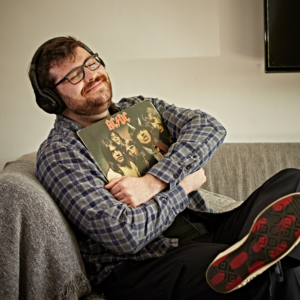 It's that time of year again when music lovers and independent record stores around the world come together, and we're reminded – as if we needed to be – why we fell in love with music in the first place. With too-many-to-count special vinyl releases and over 260 independent record shops taking part, 2022's Record Store Day will certainly be one to remember.
Music has the ability to shape us in more ways than one. Whether it's our listening preferences, the music we grew up with, or the kind of music we create ourselves – our favourite albums can be powerful, identity-sculpting things.
Our writers at Gear4music have taken a deep dive into their musical catalogues and reflected on the records that have inspired them over the years.
---
A diet of rock, metal, and alternative
Growing up with an older brother who was already exposed to a lot of music meant that whatever he listened to, I listened to. This didn't bother me as I instantly connected with the kinds of bands he was showing me. My family has always edged towards more rock-based albums, making the transition from kids' music to my first proper musical experience that much easier.
The stand-out record that got me into music – and ironically, probably the most inspiring for me – was Linkin Park's Hybrid Theory. This spanned a life-long love of all things metal and alternative, leading me to pursue a career in music production by virtue of the exciting new sounds I was hearing for the first time.
Currently, I'm going back over the songs and albums of my childhood. In the summers after Hybrid Theory, pop-punk exploded in popularity amongst my friends and family. Now my current diet consists of Blink-182, Green Day, and Sum 41. The simplicity of the songs that blur the lines between alternative styles and pop musical sensibilities fascinates me – appealing to the masses whilst largely staying true to your roots is a delicate balance.
In my younger days, TV and magazines were the main pathways to new music. The diminishing importance of being aired on TV and the instant accessibility of streaming – I think – hinders people from stumbling upon that one style, artist, or album that truly speaks to them.
Getting lost in a record store and choosing to bring home an album based on a vibe, instinct, and artwork is an experience everyone should have. It's important that we support local and independent music stores to keep this exciting tradition alive.
---
From Grease to Harry Styles…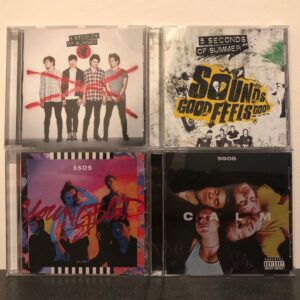 I don't remember the exact record that got me into music. However, what I do remember is watching the musicals Grease and Oliver! at a very young age. I used to sing along at the top of my lungs to the soundtracks, loving how the infectious melodies got stuck in my head for weeks on end.
It hasn't changed to this day. I still go back, rewatch the movies, and sing to my heart's content, just like when I was young.
Since those days, musical theatre has always held a place in my heart. But when it comes to my current favourite album, it would have to be anything by the band 5 Seconds of Summer.
Ask me to choose a specific album, and I couldn't. That would be like choosing a favourite child!
Each one of their albums has inspired me, not only musically, but generally too, as they incorporate deep and meaningful lyrics into their songs. They cover topics such as divorced parents in "Broken Home" and materialistic desires in "No Shame".
I'm always looking forward to new music from my favourite artists. Two albums that I'm really excited about are Harry's House by Harry Styles and the fifth album from 5 Seconds of Summer, which is currently unnamed.
I love going into record stores and believe they're still a necessity, even in today's society of technology. When you step into a record store, you're instantly provided with a variety of different artists, genres, and styles. With all these incredible records in one place, you're likely to try something new, something that catches your attention. I hope they don't die out in the future as streaming takes over.
---
A heavy dose of rock, jazz, and punk
Surfer Rosa and Doolittle by the Pixies felt like they flipped a switch in my head when I first heard them. I hadn't realised that music could be so messy, dissonant, and un-virtuosic – and yet so irrepressibly good. These two records made everything I'd been listening to before feel boring by comparison.
The sound of Joey Santiago's lead guitar is directly responsible for me buying my first electric when I'd saved up enough for the cheapest Les Paul I could find (it's been about six years and I still can't get mine to sound anything like his).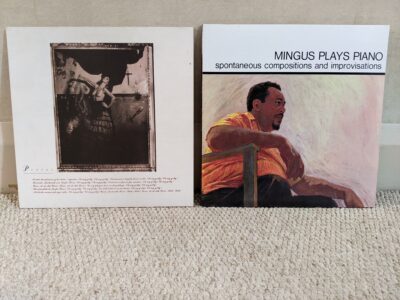 I picked up Mingus Plays Piano on a whim and it's now one of my all-time favourite records. It's a masterclass in improvisation and spontaneous composition, laying bare the incredible harmonic intelligence, technique, and style of one of jazz music's greats.
Listening to it either makes me want to drop everything to sit at a piano and get some practice in or makes me never want to touch the instrument again in despair. Normally one is followed by the other, especially when I remember that Mingus isn't even best known for his piano work.
I'm currently looking forward to any music by Home Counties – a punk act with a sound I can't get enough of. They've been fairly prolific over the last couple of years, so I'm eagerly awaiting their next release.
Supporting record stores is important because it helps to keep spaces for creativity and art alive and well in town centres. Use them or lose them!
---
How the ass-kicking album Ascendancy ascended to be my most influential album
Being a lover of heavy music is fun. The distorted guitars; pounding, double kick drums; and vocals drenched in pain – what more could you want? I remember the first album which really got me excited about all the aforementioned things: Three Cheers for Sweet Revenge by My Chemical Romance.
At the risk of sounding like a flouncy hipster, this was the album that they made before they went all commercial and blew up. It's raw. It's powerful. And it's packed with wall-to-wall bangers. Fast-forward to today, and I still listen to this CD in my car. A lot. But I also love Dance with the Dead's recent album Driven to Madness.
There are so many insane albums out there, and choosing your favourite is really an arbitrary, meaningless endeavour. However, there are some which, as any metalhead will know, you simply hold dear for your entire life, be it because they made you pick up an instrument, conjure up cherished memories from the past, or simply kick ten tonnes of solid arse.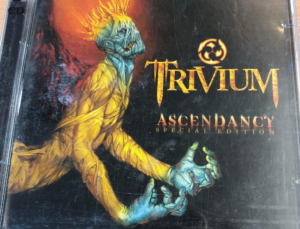 For me, Trivium's second album, Ascendancy, ticks all three boxes. It's become legendary amongst metalheads across the world – one of the quintessential metalcore albums of the noughties. Released in 2005, it's filled with chuggy metalcore riffs, heavy drums, and that beautiful combination of screamed verses and sung choruses. I can still remember hearing "Pull Harder on the Strings of Your Martyr" for the first time and thinking. . .  "wow"!
Eight studio albums later, and Trivium have become a behemoth of the metal world. There are metalheads listening to them today who won't have been born when Ascendancy came out. Scary. But it's an album that stands the test of time, and the CD has a permanent place in my car.
Without record stores, and people trying new music, far fewer people would have heard of Trivium. In a world where music is spoon-fed to us based on our current tastes, they were – and the existing ones still are – the melting pot for music, where you can discover things that might be a little outside your comfort zone.
---
The albums that stuck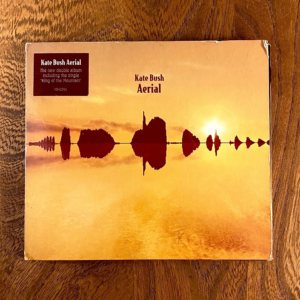 Growing up in Liverpool, it was inevitable that I was going to be swept up in a mix of pop, rock, and everything in between. This was an assured thing, especially as my parents are avid music lovers themselves, leading their lives to a soundtrack of Madonna, Neil Young, and Fleetwood Mac.
One of my earliest memories is driving through the mountains up in Scotland on our family holidays, listening to either Madonna's Music – which my little sister adored – or Kate Bush's Aerial – an album that makes for truly exhilarating driving music.
It wasn't until I first heard Taylor Swift's Fearless that I really fell in love with current country-pop. I instantly became a Swiftie and wanted nothing more than to become a singer-songwriter myself. But I swiftly (pun intended) realised I was no singer. So, guitar and piano it was – and these two instruments, piano especially, have become lifelong companions.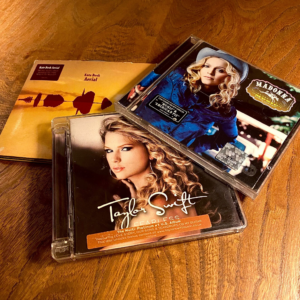 I've now returned to the music of my earlier years – music my parents introduced me to, with Kate Bush standing at the forefront of this '70s-'00s troop.
Having studied The Kick Inside for my master's degree, it has become one of my all-time favourite albums.
Her lyrics are simply ingenious, and her melodies are infectious, not to mention her piano composition that I can only dream of living up to.
What am I looking forward to? Anything from FKA twigs. She's gone from strength to strength in recent years, and I'm excited to see what she does next.
I don't think the importance of record stores needs much explanation. The experience of going out and buying a record or CD is something that cannot be replicated, and it's these physical forms – the artwork, the sleeve – that add an extra layer of 'specialness' to music.
---
Choose just one favourite record? Impossible.
If nobody else has been the one to mention a "best hits" record, then I will gladly take the fall. I very vividly remember playing/being played the best of Jeff Lynne's ELO in the car as a child and I don't think I've ever embarked on a road trip without it to this day.
A few honourable mentions I couldn't miss – Amy Winehouse's Back to Black (of course), Kosheen's Resist, the lesser-known Bwani Junction's Fully Cocked, Massive Attack's Mezzanine, and anything by the Arctic Monkeys or Kylie (and I'm absolutely not sorry).
In terms of what I've been listening to recently, there's a real mix. My roommate blew my mind last year when he played me John Martyn's Solid Air. On the flip side, there's also classic hip hop like Pharcyde or Gang Starr's Moment of Truth and Guru's amazing Jazzmatazz – which fuses hip hop and jazz in magnificent harmony, and it changed my view on music forever.
Choosing just one favourite record has been a bit of an impossible task, but the first one that immediately springs to mind is Jeff Buckley's Grace. Both the album and the man himself create a very special atmosphere for me.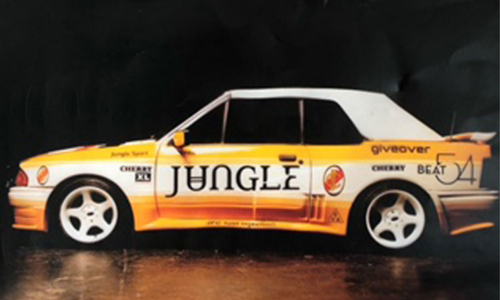 Erykah Badu's Baduizm is certainly up there, too. This album taught me so much about the world and it's the most confident debut I'll ever hear. Arctic Monkeys' AM and Jungle's self-titled debut both influenced the way I make music more than anything else I've listened to.
So, I guess it's a four-way tie.
The process behind records – in my opinion – is what makes them so important. Going to the store, holding it, putting it onto a record player, and listening to it spin – all these things bring you so much closer to the music. It's an experience, not just sound. If it isn't something tangible, that you can see and feel, it's a lot harder to gain an emotional connection to it. I think this will always be important.
---
Kurt got me hooked
The record that got me into music was Nirvana's MTV Unplugged in New York. Admittedly, the record itself was recorded six years before I was born, in 1993, but the DVD version of the live performance was released in 2007 – and it captivated me.
The aura Kurt exudes in every song left me in awe. From his instantly recognisable vocal rasp to his tumultuous, and somewhat reckless, guitar playing, I was starstruck. I knew from this performance alone that I wanted to play the guitar. I had dabbled with the instrument before, but, to me, Kurt was everything a musician should be.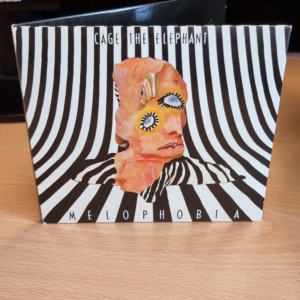 The record I'm currently listening to is Melophobia by Cage the Elephant. Melophobia, in my opinion, marks the band's retirement from punk and sees them shift towards lighter indie-rock. This album essentially embodies my evolution in musical taste in 2013 (the time it was released), and that's why, for me, this album is incredibly meaningful.
I think the songwriting and composition are articulately executed – the album avoids being artistic or poetic for the sake of it and instead tells a true and honest story of lead singer Matthew Schultz's experiences. This approach to music has influenced me heavily in my own compositional process.
Melophobia was the first album I bought on release day at a record store, and without record stores, I wouldn't have had such a pivotal experience, shared with like-minded music lovers.
Going back to my heavy, hard-rock origins, however, my favourite album is Three Cheers for Sweet Revenge by My Chemical Romance. A masterpiece from start to finish, every colossal riff hits with the same emotional strength as the one before it. From the haunting opening of "Helena" to the high-octane finish of "I Never Told You What I Do for a Living", each track bursts with raw passion and teenage angst. Eighteen years later, I keep finding myself returning to this album.
---
Obscure albums and otherworldly beats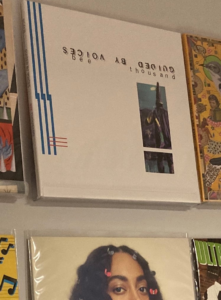 The album that got me into music was A Night at the Opera by Queen. Our family had it on CD, as we didn't have a record player (no one did in the 2000s). We'd listen to it on long car rides, and I fell in love. Something that has stuck with me is Queen's willingness to skirt between different genres from track to track, not really worrying about a consistent sound.
At the moment I'm listening to a lot of Bee Thousand by Guided by Voices. The first time I heard it, I thought my headphones were broken. That's to say, it's very lo-fi. But this doesn't detract from the music; I'd argue it enhances the experience of listening to the album. And this really is an experience – drifting from Beatles-esque pop songs to absurd tracks about kicking elves.
My favourite album of all time is 69 Love Songs by The Magnetic Fields. It's a mammoth of a listening experience, spread over three discs. The sheer number of perfect songs on this album is mind-blowing – and they were all written by the genius that is Stephin Merritt.
This Record Store Day I'm looking forward to the repressing of Vaudeville Villain by Viktor Vaughn. It was one of MF DOOM's many alter egos, with him rapping over other producers' beats, rather than his own. The album is incredibly creative and varied for its roughly 45-minute run time – some of the beats sound straight from outer space.
Record stores are important because they provide a way for listeners to access music they might not have otherwise come across. For example, employees will often help you find something new – or you might stumble upon something with interesting artwork. They say not to judge a book by its cover, but that's how I've found some of my favourite music!
---
Find out more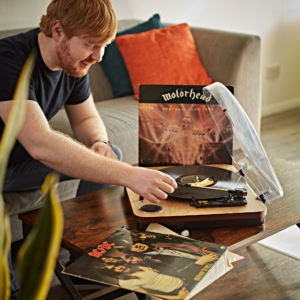 The magical experience of hunting for records is irreplaceable, and most musicians will tell you that it's these physical copies of their favourite albums that have shaped their love for music.
We have a range of turntables, such as the Victrola Journey, Crosley Cruiser Deluxe, and ION Luxe LP, to help you get involved in this annual, worldwide celebration.
Shop now | Turntables 
Shop now | Vinyl accessories
Find out more | Record Store Day