Premier has a rich history in the music industry. Used by drummers past and present, it's clear to see why percussionists use the Premier brand time and time again. Here we look at how the brand has expanded over the years, and why there's no better time to choose Premier than now.
---
The history of Premier
Premier combines robust quality with experience to provide a professional sound with all of their instruments. Originally founded in 1922 by Albert Della Porta, Premier repaired and produced drums for other companies. In 1925 Premier began making their own brand drums – subsequently branching out to become one of the UK's largest drum and percussion makers.
1937 saw the introduction of the budget Olympic brand, which over the years has provided a new generation of players including Larry Mullen (U2) and Paul Thompson (Roxy Music) with their first kits.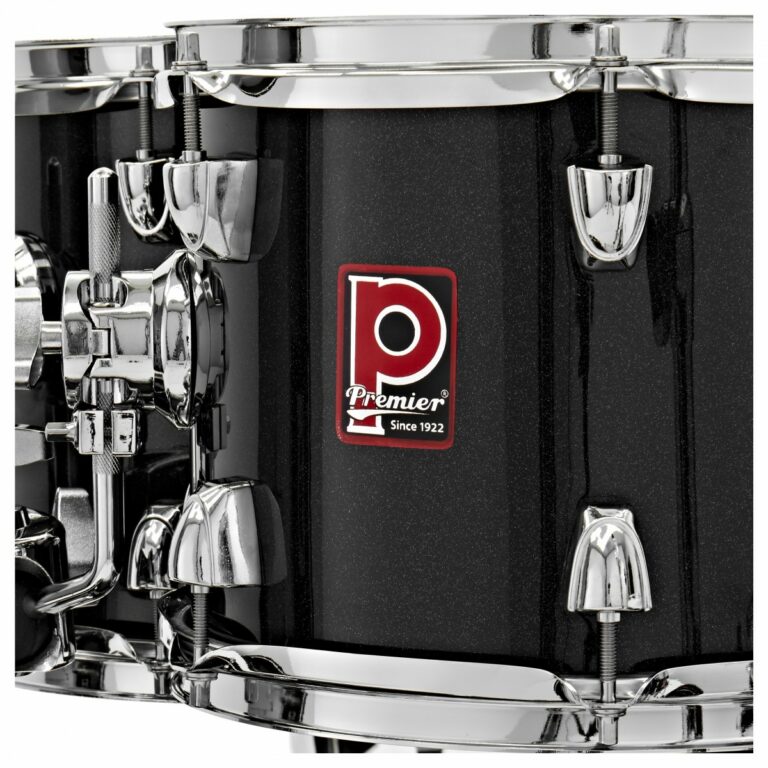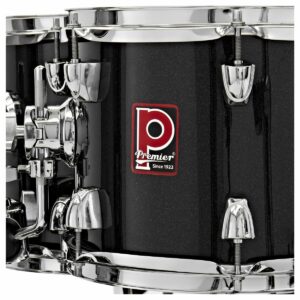 During the Second World War, Premier turned its efforts to helping with the war effort, switching production to producing anti-tank gun sights and sockets for radar equipment. During this time, the Premier factory in London was destroyed through bombs, resulting in a complete relocation to Leicester. From here, Premier made a significant investment in die moulding that would secure the long term future of the company.
A lot of Premier's innovation can still be seen on drums, percussion, and hardware today. For example, the 1965 iconic 2000 snare featured a parallel action snare, which can still be seen on Premier marching snare drums today.
Whilst producing products that revolutionised drumkits, Premier also revolutionised a new, never-seen-before technology – the Kenny Clare Resonator Kit, released in 1973. This kit featured double shells with a normal outer shell and a thinner resonator liner on the inside, separated by air.
With its 100th birthday fast approaching, Premier continues to be a leading brand within the music industry, used by drumming greats such as Keith Moon(The Who), Philip Selway (Radiohead) and Chris Sharrock (Oasis).
---
What can Premier add to your playing?
Over time, Premier has grown with the modern drummer, providing drums and percussion for beginners and professionals and furthermore helping drummers through each part of their playing journey. By considering what drummers need and want from a kit, Premier drums and hardware deliver efficiency to your playing, ensuring a comfortable playing experience whilst getting the most out of your kit.
With quality you can trust, Premier certainly has you covered. Not only through drum kits but also in other aspects of the playing experience like hardware. Each stand features a sturdy frame to secure your drums in place and withstand constant use.
It's no coincidence as to why Premier has been the number one choice for drummers over the years. Premier's ability to grow with the drummer is one of the major factors of its success. Through providing quality equipment and instruments for the gigging and casual drummer alike, Premier has become a trustworthy brand.
---
Famous players of Premier
Premier has a wide array of drumming greats on their roster. The popularity of their drums in contemporary music has grown throughout the years. Drummers such as Mitch Mitchell (Jimi Hendrix), Philly Joe Jones (Miles Davis), Clem Burke (Blondie), Phil Collins (Genesis), Matt Helders (Arctic Monkeys), Rick Buckler (The Jam). This rich list of drummers shows how Premier has helped shape a generation.
Ringo Starr famously played a Premier kit during his early performances with The Beatles at The Cavern. Whilst Matt Helders played a Union Jack design Kit at the Olympics and on tour. More recent drummers to fly the Premier flag include Colin Jones from indie rock band Circa Waves.
Jones champions the Premier Elite in Silver Sparkle Lacquer, using the kit for their latest tour. As well as Haydn Evans from indie rock band Sundara Karma, who plays the Premier Elite Gold Sparkle Lacquer.
---
What makes Premier special?
Premier has been at the heart of music since the jazz age of the '20s, with a wealth of different artists playing Premier Kits and percussion. Whilst being one of the UK's oldest surviving major drum manufacturers, Premier certainly has a rich history in creating nothing short of quality.
Premier manages to pack features of the past, present, and future into each product – taking elements that showed success in previous models and adapting them to suit the modern-day environment. Premier has not only made its mark in the mainstream drumming world, but also in the world of marching drums.
As an industry leader in the marching world, the Premier HTS snare drum is the most successful pipe band snare, having won more championship titles than any other.
Premier base their products on the drummer, with a deep understanding of the gigging and casual drummer's wants and needs. With the introduction of various new technologies, Premier has been the trendsetter for the drumming industry, creating equipment and features that we take for granted in the modern drumming world.
This includes features such as flush base stands, which create increased stability and efficient use of any performance space. Another of Premier's creations include the two-way pedal beater.
One of the most revolutionary creations from Premier is the introduction of free-floating shells for marching snares, tenors, and bass. Furthermore, Premier is known for the introduction of tension rod drums instead of rope tension to military drums, this provided easier tuning for snare drums modernising the Marching drum world.
---
Current ranges from Premier
So, what are the current products Premier has to offer?  Premiers' designs have something for everybody, no matter what your playing ability. With so many ranges to choose from, here we have broken down what each kit can bring to your playing, allowing you to choose the best kit for you.
---
Powerhouse
The Premier Powerhouse kit is an entry-level kit, designed to have the same look and feel as a pro kit. Boasting poplar shells and a range of signature Premier traits, the Powerhouse is a great place to start your drumming journey.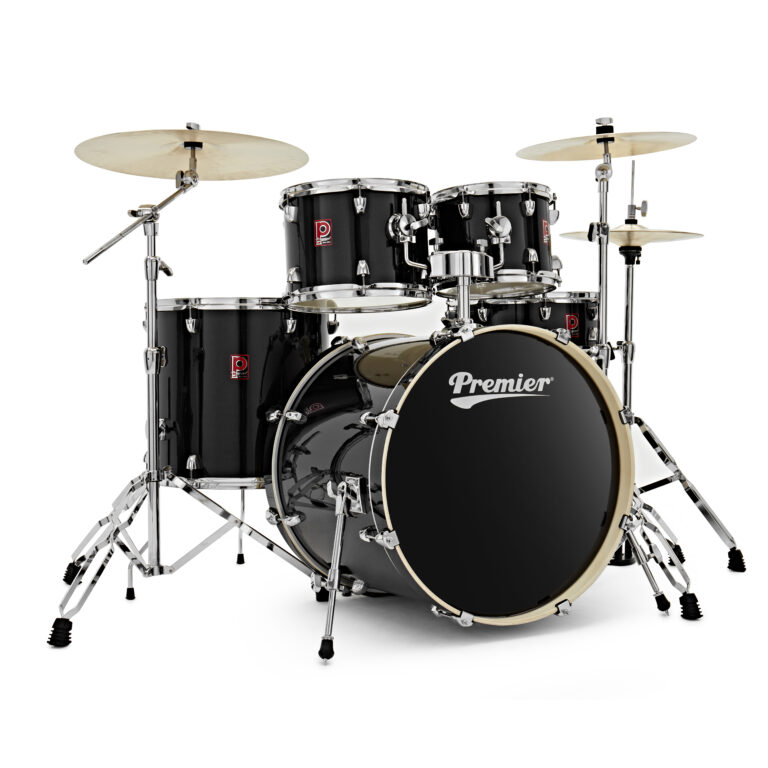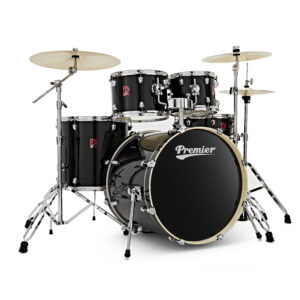 Offering high and low frequencies to allow for plenty of body and presence, the kit's durable build makes the Powerhouse ideal for both performance and recording applications.
The 1.5mm triple-flanged hoops fitted to this kit increases the shells' sustain and clarity, while the wooden bass drum hoop provides a nice touch to the overall aesthetic.
Available in bass drum sizes 20'' x 16'' and 22'' x 16'' the Powerhouse kit is desirable to all. The Powerhouse has a choice of four retro-style wrap finishes these include:
The Premier Powerhouse comes complete with all the hardware you need to get started. The hardware included consists of a hi-hat stand, cymbal boom stands, snare stand, single boom stand, and a kick pedal.
All the stands are double-braced and crafted to exceptional quality, whilst the Snare stand features a stepped tilter, delivering accurate positioning.
---
APK
The Premier APK is perfect for both practice and performing. Boasting all-birch shells, the APK is ideal for a broad range of drummers, offering a balanced tone with exceptional low-end. What's more – the kit's durable build makes them ideal for stage and studio applications.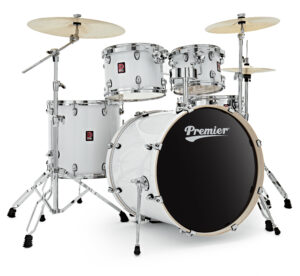 The 1.5mm triple-flanged hoops fitted to this kit naturally increases the shells' sustain and clarity. Available in bass drum sizes 20'' x 18'' and 22'' x 18'' the APK caters to all. One of the most eye-catching elements of any Premier kit is the finish, and the APK doesn't disappoint.
The APK is available in 5 different wrap finishes including:
Like most Premier kits of this kind, there is an option to buy the APK as a shell pack, or with hardware. The hardware included consists of a hi-hat stand, cymbal boom stands, snare stand, single boom stand, and a kick pedal.
All the stands are double-braced which allows for a great deal of balance and the ability to withstand even the most aggressive of players. The snare stand features a stepped tilter allowing for positioning accuracy.
---
XPK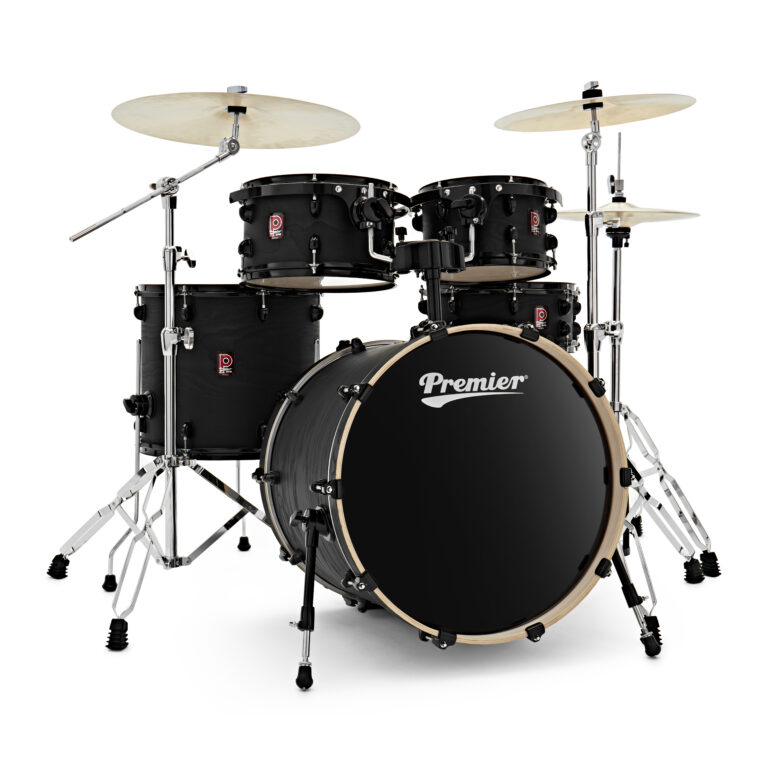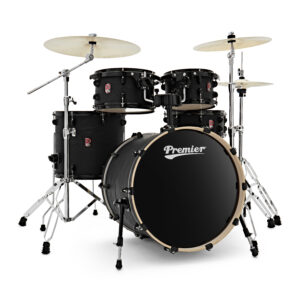 Suiting a wide range of music genres, the XPK provides a tone to suit any playing environment. The all-birch shells offer exceptional power and articulation, projecting a clear punchy tone when struck.
This kit excels at performing and studio playing situations.  A stand out feature of the XPK is the smart translucent finish, available in a choice of 4 lacquered shells including:
In addition to the XPK range is the XPK exclusive, this range differs slightly with an exceptional aesthetic. Featuring a combination of ash wood-grain and black hardware, the XPK exclusive looks high in quality. The all-birch shells offer bright tones with optimum tones to suit a wide range of music genres.
Whilst the XPK exclusive is available in a choice of four satin finishes including burnt orange, black ash, ocean burst, and cherry burst. Perfect for any percussionist wanting a unique looking kit.
---
Heritage
The Heritage kit range is a nod to the rich history of Premier. Whether it is through the classic finishes or the folding bass drum spurs – the Heritage range provides '70s style with modern technologies.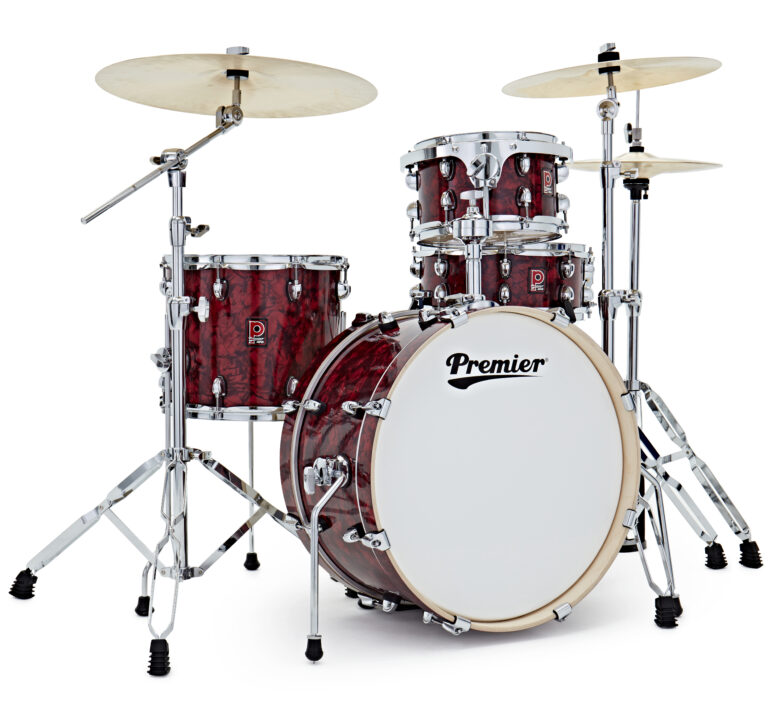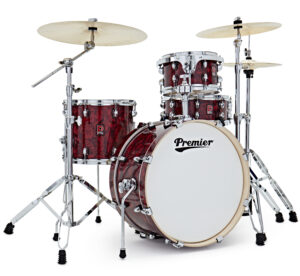 The chrome-plated ISO mount ensures that a full-bodied sound can be achieved from the shell, reducing the amount of power lost through traditional drum mounting. The shells are constructed from 7.5mm 100% birch, whilst the Heritage kit offers five wrap finishes. These wraps include:
Available with or without hardware, the Heritage kit offers a significant punch and an increased amount of projection to deliver a smooth, well-balanced drum tone – perfect for a range of different music genres. With a choice of three kick sizes ranging from 16" to 20", the compact nature of the Heritage range makes it ideal for touring and when space is a premium.
---
Genista
The Genista comes with the option of birch or maple shells which is a great way to tailor your drum kit to the type of sound you want to achieve.
The 7ply shell construction provides tone articulation with medium attack and a powerful low-end punch. Specifically, the toms and floor toms are 3mm undersized for accurate tuning and sound quality.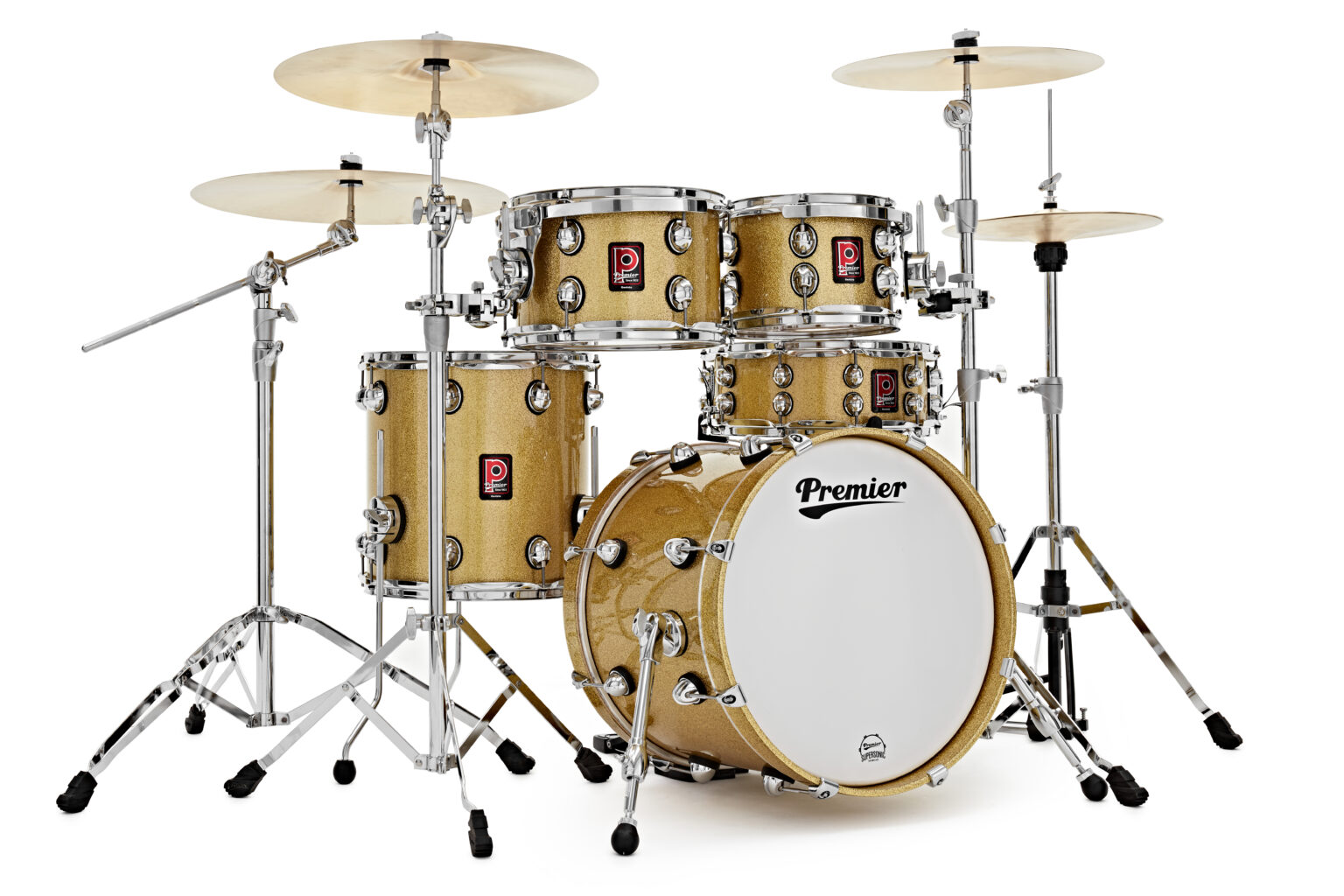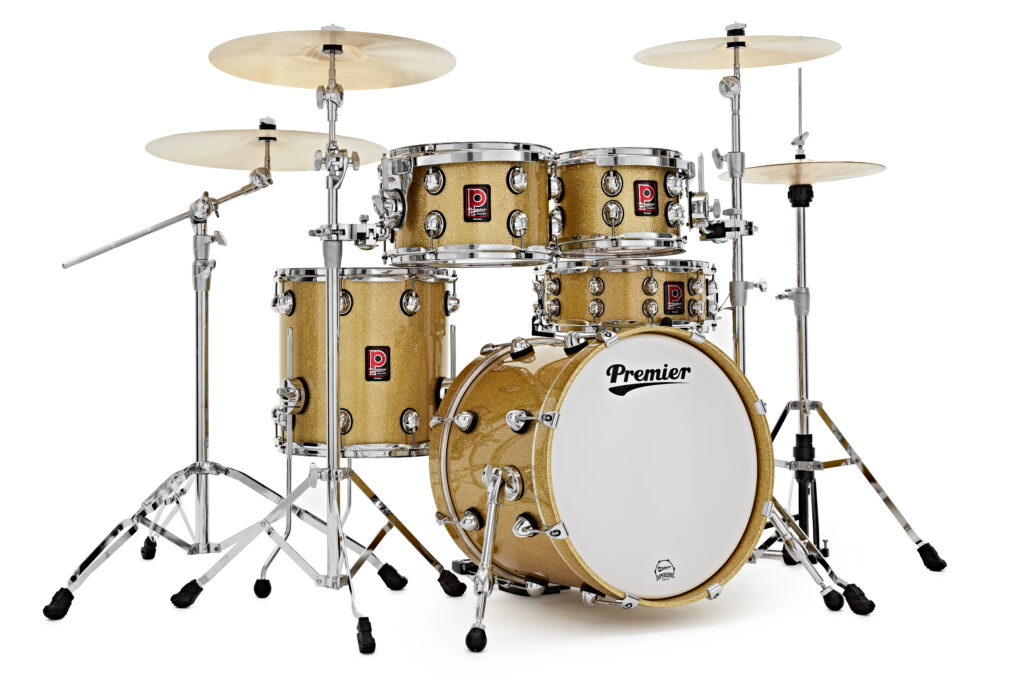 Whilst it is worth noting, if you are looking for a louder cutting tone then the birch shell would be more suitable. Whereas the maple shell provides a medium volume. An impressive array of finishes are available with this kit providing a smart aesthetic from high gloss lacquers to classic wraps. These include:
To complement the exquisite finishes available, the Genista also features internal shell lacquering, providing an enhanced tone.  Available as a 4pc or 5 pc set up, the Genista range features the iconic Premier Genista lugs.
---
What is each kit great for?
The Genista includes features ideal for the experienced drummer. With the choice of birch or maple, you can tailor what sound you want to achieve and therefore choose the right kit for you.
If you desire a retro feel with the practicality of being compact, then the Heritage series is a great option. The APK and XPK provide a high-quality kit suitable for a broad range of applications, whilst the Powerhouse is the perfect starting point for any drummer.
---
Find out more
Now that you've learned more about the Premier brand, why not check out our full range of Premier kits to find the perfect kit for you?
Shop now I Premier Acoustic Kits
Shop now | Premier Electronic Kits
Shop now I Premier Drum Hardware
Shop now I Premier Drum Accessories