Presenting the Pearl Flutes 665 range, part of the Quantz series. Available in six variations, the 665 is a series of upgraded, intermediate instruments, each with a 0.925 silver headjoint and silver-plated body, footjoint, and mechanism. Better still, all models feature Pearl's exclusive one-piece core bar, pinless construction, and French pointed arms.
Upgrading your instrument is always a daunting prospect, no matter what you play. Some of us put it off longer than others. Yes, I am one of those people.
My flute was a birthday present in 2008, and I'm still using it today. Many services and repairs later and it's still a very reliable instrument. But when presented with the chance to try new instruments, I will always jump at the opportunity!
The 665E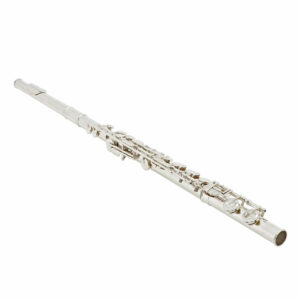 One of several 665 variations, the 665E model features closed hole keys, a C-foot joint, and an offset G key. As someone who's used to a student model with similar features, I found the 665E very easy to transition to and could play familiar pieces comfortably. The silver headjoint then provided a lovely, warm, and vibrant tone, suitable for solo or orchestral playing.
All the models of the 665 range feature an offset G key, meaning the third key on your left – or first – hand is slightly out of line with those before it. A popular option in the UK, the offset G key is considered by many to be more ergonomic and enjoyable to play.
Closed hole keys are commonly found on beginner and student models, allowing the player to confidently achieve a consistent tone on each note. I found this to be true with the 665E model, with the closed hole or covered keys offering an even tone and projection throughout the full octave ranges with very little effort. The keys were also very soft to the touch, without feeling too delicate or malleable.
This model features a C footjoint, meaning the lowest note possible on this instrument is middle C. Considering the majority of my playing currently takes place in a concert band setting, rather than solo performance, an instrument that reaches middle C is more than enough for the pieces that I play.
If you're after a B footjoint, see the 665BE. This extends the range by one note, meaning that, whatever piece you're faced with, you'll be able to reach the notes. This can be useful when practising for higher-level grades and a more modern repertoire.
Shop now | Pearl 665E Quantz Flute
Shop now | Pearl 665BE Quantz Flute. B Footjoint
The 665RE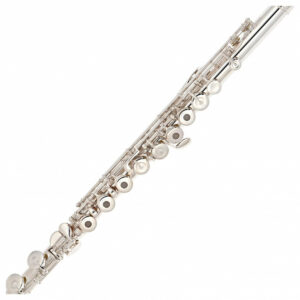 Once again, the 665RE is available with a C or B footjoint and offset G key. The most significant difference between the 665E and RE models is the swap from closed to open hole keys.
Open hole keys are often associated with intermediate and professional level instruments due to the technique needed to achieve a steady tone.
They have a small hole in each of the main keys, requiring more deliberate and considered hand placement to be fully covered. This needs to be maintained for a good, consistent tone. And therefore, they're used to improve the player's technique. Open hole keys also allow for a range of extended techniques to be performed – by altering your hand positioning, you can manipulate the tone and pitch.
Before trying the 665RE, I hadn't played an open-holed flute before, so extended techniques are somewhat out of my reach for now. I have, however, always been intrigued by the challenge of using an instrument with open hole keys and would appreciate the opportunity to improve my proficiency as a player.
Initially, the holes of the 665RE are plugged with plastic retainers. These plugs are recommended to be removed one at a time, with care and attention, when a player is ready – as they don't necessarily go back in very easily! However, don't let that put you off. This was a lovely instrument to play, with a smooth, warm tone and freely moving keys.
It has all the benefits of the 665E models with the added challenge of open hole keys.
Shop now | Pearl 665RE Quantz Flute, Open Hole
B665RE-ESS & B665E-ESS (limited editions)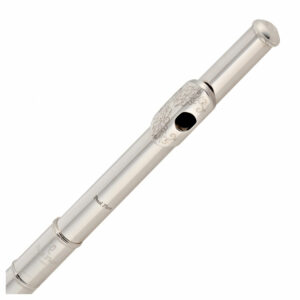 Boasting all the features of the 665E and 665RE models respectively, the B665E-ESS and B665RE-ESS limited edition models have additional benefits.
Both have been engraved with a delicate and ornate curved pattern on each of the keys and the lip plate. While this pattern is not obvious from a distance, it does add extra elegance and a level of individuality to the instrument. When I first saw this model in person I was impressed by the detail of the pattern and how it didn't disrupt the feel of the flute.
These models also feature the 'Brezza' cut headjoint and a heavier crown. The headjoint has been made to provide sharper articulation and fuller sound throughout the full range of the flute. This then works in conjunction with the heavier crown, enhancing the tone with darker and richer elements. I found that when working together, all these features enriched an already impressive instrument.
Shop now | Pearl B665E-ESS Quantz Flute with Brezza Headjoint, Closed Hole
Shop now | Pearl B665RE-ESS Quantz Flute with Brezza Headjoint, Open Hole
Final thoughts
The flutes that I tried are only part of a much wider range by Pearl. From beginner instruments to those aimed at professional flautists, Pearl cater for all – not forgetting their impressive offering of piccolos, alto flutes, and bass flutes!