Thinking about picking up the sticks? Wanting a decent kit to help you on your way to becoming a drum prodigy? The
Pearl Export series
is the bread and the butter of beginner drum kits. In fact, many would argue the Export is the
only
beginner kit for a first-time drummer.
We have decided to look at some of the reasons why the Pearl Export holds a special place in drummers' hearts.
---
History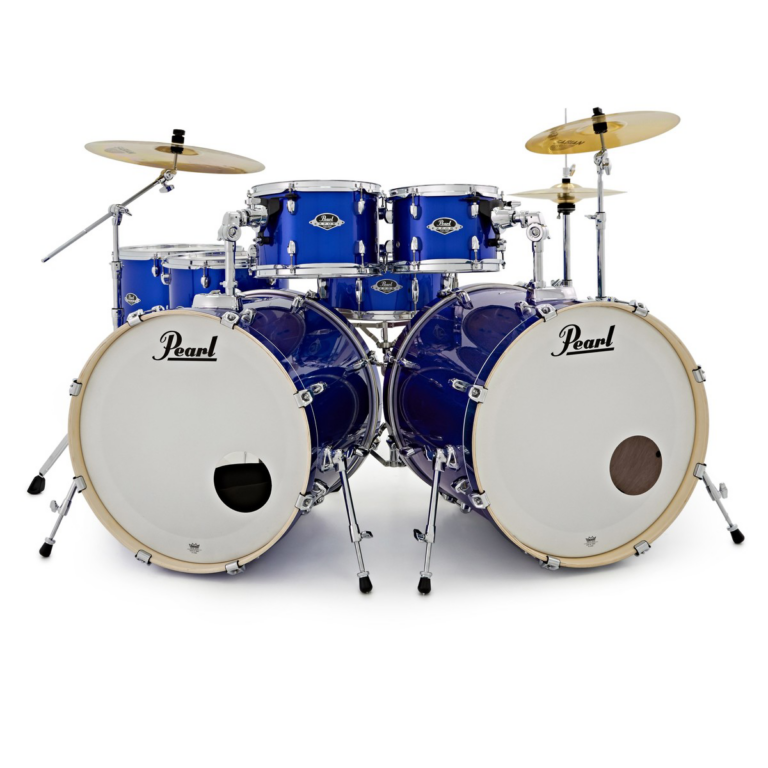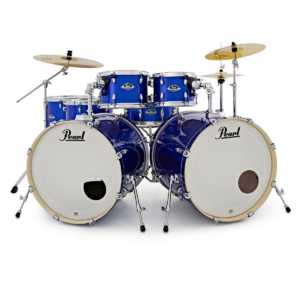 The Pearl Export kit was first released in 1984 and has proved successful among new drummers worldwide. Recognised by drummers as a 'classic' drum kit, the Pearl Export has changed the entire landscape of the beginner drums – providing quality and affordability.
Pearl was one of the first drum makers of the time to provide a high-quality beginner drum kit, and still continues to do so. Offering the perfect starting point, the Pearl Export is renowned for delivering unbeatable and long-lasting robustness.
Specifically designed for drummers who are just starting out, the Pearl Export is one of the most beginner-friendly kits. It reached a milestone sale of 1,000,000 in 1995, making it one of the best-selling drum kits of all time – and it is safe to say the sales figures speak for themselves.
With two current Export series kits available today – the EXX and the EXL, Pearl continues to inspire and aid future drummer generations.
---
What makes the Pearl Export stand out from the rest?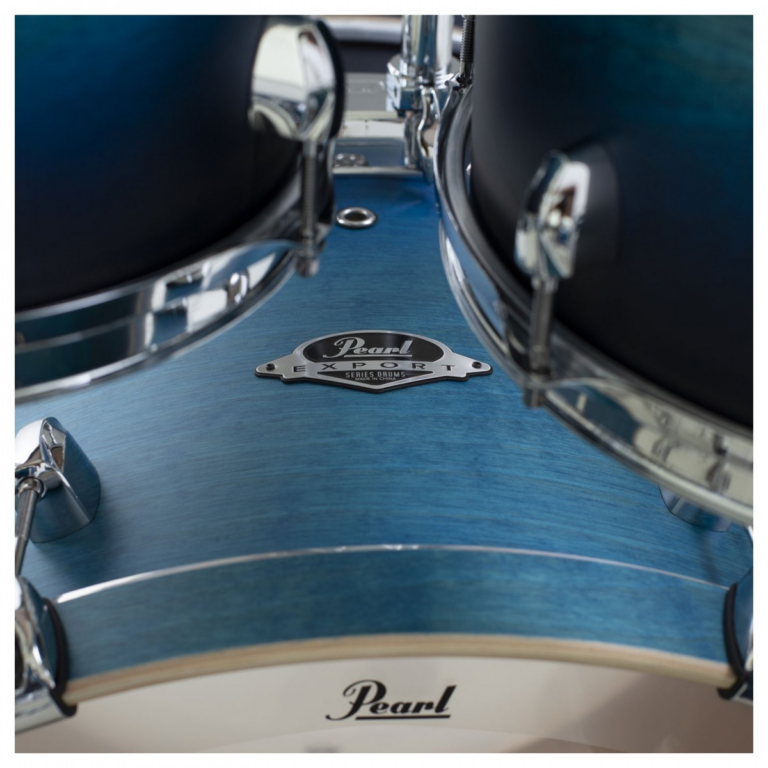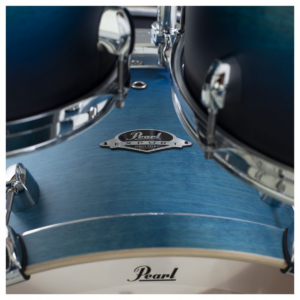 Even though the Export is branded as a beginner kit, make no mistake in its capabilities and qualities. The Pearl Export offers high quality, focused tones combined with durability and a stunning aesthetic – simply a triple threat.
Ideal for various music genres, this quality kit provides resonant highs and booming low tones to emit a balanced sound.
If we were to concentrate on the specifics, one notable feature of the Pearl Export is the sheer density of the shells, offering immense durability that can even withstand the demands of the working drummer. As with all of its products, Pearl prides the Export on being stable and the finest of quality –  delivering drummers the decent playing quality they deserve, no matter what level they are.
The Pearl Export also features various technologies to ensure playing stability, firstly, in the form of the Opti-lock three-point tom suspension mounts. Featuring three connection points, each with a rubber isolator, the mount allows the drum shell and head to resonate freely as well as firmly grip the tom in place. This enables you to get the most out of your sound.
The sheer strength of the mounting system can be handy in offering a damage-free experience to beginners who are just getting familiar with playing dynamics. As the mounting system allows for optimum resonance, the toms can properly sing, making even the most basic of beats sound great.
---
So, how do they make such quality sounds from a standard construction?
Pearl are well known for their special Superior Shell Technology (SST), which utilises a high-temperature hydraulic curing system. The SST method allows for the construction of multi-ply shells with trademark sarf joint seams, creating an airtight fit. This unique method, combined with Pearl Acoustiglue – a glue that soaks into the drum shell and dries to the wood consistency, provides the resonance and sound of the Export series we all know and love.
The Pearl Export series is hailed for its high-quality and reliable shell technology with a unique construction. It is clear to see and hear why the Pearl Export has such rave reviews – the blended 6-ply poplar and Asian mahogany drum shell construction gives you a balanced combination of tones, bringing versatility to the forefront of drumming.
---
What hardware is included with the Pearl Export?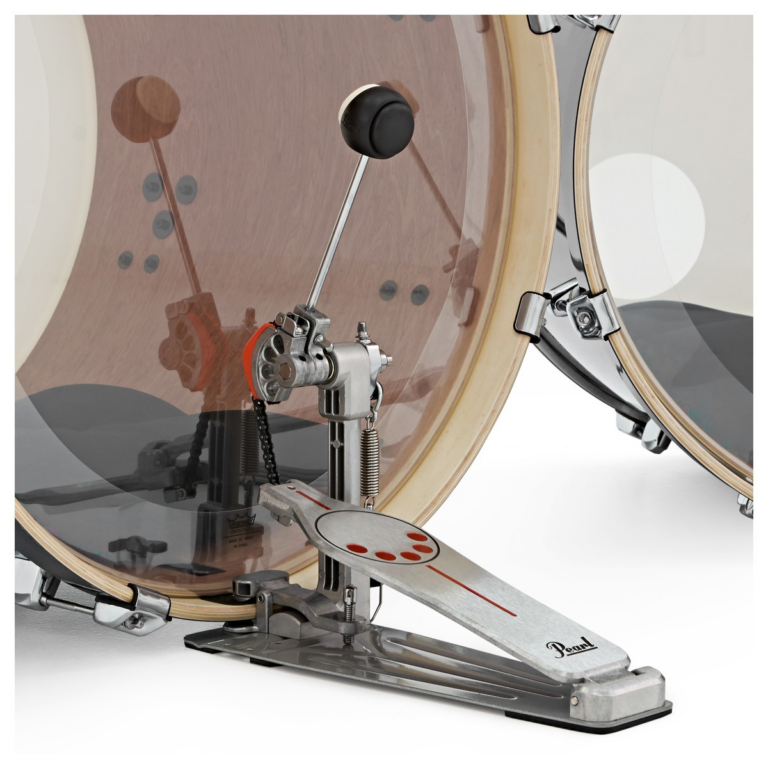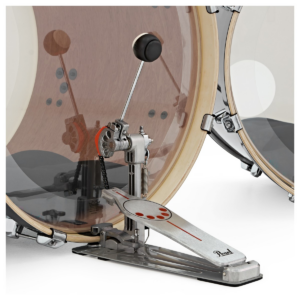 The Pearl Export is renowned for offering everything you need to get started. Durable hardware with a rock-solid drum kit is one of the reasons why the Pearl Export is highly recommended.
Each configuration of the Export kit is accompanied by a HWP830 hardware pack, displaying an impressive arsenal of robust hardware to get you started.  All are crafted from reinforced steel tubing to deliver unbeatable coverage.
The hardware pack includes double-braced stands with two cymbal stands, a snare stand and a hi-hat stand. Each stand features a Unilock gearless tilter – allowing for optimum cymbal positioning – and a tripod base for increased stability.
The Pearl Export hardware pack comes with a P930 bass drum pedal, boasting a power shifter function to offer lightning-fast bass drum action and transitions.  Although the pedal is a single-chain drive, the interchangeable cam provides the option to alter the attack, delivering a decent amount of strength for a kick pedal.
Included in the HWP830 hardware pack:
---
Cymbals
The Export comes complete with a Sabian SBR cymbal pack. This pack features everything you need to get started, including a 14'' hi-hat to provide crisp tones with a washy, open sound, a 20'' ride and a 16'' crash – ideal for accents and cymbal swells. The cymbal pack is also extremely versatile in sound, covering various music genres. Team the high-quality cymbals of Sabian with the durability of Pearl hardware and shells, and the Export package is a match made in heaven.
---
Finishes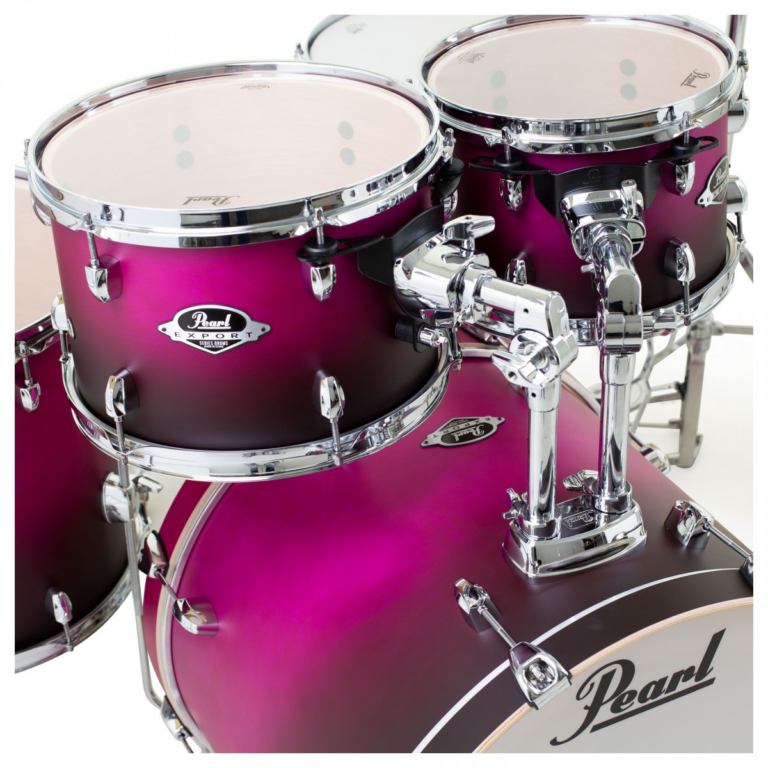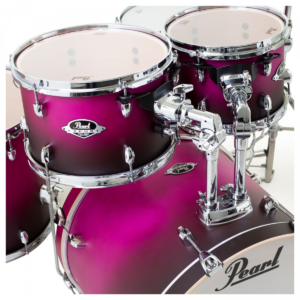 Finishes, although not the most important part of a kit, still make a difference between a nice kit and an impressive kit, and the Pearl Export doesn't disappoint. Its array of finishes include:
Smokey Chrome
Jet Black
Matte White
High Voltage Blue
Black Cherry Glitter
The 'Striking Chrome' and 'Choice Standard' finishes (smokey chrome, jet black & matte white) provide a smart clean-cut look to the kit, whilst the metallics offer a little colour and sparkle to your setup. All of these finishes are ones you would expect to see on an expensive, professional level kit – not a beginner kit like this.
The Pearl Export also has a range of lacquered kits, offering a great range of finishes to provide even more choice. The lacquered range includes:
Azure Daybreak
Raspberry Sunset
Ember Dawn
Indigo Night
All of these finishes add a certain character to the overall kit aesthetic to ensure a natural and high-quality look.
---
What Configurations does the Export Offer?
The Pearl Export is available in various configurations, with each configuration including hardware and cymbals. The main three setups consist of a standard layout, each with different drum sizes depending on the power and depth you want to get out of your drum set. If you are limited in space, it is advisable to go for the smaller 20'' bass drum. Whereas if space isn't an issue, the 22'' bass drum will work well within your setup.
When deciding on the size of drums you need, you might find it useful to consider the genre of music you'll be playing. The bigger the drum, the deeper the sound – and various music genres suit different tonalities. For example, if you are going to be playing pop or funk, then the configuration with the smallest measurements will suit this genre the most. Whereas if you're playing rock or heavier music genres, the 22'' bass drum will be more than sufficient – providing enough depth and resonance to suit.
Configuration 1
22" x 18" Bass Drum
12" x 8" & 13" x 9" Toms
16" x 16" Floor Tom
14" x 5.5" Snare Drum
TH701 Tom Holder x2
Hardware pack HWP830
Sabian SBR Cymbal Pack
---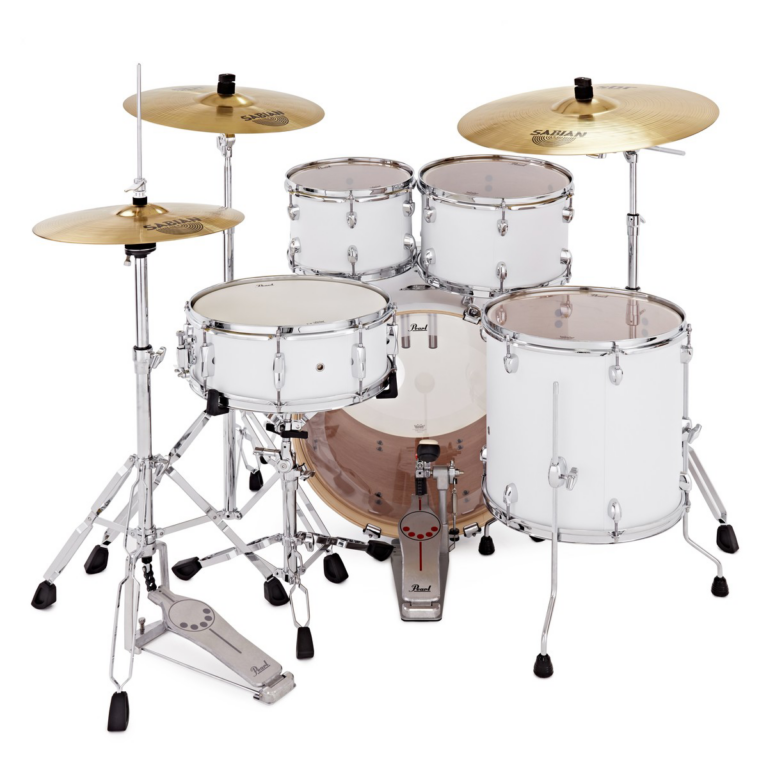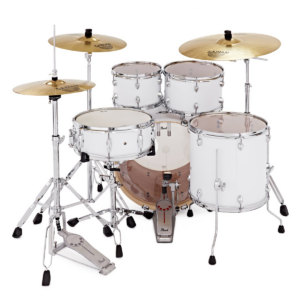 Configuration 2
22'' x 18'' Bass Drum
10" x  7" & 12" x 8" Toms
14" x 14" Floor Tom
14" x 5.5" Snare Drum
TH701 Tom Holder x2
Hardware pack HWP830
Sabian SBR Cymbal Pack
---
Configuration 3
20" x 16" Bass Drum
10" x 7" & 12" x8" Toms
14" x 14" floor tom
14" x 5.5" Snare Drum
TH70I Tom Holder x2
Hardware pack HWP830
Sabian SBR cymbal pack
---

Configuration 4
22″ x 18″ Bass Drum
10″ x 7″ & 12″ x 6″ Toms
16″ x 16″ Floor Tom
14″ x 5.5″ Snare Drum
TH701 Tom Holder x2
Hardware Pack HWP830
Sabian SBR Cymbal Pack
---
What else you may need
So now you have your Pearl Export kit, what are the possible add ons that could benefit your playing? First, we will start with vital accessories you may need. Since the Pearl Export hardware pack doesn't include a drum stool, it is certainly worth considering purchasing one, so you can practise in comfort.
Another crucial tool to pair with the Pearl Export is a set of drumsticks. 5A drumsticks are a great starting size, offering power and a comfortable weight.
It's also a good idea to consider protection and practicality when buying your first kit. This is where drum bags come in. Perfect for transportation and keeping your kit in good condition, drum bags can provide varying levels of protection – with different types available.
Practical items for your export kit could include items such as drum mats and stick holders. Drum mats offer a secure surface for your brand-new drum kit to stand on, reducing the chances of unwanted kit movement. Stick holders are a very useful addition as they save you from having to precariously balance your sticks on your snare drum. . . trust me a small thing like a stick holder can make a difference.
---
Looking to expand your Pearl export kit?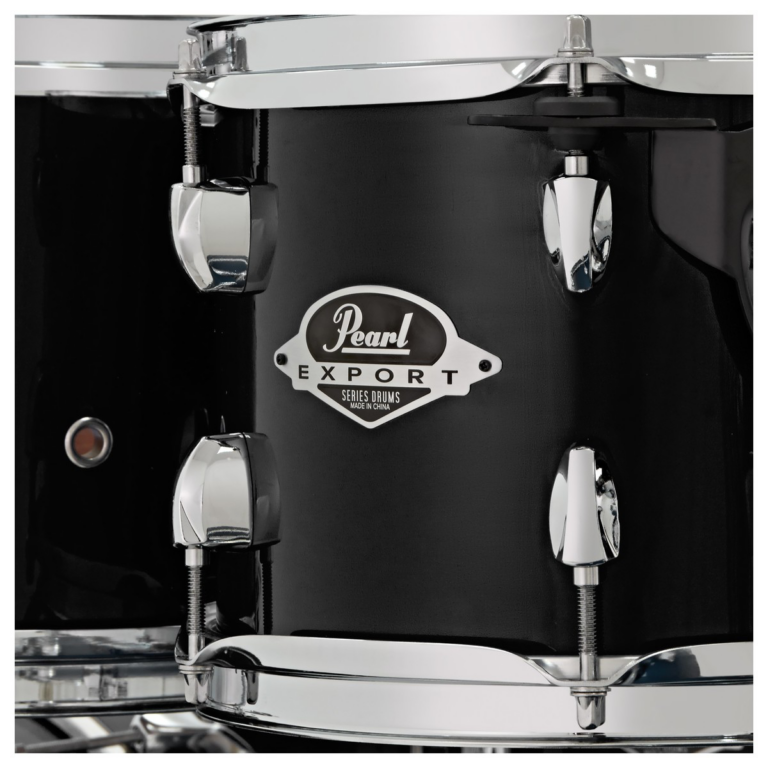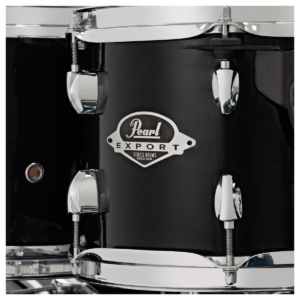 There are many opportunities for expansion of the Pearl Export kit, allowing your drum kit to grow with your playing.
Pearl has released two different types of add on packs: the EXX10P/C 10" x7" tom and the EXX8P/C 8" x 7" tom. These drums are not available in any of the Export kit configurations and are both crafted from a 6-ply mahogany and poplar shell.
The add-ons are a great way to expand your drum sound and experiment with new setups.
Other ways to expand your kit could include adding a second-floor tom with a sizing either bigger or smaller than your current setup.
The biggest floor tom Pearl has to offer is the 18" x 16" EXX1816F/C, offering a deep, resonant tom sound. Combined with a smaller tom, this could create a nice contrast.
Furthermore, if you're feeling adventurous, there is the option of adding a second bass drum to your setup, with the 22" x 18" EXX2418B/C being the largest bass drum available. Adding a second bass drum is the perfect way to incorporate double kick playing into your overall sound.
---
Find out more
Now that you've got an idea of what the Pearl Export is capable of, why now take a look at the range of Pearl Export kits and hardware we have to offer?
Shop Now I Drum Kits 
Shop Now I Drum Accessories
Shop Now I Drum Bags and Cases
Shop Now I Drum Hardware