Since their launch back in 2016, the
Katana guitar amp range
put Boss on the map as an amp manufacturer. The Katana range combines fantastic amp sounds and legendary Boss effects with a Class A/B power amp section that not only packs enough of a punch to fill a stage with sound, but also makes the amps feel great to play. They've become firm favourites of guitar players across all genres and playing levels.
Not content with just revolutionising the guitar world, Boss has finally unleashed the innovative Katana technology for bass players, too!
---
Raw Power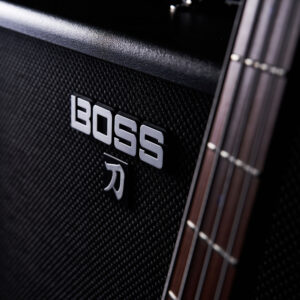 The Katana Bass range consists of two stage-ready combos, a 60-watt 1×10 model and a 2×10 combo kicking out 160-watts. If you think that seems underpowered in today's market of 500 watt combos, you'd be bang wrong!
Both of these amps can easily hold their own in rehearsals and on stage, thanks to the all analogue, class A/B power amp design inherited from the Katana guitar range.
While a lot of current bass amps use digital power amps needing huge amounts of wattage before they start shifting air, the far more efficient analogue design of the Katana Bass means you'll feel these amps as much as you hear them.
Both Katana Bass combos feature Boss's proprietary bi-amp design to drive the 10inch woofers, and also a custom-designed switchable tweeter to give you all the clarity and definition you require.
---
Sculpt your Sound
It's not just about power, though. Great tone starts in the preamp, and Katana Bass offers three custom-designed voices to cover all the bases (pun absolutely intended).
The Vintage setting offers a classic, valve-driven bass sound, perfect for anything from warm Motown sounds, to driven classic rock tones. The Flat setting offers a wider frequency range, ideal for building your own sounds and layering effects, while the Modern setting is more than capable of covering more progressive sounds and getting as gnarly as you need!
---
Unlock your Creativity
The Katana series is famous for its onboard Boss effects, and Katana Bass is no slouch in this department either.
There are four independent effects blocks, two of which are dedicated to drive and compression – absolute cornerstones of bass tone – while the two additional blocks can be configured however you like, with over 60 different effects types available.
To get the most out of these tonal options, Boss have equipped Katana Bass with a studio inspired "blend" control. This lets you perfectly balance your dry signal with the affected tone, perfect for cutting through in a mix. Combine this with the powerful four-band EQ, you'll always be able to pull out "that sound" for a gig.
---
Get Gig Ready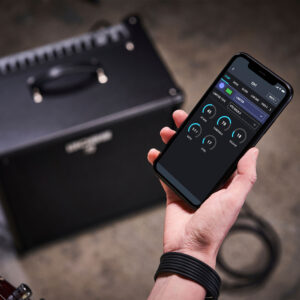 With its intuitive control panel and easy to navigate layout, the Katana Bass is ready to go straight out of the box. There are no screens or sub-menus to get lost in, but if you do want to go deeper – the Katana Bass Tone Studio app is the way to go.
This app lets you deep-edit sounds, tweak parameters not available from the panel, and even organise your presets into live sets, so they're ready to call up for whatever project you're working on.
If you're ready to take it out gigging, the Katana Bass is also fully compatible with Boss's GA-FC footswitch, giving you total control of presets and effects without the need to drag along a complex pedalboard.
---
Rehearse, Record and more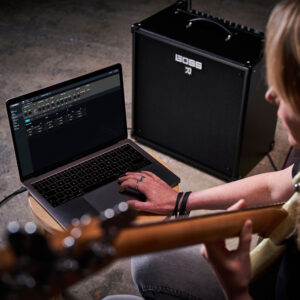 Adding Boss's optional BT-Dual Bluetooth adaptor also allows you to access Tone Studio wirelessly on your mobile device, perfect for tweaking sounds in rehearsal or soundcheck.
With the BT-Dual, you can wirelessly stream music through the Katana Bass, making it the perfect practice option, either using the speakers or headphones.
The power section of Katana Bass can also be tamed down to one watt, letting you make the most of that great feeling Katana power at manageable volumes for home use.
If you're looking to record great bass tones, Katana Bass offers a simple USB out straight into your DAW, so you can get creating with ease.
---
Find Out More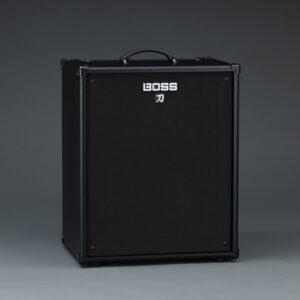 If the Katana guitar amp range is anything to go by, you're bound to see Katana Bass amps popping up at gigs, rehearsals, and recording sessions very soon.
If you're thinking about expanding your sonic horizons, or looking for an amp that can take you from the bedroom to the stage with no compromise in sound and feel – we think Katana Bass needs to be on your list to check out!
Shop Now | Boss Katana-110 Bass Amplifier Combo
Shop Now | Boss Katana-210 Bass Amplifier Combo