The enormous rise and ruinous fall of a migrant's family-run instrument business, and how it put the ultimate songwriter's guitar in the hands of one of the most famous musicians of the modern era.
One of the quintessential images of John Lennon is that of him stood on a London rooftop, wearing a fur coat, with an Epiphone Casino strapped to his chest. The story of that guitar is entwined with the story of Lennon's most iconic performances and songs, the dissolution of The Beatles, and the development of his own unique musical style.
---
Epiphone & The Beatles' introduction to the Casino
The House of Stathopoulo
Think of Epiphone, and you probably think of Gibson's sister brand. If you want to pick up a brand new Les Paul or SG without spending Gibson money, then Epiphone have their modestly priced versions, which could be seen as a steppingstone to Gibson's top-end models.
It wasn't always this way though – for a spell in the 20th century, Epiphone were joint industry leaders, butting heads with Gibson and producing some of the finest guitars that money could buy.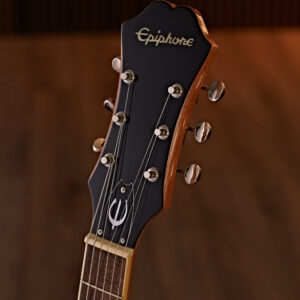 After the conclusion of the first world war, Epaminondas "Epi" Stathopoulos, a Greek migrant to the USA, had just inherited his late father's New York based instrument manufacturing business – The House of Stathopoulo.
Focussing on the manufacture of quality banjos, his company was beginning to enjoy a reputation for producing excellent recording instruments, and he rebranded his business to the snappier, eponymous – Epiphone.
Moving through the '20s and '30s, Epiphone began to produce guitars, starting a rivalry with fellow US-based company, Gibson. Right through to the '40s, the two manufacturers were engaged in an archtop arms-race, constantly innovating new features and ideas for their guitars in efforts to outsell one another.
Sadly for Epiphone, a combination of an economic downturn suffered during the second world war and Epi's death in 1943 caused them to falter and lose their competitive edge. A gradual decline throughout the late '40s into the '50s precipitated the acquisition of Epiphone by Gibson's parent company, the Chicago Musical Instrument Company in '57.
Epiphone was relocated to Kalamazoo, Michigan. There, they manufactured instruments which were distributed to unproved guitar dealers who wanted to be granted a Gibson contract.
Their instruments were still of good quality, but they tended to have equivalent models in the Gibson line, and Gibson were beginning to push their own instruments as the "premium option" of the two.
---
Paul McCartney discovers the Casino
Flash cut to 1964, and The Beatles were sweeping the world. They had just concluded a global tour, and the release of their film and accompanying studio album A Hard Day's Night had proved a huge international success.
Beatlemania was in full swing. And, in light of their enormous popularity, the group were beginning to seek out new experiences and sounds.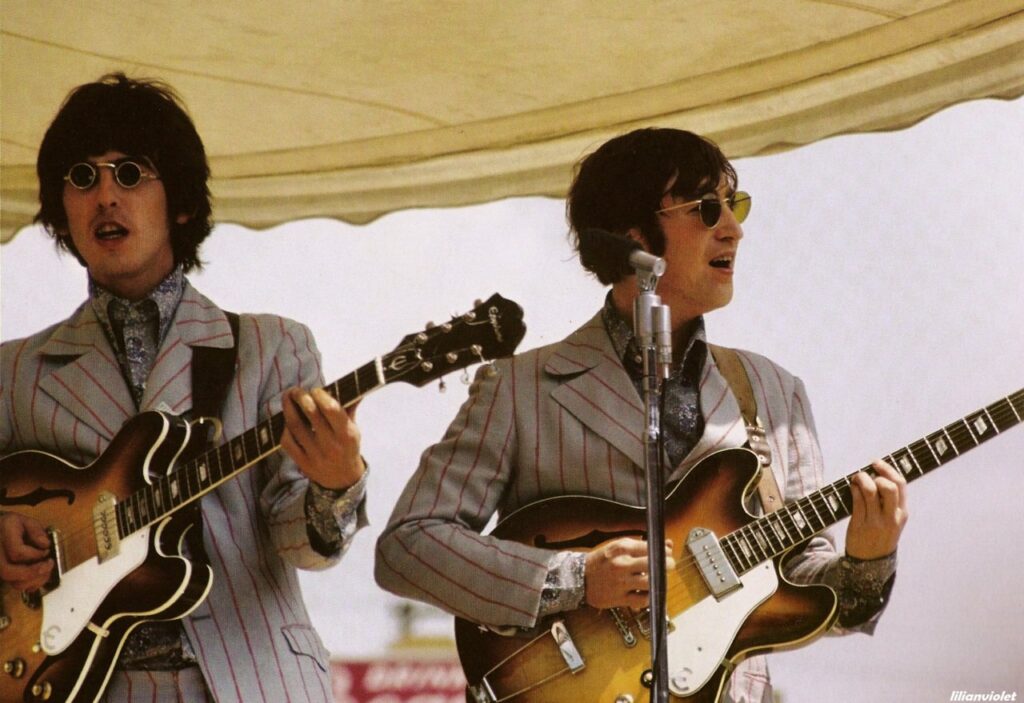 1964's I Feel Fine marked one of the earliest uses of guitar feedback in popular music, and Paul McCartney was keen to further explore this sound.
"…I just went down to a guitar shop after having heard B.B. King, Eric Clapton, and Jimi Hendrix, and I wanted something that fed back." He told Guitar Player Magazine. "'This Epiphone will do that, because it's semi-acoustic."
…and he was right.
Paul walked away with a 1962 Epiphone Casino – a thinline archtop guitar which had been released in 1961. This was essentially the Epiphone version of the Gibson ES-330 – full hollowbody construction with two single-coil P90 pickups.
McCartney immediately put this guitar to work, recording guitar solos for Ticket to Ride and Drive My Car on his new instrument.
---
Lennon & Harrison follow suit
Clearly, McCartney's Casino was making an impression with his bandmates, because by early 1966, both George Harrison and John Lennon had been seen sporting their own Epiphones.
In an appearance on the BBC's Top of the Pops, both Harrison and Lennon were filmed playing their new matching '65 Casinos, finished in sunburst. Harrison's guitar was fitted with a Bigsby tremolo system, while Lennon's had the standard Epiphone trapeze tailpiece.
All three Casinos popped up constantly in the '66 single Paperback Writer/Rain and the ensuing album Revolver, with iconic appearances including McCartney's guitar solo in Taxman, and Harrison and McCartney's double lead section in And Your Bird Can Sing.
Records, somewhat unsurprisingly, are a little hazy at this point. But it's suggested that Lennon was using his Casino more often than not in the sessions for Revolver.
In any case, both Lennon and Harrison selected their Epiphone Casinos to bring on their chaotic '66 tour of the US – immediately after which the group resolved to retreat from public performances and become a solely studio-based band.
---
Why Casino?
At this point in time, The Beatles were without doubt the biggest musical act in the world, and could presumably have got hold of any guitars they wanted. So, what was it that was so alluring about the Epiphone Casino that all three of the guitar-playing members were utilising it regularly?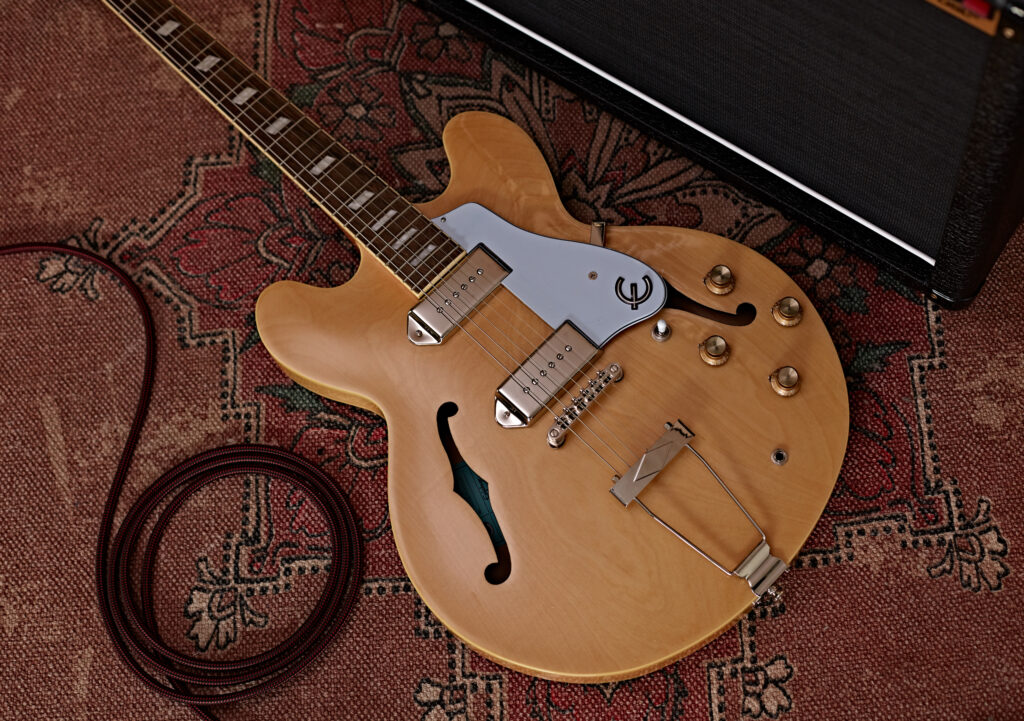 Here are some of the benefits of the Casino's design which will have drawn them to it:
The true hollow body construction of the Epiphone Casino makes it very lightweight, which is an enormous bonus if you're playing long studio sessions or back-to-back tour dates. In addition, the thinline style of guitar makes it far less cumbersome than traditional archtops.
Equipped with two dog-ear P-90 pickups, the Casino is a tremendously versatile instrument. They can offer a bright, thick tone with plenty of midrange for driving lead parts, or can be dialled back for a better rhythm guitar sound. This tonal flexibility is perfect for inspiring creativity.
Just as McCartney was hoping for when he first got his hands on one, the Casinos are prone to feeding back. As the group were moving into their more experimental, avant-garde phase, these unusual sounds were precisely the kind of thing they wanted to explore in the studio.
Most of all, the Casino is a great songwriting guitar. The semi acoustic nature of the instrument means it can be played much louder unplugged than a solid-bodied guitar – making it great for picking up and trying out some ideas before your amp's warmed up.
The song-writing and studio credentials of this guitar must have heavily appealed to the group, who were about to move in a brand-new creative direction; this was a band that was now completely untethered from the prospect of having to perform their tracks live.
---
John Lennon & the Epiphone Casino
The Casino is arguably most famous for being John's weapon of choice throughout the later years of The Beatles and the beginning of his solo career.
Despite probably not being described as the most technically proficient guitarist in the world (or indeed, the most technically proficient guitarist in The Beatles), Lennon carved out a unique style and sound, constantly developing as a songwriter and musician right up until his untimely demise in 1980.
Lennon used his Casino on every one of his records from Revolver to Imagine, as well as most of the live performances he attended throughout this period. His sound was drastically changing in tone from the twee teeny bopping of his earlier career, and with it, so was the appearance of his trusty guitar.
Here, we'll go through some of the iconic songs and performances Lennon used his Epiphone Casino for, and the story of its ever-changing image…
---
1966 – '67
Initially appearing in Lennon's hands on The Beatles' Top of the Pops broadcast in '66, John's Epiphone also popped up in promo videos for both Paperback Writer and Rain.
He largely used his Casino in sessions for the Revolver album, though his guitar contributions for this record are mostly rhythm parts, somewhat outshone by dazzling lead performances by his bandmates.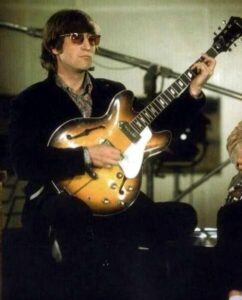 After returning from their tumultuous '66 tour of the USA, The Beatles had decided that they'd had enough of the road life and withdrew from the public eye to become a studio band. Their first album following this was the pioneering Sgt. Pepper's Lonely Hearts Club Band, their seminal exploration of psychedelia and the avant-garde.
The titular opening track features Lennon on rhythm guitar, using his Casino to play the crunchy major seventh chords which became a mainstay of his unique playing style.
In the summer of that year, the group were in session for All You Need is Love, The Beatles' contribution to the world's first globally broadcast satellite television production and anthem of that years 'Summer of Love'.
'Flower Power' was at the height of its popularity, and in a symbol of the irreverent rebelliousness of the time, both Harrison and Lennon gave their guitars new paintjobs.
Harrison's iconic "Rocky" Strat has since become emblematic of the movement. John messily sprayed the back of his Epiphone grey and white, though it didn't stay looking like this for long enough to leave much of a legacy.
---
1968
Whilst on spiritual retreat at the ashram of the Maharishi Mahesh Yogi in India, The Beatles were engaging in transcendental meditation and penning the majority of their material for that year's self-titled double LP, often referred to as the White Album.
Between acoustic jam sessions and cosmic discussions, fellow musician and student of meditation – Donovan – is alleged to have told Harrison and Lennon that sanding the paint finish off of a guitar opens up the sound of the instrument.
Following their abrupt departure and return to England, both John and George removed the sunburst finishes from their Epiphone Casinos, hoping to attain superior tones. Lennon also removed the pickguard and replaced the tuning pegs with golden Grover tuners.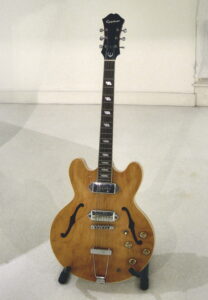 Lennon's reborn Casino was first seen in the promo video for Revolution – the B-side to their single Hey Jude. This uproarious song violently pushed Lennon's guitar work into the fore, as recording engineer Geoff Emerick plugged the Epiphone straight into the recording desk, running it through two preamps with so much gain that the overload was threatening to overheat the entire console.
The mangled distortion, combined with a classic blues structure and politically-charged lyrics, typify a large portion of Lennon's post-Beatles work.
The White Album proved to be the most experimental album The Beatles ever put out, running over 90 minutes and containing such eccentricities as the sound collage Revolution 9.
Tensions were beginning to fray between the members of the group, with more and more compositions becoming the sole creative idea of a single band member. Because of this, the album gives more of an idea of the individual style of each band member – particularly with Lennon's songs.
Happiness is a Warm Gun, I'm So Tired, and Yer Blues each demonstrated his love of both nonsensical and incredibly personal lyrics, and of course his passion for the blues. Lennon played his Casino throughout the White Album – at this point it had become clear this was the guitar he was most comfortable with.
To further prove this point, at the end of 1968, Lennon performed a one-off set with supergroup 'The Dirty Mac' – comprising of himself, Eric Clapton, Keith Richards, and Mitch Mitchell.
Put together for a TV special called The Rolling Stones Rock and Roll Circus, this was the first public performance Lennon had had with anyone other than The Beatles since they had formed nearly 10 years before.
He had bought with him, of course, his trusty Epiphone Casino, with which he and his all-star band ripped out an extra bluesy version of Yer Blues. This authentically live recording showcases Lennon's rhythm chops in full, as he holds his own amongst some of the greatest musicians to date.
---
1969
Maybe the most enduring image of Lennon's Casino, and perhaps of Lennon himself, is from The Beatles' iconic rooftop concert.
In January of 1969, the group climbed to the top of their Apple Corps office building in London, where they performed nine takes of five of their songs. Accompanied by keyboardist Billy Preston, this was to be last public performance The Beatles ever had.
Lennon took responsibility for the lead guitar part in Get Back and, once again, showed off a mostly unheralded mastery of the instrument – also evident in his consistently excellent rhythm guitar contributions to the rest of the set.
A couple of months later, Lennon travelled with Yoko Ono for an avant-garde concert at the University of Cambridge. Performed live to an audience of 500, Lennon cajoled atonal feedback out of his Casino, while Ono vocalised for a 30 minute piece titled Cambridge 1969.
Like it or loathe it, Lennon's experimental work with Ono and his mainstream work with The Beatles are two sides of the same coin – but it's interesting that he was opting to use the same guitar for both.
August of 1969 saw The Beatles putting the finishing touches on their final recording project, Abbey Road. In session for the intended finale The End, Harrison, McCartney, and Lennon recorded a three-way guitar solo, each taking turns to provide licks and showcase their vastly different approaches to lead guitar playing.
In direct comparison to the precision of McCartney and Harrison's styles of playing, Lennon's gritty, almost messy contributions perfectly demonstrate his individuality. Noteworthy again is the fact that both Lennon and McCartney were using their Casinos for this song, but the overdriven fuzz tone Lennon coaxes out is in direct contradiction to Paul's much clearer sound.
The following month, Lennon travelled to the Toronto Rock'N'Roll Revival music festival in Canada, playing with his new Plastic Ono Band. Live Peace in Toronto 1969 saw Lennon performing his own compositions with his new band, but still using his trusted Epiphone.
This performance galvanised his desire to leave The Beatles, and he privately announced his departure from the band upon returning to London.
---
1970 – '71
Following the break-up of The Beatles, Lennon and Ono went through "primal therapy", inspiring Lennon's startlingly personal release, John Lennon/Plastic Ono Band.
The sparse musical arrangements provided a backdrop for his screaming emotional and political outbursts. Hold On shows him using his Casino with some creative tremolo to create a rare, gentle, and positive soundscape in an otherwise spartan album. The tracks I Found Out and Well Well Well have Lennon using the Epiphone for more of the sludgy blues he was so fond of.
The Casino pops up once more in the filmed sessions for How Do You Sleep, from Lennon's famed album Imagine. This caustic attack on his former friend and bandmate Paul McCartney was just one chapter in the public and protracted slanging match the two took part in during the post-Beatles years.
With a notable slide guitar solo from George Harrison, this trudging, funky tirade is an early indication of Lennon's movement towards the elaborate, highly layered compositions which became the standard of his later solo career.
---
A guitar that transcended time
Lennon kept his Casino by his side from 1966, throughout The Beatles' studio years, and through every tumultuous stage of the end-of-Beatles era.
By this point, it seems that he viewed his Epiphone Casino as his own guitar 'voice'. As a man of considerable means, he could have purchased any model of guitar he wanted – yet he continued to use the archtop for everything from avant-garde musical experiments to straight rock.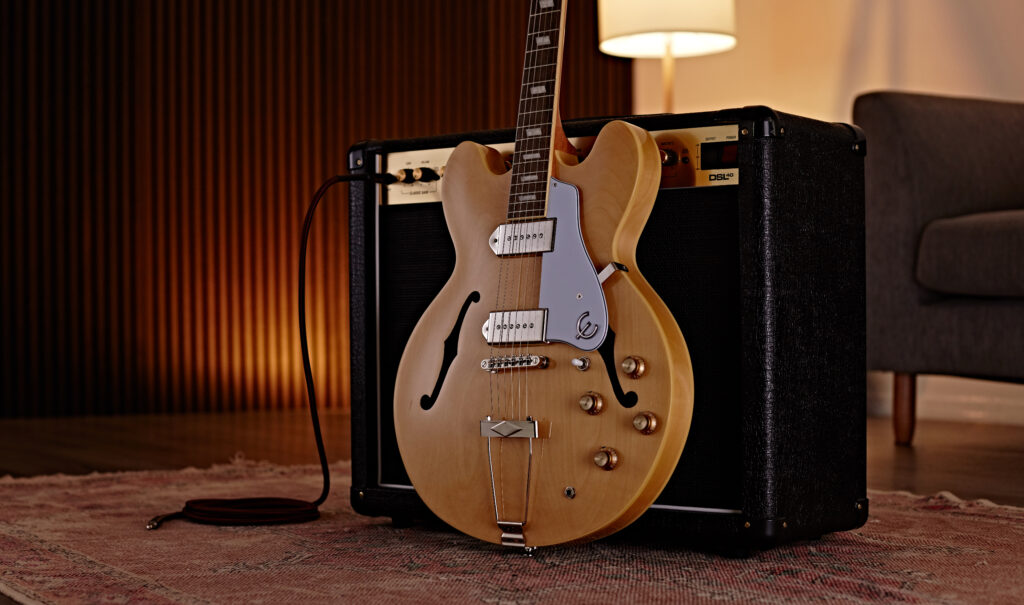 In the years immediately following the break-up of The Beatles, even whilst trying to distance himself from them and their sound and write revolutionary new music – he still used the legendary Casino.
In many interviews in his later life, Lennon had little good to say about The Beatles and his own work with them. His abundance of cynical comments just goes to show that if he didn't like something, he would do or say something about it.
The fact that Lennon used the same guitar for so many years, keeping it until the end of his life, just demonstrates his true fondness of the beloved instrument.
---
The modern Casino
Despite The Beatles' championing of the Casino, Epiphone stopped producing them in 1970 due to tumbling sales figures and more generalised financial difficulties. The Epiphone factory relocated to Japan and then Korea in the 70's and 80's, focussing on creating budget versions of the Gibson staples.
It wasn't until 1994 that a reissue of the Epiphone Casino was finally released, with the new version immediately gaining acclaim from contemporary stars such as Noel Gallagher.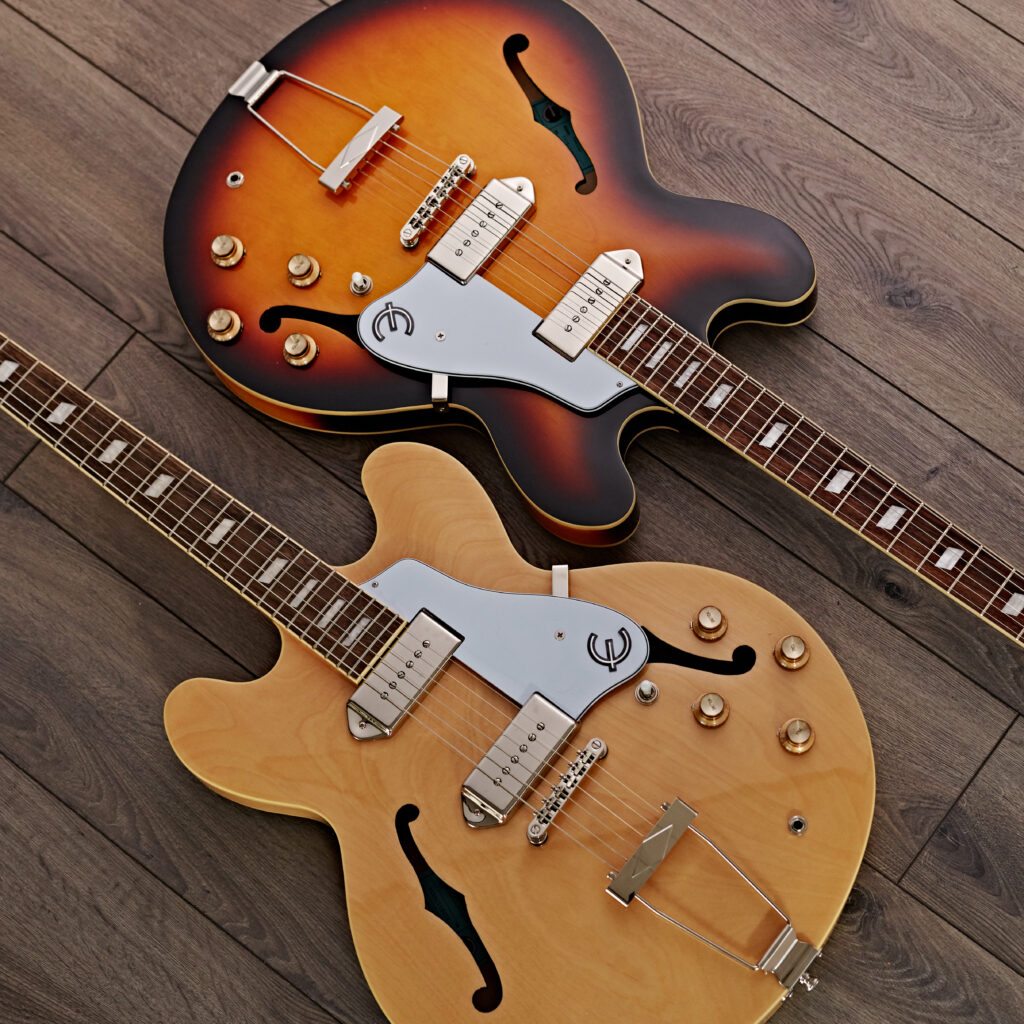 The modern edition of the Casino was modelled on the finest vintage examples Epiphone could get their hands on, and they are now built with the consistency and high levels of quality control which is possible with modern manufacturing techniques.
Every feature which drew Lennon and The Beatles to the Casino all those years ago is still present in the modern edition:
Two Epiphone Dogear P90 pickups offer a huge palette of vintage sounds, making it a perfect choice for playing either lead or rhythm parts.
The fully hollow body is great for gigging and studio work due to its lightness and playability, whilst also allowing for creative exploration of feedback.
Maybe best of all, it's an electric guitar that you can play like an acoustic. If you don't want to have to turn your amp on, it's still plenty loud enough to work through some ideas. And when you do plug it in, it sounds incredible.
Whether you're looking for a blues guitar or you're planning on doing something truly avant-garde, the Casino is a really solid bet – but, most of all, the Casino is a truly excellent songwriter's guitar. You could scarcely ask for better endorsements than ones from Paul McCartney, John Lennon, and George Harrison.
Lennon kept his Casino until the end of his life, bequeathing it to Yoko Ono. It has become one of the most treasured artefacts in Rock and Roll history, appearing in museums around the world as a genuinely important cultural relic.
Paul McCartney, meanwhile, uses the Epiphone he bought in 1964 to this day. "If I had to choose one electric guitar, it would be this" he has said.
Through the Casino, and through Epiphone, the legacy of Epi Stathopoulos and his father's instrument company lives on. Their plucky and pioneering spirit created a brand so strong that it still exists today, over 100 years later, and their guitars are immortalised in the history of the biggest musical act of the 20th century.
---
Find out more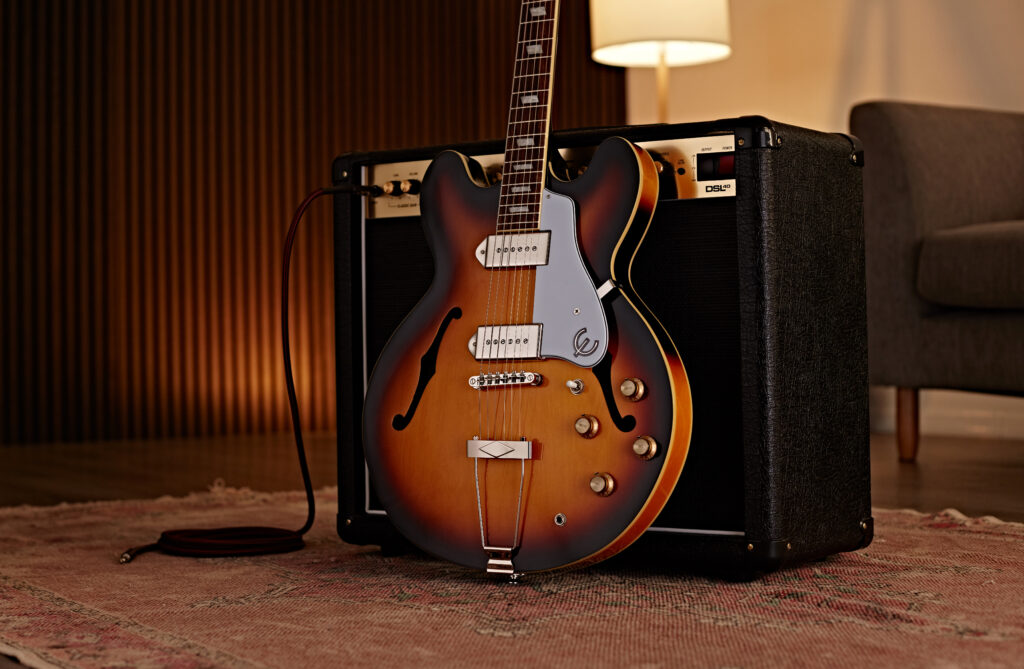 If you're looking to harness the coveted sound of John Lennon and The Beatles, why not explore our full range of Epiphone Casino electric guitars below?
Shop Now | Epiphone Casino Electric Guitars